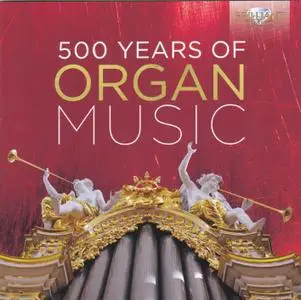 V.A. - 500 Years of Organ Music: Brilliant Classics [Limited Edition 50CD Box Set] (2016)
MP3 CBR 320 kbps | Run Time: 55:58:16 | 7,74 Gb | Booklet - 6,97 Mb
Genre: Classical | Label: Brilliant Classics
In this extensive 50-disc set, Brilliant Classics presents 500 years of organ music. The pieces presented here offer a survey of diversity, value, and historical importance. The first portion of the set is devoted to pieces from the early period. Groundbreaking organ composers such as Cavazzoni and De Macque, who developed the capriccio and canzon forms and composed complex counterparts to the periods vocal music, are featured here. The Baroque and Classical eras are represented in this set by the likes of powerhouse composers Mozart, J.S. Bach, C.P.E. Bach, Handel, Telemann, and Haydn. Alongside these monumental names, however, are several undiscovered artists, such as Padre Davide da Bergamo, who despite his ambiguity, composed over 2,000 organ pieces. At the pinnacle of the organs development is the Romantic period, when technical advances brought many new features to the instruments. French organ builder Cavaille-Coll made huge advances in the instrument by adding a swell box and a pneumatic assist. One of his beautiful organs is featured on this release. Wrapping up the selections in this set are 20th century works. Concluding the set is Arvo Parts illustrious composition Spiegel im Spiegel, performed on the Grand Organ of Leeds Cathedral. This set features many kinds of organs, each corresponding to the repertoire being performed. The performers featured here are all outstanding in their field and have gained high acclaim for their previous releases with Brilliant Classics.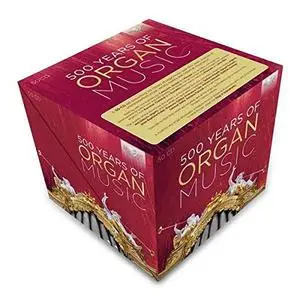 Contents CDs:
CD 1 [79:35]
Marco Antonio CAVAZZONI (c.1490-c.1560); Giovanni de MACQUE (c.1548-1614); Rocco RODIO (c.1535-c.1615); Ascanio MAYONE (c.1565-1627); Gregorio STROZZI (c.1615-c.1687); Luzzasco LUZZASCHI (c.1545-1607)
CD 2 [76:20]
Michelangelo ROSSI (c.1601-1656); Tarquinio MERULA (1595-1665)
CD 3 [61:34]
Antonio de CABEZÓN (1510-1566)
CD 4 [65:03]
Girolamo FRESCOBALDI (1583-1643)
CD 5 [56:44]
Giovanni Maria TRABACI (1575-1647)
CD 6 [69:00]
Giovanni GABRIELI (1557-1612); Andrea GABRIELI (c.1432-1585)
CD 7 [72:10]
Bernardo PASQUINI (1637-1710)
CD 8 [75:42]
Jan Pieterszoon SWEELINCK (1562-1621); Henderick SPEY (c.1575-1625); Anthoni van NOORDT (c.1619-1675); Cornelis SCHUYT (1557-1616); Gerhardus HAVINGHA (1696-1753)
CD 9 [67:07]
The John Reading Manuscripts of Dulwich College
John BLOW (c.1648-1708); John JAMES (d;1745); Maurice GREENE (1696-1755); John STANLEY (1712-1786); Mr; SEEDO (c.1700-1754); John READING (1685-1764); William CROFT (1678-1727); John BARRETT (1676-1719)
CD 10 [72:39]
Johann Jacob FROBERGER (1616-1667)
CD 11 [68:40]
Dieterich BUXTEHUDE (1637-1707)
CD 12 [77:07]
Nicholas BRUHNS (1665-1697); Heinrich SCHEIDEMANN (1595-1663); Samuel SCHEIDT (1587-1654); John Adam REINCKEN (1643-1722)
CD 13 [53:01]
Georg MUFFAT (1653-1704)
CD 14 [69:56]
Johann KUHNAU (1660-17220
CD 15 [52:51]
Johann Gottfried WALTHER (1684-1748)
CD 16 [73:17]
Andreas KNELLER (1649-1724); Christian GEIST (1650-1711); Georg Dietrich LEYDING (1664-1710); J.S. BACH (1685-1750)
CD 17 [59:51]
Georg BÖHM (1661-1733)
CD 18 [70:55]; CD 19 [79:18]
Johann Sebastian BACH (1685-1750)
CD 20 [77:42]
Daniel Magnus GRONAU (1700-1747)
CD 21 [77:15]
Johann Gottfried MÜTHEL (1728-1788)
CD 22 [70:01]
George Frideric HANDEL (1685-1759)
CD 23 [71:58]
Georg Philipp TELEMANN (1681-1767)
CD 24 [51:30]
Gottfried August HOMILIUS (1714-1785)
CD 25 [65:55]
Carl Philipp Emanuel BACH (1714-1788)
CD 26 [69:40]
Ignazio CIRRI (1711-1787)
CD 27 [52:19]
František Xaver BRIXI (1732-1771)
CD 28 [71:20]
Padre Antonio SOLER (1727-17830
CD 29 [54:11]
Joseph de TORRES (1670-1738)
CD 30 [60:40]
Antonio VIVALDI (1678-1741)
CD 31 [69:01]
Domenico ALBERTI (1710-1746)
CD 32 [64:21]
Wolfgang Amadeus MOZART (1756-1791)
CD 33 [66:14]
Joseph HAYDN (1732-1809)
CD 34 [67:25]
Padre Davide de BERGAMO (1791-1863)
CD 35 [65:17]
Felix MENDELSSOHN (1809-1847)
CD 36 [67:15]
August Gottfried RITTER (1811-1885)
CD 37 [69:16]
Robert SCHUMANN (1810-1856)
CD 38 [77:28]
Franz LISZT (1811-1886)
CD 39 [57:20]
Vincenzo Antonio PETRALI (1830-1889)
CD 40 [57:24]
Johannes BRAHMS (1833-1897)
CD 41 [79:21]
César FRANCK (1822-1890)
CD 42 [72:35]
Charles-Marie WIDOR (1844-1937)
CD 43 [72:24]
Félix Alexander GUILMANT (1837-1911)
CD 44 [62:29]
Max REGER (1873-1916)
CD 45 [74:05]
Edward ELGAR (1857-1934); Georgi Alexandrovich MUSHEL (1857-1934)
CD 46 [71:44]
Maurice DURUFLÉ (1902-1986)
CD 47 [72:00]
Jehan ALAIN (1911-1940)
CD 48 [74:03]
Hendrick ANDRIESSEN (1892-1981)
CD 49 [55:22]
Olivier MESSIAEN (1908-1992)
CD 50 [45:40]
Arvo PÄRT (b.1935)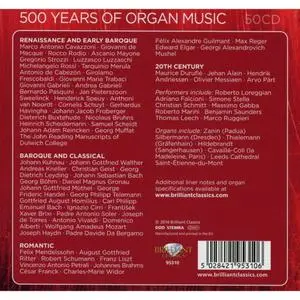 CD01 - 01:19:35

Marco Antonio Cavazzoni
01. Recercare Primo (4:43)
02. Salve Virgo (2:37)
03. Recercare Secondo (5:19)
04. O Stella maris (3:49)
05. Perdone Moi Sie Folie (3:11)
06. Madame vous aves mon cuor (3:41)
07. Plus, ne regres (3:24)
08. L'autre jour, pour un matin (3:53)
Giovanni de Macque
09. Capriccio sopra re, fa, mi, sol (5:52)
Rocco Rodio
10. Recercata seconda (4:17)
Ascanio Mayone
11. Toccata seconda (4:57)
12. Canzon francese prima (3:02)
Gregorio Strozzi
13. Toccata quarta per l'Elevazione (7:28)
Luzzasco Luzzaschi
14. Ricercar quinto (del terzo tuono) (6:12)
15. Ricercar ottava (del sesto tuono) (5:08)
16. Ricercar decimo (dell'ottavo tuono) (4:20)
17. Ricercar duodecimo (del decimo tuono) (5:54)
18. Ricercar quinto (del terzo tuono) (1:45)

CD02 - 01:16:20

Michelangelo Rossi
01. Corrente prima (1:06)
02. Toccata seconda (5:35)
03. Toccata terza (5:56)
04. Corrente terza (1:27)
05. Corrente quinta (1:06)
06. Corrente sesta (1:40)
07. Toccata settima (5:39)
08. Corrente nona (2:51)
09. Toccata decima (7:58)
10. Toccata quarta (5:59)
Tarquinio Merula
11. Toccata del secondo tono in G Minor (4:15)
12. Canzone (V) (4:55)
13. Canzone (IV) (3:45)
14. Capriccio (3:22)
15. Intonazione cromatica del quarto tono in A Minor (3:53)
16. Toccata e genus cromaticum primi toni (5:37)
17. Canzone (I) (2:46)
18. Canzone (II) (4:32)
19. Intonazione cromatica del nono tono in A Minor (3:57)

CD03 - 01:01:34

Antonio de Cabezon
01. Tiento del quinto tono (3:40)
02. Stabat Mater (Josquin) con segunda parte (10:40)
03. Qui la dira (Willaert) (3:40)
04. Quien llamo al partir partir? (Juan de Cabezon) (2:55)
05. Sana me Domine (Clemens) (6:37)
06. In te Domine speravi con segunda parte (10:21)
07. Tercera parte de Virgo salutifera (3:58)
08. Stabat Mater (Josquin) con diferente glosa (5:57)
09. Siete versos del sexto tono (4:27)
10. Siete versos del octavo tono (3:44)
11. Siete versos del primer tono (5:40)

CD04 - 01:05:03

Girolamo Frescobaldi
01. Toccata del Sig.r Frescobaldi in D Major (2:29)
02. Recercar primo (3:40)
03. Toccata del Sig.r Frescobaldi in G Major (3:30)
04. Recercar secondo in G Minor, F 9.02 (4:25)
05. Toccata del Frescobaldi in A Major (3:06)
06. Recercar terzo, F 9.03 (3:46)
07. Toccata del Sig.r Frescobaldi in F Major (4:14)
08. Recercar quarto, F 9.04, sopra mi, re, fa, mi (3:38)
09. Toccata di Frescobaldi in F Major (4:04)
10. Recercar quinto (5:11)
11. Toccata F.Baldi in F Major (2:04)
12. Recercar sesto, sopra fa, fa, sol, la, fa (3:00)
13. Toccata del Sig.r Frescobaldi in G Major (2) (3:02)
14. Recercar settimo, F 9.07, sopra sol, mi, fa, la, sol (2:55)
15. Toccata del Sig.r Frescobaldi in G Major (3) (3:30)
16. Recercar ottavo, F 9.08, obligo di non uscir mai di grado (2:24)
17. Toccata per l'organo col contrabbasso overo pedale di Frescobaldi in D Major (2:30)
18. Recercar nono con quattro soggetti (3:43)
19. Recercar decimo, sopra la, fa, sol, la, re (3:50)

CD05 - 00:56:44

Giovanni Maria Trabaci
01. Canzona franzesa settima cromatica (3:46)
02. Canto fermo secondo del secondo tono (3:36)
03. Consonanze stravaganti (2:22)
04. Toccata seconda ottavo tono (3:03)
05. Canzona franzesa prima (2:43)
06. Toccata prima secondo tono (3:37)
07. Canzone sesta (3:02)
08. Ricercata nono tono con tre fughe (3:31)
09. Durezze et ligature (3:33)
10. Canzona franzesa terza (3:41)
11. Canto fermo quarto del primo tono (2:54)
12. Ricercata del decimo tono (3:51)
13. Versetti dell'ottavo tono (Magnificat) (5:09)
14. Ricercata del sesto tono cromatico (5:03)
15. Toccata quarta a cinque (2:44)
16. Ricercata del primo tono con tre fughe (4:09)

CD06 - 01:09:00

Giovanni Gabrieli
01. Sacrae Symphoniae: No. 1: Canzon primi toni, for 8 parts, C. 171 (5:05)
Andrea Gabrieli
02. Intonatione del primo tono, for organ (1:18)
03. Ricercar del primo tono, for organ (from "Ricercari…libro secondo") (6:51)
04. Intonatione del sesto tono, for organ (1:29)
05. Ricercar arioso for organ No. 2 (from "Canzoni…libro quinto") (3:16)
06. Egredimini e videte, motet for 8 voices (4:20)
Giovanni Gabrieli
07. Fuga del nono tono, for keyboard (3:02)
08. Toccata secondo tono, for organ (2:36)
09. Canzon No. 1 ("La Spiritata"), for 4 parts, C. 186 (4:09)
10. Canzon No. 28 ("Sol sol la sol fa mi"), for 8 parts, C. 191 (2:25)
Andrea Gabrieli
11. Toccata del quinto tono, for organ ("Toccata del primo tono") (1:47)
12. Canzon ariosa, for organ (3:14)
13. Fantasia allegra for organ (3:19)
14. Io mi son giovinetta (transcription of madrigal by "Giachet" D. Ferrabosco) (3:59)
15. Canzon francese detta "Petit Jacquet" a quatro voci, for keyboard (2:18)
Giovanni Gabrieli
16. Lieto godea, madrigal for 8 voices (3:27)
17. Toccata primi toni, for organ (3:16)
18. Work(s): Ricecars del primo tono (2:27)
19. Canzoni et Sonate (1615): Canzon secondo tono, for organ (3:10)
20. Sacrae Symphoniae: No. 9: Canzon duodecimi toni for 10 parts, C. 179 (2:55)
21. Sacrae Symphoniae: No. 12: Canzon in echo duodecimi toni for 10 parts, C. 182 (4:37)

CD07 - 01:12:10

Bernardo Pasquini
01. Sonata No. 1 in D Major (3:48)
02. Sonata No. 2 in C Major (6:13)
03. Sonata No. 3 in D Minor (4:48)
04. Sonata No. 4 in B-Flat Major (4:25)
05. Sonata No. 5 in B Minor (4:19)
06. Sonata No. 6 in E Minor (5:58)
07. Sonata No. 7 in F Major (5:50)
08. Sonata No. 8 in G Minor (5:24)
09. Sonata No. 9 in C Minor (6:03)
10. Sonata No. 10 in E Minor (5:11)
11. Sonata No. 11 in G Minor (5:24)
12. Sonata No. 12 in B-Flat Major (5:00)
13. Sonata No. 13 in A Minor (6:01)
14. Sonata No. 14 in G Minor (3:48)

CD08 - 01:15:40

Jan Pieterszoon Sweelinck
01. Fantasia chromatica in D Minor, SwWV 258 (8:38)
02. Almande Gratie (More Palatino) SwWV 318 [4 Variations] (4:24)
03. 6 Variatons on "Mein junges Leben hat ein End" in A Minor, SwWV 324 (7:11)
Anonymous
04. XIV. Almande prynce (2:02)
Hendrick Speuy
05. Psalm 118 "Dancket den Heer seer hoogh' ghepresen" (2:44)
Anthoni van Noordt
Psalm XXIV.
06. Verse 1 a 4, pedaliter (2:24)
07. Verse 2 a 4 (2:23)
08. Verse 3 a 4, in de Bas (3:02)
Jan Pieterszoon Sweelinck
09. Ballo del Granduca in G Major, SwWV 319 (5:03)
Anonymous
10. LVI. Daphne (3 Verses). (5:55)
Jan Pieterszoon Sweelinck
Psalm 36 SwWV311. Des boosdoenders wille seer quaet
11. I. Variatio (2:53)
12. II. Secunda variation (3:11)
13. III. Tertia variation (3:40)
Anonymous
14. IV. De frans galliard (0:51)
15. XXXVI. Serbande (1:46)
16. XIII. Almande Brun Smeedelyn (1:25)
Jan Pieterszoon Sweelinck
17. Malle Sijmen in D Major, SwWV 323 (1:39)
Cornelis Schuyt
18. I. Padovana (Del decimo modo) (4:22)
19. II. Gagliarda (Del decimo modo) (1:47)
Gerhardus Havingha
20. Ouverture octava - I. Vivace (4:35)
Jan Pieterszoon Sweelinck
21. Fantasia in G Minor, SwWV 271 (5:45)

CD09 - 01:07:07

John Blow
01. Voluntary for Full Organ (1:37)
02. A Voluntary (5:01)
Maurice Greene
03. A Second Voluntary in F Major (3:53)
John Stanley
04. A Voluntary for the Trumpet Stop (7:11)
Mr Seedo
05. A Second Voluntary in A Minor (3:13)
John James
06. A Voluntary for Full Swell, Cornet and Flute (5:09)
John Reading
07. A Trumpet Air, No. 1 (1:42)
Maurice Greene
08. A 1st Voluntary in G Major (2:38)
John Reading
09. A Double Voluntary (4:18)
William Croft
10. A Voluntary (2:49)
John James
11. A Voluntary for the Full Swell and Cornet (2:47)
John Reading
12. A Trumpet for Air, No. 2 (3:18)
John Stanley
13. A Voluntary (5:23)
John Barrett
14. A First Voluntary in D Minor (4:48)
Mr Seedo
15. A First Voluntary in D Minor (6:18)
John Reading
16. Air for French Horns and Flute (3:34)
John Blow
17. A Double Voluntary (3:29)

CD10 - 01:12:39

Johann Jacob Froberger
01. Toccata in A Minor, FbWV 101 (5:05)
02. Toccata in D Minor, FbWV 102 (4:17)
03. Toccata in G Major, FbWV 103 (4:23)
04. Toccata in C Major, FbWV 104 (3:52)
05. Toccata "Da sonarsi alla levatione" in D Minor, FbWV 105 (6:21)
06. Toccata "Da sonarsi alla levatione" in G Minor, FbWV 106 (5:25)
07. Fantasia sopra ut re Mi fa sol la, FbWV 201 (8:08)
08. Fantasia in A Minor, FbWV 202 (3:16)
09. Fantasia in F Major, FbWV 203 (5:28)
10. Fantasia sopra sol la re, FbWV 204 (3:42)
11. Fantasia in A Minor, FbWV 205 (3:32)
12. Fantasia in A Minor, FbWV 206 (3:02)
13. Canzon in D Minor, FbWV 301 (7:06)
14. Canzon in G Minor, FbWV 302 (4:51)
15. Canzon in F Major, FbWV 303 (4:09)

CD11 - 01:08:40

Dietrich Buxtehude
01. Praeludium in D Major, BuxWV. 139 (5:53)
02. Erhalt uns Herr, bei deinem Wort, BuxWV. 185 (1:54)
03. Toccata in G Major, BuxWV. 164 (Manualiter) (3:21)
04. Danket dem Herren, denn er ist sehr freundlich, BuxWV. 181 (3:28)
05. Passacaglia in D Minor, BuxWV. 161 (5:40)
06. Canzonetta in A Minor, BuxWV. 225 (1:45)
07. Praeludium in F Major, BuxWV. 144 (3:00)
08. Christ, unser Herr, zum Jordan kam, BuxWV. 180 (3:59)
09. Praeludium in E Minor, BuxWV. 143 (5:13)
10. Nun lob, mein Seel, den Herren, BuxWV. 212 (3:22)
11. Ein feste Burg ist unser Gott, BuxWV. 184 (3:33)
12. Mensch, willst du leben seliglich, BuxWV. 206 (2:33)
13. Canzona in D Minor, BuxWV. 168 (4:07)
14. Magnificat primi toni, BuxWV. 204 (3:31)
15. Magnificat noni toni, BuxWV. 205 (3:21)
16. Auf meinen lieben Gott. Buxwv. 179 (5:02)
17. Fantasia super Gelobet seist du, Jesu Christ, BuxWV. 188 (8:59)

CD12 - 01:17:07

Nicolaus Bruhns
01. Praeludium in E Minor "Gro?e" (7:50)
02. Praeludium in E Minor "Kleine" (4:37)
03. Praeludium in G Minor (4:02)
04. Adagio in D Major (2:24)
05. "Num komm, der Heiden Heiland" (9:42)
Heinrich Scheidemann
06. Galliarda in D Minor, WV 107 (4:21)
Samuel Scheidt
07. Variationen uber das Niederlandische Lied "Ach du feiner Reiter" (8:55)
08. Bergamasca in G Major, SSWV 560 (4:25)
Johann Adam Reincken
09. I. "An Wasserflussen Babylon" (18:10)
10. II. "Was kann uns kommen an fur Not" (12:40)

CD13 - 00:53:01

Georg Muffat
01. Toccata prima (5:06)
02. Toccata seconda (5:30)
03. Toccata tertia (5:29)
04. Toccata quarta (6:47)
05. Toccata quinta (5:21)
06. Toccata sexta (9:30)
07. Toccata septima (9:03)
08. Toccata octava (6:44)

CD14 - 01:09:56

Johann Kuhnau
Sonata No. 1 The Combat between David und Goliath
01. I. The Boasting of Goliath (1:53)
02. II. The Trembling of the Israelites (2:30)
03. III. The Courage of David (1:05)
04. IV. the Combat Between the Two and Their Struggle (0:28)
05. V. The Stone Is Thrown from the Slingshot - Goliath Falls (0:27)
06. Vi. The Flight of the Philistines (1:04)
07. VII. The Joy of the Israelites Over Their Victory (1:17)
08. VIII. The Musical Concert of the Women in Honour of David (1:22)
09. IX. The General Rejoicing, and the Dances of Joy of the People (1:51)
Sonata No. 2 The Melancholy of Saul Assuaged by David`s Music
10. I. The Sadness and the Rage of the King (8:33)
11. II. The Restorative Song of David's Harp (4:02)
12. III. The Calm and Contented Soul of Saul (2:45)
Sonata No. 3 Jobab's Wedding
13. I. The Joy of the Family of Laban (5:23)
14. II. The Servitude of Jacob Is Indeed Laborious (4:00)
15. III. The Bridal Song Sung by the Companions of Rachel (1:22)
16. IV. The Rejoicing for the Wedding, and the Congratulations (1:45)
17. V. The Laban's Trick (4:26)
18. Vi. The Bridegroom Loving and Content (1:29)
19. VII. Disappointment of Jacob for the Trick (1:30)
20. VIII. The Rejoicing for the Wedding Is Repeated (1:28)
Sonata No. 4 Hezekiah Dying and Restored to Health
21. I. Hezekiah's Lament for the Death Foretold to Him (4:58)
22. II. His Confidence in God (2:34)
23. III. The Joy of the Convalescent King (2:34)
24. Ciacona in F Minor (6:27)
25. Prelude in A Minor (4:43)

CD15 - 00:52:51

Johann Gottfried Walther
01. Toccata and fugue for organ in C major - I. Toccata (2:15)
02. II. Fuga (3:33)
03. Alcuni variationisopr'un basso continuo del Signor Corelli in E major, LV 129 - I. Variatio 1 (1:54)
04. II. Variatio 2 (1:02)
05. III. Variatio 3 (1:03)
06. IV. Variatio 4 (0:59)
07. Fuga in F Major (2:30)
08. Preludio con Fuga in G major, LV 119 - I. Preludio (2:33)
09. II. Fuga (2:31)
10. III. Grave (2:47)
11. IV. Aria a 2 tastature (2:08)
12. Preludio con Fuga in C major - I. Preludio (1:30)
13. II. Fuga (4:44)
14. Preludio con Fuga in D minor - I. Preludio (2:46)
15. II. Fuga (2:30)
16. Preludio con Fuga in A major, LV 125 - I. Preludio (1:20)
17. II. Fuga (3:52)
18. Preludio con Fuga in G major - I. Preludio. Adagio - Allegro (1:28)
19. II. Largo (2:12)
20. III. Ritornello. Vivace (2:27)
21. IV. Aria. Largo (4:06)
22. V. Vivace (2:38)

CD16 - 01:13:17

Andreas Kneller
01. Praeludium in D Minor (6:53)
02. Nun komm, der Heiden Heiland (8 verses) (10:02)
03. Praeludium in F Major (6:00)
04. Praeludium in G Major (3:16)
Christian Geist
05. Allein Gott in der Hoh sei Her (2:11)
06. Aus tiefer Not schrei ich zu Dir (2:52)
07. Gelobet seist du, Jesu Christ (2:43)
Georg Dietrich Leyding
08. Praeludium in C Major (5:52)
09. Von Gott will ich nicht lassen (6 verses) (8:11)
10. Praeludium in E-Flat Major (Transposed to F Major) (4:52)
11. Wie schon leuchtet der Morgenstern (4:14)
12. Praeludium in B-Flat Major (7:59)
Johann Sebastian Bach
13. Fantasia on Wo Gott der Herr nicht bei uns halt, BWV 1128 (8:11)

CD17 - 00:59:51

Georg Bohm
01. Praeludium in C Major (4:54)
Ach wie nichtig, Ach wie fluchtig
02. I. Part 1 (1:05)
03. II. Part 2 (1:05)
04. III. Part 3 (0:54)
05. IV. Part 4 (0:53)
06. V. Part 5 (0:54)
07. VI. Part 6 (0:54)
08. VII. Part 7 (1:37)
09. VIII. Part 8 (1:26)
10. Allein Gott in der Hoh sei Her (3:06)
Auf Meinen Lieben Gott
11. I. Versus 1 (2:36)
12. II. Versus 2 (3:02)
13. III. Versus 3 (1:38)
14. IV. Versus 4 (1:44)
Aus Teifer Not Schrei Ich Zu Dir
15. I. Versus 1 (2:48)
16. II. Versus 2 (2:08)
Christe der Du Bist Tag and Licht
17. I. Versus 1 (1:32)
18. II. Versus 2 (5:24)
19. III. Versus 3 (1:32)
20. Christ lag in Todesbanden I (5:28)
21. Christ lag in Todesbanden II (4:16)
22. Christum wir sollen loben schon (2:20)
23. A Second Fugue on the Praeludium in A Minor (2:16)
24. Erhalt uns, Herr, bei deinem Wort (2:50)
25. Fugue in A Minor (3:29)

CD18 - 01:10:55

Johann Sebastian Bach
Toccata and Fugue, in D minor, BWV 565 (BC J37) -
01. I. Toccata (2:22)
02. II. Fugue (6:27)
03. Gott, durch deine Gute (Gottes Sohn ist kommen), BWV 600 (1:19)
04. III. Der Tag, der ist so freudenreich, BWV 605 (1:53)
05. Vom Himmel kam der Engel Schar, BWV 607 (1:18)
06. In dulci jubilo, BWV 608 (1:45)
Toccata, Adagio and Fugue, in C major, BWV 564 (BC J36)
07. I. Toccata (5:50)
08. II. Adagio (4:31)
09. III. Fugue (5:08)
10. Ich ruf zu dir, Herr Jesu Christ, BWV 639 (2:25)
11. Wenn wir in hochsten Noten sein, BWV 641 (1:54)
Concerto No. 2 in A minor, BWV 593 (BC J86)
12. I. Allegro (3:54)
13. II. Recitative. Adagio (3:30)
14. III. Allegro (4:02)
15. Nun komm, der Heiden Heiland, BWV 659 (4:43)
16. Trio super Allein Gott in der Hoh sei Her, BWV 664 (5:38)
17. Passacaglia in C Minor, BWV 582 (14:15)

CD19 - 01:19:18

Johann Sebastian Bach
Fantasia and Fugue,in G minor, BWV 542 (BC J42, 57, 67)
01. I. Fantasia (5:20)
02. II. Fugue (6:53)
03. Wachet auf, ruft uns die Stimme, BWV 645 (4:28)
04. Kommst du nun, Jesu, von Himmel herunter, BWV 650 (3:43)
Trio Sonata No. 5 in C major, BWV 529 (BC J5)
05. I. Allegro (5:19)
06. II. Largo (6:27)
07. III. Allegro (3:47)
08. VIII. O Mensch, bewein dein Sunde gro?, BWV 622 (5:49)
09. Hilf, Gott, da? mir's gelinge, BWV 624 (1:17)
Toccata and Fugue, in D minor (Dorian), BWV 538 (BC J38)
10. I. Toccata (5:47)
11. II. Fugue (9:39)
12. Christ, unser Herr, zum Jordan kam, BWV 684 (4:14)
13. Schmucke dich, o liebe Seele, BWV 654 (9:06)
Prelude and Fugue,in G major, BWV 541 (BC J22)
14. I. Prelude (3:01)
15. II. Fugue (4:28)

CD20 - 01:17:42

Daniel Magnus Gronau
Ein feste Burg ist unser Gott
01. Chorale in contrapunto doppio (7:49)
02. Variation 1. A 2 claviature coppulate, e senza pedale (1:55)
03. Variation 2. A 2 claviature con pedale (1:41)
04. Variation 3. A pedale solo (2:26)
05. Variation 4 (2:40)
Was Gott thut, das ist wohlgetan
06. Chorale in fuga (5:00)
07. Variation 1. A 2 claviature con pedale (2:13)
08. Variation 2 (2:00)
09. Variation 3. Senza pedale (3:18)
10. Variation 4. A pedale solo (1:49)
Mitten wir im Leben sind
11. Chorale in fuga (7:33)
12. Variation 1. A 2 claviature con pedale (2:57)
13. Variation 2 (4:48)
14. Variation 3. Con tremulo (4:58)
Es wird schier der letzte Tag
15. Chorale in contrapunto doppio (5:45)
16. Variation 1. Largo e straccato (1:57)
17. Variation 2. A 2 claviature con pedale (1:16)
18. Variation 3. A 3 claviature con pedale (3:07)
Gott hat das Evangelium
19. Variation 1. Largo e staccato (2:11)
20. Variation 2. In doppio contrapunto (4:10)
21. Variation 3. Senza pedale (2:21)
22. Variation 4. A 3 claviature con pedale (3:43)
23. Variation 5 (2:06)

CD21 - 01:17:15

Johann Gottfried Muthel
01. Fantasie G-Moll (6:30)
02. Fantasie Es-dur (6:43)
03. Fantasie F-Dur (5:58)
04. Fantasie Es-dur (2) (7:00)
05. Unbezeichnetes Stuck in C-Dur (5:28)
06. Fugenfantasie C-Dur (13:49)
07. Durch Adams Fall ist ganz verderbt (1:50)
08. Vater unser im Himmelreich (1:12)
09. Christe, der du bist Tag und Licht (0:56)
10. Herr Christ, der einig Gottessohn (1:19)
Jesu, meine Freude
11. (Theme) (1:36)
12. (Variation 1) (3:49)
13. (Variation 2) (4:59)
14. (Variation 3) (2:16)
15. O Traurigkeit, o Herzeleid (3:00)
16. Was mein Gott will, das gescheh allzeit (2:15) ]
17. Herzlich thut mich verlangen (4:43)
18. Fantasie G-Dur (3:53)

CD22 - 01:00:01

George Frideric Handel
OC in G minor, Op.41, HWV 289
01. I. Larghetto e staccato (5:14)
02. II. Allegro (5:30)
03. III. Adagio (1:10)
04. IV. Andante (4:12)
OC in B flat major, Op.42, HWV 290
05. I. A tempo ordinario e staccato (0:57)
06. II. Allegro (5:03)
07. III. Adagio e staccato (0:41)
08. IV. Allegro ma non presto (4:04)
OC in G minor, Op.43, HWV 291
09. I. Adagio (3:50)
10. II. Allegro (3:58)
11. III. Adagio (1:02)
12. IV. Allegro (2:33)
OC in F major, Op.44, HWV 292
13. I. Allegro (3:48)
14. II. Andante (6:11)
15. III. Adagio (1:10)
16. IV. Allegro (3:45)
OC in F major Cuckoo & the Nightingale (No.13), HWV 295
17. I. Larghetto (2:26)
18. II. Allegro (3:28)
19. III. Organo ad libitum. Fuga, HWV 609 (4:49)
20. IV. Larghetto (2:46)
21. V. Allegro (3:21)

CD23 - 01:11:58

Georg Philipp Telemann
01. I. Vater unser in Himmelreich TWV 31:1-2 (2:37)
02. II. Allein Gott in der Hoh sei Ehr TWV 31:3-4 (2:06)
03. III. Komm, heiliger Geist, Herre Gott TWV 31:5-6 (3:48)
04. IV. Herr Jesu Christ, dich zu uns wend TWV31:7-8 (2:56)
05. V. Schmucke dich, o liebe Seele TWV 31:9-10 (2:56)
06. VI. Straf mich nicht in deinem Zorn TWV 31:11-12 (3:11)
07. VII. O wir armen Sunder TWV 31:13-14 (3:02)
08. VIII. Alle Menschen mussen sterben TWV 31:15-16 (2:52)
09. IX. O Lamm Gottes, unschuldig TWV 31:17-18 (2:31)
10. X. Ich ruf zu dir, Herr Jesu Christ TWV 31:19-20 (3:25)
11. XI. Ach Herr, mich armen Sunder TWV 31:21-22 (3:45)
12. XII. Christus, der uns selig macht TWV 31:23-24 (3:18)
13. XIII. Durch Adams Fall ist ganz verderbt TWV 31:25-26 (2:44)
14. XIV. Christ lag in Todesbanden TWV 31:27-28 (2:58)
15. XV. Erschienen ist der herrlich Tag TWV 31:29-30 (2:36)
16. XVI. Herr Christ, der einig Gotts Sohn TWV 31:31-32 (2:23)
17. XVII. Jesu, meine Freude TWV 31:33-34 (3:26)
18. XVIII. Was mein Gott will, das g'scheh allzeit TWV 31:35-36 (3:05)
19. XIX. Wie schon leuchtet der Morgenstern TWV 31:37-38 (2:54)
20. XX. Herr Jesu Christ, dich zu uns wend TWV 31:39-40 (2:36)
21. XXI. Gott der Vater wohn uns bei TWV 31:41-42 (3:01)
22. XXII. Ach Gott, von Himmel sieh darein TWV 31:43-44 (3:45)
23. XXIII. Wer weiss, wie nahe mir mein Ende TWV 31:45-46 (2:53)
24. XXIV. Nun danket alle Gott TWV 31:47-48 (3:11)

CD24 - 00:51:30

Gottfried August Homilius
01. Nun komm, der Heiden Heiland HoWV VIII.38 (2:43)
02. Ich ruf zu dir, Herr Jesu Christ HoWV VIII.37 (2:25)
03. Ach bleib mit deiner Gnade HoWV VIII.34 (2:05)
04. Wer nur den lieben Gott la?t walten HoWV VIII.41 (2:19)
05. Gelobet seist du, Jesu Christ HoWV VIII.36 (2:38)
06. I. Gelobet seist du, Jesu Christ, HoWV III.4 (1:40)
07. II. Hilf, Herr Jesu, la? gelingen, HoWV III.5 (2:32)
08. III. Christ lag in Todesbanden, HoWV III.6 (2:27)
09. IV. Christ lag in Todesbanden, HoWV III.7 (1:56)
10. V. Wer nun den lieben Gott la?t walten, HoWV III.3 (2:00)
11. Vi. Straf mich nicht in deinem Zorn, HoWV III.2 (3:08)
12. VII. Herr Jesu Christ, du hochstes Gut, HoWV III.8 (3:13)
13. VIII. Wir Christenleut habn jetzund Freud, HoWV III.9 (3:12)
14. IX. Sei Lob und Ehr dem hochsten Gut, HoWV III.10 (3:15)
15. X. Meine Hoffnung steht auf Gott, HoWV III.11 (3:14)
16. XI. Herzlich lieb hab ich dich, o Herr, HoWV III.12 (2:35)
17. XII. O gro?er Gott, du reines Wesen, HoWV III.13 (2:40)
18. XIII. Komm, heilger Geist, Herre Gott, HoWV III.14 (2:43)
19. XIV. Meinen Jesum la? ich nicht HoWV III.15: Vivace (1:36)
20. XV. Christ lag in Todesbanden HoWV III.16 (3:08)

CD25 - 01:05:55

Carl Philipp Emanuel Bach
Sonata in A minor, H. 85, Wq. 704
01. I. Allegro assai (6:28)
02. II. Adagio (3:45) Luca Scandali
03. III. Allegro (4:46) Luca Scandali
04. Fuga a 3 with Variations, in A major, H. 101, Wq. 1194 - I. Allegretto (5:01) Luca Scandali
Sonata in B flat major, H. 134, Wq. 702
05. I. Allegro (3:18)
06. II. Arioso (3:05)
07. III. Allegro (2:47)
08. Fuga a 4, in E flat major, H. 102, Wq. 1196 - I. Alla breve moderato (7:19)
09. Fugue in D minor (doubtful), H. 372 - Moderato (2:29)
10. Adagio, in D minor, H. 352, Wq. nv 66 (attributed).- Adagio in D Minor, H. 352 (2:49)
11. Preludio, in D major, H. 107, Wq. 707 - I. Grave - Presto - Grave - Presto (3:54)
12. Ich ruf zu dir, Herr Jesu Christ, BWV Anh.73 (3:55)
13. Aus der Tiefe rufe ich, BWV 745 (4:00)
Preludio, for organ in D major, H. 107, Wq. 707
14. I. O Gott, du frommer Gott (1:02)
15. II. Ich bin ja, Herr, in deiner Macht (1:10)
16. III. Jesus, meine Zuversicht (0:55)
17. IV. Wer nur den lieben Gott la?t walten (1:29)
18. V. Komm, heiliger Geist, Herre Gott (1:49)
19. Preludio, for organ in D major, H. 107, Wq. 707 - I. Allegretto - Allegro (5:55)

CD26 - 01:09:40

Ignazio Cirri
Sonatas (12), Op 1 Sonata No. 1 in C major
01. I. Andantino (2:54)
02. II. Allegretto (2:01)
Sonatas (12), Op 1 Sonata No. 2 in F major
03. I. Larghetto (3:07)
04. II. Allegretto (1:49)
Sonatas (12), Op 1 Sonata No. 3 in G minor
05. I. Larghetto (5:12)
06. II. Allegro (2:07)
Sonatas (12), Op 1 Sonata No. 4 in G major
07. I. Andante (2:37)
08. II. Allegro (2:15)
Sonatas (12), Op 1 Sonata No. 5 in C minor
09. I. Andante (3:22)
10. II. Allegro (1:56)
Sonatas (12), Op 1 Sonata No. 6 in A major
11. I. Andantino (3:16)
12. II. Allegro (2:35)
Sonatas (12), Op 1 Sonata No. 7 in B flat major
13. I. Larghetto (3:41)
14. II. Allegro (2:23)
Sonatas (12), Op 1 Sonata No. 8 in D major
15. I. Andante (3:12)
16. II. Allegro (1:47)
Sonatas (12), Op 1 Sonata No. 9 in F minor
17. I. Andante (4:16)
18. II. Allegretto (2:42)
Sonatas (12), Op 1 Sonata No. 10 in A major
19. I. Andantino (2:56)
20. II. Allegro (2:12)
Sonatas (12), Op 1 Sonata No. 11 in G minor
21. I. Andante (3:16)
22. II. Allegro (3:01)
Sonatas (12), Op 1 Sonata No. 12 in D major
23. I. Andantino (4:12)
24. II. Moderato (2:49)

CD27 - 00:52:19

Frantisek Brixi
OC No. 6 in G major
01. I. Moderato (7:00)
02. II. Adagio (3:49)
03. III. Allegro assai (4:44)
OC No. 3 in D major
04. I. Moderato (4:48)
05. II. Adagio (3:15)
06. III. Presto (3:20)
OC in C major
07. I. Allegro (4:29)
08. II. Adagio (2:03)
09. III. Presto (3:08)
OC No. 5 in F major
10. I. Allegro moderato (5:39)
11. II. Adagio (5:33)
12. III. Allegro assai (4:30)

CD28 - 01:11:20

Antonio Soler
Concerto No. 1 for 2 organs in C major
01. I. Andante (6:00)
02. II. Minue (3:35)
Concerto No. 2 for 2 organs in A minor
03. I. Andante — (7:13)
04. Allegro (3:03)
05. II. Tempo de minue (5:25)
Concerto No. 3 for 2 organs in G major
06. I. Andantino (3:09)
07. II. Minue (7:44)
Concerto No. 4 for 2 organs in F major
08. I. Afectuoso - Andante non largo (3:57) 09. II. Minue (8:05)
Concerto No. 5 for 2 organs in A major
10. I. Cantabile (3:12)
11. II. Minue (6:17)
Concerto No. 6 for 2 organs in D major
12. I. Allegro - Andante - Allegro - Andante (4:23)
13. II. Minue (9:16)

CD29 - 00:54:11

Joseph de Torres
01. I. Batalla (6:55)
02. II. Partido de segundo (5:48)
03. III. Obra de mano derecha (6:47)
04. IV. Obra de septimo tono bajo (5:19)
05. V. Obra de lleno de septimo tono (3:40)
06. Vi. Obra de primer tono bajo (5:51)
07. VII. Partido de primero alto (5:21)
08. VIII. Fuga (4:38)
09. IX. Obra (4:50)
10. X. Partido de sexto tono (3:19)
11. XI. Cancion (from the "Libro de cifra de oporto") (1:44)

CD30 - 01:00:40

Antonio Vivaldi
Concerto, in D minor, RV 541
01. I. Allegro (3:22)
02. II. Grave (2:30)
03. III. Allegro (2:02)
Concerto, in F major, RV 542
04. I. Allegro (3:57)
05. II. Largo (2:38)
06. III. Allegro (7:02)
Sonata in C major, RV 779
07. I. Andante (3:45)
08. II. Allegro (4:07)
09. III. Largo cantabile (2:06)
10. IV. Allegro (4:19)
Concerto, in C minor, RV 766
11. I. Allegro (2:37)
12. II. Largo (1:20)
13. III. Allegro (2:18)
Concerto, in F major, RV 767
14. I. Allegro (3:11)
15. II. Larghetto (1:56)
16. III. Allegro (2:12)
Concerto in C major, RV 554a
17. I. Allegro (4:23)
18. II. Adagio (3:27)
19. III. Allegro (3:29)

CD31 - 01:09:01

Domenico Alberti
Keyboard Sonata in G minor
01. I. Allegro (3:44)
02. II. Spiritoso (3:41)
Keyboard Sonata in D minormajor
03. I. Andante (2:22)
04. II. Allegro (4:04)
Sonata pastorale, for keyboard in G major
05. I. Andante (7:01)
06. II. Presto (4:09)
Keyboard Sonata IV I.
07. I. Allegro (1:51)
08. II. Andante (3:25)
09. III. Four Variations (2:25)
Toccata for keyboard in B flat major, WorA12
10. I. Allegro (3:44)
11. II. Presto (3:46)
Toccata for keyboard in B flat major
12. I. Moderato (6:20)
13. II. Allegro (3:47)
Keyboard Sonata in C major
14. I. Andante grazioso (4:25)
15. II. Moderato (2:09)
Keyboard Sonata in A minor
16. I. Ripieno (2:44)
17. II. Spiritoso (2:26)
Sonata pastorale, for keyboard in B flat major
18. I. Andante (3:21)
19. II. Moderato (3:36)

CD32 - 01:04:21

Wolfgang Amadeus Mozart
01. Suite in C major (fragment), K. 399 (K. 385i) - I. Overture (5:00)
02. Andante in F Major, K. 616 (7:41)
03. Adagio and Allegro in F Minor, K. 594 (12:29)
04. Adagio in C Major, K. 356 (4:13)
05. Church Sonata in C Major, K. 336 (5:05)
06. Piece in F Major, K. 33B (1:30)
07. XXXIV. Rondo in F Major, K. 15Hh (1:26)
08. I. Allegro in F Major, K. 15A (1:15)
09. IV. Rondo in D Major, K. 15D (1:37)
10. Adagio and Rondo in C Minor, K. 617 (12:54)
11. Fantasia in F Minor, K. 608 (11:10)

CD33 - 01:06:14

Franz Joseph Haydn
Organ Concerto in C Hob XVIII-1
01. I. Moderato (8:10)
02. II. Largo (8:00)
03. III. Allegro molto (7:27)
Organ Concerto in D Hob XVIII-2
04. I. Allegro moderato (9:33)
05. II. Adagio molto (11:05)
06. III. Allegro (6:21)
07. Flotenuhr 1789 Andante Hob XIX-11 (1:29)
08. Flotenuhr 1789 Fuga - Allegro assai Hob XIX-16 (1:33)
Organ Concerto in C Hob XVIII-5
09. I. Allegro moderato (5:23)
10. II. Andante (3:18)
11. III. Allegro (3:54)

CD34 - 01:07:25

Davide da Bergamo
01. Sinfonia in D Major (7:18)
02. Suonata in E Major (5:17)
03. Sinfonia in E-Flat Major (7:12)
04. Suonata in B-Flat Major (4:05)
05. Sinfonia in D Major (2) (6:33)
06. Suonata in F Major (4:48)
07. Sinfonia in C Major (5:57)
08. Suonata in E-Flat Major (4:05)
09. Sinfonia in D Major (3) (6:03)
10. Suonata in A Major (5:03)
11. Sinfonia in E Major (6:00)
12. Suonata in G Major (5:03)

CD35 - 01:05:17

Felix Mendelssohn
Sonata no. 2 in C minor, op. 65 no. 2
01. I. Grave (2:03)
02. II. Adagio (3:52)
03. III. Allegro maestoso e vivace (1:57)
04. IV. Fuga (3:51)
Sonata no. 3 in A major, op. 65 no. 3
05. I. Con moto maestoso (8:39)
06. II. Andante tranquillo (2:59)
Sonata no. 4 in B-flat major, op. 65 no. 4
07. I. Allegro con brio (3:50)
08. II. Andante religioso (3:10)
09. III. Allegretto (3:47)
10. IV. Allegro maestoso e vivace (4:17)
Sonata no. 5 in D major, op. 65 no. 5
11. I. Andante (1:26)
12. II. Andante con moto (3:17)
13. III. Allegro maestoso (4:48)
Sonata no. 6 in D minor, op. 65 no. 6
14. I. Choral mit Variationen (10:55)
15. II. Fuga (3:02)
16. III. Andante (3:26)

CD36 - 01:07:15

August Gottfried Ritter
Organ Sonata in D minor, Op. 11
01. I. Allegro - Andante - Adagio (3:08)
02. II. Andante (3:01)
03. III. Allegro - Adagio (3:39)
04. IV. Andante con moto (1:43)
05. V. Allegro - Andante - Adagio (1:40)
Piano Sonata No. 2 in E minor, Op. 19
06. I. Rasch und entschlossen (2:42)
07. II. Ruhige Bewegung - Lebhafter (6:01)
08. III. Rasch und feurig - Ernst (5:15)
Organ Sonata in A minor, Op. 233
09. I. Rasch (3:05)
10. II. Recit (2:29)
11. III. Nicht schleppend (4:53)
12. IV. Rasch (1:06)
13. V. Entschlossen (2:44)
14. Vi. Rasch - Adagio (6:59)
Organ Sonata in A major, Op.31
15. I. Ruhig und heiter (6:07)
16. II. Theme ("het Wilhelmus") & Variations. Frisch und kraftig (12:45)

CD37 - 01:09:16

Robert Schumann
Etudes (6) in Canon Form for pedal piano, Op. 56
01. I. Nicht zu schnell (2:26)
02. II. Mit innigem Ausdruck (4:02)
03. III. Andantino (2:07)
04. IV. Innig (4:25)
05. V. Nicht zu schnell (2:39)
06. VI. Adagio (3:58)
Sketches (4) for pedal piano, Op. 58
07. I. Nicht schnell und sehr markiert in C Minor (3:12)
08. II. Nicht schnell und sehr markiert in C Major (4:17)
09. III. Four Variations (2:25)
10. IV. Allegretto (2:58)
Fugues (6) on B-A-C-H for organ, Op. 60
11. I. Langsam (6:27)
12. II. Lebhaft (6:56)
13. III. Mit sanften Stimmen (3:24)
14. IV. Ma?ig, doch nicht zu langsam (4:35)
15. V. Lebhaft (2:27)
16. VI. Ma?ig, nach und nach schneller (9:43)

CD38 - 01:17:28

Franz Liszt
Praludium und Fuge uber das Motiv B.A.C.H. (I), S. 260i (LW E31)
01. I. Prelude (4:41)
02. II. Fugue (11:35)
03. Variations 'Weinen, Klagen, Sorgen, Zagen', S. 179 (23:48)
04. Fantasie und Fuge 'Ad nos, ad salutarem undam' - Fantasia (25:37)
05. Fugue (11:46)

CD39 - 00:57:20

Vincenzo Petrali
01. Sonata in D Major (7:30)
02. Adagio per voce umana (4:30)
03. Sonata in D Major (2) (5:51)
Versetti (6) per il Gloria
04. I. Verse No. 1 (2:10)
05. II. Verse No. 2 (2:42)
06. III. Verse No. 3 (2:08)
07. IV. Verse No. 4 (1:39)
08. V. Verse No. 5 (4:32)
09. VI. Verse No. 6 (3:00)
10. Sonata in F Major (7:07)
11. Sonata per la Consumazione (3:55)
12. Sonata in C Major per l'offertorio (4:49)
13. Sonata in F Major per l'offertorio (3:11)
14. Sonata finale (4:14)

CD40 - 00:57:24

Johannes Brahms
01. Choral prelude and fugue (O Traurigkeit, O Herzeleid), WoO 7 - I. Chorale prelude (2:42)
02. II. Fugue (5:52)
03. Fugue in A-Flat Minor, WoO 8 (8:00)
04. Prelude and fugue in G minor, WoO posth. 10 - I. Prelude (3:57)
05. II. Fugue (4:30)
06. Chorale Preludes (11), Op. 122 - I. Mein Jesu, der du mich (5:12)
07. II. Herzliebster Jesu (2:25)
08. III. O Welt, ich muss dich lassen (2:39)
09. IV. Herzlich tut mich erfeuen (1:38)
10. V. Schmucke dich, o liebe Seele (2:25)
11. VI. O wie selig seid ihr doch, ihr Frommen (1:31)
12. VII. O Gott, du frommer Gott (5:39)
13. VIII. Es ist ein Ros entsprungen (2:18)
14. IX. Herzlich tut mich verlangen (2:15)
15. X. Herzlich tut mich verlangen (2:37)
16. XI. O Welt, ich muss dich lassen (3:43)

CD41 - 01:19:21

Cesar Auguste Franck
01. Fantaisie, Op. 16 (12:19)
02. Grande piece symphonique, Op. 17 (22:44)
03. Prelude, fugue et variation in B Minor, Op. 18 (10:24)
04. Pastorale, Op. 19 (9:11)
05. Priere, Op. 20 (13:38)
06. Final, Op. 21 (11:03)

CD42 - 01:12:35

Charles Marie Widor
Symphony No. 6 in G minor, Op. 422
01. I. Allegro (9:05)
02. II. Adagio (7:23)
03. III. Intermezzo. Allegro (6:16)
04. IV. Cantabile (5:41)
05. V. Finale. Vivace (6:35)
Symphony No. 5 in F minor, Op. 421
06. I. Allegro vivace - piu lento (10:21)
07. II. Allegro cantabile (8:03)
08. III. Andantino quasi allegretto (8:24)
09. IV. Adagio (4:33)
10. V. Toccata. Allegro (6:11)

CD43 - 01:12:24

Alexandre Guilmant
Sonate No.4 Op.61 in D minor
01. I. Allegro assai (4:48)
02. II. Andante (4:31)
03. III. Menuetto. Allegretto (4:43)
04. IV. Final (5:11)
Sonate No.5 Op.80 in C minor
05. I. Allegro appassionato (5:52)
06. II. Adagio con molt' espressione (8:39)
07. III. Scherzo. Allegro (6:32)
08. IV. Recitativo (1:36)
09. V. Choral et fugue. Allegro (9:13)
Sonate No.6 Op.86 in B minor
10. I. Allegro con fuoco (7:32)
11. II. Meditation. Andante quasi adagio (5:30)
12. III. Fugue et adagio (8:17)

CD44 - 01:02:29

Max Reger
01. Ein feste Burg ist unser Gott, Op. 27 (12:37)
02. Freu dich sehr, o meine Seele, Op. 30 (17:49)
03. Wie schon leucht't uns der Morgenstern, Op. 40 No 1 (17:51)
04. Straf mich nicht in deinem Zorn, Op. 40 No 2 (14:10)

CD45 - 01:14:05

Edward Elgar
01. Cantique in C Major, Op. 3 (3:44)
Organ Sonata No. 1 in G major, Op. 28
02. I. Allegro maestoso (9:00)
03. II. Allegretto (4:23)
04. III. Andante espressivo (6:11)
05. IV. Presto. Comodo (6:47)
Vesper Voluntaries (8), Op. 14
06. Introduction (1:26)
07. I. Andante (1:24)
08. II. Allegro (1:51)
09. III. Andantino (2:19)
10. IV. Allegro piacevole - Intermezzo: Adagio, come prima (2:16)
11. V. Poco lento (1:38)
12. VI. Moderato (2:00)
13. VII. Allegretto pensoso (2:10)
14. VIII. Poco allegro - Coda. Adagio come prima (4:03)
Samarkand Suite
15. I. Qasida to the Master Builders of Ancient Samarkand (4:23)
16. II. On the Deserted Hills of Afrasiyab (6:50)
17. III. The Flowering River Valley of the Zeravshan (3:13)
18. IV. In the Twilight of the Shakhi Zinda Necropolis (4:58)
19. V. Samarkand in the Light of the Rising Sun (5:25)

CD46 - 01:11:44

Maurice Durufle
Prelude, Adagio and Chorale Variations on the Veni Creator, Op. 4
01. I. Prelude (7:37)
02. II. Adagio (6:43)
03. III. Choral varie (5:40)
04. Prelude sur l'Introit de l'Epiphanie, Op. 13 (2:29)
05. Fugue sur le theme du carillon des heures de la cathedrale de soissons, Op. 12 (3:26)
06. Scherzo, Op. 2 (6:16)
Prelude and Fugue on the name A.L.A.I.N., Op. 7
07. I. Prelude (6:17)
08. II. Fugue (4:55)
09. Meditation, Op.Posth. (3:47)
10. Hommage a Jean Gallon (2:09)
Suite, for organ, Op. 5
11. I. Prelude (8:02)
12. II. Sicilienne (6:01)
13. III. Toccata (8:22)

CD47 - 01:12:00

Jehan Ariste Alain
01. Litanies, JA 119 (AWV 100) (4:26)
02. Intermezzo (Fileuse), JA 66bis (AWV 74a) (5:41)
Trois Danses Joies, Deuils, Luttes, JA 120a (AWV 119)
03. I. Joies (6:00)
04. II. Deuils (11:26)
05. III. Luttes (4:02)
06. Choral Cistercien pour une Elevation, JA 134 (AWV 62). (1:52)
07. Deuxieme Fantaisie, JA 117 (AWV 91). (7:35)
Suite, JA 69-70, 82 (AWV 86)
08. I. Introduction et variations, JA 69 (8:02)
09. II. Scherzo (5:01)
10. III. Choral (4:20)
Choral dorien, JA 67 (AWV 75)
11. I. Choral dorien, JA 67 (5:23)
12. II. Choral phrygien, JA 68 (3:19)
Trois Minutes, JA 30-32 (AWV 31, 34, 36)
13. I. Un cercle d'argent, JA 30 (1:14)
14. II. Romance, JA 31 (1:07)
15. III. Grave, JA 32 (2:30)

CD48 - 01:14:03

Hendrik Andriessen
01. Premier Choral (10:13)
02. Sonata da Chiesa (12:11)
03. Deuxieme choral (11:10)
04. A Quiet Introduction (4:44)
05. Troisieme choral (10:44)
06. Offertorium (4:53)
07. Quatrieme choral (12:03)
08. Theme and Variations (8:02)

CD49 - 00:55:22

Olivier Messiaen
01. Le banquet celeste (7:08)
02. Diptyque (10:15)
03. Apparition de l'eglise eternelle (9:12)
L' Ascension, for organ, I12b
04. I. Majeste du Christ demandant sa gloire a son pere (7:24)
05. II. Alleluias sereins d'une ame qui desire le ciel (6:09)
06. III. Transports de joie d'une ame devant la gloire du Christ qui est la sienna (4:45)
07. IV. Priere du Christ montant vers son pere (10:27)

CD50 - 00:45:40

Arvo Part
01. Cantate domino (3:59)
02. Annum per annum (11:55)
03. Mein Weg hat Gipfel und Wellentaler (8:27)
04. Pari intervallo (5:27)
05. Trivium (7:38)
06. Spiegel im Spiegel (8:12)