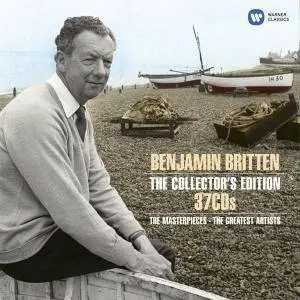 V.A. - Benjamin Britten: The Collector's Edition (37CDs, 2008)
Classical, 20th century | MP3 CBR 320 kbps | 5,68 Gb
Label: EMI Classics
This Collector's Edition presents a challenge to reviewers. There's so much of it. I could never do it any sort of justice if I approached this as if reviewing a smaller set. This, after all, comprises 37 CDs. As it is all I have been able to do is to sample, reminisce about known recordings and write around the subject. With this caveat stated, let's make a start.
There are three principal strands of Britten recordings. These are broadly tied into and defined by record companies, artists and eras. First we have Britten recording Britten for Decca. It's very much of the 1960s and of Aldebugh and of Peter Pears. It's also the most exhaustive survey. And it's available in several princely Decca boxes. It has panache and authority given its identification with the composer.
Then from the 1980s and 1990s you have an outcrop from the now defunct Collins. These have found their way onto Naxos and very nicely done they are too. Often these involve Britten's successor at Aldeburgh Steuart Bedford who worked with the composer. There's no box of these but the series can be picked up inexpensively in individual Naxos discs.
Lastly – and to some extent contemporaneous with the Collins project we have the activities of EMI. These are represented in this box and gravitate around various names: Previn, Rattle and Hickox (pre-Chandos). The outliers in the EMI set are Haitink, Mork, Isserlis, Brunelle, the Endellion Quartet and Iona Brown. Many of these recordings belong to the period 1982-2002. There are appearances by Reginald Goodall, Britten and Pears (songs recorded in the 1940s) and Steuart Bedford. Then again there's Goodall in a late 1940s Rape of Lucretia and excerpts from Grimes. The Previn Spring Symphony, the Berglund/Haendel Violin Concerto and works directed by Philip Ledger and David Willcocks are firmly of the 1970s.
Tracklist:
CD01 - Sinfonia da Requiem / Four Sea Interludes and Passacaglia from 'Peter Grimes' / The Young Person's Guide to the Orchestra (63:19)
CD02 - Canadian Carnival / Diversions for piano (left hand) and orchestra / Scottish Ballad / An American Overture / Occasional Overture / The Building of the House (76:00)
CD03 - Piano Concerto / Violin Concerto / Young Apollo (74:29)
CD04 - Simple Symphony; Variations on a Theme by Frank Bridge; Prelude and Fugue; Lachrymae (70:11)
CD05 - Symphonic Suite from 'Gloriana' / Cello Symphony / Men of Goodwill (72:17)
CD06 - Sinfonietta / Russian Funeral / Suite on English folk tunes: "A time there was…' / Matinées musicales / Soirées musicales / Rossini Suite (71:57)
CD07 - The Prince of the Pagodas (act I-II) (78:01)
CD08 - The Prince of the Pagodas (act III) (40:58)
CD09 - Rhapsody for string quartet / Quartettino / Elegy for solo viola / String Quartet in D / Phantasy in F minor for string quintet (60:51)
CD10 - Phantasy for oboe and string trio / Three Divertimenti / Alla Marcia / String Quartet No.1 (53:32)
CD11 - String Quartet No.2 / String Quartet No.3 (55:20)
CD12 - Cello Suites Nos.1-3 (73:05)
CD13 - Piano Music (79:54)
CD14 - Suite for violin and piano / Cello Sonata / Six Metamorphoses after Ovid for solo oboe / Nocturnal after John Dowland (71:12)
CD15 - War Requiem (beginning) (60:42)
CD16 - War Requiem (conclusion) / Spring Symphony (67:51)
CD17 - Hymn to St. Cecilia / A Ceremony of Carols / Missa Brevis in D / Festival Te Deum / Rejoice in the Lamb / Te Deum in C / Jubilate Deo (77:32)
CD18 - A Hymn to the Virgin / Saint Nicolas / Hymn to St. Peter / A Hymn of St. Columba / Sacred and Profane (77:59)
CD19 - The Little Sweep / A Boy Was Born / A Shepherd's Carol (77:51)
CD20 - Noye's Fludde / AMDG / The Ballad of Little Musgrave and Lady Barnard (77:32)
CD21 - The Company of Heaven / Ballad of Heroes / Praise We Great Men (73:14)
CD22 - Les illuminations / Serenade for tenor, horn and strings / Now sleeps the crimson petal / Nocturne (75:49)
CD23 - Quatre chansons françaises / Our Hunting Fathers / Folksong arrangements / Phaedra / Five French folksong arrangements (74:20)
CD24 - Seven Sonnets of Michelangelo / Holy Sonnets of John Donne / On This Island / Winter Words (73:41)
CD25 - The Five Canticles / Folksong arrangements (75:00)
CD26 - Songs / Folksong arrangements / Folk songs (70:55)
CD27 - Purcell arrangements / Die Forelle (Schubert) / Frühlingsnacht (Schumann) (41:21)
CD28 - Paul Bunyan (prologue, act I) (64:14)
CD29 - Paul Bunyan (act II, appendix) (66:29)
CD30 - Peter Grimes (prologue, act I-II) (72:06)
CD31 - Peter Grimes (act II-III) (72:36)
CD32 - The Turn Of The Screw (prologue, act I) (52:26)
CD33 - The Turn Of The Screw (act II) (54:24)
CD34 - A Midsummer Night's Dream (act I-II) (77:13)
CD35 - A Midsummer Night's Dream (act II-III) (77:11)
CD36 - The Rape Of Lucretia (abridged version) (73:55)
CD37 - Scenes from Peter Grimes / Folksong arrangements (51:21)
Disc: 1
1. Sinfonia da Requiem Op. 20: I. Lacrymosa (Andante ben misurato) -
2. Sinfonia da Requiem Op. 20: II. Dies irae (Allegro con fuoco) -
3. Sinfonia da Requiem Op. 20: III. Requiem aeternam (Andante molto tranquillo)
4. Sea Interludes, Op. 33a: Dawn
5. Four Sea Interludes from "Peter Grimes", Op. 33a: II. Sunday Morning
6. 4 Sea Interludes, Op. 33a: Moonlight
7. Passacaglia from 'Peter Grimes' Op. 33b
8. 4 Sea Interludes, Op. 33a: Storm
9. The Young Person's Guide to the Orchestra (Variations and Fugue on a Theme of Purcell Op. 34): Theme
10. The Young Person's Guide to the Orchestra (Variations and Fugue on a Theme of Purcell Op. 34), Woodw
11. The Young Person's Guide to the Orchestra (Variations and Fugue on a Theme of Purcell Op. 34), Woodw
12. The Young Person's Guide to the Orchestra (Variations and Fugue on a Theme of Purcell Op. 34), Woodw
13. The Young Person's Guide to the Orchestra (Variations and Fugue on a Theme of Purcell Op. 34), Woodw
14. The Young Person's Guide to the Orchestra (Variations and Fugue on a Theme of Purcell Op. 34), Strin
15. The Young Person's Guide to the Orchestra (Variations and Fugue on a Theme of Purcell Op. 34), Strin
16. The Young Person's Guide to the Orchestra (Variations and Fugue on a Theme of Purcell Op. 34), Strin
17. The Young Person's Guide to the Orchestra (Variations and Fugue on a Theme of Purcell Op. 34), Strin
18. The Young Person's Guide to the Orchestra (Variations and Fugue on a Theme of Purcell Op. 34), Strin
19. The Young Person's Guide to the Orchestra (Variations and Fugue on a Theme of Purcell Op. 34), Brass
20. The Young Person's Guide to the Orchestra (Variations and Fugue on a Theme of Purcell Op. 34), Brass
21. The Young Person's Guide to the Orchestra (Variations and Fugue on a Theme of Purcell Op. 34), Brass
22. The Young Person's Guide to the Orchestra (Variations and Fugue on a Theme of Purcell Op. 34): Percu
23. The Young Person's Guide to the Orchestra (Variations and Fugue on a Theme of Purcell Op. 34): Fugue

Disc: 2
1. Canadian Carnival Overture, Op. 19
2. Diversions for Piano Left Hand, Op. 21: Theme -
3. Diversions for Piano Left Hand, Op. 21: Variation I (Recitative)
4. Diversions for Piano Left Hand, Op. 21: Variation II (Romance)
5. Diversions for Piano Left Hand, Op. 21: Variation III (March)
6. Diversions for Piano Left Hand, Op. 21: Variation IV (Rubato)
7. Diversions for Piano Left Hand, Op. 21: Variation V (Chorale)
8. Diversions for Piano Left Hand, Op. 21: Variation VI (Nocturne)
9. Diversions for Piano Left Hand, Op. 21: Variation VII (Badinerie)
10. Diversions for Piano Left Hand, Op. 21: Variation VIII (Ritmico)
11. Diversions for Piano Left Hand, Op. 21: Variation IX (Toccata I, Toccata II)
12. Diversions for Piano Left Hand, Op. 21: Variation X (Adagio)
13. Diversions for Piano Left Hand, Op. 21: Variation XI (Tarantella)
14. Scottish Ballad for 2 Pianos, Op. 26
15. Occasional Overture (An American Overture), Op. 27
16. Occasional Overture, Op. 38 (1946)
17. The Building of the House Overture, Op. 79

Disc: 3
1. Piano Concerto Op.13: I. Toccata (Allegro molto e con brio)
2. Piano Concerto Op.13: II. Waltz (Allegretto)
3. Piano Concerto Op.13: III. Impromptu (Andante lento) -
4. Piano Concerto Op.13: IV. March (Allegro moderato - sempre alla marcia)
5. Violin Concerto Op. 15 (revised version) (1992 Remastered Version): I. Moderato con moto
6. Violin Concerto Op. 15 (revised version) (1992 Remastered Version): II. Vivace - Cadenza -
7. Violin Concerto Op. 15 (revised version) (1992 Remastered Version): III. Passacaglia (Andante lento
8. Young Apollo, for Piano and Strings, Op. 16

Disc: 4
1. Simple Symphony Op. 4: I. Boisterous Bourrée
2. Simple Symphony Op. 4: II. Playful Pizzicato
3. Simple Symphony Op. 4: III. Sentimental Sarabande
4. Simple Symphony Op. 4: IV. Frolicsome Finale
5. Variations on a theme of Frank Bridge Op. 10: Introduction and Theme
6. Variations on a theme of Frank Bridge Op. 10: Variation 1: Adagio
7. Variations on a theme of Frank Bridge Op. 10: Variation 2: March
8. Variations on a theme of Frank Bridge Op. 10: Variation 3: Romance
9. Variations on a theme of Frank Bridge Op. 10: Variation 4: Aria italiana
10. Variations on a theme of Frank Bridge Op. 10: Variation 5: Bourrée classique
11. Variations on a theme of Frank Bridge Op. 10: Variation 6: Wiener Walzer
12. Variations on a theme of Frank Bridge Op. 10: Variation 7: Moto perpetuo
13. Variations on a theme of Frank Bridge Op. 10: Variation 8: Funeral March
14. Variations on a theme of Frank Bridge Op. 10: Variation 9: Chant
15. Variations on a theme of Frank Bridge Op. 10: Variation 10: Fugue and Finale
16. Prelude & Fugue Op. 29
17. Lachrymae Op. 48

Disc: 5
1. Symphonic Suite from Gloraina, Op. 53a: The Tournament
2. Symphonic Suite from Gloraina, Op. 53a: The Lute Song
3. Symphonic Suite from Gloraina, Op. 53a, The Courtly Dances: March
4. Symphonic Suite from Gloraina, Op. 53a, The Courtly Dances: Coranto
5. Symphonic Suite from Gloraina, Op. 53a, The Courtly Dances: Pavane
6. Symphonic Suite from Gloraina, Op. 53a, The Courtly Dances: Morris Dance
7. Symphonic Suite from Gloraina, Op. 53a, The Courtly Dances: Galliard
8. Symphonic Suite from Gloraina, Op. 53a, The Courtly Dances: Lavolta
9. Symphonic Suite from Gloraina, Op. 53a: Gloriana moritura
10. Cello Symphony Op. 68: I. Allegro maestoso
11. Cello Symphony Op. 68: II. Presto inquieto
12. Cello Symphony Op. 68, III. Adagio -: Cadenza
13. Cello Symphony Op. 68: IV. Passacaglia (Andante allegro)
14. Variations on a Christmas carol, 'Men of Goodwill'

Disc: 6
1. Sinfonietta Op. 1: I: Poco presto ed agitato
2. Sinfonietta Op. 1: II: Andante lento
3. Sinfonietta Op. 1: III: Tarantella (Presto vivace)
4. Russian Funeral for 11-Part Brass and Percussion Ensemble
5. A Suite on English Folk Tunes, Op. 90, "A Time There Was": I. Cakes and Ale
6. A Suite on English Folk Tunes, Op. 90, "A Time There Was": II. The Bitter Withy
7. A Suite on English Folk Tunes, Op. 90, "A Time There Was": III. Hankin Booby
8. A Suite on English Folk Tunes, Op. 90, "A Time There Was": IV. Hunt the Squirrel
9. A Suite on English Folk Tunes, Op. 90, "A Time There Was": V. Lord Melbourne
10. Matinées musicales Op. 24: March
11. Matinées musicales Op. 24: Nocturne
12. Matinées musicales Op. 24: Waltz
13. Matinées musicales Op. 24: Pantomime
14. Matinées musicales Op. 24: Moto perpetuo
15. Soirées musicales Op. 9: March
16. Soirées musicales Op. 9: Canzonetta
17. Soirées musicales Op. 9: Tirolese
18. Soirées musicales Op. 9: Bolero
19. Soirées musicales Op. 9: Tarantella
20. Rossini Suite: I. Allegro brillante -
21. Rossini Suite: II. Allegretto
22. Rossini Suite: III. Allegretto -
23. Rossini Suite: IV. Bolero (Allegro moderato) -
24. Rossini Suite: V. Allegro con brio

Disc: 7
1. The Prince of the Pagodas - Ballet in three acts Op. 57, Act I: Prelude
2. The Prince of the Pagodas - Ballet in three acts Op. 57, Act I, The Palace of the Emperor of the Mid
3. The Prince of the Pagodas - Ballet in three acts Op. 57, Act I, The Palace of the Emperor of the Mid
4. The Prince of the Pagodas - Ballet in three acts Op. 57, Act I, The Palace of the Emperor of the Mid
5. The Prince of the Pagodas - Ballet in three acts Op. 57, Act I, The Palace of the Emperor of the Mid
6. The Prince of the Pagodas - Ballet in three acts Op. 57, Act I, The Palace of the Emperor of the Mid
7. The Prince of the Pagodas - Ballet in three acts Op. 57, Act I, The Palace of the Emperor of the Mid
8. The Prince of the Pagodas - Ballet in three acts Op. 57, Act I, The Palace of the Emperor of the Mid
9. The Prince of the Pagodas - Ballet in three acts Op. 57, Act I, The Palace of the Emperor of the Mid
10. The Prince of the Pagodas - Ballet in three acts Op. 57, Act I, The Palace of the Emperor of the Mid
11. The Prince of the Pagodas - Ballet in three acts Op. 57, Act I, The Palace of the Emperor of the Mid
12. The Prince of the Pagodas - Ballet in three acts Op. 57, Act I, The Palace of the Emperor of the Mid
13. The Prince of the Pagodas - Ballet in three acts Op. 57, Act I, The Palace of the Emperor of the Mid
14. The Prince of the Pagodas - Ballet in three acts Op. 57, Act I, The Palace of the Emperor of the Mid
15. The Prince of the Pagodas - Ballet in three acts Op. 57, Act I, The Palace of the Emperor of the Mid
16. The Prince of the Pagodas - Ballet in three acts Op. 57, Act II, Scene 1: The Strange Journey of Bel
17. The Prince of the Pagodas - Ballet in three acts Op. 57, Act II, Scene 1: The Strange Journey of Bel
18. The Prince of the Pagodas - Ballet in three acts Op. 57, Act II, Scene 1: The Strange Journey of Bel
19. The Prince of the Pagodas - Ballet in three acts Op. 57, Act II, Scene 1: The Strange Journey of Bel
20. The Prince of the Pagodas - Ballet in three acts Op. 57, Act II, Scene 1: The Strange Journey of Bel
21. The Prince of the Pagodas - Ballet in three acts Op. 57, Act II, Scene 1: The Strange Journey of Bel
22. The Prince of the Pagodas - Ballet in three acts Op. 57, Act II, Scene 1: The Strange Journey of Bel
23. The Prince of the Pagodas - Ballet in three acts Op. 57, Act II, Scene 1: The Strange Journey of Bel
24. The Prince of the Pagodas - Ballet in three acts Op. 57, Act II, Scene 1: The Strange Journey of Bel
25. The Prince of the Pagodas - Ballet in three acts Op. 57, Act II, Scene 1: The Strange Journey of Bel
26. The Prince of the Pagodas - Ballet in three acts Op. 57, Act II, Scene 1: The Strange Journey of Bel
27. The Prince of the Pagodas - Ballet in three acts Op. 57, Act II, Scene 1: The Strange Journey of Bel
28. The Prince of the Pagodas - Ballet in three acts Op. 57, Act II, Scene 1: The Strange Journey of Bel
29. The Prince of the Pagodas - Ballet in three acts Op. 57, Act II, Scene 2: The Arrival and Adventures
30. The Prince of the Pagodas - Ballet in three acts Op. 57, Act II, Scene 2: The Arrival and Adventures
31. The Prince of the Pagodas - Ballet in three acts Op. 57, Act II, Scene 2: The Arrival and Adventures
32. The Prince of the Pagodas - Ballet in three acts Op. 57, Act II, Scene 2: The Arrival and Adventures
33. The Prince of the Pagodas - Ballet in three acts Op. 57, Act II, Scene 2: The Arrival and Adventures

Disc: 8
1. The Prince of the Pagodas - Ballet in three acts Op. 57, Act III, Scene 1: The Palace of the Middle
2. The Prince of the Pagodas - Ballet in three acts Op. 57, Act III, Scene 1: The Palace of the Middle
3. The Prince of the Pagodas - Ballet in three acts Op. 57, Act III, Scene 1: The Palace of the Middle
4. The Prince of the Pagodas - Ballet in three acts Op. 57, Act III, Scene 2: The Pagoda Palace: Transf
5. The Prince of the Pagodas - Ballet in three acts Op. 57, Act III, Scene 2: The Pagoda Palace: Pas de
6. The Prince of the Pagodas - Ballet in three acts Op. 57, Act III, Scene 2: The Pagoda Palace: Variat
7. The Prince of the Pagodas - Ballet in three acts Op. 57, Act III, Scene 2: The Pagoda Palace: Variat
8. The Prince of the Pagodas - Ballet in three acts Op. 57, Act III, Scene 2: The Pagoda Palace, Variat
9. The Prince of the Pagodas - Ballet in three acts Op. 57, Act III, Scene 2: The Pagoda Palace, Variat
10. The Prince of the Pagodas - Ballet in three acts Op. 57, Act III, Scene 2: The Pagoda Palace, Variat
11. The Prince of the Pagodas - Ballet in three acts Op. 57, Act III, Scene 2: The Pagoda Palace: Pas de
12. The Prince of the Pagodas - Ballet in three acts Op. 57, Act III, Scene 2: The Pagoda Palace: Pas de
13. The Prince of the Pagodas - Ballet in three acts Op. 57, Act III, Scene 2: The Pagoda Palace: Variat
14. The Prince of the Pagodas - Ballet in three acts Op. 57, Act III, Scene 2: The Pagoda Palace: Variat
15. The Prince of the Pagodas - Ballet in three acts Op. 57, Act III, Scene 2: The Pagoda Palace: Finale
16. The Prince of the Pagodas - Ballet in three acts Op. 57, Act III, Scene 2: The Pagoda Palace: Apothe

Disc: 9
1. Rhapsody for string quartet (1929)
2. Quartettino (1930): I. Andante - Allegro molto e con fuoco
3. Quartettino (1930): II. Poco adagio ma con moto
4. Quartettino (1930): III. Allegro molto vivace
5. Elegy (1930)
6. String Quartet in D: I. Allegro maestoso
7. String Quartet in D: II. Lento ed espressivo
8. String Quartet in D: III. Allegro giocoso
9. Phantasy in F minor

Disc: 10
1. Phantasy Op. 2
2. 3 Divertimenti: March
3. Divertimenti: Waltz
4. 3 Divertimenti: Burlesque
5. Alla marcia
6. String Quartet No. 1 in D Op 25: I. Andante sostenuto
7. String Quartet No. 1 in D Op 25: II. Allegretto con slancio
8. String Quartet No. 1 in D Op 25: III. Andante calmo
9. String Quartet No. 1 in D Op 25: IV. Molto vivace

Disc: 11
1. String Quartet No. 2 in C Op 36: I. Allegro calmo senza rigore
2. String Quartet No. 2 in C Op 36: II. Vivace
3. String Quartet No. 2 in C Op 36: III. Chacony (Sostenuto)
4. String Quartet No. 3 Op 94: I. Duets (with moderato movement)
5. String Quartet No. 3 Op 94: II. Ostinato (Very fast)
6. String Quartet No. 3 Op 94: III. Solo (Very calm)
7. String Quartet No. 3 Op 94: IV. Burlesque (Fast, con fuoco)
8. String Quartet No. 3 Op 94: V. Recitative and Passacaglia 'La Srenissima' (Slow)

Disc: 12
1. Suite No. 1 in G for Solo Cello Op.72: Canto Primo: Sostenuto e largamente
2. Suite No. 1 in G for Solo Cello Op.72: I Fuga: Andante moderato
3. Suite No. 1 in G for Solo Cello Op.72: II Lamento: Lento rubato
4. Suite No. 1 in G for Solo Cello Op.72: Canto Secondo: Sostenuto
5. Suite No. 1 in G for Solo Cello Op.72: III Serenata: Allegretto (pizzicato)
6. Suite No. 1 in G for Solo Cello Op.72: IV Marcia: Alla marcia moderato
7. Suite No. 1 in G for Solo Cello Op.72: Canto Terzo: Sostenuto
8. Suite No. 1 in G for Solo Cello Op.72: V Bordone: Moderato quasi recitativo
9. Suite No. 1 in G for Solo Cello Op.72: VI Moto perpetuo e Canto quarto: Presto
10. Suite No. 2 in D for Solo Cello Op.80: I Declamato: Largo
11. Suite No. 2 in D for Solo Cello Op.80: II Fuga: Andante
12. Suite No. 2 in D for Solo Cello Op.80: III Scherzo: Allegro molto
13. Suite No. 2 in D for Solo Cello Op.80: IV Andante lento
14. Suite No. 2 in D for Solo Cello Op.80: V Ciaccona: Allegro
15. Suite No. 3 for Solo Cello Op. 87: I Introduzione: Lento
16. Suite No. 3 for Solo Cello Op. 87: II Marcia: Allegro
17. Suite No. 3 for Solo Cello Op. 87: III Canto: Con moto
18. Suite No. 3 for Solo Cello Op. 87: IV Barcarola: Lento
19. Suite No. 3 for Solo Cello Op. 87: V Dialogo: Allgretto
20. Suite No. 3 for Solo Cello Op. 87: VI Fuga: Andante espressivo
21. Suite No. 3 for Solo Cello Op. 87: VII Recitativo: Fantastico
22. Suite No. 3 for Solo Cello Op. 87: VIII Moto perpetuo: Presto
23. Suite No. 3 for Solo Cello Op. 87: IX Passacaglia: Lento solenne

Disc: 13
1. Holiday Diary Op. 5: I. Early Morning Bathe
2. Holiday Diary Op. 5: II. Sailing
3. Holiday Diary Op. 5: III. Funfair
4. Holiday Diary Op. 5: IV. Night
5. Three Character Pieces (1930): I. John (Poco allegro vivace)
6. Three Character Pieces (1930): II. Daphne (Poco andante grazioso)
7. Three Character Pieces (1930): III. Michael (Poco presto e molto capriccioso)
8. Night Piece (Notturno) (1963)
9. Moderato and Nocturne (Sonatina romantica, 1940): Moderato
10. Moderato and Nocturne (Sonatina romantica, 1940): Nocturne
11. Twelve Variations (1931)
12. Five Walztes (Waltzes) (1923-5/1969): I. Rather fast and nervous
13. Five Walztes (Waltzes) (1923-5/1969): II. Quick, with wit
14. Five Walztes (Waltzes) (1923-5/1969): III. Dramatic
15. Five Walztes (Waltzes) (1923-5/1969): IV. Rhythmic; not fast
16. Five Walztes (Waltzes) (1923-5/1969): V. Variations: Quiet and simple
17. Two Lullabies (1936): Lullaby
18. Two Lullabies (1936): Lullaby for a Retired Colonel
19. Mazurka elegiaca Op. 23 No. 2
20. Introduction and Rondo alla burlesca Op. 23 No. 1: Introduction -
21. Introduction and Rondo alla burlesca Op. 23 No. 1: Rondo alla burlesca

Disc: 14
1. Suite for violin and piano Op. 6: I. Introduction (Andante maestoso)
2. Suite for violin and piano Op. 6: II. March (Allegro alla marcia)
3. Suite for violin and piano Op. 6: III. Moto perpetuo (Allegro molto e con fuoco)
4. Suite for violin and piano Op. 6: IV. Lullaby (Lento tranquillo)
5. Suite for violin and piano Op. 6: V. Waltz (Alla valse: vivace e rubato)
6. Cello Sonata in C Op. 65: I. Dialogo (Allegro)
7. Cello Sonata in C Op. 65: II. Scherzo-pizzicato (Allegretto)
8. Cello Sonata in C Op. 65: III. Elegia (Lento)
9. Cello Sonata in C Op. 65: IV. Marcia (Energico)
10. Cello Sonata in C Op. 65: V. Moto perpetuo (Presto)
11. Six Metamorphoses after Ovid Op. 49: 1. Pan (Senza misura)
12. Six Metamorphoses after Ovid Op. 49: 2. Phaeton (Vivace ritmico)
13. Six Metamorphoses after Ovid Op. 49: 3. Niobe (Andante)
14. Six Metamorphoses after Ovid Op. 49: 4. Bacchus (Allegro pesante)
15. Six Metamorphoses after Ovid Op. 49: 5. Narcissus (Lento piacevole)
16. Six Metamorphoses after Ovid Op. 49: 6. Arethusa (Largamente)
17. Nocturnal after John Dowland, Op. 70: I. Musingly (Meditation) (Meditation)
18. Nocturnal after John Dowland Op. 70: II. Agitated (Molto agitatavo)
19. Nocturnal after John Dowland Op. 70: III. Restless (Inquieto)
20. Nocturnal after John Dowland Op. 70: IV. Uneasy (Ansioso)
21. Nocturnal after John Dowland Op. 70: V. March-like (Quasi una marcia)
22. Nocturnal after John Dowland Op. 70: VI. Dreaming (Sognanti)
23. Nocturnal after John Dowland Op. 70: VII. Greatly rocking (Cullante)
24. Nocturnal after John Dowland, Op. 70: VIII. Passacaglia (Misurato)
25. Nocturnal after John Dowland Op. 70: IX. Slow and quiet (Molto tranquillo)

Disc: 15
1. War Requiem, Op. 66: I. Requiem aeternam, (a) Requiem aeternam (Chorus, Boys' Choir)
2. War Requiem, Op. 66: I. Requiem aeternam, (b) What passing bells (Tenor)
3. War Requiem, Op. 66: I. Requiem aeternam, © Kyrie eleison (Chorus)
4. War Requiem, Op. 66: II. Dies irae, (a) Dies irae (Chorus)
5. War Requiem, Op. 66: II. Dies irae, (b) Bugles sang (Baritone)
6. War Requiem, Op. 66: II. Dies irae, © Liber scriptus proferetur (Soprano, Semi-Chorus)
7. War Requiem, Op. 66: II. Dies irae, (d) Out there, we've walked quite friendly (Tenor, Baritone)
8. War Requiem, Op. 66: II. Dies irae, (e) Recordare Jesu pie (Female Chorus) - (f) Confutatis (Male Ch
9. War Requiem, Op. 66: II. Dies irae, (g) Be slowly lifted up (Baritone)
10. War Requiem, Op. 66: II. Dies irae, (h) Reprise of Dies irae (Chorus)
11. War Requiem, Op. 66: II. Dies irae, (i) Lacrimosa (Soprano, Chorus)
12. War Requiem, Op. 66: II. Dies irae, (j) Move him into the sun … Pie Jesu (Tenor, Soprano, Chorus)
13. War Requiem, Op. 66: III. Offertorium, (a) Domine Jesu Christe … Quam olim Abrahae (Boys' Choir, Cho
14. War Requiem, Op. 66: III. Offertorium, (b) So Abram rose (Tenor, Baritone) - Hostias et preces (Boy'
15. War Requiem, Op. 66: IV. Sanctus, (a) Sanctus (Soprano)
16. War Requiem, Op. 66: IV. Sanctus, (b) Benedictus (Chorus)
17. War Requiem, Op. 66: IV. Sanctus, © After the blast of lightning (Baritone)
18. War Requiem, Op. 66: V. Agnus Dei, (a) Agnus Dei … One ever hangs (Chorus, Tenor)

Disc: 16
1. War Requiem, Op. 66: VI. Libera me, (a) Libera me, Domine (Soprano, Chorus)
2. War Requiem, Op. 66: VI. Libera me, (b) It seemed that out of battle (Tenor, Baritone)
3. War Requiem, Op. 66: VI. Libera me, © Let us sleep now … In paradisum (All) - Conclusion "Requiem
4. A Spring Symphony Op. 44: Introduction: Shine out (Anon. 16th century)
5. A Spring Symphony Op. 44: The merry Cuckoo (E Spencer)
6. A Spring Symphony Op. 44: Spring, the sweet Spring (T Nashe)
7. A Spring Symphony Op. 44: The Driving Boy (G Peele and J Clare)
8. A Spring Symphony Op. 44: The Morning Star (J Milton)
9. A Spring Symphony Op. 44: Welcome, Maids of Honour (R Herrick)
10. A Spring Symphony Op. 44: Waters above! (H Vaughan)
11. A Spring Symphony Op. 44: Out of the lawn lie in bad (W H Auden)
12. A Spring Symphony Op. 44: When will my May come (Barnefield)
13. A Spring Symphony Op. 44: Fair and Fair (G Peele)
14. A Spring Symphony Op. 44: Sound the flute! (W Blake)
15. A Spring Symphony Op. 44: Finale: London, to thee I do present (J Beaumont, J Fletcher & anon. 13th

Disc: 17
1. Hymn to St Cecilia Op. 27 (2004 Remastered Version): I. In a garden shady this holy lady
2. Hymn to St Cecilia Op. 27 (2004 Remastered Version): II. I cannot grow
3. Hymn to St Cecilia Op. 27 (2004 Remastered Version): III. O ear whose creatures cannot wish to fall
4. A Ceremony of Carols Op. 28 (2004 Remastered Version): I: Procession
5. A Ceremony of Carols Op. 28 (2004 Remastered Version): II: Wolcum Yole!
6. A Ceremony of Carols Op. 28 (2004 Remastered Version): III. There is no rose
7. A Ceremony of Carols Op. 28 (2004 Remastered Version): IV: (a) That yongë child
8. A Ceremony of Carols Op. 28 (2004 Remastered Version): IV: (b) Balulalow
9. A Ceremony of Carols Op. 28 (2004 Remastered Version): V: As dew in Aprille
10. A Ceremony of Carols Op. 28 (2004 Remastered Version): VI: This little Babe
11. A Ceremony of Carols Op. 28 (2004 Remastered Version): VII: Interlude (Andante pastorale) [harp]
12. A Ceremony of Carols Op. 28 (2004 Remastered Version): VIII: In freezing winter night
13. A Ceremony of Carols Op. 28 (2004 Remastered Version): IX: Spring Carol
14. A Ceremony of Carols Op. 28 (2004 Remastered Version): X: Deo Gracias!
15. A Ceremony of Carols Op. 28 (2004 Remastered Version): XI: Recession
16. Missa brevis in D Op. 63 (2004 Remastered Version): I. Kyrie
17. Missa brevis in D Op. 63 (2004 Remastered Version): II. Gloria
18. Missa brevis in D Op. 63 (2004 Remastered Version): III. Sanctus
19. Missa brevis in D Op. 63 (2004 Remastered Version): IV. Benedictus
20. Missa brevis in D Op. 63 (2004 Remastered Version): V. Agnus Dei
21. Festival Te Deum Op. 32 (2004 Remastered Version)
22. Rejoice in the Lamb - Festival Cantata Op. 30 (2004 Remastered Version): Rejoice in God, O ye Tongue
23. Rejoice in the Lamb - Festival Cantata Op. 30 (2004 Remastered Version): For I will consider my Cat
24. Rejoice in the Lamb - Festival Cantata Op. 30 (2004 Remastered Version): For the Mouse is a creature
25. Rejoice in the Lamb - Festival Cantata Op. 30 (2004 Remastered Version): For the flowers are great b
26. Rejoice in the Lamb - Festival Cantata Op. 30 (2004 Remastered Version): For I am under the same acc
27. Rejoice in the Lamb - Festival Cantata Op. 30 (2004 Remastered Version): For He is the spirit (bass
28. Rejoice in the Lamb - Festival Cantata Op. 30 (2004 Remastered Version): Hallelujah (choir)
29. Te Deum (1934) (2004 Remastered Version)
30. Jubilate Deo (1961) (2004 Remastered Version)

Disc: 18
1. Hymn to the Virgin
2. Saint Nicolas, Op.42 (1995 Remastered Version): Introduction: Our eyes are blinded by the holiness y
3. Saint Nicolas, Op.42 (1995 Remastered Version): The Birth of Nicolas
4. Saint Nicolas, Op.42 (1995 Remastered Version): Nicolas devotes himself to God
5. Saint Nicolas, Op.42 (1995 Remastered Version): He journeys to Palestine
6. Saint Nicolas, Op.42 (1995 Remastered Version): Nicolas comes to Myra and is chosen Bishop
7. Saint Nicolas, Op.42 (1995 Remastered Version): Nicolas from prison
8. Saint Nicolas, Op.42 (1995 Remastered Version): Nicolas and the pickled boys
9. Saint Nicolas, Op.42 (1995 Remastered Version): His Piety and Marvellous Works
10. Saint Nicolas, Op.42 (1995 Remastered Version): The Death of Nicolas
11. Hymn to St Peter Op. 56a (1968 Digital Remaster)
12. A Hymn of St Columba (Regis regum rectissimi) (attrib. St. Columba)
13. Sacred and Profane Op. 91: St Godric's Hymn
14. Sacred and Profane Op. 91: Imon waxe wood
15. Sacred and Profane Op. 91: Lenton is come
16. Sacred and Profane Op. 91: The long night
17. Sacred and Profane Op. 91: Yific of luve can
18. Sacred and Profane Op. 91: Carol
19. Sacred and Profane Op. 91: Ye that pasen by
20. Sacred and Profane Op. 91: A death

Disc: 19
1. The Little Sweep Op. 45 (1995 Remastered Version), Scene One: A January Morning: I. The Sweep's Song
2. The Little Sweep Op. 45 (1995 Remastered Version), Scene One: A January Morning: II. Quartet: "Sweep
3. The Little Sweep Op. 45 (1995 Remastered Version), Scene One: A January Morning: III. Duet: "Now, li
4. The Little Sweep Op. 45 (1995 Remastered Version), Scene One: A January Morning: IIIa Hide and Seek:
5. The Little Sweep Op. 45 (1995 Remastered Version), Scene One: A January Morning: IV. Shanty: "Pull t
6. The Little Sweep Op. 45 (1995 Remastered Version), Scene One: A January Morning: V. Ensemble: "Is he
7. The Little Sweep Op. 45 (1995 Remastered Version), Scene One: A January Morning: VI. Marching Song:
8. The Little Sweep Op. 45 (1995 Remastered Version), Scene One: A January Morning: VII. Trio: "Sam! Sa
9. The Little Sweep Op. 45 (1995 Remastered Version), Scene One: A January Morning: VIII. Aria: "Run, p
10. The Little Sweep Op. 45 (1995 Remastered Version), Scene One: A January Morning: IX. Sammy's Bath: "
11. The Little Sweep Op. 45 (1995 Remastered Version), Scene Two: Later: X. Ensemble: "O why do you weep
12. The Little Sweep Op. 45 (1995 Remastered Version), Scene Two: Later: XI. Pantomine and …..
13. The Little Sweep Op. 45 (1995 Remastered Version), Scene Two: Later: XII. ….. Scena: "Ah! ….. Bl
14. The Little Sweep Op. 45 (1995 Remastered Version), Scene Two: Later: XIII. Finale: "Help! Help! She'
15. The Little Sweep Op. 45 (1995 Remastered Version), Scene Two: Later: XIV. The Night Song: "The owk,
16. The Little Sweep Op. 45 (1995 Remastered Version), Scene Three: The Next Morning: XV. Aria: "Soon th
17. The Little Sweep Op. 45 (1995 Remastered Version), Scene Three: The Next Morning: XVI. Ensemble: "Mo
18. The Little Sweep Op. 45 (1995 Remastered Version), Scene Three: The Next Morning: XVII. Trio and Ens
19. The Little Sweep Op. 45 (1995 Remastered Version), Scene Three: The Next Morning: XVIII. Finale: Coa
20. A Boy is Born - choral variations on old carols Op. 3: Theme - A Boy was Born
21. A Boy is Born - choral variations on old carols Op. 3: Variation I - Lullaby, Jesu
22. A Boy is Born - choral variations on old carols Op. 3: Variation II - Herod
23. A Boy is Born - choral variations on old carols Op. 3: Variation III - Jesu, as Thou art our Saviour
24. A Boy is Born - choral variations on old carols Op. 3: Variations IV - The Three kings
25. A Boy is Born - choral variations on old carols Op. 3: Variation V - In the bleak mid-winter
26. A Boy is Born - choral variations on old carols Op. 3: Variation VI - Noël!
27. A Shepherd's Carol (Auden)

Disc: 20
1. Noye's Fludde, Op.59 The Chester Miricle Play set to music: Lord Jesus, think on me
2. Noye's Fludde, Op.59 The Chester Miricle Play set to music: I, God, that all this world hath wrought
3. Noye's Fludde, Op.59 The Chester Miricle Play set to music: O, Lorde, I thanke thee lowde and still
4. Noye's Fludde, Op.59 The Chester Miricle Play set to music: Now in the name of God I will begyne
5. Noye's Fludde, Op.59 The Chester Miricle Play set to music: Wyffe, in this vessell we shall be kepte
6. Noye's Fludde, Op.59 The Chester Miricle Play set to music: Noye, Noye, take thou thy company
7. Noye's Fludde, Op.59 The Chester Miricle Play set to music: Sir! heare are lions, lepardes, in
8. Noye's Fludde, Op.59 The Chester Miricle Play set to music: Wiffe, come in! why standes thou their?
9. Noye's Fludde, Op.59 The Chester Miricle Play set to music: It is good for to be still
10. Noye's Fludde, Op.59 The Chester Miricle Play set to music: Eternal Father, strong to save
11. Noye's Fludde, Op.59 The Chester Miricle Play set to music: Now forty dayes are fullie gone
12. Noye's Fludde, Op.59 The Chester Miricle Play set to music: Noye, take thy wife anone
13. Noye's Fludde, Op.59 The Chester Miricle Play set to music: Noye, heare I behette thee a heste
14. Noye's Fludde, Op.59 The Chester Miricle Play set to music: The spacious firmament on high
15. A.M.D.G. (Hopkins): Heaven-Haven
16. A.M.D.G. (Hopkins): O deus, ego amo te
17. A.M.D.G. (Hopkins): Rosa Mystica
18. A.M.D.G. (Hopkins): The Soldier
19. A.M.D.G. (Hopkins): Prayer II
20. A.M.D.G. (Hopkins): God's Grandeur
21. A.M.D.G. (Hopkins): Prayer I
22. The Ballad of Little Musgrave and Lady Barnard (1995 Digital Remaster)

Disc: 21
1. The Company of Heaven, Part One: Chaos
2. The Company of Heaven, Part One: The Morning Stars
3. The Company of Heaven, Part Two: Angels appear to Jacob, Elisha and Mary
4. The Company of Heaven, Part Two: Christ, the fair glory
5. The Company of Heaven, Part Two: War in the heaven
6. The Company of Heaven, Part Three: Heaven is here
7. The Company of Heaven, Part Three: A thousand, thousand gleaming fires
8. The Company of Heaven, Part Three: Funeral march for a Boy
9. The Company of Heaven, Part Three: Whoso dwelleth under the defence of the most High
10. The Company of Heaven, Part Three: There came out also at this time
11. The Company of Heaven, Part Three: Ye watchers and ye holy ones
12. Ballad of Heroes, Op. 14: I. Funeral March
13. Ballad of Heroes, Op. 14: II. Scherzo (Dance of Death)
14. Ballad of Heroes, Op. 14: III. Recitative and Choral - Epilogue (Funeral March)
15. Praise We Great Men, for Soloists, Chorus and Orchestra (Colin Matthews's Completed Version): I. Pra
16. Praise We Great Men, for Soloists, Chorus and Orchestra (Colin Matthews's Completed Version): II. Pr
17. Praise We Great Men, for Soloists, Chorus and Orchestra (Colin Matthews's Completed Version): III. (

Disc: 22
1. Les Illuminations for high voice and string orchestra Op. 18 (1971 Remastered Version): I. Fanfare
2. Les Illuminations for high voice and string orchestra Op. 18 (1971 Remastered Version): II. Villes
3. Les Illuminations for high voice and string orchestra Op. 18 (1971 Remastered Version): IIIa. Phrase
4. Les Illuminations for high voice and string orchestra Op. 18 (1971 Remastered Version): IIIb. Antiqu
5. Les Illuminations for high voice and string orchestra Op. 18 (1971 Remastered Version): IV. Royauté
6. Les Illuminations for high voice and string orchestra Op. 18 (1971 Remastered Version): V. Marine
7. Les Illuminations for high voice and string orchestra Op. 18 (1971 Remastered Version): VI. Interlud
8. Les Illuminations for high voice and string orchestra Op. 18 (1971 Remastered Version): VII. Being B
9. Les Illuminations for high voice and string orchestra Op. 18 (1971 Remastered Version): VIII. Parade
10. Les Illuminations for high voice and string orchestra Op. 18 (1971 Remastered Version): IX. Départ
11. Serenade for tenor, horn and strings Op. 31: Prologue (horn solo)
12. Serenade for tenor, horn and strings Op. 31: 1. Pastoral: The day's grown old (Charles Cotton)
13. Serenade for tenor, horn and strings Op. 31: 2. Nocturne: The splendour falls on castle walls (Alfre
14. Serenade for tenor, horn and strings Op. 31: 3. Elegy: O Rose, thou art sick (William Blake)
15. Serenade for tenor, horn and strings Op. 31: 4. Dirge: This ae nighte (anon. 15th century)
16. Serenade for tenor, horn and strings Op. 31: 5. Hymn: Queen and huntress (Ben Jonson)
17. Serenade for tenor, horn and strings Op. 31: 6. Sonnet: O soft embalmer of the still midnight (John
18. Serenade for tenor, horn and strings Op. 31: Epilogue (horn solo)
19. Now sleeps the crimson petal
20. Nocturne, Op.60: On a poet's lips I slept (Shelley)
21. Nocturne, Op.60: Below the thunders of the upper deep (Tennyson) (Robin O'Neill, bassoon)
22. Nocturne, Op.60: Encinctured with a twine of leaves (Coleridge) (Thelma Owen, harp)
23. Nocturne, Op.60: Midnight's bell goes ting, ting, ting, ting, ting (Middleton) (Frank Lloyd, french
24. Nocturne, Op.60: But that night when on my bed I lay (Wordsworth) (David Corkhill, timpani)
25. Nocturne, Op.60: She sleeps on soft, last breaths (Owen) (James Brown, cor anglais)
26. Nocturne, Op.60: What is more gentle than a wind in summer? (Keats) (William Bennett, flute; Thea Ki
27. Nocturne, Op.60: When most I wink, then do mine eyes best see (Shakespeare)

Disc: 23
1. Quatre chansons françaises, for Soprano: I. Nuits de juin
2. Quatre chansons françaises, for Soprano: II. Sagesse
3. Quatre chansons françaises, for Soprano: III. L'Enfance
4. Quatre chansons françaises, for Soprano: IV. Chanson d'automne
5. Our Hunting Fathers Op. 8: Prologue
6. Our Hunting Fathers Op. 8: A. Rats Away!
7. Our Hunting Fathers Op. 8: B. Messalina
8. Our Hunting Fathers Op. 8: C. Dance of Death (Hawking for the Partridge)
9. Our Hunting Fathers Op. 8: Epilogue and Funeral March
10. Folk Song Arrangement: Little Sir William
11. Folk Song Arrangement: Come you not from Newcastle?
12. Folk Song Arrangement: The Bonny Earl o' Moray
13. Folk Song Arrangement: Oliver Cromwell
14. Phaedra, Op.93: In May, in brilliant Athens
15. Phaedra, Op.93: Oh Gods of wrath
16. Phaedra, Op.93: My time's too short, your highness
17. Folk Song Arrangements: La belle est au jardin d'amour
18. Folk Song Arrangements: Eho! Eho!
19. Folk Song Arrangements: Fileuse
20. Folk Song Arrangements: Quand j'étais chez mon père.
21. Folk Song Arrangements: Le roi s'en va-t'en chasse (The King goes a-hunting)

Disc: 24
1. Seven Sonnets of Michelangelo Op. 22 (1993 Remastered Version): 1. Sì come nella penna e nell'inchio
2. Seven Sonnets of Michelangelo Op. 22 (1993 Remastered Version): 2. A che più debb'io mai l'intensa v
3. Seven Sonnets of Michelangelo Op. 22 (1993 Remastered Version): 3. Veggio co' bei vostri occhi un do
4. Seven Sonnets of Michelangelo Op. 22 (1993 Remastered Version): 4. Tu sa' ch'io so, signior mie, che
5. Seven Sonnets of Michelangelo Op. 22 (1993 Remastered Version): 5. Rendete a gli occhi miei, o fonte
6. Seven Sonnets of Michelangelo Op. 22 (1993 Remastered Version): 6. S'un casto amor, s'una pietà supe
7. Seven Sonnets of Michelangelo Op. 22 (1993 Remastered Version): 7. Spirto ben nato, in cui si specch
8. The Holy Sonnets of John Donne Op. 35 (1993 Remastered Version): 1. Oh my black Soule!
9. The Holy Sonnets of John Donne Op. 35 (1993 Remastered Version): 2. Batter my heart
10. The Holy Sonnets of John Donne Op. 35 (1993 Remastered Version): 3. Oh might those sighes and teares
11. The Holy Sonnets of John Donne Op. 35 (1993 Remastered Version): 4. Oh, to vex me
12. The Holy Sonnets of John Donne Op. 35 (1993 Remastered Version): 5. What if this present
13. The Holy Sonnets of John Donne Op. 35 (1993 Remastered Version): 6. Since she whom I loved
14. The Holy Sonnets of John Donne Op. 35 (1993 Remastered Version): 7. At the round earth's imagined co
15. The Holy Sonnets of John Donne Op. 35 (1993 Remastered Version): 8. Thou hast made me
16. The Holy Sonnets of John Donne Op. 35 (1993 Remastered Version): 9. Death, be not proud
17. On This Island Op. 11 (2000 Remastered Version): 1. Let the florid music praise!
18. On This Island Op. 11 (2000 Remastered Version): 2. Now the leaves are falling fast
19. On This Island Op. 11 (2000 Remastered Version): 3. Seascape
20. On This Island Op. 11 (2000 Remastered Version): 4. Nocturne
21. On This Island Op. 11 (2000 Remastered Version): 5. As it is, plenty
22. Winter Words Op. 52 (2000 Remastered Version): 1. At Day-close in November
23. Winter Words Op. 52 (2000 Remastered Version): 2. Midnight on the Great Western (or The Journeying B
24. Winter Words Op. 52 (2000 Remastered Version): 3. Wagtail and Baby (A Satire)
25. Winter Words Op. 52 (2000 Remastered Version): 4. The Little Old Table
26. Winter Words Op. 52 (2000 Remastered Version): 5. The Choirmaster's Burial (or The Tenor Man's Story
27. Winter Words Op. 52 (2000 Remastered Version): 6. Proud Songsters (Thrushes, Finches and Nightingale
28. Winter Words Op. 52 (2000 Remastered Version): 7. At the Railway Station, Upway (or The Convict and
29. Winter Words Op. 52 (2000 Remastered Version): 8. Before Life and After

Disc: 25
1. Canticle I: My beloved is mine Op. 40
2. Canticle II: Abraham and Isaac Op. 51
3. Canticle III: Still falls the rain Op. 55
4. Canticle IV: Journey of the Magi Op. 86
5. Canticle V: The Death of Saint Narcissus Op. 89
6. Folk Song Arrangements: The plough boy
7. Folksong Arrangements: The Salley Gardens
8. Folk Song Arrangements: The foggy, foggy dew
9. Folk Song Arrangements: There's none to soothe
10. Folk Song Arrangements: O waly, waly
11. Folk Song Arrangements: The ash grove
12. Folk Song Arrangements: Greensleves

Disc: 26
1. Two songs by Thomas Hardy: The Children and Sir Nameless
2. Two songs by Thomas Hardy: If it's ever spring again
3. Beware! - Three Early Songs: 1. Beware! (Henry Longfellow, from the German)
4. Beware! - Three Early Songs: 2. O that I had ne'er been married (Robert Burns)
5. Beware! - Three Early Songs: 3. Epitaph: The Clerk (Herbert Asquith)
6. Not even summer yet
7. Two songs by W. H. Auden: To lie flat on the back
8. Two songs by W. H. Auden: Night covers up the rigid land
9. The Oxen (Christmas eve, and twelve of the clock)
10. Three rhymes by William Soutar: Dawtie's Devotion
11. Three rhymes by William Soutar: Tradition
12. Three rhymes by William Soutar: The Gully
13. Tit for Tat: A Song of Enchantment
14. Tit for Tat: Silver
15. Tit for Tat: Tit for Tat
16. 2 Ballads: Mother Comfort (wds. M. Slater)
17. 2 Ballads: Underneath the abject willow (wds. W. H. Auden)
18. Folk Song Arrangement: Sweet Polly Oliver
19. Folk Song Arrangement: The Minstrel Boy (2000 Digital Remaster)
20. Folk Song Arrangement: The Brisk Young Widow (2000 Digital Remaster)
21. Folk Song Arrangement: Ca' the Yowes (2000 Digital Remaster)
22. Folk Song Arrangement: The Lincolnshire Poacher (2000 Digital Remaster)
23. Folk Song Arrangement: O can ye sew cushions? (2000 Digital Remaster)
24. Folk Song Arrangement: The trees they grow so high (2000 Digital Remaster)
25. Folk Song Arrangements: Early one morning
26. Folk Song Arrangements: How sweet the answer
27. Folk Song Arrangements: Voici le printemps
28. Folk Song Arrangements: The last rose of summer
29. Folk Song Arrangements: Dear harp of my country
30. Folk Song Arrangements: Oft in the stilly night

Disc: 27
1. The Queen's Epicedium
2. Come ye sons of art away Z323: Sound the Trumpet
3. The Indian Queen Z630: I attempt from love's sickness to fly (Dryden/Howard)
4. Lost is my quiet for ever Z502
5. King Arthur Z628: Fairest Isle (Dryden)
6. What can we poor females do Z518
7. Three realizations of Henry Purcell: I'll sail upon the Dog-star (Thomas D'Urfey) Z571.6
8. Three realizations of Henry Purcell: The Knotting Song (Charles Sedley) Z371
9. Three realizations of Henry Purcell: Man is for the woman made (Peter Anthony Motteux) Z605.3
10. Suite of Songs from 'Orpheus Britannicus': 1. Let sullen discord smile (Nahum Tate) Z321.6
11. Suite of Songs from 'Orpheus Britannicus': 2. Why should men quarrel? (John Dryden & Sir Robert Howa
12. Suite of Songs from 'Orpheus Britannicus': 3. So when the glittering Queen of Night (Thomas D'Urfey)
13. Suite of Songs from 'Orpheus Britannicus': 4. Thou tun'st this world (Nicholas Brady) Z328.6
14. Suite of Songs from 'Orpheus Britannicus': 5a. 'Tis holiday (Nahum Tate) Z321.5 - 5b. Sound Fame thy
15. Song: We are the darkness in the heat of the day (The Heart of the Matter)
16. Liederkreis Op. 39 (orch. Britten): Frühlingsnacht

Disc: 28
1. Paul Bunyan - An operetta in two acts and a prologue Op. 17: 1. Introduction (orch.)
2. Paul Bunyan - An operetta in two acts and a prologue Op. 17, 2. Prologue (In the forest): Since the
3. Paul Bunyan - An operetta in two acts and a prologue Op. 17, 2. Prologue (In the forest): No. No. We
4. Paul Bunyan - An operetta in two acts and a prologue Op. 17, 2. Prologue (In the forest): Ooh! Ooh!
5. Paul Bunyan - An operetta in two acts and a prologue Op. 17, 2. Prologue (In the forest): You are al
6. Paul Bunyan - An operetta in two acts and a prologue Op. 17, 2. Prologue (In the forest): It isn't v
7. Paul Bunyan - An operetta in two acts and a prologue Op. 17: 2a. First Ballad Interlude: The cold wi
8. Paul Bunyan - An operetta in two acts and a prologue Op. 17, Act I, Scene 1 (A clearing in the fores
9. Paul Bunyan - An operetta in two acts and a prologue Op. 17, Act I, Scene 1 (A clearing in the fores
10. Paul Bunyan - An operetta in two acts and a prologue Op. 17, Act I, Scene 1 (A clearing in the fores
11. Paul Bunyan - An operetta in two acts and a prologue Op. 17, Act I, Scene 1 (A clearing in the fores
12. Paul Bunyan - An operetta in two acts and a prologue Op. 17, Act I, Scene 1 (A clearing in the fores
13. Paul Bunyan - An operetta in two acts and a prologue Op. 17, Act I, Scene 1 (A clearing in the fores
14. Paul Bunyan - An operetta in two acts and a prologue Op. 17, Act I, Scene 1 (A clearing in the fores
15. Paul Bunyan - An operetta in two acts and a prologue Op. 17, Act I, Scene 1 (A clearing in the fores
16. Paul Bunyan - An operetta in two acts and a prologue Op. 17, Act I, Scene 1 (A clearing in the fores
17. Paul Bunyan - An operetta in two acts and a prologue Op. 17, Act I, Scene 1 (A clearing in the fores
18. Paul Bunyan - An operetta in two acts and a prologue Op. 17, Act I, Scene 1 (A clearing in the fores
19. Paul Bunyan - An operetta in two acts and a prologue Op. 17, Act I, Scene 1 (A clearing in the fores
20. Paul Bunyan - An operetta in two acts and a prologue Op. 17, Act I: 10a. Second Ballad Interlude: Th
21. Paul Bunyan - An operetta in two acts and a prologue Op. 17, Act I, Scene 2 (The camp): 11. Food Cho
22. Paul Bunyan - An operetta in two acts and a prologue Op. 17, Act I, Scene 2 (The camp): 12. Chorus A
23. Paul Bunyan - An operetta in two acts and a prologue Op. 17, Act I, Scene 2 (The camp): 12a. Slim's
24. Paul Bunyan - An operetta in two acts and a prologue Op. 17, Act I, Scene 2 (The camp): 13. Bunyan's
25. Paul Bunyan - An operetta in two acts and a prologue Op. 17, Act I, Scene 2 (The camp): 14. Inksling
26. Paul Bunyan - An operetta in two acts and a prologue Op. 17, Act I, Scene 2 (The camp): 14a. Entranc
27. Paul Bunyan - An operetta in two acts and a prologue Op. 17, Act I, Scene 2 (The camp): 15. Tiny's E
28. Paul Bunyan - An operetta in two acts and a prologue Op. 17, Act I, Scene 2 (The camp): 15a. Tiny's
29. Paul Bunyan - An operetta in two acts and a prologue Op. 17, Act I, Scene 2 (The camp): 16. Inksling
30. Paul Bunyan - An operetta in two acts and a prologue Op. 17, Act I, Scene 2 (The camp): 17. Bunyan's

Disc: 29
1. Paul Bunyan - An operetta in two acts and a prologue Op. 17, Act II, Scene 1 (A clearing in the fore
2. Paul Bunyan - An operetta in two acts and a prologue Op. 17, Act II, Scene 1 (A clearing in the fore
3. Paul Bunyan - An operetta in two acts and a prologue Op. 17, Act II, Scene 1 (A clearing in the fore
4. Paul Bunyan - An operetta in two acts and a prologue Op. 17, Act II, Scene 1 (A clearing in the fore
5. Paul Bunyan - An operetta in two acts and a prologue Op. 17, Act II, Scene 1 (A clearing in the fore
6. Paul Bunyan - An operetta in two acts and a prologue Op. 17, Act II, Scene 1 (A clearing in the fore
7. Paul Bunyan - An operetta in two acts and a prologue Op. 17, Act II, Scene 1 (A clearing in the fore
8. Paul Bunyan - An operetta in two acts and a prologue Op. 17, Act II, Scene 1 (A clearing in the fore
9. Paul Bunyan - An operetta in two acts and a prologue Op. 17, Act II, Scene 1 (A clearing in the fore
10. Paul Bunyan - An operetta in two acts and a prologue Op. 17, Act II, Scene 1 (A clearing in the fore
11. Paul Bunyan - An operetta in two acts and a prologue Op. 17, Act II, Scene 1 (A clearing in the fore
12. Paul Bunyan - An operetta in two acts and a prologue Op. 17, Act II, Scene 1 (A clearing in the fore
13. Paul Bunyan - An operetta in two acts and a prologue Op. 17, Act II: 24. Third Ballad Interlude: So
14. Paul Bunyan - An operetta in two acts and a prologue Op. 17, Act II, Scene 2 (The Christmas party),
15. Paul Bunyan - An operetta in two acts and a prologue Op. 17, Act II, Scene 2 (The Christmas party),
16. Paul Bunyan - An operetta in two acts and a prologue Op. 17, Act II, Scene 2 (The Christmas party),
17. Paul Bunyan - An operetta in two acts and a prologue Op. 17, Act II, Scene 2 (The Christmas party),
18. Paul Bunyan - An operetta in two acts and a prologue Op. 17, Act II, Scene 2 (The Christmas party),
19. Paul Bunyan - An operetta in two acts and a prologue Op. 17, Act II, Scene 2 (The Christmas party),
20. Paul Bunyan - An operetta in two acts and a prologue Op. 17, Act II, Scene 2 (The Christmas party):
21. Paul Bunyan - An operetta in two acts and a prologue Op. 17, Act II, Scene 2 (The Christmas party):

Disc: 30
1. Peter Grimes Op. 33, PROLOGUE: Peter Grimes (Hobson/Swallow/Peter)
2. Peter Grimes Op. 33, PROLOGUE: You sailed your boat round the coast (Swallow/Peter/Mrs Sedley/Chorus
3. Peter Grimes Op. 33, PROLOGUE: Peter Grimes, I here advise you! (Swallow/Chorus/Hobson/Peter)
4. Peter Grimes Op. 33, PROLOGUE: The truth … the pity (Peter/Ellen)
5. Peter Grimes Op. 33, PROLOGUE: Interlude I: Dawn
6. Peter Grimes Op. 33, ACT 1 Scene 1: Oh hang at open doors the net (Chorus/1st Fisherman/Auntie/Boles
7. Peter Grimes Op. 33, ACT 1 Scene 1: Hi! Give us a hand (Peter/Boles/Balstrode/Ned/Auntie/Hobson)
8. Peter Grimes Op. 33, ACT 1 Scene 1: I have to go from pub to pub (Hobson/Chorus/Ellen/Ned)
9. Peter Grimes Op. 33, ACT 1 Scene 1: Let her among you without fault cast the first stone (Ellen/Hobs
10. Peter Grimes Op. 33, ACT 1 Scene 1: Look! The storm cone! (Balstrode/Chorus/Ned/Boles)
11. Peter Grimes Op. 33, ACT 1 Scene 1: And do you prefer the storm
12. Peter Grimes Op. 33, ACT 1 Scene 1: They listen to money (Balstrode/Peter)
13. Peter Grimes Op. 33, ACT 1 Scene 1: What harbour shelters peace (Peter)
14. Peter Grimes Op. 33, ACT 1 Scene 1: Interlude II: Storm
15. Peter Grimes Op. 33, ACT 1 Scene 2: Past time to close! (Auntie/Mrs Sedley/Balstrode/Boles/Nieces/Fi
16. Peter Grimes Op. 33, ACT 1 Scene 2: Come on, boy! (Balstrode/Chorus)
17. Peter Grimes Op. 33, ACT 1 Scene 2: Have you heard? The cliff is down (Ned/Auntie/Mrs Sedley/Balstro
18. Peter Grimes Op. 33, ACT 1 Scene 2: Now the Great Bear and Pleiades (Peter/Chorus/Nieces/Boles/Balst
19. Peter Grimes Op. 33, ACT 1 Scene 2: Old Joe has gone fishing (Ned/Chorus/Peter)
20. Peter Grimes Op. 33, ACT 1 Scene 2: The bridge is down (Hobson/Ned/Ellen/Boles/Auntie/Nieces/Peter)
21. Peter Grimes Op. 33, ACT 2: Interlude III: Sunday morning
22. Peter Grimes Op. 33, Scene 1: Glitter of waves and glitter of sunlight (Ellen/Chorus/Rector)
23. Peter Grimes Op. 33, Scene 1: Child you're not too young to know (Ellen/Chorus/Rector/Peter)
24. Peter Grimes Op. 33, Scene 1: This unrelenting work (Ellen/Peter/Chorus)

Disc: 31
1. Peter Grimes Op. 33, Scene 1: Fool to let it come to this! (Auntie/Ned/Boles/Chorus/Mrs Sedley/Balst
2. Peter Grimes Op. 33, Scene 1: People! … No! I will speak! (Boles/Chorus/Balstrode/Rector/Auntie/El
3. Peter Grimes Op. 33, Scene 1: We planned that their lives should have a new start (Ellen/Rector/Mrs
4. Peter Grimes Op. 33, Scene 1: Now is gossip put on trial (Chorus/Mrs Sedley/Boles/Rector/Ned/Swallow
5. Peter Grimes Op. 33, Scene 1: From the gutter (Nieces/Auntie/Ellen)
6. Peter Grimes Op. 33, Scene 1: Interlude IV: Passacaglia
7. Peter Grimes Op. 33, Scene 2: Go there!
8. Peter Grimes Op. 33, Scene 2: In dreams I've built myself some kindlier home (Peter)
9. Peter Grimes Op. 33, Scene 2: Now! … Now! (Chorus/Peter/Boles/Rector/Swallow/Ned)
10. Peter Grimes Op. 33, Scene 2: Peter Grimes! Nobody there? (Rector/Swallow/Ned)
11. Peter Grimes Op. 33, ACT 3: Interlude V: Moonlight
12. Peter Grimes Op. 33, Scene 1: Assign your prettiness to me (Swallow/Nieces/Ned)
13. Peter Grimes Op. 33, Scene 1: Mister Keene! Mister Keene! Can you spare a moment (Mrs Sedley/Ned)
14. Peter Grimes Op. 33, Scene 1: Come along, Doctor! (First Burgess/Burgesses/Rector/Mrs Sedley/Ellen/B
15. Peter Grimes Op. 33, Scene 1: Embroidery in childhood was a luxury of idleness (Ellen/Balstrode)
16. Peter Grimes Op. 33, Scene 1: Mister Swallow! Mister Swallow! (Mrs Sedley/Auntie/Swallow/Hobson)
17. Peter Grimes Op. 33, Scene 1: Who holds himself apart, lets pride rise (Chorus)
18. Peter Grimes Op. 33, Scene 1: Interlude VI
19. Peter Grimes Op. 33, Scene 2: Grimes! Grimes! (Chorus/Peter)
20. Peter Grimes Op. 33, Scene 2: Peter, we've come to take you home (Ellen/Peter/Balstrode)
21. Peter Grimes Op. 33, Scene 2: To those who pass the Borough (Chorus/Swallow/Fisherman/Auntie/Boles)

Disc: 32
1. The Turn of the Screw Op. 54, Act One: Prologue (Prologue)
2. The Turn of the Screw Op. 54, Act One: Theme
3. The Turn of the Screw Op. 54, Act One: Scene 1 : The Journey (Governess)
4. The Turn of the Screw Op. 54, Act One: Variation I
5. The Turn of the Screw Op. 54, Act One: Scene 2 : The Welcome (Governess/Mrs. Grose/Miles/Flora)
6. The Turn of the Screw Op. 54, Act One: Variation II
7. The Turn of the Screw Op. 54, Act One: Scene 3 : The Letter (Governess/Mrs. Grose/Miles/Flora)
8. The Turn of the Screw Op. 54, Act One: Variation III
9. The Turn of the Screw Op. 54, Act One: Scene 4 : The Tower (Governess/Quint)
10. The Turn of the Screw Op. 54, Act One: Variation IV
11. The Turn of the Screw Op. 54, Act One: Scene 5 : The Window (Governess/Mrs. Grose/Miles/Flora/Quint)
12. The Turn of the Screw Op. 54, Act One: Variation V
13. The Turn of the Screw Op. 54, Act One: Scene 6 : The Lesson (Governess/Miles/Flora)
14. The Turn of the Screw Op. 54, Act One: Variation VI
15. The Turn of the Screw Op. 54, Act One: Scene 7 : The Lake (Governess/Miles/Flora)
16. The Turn of the Screw Op. 54, Act One: Variation VII
17. The Turn of the Screw Op. 54, Act One: Scene 8 : At Night (Governess/Mrs. Grose/Miles/Flora/Quint/Mi

Disc: 33
1. The Turn of the Screw Op. 54, ACT TWO: Variation VIII
2. The Turn of the Screw Op. 54, ACT TWO: Scene 1 : Colloquy and Soliloquy (Governess/Quint/Miss Jessel
3. The Turn of the Screw Op. 54, ACT TWO: Variation IX
4. The Turn of the Screw Op. 54, ACT TWO: Scene 2 : The Bells (Governess/Mrs. Grose/Miles/Flora)
5. The Turn of the Screw Op. 54, ACT TWO: Variation X
6. The Turn of the Screw Op. 54, ACT TWO: Scene 3 : Miss Jessel (Governess/Miss Jessel)
7. The Turn of the Screw Op. 54, ACT TWO: Variation XI
8. The Turn of the Screw Op. 54, ACT TWO: Scene 4 : The Bedroom (Governess/Miles/Quint)
9. The Turn of the Screw Op. 54, ACT TWO: Variation XII
10. The Turn of the Screw Op. 54, ACT TWO: Scene 5 : Quint (Quint)
11. The Turn of the Screw Op. 54, ACT TWO: Variation XIII
12. The Turn of the Screw Op. 54, ACT TWO: Scene 6 : The Piano (Governess/Mrs. Grose/Flora)
13. The Turn of the Screw Op. 54, ACT TWO: Variation XIV
14. The Turn of the Screw Op. 54, ACT TWO: Scene 7 : Flora (Governess/Mrs. Grose/Flora/Miss Jessel)
15. The Turn of the Screw Op. 54, ACT TWO: Variation XV
16. The Turn of the Screw Op. 54, ACT TWO: Scene 8 : Miles (Governess/Mrs. Grose/Miles/Quint)

Disc: 34
1. A Midsummer Night's Dream Op. 64, Act One, Introduction: Over hill, over dale (Fairies/Puck)
2. A Midsummer Night's Dream Op. 64, ACT ONE: Oberon is passing fell and wrath (Fairies/Oberon/Tytania)
3. A Midsummer Night's Dream Op. 64, ACT ONE: Well, go thy way (Oberon/Puck)
4. A Midsummer Night's Dream Op. 64, ACT ONE: How now my love? (Lysander/Hermia)
5. A Midsummer Night's Dream Op. 64, ACT ONE: Be it on lion, bear, or wolf, or bull (Oberon/Demetrius/H
6. A Midsummer Night's Dream Op. 64, ACT ONE: Welcome wanderer! … I know a bank (Oberon)
7. A Midsummer Night's Dream Op. 64, ACT ONE: Is all our company here? (Quince/Bottom/Flute/Snout/Starv
8. A Midsummer Night's Dream Op. 64, ACT ONE: Fair love, you faint with wand'ring in the wood (Lysander
9. A Midsummer Night's Dream Op. 64, ACT ONE: Through the frost have I gone (Puck/Hermia)
10. A Midsummer Night's Dream Op. 64, ACT ONE: Stay, thou thou kill me, sweet Demetrius (Helene/Demetriu
11. A Midsummer Night's Dream Op. 64, ACT ONE: Come, now a roundel and a fairy song (Tytania)
12. A Midsummer Night's Dream Op. 64, ACT ONE: You spotted snakes with double tongues (Fairies)
13. A Midsummer Night's Dream Op. 64, ACT ONE: What thou seest when thou dost wake (Oberon)
14. A Midsummer Night's Dream Op. 64, ACT TWO: Introduction
15. A Midsummer Night's Dream Op. 64, ACT TWO: Are we all met? (Bottom/Flute/Snout/Starveling/Snug/Quinc
16. A Midsummer Night's Dream Op. 64, ACT TWO: I see their knavery (Bottom/Tytania/Solo fairies)
17. A Midsummer Night's Dream Op. 64, ACT TWO: Be kind and courteous to this gentleman (Tytania)
18. A Midsummer Night's Dream Op. 64, ACT TWO: Hail! mortal, hail! (Solo fairies/Bottom/Tytania)
19. A Midsummer Night's Dream Op. 64, ACT TWO: I have reas'nable good ear in music (Bottom/Tytania)
20. A Midsummer Night's Dream Op. 64, ACT TWO: How now, mad spirit? (Oberon/Puck/Demetrius/Hermia)

Disc: 35
1. A Midsummer Night's Dream Op. 64, ACT TWO: Flower of this purple dye (Oberon/Puck/Lysander/Helena/De
2. A Midsummer Night's Dream Op. 64, ACT TWO: Puppet? Why, so? Ay, that way goes the game (Hermia/Helen
3. A Midsummer Night's Dream Op. 64, ACT TWO: This is thy negligence (Oberon/Puck)
4. A Midsummer Night's Dream Op. 64, ACT TWO: Up and down, up and down (Puck/Lysander/Demetrius/Helena/
5. A Midsummer Night's Dream Op. 64, ACT TWO: On the ground, sleep sound (Fairies)
6. A Midsummer Night's Dream Op. 64, ACT THREE, Introduction: My gentle Robin, see'st thou this sweet s
7. A Midsummer Night's Dream Op. 64, ACT THREE: Helena! Hermia! Demetrius! Lysander! (Demetrius/Lysande
8. A Midsummer Night's Dream Op. 64, ACT THREE: When my cue comes, call me (Bottom)
9. A Midsummer Night's Dream Op. 64, ACT THREE: Have you sent to Bottom's house? (Quince/Starveling/Flu
10. A Midsummer Night's Dream Op. 64, ACT THREE: Now, fair Hippolyta (Theseus/Hippolyta/Hermia/Lysander/
11. A Midsummer Night's Dream Op. 64, ACT THREE: If we offend, it is with our good will (Rustics)
12. A Midsummer Night's Dream Op. 64, ACT THREE: Gentles, perchance you wonder at this show (Prologue: Q
13. A Midsummer Night's Dream Op. 64, ACT THREE: In this same interlude it doth befall (Wall: Snout)
14. A Midsummer Night's Dream Op. 64, ACT THREE: O grim-look'd night, O night with hue so black (Pyramus
15. A Midsummer Night's Dream Op. 64, ACT THREE: O wall, full often has thou heard my moans (Thisby: Flu
16. A Midsummer Night's Dream Op. 64, ACT THREE: You ladies, you whose gemtle hearts do fear (Lion: Snug
17. A Midsummer Night's Dream Op. 64, ACT THREE: This lanthorn doth the horned moon present (Moonshine:
18. A Midsummer Night's Dream Op. 64, ACT THREE: Sweet moon, I thank thee for thy sunny beams (Pyramus)
19. A Midsummer Night's Dream Op. 64, ACT THREE: Asleep, my love? (Thisby/Bottom)
20. A Midsummer Night's Dream Op. 64, ACT THREE: Come, your Bergomask (Theseus)
21. A Midsummer Night's Dream Op. 64, ACT THREE: Now the hungry lions roars (Solo fairies/Puck/Oberon/Ty

Disc: 36
1. The Rape of Lucretia, Op.37 (revised 1947 version: abridged) (1993 Remastered Version), Act I Scene
2. The Rape of Lucretia, Op.37 (revised 1947 version: abridged) (1993 Remastered Version), Act I Scene
3. The Rape of Lucretia, Op.37 (revised 1947 version: abridged) (1993 Remastered Version), Act I Scene
4. The Rape of Lucretia, Op.37 (revised 1947 version: abridged) (1993 Remastered Version), Act I Scene
5. The Rape of Lucretia, Op.37 (revised 1947 version: abridged) (1993 Remastered Version), Act I Scene
6. The Rape of Lucretia, Op.37 (revised 1947 version: abridged) (1993 Remastered Version), Act I Scene
7. The Rape of Lucretia, Op.37 (revised 1947 version: abridged) (1993 Remastered Version), Act I Scene
8. The Rape of Lucretia, Op.37 (revised 1947 version: abridged) (1993 Remastered Version), Act I Scene
9. The Rape of Lucretia, Op.37 (revised 1947 version: abridged) (1993 Remastered Version), Act I Scene
10. The Rape of Lucretia, Op.37 (revised 1947 version: abridged) (1993 Remastered Version), Act I Scene
11. The Rape of Lucretia, Op.37 (revised 1947 version: abridged) (1993 Remastered Version), Act II Scene
12. The Rape of Lucretia, Op.37 (revised 1947 version: abridged) (1993 Remastered Version), Act II Scene
13. The Rape of Lucretia, Op.37 (revised 1947 version: abridged) (1993 Remastered Version), Act II Scene
14. The Rape of Lucretia, Op.37 (revised 1947 version: abridged) (1993 Remastered Version), Act II Scene
15. The Rape of Lucretia, Op.37 (revised 1947 version: abridged) (1993 Remastered Version), Act II Scene
16. The Rape of Lucretia, Op.37 (revised 1947 version: abridged) (1993 Remastered Version), Act II Scene
17. The Rape of Lucretia, Op.37 (revised 1947 version: abridged) (1993 Remastered Version), Act II Scene
18. The Rape of Lucretia, Op.37 (revised 1947 version: abridged) (1993 Remastered Version), Act II Scene
19. The Rape of Lucretia, Op.37 (revised 1947 version: abridged) (1993 Remastered Version), Act II Scene
20. The Rape of Lucretia, Op.37 (revised 1947 version: abridged) (1993 Remastered Version), Act II Scene

Disc: 37
1. Peter Grimes, Op.33 (1993 Remastered Version), Act 1 Scene 1: Whatever you say … Let her among you
2. Peter Grimes, Op.33 (1993 Remastered Version), Act 1 Scene 2: Now the Great Bear and Pleiades (Peter
3. Peter Grimes, Op.33 (1993 Remastered Version), Act 1 Scene 2: Interlude III: Sunday morning (orchest
4. Peter Grimes, Op.33 (1993 Remastered Version), Act 2 Scene 1: Glitter of waves and glitter of sunlig
5. Peter Grimes, Op.33 (1993 Remastered Version), Act 2 Scene 1: Wherefore, I pray and beseech you (Rec
6. Peter Grimes, Op.33 (1993 Remastered Version), Act 2 Scene 1: O all ye works of the Lord (Chorus/Ell
7. Peter Grimes, Op.33 (1993 Remastered Version), Act 2 Scene 2: In dreams I've built myself some kindl
8. Peter Grimes, Op.33 (1993 Remastered Version), Act 3 Scene 1: Embroidery in childhood was a luxury o
9. Peter Grimes, Op.33 (1993 Remastered Version), Act 3 Scene 1: Interlude VI (orchestra)
10. Peter Grimes, Op.33 (1993 Remastered Version), Act 3 Scene 2: Grimes! … Steady. There you are (Cho
11. Folk Song Arrangements The plough boy (1993 Remastered Version)
12. Folk Song Arrangements Come you not from Newcastle? (1993 Remastered Version)
13. Folk Song Arrangements The foggy foggy dew (1993 Remastered Version)
14. Folk Song Arrangements: Le roi s'en va-t'en chasse (The King goes a-hunting)
15. Folk Song Arrangements O waly waly (1993 Remastered Version)