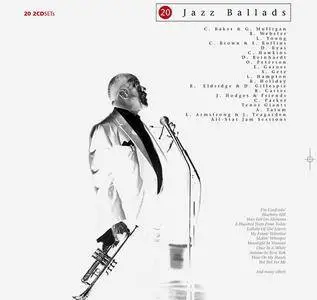 V.A. - Jazz Ballads: Membran Musics Series (20x2CD Set's, 2004)
Jazz, Bop, Vocal | MP3 CBR 320 kbps | 5,73 Gb
Label: Membran Music Ltd.
Jazz Ballads - the ultimate musical expression of feelings. A CD sets with the most beautiful ballads in the history of jazz. Lyrical, imaginative, sensuous and melodic jewels from the art of music. Precisely for those people who have maintained their taste for lasting musical values. Jazz in its most gentle form.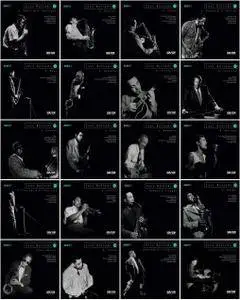 Contents:
CD 01, 02 - Jazz Ballads 01 - Chet Baker & Gerry Mulligan (2CD Set)
CD 03, 04 - Jazz Ballads 02 - Ben Webster (2CD Set)
CD 05, 06 - Jazz Ballads 03 - Lester Young (2CD Set)
CD 07, 08 - Jazz Ballads 04 - Clifford Brown & Sonny Rollins (2CD Set)
CD 09, 10 - Jazz Ballads 05 - Don Byas (2CD Set)
CD 11, 12 - Jazz Ballads 06 - Coleman Hawkins (2CD Set)
CD 13, 14 - Jazz Ballads 07 - Django Reinhardt (2CD Set)
CD 15, 16 - Jazz Ballads 08 - Oscar Peterson (2CD Set)
CD 17, 18 - Jazz Ballads 09 - Errol Garner (2CD Set)
CD 19, 20 - Jazz Ballads 10 - Stan Getz (2CD Set)
CD 21, 22 - Jazz Ballads 11 - Lionel Hampton (2CD Set)
CD 23, 24 - Jazz Ballads 12 - Billie Holiday (2CD Set)
CD 25, 26 - Jazz Ballads 13 - Roy Eldridge & Dizzy Gillespie (2CD Set)
CD 27, 28 - Jazz Ballads 14 - Benny Carter (2CD Set)
CD 29, 30 - Jazz Ballads 15 - Johnny Hodges & Friends (2CD Set)
CD 31, 32 - Jazz Ballads 16 - Charlie Parker (2CD Set)
CD 33, 34 - Jazz Ballads 17 - Tenor Giants (2CD Set)
CD 35, 36 - Jazz Ballads 18 - Art Tatum (2CD Set)
CD 37, 38 - Jazz Ballads 19 - Louis Armstrong & Jack Teagarden (2CD Set)
CD 39, 40 - Jazz Ballads 20 - All Star Jam Session (2CD Set)
01 Chet Baker & Gerry Mulligan - 2004 Jazz Ballads 01 - Disc 1 | 135,87 MB | 16 Files | 00:59:23 hrs

01. Chet Baker & Gerry Mulligan - Lullaby Of The Leaves
02. Chet Baker & Gerry Mulligan - My Funny Valentine
03. Chet Baker & Gerry Mulligan - Moonlight In Vermont
04. Chet Baker & Gerry Mulligan - Cherry
05. Chet Baker & Gerry Mulligan - Makin' Whoopee
06. Chet Baker & Gerry Mulligan - The Nearness Of You
07. Chet Baker & Gerry Mulligan - Moonlight Becomes You
08. Chet Baker & Gerry Mulligan - Lullaby Of The Leaves
09. Chet Baker & Gerry Mulligan - But Not For Me
10. Chet Baker & Gerry Mulligan - I Get Along Without You
11. Chet Baker & Gerry Mulligan - Laura
12. Chet Baker & Gerry Mulligan - I Married An Angel
13. Chet Baker & Gerry Mulligan - Love Walked In
14. Chet Baker & Gerry Mulligan - You Better Go Now
15. Chet Baker & Gerry Mulligan - My Funny Valentine
16. Chet Baker & Gerry Mulligan - Song For Johnny Hodges

02 Chet Baker & Gerry Mulligan - 2004 Jazz Ballads 01 - Disc 2 | 126,36 MB | 15 Files | 00:55:15 hrs

01. Chet Baker & Gerry Mulligan - My Funny Valentine
02. Chet Baker & Gerry Mulligan - My Old Flame
03. Chet Baker & Gerry Mulligan - Why Shouldn't I?
04. Chet Baker & Gerry Mulligan - You Don't Know What Love Is
05. Chet Baker & Gerry Mulligan - These Foolish Things
06. Chet Baker & Gerry Mulligan - I Fall In Love Too Easily
07. Chet Baker & Gerry Mulligan - What A Difference A Day Made
08. Chet Baker & Gerry Mulligan - The Wind
09. Chet Baker & Gerry Mulligan - I Love You
10. Chet Baker & Gerry Mulligan - Speak Low
11. Chet Baker & Gerry Mulligan - The Nearness Of You
12. Chet Baker & Gerry Mulligan - Makin' Whoopee
13. Chet Baker & Gerry Mulligan - Moonlight In Vermont
14. Chet Baker & Gerry Mulligan - Lullaby Of The Leaves
15. Chet Baker & Gerry Mulligan - Line For Lions

03 Ben Webster - 2004 Jazz Ballads 02 - Disc 1 | 141,50 MB | 17 Files | 01:01:50 hrs

01. Ben Webster - That's All
02. Ben Webster - Willow Weep For Me
03. Ben Webster - Just A-sittin' And A-rockin'
04. Ben Webster - Don't Blame Me
05. Ben Webster - My Funny Valentine
06. Ben Webster - 'nuff Said
07. Ben Webster - Imagination
08. Ben Webster - All Too Soon
09. Ben Webster - It Happens To Me
10. Ben Webster - Do Nothin' Till Your Heart From Me
11. Ben Webster - I Surrender Dear
12. Ben Webster - Come Rain Or Come Shine
13. Ben Webster - Blue Serge
14. Ben Webster - Sophisticated Lady
15. Ben Webster - Allmost Lik Beeing In Love
16. Ben Webster - You're Mine, You!
17. Ben Webster - Chelsea Bridge

04 Ben Webster - 2004 Jazz Ballads 02 - Disc 2 | 139,20 MB | 17 Files | 01:00:53 hrs

01. Ben Webster - Danny Boy
02. Ben Webster - Until Tonight
03. Ben Webster - Tenderly
04. Ben Webster - Don't Take Your Love From Me
05. Ben Webster - Memories Of You
06. Ben Webster - All Too Soon
07. Ben Webster - Kat's Fur
08. Ben Webster - Love Is Here To Stay
09. Ben Webster - My Greatest Mistake
10. Ben Webster - You're Only Happy When I'm Blue
11. Ben Webster - Prelude To A Kiss
12. Ben Webster - I Surrender Dear
13. Ben Webster - What Am I Here For?
14. Ben Webster - Love's Away
15. Ben Webster - Sepia Panorama
16. Ben Webster - Don't Get Around Much Anymore
17. Ben Webster - Chelsea Bridge

05 Lester Young - 2004 Jazz Ballads 03 - Disc 1 | 126,83 MB | 14 Files | 00:55:28 hrs

01. Lester Young - These Foolish Things
02. Lester Young - Body And Soul
03. Lester Young - On The Sunny Side Of The Street
04. Lester Young - I Cover The Waterfront
05. Lester Young - This Year's Kisses
06. Lester Young - Peg O'my Heart
07. Lester Young - Ghost Of A Chance
08. Lester Young - I Can't Get Started
09. Lester Young - Polka Dots And Moonbeams
10. Lester Young - I'm Confessin'
11. Lester Young - Mean To Me
12. Lester Young - I Can't Give You Anything But Love
13. Lester Young - There'll Never Be Another You
14. Lester Young - I Can't Get Started

06 Lester Young - 2004 Jazz Ballads 03 - Disc 2 | 129,66 MB | 17 Files | 00:56:41 hrs

01. Lester Young - Something To Remember You By
02. Lester Young - I'll Never Be The Same
03. Lester Young - These Foolisch Things
04. Lester Young - On The Sunny Side Of The Street
05. Lester Young - I Want A Little Girl
06. Lester Young - She's Funny That Way
07. Lester Young - The Man I Love
08. Lester Young - East Of The Sun
09. Lester Young - Stardust
10. Lester Young - On The Sunny Side Of The Street
11. Lester Young - I'm In The Mood For Love
12. Lester Young - Confessin'
13. Lester Young - Willow Weep For Me
14. Lester Young - Can't We Be Friends
15. Lester Young - Come Rain Or Come Shine
16. Lester Young - Foolin' Myself
17. Lester Young - I Can't Get Started

07 Clifford Brown & Sonny Rollins - 2004 Jazz Ballads 04 - Disc 1 | 137,78 MB | 9 Files | 01:00:15 hrs

01. Clifford Brown & Sonny Rollins - Tenderly
02. Clifford Brown & Sonny Rollins - Strictly Romantic
03. Clifford Brown & Sonny Rollins - Come Rain Or Come Shine
04. Clifford Brown & Sonny Rollins - Once In Awhile
05. Clifford Brown & Sonny Rollins - I Cover The Waterfront
06. Clifford Brown & Sonny Rollins - It Might As Well Be Spring
07. Clifford Brown & Sonny Rollins - I Don't Stand A Ghost Of A Chance
08. Clifford Brown & Sonny Rollins - I Can't Get Started
09. Clifford Brown & Sonny Rollins - Autum In New York

08 Clifford Brown & Sonny Rollins - 2004 Jazz Ballads 04 - Disc 2 | 122,38 MB | 9 Files | 00:53:30 hrs

01. Clifford Brown & Sonny Rollins - In A Sentimental Mood
02. Clifford Brown & Sonny Rollins - My Old Flame
03. Clifford Brown & Sonny Rollins - Time On My Hands
04. Clifford Brown & Sonny Rollins - This Love Of Mine
05. Clifford Brown & Sonny Rollins - More Than You Know
06. Clifford Brown & Sonny Rollins - 'round About Midnight
07. Clifford Brown & Sonny Rollins - Silk'n' Satin
08. Clifford Brown & Sonny Rollins - But Not For Me
09. Clifford Brown & Sonny Rollins - Friday The Thirteen

09 Don Byas - 2004 Jazz Ballads 05 - Disc 1 | 140,17 MB | 19 Files | 01:01:15 hrs

01. Don Byas - I Cover The Waterfront
02. Don Byas - Don't Blame Me
03. Don Byas - Old Folks At Home
04. Don Byas - Smoke Gets In Your Eyes
05. Don Byas - Laura
06. Don Byas - En Ce Temps-la
07. Don Byas - Remember My Forgotten Man
08. Don Byas - If I Had You
09. Don Byas - Lover Man
10. Don Byas - I Can't Give You Anything But Love
11. Don Byas - Danny Boy
12. Don Byas - I Don't Know Why
13. Don Byas - Body And Soul
14. Don Byas - Blue And Sentimental
15. Don Byas - Summertime
16. Don Byas - Stardust
17. Don Byas - Embracable You
18. Don Byas - Annie Laurie
19. Don Byas - Wrap Your Troubles In Dreams

10 Don Byas - 2004 Jazz Ballads 05 - Disc 2 | 139,60 MB | 20 Files | 01:01:04 hrs

01. Don Byas - Night And Day
02. Don Byas - The Man I Love
03. Don Byas - Georgia On My Mind
04. Don Byas - Easy To Love
05. Don Byas - Over The Rainbow
06. Don Byas - Where Or When
07. Don Byas - Gdb
08. Don Byas - Yime On My Hands
09. Don Byas - Sweet Loraine
10. Don Byas - April In Paris
11. Don Byas - September In The Rain
12. Don Byas - These Foolish Things
13. Don Byas - Stormy Weather
14. Don Byas - I Can't Explain
15. Don Byas - Laure
16. Don Byas - Stardust
17. Don Byas - Candy
18. Don Byas - To Each His Own
19. Don Byas - They Say It's Wonderful
20. Don Byas - Cynthia's In Love

11 Coleman Hawkins - 2004 Jazz Ballads 06 - Disc 1 | 148,62 MB | 20 Files | 01:04:57 hrs

01. Coleman Hawkins - Body And Soul
02. Coleman Hawkins - Lost In A Fog
03. Coleman Hawkins - April In Paris
04. Coleman Hawkins - Lullaby
05. Coleman Hawkins - I Surrender Dear
06. Coleman Hawkins - Sophisticated Lady
07. Coleman Hawkins - I'm Through With Love
08. Coleman Hawkins - Spellbound
09. Coleman Hawkins - My Ideal
10. Coleman Hawkins - How Deep Is The Ocean
11. Coleman Hawkins - Sweet Lorraine
12. Coleman Hawkins - I'm In The Mood For Love
13. Coleman Hawkins - It's The Talk Of The Town
14. Coleman Hawkins - Yesterdays
15. Coleman Hawkins - Imagination
16. Coleman Hawkins - Porgy
17. Coleman Hawkins - Don't Blame Me
18. Coleman Hawkins - Under A Blanket Of Blue
19. Coleman Hawkins - Someone To Watch Over Me
20. Coleman Hawkins - One Hour

12 Coleman Hawkins - 2004 Jazz Ballads 06 - Disc 2 | 131,99 MB | 18 Files | 00:57:41 hrs

01. Coleman Hawkins - Dedication
02. Coleman Hawkins - Midnight Sun
03. Coleman Hawkins - April In Paris
04. Coleman Hawkins - What Is There To Say?
05. Coleman Hawkins - Leave My Heart Alone
06. Coleman Hawkins - Stardust
07. Coleman Hawkins - Rainbow Mist
08. Coleman Hawkins - Drifting On A Reed
09. Coleman Hawkins - Indian Summer
10. Coleman Hawkins - Song From 'moulin Rouge' (Where Is Your Heart?)
11. Coleman Hawkins - How Strange
12. Coleman Hawkins - Phantomesque
13. Coleman Hawkins - I Surrender Dear
14. Coleman Hawkins - (It's No) Sin
15. Coleman Hawkins - It's The Talk Of The Town
16. Coleman Hawkins - And So To Sleep Again
17. Coleman Hawkins - If I Could Be With You One Hour Tonight
18. Coleman Hawkins - Picasso

13 Django Reinhardt - 2004 Jazz Ballads 07 - Disc 1 | 139,89 MB | 19 Files | 01:01:08 hrs

01. Django Reinhardt - Body And Soul
02. Django Reinhardt - I Can't Give You Anything But Love
03. Django Reinhardt - Oriental Shufffle
04. Django Reinhardt - Are You In The Mood
05. Django Reinhardt - Liebestraum Nr. 3
06. Django Reinhardt - A Little Love, A Little Kiss
07. Django Reinhardt - Improvisation
08. Django Reinhardt - Time On My Hands
09. Django Reinhardt - Lentement, Mademoiselle
10. Django Reinhardt - Lover Man
11. Django Reinhardt - Don't Worry About Me
12. Django Reinhardt - The Man I Love
13. Django Reinhardt - Japanese Sandman
14. Django Reinhardt - Tea For Two
15. Django Reinhardt - I'll Never Be The Same
16. Django Reinhardt - All The Things You Are
17. Django Reinhardt - La Mer (Beyond The Sea)
18. Django Reinhardt - Where Are You My Love?
19. Django Reinhardt - September Song

14 Django Reinhardt - 2004 Jazz Ballads 07 - Disc 2 | 134,72 MB | 19 Files | 00:58:52 hrs

01. Django Reinhardt - In A Sentimental Mood
02. Django Reinhardt - Georgia On My Mind
03. Django Reinhardt - In The Still Of The Night
04. Django Reinhardt - Sweet Chorus
05. Django Reinhardt - Tears
06. Django Reinhardt - Solitude
07. Django Reinhardt - Parfum
08. Django Reinhardt - My Serenade
09. Django Reinhardt - Night And Day
10. Django Reinhardt - Souveniers
11. Django Reinhardt - Nocturne
12. Django Reinhardt - Please Be Kind
13. Django Reinhardt - Improvisation No. 2
14. Django Reinhardt - Crepuscule
15. Django Reinhardt - Si Tu Savais
16. Django Reinhardt - Lover Man
17. Django Reinhardt - I Surrender Dear
18. Django Reinhardt - Stormy Weather
19. Django Reinhardt - Sophisticated Lady

15 Oscar Peterson - 2004 Jazz Ballads 08 - Disc 1 | 145,71 MB | 18 Files | 01:03:43 hrs

01. Oscar Peterson - Sleepy Time Gal
02. Oscar Peterson - My Heart Stood Still
03. Oscar Peterson - Somebody Loves Me
04. Oscar Peterson - I Surrender Dear
05. Oscar Peterson - Ghost Of A Chance
06. Oscar Peterson - Stairway To The Stars
07. Oscar Peterson - Cheek To Cheek
08. Oscar Peterson - Body And Soul
09. Oscar Peterson - To A Wild Rose
10. Oscar Peterson - Night And Day
11. Oscar Peterson - It Ain't Necessarily So
12. Oscar Peterson - Prelude To A Kiss
13. Oscar Peterson - Just A-sittin' And A-rockin'
14. Oscar Peterson - You Go To My Head
15. Oscar Peterson - Long Ago And Far Away
16. Oscar Peterson - Blue Moon
17. Oscar Peterson - Pompton Turnpike
18. Oscar Peterson - Love For Sale

16 Oscar Peterson - 2004 Jazz Ballads 08 - Disc 2 | 147,18 MB | 16 Files | 01:04:22 hrs

01. Oscar Peterson - Time On My Hand
02. Oscar Peterson - One Hour Tonight
03. Oscar Peterson - Louise
04. Oscar Peterson - Sweet Lorraine
05. Oscar Peterson - East Of The Sun
06. Oscar Peterson - Laura
07. Oscar Peterson - Ghost Of A Chance
08. Oscar Peterson - The Man I Love
09. Oscar Peterson - Yesterday
10. Oscar Peterson - A Foggy Day
11. Oscar Peterson - Tenderly
12. Oscar Peterson - These Foolish Things
13. Oscar Peterson - Easter Parade
14. Oscar Peterson - I've Got A Crush On You
15. Oscar Peterson - Alone Together
16. Oscar Peterson - Body And Soul

17 Erroll Garner - 2004 Jazz Ballads 09 - Disc 1 | 140,63 MB | 20 Files | 01:01:31 hrs

01. Erroll Garner - Misty
02. Erroll Garner - Laura
03. Erroll Garner - Summertime
04. Erroll Garner - I Cover The Waterfront
05. Erroll Garner - Penthouse Serenade
06. Erroll Garner - Blue And Sentimental
07. Erroll Garner - Pavanne Mood
08. Erroll Garner - I'm In The Mood For Love
09. Erroll Garner - Reverie
10. Erroll Garner - How High The Moon
11. Erroll Garner - Turquoise
12. Erroll Garner - Flamingo
13. Erroll Garner - Long Ago And Far Away
14. Erroll Garner - Spring Is Here
15. Erroll Garner - The Way You Look Tonight
16. Erroll Garner - People Will Say We're In Love
17. Erroll Garner - More Than You Know
18. Erroll Garner - Red Sails In The Sunset
19. Erroll Garner - Over The Rainbow
20. Erroll Garner - Goodbye

18 Erroll Garner - 2004 Jazz Ballads 09 - Disc 2 | 143,26 MB | 19 Files | 01:02:36 hrs

01. Erroll Garner - I've Got The World On A String
02. Erroll Garner - Stardust
03. Erroll Garner - Pastel
04. Erroll Garner - Don't Worry 'bout Me
05. Erroll Garner - Confessin'
06. Erroll Garner - I Surrender Dear
07. Erroll Garner - I May Be Wrong
08. Erroll Garner - Body And Soul
09. Erroll Garner - I Can't Get Started
10. Erroll Garner - Impressions
11. Erroll Garner - It Could Happen To You
12. Erroll Garner - I Don't Know Why
13. Erroll Garner - Skylark
14. Erroll Garner - I Can't Give You Anything But Love
15. Erroll Garner - I Only Have Eyes For You
16. Erroll Garner - All The Things You Are
17. Erroll Garner - Ghost Of A Chance
18. Erroll Garner - Yesterdays
19. Erroll Garner - My Heart Stood Still

19 Stan Getz - 2004 Jazz Ballads 10 - Disc 1 | 129,57 MB | 14 Files | 00:56:37 hrs

01. Stan Getz - Always
02. Stan Getz - Stan's Mood
03. Stan Getz - What's New
04. Stan Getz - Indian Summer
05. Stan Getz - Mar-cia
06. Stan Getz - My Old Flame
07. Stan Getz - Moonlight In Vermont
08. Stan Getz - 'Tis Autumn
09. Stan Getz - Body And Soul
10. Stan Getz - It Might As Well Be Spring
11. Stan Getz - I Let A Song Go Out Of My Heart
12. Stan Getz - The Nearness Of You
13. Stan Getz - Down By The Sycamore Tree
14. Stan Getz - Ballad Medley:

20 Stan Getz - 2004 Jazz Ballads 10 - Disc 2 | 123,26 MB | 15 Files | 00:53:53 hrs

01. Stan Getz - Whats New
02. Stan Getz - Gone With the Wind
03. Stan Getz - Yesterdays
04. Stan Getz - Imagination
05. Stan Getz - Everything Happens to Me
06. Stan Getz - Where or When
07. Stan Getz - Thanks For the Memory
08. Stan Getz - These Foolish Things
09. Stan Getz - Stars Fell On Alabama
10. Stan Getz - You Turned the Tables On Me
11. Stan Getz - Autumn Leaves
12. Stan Getz - Willow Weep For Me
13. Stan Getz - I Hadn't Anyone 'Till You
14. Stan Getz - It's the Talk of the Town
15. Stan Getz - Body and Soul

21 Lionel Hampton - 2004 Jazz Ballads 11 - Disc 1 | 143,13 MB | 7 Files | 01:02:34 hrs

01. Lionel Hampton - The Nearness Of You
02. Lionel Hampton - April In Paris
03. Lionel Hampton - Stardust
04. Lionel Hampton - This Can't Be Love
05. Lionel Hampton - Willow Weep For Me
06. Lionel Hampton - I Can't Get Started
07. Lionel Hampton - Moonglow

22 Lionel Hampton - 2004 Jazz Ballads 11 - Disc 2 | 144,26 MB | 8 Files | 01:03:06 hrs

01. Lionel Hampton - These Foolish Things
02. Lionel Hampton - On The Sunny Side Of The Street
03. Lionel Hampton - Midnight Sun
04. Lionel Hampton - Tenderly
05. Lionel Hampton - But Beautiful
06. Lionel Hampton - A Foggy Day
07. Lionel Hampton - Our Love Is Here To Stay
08. Lionel Hampton - Body And Soul

23 Billie Holiday - 2004 Jazz Ballads 12 - Disc 1 | 160,01 MB | 22 Files | 01:09:57 hrs

01. Billie Holiday - Lover Man (Oh Where Can You Be)
02. Billie Holiday - No More
03. Billie Holiday - Don't Explain
04. Billie Holiday - You Better Go Now
05. Billie Holiday - What Is This Thing Called Love
06. Billie Holiday - Baby, I Don't Cry Over You
07. Billie Holiday - I'll Look Around
08. Billie Holiday - You're My Thrill
09. Billie Holiday - Crazy He Calls Me
10. Billie Holiday - Please Tell Me Now
11. Billie Holiday - Somebody's On My M Ind
12. Billie Holiday - East Of The Sun
13. Billie Holiday - Blue Moon
14. Billie Holiday - You Go To My Head
15. Billie Holiday - You Turned The Tables On Me
16. Billie Holiday - Easy To Love
17. Billie Holiday - These Foolish Things
18. Billie Holiday - Solitude
19. Billie Holiday - My Man
20. Billie Holiday - Stormy Weather
21. Billie Holiday - Yesterdays
22. Billie Holiday - He's Funny That Way

24 Billie Holiday - 2004 Jazz Ballads 12 - Disc 2 | 160,71 MB | 23 Files | 01:10:14 hrs

01. Billie Holiday - That Ole Devil Called Love
02. Billie Holiday - Body And Soul
03. Billie Holiday - Good Morning Heartache
04. Billie Holiday - No Good Man
05. Billie Holiday - Big Stuff
06. Billie Holiday - The Man I Love
07. Billie Holiday - There Is No Greter Love
08. Billie Holiday - Easy Living
09. Billie Holiday - I Loves You Porgy
10. Billie Holiday - God Bless The Child
11. Billie Holiday - Blue Turning Grey Over Me
12. Billie Holiday - Detour Ahead
13. Billie Holiday - Everything I Have Is Yours
14. Billie Holiday - Love For Sale
15. Billie Holiday - Moonglow
16. Billie Holiday - Tenderly
17. Billie Holiday - If The Moon Turns Green
18. Billie Holiday - Autumn In New York
19. Billie Holiday - Love Me Or Leave Me
20. Billie Holiday - P.s. I Love You
21. Billie Holiday - Softly
22. Billie Holiday - I Thought About You
23. Billie Holiday - Willow Weep For Me

25 Roy Eldridge & Dizzy Gillespie - 2004 Jazz Ballads 13 - Disc 1 | 123,11 MB | 13 Files | 00:53:49 hrs

01. Roy Eldridge & Dizzy Gillespie - Body And Soul
02. Roy Eldridge & Dizzy Gillespie - Stardust
03. Roy Eldridge & Dizzy Gillespie - I Can't Get Started
04. Roy Eldridge & Dizzy Gillespie - Twilight Time
05. Roy Eldridge & Dizzy Gillespie - Embracable You
06. Roy Eldridge & Dizzy Gillespie - Rockin' Chair
07. Roy Eldridge & Dizzy Gillespie - It's The Talk Of The Town
08. Roy Eldridge & Dizzy Gillespie - Wrap Your Troubles In Dreams
09. Roy Eldridge & Dizzy Gillespie - Easter Parade
10. Roy Eldridge & Dizzy Gillespie - If I Had You
11. Roy Eldridge & Dizzy Gillespie - Someone To Watch Over Me
12. Roy Eldridge & Dizzy Gillespie - Black And Blue
13. Roy Eldridge & Dizzy Gillespie - Ballad Medley

26 Roy Eldridge & Dizzy Gillespie - 2004 Jazz Ballads 13 - Disc 2 | 131,47 MB | 13 Files | 00:57:27 hrs

01. Roy Eldridge & Dizzy Gillespie - Dii Cover The Waterfront
02. Roy Eldridge & Dizzy Gillespie - Hurry Home
03. Roy Eldridge & Dizzy Gillespie - She's Funny That Way
04. Roy Eldridge & Dizzy Gillespie - Sweet Lorraine
05. Roy Eldridge & Dizzy Gillespie - Everything Happens To Me
06. Roy Eldridge & Dizzy Gillespie - I Don't Know Why
07. Roy Eldridge & Dizzy Gillespie - Ballad Medley
08. Roy Eldridge & Dizzy Gillespie - They Can't Take That Away From Me
09. Roy Eldridge & Dizzy Gillespie - I Can't Get Started
10. Roy Eldridge & Dizzy Gillespie - My Man (Mon Home)
11. Roy Eldridge & Dizzy Gillespie - Moon Nocturne
12. Roy Eldridge & Dizzy Gillespie - This Is The Way
13. Roy Eldridge & Dizzy Gillespie - Ballad Medley

27 Benny Carter - 2004 Jazz Ballads 14 - Disc 1 | 144,25 MB | 16 Files | 01:03:03 hrs

01. Benny Carter - Isn't It Romantic
02. Benny Carter - Moonglow
03. Benny Carter - Under A Blanket Of Blue
04. Benny Carter - Cocktails For Two
05. Benny Carter - Starway To The Stars
06. Benny Carter - I Can't Get Started
07. Benny Carter - Laura
08. Benny Carter - Can't We Be Friends
09. Benny Carter - I Got It Bad
10. Benny Carter - Imagination
11. Benny Carter - Prisioner Of Love
12. Benny Carter - Makin' Whoopee
13. Benny Carter - Some Other Spring
14. Benny Carter - I'm Sorry
15. Benny Carter - These Things You Left Me
16. Benny Carter - Hands Across The Table

28 Benny Carter - 2004 Jazz Ballads 14 - Disc 2 | 142,45 MB | 18 Files | 01:02:15 hrs

01. Benny Carter - Deep Purple
02. Benny Carter - I Don't Know Why I Love You Like I Do
03. Benny Carter - Give Me Something To Remember You By
04. Benny Carter - (I'm Left With The) Blues In My Heart
05. Benny Carter - Prelude To A Kiss
06. Benny Carter - Angel Eyes
07. Benny Carter - I've Got The Wold On A String
08. Benny Carter - I Get A Kick Out Of You
09. Benny Carter - 'round Midnight
10. Benny Carter - Laura
11. Benny Carter - I'll Be Arround
12. Benny Carter - I'll Wind
13. Benny Carter - Bewitched
14. Benny Carter - Street Of Dreams
15. Benny Carter - Cocktails For Two
16. Benny Carter - Blue Star
17. Benny Carter - Flamingo
18. Benny Carter - You're Mine, You

29 Johnny Hodges + Friends - 2004 Jazz Ballads 15 - Disc 1 | 145,96 MB | 20 Files | 01:03:47 hrs

01. Johnny Hodges + Friends - Lionel Hampton And His Orchestra / On The Sunny Side Of The Street
02. Johnny Hodges + Friends - Johnny Hodges And His Orchestra / Pyramid
03. Johnny Hodges + Friends - Duke Elligton And His Famous Orchestra / Never No Lament (Don't Get Around Much Anymore)
04. Johnny Hodges + Friends - Johnny Hodges And His Orchestra / Day Dream
05. Johnny Hodges + Friends - Duke Elligton And His Famous Orchestra / After All
06. Johnny Hodges + Friends - Duke Elligton And His Famous Orchestra / I Got It Bad And That Ain't Good
07. Johnny Hodges + Friends - Johnny Hodges And His Orchestra / Passion Flower
08. Johnny Hodges + Friends - Duke Elligton And His Famous Orchestra / Sentimental Lady
09. Johnny Hodges + Friends - Duke Elligton And His Famous Orchestra / The Mood To Be Wooed
10. Johnny Hodges + Friends - Duke Elligton And His Famous Orchestra / Rockabye River (Hop, Skip, Jump)
11. Johnny Hodges + Friends - Johnny Hodges And His Orchestra / Time On My Hands
12. Johnny Hodges + Friends - Johnny Hodges And His Orchestra / Wishing And Waiting
13. Johnny Hodges + Friends - Johnny Hodges And His Orchestra / Mood Indigo
14. Johnny Hodges + Friends - Johnny Hodges And His Orchestra / Sweet Lorraine
15. Johnny Hodges + Friends - Johnny Hodges And His Orchestra / My Reward
16. Johnny Hodges + Friends - Johnny Hodges And His Orchestra / Solitude
17. Johnny Hodges + Friends - Johnny Hodges And His Orchestra / Sophisticated Lady
18. Johnny Hodges + Friends - Johnny Hodges And His Orchestra / A Gentle Breeze
19. Johnny Hodges + Friends - Johnny Hodges And His Orchestra / Who's Excited?
20. Johnny Hodges + Friends - Johnny Hodges And His Orchestra / Day Dream

30 Johnny Hodges + Friends - 2004 Jazz Ballads 15 - Disc 2 | 153,53 MB | 15 Files | 01:07:06 hrs

01. Johnny Hodges + Friends - Cab Calloway And His Orchestra / Willow, Weep For Me
02. Johnny Hodges + Friends - Jonah Jones And His Orchestra / Just Like A Butterfly
03. Johnny Hodges + Friends - Joe Thomas And His Orchestra / Black Butterfly
04. Johnny Hodges + Friends - Charlie Shavers Quintett / Mountain Air
05. Johnny Hodges + Friends - Charlie Shavers Quintett / Stardust
06. Johnny Hodges + Friends - Willie Smith Quintett / Sophisticated Lady
07. Johnny Hodges + Friends - Shorty Rogers And His Giants / Over The Rainbow
08. Johnny Hodges + Friends - Art Pepper Quartett / Everything Happens To Me
09. Johnny Hodges + Friends - Art Pepper Quintett / What's New
10. Johnny Hodges + Friends - Lou Donaldson / The Things We Did Last Summer
11. Johnny Hodges + Friends - Dave Brubeck Quartett / These Foolish Things
12. Johnny Hodges + Friends - Dave Brubeck Quartett / Stardust
13. Johnny Hodges + Friends - Dave Brubeck Quartett / Laura
14. Johnny Hodges + Friends - Dave Brubeck Quartett / For All We Know
15. Johnny Hodges + Friends - Dave Brubeck Quartett / Don't Worry 'bout Me

31 Charlie Parker - 2004 Jazz Ballads 16 - Disc 1 | 155,63 MB | 19 Files | 01:08:04 hrs

01. Charlie Parker - Summertime
02. Charlie Parker - I Didn't Know What Time It Was
03. Charlie Parker - All The Things You Are
04. Charlie Parker - These Foolish Things
05. Charlie Parker - Laura
06. Charlie Parker - East Of The Sun
07. Charlie Parker - Embraceable You
08. Charlie Parker - I Can't Get Started
09. Charlie Parker - Just Friends
10. Charlie Parker - If I Should Lose You
11. Charlie Parker - My Funny Valentine
12. Charlie Parker - Don't Blame Me
13. Charlie Parker - Easy To Love
14. Charlie Parker - I'm In The Mood For Love
15. Charlie Parker - How Deep Is The Ocean
16. Charlie Parker - Stella By Starlight
17. Charlie Parker - Star Eyes
18. Charlie Parker - My Melancholy Baby
19. Charlie Parker - Bird Of Paradise

32 Charlie Parker - 2004 Jazz Ballads 16 - Disc 2 | 144,92 MB | 17 Files | 01:03:23 hrs

01. Charlie Parker - April In Paris
02. Charlie Parker - Everything Happens To Me
03. Charlie Parker - Bird Of Paradise
04. Charlie Parker - Don't Blame Me
05. Charlie Parker - Loverman
06. Charlie Parker - Dancing In The Dark
07. Charlie Parker - Out Of Nowhere
08. Charlie Parker - Ballade
09. Charlie Parker - My Old Flame
10. Charlie Parker - I'll Walk Alone
11. Charlie Parker - Almost Like Being In Love
12. Charlie Parker - Embraceable You
13. Charlie Parker - Autumn In New York
14. Charlie Parker - These Foolish Things
15. Charlie Parker - Out Of Nowhere
16. Charlie Parker - I'm In The Mood For Love
17. Charlie Parker - I'll Remember April

33 Tenor Giants - 2004 Jazz Ballads 17 - Disc 1 | 150,65 MB | 20 Files | 01:05:52 hrs

01. Tenor Giants - Dexter Gordon / It's The Talk Of The Town
02. Tenor Giants - Dexter Gordon / Ghost Of A Chance
03. Tenor Giants - Dexter Gordon / Sweet And Lovely
04. Tenor Giants - Dexter Gordon / Dexter's Mood
05. Tenor Giants - Dexter Gordon / I Can't Escape From You
06. Tenor Giants - Wardell Gray / The Man I Love
07. Tenor Giants - Wardell Gray / Easy Living
08. Tenor Giants - Wardell Gray / Sweet Lorraine
09. Tenor Giants - Wardell Gray / A Sinner Kissed An Angel
10. Tenor Giants - Wardell Gray / Talk Of The Town
11. Tenor Giants - Sonny Stitt / Sunset
12. Tenor Giants - Sonny Stitt / They Say It's Wonderful
13. Tenor Giants - Sonny Stitt / Body And Soul
14. Tenor Giants - Sonny Stitt / If I Had You
15. Tenor Giants - Sonny Stitt / Ain't Misbehavin'
16. Tenor Giants - Illinois Jacquet / Don't Blame Me
17. Tenor Giants - Illinois Jacquet / Black Velvet
18. Tenor Giants - Illinois Jacquet / Blue Nocturne
19. Tenor Giants - Illinois Jacquet / September Song
20. Tenor Giants - Illinois Jacquet / It's The Talk Of The Town

34 Tenor Giants - 2004 Jazz Ballads 17 - Disc 2 | 143,45 MB | 17 Files | 01:02:44 hrs

01. Tenor Giants - Al Cohn Quartet / How Long Has This Been Going On ?
02. Tenor Giants - Zoot Sims Quartet / My Silent Love
03. Tenor Giants - Zoot Sims Quartet / Dancing In The Dark
04. Tenor Giants - Zoot Sims Quartet / Memories Of You
05. Tenor Giants - Zoot Sims Quartet / East Of The Sun
06. Tenor Giants - Flip Phillips Fliptet / A Melody Form The Sky
07. Tenor Giants - Bill Harris And His Septet / Mean To Me
08. Tenor Giants - Bill Harris And His Septet / She's Funny That Way
09. Tenor Giants - Flip Phillips Hiptet / Why Shouldn't I ?
10. Tenor Giants - Flip Phillips Hiptet / More Than You Know
11. Tenor Giants - Flip Phillips Quintet / My Old Flame
12. Tenor Giants - Flip Phillips Quartet / But Beautiful
13. Tenor Giants - Flip Phillips Quartet / Don't Take Your Love From Me
14. Tenor Giants - Flip Phillips Quintet / Stardust
15. Tenor Giants - Flip Phillips And His Orchestra / Goodbye
16. Tenor Giants - Flip Phillips And His Orchestra / Someone To Watch Over Me
17. Tenor Giants - Flip Phillips Sextet / If I Had You

35 Art Tatum - 2004 Jazz Ballads 18 - Disc 1 | 155,25 MB | 15 Files | 01:07:53 hrs

01. Art Tatum - Can't We Be Friends
02. Art Tatum - Memories Of You
03. Art Tatum - Over The Rainbow
04. Art Tatum - Body And Soul
05. Art Tatum - The Man I Love
06. Art Tatum - Semptember Song
07. Art Tatum - Louise
08. Art Tatum - Love For Sale
09. Art Tatum - Embraceable You
10. Art Tatum - Come Rain Or Come Shine
11. Art Tatum - Tenderly
12. Art Tatum - I've Got A World On A String
13. Art Tatum - Someone To Watch Over Me
14. Art Tatum - The Very Thought Of You
15. Art Tatum - (I Don't Stand A) Ghost Of A Chance

36 Art Tatum - 2004 Jazz Ballads 18 - Disc 2 | 144,59 MB | 13 Files | 01:03:13 hrs

01. Art Tatum - Stardust
02. Art Tatum - I Cover The Waterfront
03. Art Tatum - Where Or When
04. Art Tatum - All The Things You Are
05. Art Tatum - In A Sentimental Mood
06. Art Tatum - Without A Song
07. Art Tatum - I'm In The Mood For Love
08. Art Tatum - Danny Boy
09. Art Tatum - They Can't Take That Away From Me
10. Art Tatum - It's The Talk Of The Town
11. Art Tatum - When A Woman Loves A Man
12. Art Tatum - Willow Weep For Me
13. Art Tatum - Smoke Gets In Your Eyes

37 Louis Armstrong & Jack Teagarden - 2004 Jazz Ballads 19 - Disc 1 | 145,13 MB | 15 Files | 01:03:25 hrs

01. Louis Armstrong & Jack Teagarden - Someday (You'll Be Sorry)
02. Louis Armstrong & Jack Teagarden - Black And Blue
03. Louis Armstrong & Jack Teagarden - I'm Confessin'
04. Louis Armstrong & Jack Teagarden - Lazy River
05. Louis Armstrong & Jack Teagarden - Pennies Fromheaven
06. Louis Armstrong & Jack Teagarden - Rockin' Chair
07. Louis Armstrong & Jack Teagarden - Save It Pretty Mama
08. Louis Armstrong & Jack Teagarden - Do You Knew What It Means To Miss New Orleans
09. Louis Armstrong & Jack Teagarden - Before Long
10. Louis Armstrong & Jack Teagarden - Lovely Weather We're Having
11. Louis Armstrong & Jack Teagarden - On The Sunny Side Of The Street
12. Louis Armstrong & Jack Teagarden - You Can Depend On Me
13. Louis Armstrong & Jack Teagarden - Blueberry Hill
14. Louis Armstrong & Jack Teagarden - Basin Street Blues
15. Louis Armstrong & Jack Teagarden - I Surrender Dear

38 Louis Armstrong & Jack Teagarden - 2004 Jazz Ballads 19 - Disc 2 | 153,01 MB | 18 Files | 01:06:53 hrs

01. Louis Armstrong & Jack Teagarden - Stars Fell On Alabama
02. Louis Armstrong & Jack Teagarden - A Hundred Years Fromtoday
03. Louis Armstrong & Jack Teagarden - I Gotta Right To Sing The Blues
04. Louis Armstrong & Jack Teagarden - Star Dust
05. Louis Armstrong & Jack Teagarden - Music To Love By
06. Louis Armstrong & Jack Teagarden - Body And Soul
07. Louis Armstrong & Jack Teagarden - Love Me
08. Louis Armstrong & Jack Teagarden - Blue River
09. Louis Armstrong & Jack Teagarden - I Just Couldn't Take It Baby
10. Louis Armstrong & Jack Teagarden - Keep On Doin Waht You're Doin
11. Louis Armstrong & Jack Teagarden - Your Guess Is Just As Good As Mine
12. Louis Armstrong & Jack Teagarden - Diane
13. Louis Armstrong & Jack Teagarden - Peg O' My Heart
14. Louis Armstrong & Jack Teagarden - If I Could Be With You One Hour Tonight
15. Louis Armstrong & Jack Teagarden - Nobody Knows
16. Louis Armstrong & Jack Teagarden - Body And Soul
17. Louis Armstrong & Jack Teagarden - A Hundred Years From Today
18. Louis Armstrong & Jack Teagarden - Stars Fell On Alabama

39 All Star Jam Session - 2004 Jazz Ballads 20 - Disc 1 | 138,45 MB | 5 Files | 01:00:32 hrs

01. All Star Jam Session - You Go To My Head - Cooks, Gillespeie
02. All Star Jam Session - Blue And Sentimental - Basie, Livingston,david
03. All Star Jam Session - I Can't Get Started - Gershwin, Duke
04. All Star Jam Session - Blue Moon - Hart, Rodgers
05. All Star Jam Session - Ballad Medley

40 All Star Jamm Session - 2004 Jazz Ballads 20 - Disc 2 | 148,56 MB | 6 Files | 01:04:58 hrs

01. All Star Jamm Session - Buck Clayton Jam Session / Sentimental Journey
02. All Star Jamm Session - Norman Granz Jam Session / Ballad Medley
03. All Star Jamm Session - Eddie Condon And His All Stars / Medley
04. All Star Jamm Session - Jazz At The Philharmonic / I Surrender Dear
05. All Star Jamm Session - All Star Jam Session / Ballad Medley
06. All Star Jamm Session - Jazz At The Philharmonic / Ballad Medley