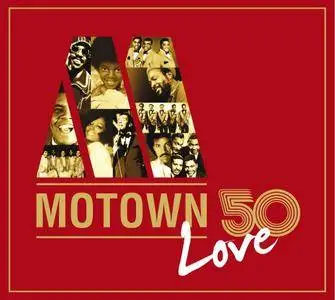 V.A. - Motown 50 Love (3CD Box Set, 2009)
R&B, Soul | MP3 CBR 320 kbps | 395 Mb
Label: UMTV
Motown 50 Love features three CDs of the greatest love songs from the Motown label. Stevie Wonder, Michael Jackson, Diana Ross, Marvin Gaye, The Four Tops, Lionel Richie, Boyz II Men are just a few of the phenomenal and iconic artists included in this 50 track collection of some of mysic's most enduring love songs. Exclusive to this collection are three tracks never before featured on a UK compilation album: Stevie Wonder – "Isn't She Lovely", Stevie Wonder – "Lately" and Boyz II Men – "End Of The Road".
Tracklist:Disc: 1
1. Stevie Wonder - Isn't She Lovely
2. Jackson 5 - I'll Be There
3. Lionel Richie - Hello
4. Marvin Gaye - How Sweet It Is To Be Loved By You
5. Marvelettes - Please Mr Postman
6. Smokey Robinson - I Second That Emotion
7. Diana Ross - Remember Me
8. Four Tops - Loving You Is Sweeter Than Ever
9. Boyz II Men - I'll Make Love To You
10. Smokey Robinson - Cruisin'
11. The Temptations - The Way You Do the Things You Do
12. Diana Ross - Do You Know Where You're Going To? (Theme From Mahogany)
13. Commodores - Three Times A Lady
14. Stevie Wonder - I Was Made To Love Her
15. The Isley Brothers - I Guess I'll Always Love You
16. The Supremes - Stoned Love
17. Gladys Knight - You've Lost That Loving Feeling
Disc: 2
1. Boyz II Men - End Of The Road
2. Jackson 5 - Never Can Say Goodbye
3. Lionel Richie - Say You, Say Me
4. Stevie Wonder - Never Had A Dream Come True
5. The Supremes - Someday We'll Be Together
6. Marvin Gaye - Too Busy Thinking About My Baby
7. Four Tops - Baby I Need You Loving
8. The Originals - Baby I'm For Real
9. Gladys Knight - If I Were Your Woman
10. Stevie Wonder - Lately
11. The Supremes - Where Did Our Love Go
12. Jimmy Ruffin - I'll Say Forever My Love
13. Michael Jackson - Farewell My Summer Love
14. Commodores - Sail On
15. Billy Preston Ft. Syreeta - With You I'm Born Again
16. Gladys Knight - Help Me Make It Through The Night
17. Diana Ross - If We Hold On Together
Disc: 3
1. Marvin Gaye & Tammi Terrell - You're All I Need To Get By
2. Michael Jackson - One Day In Your Life
3. The Miracles - You Really Got A Hold Of Me
4. The Velvelettes - He Really was Saying Something
5. Lionel Richie - Stuck On You
6. Michael Jackson - Ain't No Sunshine
7. Four Tops - Don't Walk Away
8. Diana Ross - Reach Out And Touch Somebody's Hand
9. Martha & The Vandellas - Heatwave
10. Kim Weston - I'm Still Loving You
11. Gladys Knight - Heard It Through The Grapevine
12. Jr Walker & The Allstars - A Walk In The Night
13. Commodores - Still
14. The Temptations - Just My Imagination
15. Diana Ross - Touch Me In The Morning
16. Stevie Wonder - My Cherie Amour