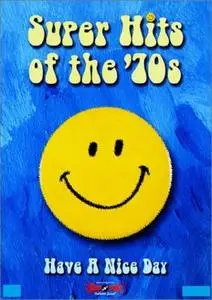 V.A. - Super Hits Of The '70s - Have A Nice Day Vol. 1-25 (1990-1996)
EAC Rip | FLAC (*tracks+.cue+.log,scans) | Run Time: 16:32:11 | 6,42 Gb
Genre: Soft Rock, Pop Rock, Folk, Ballad, Classic Rock, Funk, Disco | Label: Rhino Records
Follow-up volumes appeared in 1993 and 1996, extending the time period to 1979 and with additional songs from the 1972-76 period, available on cassette or CD (ALL 25 volumes were issued in both formats). Each volume has twelve songs. Despite the greater capacity of compact discs, the running time of each of the volumes is no longer than the limit of vinyl records in the 1970s, from 38 to 45 minutes long.
For most cuts, the (45 RPM) single version was included where differing from that found on the artist's original album. Many (not all) tracks were dubbed from the original stereo (or mono) master tapes, and therefore represent the best available version on CD. To avoid using lesser-quality tapes, single versions were recreated through Bill Inglot's digital editing of album-version tapes. The original stereo masters were not available in every case (CBS tracks in particular); Rhino's publicity forthrightly admitted those instances where other compilations' versions were superior.
The songs "Jackie Blue", "Fooled Around And Fell In Love", "Sometimes When We Touch" and "Amie", which appear on volumes 14, 18, 21 and 23 respectively, have the 45 RPM single edits appear on the cassette tape versions, but feature the full-length album versions on the compact disc releases.
Taking its inspiration from, among others, K-Tel Records, the Have a Nice Day series was among the first of many decade- and genre-delimited collections of lower-charting hits to appear with the arrival of the CD age. Some of the songs provided in this series appear on dozens of other compilations. None of them (including this one) are comprehensive, leaving out best-selling artists and songs unavailable for licensing or other reasons. For example, "You Light Up My Life", the song that held the #1 spot on the Billboard Pop Singles chart for the longest continuous stretch during the 1970s, is neither on this series nor any other. Despite the explosive proliferation of 70s collections on compact disc pouring out on other record labels since 1990, this series remains or has remained in print more than a decade after its initial releases in 1990–96.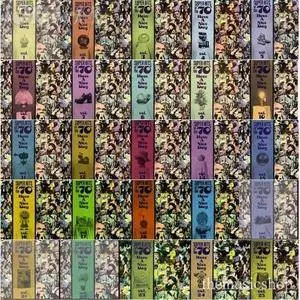 Tracklist:1990 - Volume 1
1. Spiral Starecase – More Today Than Yesterday (02:48)
2. Smith – Baby It's You (02:24)
3. The Flying Machine – Smile A Little Smile For Me (02:55)
4. Billy Joe Royal – Cherry Hill Park (02:44)
5. Steam – Na Na Hey Hey Kiss Him Goodbye (03:45)
6. The Shocking Blue – Venus (03:05)
7. Vanity Fare – Early In The Morning (02:52)
8. Mark Lindsay – Arizona (03:06)
9. The Jaggerz – The Rapper (02:42)
10. The Sandpipers – Come Saturday Morning (02:57)
11. The Cuff Links – Tracy (02:05)
12. Mountain – Mississippi Queen (02:30)
1990 - Volume 2
1. Edison Lighthouse – Love Grows (Where My Rosemary Goes) (02:51)
2. The Tee Set – Ma Belle Amie (03:10)
3. Norman Greenbaum – Spirit In The Sky (03:57)
4. The Marmalade – Reflections Of My Life (04:18)
5. Bobbi Martin – For The Love Of Him (02:35)
6. George Baker Selection – Little Green Bag (03:21)
7. The Poppy Family – Which Way You Goin' Billy? (03:10)
8. White Plains – My Baby Loves Lovin' (02:38)
9. Vanity Fare – Hitchin' A Ride (02:37)
10. The Brotherhood Of Man – United We Stand (02:54)
11. Ray Stevens – Everything Is Beautiful (03:29)
12. Robin McNamara – Lay A Little Lovin' On Me (03:04)
1990 - Volume 3
1. Melanie & The Edwin Hawkins' Singers – Lay Down (Candles In The Rain) (03:49)
2. Alive & Kicking – Tighter, Tighter (02:45)
3. Mungo Jerry – In The Summertime (03:40)
4. Hotlegs – Neanderthal Man (04:29)
5. Sugarloaf – Green-Eyed Lady (03:37)
6. R. Dean Taylor – Indiana Wants Me (02:53)
7. The Partridge Family – I Think I Love You (02:28)
8. Bobby Bloom – Montego Bay (02:53)
9. Brian Hyland – Gypsy Woman (02:32)
10. Jerry Reed – Amos Moses (02:19)
11. Bobby Sherman – Julie, Do You Love Me? (02:52)
12. Punch – Fallin' Lady (03:40)
1990 - Volume 4
1. Christie – Yellow River (02:40)
2. Lynn Anderson – Rose Garden (02:52)
3. Ray Price – For The Good Times (03:48)
4. Sammi Smith – Help Me Make It Through The Night (02:32)
5. The Nitty Gritty Dirt Band – Mr. Bojangles (03:36)
6. Wadsworth Mansion – Sweet Mary (02:40)
7. Brewer & Shipley – One Toke Over The Line (03:16)
8. Ocean – Put Your Hand In The Hand (02:52)
9. The Bells – Stay Awhile (03:15)
10. Matthews' Southern Comfort – Woodstock (04:26)
11. Mark Lindsay – Silver Bird (03:05)
12. The Glass Bottle – I Ain't Got Time Anymore (02:27)
1990 - Volume 5
1. Daddy Dewdrop – Chick a Boom (Don't Ya Jes Love It) (02:53)
2. Lobo – Me and You and a Dog Named Boo (02:54)
3. Richie Havens – Here Comes the Sun (02:34)
4. Murray Head – Superstar (04:19)
5. Jerry Reed – When You're Hot You're Hot (02:22)
6. Hamilton, Joe Frank & Reynolds – Don't Pull Your Love (02:45)
7. Paul Revere and The Raiders – Indian Reservation (The Lament of the Cherokee Reservation Indian) (02:55)
8. The Fortunes – Here Comes That Rainy Day Feeling Again (02:52)
9. Chase – Get It On (03:01)
10. Tommy James & the Shondells – Draggin' the Line (02:47)
11. Redeye – Games (03:05)
12. Mike Curb Congregation – Burning Bridges (02:47)
1990 - Volume 6
1. Crabby Appleton – Go Back (02:45)
2. The Buoys – Timothy (02:45)
3. The Pipkins – Gimme Dat Ding (02:10)
4. Lulu – Oh Me Oh My (I'm A Fool For You Baby) (02:45)
5. John Kongos – He's Gonna Step On You Again (04:25)
6. Brewer & Shipley – Tarkio Road (03:10)
7. Five Man Electrical Band – Signs (04:05)
8. Bobby Russell – Saturday Morning Confusion (03:05)
9. Stampeders – Sweet City Woman (03:15)
10. Lighthouse – One Fine Morning (05:15)
11. Five Man Electrical Band – Absolutely Right (02:12)
12. Gayle McCormick – It's A Cryin' Shame (02:52)
1990 - Volume 7
1. Lee Michaels – Do You Know What I Mean (03:11)
2. Sweathog – Hallelujah (02:56)
3. Coven – One Tin Soldier (The Legend Of Billy Jack) (03:18)
4. Melanie – Brand New Key (02:26)
5. Jonathan Edwards – Sunshine (02:16)
6. Bullet – White Lies, Blue Eyes (02:54)
7. Redbone – The Witch Queen Of New Orleans (02:45)
8. Beverly Bremers – Don't Say You Don't Remember (03:13)
9. Apollo 100 – Joy (feat. Tom Parker) (03:10)
10. Climax – Precious And Few (02:43)
11. The English Congregation – Softly Whispering I Love You (02:58)
12. Giorgio – Son Of My Father (03:42)
1990 - Volume 8
1. Jo Jo Gunne – Run Run Run (02:33)
2. Commander Cody & His Lost Planet Airmen – Hot Rod Lincoln (02:40)
3. The Addrisi Brothers – We've Got To Get It On Again (02:49)
4. Dr. Hook & The Medicine Show – Sylvia's Mother (03:31)
5. Gallery – Nice To Be With You (02:37)
6. Mouth & MacNeal – How Do You Do? (02:57)
7. Python Lee Jackson – In A Broken Dream (03:37)
8. Godspell – Day By Day (03:07)
9. Gilbert O'Sullivan – Alone Again (Naturally) (03:40)
10. Argent – Hold Your Head Up (02:52)
11. Sammy Davis, Jr – The Candy Man (feat. Mike Curb Congregation) (03:10)
12. Sailcat – Motorcycle Mama (02:07)
1990 - Volume 9
1. Looking Glass – Brandy (You're A Fine Girl) (02:55)
2. Daniel Boone – Beautiful Sunday (03:00)
3. Gary Glitter – Rock And Roll Part 2 (03:10)
4. Rick Springfield – Speak To The Sky (02:42)
5. Hot Butter – Popcorn (02:30)
6. Lobo – I'd Love You To Want Me (03:59)
7. Gallery – I Believe In Music (02:26)
8. Cashman & West – American City Suite (07:42)
9. Chi Coltrane – Thunder And Lightning (02:56)
10. Austin Roberts – Something's Wrong With Me (03:07)
11. Gilbert O'Sullivan – Clair (03:00)
12. The Edgar Winter Group – Frankenstein (03:28)
1990 - Volume 10
1. Albert Hammond – It Never Rains In Southern Calfornia (03:36)
2. Hurricane Smith – Oh, Babe, What Would You Say? (03:22)
3. Edward Bear – Last Song (03:15)
4. Loudon Wainwright III – Dead Skunk (03:08)
5. Dr. Hook & The Medicine Show – The Cover Of 'Rolling Stone' (02:53)
6. Vicki Lawrence – The Night The Lights Went Out In Georgia (03:36)
7. Stealers Wheel – Stuck In The Middle With You (03:24)
8. Dobie Gray – Drift Away (03:57)
9. Skylark – Wildflower (04:07)
10. Stories – Brother Louie (03:55)
11. Looking Glass – Jimmy Loves Mary-Anne (03:25)
12. The DeFranco Family – Heartbeat–It's A Lovebeat (feat. Tony DeFranco) (03:10)
1990 - Volume 11
1. Clint Holmes – Playground In My Mind (02:57)
2. Maureen McGovern – The Morning After (02:22)
3. Eric Weissberg & Steve Mandell – Dueling Banjos (02:19)
4. Donna Fargo – Funny Face (02:49)
5. Deodato – Also Sprach Zarathustra (05:07)
6. Gallery – Big City Miss Ruth Ann (02:27)
7. Jud Strunk – Daisy A Day (02:51)
8. Gilbert O'Sullivan – Get Down (02:42)
9. Albert Hammond – The Free Electric Band (03:27)
10. The Charlie Daniels Band – Uneasy Rider (05:22)
11. B.W. Stevenson – My Maria (02:32)
12. El Chicano – Tell Her She's Lovely (03:14)
1990 - Volume 12
1. Terry Jacks – Seasons In The Sun
2. Jim Stafford – Spiders & Snakes
3. Black Oak Arkansas – Jim Dandy
4. Rick Derringer – Rock & Roll, Hoochie Koo
5. David Essex – Rock On
6. Stealers Wheel – Star
7. Blue Swede – Hooked On A Feeling
8. Mocedades – Eres Tu (Touch The Wind)
9. Redbone – Come And Get Your Love
10. Sister Janet Mead – The Lord's Prayer
11. Marvin Hamlisch – The Entertainer
12. Ray Stevens – The Streak
1990 - Volume 13
1. Maria Muldaur – Midnight At The Oasis
2. Jim Stafford – My Girl Bill
3. Bo Donaldson & The Heywoods – Billy Don't Be A Hero
4. Golden Earring – Radar Love
5. Paper Lace – The Night Chicago Died
6. Dave Loggins – Please Come To Boston
7. Wet Willie – Keep On Smilin'
8. Bo Donaldson & The Heywoods – Who Do You Think You Are
9. Andy Kim – Rock Me Gently
10. First Class – Beach Baby
11. Billy Swan – I Can Help
12. Reunion – Life Is A Rock (But The Radio Rolled Me)
1990 - Volume 14
1. Carl Douglas – Kung Fu Fighting (03:17)
2. Sugarloaf & Jerry Corbetta – Don't Call Us, We'll Call You (03:22)
3. Hot Chocolate – Emma (03:55)
4. Sammy Johns – Chevy Van (02:59)
5. Hudson Brothers – So You Are A Star (03:49)
6. Polly Brown – Up In A Puff Of Smoke (03:29)
7. Leo Sayer – Long Tall Glasses (I Can Dance) (03:07)
8. Ozark Mountain Daredevils – Jackie Blue (03:38)
9. Ace – How Long (03:24)
10. Michael Murphey – Wildfire (03:18)
11. Pilot – Magic (03:06)
12. 10cc – I'm Not In Love (03:58)
1990 - Volume 15
1. Dwight Twilley Band – I'm On Fire (03:18)
2. Hamilton, Joe Frank & Reynolds – Fallin' In Love (03:02)
3. Johnny Wakelin & The Kinshasa Band – Black Superman - 'Muhammad Ali' (03:38)
4. Jessi Colter – I'm Not Lisa (03:23)
5. Janis Ian – At Seventeen (03:59)
6. David Geddes – Run Joey Run (02:55)
7. Austin Roberts – Rocky (03:38)
8. Pete Wingfield – Eighteen With A Bullet (03:32)
9. Jigsaw – Sky High (02:52)
10. Bay City Rollers – Saturday Night (02:57)
11. C.W. McCall – Convoy (03:50)
12. Hot Chocolate – You Sexy Thing (04:05)
1993 - Volume 16
1. The Ides Of March – Vehicle
2. Blues Image – Ride Captain Ride
3. Ferrante & Teicher – Midnight Cowboy
4. Tin Tin – Toast And Marmalade For Tea
5. The Assembled Multitude – Overture From Tommy (A Rock Opera)
6. Delaney & Bonnie & Friends – Never Ending Song Of Love
7. Ten Years After – I'd Love To Change The World
8. Robert John – The Lion Sleeps Tonight (Wimoweh) (Mbube)
9. The New Seekers – I'd Like To Teach The World To Sing (In Perfect Harmony)
10. Wayne Newton – Daddy Don't You Walk So Fast
11. Flash – Small Beginnings
12. Arlo Guthrie – The City Of New Orleans
1993 - Volume 17
1. King Harvest – Dancing In The Moonlight (02:53)
2. Cymarron – Rings (02:33)
3. Sutherland Brothers & Quiver – (I Don't Want To Love You But) You Got Me Anyway (03:07)
4. Danny O'Keefe – Good Time Charlie's Got The Blues (03:03)
5. Ian Thomas – Painted Ladies (03:33)
6. Freddy Fender – Before The Next Teardrop Falls (02:36)
7. Hudson Brothers – Rendezvous (03:22)
8. Brownsville Station – Smokin' In The Boy's Room (02:58)
9. Orleans – Dance With Me (03:03)
10. Mike Post – The Rockford Files (03:14)
11. Nazareth – Love Hurts (03:04)
12. Morris Albert – Feelings (03:42)
1993 - Volume 18
1. Freddy Fender – Wasted Days And Wasted Nights (02:44)
2. Gary Wright – Dream Weaver (03:28)
3. Bellamy Brothers – Let Your Love Flow (03:19)
4. Maxine Nightingale – Right Back Where We Started From (03:18)
5. Marmalade – Falling Apart At The Seams (03:08)
6. Elvin Bishop – Fooled Around And Fell In Love (03:00)
7. Pratt & McClain – Happy Days (02:38)
8. Henry Gross – Shannon (03:53)
9. Cyndi Grecco – Making Our Dreams Come True (02:33)
10. Starland Vocal Band – Afternoon Delight (03:16)
11. Starbuck – Moonlight Feels Right (03:39)
12. England Dan & John Ford Coley – I'd Really Love To See You Tonight (02:37)
1993 - Volume 19
1. Orleans – Still The One (03:56)
2. Silver – Wham Bam Shang-A-Lang (03:35)
3. Burton Cummings – Stand Tall (03:23)
4. Mary MacGregor – Torn Between Two Lovers (03:49)
5. Kenny Nolan – I Like Dreamin' (03:31)
6. David Soul – Don't Give Up On Us (03:40)
7. David Dundas – Jeans On (02:37)
8. Andrew Gold – Lonely Boy (04:02)
9. 10cc – The Things We Do For Love (03:32)
10. Climax Blues Band – Couldn't Get It Right (03:19)
11. Alan O'Day – Undercover Angel (03:28)
12. Bill Conti – Gonna Fly Now (Theme From "Rocky") (02:48)
1993 - Volume 20
1. Mac Davis – Baby Don't Get Hooked On Me (03:07)
2. David Geddes – The Last Game Of The Season (A Blind Man In The Bleachers) (03:37)
3. Seals & Crofts – Get Closer (03:58)
4. Cliff Richard – Devil Woman (03:38)
5. Boomer Castleman – Judy Mae (03:37)
6. Rick Dees & His Cast Of Idiots – Disco Duck (03:18)
7. Hot – Angel In Your Arms (02:56)
8. Smokie – Living Next Door To Alice (03:32)
9. Peter McCann – Do You Wanna Make Love (03:32)
10. Engelbert Humperdinck – After The Lovin' (03:33)
11. Dean Friedman – Ariel (04:22)
12. The Sanford/Townsend Band – Smoke From A Distant Fire (03:32)
1993 - Volume 21
1. Ram Jam – Black Betty (02:33)
2. Meco – Star Wars Theme / Cantina Band (03:37)
3. Player – Baby Come Back (03:38)
4. Meri Wilson – Telephone Man (02:02)
5. Jay Ferguson – Thunder Island (03:31)
6. Dan Hill – Sometimes When We Touch (03:34)
7. Warren Zevon – Werewolves Of London (03:28)
8. David Gates – Goodbye Girl (02:47)
9. Bonnie Tyler – It's A Heartache (03:34)
10. Michael Johnson – Bluer Than Blue (03:00)
11. Exile – Kiss You All Over (03:32)
12. Walter Egan – Magnet And Steel (03:25)
1993 - Volume 22
1. Hot Chocolate – Every 1's A Winner (03:42)
2. Nick Gilder – Hot Child In The City (03:11)
3. John Paul Young – Love Is In The Air (03:32)
4. Nicolette Larson – Lotta Love (03:11)
5. Nigel Olsson – Dancin' Shoes (04:05)
6. Suzi Quatro & Chris Norman – Stumblin' In (03:32)
7. The Knack – My Sharona (04:04)
8. John Stewart – Gold (04:27)
9. Rex Smith – You Take My Breath Away (03:15)
10. Sniff 'N' The Tears – Driver's Seat (04:03)
11. Robert John – Sad Eyes (03:34)
12. Ian Gomm – Hold On (02:58)
1996 - Volume 23
1. Focus – Hocus Pocus (03:18)
2. Mike Oldfield – Tubular Bells (03:18)
3. The Kiki Dee Band – I've Got The Music In Me (05:00)
4. Blue Swede – Never My Love (02:26)
5. Pure Prairie League – Amie (02:39)
6. Gunhill Road – Back When My Hair Was Short (02:40)
7. The Sweet – Fox On The Run (03:25)
8. Bay City Rollers – Money Honey (03:16)
9. John Travolta – Let Her In (03:00)
10. Yvonne Elliman – Love Me (03:24)
11. Player – This Time I'm In It For Love (03:45)
12. Billy Ocean – Love Really Hurts Without You (03:01)
1996 - Volume 24
1. Shaun Cassidy – Hey Deanie (03:37)
2. Paul Nicholas – Heaven On The 7th Floor (02:48)
3. Andrew Gold – Thank You For Being A Friend (04:00)
4. David Naughton – Makin' It (03:11)
5. Ronnie McDowell – The King Is Gone (03:17)
6. Brotherhood Of Man – Save Your Kisses For Me (03:04)
7. Chuck Mangione – Feels So Good (03:39)
8. Samantha Sang – Emotion (03:58)
9. Jigsaw – Love Fire (02:44)
10. Starbuck – Everybody Be Dancin' (03:47)
11. Flash Cadillac & The Continental Kids – Did You Boogie (With Your Baby) (02:57)
12. Wet Willie – Street Corner Serenade (03:45)
1996 - Volume 25
1. Sweet – Love Is Like Oxygen (03:48)
2. Ambrosia – How Much I Feel (04:47)
3. Ian Matthews – Shake It (03:10)
4. LeBlanc & Carr – Falling (03:14)
5. Gino Vannelli – I Just Want To Stop (02:59)
6. City Boy – 5.7.0.5 (03:31)
7. Ace Frehley – New York Groove (04:00)
8. Toby Beau – My Angel Baby (03:11)
9. Orleans – Love Takes Time (02:12)
10. Roger Voudouris – Get Used It (03:37)
11. Maxine Nightingale – Lead Me On (03:01)
12. The Rockets – Oh Well (02:48)
Exact Audio Copy V1.0 beta 3 from 29. August 2011

Отчёт EAC об извлечении, выполненном 4. марта 2016, 22:30

VA / Super Hits of the '70s - Have a Nice Day Vol. 1

Дисковод: ASUS DRW-1814BLT Adapter: 4 ID: 0

Режим чтения : Достоверность
Использование точного потока : Да
Отключение кэша аудио : Да
Использование указателей C2 : Нет

Коррекция смещения при чтении : 6
Способность читать области Lead-in и Lead-out : Нет
Заполнение пропущенных сэмплов тишиной : Да
Удаление блоков с тишиной в начале и конце : Нет
При вычислениях CRC использовались нулевые сэмплы : Да
Интерфейс : Встроенный Win32-интерфейс для Win NT/2000
Обработка зазоров : Добавлено к предыдущему треку

Выходной формат : Пользовательский кодировщик
Выбранный битрейт : 128 kBit/s
Качество : Высокий
Добавление ID3-тега : Нет
Утилита сжатия : C:\Program Files\Exact Audio Copy\Flac\flac.exe
Дополнительные параметры : -V -8 -T "Genre=%genre%" -T "Artist=%artist%" -T "Title=%title%" -T "Album=%albumtitle%" -T "Date=%year%" -T "Tracknumber=%tracknr%" -T "Comment=EAC1.0b2 FLAC -8" %source%


TOC извлечённого CD

Трек | Старт | Длительность | Начальный сектор | Конечный сектор
––––––––––––––––––––––––––––––––––-
1 | 0:00.00 | 2:58.27 | 0 | 13376
2 | 2:58.27 | 3:25.58 | 13377 | 28809
3 | 6:24.10 | 3:00.02 | 28810 | 42311
4 | 9:24.12 | 2:50.10 | 42312 | 55071
5 | 12:14.22 | 4:13.15 | 55072 | 74061
6 | 16:27.37 | 3:07.40 | 74062 | 88126
7 | 19:35.02 | 2:48.03 | 88127 | 100729
8 | 22:23.05 | 3:08.67 | 100730 | 114896
9 | 25:31.72 | 2:46.05 | 114897 | 127351
10 | 28:18.02 | 3:03.50 | 127352 | 141126
11 | 31:21.52 | 2:17.65 | 141127 | 151466
12 | 33:39.42 | 2:31.38 | 151467 | 162829


Трек 1

Имя файла R:\Раздача 59\VA - Super Hits Of The 70's. Have A Nice Day. Vol.1 - 1990\01 More Today Than Yesterday.wav

Длина предзазора 0:00:02.00

Пиковый уровень 93.6 %
Скорость извлечения 2.4 X
Качество трека 100.0 %
CRC теста D292F798
CRC копии D292F798
Точное извлечение (достоверность 5) [64481BD4] (AR v2)
Копирование… OK

Трек 2

Имя файла R:\Раздача 59\VA - Super Hits Of The 70's. Have A Nice Day. Vol.1 - 1990\02 Baby It's You.wav

Длина предзазора 0:00:03.47

Пиковый уровень 97.7 %
Скорость извлечения 2.7 X
Качество трека 100.0 %
CRC теста EF681BF9
CRC копии EF681BF9
Точное извлечение (достоверность 4) [4F0181FC] (AR v2)
Копирование… OK

Трек 3

Имя файла R:\Раздача 59\VA - Super Hits Of The 70's. Have A Nice Day. Vol.1 - 1990\03 Smile a Little Smile for Me.wav

Длина предзазора 0:00:03.18

Пиковый уровень 91.7 %
Скорость извлечения 2.9 X
Качество трека 100.0 %
CRC теста F1D9A7D6
CRC копии F1D9A7D6
Точное извлечение (достоверность 5) [607CED6D] (AR v2)
Копирование… OK

Трек 4

Имя файла R:\Раздача 59\VA - Super Hits Of The 70's. Have A Nice Day. Vol.1 - 1990\04 Cherry Hill Park.wav

Длина предзазора 0:00:02.55

Пиковый уровень 97.7 %
Скорость извлечения 3.0 X
Качество трека 100.0 %
CRC теста 73E18780
CRC копии 73E18780
Точное извлечение (достоверность 4) [43CBD7B6] (AR v2)
Копирование… OK

Трек 5

Имя файла R:\Раздача 59\VA - Super Hits Of The 70's. Have A Nice Day. Vol.1 - 1990\05 Na Na Hey Hey Kiss Him Goodbye.wav

Длина предзазора 0:00:02.42

Пиковый уровень 97.7 %
Скорость извлечения 3.4 X
Качество трека 100.0 %
CRC теста B520730F
CRC копии B520730F
Точное извлечение (достоверность 4) [BAA45874] (AR v2)
Копирование… OK

Трек 6

Имя файла R:\Раздача 59\VA - Super Hits Of The 70's. Have A Nice Day. Vol.1 - 1990\06 Venus.wav

Длина предзазора 0:00:03.57

Пиковый уровень 88.6 %
Скорость извлечения 2.0 X
Качество трека 99.9 %
CRC теста 466EFF63
CRC копии 466EFF63
Точное извлечение (достоверность 4) [14CD380E] (AR v2)
Копирование… OK

Трек 7

Имя файла R:\Раздача 59\VA - Super Hits Of The 70's. Have A Nice Day. Vol.1 - 1990\07 Early in the Morning.wav

Длина предзазора 0:00:03.42

Пиковый уровень 95.5 %
Скорость извлечения 3.6 X
Качество трека 100.0 %
CRC теста 72B16621
CRC копии 72B16621
Точное извлечение (достоверность 5) [96CD6723] (AR v2)
Копирование… OK

Трек 8

Имя файла R:\Раздача 59\VA - Super Hits Of The 70's. Have A Nice Day. Vol.1 - 1990\08 Arizona.wav

Длина предзазора 0:00:03.00

Пиковый уровень 88.9 %
Скорость извлечения 2.2 X
Качество трека 99.9 %
CRC теста BBBBA9D9
CRC копии BBBBA9D9
Точное извлечение (достоверность 5) [0822A002] (AR v2)
Копирование… OK

Трек 9

Имя файла R:\Раздача 59\VA - Super Hits Of The 70's. Have A Nice Day. Vol.1 - 1990\09 The Rapper.wav

Длина предзазора 0:00:03.10

Пиковый уровень 92.3 %
Скорость извлечения 3.9 X
Качество трека 100.0 %
CRC теста 81D6FC75
CRC копии 81D6FC75
Точное извлечение (достоверность 4) [30AEF73B] (AR v2)
Копирование… OK

Трек 10

Имя файла R:\Раздача 59\VA - Super Hits Of The 70's. Have A Nice Day. Vol.1 - 1990\10 Come Saturday Morning.wav

Длина предзазора 0:00:03.15

Пиковый уровень 69.3 %
Скорость извлечения 4.1 X
Качество трека 100.0 %
CRC теста 8D90F942
CRC копии 8D90F942
Точное извлечение (достоверность 4) [4688E5E2] (AR v2)
Копирование… OK

Трек 11

Имя файла R:\Раздача 59\VA - Super Hits Of The 70's. Have A Nice Day. Vol.1 - 1990\11 Tracy.wav

Длина предзазора 0:00:02.70

Пиковый уровень 82.4 %
Скорость извлечения 3.9 X
Качество трека 100.0 %
CRC теста A5E66316
CRC копии A5E66316
Точное извлечение (достоверность 4) [A310A6EE] (AR v2)
Копирование… OK

Трек 12

Имя файла R:\Раздача 59\VA - Super Hits Of The 70's. Have A Nice Day. Vol.1 - 1990\12 Mississippi Queen.wav

Длина предзазора 0:00:02.60

Пиковый уровень 97.7 %
Скорость извлечения 4.1 X
Качество трека 100.0 %
CRC теста 1E0B7F23
CRC копии 1E0B7F23
Точное извлечение (достоверность 5) [9FA15358] (AR v2)
Копирование… OK


Все треки извлечены точно

Ошибок не произошло

Конец отчёта

==== Контрольная сумма отчёта 10A44841714ABF70897E1FD6BF43AA3B9AB993B3171353A05C59CECBF993C6C7 ====
============================================
Exact Audio Copy V1.0 beta 3 from 29. August 2011

EAC extraction logfile from 1. March 2014, 21:49

Various Artists / Super Hits of the '70s: Have a Nice Day, Vol. 2

Used drive : HL-DT-STBD-RE WH14NS40 Adapter: 0 ID: 0

Read mode : Secure
Utilize accurate stream : Yes
Defeat audio cache : Yes
Make use of C2 pointers : No

Read offset correction : 6
Overread into Lead-In and Lead-Out : No
Fill up missing offset samples with silence : Yes
Delete leading and trailing silent blocks : No
Null samples used in CRC calculations : Yes
Used interface : Native Win32 interface for Win NT & 2000
Gap handling : Appended to previous track

Used output format : User Defined Encoder
Selected bitrate : 1024 kBit/s
Quality : High
Add ID3 tag : No
Command line compressor : C:\Program Files (x86)\Exact Audio Copy\Flac\flac.exe
Additional command line options : -8 -V -T "ARTIST=%artist%" -T "TITLE=%title%" -T "ALBUM=%albumtitle%" -T "DATE=%year%" -T "TRACKNUMBER=%tracknr%" -T "GENRE=%genre%" -T "PERFORMER=%albuminterpret%" -T "COMPOSER=%composer%" %haslyrics%–tag-from-file=LYRICS="%lyricsfile%"%haslyrics% -T "ALBUMARTIST=%albumartist%" -T "DISCNUMBER=%cdnumber%" -T "TOTALDISCS=%totalcds%" -T "TOTALTRACKS=%numtracks%" -T "COMMENT=%comment%" %source% -o %dest%


TOC of the extracted CD

Track | Start | Length | Start sector | End sector
––––––––––––––––––––––––––––-
1 | 0:00.33 | 2:50.37 | 33 | 12819
2 | 2:50.70 | 3:17.10 | 12820 | 27604
3 | 6:08.05 | 4:02.58 | 27605 | 45812
4 | 10:10.63 | 4:17.20 | 45813 | 65107
5 | 14:28.08 | 2:38.27 | 65108 | 76984
6 | 17:06.35 | 3:18.15 | 76985 | 91849
7 | 20:24.50 | 3:24.48 | 91850 | 107197
8 | 23:49.23 | 3:00.30 | 107198 | 120727
9 | 26:49.53 | 3:08.05 | 120728 | 134832
10 | 29:57.58 | 2:55.60 | 134833 | 148017
11 | 32:53.43 | 3:33.57 | 148018 | 164049
12 | 36:27.25 | 3:02.05 | 164050 | 177704


Track 1

Filename C:\EAC Rips\Various Artists - Super Hits of the '70s - Have a Nice Day, Vol. 2 (1990) [FLAC]\01 - Edison Lighthouse - Love Grows (Where My Rosemary Goes).wav

Pre-gap length 0:00:02.44

Peak level 100.0 %
Extraction speed 1.1 X
Track quality 100.0 %
Test CRC B23F69C6
Copy CRC B23F69C6
Accurately ripped (confidence 12) [B755793B] (AR v2)
Copy OK

Track 2

Filename C:\EAC Rips\Various Artists - Super Hits of the '70s - Have a Nice Day, Vol. 2 (1990) [FLAC]\02 - The Tee Set - Ma Belle Amie.wav

Pre-gap length 0:00:01.22

Peak level 100.0 %
Extraction speed 1.1 X
Track quality 100.0 %
Test CRC EC629079
Copy CRC EC629079
Accurately ripped (confidence 12) [D45957F6] (AR v2)
Copy OK

Track 3

Filename C:\EAC Rips\Various Artists - Super Hits of the '70s - Have a Nice Day, Vol. 2 (1990) [FLAC]\03 - Norman Greenbaum - Spirit in the Sky.wav

Pre-gap length 0:00:04.40

Peak level 100.0 %
Extraction speed 1.2 X
Track quality 100.0 %
Test CRC D53B95DC
Copy CRC D53B95DC
Accurately ripped (confidence 11) [951C6D20] (AR v2)
Copy OK

Track 4

Filename C:\EAC Rips\Various Artists - Super Hits of the '70s - Have a Nice Day, Vol. 2 (1990) [FLAC]\04 - Marmalade - Reflections of My Life.wav

Pre-gap length 0:00:02.37

Peak level 100.0 %
Extraction speed 1.1 X
Track quality 99.9 %
Test CRC 18D05CF6
Copy CRC 18D05CF6
Accurately ripped (confidence 13) [F399AF94] (AR v2)
Copy OK

Track 5

Filename C:\EAC Rips\Various Artists - Super Hits of the '70s - Have a Nice Day, Vol. 2 (1990) [FLAC]\05 - Bobbi Martin - For the Love of Him.wav

Pre-gap length 0:00:02.84

Peak level 78.7 %
Extraction speed 1.1 X
Track quality 99.9 %
Test CRC FE934535
Copy CRC FE934535
Accurately ripped (confidence 12) [18C816EF] (AR v2)
Copy OK

Track 6

Filename C:\EAC Rips\Various Artists - Super Hits of the '70s - Have a Nice Day, Vol. 2 (1990) [FLAC]\06 - George Baker Selection - Little Green Bag.wav

Pre-gap length 0:00:02.46

Peak level 100.0 %
Extraction speed 1.2 X
Track quality 99.9 %
Test CRC 4C0D553C
Copy CRC 4C0D553C
Accurately ripped (confidence 12) [6A507EFC] (AR v2)
Copy OK

Track 7

Filename C:\EAC Rips\Various Artists - Super Hits of the '70s - Have a Nice Day, Vol. 2 (1990) [FLAC]\07 - The Poppy Family - Which Way You Goin' Billy.wav

Pre-gap length 0:00:02.80

Peak level 100.0 %
Extraction speed 1.5 X
Track quality 100.0 %
Test CRC 5A9B533E
Copy CRC 5A9B533E
Accurately ripped (confidence 12) [8CAFB2FE] (AR v2)
Copy OK

Track 8

Filename C:\EAC Rips\Various Artists - Super Hits of the '70s - Have a Nice Day, Vol. 2 (1990) [FLAC]\08 - White Plains - My Baby Loves Lovin'.wav

Pre-gap length 0:00:02.64

Peak level 98.5 %
Extraction speed 1.5 X
Track quality 100.0 %
Test CRC C53242A2
Copy CRC C53242A2
Accurately ripped (confidence 12) [74698317] (AR v2)
Copy OK

Track 9

Filename C:\EAC Rips\Various Artists - Super Hits of the '70s - Have a Nice Day, Vol. 2 (1990) [FLAC]\09 - Vanity Fare - Hitchin' a Ride.wav

Pre-gap length 0:00:02.84

Peak level 94.4 %
Extraction speed 1.6 X
Track quality 100.0 %
Test CRC 53426E16
Copy CRC 53426E16
Accurately ripped (confidence 13) [49FAC52B] (AR v2)
Copy OK

Track 10

Filename C:\EAC Rips\Various Artists - Super Hits of the '70s - Have a Nice Day, Vol. 2 (1990) [FLAC]\10 - Brotherhood of Man - United We Stand.wav

Pre-gap length 0:00:02.77

Peak level 88.1 %
Extraction speed 1.6 X
Track quality 100.0 %
Test CRC 7F13D672
Copy CRC 7F13D672
Accurately ripped (confidence 12) [2FF89CDD] (AR v2)
Copy OK

Track 11

Filename C:\EAC Rips\Various Artists - Super Hits of the '70s - Have a Nice Day, Vol. 2 (1990) [FLAC]\11 - Ray Stevens - Everything Is Beautiful.wav

Pre-gap length 0:00:03.10

Peak level 95.1 %
Extraction speed 1.5 X
Track quality 99.9 %
Test CRC 2B0EDE56
Copy CRC 2B0EDE56
Accurately ripped (confidence 13) [AEA4A1D5] (AR v2)
Copy OK

Track 12

Filename C:\EAC Rips\Various Artists - Super Hits of the '70s - Have a Nice Day, Vol. 2 (1990) [FLAC]\12 - Robin McNamara - Lay a Little Lovin' on Me.wav

Pre-gap length 0:00:04.22

Peak level 100.0 %
Extraction speed 1.7 X
Track quality 100.0 %
Test CRC 00D05D80
Copy CRC 00D05D80
Accurately ripped (confidence 12) [720EEAEA] (AR v2)
Copy OK


All tracks accurately ripped

No errors occurred

End of status report

==== Log checksum C90458BCC6EFBFD8DFCE0298259A9EA7425023EB5D978A7D8F8B8930DF48D72A ====
================================================
Exact Audio Copy V1.0 beta 3 from 29. August 2011

EAC extraction logfile from 1. March 2014, 22:57

Various Artists / Super Hits of the '70s: Have a Nice Day, Vol. 3

Used drive : HL-DT-STBD-RE WH14NS40 Adapter: 0 ID: 0

Read mode : Secure
Utilize accurate stream : Yes
Defeat audio cache : Yes
Make use of C2 pointers : No

Read offset correction : 6
Overread into Lead-In and Lead-Out : No
Fill up missing offset samples with silence : Yes
Delete leading and trailing silent blocks : No
Null samples used in CRC calculations : Yes
Used interface : Native Win32 interface for Win NT & 2000
Gap handling : Appended to previous track

Used output format : User Defined Encoder
Selected bitrate : 1024 kBit/s
Quality : High
Add ID3 tag : No
Command line compressor : C:\Program Files (x86)\Exact Audio Copy\Flac\flac.exe
Additional command line options : -8 -V -T "ARTIST=%artist%" -T "TITLE=%title%" -T "ALBUM=%albumtitle%" -T "DATE=%year%" -T "TRACKNUMBER=%tracknr%" -T "GENRE=%genre%" -T "PERFORMER=%albuminterpret%" -T "COMPOSER=%composer%" %haslyrics%–tag-from-file=LYRICS="%lyricsfile%"%haslyrics% -T "ALBUMARTIST=%albumartist%" -T "DISCNUMBER=%cdnumber%" -T "TOTALDISCS=%totalcds%" -T "TOTALTRACKS=%numtracks%" -T "COMMENT=%comment%" %source% -o %dest%


TOC of the extracted CD

Track | Start | Length | Start sector | End sector
––––––––––––––––––––––––––––-
1 | 0:00.33 | 4:01.35 | 33 | 18142
2 | 4:01.68 | 2:46.25 | 18143 | 30617
3 | 6:48.18 | 3:33.52 | 30618 | 46644
4 | 10:21.70 | 4:21.15 | 46645 | 66234
5 | 14:43.10 | 3:40.45 | 66235 | 82779
6 | 18:23.55 | 3:41.00 | 82780 | 99354
7 | 22:04.55 | 2:55.05 | 99355 | 112484
8 | 24:59.60 | 2:59.03 | 112485 | 125912
9 | 27:58.63 | 2:36.47 | 125913 | 137659
10 | 30:35.35 | 2:22.20 | 137660 | 148329
11 | 32:57.55 | 2:56.05 | 148330 | 161534
12 | 35:53.60 | 3:37.30 | 161535 | 177839


Track 1

Filename C:\EAC Rips\Various Artists - Super Hits of the '70s - Have a Nice Day, Vol. 3 (1990) [FLAC]\01 - Melanie - Lay Down (Candles in the Rain).wav

Pre-gap length 0:00:02.44

Peak level 93.4 %
Extraction speed 1.6 X
Track quality 100.0 %
Test CRC 5751427B
Copy CRC 5751427B
Accurately ripped (confidence 10) [EAE02723] (AR v2)
Copy OK

Track 2

Filename C:\EAC Rips\Various Artists - Super Hits of the '70s - Have a Nice Day, Vol. 3 (1990) [FLAC]\02 - Alive 'N Kickin' - Tighter, Tighter.wav

Pre-gap length 0:00:01.90

Peak level 100.0 %
Extraction speed 1.0 X
Track quality 99.9 %
Test CRC 7A0A82EC
Copy CRC 7A0A82EC
Accurately ripped (confidence 10) [E51DF5C6] (AR v2)
Copy OK

Track 3

Filename C:\EAC Rips\Various Artists - Super Hits of the '70s - Have a Nice Day, Vol. 3 (1990) [FLAC]\03 - Mungo Jerry - In the Summertime.wav

Pre-gap length 0:00:03.66

Peak level 100.0 %
Extraction speed 1.2 X
Track quality 100.0 %
Test CRC 965BBFBD
Copy CRC 965BBFBD
Accurately ripped (confidence 10) [BAC155B4] (AR v2)
Copy OK

Track 4

Filename C:\EAC Rips\Various Artists - Super Hits of the '70s - Have a Nice Day, Vol. 3 (1990) [FLAC]\04 - Hotlegs - Neanderthal Man.wav

Pre-gap length 0:00:02.69

Peak level 100.0 %
Extraction speed 1.3 X
Track quality 100.0 %
Test CRC 03F8D199
Copy CRC 03F8D199
Accurately ripped (confidence 10) [478C3931] (AR v2)
Copy OK

Track 5

Filename C:\EAC Rips\Various Artists - Super Hits of the '70s - Have a Nice Day, Vol. 3 (1990) [FLAC]\05 - Sugarloaf - Green-Eyed Lady.wav

Pre-gap length 0:00:02.93

Peak level 99.9 %
Extraction speed 1.4 X
Track quality 100.0 %
Test CRC 454971B9
Copy CRC 454971B9
Accurately ripped (confidence 10) [DAF2DF91] (AR v2)
Copy OK

Track 6

Filename C:\EAC Rips\Various Artists - Super Hits of the '70s - Have a Nice Day, Vol. 3 (1990) [FLAC]\06 - R. Dean Taylor - Indiana Wants Me.wav

Pre-gap length 0:00:01.76

Peak level 100.0 %
Extraction speed 1.5 X
Track quality 100.0 %
Test CRC 82C8310F
Copy CRC 82C8310F
Accurately ripped (confidence 10) [C91717AE] (AR v2)
Copy OK

Track 7

Filename C:\EAC Rips\Various Artists - Super Hits of the '70s - Have a Nice Day, Vol. 3 (1990) [FLAC]\07 - The Patridge Family - I Think I Love You.wav

Pre-gap length 0:00:01.02

Peak level 100.0 %
Extraction speed 1.5 X
Track quality 100.0 %
Test CRC 5B661BB7
Copy CRC 5B661BB7
Accurately ripped (confidence 10) [4DD7DE00] (AR v2)
Copy OK

Track 8

Filename C:\EAC Rips\Various Artists - Super Hits of the '70s - Have a Nice Day, Vol. 3 (1990) [FLAC]\08 - Bobby Bloom - Montego Bay.wav

Pre-gap length 0:00:03.49

Peak level 100.0 %
Extraction speed 1.5 X
Track quality 100.0 %
Test CRC E67EA817
Copy CRC E67EA817
Accurately ripped (confidence 10) [C2B0133F] (AR v2)
Copy OK

Track 9

Filename C:\EAC Rips\Various Artists - Super Hits of the '70s - Have a Nice Day, Vol. 3 (1990) [FLAC]\09 - Brian Hyland - Gypsy Woman.wav

Pre-gap length 0:00:02.84

Peak level 95.8 %
Extraction speed 1.5 X
Track quality 100.0 %
Test CRC B1C1BD3F
Copy CRC B1C1BD3F
Accurately ripped (confidence 10) [7AB33E13] (AR v2)
Copy OK

Track 10

Filename C:\EAC Rips\Various Artists - Super Hits of the '70s - Have a Nice Day, Vol. 3 (1990) [FLAC]\10 - Jerry Reed - Amos Moses.wav

Pre-gap length 0:00:02.16

Peak level 100.0 %
Extraction speed 1.5 X
Track quality 100.0 %
Test CRC 992E70B2
Copy CRC 992E70B2
Accurately ripped (confidence 10) [6CDCCBD4] (AR v2)
Copy OK

Track 11

Filename C:\EAC Rips\Various Artists - Super Hits of the '70s - Have a Nice Day, Vol. 3 (1990) [FLAC]\11 - Bobby Sherman - Julie, Do Ya Love Me.wav

Pre-gap length 0:00:02.56

Peak level 93.8 %
Extraction speed 1.7 X
Track quality 100.0 %
Test CRC 616EC2DF
Copy CRC 616EC2DF
Accurately ripped (confidence 10) [44F9F2D8] (AR v2)
Copy OK

Track 12

Filename C:\EAC Rips\Various Artists - Super Hits of the '70s - Have a Nice Day, Vol. 3 (1990) [FLAC]\12 - Punch - Fallin' Lady.wav

Pre-gap length 0:00:02.36

Peak level 82.5 %
Extraction speed 1.8 X
Track quality 100.0 %
Test CRC CBCF4D8B
Copy CRC CBCF4D8B
Accurately ripped (confidence 10) [56E271C5] (AR v2)
Copy OK


All tracks accurately ripped

No errors occurred

End of status report

==== Log checksum F141E4D544E6049392D1EFDB6FA4249D76389F4F13654DDB08179C60932B4F21 ====
All 25 log files included…