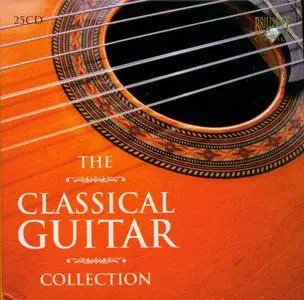 V.A. - The Classical Guitar Collection (25CDs, 2009)
Classical, Guitar | MP3 CBR 320 kbps | 3,54 Gb
Label: Brilliant Classics
25 disc box set featuring music for the classical guitar from the 16th century up to the present day. Some of the works performed include 'Chaconnes' by Bach and Telemann, '12 Sonatas' by Scarlatti, 'Guitar Concertos' by Vivaldi, Rodrigo's 'Concierto de Aranjuez' and Brouwer's 'Music for Solo Guitar'.
Probably one of the most extensive surveys of classical guitar on record, this 25 CD collection is a must for lovers of the instrument. Starting with the lutenist composers of the 16th century such as Alessandro Piccinini, the collection then moves to the Baroque period with music by JS Bach and his sons, plus the great Domenico Scarlatti's sonatas.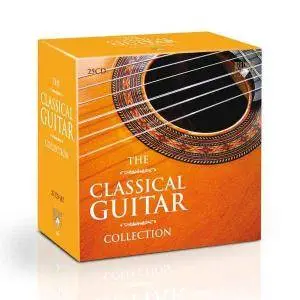 Tracklist:CD 1 Bach.Telemann.Couperin.Handel
Chaconnes
CD 2-3 Piccinini
Intavolatura di Liuto et di Chitarrone
CD 4 Scarlatti
12 Sonatas for guitar
CD 5-6 Giuliani
Rossiniana and Pot-Pourris
CD 7 Giuliani
Arrangements of opera overtures
CD 8 Giuliani
Ländler.Rondos.Le Avventure di Amore.Tarantella
CD 9 Giuliani
Variazioni Concertanti.Polonesi Concertanti.La Lira Notturna
CD 10 Giuliani
Guitar Concertos Nos. 1 & 3
CD 11 Giuliani
Guitar Concerto No.2.Gran Quintetto.Generali Variations
CD 12-13 Sor.Coste
Music for guitar duo
CD 14 Ponce.Carulli.Vivaldi
Guitar Concertos
CD 15 Carulli
Complete works for guitar and fortepiano
CD 16-17 Rossini
Semiramide arr. Guiliani
CD 18-19 The Romantic GuitarCD 20 Rodrigo
Guitar Concertos
CD 21 Barrios Mangoré
Music for solo guitar
CD 22 Pujol
Complete guitar duos
CD 23 Castelnuovo-Tedesco
Guitar Concertos
CD 24 Gilardino
Trascendentia - Studies Nos. 1-12
CD 25 Brouwer
Music for solo guitar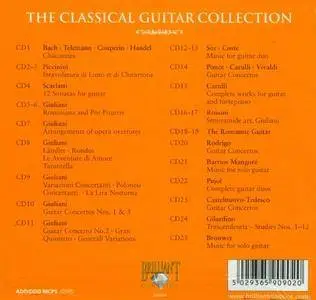 CD 1

Johann Sebastian Bach (1685–1750)
Chaconne, BWV 1004
Sonate, BWV 1033
Prélude, BWV 933

Johann Christoph Friedrich Bach (1732–1795) : Prélude
Georg Phillipp Telemann (1681–1767) : Concerto
François Couperin (1668–1733) : Les Baricades mistérieuses
Carl Philipp Emanuel Bach (1714–1788) : Adagio (per il organo)
George Frideric Händel (1685–1759) : Chaconne, HWV435

Enno Voorhorst, guitare

CD 2 – CD 3

Alessandro Piccinini (1566-v.1638)
Intavolatura di liuto et di chitarrone (Livre I)
(Tablature de luth et de chitarrone)
Toccata IV **
Toccata III **
Partite variate sopra la Folia aria Romanesca **
Passacaille *
Courante X *
Toccata III chromatique **
Partite variate sopra quest'aria francese detta l'Alemana **
Courante VI sopra l'Alemana **
Toccata IV *
Aria IV *
Gaillarde XI *
Toccata XII **
Courante IV **
Courante V **
Toccata II *
Aria I affettuosa *
Toccata VI **
Courante I **
Courante II **
Toccata chromatique XII *
Courante III *
Courante VI *
Toccata X **
Courante X **
Gaillarde III **

Intavolatura di liuto et di chitarrone (Livre II)
(Tablature de luth et de chitarrone)
Toccata III *
Courante IV *
Battaglia **
Toccata VI *
Courante VIII *
Gaillarde III *
Air de Fiorenza **
Courante I **
Courante VI **
Gaillarde II **
Ricercar I *
Sarabande alla francese *
Courante I (sans canto) *
Courante IX *
Passacaille *
Courante IV **
Gaillarde I **
Toccata VIII *
Courante II *
Courante VII *
Gaillarde IV *
Calasone **
Bergamasque *
Chaconne Mariona *
Chaconne **

Luciano Contini, *luth & **chitarrone (Livre I) & Francesca Torelli, *luth & **chitarrone (Livre II)

CD 4

Domenico Scarlatti (1685–1757)
12 Sonates pour guitare
K 377 - K 208 - K 209 - K 32 - K 77 - K 34 - K 291 - K 292 - K 87 - K 481 - K 476 - K 213

Luigi Attademo, guitare

CD 5 – CD 11

Mauro Giuliani (1781–1829)
Rossiniana I, op. 119
Introduction (Andantino)
"Assisa a piè d'un salice" (Otello)
"Languir per una bella", Andante grazioso (L'Italienne à Alger)
"Con gran piacer, ben mio", Maestoso (L'Italienne à Alger)
"Caro, caro ti parlo in petto", Moderato (L'Italienne à Alger)
"Cara, per te quest'anima", Allegro Vivace (Armida)
Pot-Pourri I, op. 18

Rossiniana II, op. 120
Introduction (Sostenuto)
"Deh ! Calma, o ciel", Andantino sostenuto (Otello)
"Arditi all'ire", Allegretto innocente (Armida)
"Non più mesta accanto al fuoco", Maestoso (Cendrillon)
"Di piacer mi balza il cor", (La pie voleuse)
"Fertilissima Regina", Allegretto (Cendrillon)
Pot-Pourri II, op. 26

Grande ouverture, op. 61

Rossiniana III, op. 121 ***
Introduction (Maestoso Sostenuto)
"Un soave non so che" (Cendrillon)
"Oh mattutini albori!", Andantino (La dame du lac)
"Questo vecchio maledetto", (Le Turc en Italie)
"Sorte! Secondami", Allegro (Zelmira)
"Cinto di nuovi allori", Maestoso (Ricciardo et Zoraïde)
Pot-Pourri III, op. 28 *

Rossiniana IV, op. 122 ***
Introduction (Sostenuto-Allegro Maestoso)
"Forse un dì conoscerete", Andante (La pie voleuse)
"Mi cadono le lagrime" (La pie voleuse)
"Ah se puoi così lasciarmi", Allegro Maestoso (Moïse en Egypte)
"Piacer egual gli dei", Maestoso (Mathilde de Shabran)
"Voglio ascoltar" (La pierre de touche)
Pot-Pourri IV, op. 31 **

Arrangements d'ouvertures d'opéra
La Pie voleuse (Rossini)
Le Siège de Corinthe (Rossini)
Elisabetta Regina d'Inghilterra (Rossini)
Cendrillon (Rossini)
Le Pirate (Bellini)
La Vestale (Spontini)
La Clémence de Titus (Mozart)
Gran Pot-pourri, op. 67

16 Oesterreichische National Ländler für zwei Guitarren (Ländler nationaux autrichiens pour 2 guitares), op. 16a
Ländler für zwei Guitarren (Ländler pour 2 guitares), op. 55
12 Ländler con finale per una, o due guitarre (Ländler avec finale pour 1 ou 2 guitares), op. 75
12 Ländler per due guitarre (12 Ländler pour 2 guitares), op. 80
12 Neue Ländler für zwei Guitarren (12 Nouveaux Ländler pour 2 guitares), op. 92
12 Ländler per due guitarre (12 Ländler pour 2 guitares), op. 94
Auswahl der beliebtesten Deutschen von Apollo-Saal (Sélection des danses allemandes favorites jouées à la Salle Apollo), WoO 2G-3
Rondo concertant pour 2 guitares, op. 66
Le Avventure di Amore (Les Aventures de l'Amour), dix valses caractéristiques pour 2 guitares, op. 116
L'invitation au bal - L'affection - La déclaration - Le refus - Le chagrin - Le désespoir - Le départ - Le remords - Le retour - La paix - Final
Tarantella del Sig. Lanza ridotta ed abbellita per due chitarre da Mauro Giuliani (Tarantelle de Mons. Lanza réduite et enjolivée pour 2 guitares, de Mauro Giuliani), WoO (posth) 2G-5
Variazioni Concertanti (Variations concertantes), op. 130
Gran Variazioni Concertanti (Grandes variations concertantes), op. 35
Tre Polonesi Concertanti (Trois Polonaises concertantes), op. 137
La Lira Notturna (La Lire nocturne), op. 69
Concerto pour guitare & orchestre n° 1 en la majeur, op. 30 *
Concerto pour guitare & cordes n° 2 en la majeur, op. 36 *
Concerto pour guitare "terzina" & orchestre n° 3 en fa majeur, op. 70
Gran Quintetto pour guitare & cordes en ut majeur, op. 65
Variations sur "Nume perdonami in tale istante" de Generali's Baccanali di Roma pour guitare "terzina" & quatuor à cordes, op. 102

Duo Maccari-Pugliese (Claudio Maccari & Paolo Pugliese, guitares) - Ensemble Ottocento

CD 12 – CD 13

Fernando Sor (1778–1839)
L'Encouragement, op. 34
Divertissement, op. 38
Six Valses composées pour l'orchestre par différents auteurs, op. 39
Mohor - Sor - Mohor - Steibelt - Mozart - Mohor
Les deux amis, op. 41
Six Valses, op. 44bis
Divertissement militaire, op. 49
Le Premier pas vers moi, op. 53
Fantaisie, op. 54bis
Trois Duos, op. 55
Trois Petits Divertissements, op.61
Divertissement, op. 62
Souvenir de Russie, op. 63

Napoléon Coste (1805–1883)
Grand Duo
Scherzo et Pastorale, op. 10
Duetto

Duo Maccari-Pugliese (Claudio Maccari & Paolo Pugliese, guitares) - Ensemble Ottocento

CD 14

Manuel Maria Ponce (1882-1948)
Concierto del sur (Concerto du sud) pour guitare & orchestre

Ferdinando Carulli (1770-1841)
Concerto pour guitare & orchestre en la majeur

Antonio Vivaldi (1678-1741)
Concertos pour guitare & cordes
Ut majeur - Ré majeur

Alfonso Moreno & Josef Szapka, guitare - Orchestre Symphonique de Mexico - Orchestre de Chambre Slovaque – Direction Enrique Bátiz & Bohdan Warchal

CD 15

Ferdinando Carulli (1770–1841)
Duo pour guitare & pianoforte en ut majeur, op. 11
Variations de Beethoven pour guitare & pianoforte en fa majeur, op. 169
Nocturne pour guitare & pianoforte en sol majeur, op. 127
Gran Duo pour guitare & pianoforte en la majeur, op. 45

Leopoldo Saracino, guitare - Massimo Palumbo, pianoforte

CD 16 – CD 17

Gioacchino Rossini (1792–1868)
Sémiramis, opéra en 2 actes (extraits)
Arrangements pour guitare de Mauro Giuliani

Premier enregistrement

Acte I
Ouverture
Trio "Là dal Gange"
Quatuor "Di tanti regi e popoli"
Cavatine "Ah! Quel giorno"
Duo "Bella imago degli Dei"
Cavatine "Bel raggio lusinghier"
Duettino "Serbami ognor si fido il cor"
Seconde marche
"Giuri ognuno"
"Qual mesto gemito"
"Ah! Sconvolta nell'ordine eterno"

Acte II
Duo "Se la vita"
Air "In si barbara sciagura"
Air "Deh ti arresta"
Prière "Al mio pregar t'arrendi"
Trio "L'usato ardir"
Chœur "Vieni, Arsace"

Izhar Elias, guitare

CD 18 – CD 19

Franz Schubert (1797-1828)
Ständchen
An die Musik

Félix Mendelssohn (1809–1847)
Auf Flügeln des Gesanges
Frühlingslied

Robert Schumann (1810-1856)
Scènes d'enfant
Rêverie - Désir d'enfant - Faire peur

Frédéric Chopin (1810-1849) : Valse, op. 69 n° 1
Johann Sebastian Bach (1685-1750) / Charles Gounod (1818–1893) : Ave Maria
Piotr Ilyitch Tchaikovski (1840-1893) : Pimpinella, op. 38 n° 6
Johannes Brahms (1833–1897) : Valse en la bémol majeur, op. 39 n° 15
Ludwig van Beethoven (1770-1827) : Adagio, WoO 43/2
Franz Liszt (1811-1886) : Liebestraum (Rêve d'amour)
Manuel Rocamora : Mazurka

P. Roch
Valse
Scottish
Polka

Jószef Kossovits : Lassu Magyar (Danse lente)

Johann Pfeiffer
Adagio d'après Bihari
Allegro d'après Bihari

Francisco Tárrega (1852-1909)
Caprice Arabe
Danza Odalisca
Danza mora

Enrique Granados (1867–1916)
Danse espagnole n° 5
La maja de Goya

Miguel Llobet (1878-1938) : Chant populaire catalan

Fernando Sor : Études n° 5 & n° 12

Federico Moreno Torroba (1891-1982) : Notturno

Eduardo Sainz de la Maza (1903-1982)
Zapateado
Bolero
Campanas del Alba
El vita
Habanera
Boeeto Andaluz

Heitor Villa-Lobos (1887–1959) : Étude n° 11

Traditionnel
Estrella Del Mar
Cantico
Quirpa Guatirena

Joaquin Rodrigo (1901-1999) : En los trigales

Isaac Albeniz (1860–1909)
Asturias (Leyenda)
Torre bermeja
Granada
Sevilla
Zambra granadina

Dániel Benkö & Alirio Diaz, guitare

CD 20

Joaquin Rodrigo
Concierto de Aranjuez (Concerto de Aranjuez) pour guitare & orchestre
Fantasiá para un gentilhombre (Fantaisie pour un gentilhomme) pour guitare & orchestre
Concierto para una festa (Concerto pour une fête) pour guitare & orchestre

Alfonso Moreno, guitare - Orchestre Symphonique de Mexico - Direction Enrique Batiz

CD 21

Agustin Barrios Mangoré (1885-1944)
Valse, op. 8 n° 3
Las Abejas
Julia Florida
Dinora
Valse Brillante, op. 8 n° 4
Una Limosna por el Amor de Dios
Mabelita
Escala y Preludio
Estudio en Arpegio
Estudio en sol menor
Estudio de Concierto n° 1
Estudio del Ligado
Medallon Antiquo
Gavota el Estilo Antiquo
Hommage à Bach
Un Sueño en la Floresta
Estilo Uruguayo
Danza Paraguaya n° 1
Jha, Che Valle
Cordoba

Enno Voorhorst & Hein Sanderink, guitares

CD 22

Maximo Diego Pujol (né en 1957)
Intégrale des œuvres pour duo de guitares
Tango, milonga y final
I. Tango de Abril - II. Milonga de Junio - III. Final Feliz
Tiempo del hombre
Truco Suite
I. Primera - II. Falta envido - III.Truco - IV. Vale cuatro
Tres piezas de Otoño
I. Arbolado - II. Sombrío - III. Avenida Centenario
Cafè para dos
Sonatina caótica

Giorgio Mirto & Victor Villadangos, duo de guitares

CD 23

Mario Castelnuovo-Tedesco (1895-1968)
Concerto pour deux guitares et orchestre en sol majeur, op. 201
Concertos pour guitare et orchestre
N° 1 en ré majeur, op. 99
N° 2 en ut majeur, op. 160

Massimo Felici & Lorenzo Micheli, guitares - Orchestre Symphonique des Abruzzes - Direction Michael Summers

CD 24

Angelo Gilardino (né en 1941)
Trascendentia, 60 études pour guitare (extraits)
Volume I
Capriccio sopra la lontananza
La luna y la muerte
Gia la pioggia è con noi
Elegia di Marzo
Omaggio a Béla Bartók
Soledad
Alborada
Omaggio a Alban Berg
Fantasia
Ophélie
Omaggio a Heitor Villa-Lobos
Omaggio a Sergej Prokof'ev

Cristiano Porqueddu, guitare

CD 25

Leo Brouwer (né en 1939)
El decamerón negro (Le Décameron Noir)
El arpa del guerrero - La huida de los amantes por el valle de los ecos - Balada de la doncella enamorada
Estudios sencillos (Études simples)
Elogio de la danza (Éloge de la Danse)

Giovanni Caruso, guitare