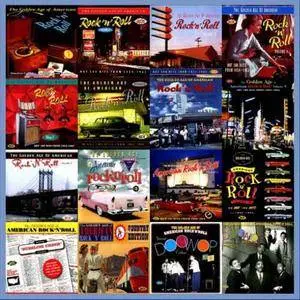 V.A. - The Golden Age Of American Rock 'n' Roll: Vol. 01-18 (18CDs, 1991-2011)
EAC Rip | FLAC (image + .cue, log) | Run Time: 22:24:00 | 5,44 Gb | Full Scans (jpg) - 305 Mb
Genre: Rock 'n' Roll, Doo Wop, Country, Pop | Label: Ace Records
For anyone in their mid-teens in the mid-5Os, and into music, it had to be rock'n'roll - American rock'n roll. There was no British equivalent to the sound. In the UK, it was Chuck Berry, Elvis Presley, The Platters, Alan Freed, Radio Luxembourg, Voice Of America. If the right people get to know about this and hear the quality, this will sell and sell.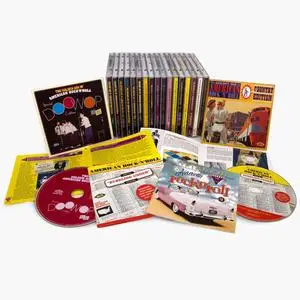 Contents:
The Golden Age of American Rock 'n' Roll vol.1 [1991]
The Golden Age of American Rock 'n' Roll vol.2 [1993]
The Golden Age of American Rock 'n' Roll vol.3 [1994]
The Golden Age of American Rock 'n' Roll vol.4 [1994]
The Golden Age of American Rock 'n' Roll vol.5 [1995]
The Golden Age of American Rock 'n' Roll vol.6 [1997]
The Golden Age of American Rock 'n' Roll vol.7 [1998]
The Golden Age of American Rock 'n' Roll vol.8 [1999]
The Golden Age of American Rock 'n' Roll vol.9 [2001]
The Golden Age of American Rock 'n' Roll vol.10 [2002]
The Golden Age of American Rock 'n' Roll vol.11 [2007]
The Golden Age of American Rock 'n' Roll vol.12 [2011]
The Golden Age of American Rock 'n' Roll: Special Country Edition [2002]
The Golden Age of American Rock 'n' Roll: Special Novelty Edition [2003]
The Golden Age of American Rock 'n' Roll: Special "Bubbling Under" Edition [2006]
The Golden Age of American Rock 'n' Roll: Special Doo Wop Edition [2004]
The Golden Age of American Rock 'n' Roll: Special Doo Wop Edition vol.2 [2009]
The Golden Age of American Rock 'n' Roll: The Follow-Up Hits [2008]
The Golden Age of American Rock 'n' Roll vol.1 [1991]
01. Randy & the Rainbows - Denise 01:58
02. The Jaynetts - Sally Go Round the Roses 03:15
03. The Fendermen - Mule Skinner Blues 02:24
04. The Crests - Sixteen Candles 02:50
05. Curtis Lee - Pretty Little Angel Eyes 02:44
06. The Paris Sisters - I Love How You Love Me 02:06
07. Miss Toni Fisher - The Big Hurt 02:12
08. Kathy Young & The Innocents - A Thousand Stars 03:10
09. Bobby Day - Rockin' Robin 02:35
10. The Penguins - Earth Angel (Will You Be Mine) 02:58
11. Preston Epps - Bongo Rock 02:07
12. Bobby Lewis - Tossin' and Turnin' 02:21
13. The Jive Five - My True Story 02:30
14. The Cadets - Stranded in the Jungle 03:06
15. Rosie & The Originals - Angel Baby 02:47
16. Claudine Clark - Party Lights 02:23
17. The Dreamlovers - When We Get Married 02:27
18. Johnny Crawford - Cindy's Birthday 02:06
19. Chris Montez - Let's Dance 02:25
20. The Genies - Who's That Knocking 02:15
21. Ron Holden - Love You So 03:26
22. Skip & Flip - Cherry Pie 02:15
23. The Skyliners - Since I Don't Have You 02:38
24. The Kingsmen - Louie Louie 02:45
25. Lenny Welch - Since I Fell For You 02:54
26. The Safaris - Image of a Girl 02:39
27. The Corsairs - Smoky Places 02:59
28. The Innocents - Gee Whiz 02:29
29. The Jarmels - A Little Bit of Soap 02:13
30. The Teen Queens - Eddie My Love 03:11

The Golden Age of American Rock 'n' Roll vol.2 [1993]
01. Lonnie Mack - Memphis 02:44
02. The Bluebelles - I Sold My Heart To The Junkman 02:28
03. The Duprees - You Belong To Me 02:45
04. Kenny Dino - Your Ma Said You Cried In Your Sleep Last Night 02:17
05. Jimmy Charles - A Million To One 02:32
06. The Eternals - Rockin' In The Jungle 02:32
07. The Rockin' Rebels - Wild Weekend 02:18
08. Maurice Williams & The Zodiacs - Stay 01:38
09. The Quintones - Down The Aisle Of Love 02:50
10. Harold Dorman - Mountain Of Love 02:26
11. The Halos - Nag 02:52
12. Billy Bland - Let The Little Girl Dance 02:22
13. The Capris - There's A Moon Out Tonight 02:14
14. The Silhouettes - Get A Job 02:48
15. The Aquatones - You 02:00
16. The Hollywood Flames - Buzz, Buzz, Buzz 02:21
17. The Bell Notes - I've Had It 02:41
18. Barbara George - I Know (You Don't Love Me No More) 02:24
19. The Videls - Mister Lonely 02:34
20. The Five Satins - In The Still Of The Nite 03:03
21. The Willows - Church Bells May Ring 02:27
22. Gabriel & The Angels - That's Life (That's Tough) 02:31
23. Link Wray - Rumble 02:27
24. Bobby Comstock - Let's Stomp 02:03
25. The Crescendos - Oh Julie 02:44
26. The Gladiolas - Little Darlin' 02:23
27. Sandy Nelson - Teen Beat 02:25
28. The Paradons - Diamonds And Pearls 02:17
29. The Hollywood Argyles - Alley Oop 02:44
30. The Rivieras - California Sun 02:24

The Golden Age of American Rock 'n' Roll vol.3 [1994]
01. Bill Parsons - The All American Boy 03:02
02. Wilbert Harrison - Kansas City 02:28
03. Jack Scott - My True Love 02:47
04. Jan & Arnie - Jennie Lee 02:04
05. Billy Myles - The Joker 02:39
06. The Rockin' R's - The Beat 02:51
07. The Teddy Bears - To Know Him Is To Love Him 02:25
08. The Turbans - When You Dance 02:55
09. Ketty Lester - Love Letters 02:43
10. The Kuf-Linx - So Tough 02:23
11. The Five Satins - To The Aisle 02:45
12. Billy & Lillie - La Dee Dah 02:10
13. Jody Reynolds - Endless Sleep 02:23
14. Tony Harris - Chicken, Baby, Chicken 02:26
15. The Blue Jays - Lover's Island 02:19
16. Gerry Granahan - No Chemise, Please 02:32
17. Skip & Flip - It Was I 02:21
18. The Tokens - Tonight I Fell In Love 01:47
19. Kathy Young & The Innocents - Happy Birthday Blues 03:02
20. Ray Smith - Rockin' Little Angel 02:15
21. The Mello-Kings - Tonite, Tonite 02:33
22. The Pets - Cha Hua Hua 02:17
23. The Olympics - Western Movies 02:24
24. The Cliques - The Girl In My Dreams 03:01
25. Jimmy Gilmer & The Fireballs - Sugar Shack 02:04
26. Big Jay McNeely - There Is Something On Your Mind 03:35
27. Teddy & The Twilights - Woman Is A Man's Best Friend 02:17
28. The Castells - Sacred 02:16
29. Tony & Joe - The Freeze 02:21
30. Dicky Doo & The Don'ts - Click Clack 02:24

The Golden Age of American Rock 'n' Roll vol.4 [1994]
01. Ray Sharpe - Linda Lu 02:09
02. Nappy Brown - Little By Little 02:36
03. The Edsels - Rama Lama Ding Dong 02:28
04. The Royaltones - Flamingo Express 01:59
05. Gary "U.S." Bonds - New Orleans 02:50
06. The Chantels - Maybe 02:55
07. Dion - Drip Drop 02:34
08. Sal Mineo - Start Movin' (In My Direction) 02:33
09. Don French - Lonely Saturday Night 02:41
10. Roy Hamilton - Don't Let Go 02:38
11. The Sherrys - Pop Pop Pop-Pie 02:10
12. The Lafayettes - Life's Too Short 02:21
13. Tommy Facenda - High School USA 02:11
14. The Roomates - Glory Of Love 02:07
15. Little Joe & The Thrillers - Peanuts 02:28
16. Donnie Owens - Need You 02:19
17. Buddy Knox - Party Doll 02:13
18. The Dubs - Could This Be Magic 02:18
19. The Rocky Fellers - Killer Joe 02:23
20. The Temptations - Barbara 02:49
21. The Cadillacs - Peek-A-Boo 02:16
22. Barbara Lynn - You'll Lose A Good Thing 02:41
23. Billy & Lillie - Lucky Ladybug 02:35
24. Little Anthony & The Imperials - Tears On My Pillow 02:19
25. Jan & Dean - Baby Talk 02:34
26. The Rip Chords - Here I Stand 02:05
27. Nat Kendricks & The Swans - (Do The) Mashed Potatoes (Part 1) 01:50
28. The Jacks - Why Don't You Write Me 02:50
29. The Regents - Barbara Ann 02:16
30. Little Caesar & The Romans - Those Oldies But Goodies (Remind Me of You) 03:27

The Golden Age of American Rock 'n' Roll vol.5 [1995]
01. The Accents - Wiggle, Wiggle 02:03
02. The Clovers - Love Potion No. 9 01:54
03. Dale & Grace - I'm Leaving It up to You 02:12
04. The Shields - You Cheated 02:30
05. The Showmen - It Will Stand 02:25
06. Santo & Johnny - Sleep Walk 02:24
07. Eddie Fontaine - Nothin' Shakin' 02:57
08. The Tune Weavers - Happy, Happy Birthday Baby 02:20
09. Jan & Dean - Heart and Soul 02:11
10. Don & Juan - What's Your Name 02:16
11. Thurston Harris - Little Bitty Pretty One 02:25
12. The Knockouts - Darling Lorraine 02:01
13. Freddy Cannon - Tallahassee Lassie 02:15
14. The Belmonts - Tell Me Why 02:39
15. Johnnie & Joe - Over the Mountain, Across the Sea 02:18
16. The G-Clefs - Ka-Ding Dong 02:02
17. The Frogmen - Underwater 02:09
18. Jay & The Americans - She Cried 02:40
19. Rosco Gordon - Just a Little Bit 02:08
20. Gene Thomas - Sometime 02:25
21. The Ribbons - Ain't Gonna Kiss Ya 02:28
22. The Re-Vels - Midnight Stroll 02:38
23. Jimmy McCracklin - The Walk 02:47
24. Dee Clark - Hey Little Girl 02:19
25. The Valiants - This Is the Nite 02:16
26. Travis & Bob - Tell Him No 02:13
27. The Jive Bombers - Bad Boy 02:54
28. The Jayhawks - Stranded in the Jungle 02:52
29. Gene Chandler - Duke of Earl 02:23
30. The Spaniels - Goodnight, Sweetheart, Goodnight 02:45

The Golden Age of American Rock 'n' Roll vol.6 [1997]
01. John Fred - Shirley 01:56
02. The Del-Vikings - Come Go with Me 02:42
03. Joe Bennett & The Sparkletones - Black Slacks 02:07
04. Ronald & Ruby - Lollipop 01:53
05. Harvey & The Moonglows - Ten Commandments of Love 03:42
06. Jimmy Edwards - Love Bug Crawl 02:03
07. Bobby Freeman - Do You Wanna Dance 02:36
08. Noble "Thin Man" Watts & His Rhythm Sparks - Hard Times (The Slop) 02:44
09. The Quotations - Imagination 02:14
10. The Pentagons - I Wonder (If Your Love Will Ever Belong to Me) 02:25
11. The El Dorados - At My Front Door 02:38
12. The Falcons - You're So Fine 02:30
13. The Wailers - Tall Cool One 02:27
14. Johnny Restivo - The Shape I'm In 02:05
15. The Elegants - Little Star 02:43
16. Clyde McPhatter - Lover Please 02:00
17. The Sevilles - Charlena 02:52
18. Johnny Ace - Pledging My Love 02:32
19. Bobby Hendricks - Itchy Twitchy Feeling 02:31
20. Eddie Cooley & The Dimples - Priscilla 02:32
21. The Delacardos - Hold Back the Tears 02:05
22. Gene Allison - You Can Make It If You Try 02:10
23. Ivan - Real Wild Child 02:22
24. The Stompers - Quarter to Four Stomp 02:09
25. Huey "Piano" Smith & The Clowns - Don't You Just Know It 02:33
26. Ricky Nelson - I'm Walkin' 02:01
27. Little Bill & The Bluenotes - I Love an Angel 02:52
28. The Royal Teens - Short Shorts 02:38
29. Bunker Hill - Hide and Go Seek (Part 1) 02:26
30. The Rivingtons - Papa-Oom-Mow-Mow 02:22

The Golden Age of American Rock 'n' Roll vol.7 [1998]
01. The Monotones - Book of Love 02:21
02. Dale Hawkins - Suzie Q 02:19
03. Chuck Willis - C.C. Rider 02:29
04. The Emotions - Echo 02:26
05. Ritchie Valens - Come On Let's Go 02:03
06. Ernie K-Doe - Mother-In-Law 02:35
07. The Five Keys - Ling Ting Tong 02:09
08. Frankie Ford - Sea Cruise 02:46
09. Jimmy Clanton - Just a Dream 02:32
10. The Strangers - The Caterpillar Crawl 02:19
11. The Pentagons - To Be Loved (Forever) 02:28
12. The Addrisi Brothers - Cherrystone 02:30
13. Vito & The Salutations - Unchained Melody 02:02
14. Eugene Church - Pretty Girls Everywhere 02:59
15. Sonny Knight - Confidential 02:35
16. Bobby Parker - Watch Your Step 02:46
17. The Viscounts - Harlem Nocturne 02:25
18. Chris Kenner - I Like It Like That (Part 1) 01:55
19. The Flares - Foot Stomping (Part 1) 02:18
20. Barrett Strong - Money (That's What I Want) 02:37
21. Lee Andrews & The Hearts - Tear Drops 02:24
22. The Bobbettes - Mr. Lee 02:14
23. The Cascades - Rhythm of the Rain 02:33
24. Barry & The Tamerlanes - I Wonder What She's Doing Tonight 01:53
25. The Mystics - Hushabye 02:34
26. The Beau-Marks - Clap Your Hands 02:03
27. Cleveland Crochet - Sugar Bee 02:34
28. The Miracles - Shop Around 02:51
29. The Blenders - Daughter 02:10
30. The Kendall Sisters - Yea, Yea 02:27

The Golden Age of American Rock 'n' Roll vol.8 [1999]
01. Ernie Maresca - Shout! Shout! (Knock Yourself Out) 02:11
02. The Del-Vikings - Whispering Bells 02:28
03. Robert & Johnny - We Belong Together 02:48
04. The Impalas - Sorry (I Ran All the Way Home) 02:40
05. Freddy Cannon - Way Down Yonder in New Orleans 02:34
06. The Fiestas - So Fine 02:21
07. Little Joey & The Flips - Bongo Stomp 02:17
08. Danny Zella - Wicked Ruby 02:52
09. Thomas Wayne with The DeLons - Tragedy 02:10
10. Wade Flemons & The Newcomers - Here I Stand 02:24
11. The Crows - Gee 02:13
12. Nappy Brown - Don't Be Angry 02:24
13. The Danleers - One Summer Night 02:14
14. Gene Vincent - Lotta Lovin' 02:12
15. The Graduates - Ballad of a Girl and Boy 02:42
16. The Cyclones - Bullwhip Rock 02:04
17. Larry Bright - Mojo Workout (Dance) 02:17
18. The Furys - Zing! Went The Strings Of My Heart 02:06
19. Ray & Bob - Air Travel 02:20
20. Rochell & The Candles - Once Upon A Time 02:54
21. Sanford Clark - The Fool 02:46
22. The Cadillacs - Speedoo 02:20
23. Lonnie Russ - My Wife Can't Cook 02:34
24. Johnny Preston - Running Bear 02:38
25. Dick & Dee Dee - The Mountain's High 02:15
26. The Heartbeats - A Thousand Miles Away 02:27
27. Oscar McLollie & Jeanette Baker - Hey Girl, Hey Boy 02:45
28. The Pastels - Been So Long 02:42
29. Jimmy Norman - I Don't Love You No More (I Don't Care About You) 02:31
30. Johnny Bond - Hot Rod Lincoln 02:45

The Golden Age of American Rock 'n' Roll vol.9 [2001]
01. Joe Barry - I'm A Fool To Care 02:22
02. Freddy Cannon - Palisades Park 01:54
03. Dion & The Belmonts - I Wonder Why 02:38
04. The Six Teens - A Casual Look 02:25
05. Charlie Rich - Lonely Weekends 02:10
06. Buster Brown - Fannie Mae 02:59
07. Paul Chaplain & His Emeralds - Shortnin' Bread 01:56
08. The Stereos - I Really Love You 02:18
09. Dr. Feelgood & The Interns - Doctor Feel-Good 02:16
10. Boyd Bennett & His Rockets - Seventeen 02:07
11. Shep & The Limelites - Daddy's Home 02:51
12. Ronnie Self - Bop-A-Lena 02:05
13. The Majors - A Wonderful Dream 02:02
14. Clint Miller - Bertha Lou 02:35
15. Matt Lucas - I'm Movin' On 02:24
16. The Excellents - Coney Island Baby 02:12
17. The Chanters - No, No, No 02:12
18. Jimmy McCracklin - Just Got To Know 02:58
19. The Cellos - Rang Tang Ding Dong (I Am The Japanese Sandman) 02:46
20. Little Willie John - Fever 02:42
21. Johnny & The Hurricanes - Crossfire 02:26
22. The Shells - Baby Oh Baby 02:26
23. Wanda Jackson - Let's Have A Party 02:09
24. The Velvets - Tonight (Could Be The Night) 02:08
25. Jessie Hill - Ooh Poo Pah Doo (Part 1) 02:20
26. The Original Casuals - So Tough 02:16
27. Rene & Ray - Queen Of My Heart 02:13
28. Joe Jones & His Orchestra - You Talk Too Much 02:36
29. The Five Keys - Out Of Sight, Out Of Mind 02:17
30. Jimmy Soul - If You Wanna Be Happy 02:20

The Golden Age of American Rock 'n' Roll vol.10 [2002]
01. Bobby Darin - Early In The Morning 02:17
02. Janis Martin - Will You Willyum 01:57
03. The Coasters - Searchin' 02:46
04. Roy Hamilton - You Can Have Her 02:47
05. Lloyd Price - Just Because 02:47
06. Sammy Masters - Rockin' Red Wing 02:20
07. The Bobbettes - I Shot Mr. Lee 02:13
08. Ricky Nelson - Stood Up 01:53
09. The Royal Teens - Believe Me 02:31
10. The Cleftones - Little Girl Of Mine 03:17
11. Curtis Lee - Under The Moon Of Love 02:52
12. Clyde McPhatter - A Lover's Question 02:36
13. Paul Gayten - The Hunch 02:47
14. Carl Mann - Mona Lisa 02:29
15. Donnie Elbert - What Can I Do 03:00
16. The Schoolboys - Shirley 02:37
17. Rod Bernard - This Should Go On Forever 02:44
18. The Volumes - I Love You 02:40
19. Jerry Butler & The Impressions - For Your Precious Love 02:44
20. Sonny Spencer - Gilee 02:07
21. Titus Turner - We Told You Not To Marry 02:16
22. The Cues - Why 02:42
23. The Five Royales - Dedicated To The One I Love 02:46
24. Rusty York - Sugaree 02:41
25. The Chords - Sh-Boom 02:27
26. Roy Orbison - Ooby Dooby 02:13
27. The Charms - Hearts Of Stone 02:35
28. Lee Dorsey - Ya Ya 02:28
29. Clarence "Frogman" Henry - Ain't Got No Home 02:21
30. Chuck Berry - Maybellene 02:22

The Golden Age of American Rock 'n' Roll vol.11 [2007]
01. LaVern Baker - Jim Dandy 02:13
02. Dion - Ruby Baby 02:37
03. Bobby Pedrick Jr. - White Bucks And Saddle Shoes 02:07
04. Nervous Norvus - Transfusion 02:25
05. Sammy Turner - Lavender Blue 02:18
06. The Four Lovers - (You're The) Apple Of My Eye 02:12
07. Cookie & His Cupcakes - Mathilda 03:12
08. Jimmy Dee & The Offbeats - Henrietta 02:40
09. Bobby Lewis - One Track Mind 02:06
10. Conway Twitty - I Need Your Lovin' 02:30
11. Bobby Comstock & The Counts - Tennessee Waltz 02:20
12. Mickey & Sylvia - Love Is Strange 02:56
13. Carl Mann - Pretend 02:38
14. The Drifters - Drip Drop 02:30
15. Ronnie Love - Chills And Fever 02:24
16. Shirley & Lee - Let The Good Times Roll 02:22
17. The New Yorkers - Miss Fine 02:26
18. Jimmy Bowen with The Rhythm Orchids - I'm Stickin' With You 02:08
19. Jivin' Gene & The Jokers - Breaking Up Is Hard To Do 02:27
20. Jack Scott - Goodbye Baby 02:08
21. Ruth Brown - This Little Girl's Gone Rockin' 01:46
22. Collay & The Satellites - Last Chance 02:41
23. The Quarter Notes - Record Hop Blues 02:29
24. Clyde McPhatter - Without Love (There Is Nothing) 02:56
25. Nathaniel Mayer & The Fabulous Twilights - Village Of Love 02:01
26. Charlie Gracie - Fabulous 02:17
27. The Vibrations - Peanut Butter 01:59
28. The Robins - Smokey Joe's Caf? 02:45
29. The Strollers - Come On Over 02:25
30. Hank Ballard & The Midnighters - Finger Poppin' Time 01:50

The Golden Age of American Rock 'n' Roll vol.12 [2011]
01. Bo Diddley - Road Runner 02:51
02. The Storey Sisters - Bad Motorcycle 01:58
03. Bill Justis - Raunchy 02:22
04. The Rays - Silhouettes 02:44
05. Jimmy Jones - Handy Man 02:01
06. James Ray with The Hutch Davie Orchestra - If You Gotta Make A Fool Of Somebody 01:59
07. The Dovells - Bristol Stomp 02:21
08. Slim Harpo - Rainin' In My Heart 02:34
09. Larry Williams - Short Fat Fannie 02:25
10. John Zacherle - Dinner With Drac (Part 1) 02:58
11. Timmie Rogers - Back To School Again 02:23
12. The Righteous Brothers - Little Latin Lupe Lu 02:21
13. Etta & Harvey - If I Can't Have You 02:59
14. The Five Royales - Think 02:37
15. Conway Twitty - Lonely Blue Boy 02:17
16. Charlie Gracie - Butterfly 02:26
17. The Marvelettes - Please Mr. Postman 02:30
18. Roy Brown - Let The Four Winds Blow 02:04
19. Marvin Rainwater - Whole Lotta Woman 02:37
20. Dick Dale & The Del-Tones - Let's Go Trippin' 02:11
21. Jerry Butler - He Will Break Your Heart 02:49
22. John Lee Hooker - Boom Boom 02:34
23. Arthur Alexander - You Better Move On 02:45
24. LaVern Baker - Saved 02:57
25. The Crystals - There's No Other (Like My Baby) 02:31
26. The Velaires - Roll Over Beethoven 02:45
27. The Three Friends - Dedicated (To The Songs I Love) 02:22
28. Bobby Gregg & His Friends - The Jam Part 1 02:29
29. Marv Johnson - Come To Me 02:20
30. Steve Alaimo - Every Day I Have To Cry 02:25

The Golden Age of American Rock 'n' Roll: Special Country Edition [2002]
01. George Jones - White Lightning 02:46
02. Bobby Edwards - You're The Reason 02:37
03. Bobby Bare - Detroit City 02:46
04. George Hamilton IV - Abilene 02:12
05. Marty Robbins - El Paso 04:23
06. Hank Locklin - Please Help Me I'm Falling 02:23
07. Johnny Cash - Ring Of Fire 02:35
08. Jimmy Dean - Big Bad John 03:01
09. Leroy Van Dyke - Walk On By 02:20
10. Bob Luman - Let's Think About Livin' 02:02
11. Patsy Cline - I Fall To Pieces 02:48
12. Ray Price - Crazy Arms 02:33
13. Carl Butler - Don't Let Me Cross Over 02:57
14. Bill Anderson - Still 02:48
15. Don Gibson - Oh Lonesome Me 02:29
16. Claude King - Wolverton Mountain 02:56
17. Wanda Jackson - Right Or Wrong 02:37
18. Jim Reeves - He'll Have To Go 02:21
19. Webb Pierce - I Ain't Never 01:55
20. Johnny Horton - The Battle Of New Orleans 02:29
21. Stonewall Jackson - Waterloo 02:28
22. Faron Young - Hello Walls 02:25
23. Ned Miller - From A Jack To A King 02:10
24. Burl Ives - A Litte Bitty Tear 02:04
25. The Statler Brothers - Flowers On The Wall 02:20
26. Cowboy Copas - Alabam 02:19
27. Ferlin Husky - Gone 02:23
28. Marvin Rainwater - Gonna Find Me A Bluebird 02:32
29. Dave Dudley - Six Days On The Road 02:21
30. Roger Miller - King Of The Road 02:28

The Golden Age of American Rock 'n' Roll: Special Novelty Edition [2003]
01. The Ran-Dells - Martian Hop 02:15
02. Johnny Cymbal - Mr. Bass Man 02:39
03. Jimmy Cross - I Want My Baby Back 03:22
04. Buzz Clifford - Baby Sittin' Boogie 02:02
05. The Ivy Three - Yogi 02:12
06. Nervous Norvus - Ape Call 02:36
07. Jim Backus & Friend - Delicious! 03:05
08. Murry Kellum - Long Tall Texan 02:04
09. Larry Verne - Mr. Custer 03:07
10. Sheb Wooley - The Purple People Eater 02:14
11. Buchanan & Goodman - The Flying Saucer Part 1 02:35
12. The Devotions - Rip Van Winkle 02:18
13. David Seville - Witch Doctor 02:22
14. Spencer & Spencer - Russian Band Stand 01:49
15. The Playmates - Beep Beep 02:30
16. The Four Preps - More Money For You And Me 04:48
17. Bob McFadden & Dor - The Mummy 02:00
18. The Five Blobs - The Blob 02:40
19. Jesse Lee Turner - The Little Space Girl 02:51
20. Edward Byrnes & Connie Stevens - Kookie, Kookie (Lend Me Your Comb) 02:04
21. Brian Hyland - Itsy Bitsy Teenie Weenie Yellow Polka Dot Bikini 02:23
22. Barry Mann - Who Put The Bomp (In The Bomp Bomp Bomp) 02:43
23. Bobby Hendricks - Psycho 02:28
24. Ray Stevens - Ahab, The Arab 02:50
25. Gene Simmons - Haunted House 02:33
26. The Dyna-Sores - Alley-Oop 02:30
27. Stan Freberg - The Old Payola Roll Blues Side 1 04:24
28. Linda Laurie - Ambrose Part 5 02:34
29. The Detergents - Leader Of The Laundromat 03:11
30. Napoleon XIV - They're Coming To Take Me Away, Ha-Haa! 02:12

The Golden Age of American Rock 'n' Roll: Special "Bubbling Under" Edition [2006]
01. Harmonica Fats - Tore Up 02:37
02. The Robins - The White Cliffs Of Dover 02:27
03. Rod Bernard - Colinda 02:28
04. Ronnie Hawkins - Bo Didley 02:52
05. The Metallics - Need Your Love 02:35
06. Ricky Allen - Cut You A-Loose 02:48
07. The Delicates - Ronnie Is My Lover 02:20
08. Doug Warren & The Rays - If The World Don't End Tomorrow (I'm Comin' After You) 02:05
09. Ral Donner - I Got Burned 02:17
10. The Viceroys - Seagrams 02:30
11. The Del-Vikings - Bring Back Your Heart 03:00
12. The Emotions - A Story Untold 02:17
13. The Tornadoes - Bustin' Surfboards 02:28
14. Joe & Ann - Gee Baby 02:48
15. Jackie Brenston - Trouble Up The Road 02:12
16. Barry Darvell - How Will It End? 02:20
17. Eddie Quinteros - Come Dance With Me 01:57
18. Robert Parker - All Nite Long (Part 2) 02:34
19. Billy & The Essentials - Maybe You'll Be There 01:51
20. Rusty & Doug - Louisiana Man 02:33
21. Bobby Bare - Book Of Love 02:05
22. The Memos - My Type Of Girl 02:14
23. Freddie Fender - Holy One 02:50
24. Aaron Neville - Over You 02:18
25. The Earls - Life Is But A Dream 01:45
26. Jack B. Nimble & The Quicks - Nut Rocker 01:54
27. The Jesters - The Wind 03:23
28. The Ducanes - I'm So Happy (Tra La La) 02:37
29. Danny White - Kiss Tomorrow Goodbye 03:08
30. Ricky Lyons - Shim Sham Shuffle 02:12

The Golden Age of American Rock 'n' Roll: Special Doo Wop Edition [2004]
01. The Regents - Runaround 02:21
02. The Mystics - Don't Take The Stars (Alt) 02:37
03. The Marcels - Blue Moon 02:16
04. The Van Dykes - The Bells Are Ringing 02:44
05. The Cleftones - Heart And Soul 01:52
06. The Paragons - If 02:36
07. The Drifters - Fools Fall In Love 02:31
08. Lee Andrews & The Hearts - Try The Impossible 03:07
09. The Platters - The Great Pretender 02:39
10. The Classics - Till Then 02:17
11. The Ly-Dells - Wizard Of Love 02:12
12. The Passions - Just To Be With You 02:23
13. The Slades - You Cheated 02:29
14. The Timetones - In My Heart 02:29
15. The Spinners - That's What Girls Are Made For 03:10
16. The Chimes - Once In A While 02:28
17. Rick & The Keens - Peanuts 02:01
18. The Dubs - Don't Ask Me (To Be Lonely) 02:16
19. The Flamingos - Lovers Never Say Goodbye 02:53
20. The Harptones - What Will I Tell My Heart? 02:27
21. The Diamonds - Little Darlin' 02:08
22. The Orioles - Crying In The Chapel 03:03
23. The Clovers - Love Love Love 02:03
24. The Charts - Deserie 02:43
25. The Moonglows - Sincerely 03:11
26. The Chanels - The Reason 02:50
27. The Royal Jokers - You Tickle Me Baby 02:44
28. The Jesters - The Plea 02:44
29. The Larks - It's Unbelievable 02:17
30. Frankie Lymon & The Teenagers - Why Do Fools Fall In Love 02:18


The Golden Age of American Rock 'n' Roll: Special Doo Wop Edition vol.2 [2009]
01. The Delcos - Arabia 02:26
02. The Temptations - Paradise 02:52
03. The Deltairs - Lullaby Of The Bells 02:40
04. The Cleftones - You Baby You 02:43
05. The Jesters - So Strange 02:36
06. The Passions - I Only Want You 02:21
07. The Dreamers - Teenage Vows Of Love 02:37
08. The Rays - Magic Moon (Clair De Lune) 02:54
09. The Butanes - Don't Forget I Love You 02:24
10. The Velours - Can I Come Over Tonight 02:23
11. Nino & The Ebb Tides - Juke Box Saturday Night 02:36
12. The Fidelity's - The Things I Love 02:46
13. Johnny & The Tokens - The Taste Of A Tear 02:14
14. Donnie & The Dreamers - My Memories Of You 02:25
15. The Blue Notes - My Hero 02:41
16. The Spaniels - Everyone's Laughing 02:53
17. The Dreamlovers - If I Should Lose You 02:29
18. The Craftys - L-O-V-E 02:36
19. The Carousels - If You Want To 02:52
20. The Dukays - Nite Owl 02:26
21. The Mello-Tones - Rosie Lee 02:53
22. The Van Dykes - Gift Of Love 02:27
23. The Blendtones - Lovers 02:11
24. The Preludes Five - Starlight 02:20
25. The Cupids - Brenda 02:51
26. The Embers - Solitaire 02:49
27. The Gleams - You Broke My Heart 02:13
28. The Sheppards - Island Of Love 02:23
29. The Enchanters - I Lied To My Heart 02:37
30. The Belmonts - Come On Little Angel 03:00

The Golden Age of American Rock 'n' Roll: The Follow-Up Hits [2008]
01. Danny & The Juniors - Rock And Roll Is Here To Stay 02:28
02. Bobby Freeman - Betty Lou Got A New Pair Of Shoes 02:28
03. The Olympics - (I Wanna) Dance With The Teacher 01:51
04. Don & Juan - Magic Wand 02:18
05. Mickey & Sylvia - There Ought To Be A Law 02:43
06. Sammy Turner - Always 02:10
07. Joe Bennett & The Sparkletones - Penny Loafers & Bobby Socks 01:52
08. The Impalas - Oh What A Fool 02:19
09. The Rocky Fellers - Like The Big Guys Do 02:11
10. Ernie K-Doe - Te-Ta-Te-Ta-Ta 02:39
11. Shirley & Lee - I Feel Good 02:17
12. Santo & Johnny - Tear Drop 02:07
13. The Six Teens - Arrow Of Love 02:10
14. Chuck Willis - Betty And Dupree 02:26
15. Gene Vincent - Dance To The Bop 02:15
16. Ritchie Valens - That's My Little Suzie 01:51
17. Jimmy Charles - The Age For Love 02:26
18. Chris Montez - Some Kinda Fun 02:21
19. Dick & Dee Dee - Tell Me 02:14
20. The Safaris - The Girl With The Story In Her Eyes 01:55
21. Bobby Day - The Bluebird, The Buzzard & The Oriole 02:22
22. The Cascades - Shy Girl 01:56
23. The Velvets - Laugh 02:21
24. The Skyliners - This I Swear 02:38
25. Thurston Harris - Do What You Did 02:03
26. Dion & The Belmonts - No One Knows 02:36
27. Jody Reynolds - Fire Of Love 01:52
28. The Corsairs - I'll Take You Home 02:43
29. Joe Jones - California Sun 02:21
30. Cozy Cole - Turvy II 02:32
Exact Audio Copy V1.0 beta 3 from 29. August 2011

EAC extraction logfile from 28. July 2012, 18:09

Various Artists / The Golden Age of American Rock 'n' Roll Vol. 1

Used drive : BENQ DVD DC DW1670 Adapter: 1 ID: 0

Read mode : Secure
Utilize accurate stream : Yes
Defeat audio cache : Yes
Make use of C2 pointers : No

Read offset correction : 102
Overread into Lead-In and Lead-Out : No
Fill up missing offset samples with silence : Yes
Delete leading and trailing silent blocks : No
Null samples used in CRC calculations : Yes
Used interface : Installed external ASPI interface
Gap handling : Appended to previous track

Used output format : User Defined Encoder
Selected bitrate : 256 kBit/s
Quality : High
Add ID3 tag : No
Command line compressor : C:\Program\Exact Audio Copy\Flac\flac.exe
Additional command line options : -8 -V -T "ARTIST=%artist%" -T "TITLE=%title%" -T "ALBUM=%albumtitle%" -T "DATE=%year%" -T "TRACKNUMBER=%tracknr%" -T "TOTALTRACKS=%numtracks%" -T "GENRE=%genre%" -T "ALBUMARTIST=%albumartist%" -T "ALBUM ARTIST=%albumartist%" -T "COMMENT=EAC Secure Mode, Test & Copy, AccurateRip, FLAC -8" %source%


TOC of the extracted CD

Track | Start | Length | Start sector | End sector
––––––––––––––––––––––––––––-
1 | 0:00.33 | 1:58.37 | 33 | 8919
2 | 1:58.70 | 3:15.60 | 8920 | 23604
3 | 5:14.55 | 2:24.58 | 23605 | 34462
4 | 7:39.38 | 2:50.60 | 34463 | 47272
5 | 10:30.23 | 2:44.52 | 47273 | 59624
6 | 13:15.00 | 2:06.15 | 59625 | 69089
7 | 15:21.15 | 2:12.40 | 69090 | 79029
8 | 17:33.55 | 3:10.35 | 79030 | 93314
9 | 20:44.15 | 2:35.30 | 93315 | 104969
10 | 23:19.45 | 2:58.00 | 104970 | 118319
11 | 26:17.45 | 2:07.55 | 118320 | 127899
12 | 28:25.25 | 2:21.03 | 127900 | 138477
13 | 30:46.28 | 2:30.62 | 138478 | 149789
14 | 33:17.15 | 3:05.73 | 149790 | 163737
15 | 36:23.13 | 2:47.62 | 163738 | 176324
16 | 39:11.00 | 2:23.50 | 176325 | 187099
17 | 41:34.50 | 2:27.20 | 187100 | 198144
18 | 44:01.70 | 2:06.40 | 198145 | 207634
19 | 46:08.35 | 2:25.50 | 207635 | 218559
20 | 48:34.10 | 2:15.35 | 218560 | 228719
21 | 50:49.45 | 3:26.33 | 228720 | 244202
22 | 54:16.03 | 2:15.15 | 244203 | 254342
23 | 56:31.18 | 2:38.02 | 254343 | 266194
24 | 59:09.20 | 2:44.73 | 266195 | 278567
25 | 61:54.18 | 2:54.17 | 278568 | 291634
26 | 64:48.35 | 2:39.18 | 291635 | 303577
27 | 67:27.53 | 2:59.00 | 303578 | 317002
28 | 70:26.53 | 2:29.47 | 317003 | 328224
29 | 72:56.25 | 2:13.28 | 328225 | 338227
30 | 75:09.53 | 3:11.55 | 338228 | 352607


Track 1

Filename C:\Rips\Various Artists - The Golden Age of American Rock 'n' Roll Vol. 1 (1991) [FLAC]\01 - Randy & The Rainbows - Denise.wav

Pre-gap length 0:00:02.33

Peak level 100.0 %
Extraction speed 2.4 X
Track quality 99.9 %
Test CRC 414F9D56
Copy CRC 414F9D56
Accurately ripped (confidence 2) [3F42E496] (AR v1)
Copy OK

Track 2

Filename C:\Rips\Various Artists - The Golden Age of American Rock 'n' Roll Vol. 1 (1991) [FLAC]\02 - The Jaynetts - Sally Go Round The Roses.wav

Pre-gap length 0:00:01.22

Peak level 99.3 %
Extraction speed 4.5 X
Track quality 100.0 %
Test CRC 9358B747
Copy CRC 9358B747
Accurately ripped (confidence 2) [CE93CCCD] (AR v1)
Copy OK

Track 3

Filename C:\Rips\Various Artists - The Golden Age of American Rock 'n' Roll Vol. 1 (1991) [FLAC]\03 - The Fendermen - Mule Skinner Blues.wav

Pre-gap length 0:00:02.05

Peak level 100.0 %
Extraction speed 3.0 X
Track quality 99.9 %
Test CRC CD5E1DFD
Copy CRC CD5E1DFD
Accurately ripped (confidence 2) [E1B8C82F] (AR v1)
Copy OK

Track 4

Filename C:\Rips\Various Artists - The Golden Age of American Rock 'n' Roll Vol. 1 (1991) [FLAC]\04 - The Crests - Sixteen Candles.wav

Pre-gap length 0:00:01.48

Peak level 99.3 %
Extraction speed 5.0 X
Track quality 100.0 %
Test CRC 054A24D6
Copy CRC 054A24D6
Track not present in AccurateRip database
Copy OK

Track 5

Filename C:\Rips\Various Artists - The Golden Age of American Rock 'n' Roll Vol. 1 (1991) [FLAC]\05 - Curtis Lee - Pretty Little Angel Eyes.wav

Pre-gap length 0:00:01.33

Peak level 99.3 %
Extraction speed 3.4 X
Track quality 99.9 %
Test CRC 58C1C24E
Copy CRC 58C1C24E
Accurately ripped (confidence 3) [F78D29D7] (AR v1)
Copy OK

Track 6

Filename C:\Rips\Various Artists - The Golden Age of American Rock 'n' Roll Vol. 1 (1991) [FLAC]\06 - The Paris Sisters - I Love How You Love Me.wav

Pre-gap length 0:00:02.22

Peak level 96.1 %
Extraction speed 5.0 X
Track quality 100.0 %
Test CRC 2B4D501B
Copy CRC 2B4D501B
Accurately ripped (confidence 2) [5FB23F03] (AR v1)
Copy OK

Track 7

Filename C:\Rips\Various Artists - The Golden Age of American Rock 'n' Roll Vol. 1 (1991) [FLAC]\07 - Miss Toni Fisher - The Big Hurt.wav

Pre-gap length 0:00:02.60

Peak level 93.2 %
Extraction speed 5.2 X
Track quality 100.0 %
Test CRC E72C2EBE
Copy CRC E72C2EBE
Accurately ripped (confidence 3) [E91AAECB] (AR v1)
Copy OK

Track 8

Filename C:\Rips\Various Artists - The Golden Age of American Rock 'n' Roll Vol. 1 (1991) [FLAC]\08 - Kathy Young & The Innocents - A Thousand Stars.wav

Pre-gap length 0:00:02.00

Peak level 98.4 %
Extraction speed 5.8 X
Track quality 100.0 %
Test CRC 9E5B5261
Copy CRC 9E5B5261
Accurately ripped (confidence 2) [007CB5FE] (AR v1)
Copy OK

Track 9

Filename C:\Rips\Various Artists - The Golden Age of American Rock 'n' Roll Vol. 1 (1991) [FLAC]\09 - Bobby Day - Rockin' Robin.wav

Pre-gap length 0:00:01.45

Peak level 100.0 %
Extraction speed 5.5 X
Track quality 100.0 %
Test CRC 62D502EA
Copy CRC 62D502EA
Track not present in AccurateRip database
Copy OK

Track 10

Filename C:\Rips\Various Artists - The Golden Age of American Rock 'n' Roll Vol. 1 (1991) [FLAC]\10 - The Penguins - Earth Angel (Will You Be Mine).wav

Pre-gap length 0:00:01.32

Peak level 98.4 %
Extraction speed 6.0 X
Track quality 100.0 %
Test CRC A9F1DEFD
Copy CRC A9F1DEFD
Accurately ripped (confidence 2) [65339274] (AR v1)
Copy OK

Track 11

Filename C:\Rips\Various Artists - The Golden Age of American Rock 'n' Roll Vol. 1 (1991) [FLAC]\11 - Preston Epps - Bongo Rock.wav

Pre-gap length 0:00:01.52

Peak level 89.7 %
Extraction speed 5.6 X
Track quality 100.0 %
Test CRC 73928B75
Copy CRC 73928B75
Track not present in AccurateRip database
Copy OK

Track 12

Filename C:\Rips\Various Artists - The Golden Age of American Rock 'n' Roll Vol. 1 (1991) [FLAC]\12 - Bobby Lewis - Tossin' And Turnin'.wav

Pre-gap length 0:00:01.42

Peak level 99.2 %
Extraction speed 5.8 X
Track quality 100.0 %
Test CRC C3993CB3
Copy CRC C3993CB3
Track not present in AccurateRip database
Copy OK

Track 13

Filename C:\Rips\Various Artists - The Golden Age of American Rock 'n' Roll Vol. 1 (1991) [FLAC]\13 - The Jive Five - My True Story.wav

Pre-gap length 0:00:01.70

Peak level 95.1 %
Extraction speed 6.2 X
Track quality 100.0 %
Test CRC 2C854E10
Copy CRC 2C854E10
Accurately ripped (confidence 2) [6372EB86] (AR v1)
Copy OK

Track 14

Filename C:\Rips\Various Artists - The Golden Age of American Rock 'n' Roll Vol. 1 (1991) [FLAC]\14 - The Cadets - Stranded In The Jungle.wav

Pre-gap length 0:00:01.15

Peak level 99.5 %
Extraction speed 6.4 X
Track quality 100.0 %
Test CRC 683B2648
Copy CRC 683B2648
Accurately ripped (confidence 2) [1CA14F72] (AR v1)
Copy OK

Track 15

Filename C:\Rips\Various Artists - The Golden Age of American Rock 'n' Roll Vol. 1 (1991) [FLAC]\15 - Rosie & The Originals - Angel Baby.wav

Pre-gap length 0:00:02.23

Peak level 99.4 %
Extraction speed 6.6 X
Track quality 100.0 %
Test CRC 2DD1AFA3
Copy CRC 2DD1AFA3
Accurately ripped (confidence 2) [C82AA90D] (AR v1)
Copy OK

Track 16

Filename C:\Rips\Various Artists - The Golden Age of American Rock 'n' Roll Vol. 1 (1991) [FLAC]\16 - Claudine Clark - Party Lights.wav

Pre-gap length 0:00:01.15

Peak level 99.4 %
Extraction speed 5.5 X
Track quality 100.0 %
Test CRC 68CD1AEF
Copy CRC 68CD1AEF
Accurately ripped (confidence 2) [F948DEE8] (AR v1)
Copy OK

Track 17

Filename C:\Rips\Various Artists - The Golden Age of American Rock 'n' Roll Vol. 1 (1991) [FLAC]\17 - The Dreamlovers - When We Get Married.wav

Pre-gap length 0:00:02.15

Peak level 95.4 %
Extraction speed 6.4 X
Track quality 100.0 %
Test CRC 63A80FC6
Copy CRC 63A80FC6
Accurately ripped (confidence 2) [4245E9A4] (AR v1)
Copy OK

Track 18

Filename C:\Rips\Various Artists - The Golden Age of American Rock 'n' Roll Vol. 1 (1991) [FLAC]\18 - Johnny Crawford - Cindy's Birthday.wav

Pre-gap length 0:00:01.45

Peak level 94.5 %
Extraction speed 6.6 X
Track quality 100.0 %
Test CRC FFCB4355
Copy CRC FFCB4355
Track not present in AccurateRip database
Copy OK

Track 19

Filename C:\Rips\Various Artists - The Golden Age of American Rock 'n' Roll Vol. 1 (1991) [FLAC]\19 - Chris Montez - Let's Dance.wav

Pre-gap length 0:00:01.42

Peak level 100.0 %
Extraction speed 6.7 X
Track quality 100.0 %
Test CRC D380821D
Copy CRC D380821D
Track not present in AccurateRip database
Copy OK

Track 20

Filename C:\Rips\Various Artists - The Golden Age of American Rock 'n' Roll Vol. 1 (1991) [FLAC]\20 - The Genies - Who's That Knocking.wav

Pre-gap length 0:00:01.65

Peak level 99.3 %
Extraction speed 4.4 X
Track quality 99.9 %
Test CRC 9F164831
Copy CRC 9F164831
Accurately ripped (confidence 2) [B1C46B03] (AR v1)
Copy OK

Track 21

Filename C:\Rips\Various Artists - The Golden Age of American Rock 'n' Roll Vol. 1 (1991) [FLAC]\21 - Ron Holden - Love You So.wav

Pre-gap length 0:00:01.15

Peak level 94.1 %
Extraction speed 7.5 X
Track quality 100.0 %
Test CRC 1057052A
Copy CRC 1057052A
Accurately ripped (confidence 3) [3715D1B2] (AR v1)
Copy OK

Track 22

Filename C:\Rips\Various Artists - The Golden Age of American Rock 'n' Roll Vol. 1 (1991) [FLAC]\22 - Skip & Flip - Cherry Pie.wav

Pre-gap length 0:00:01.53

Peak level 99.4 %
Extraction speed 6.7 X
Track quality 100.0 %
Test CRC 7E7033EC
Copy CRC 7E7033EC
Accurately ripped (confidence 3) [7D8A4CAD] (AR v1)
Copy OK

Track 23

Filename C:\Rips\Various Artists - The Golden Age of American Rock 'n' Roll Vol. 1 (1991) [FLAC]\23 - The Skyliners - Since I Don't Have You.wav

Pre-gap length 0:00:02.30

Peak level 97.4 %
Extraction speed 4.9 X
Track quality 99.9 %
Test CRC AB5F0772
Copy CRC AB5F0772
Accurately ripped (confidence 2) [21E452F5] (AR v1)
Copy OK

Track 24

Filename C:\Rips\Various Artists - The Golden Age of American Rock 'n' Roll Vol. 1 (1991) [FLAC]\24 - The Kingsmen - Louie, Louie.wav

Pre-gap length 0:00:01.70

Peak level 100.0 %
Extraction speed 5.2 X
Track quality 99.9 %
Test CRC E547D94F
Copy CRC E547D94F
Accurately ripped (confidence 3) [9EEB175D] (AR v1)
Copy OK

Track 25

Filename C:\Rips\Various Artists - The Golden Age of American Rock 'n' Roll Vol. 1 (1991) [FLAC]\25 - Lenny Welch - Since I Fell For You.wav

Pre-gap length 0:00:01.65

Peak level 95.5 %
Extraction speed 7.3 X
Track quality 100.0 %
Test CRC C9D810D0
Copy CRC C9D810D0
Track not present in AccurateRip database
Copy OK

Track 26

Filename C:\Rips\Various Artists - The Golden Age of American Rock 'n' Roll Vol. 1 (1991) [FLAC]\26 - The Safaris - Image Of A Girl.wav

Pre-gap length 0:00:01.37

Peak level 99.4 %
Extraction speed 5.8 X
Track quality 100.0 %
Test CRC 68C2C3B9
Copy CRC 68C2C3B9
Accurately ripped (confidence 3) [DA874814] (AR v1)
Copy OK

Track 27

Filename C:\Rips\Various Artists - The Golden Age of American Rock 'n' Roll Vol. 1 (1991) [FLAC]\27 - The Corsairs - Smoky Places.wav

Pre-gap length 0:00:02.10

Peak level 99.2 %
Extraction speed 7.8 X
Track quality 100.0 %
Test CRC 00BB0E15
Copy CRC 00BB0E15
Track not present in AccurateRip database
Copy OK

Track 28

Filename C:\Rips\Various Artists - The Golden Age of American Rock 'n' Roll Vol. 1 (1991) [FLAC]\28 - The Innocents - Gee Whiz.wav

Pre-gap length 0:00:02.25

Peak level 96.3 %
Extraction speed 7.7 X
Track quality 100.0 %
Test CRC 4CF87DC6
Copy CRC 4CF87DC6
Track not present in AccurateRip database
Copy OK

Track 29

Filename C:\Rips\Various Artists - The Golden Age of American Rock 'n' Roll Vol. 1 (1991) [FLAC]\29 - The Jarmels - A Little Bit Of Soap.wav

Pre-gap length 0:00:01.00

Peak level 84.6 %
Extraction speed 7.4 X
Track quality 100.0 %
Test CRC 573D5580
Copy CRC 573D5580
Track not present in AccurateRip database
Copy OK

Track 30

Filename C:\Rips\Various Artists - The Golden Age of American Rock 'n' Roll Vol. 1 (1991) [FLAC]\30 - The Teen Queens - Eddie My Love.wav

Pre-gap length 0:00:01.23

Peak level 100.0 %
Extraction speed 7.9 X
Track quality 100.0 %
Test CRC 55D779E2
Copy CRC 55D779E2
Track not present in AccurateRip database
Copy OK


19 track(s) accurately ripped
11 track(s) not present in the AccurateRip database

Some tracks could not be verified as accurate

No errors occurred

End of status report

==== Log checksum 4F3AD459272BF8B129F78965739C1A639FBB3F26EB60E291A993761932B84582 ====

===============================

Exact Audio Copy V1.0 beta 3 from 29. August 2011

EAC extraction logfile from 28. July 2012, 21:03

Various Artists / The Golden Age of American Rock 'n' Roll Vol. 2

Used drive : BENQ DVD DC DW1670 Adapter: 1 ID: 0

Read mode : Secure
Utilize accurate stream : Yes
Defeat audio cache : Yes
Make use of C2 pointers : No

Read offset correction : 102
Overread into Lead-In and Lead-Out : No
Fill up missing offset samples with silence : Yes
Delete leading and trailing silent blocks : No
Null samples used in CRC calculations : Yes
Used interface : Installed external ASPI interface
Gap handling : Appended to previous track

Used output format : User Defined Encoder
Selected bitrate : 256 kBit/s
Quality : High
Add ID3 tag : No
Command line compressor : C:\Program\Exact Audio Copy\Flac\flac.exe
Additional command line options : -8 -V -T "ARTIST=%artist%" -T "TITLE=%title%" -T "ALBUM=%albumtitle%" -T "DATE=%year%" -T "TRACKNUMBER=%tracknr%" -T "TOTALTRACKS=%numtracks%" -T "GENRE=%genre%" -T "ALBUMARTIST=%albumartist%" -T "ALBUM ARTIST=%albumartist%" -T "COMMENT=EAC Secure Mode, Test & Copy, AccurateRip, FLAC -8" %source%


TOC of the extracted CD

Track | Start | Length | Start sector | End sector
––––––––––––––––––––––––––––-
1 | 0:00.32 | 2:44.20 | 32 | 12351
2 | 2:44.52 | 2:28.10 | 12352 | 23461
3 | 5:12.62 | 2:45.50 | 23462 | 35886
4 | 7:58.37 | 2:17.58 | 35887 | 46219
5 | 10:16.20 | 2:32.40 | 46220 | 57659
6 | 12:48.60 | 2:32.35 | 57660 | 69094
7 | 15:21.20 | 2:18.22 | 69095 | 79466
8 | 17:39.42 | 1:38.65 | 79467 | 86881
9 | 19:18.32 | 2:50.38 | 86882 | 99669
10 | 22:08.70 | 2:26.62 | 99670 | 110681
11 | 24:35.57 | 2:52.35 | 110682 | 123616
12 | 27:28.17 | 2:22.00 | 123617 | 134266
13 | 29:50.17 | 2:14.53 | 134267 | 144369
14 | 32:04.70 | 2:48.10 | 144370 | 156979
15 | 34:53.05 | 2:00.00 | 156980 | 165979
16 | 36:53.05 | 2:21.32 | 165980 | 176586
17 | 39:14.37 | 2:41.30 | 176587 | 188691
18 | 41:55.67 | 2:24.28 | 188692 | 199519
19 | 44:20.20 | 2:34.47 | 199520 | 211116
20 | 46:54.67 | 3:03.33 | 211117 | 224874
21 | 49:58.25 | 2:27.37 | 224875 | 235936
22 | 52:25.62 | 2:30.73 | 235937 | 247259
23 | 54:56.60 | 2:27.22 | 247260 | 258306
24 | 57:24.07 | 2:02.73 | 258307 | 267529
25 | 59:27.05 | 2:44.40 | 267530 | 279869
26 | 62:11.45 | 2:23.07 | 279870 | 290601
27 | 64:34.52 | 2:25.63 | 290602 | 301539
28 | 67:00.40 | 2:17.45 | 301540 | 311859
29 | 69:18.10 | 2:44.55 | 311860 | 324214
30 | 72:02.65 | 2:22.22 | 324215 | 334886


Track 1

Filename C:\Rips\Various Artists - The Golden Age of American Rock 'n' Roll Vol. 2 (1993) [FLAC]\01 - Lonnie Mack - Memphis.wav

Pre-gap length 0:00:02.32

Peak level 91.2 %
Extraction speed 4.4 X
Track quality 100.0 %
Test CRC A411147A
Copy CRC A411147A
Cannot be verified as accurate (confidence 2) [C0C14389], AccurateRip returned [DFAFFF2D] (AR v2)
Copy OK

Track 2

Filename C:\Rips\Various Artists - The Golden Age of American Rock 'n' Roll Vol. 2 (1993) [FLAC]\02 - The Bluebelles - I Sold My Heart To The Junkman.wav

Pre-gap length 0:00:02.07

Peak level 76.0 %
Extraction speed 4.6 X
Track quality 100.0 %
Test CRC 8401BD90
Copy CRC 8401BD90
Cannot be verified as accurate (confidence 2) [EFCCB795], AccurateRip returned [99F48E0C] (AR v2)
Copy OK

Track 3

Filename C:\Rips\Various Artists - The Golden Age of American Rock 'n' Roll Vol. 2 (1993) [FLAC]\03 - The Duprees - You Belong To Me.wav

Pre-gap length 0:00:02.27

Peak level 91.5 %
Extraction speed 3.3 X
Track quality 99.9 %
Test CRC A84B0922
Copy CRC A84B0922
Cannot be verified as accurate (confidence 2) [BAF3DA04], AccurateRip returned [87254BD9] (AR v2)
Copy OK

Track 4

Filename C:\Rips\Various Artists - The Golden Age of American Rock 'n' Roll Vol. 2 (1993) [FLAC]\04 - Kenny Dino - Your Ma Said You Cried In Your Sleep Last Night.wav

Pre-gap length 0:00:02.20

Peak level 86.5 %
Extraction speed 3.2 X
Track quality 99.9 %
Test CRC EAF6E29A
Copy CRC EAF6E29A
Cannot be verified as accurate (confidence 2) [ABC79AFB], AccurateRip returned [51EBA99E] (AR v2)
Copy OK

Track 5

Filename C:\Rips\Various Artists - The Golden Age of American Rock 'n' Roll Vol. 2 (1993) [FLAC]\05 - Jimmy Charles - A Million To One.wav

Pre-gap length 0:00:02.43

Peak level 90.0 %
Extraction speed 5.4 X
Track quality 100.0 %
Test CRC 6275CDA6
Copy CRC 6275CDA6
Cannot be verified as accurate (confidence 2) [9B829EA3], AccurateRip returned [D97EDC16] (AR v2)
Copy OK

Track 6

Filename C:\Rips\Various Artists - The Golden Age of American Rock 'n' Roll Vol. 2 (1993) [FLAC]\06 - The Eternals - Rockin' In The Jungle.wav

Pre-gap length 0:00:02.43

Peak level 88.1 %
Extraction speed 5.5 X
Track quality 100.0 %
Test CRC 61B27F3C
Copy CRC 61B27F3C
Cannot be verified as accurate (confidence 2) [8CBA2C52], AccurateRip returned [02E3E039] (AR v2)
Copy OK

Track 7

Filename C:\Rips\Various Artists - The Golden Age of American Rock 'n' Roll Vol. 2 (1993) [FLAC]\07 - The Rockin' Rebels - Wild Weekend.wav

Pre-gap length 0:00:02.25

Peak level 89.5 %
Extraction speed 5.6 X
Track quality 100.0 %
Test CRC 19B5AEE3
Copy CRC 19B5AEE3
Cannot be verified as accurate (confidence 2) [4C8CE701], AccurateRip returned [61B47BB2] (AR v2)
Copy OK

Track 8

Filename C:\Rips\Various Artists - The Golden Age of American Rock 'n' Roll Vol. 2 (1993) [FLAC]\08 - Maurice Williams & The Zodiacs - Stay.wav

Pre-gap length 0:00:02.37

Peak level 91.6 %
Extraction speed 5.4 X
Track quality 100.0 %
Test CRC 01C66F89
Copy CRC 01C66F89
Cannot be verified as accurate (confidence 2) [50618AD5], AccurateRip returned [E34E4CC0] (AR v2)
Copy OK

Track 9

Filename C:\Rips\Various Artists - The Golden Age of American Rock 'n' Roll Vol. 2 (1993) [FLAC]\09 - The Quintones - Down The Aisle Of Love.wav

Pre-gap length 0:00:02.47

Peak level 93.5 %
Extraction speed 6.1 X
Track quality 100.0 %
Test CRC 45CAE1E0
Copy CRC 45CAE1E0
Cannot be verified as accurate (confidence 2) [463C9717], AccurateRip returned [7199D07A] (AR v2)
Copy OK

Track 10

Filename C:\Rips\Various Artists - The Golden Age of American Rock 'n' Roll Vol. 2 (1993) [FLAC]\10 - Harold Dorman - Mountain Of Love.wav

Pre-gap length 0:00:02.45

Peak level 83.5 %
Extraction speed 6.2 X
Track quality 100.0 %
Test CRC 071DCFDE
Copy CRC 071DCFDE
Cannot be verified as accurate (confidence 2) [5F5F4B14], AccurateRip returned [FE6001F5] (AR v2)
Copy OK

Track 11

Filename C:\Rips\Various Artists - The Golden Age of American Rock 'n' Roll Vol. 2 (1993) [FLAC]\11 - The Halos - Nag.wav

Pre-gap length 0:00:02.57

Peak level 87.8 %
Extraction speed 6.6 X
Track quality 100.0 %
Test CRC 56EFB201
Copy CRC 56EFB201
Cannot be verified as accurate (confidence 2) [339033EA], AccurateRip returned [FF57C50B] (AR v2)
Copy OK

Track 12

Filename C:\Rips\Various Artists - The Golden Age of American Rock 'n' Roll Vol. 2 (1993) [FLAC]\12 - Billy Bland - Let The Little Girl Dance.wav

Pre-gap length 0:00:02.27

Peak level 88.9 %
Extraction speed 6.5 X
Track quality 100.0 %
Test CRC 6D88F117
Copy CRC 6D88F117
Cannot be verified as accurate (confidence 2) [FF2D1677], AccurateRip returned [A41AB7E3] (AR v2)
Copy OK

Track 13

Filename C:\Rips\Various Artists - The Golden Age of American Rock 'n' Roll Vol. 2 (1993) [FLAC]\13 - The Capris - There's A Moon Out Tonight.wav

Pre-gap length 0:00:02.57

Peak level 88.1 %
Extraction speed 6.5 X
Track quality 100.0 %
Test CRC A2D68E72
Copy CRC A2D68E72
Cannot be verified as accurate (confidence 2) [334C06DB], AccurateRip returned [6AD25BE4] (AR v2)
Copy OK

Track 14

Filename C:\Rips\Various Artists - The Golden Age of American Rock 'n' Roll Vol. 2 (1993) [FLAC]\14 - The Silhouettes - Get A Job.wav

Pre-gap length 0:00:02.63

Peak level 92.2 %
Extraction speed 6.9 X
Track quality 100.0 %
Test CRC 583CD0C1
Copy CRC 583CD0C1
Cannot be verified as accurate (confidence 2) [DF65969C], AccurateRip returned [C865F633] (AR v2)
Copy OK

Track 15

Filename C:\Rips\Various Artists - The Golden Age of American Rock 'n' Roll Vol. 2 (1993) [FLAC]\15 - The Aquatones - You.wav

Pre-gap length 0:00:02.25

Peak level 76.9 %
Extraction speed 6.6 X
Track quality 100.0 %
Test CRC AD166271
Copy CRC AD166271
Cannot be verified as accurate (confidence 2) [E38C2546], AccurateRip returned [019F047F] (AR v2)
Copy OK

Track 16

Filename C:\Rips\Various Artists - The Golden Age of American Rock 'n' Roll Vol. 2 (1993) [FLAC]\16 - The Hollywood Flames - Buzz, Buzz, Buzz.wav

Pre-gap length 0:00:02.53

Peak level 87.0 %
Extraction speed 4.3 X
Track quality 99.9 %
Test CRC A6A7ED24
Copy CRC A6A7ED24
Cannot be verified as accurate (confidence 2) [2B3A313F], AccurateRip returned [9F5D7720] (AR v2)
Copy OK

Track 17

Filename C:\Rips\Various Artists - The Golden Age of American Rock 'n' Roll Vol. 2 (1993) [FLAC]\17 - The Bell Notes - I've Had It.wav

Pre-gap length 0:00:02.35

Peak level 89.4 %
Extraction speed 7.3 X
Track quality 100.0 %
Test CRC B3A9B4C7
Copy CRC B3A9B4C7
Cannot be verified as accurate (confidence 2) [12DBBDF9], AccurateRip returned [DA378E4E] (AR v2)
Copy OK

Track 18

Filename C:\Rips\Various Artists - The Golden Age of American Rock 'n' Roll Vol. 2 (1993) [FLAC]\18 - Barbara George - I Know (You Don't Love Me No More).wav

Pre-gap length 0:00:02.40

Peak level 91.3 %
Extraction speed 7.4 X
Track quality 100.0 %
Test CRC 9ABF4349
Copy CRC 9ABF4349
Cannot be verified as accurate (confidence 2) [D72EB19F], AccurateRip returned [80022A9E] (AR v2)
Copy OK

Track 19

Filename C:\Rips\Various Artists - The Golden Age of American Rock 'n' Roll Vol. 2 (1993) [FLAC]\19 - The Videls - Mister Lonely.wav

Pre-gap length 0:00:02.43

Peak level 88.6 %
Extraction speed 7.5 X
Track quality 100.0 %
Test CRC 947185D5
Copy CRC 947185D5
Cannot be verified as accurate (confidence 2) [1071C777], AccurateRip returned [2D0411DD] (AR v2)
Copy OK

Track 20

Filename C:\Rips\Various Artists - The Golden Age of American Rock 'n' Roll Vol. 2 (1993) [FLAC]\20 - The Five Satins - In The Still Of The Nite.wav

Pre-gap length 0:00:02.37

Peak level 89.3 %
Extraction speed 8.0 X
Track quality 100.0 %
Test CRC 556AA1D8
Copy CRC 556AA1D8
Cannot be verified as accurate (confidence 2) [1F1DFBA7], AccurateRip returned [483045A3] (AR v2)
Copy OK

Track 21

Filename C:\Rips\Various Artists - The Golden Age of American Rock 'n' Roll Vol. 2 (1993) [FLAC]\21 - The Willows - Church Bells May Ring.wav

Pre-gap length 0:00:02.33

Peak level 89.2 %
Extraction speed 7.8 X
Track quality 100.0 %
Test CRC 3153F970
Copy CRC 3153F970
Cannot be verified as accurate (confidence 2) [DE3D7DDD], AccurateRip returned [26C7E178] (AR v2)
Copy OK

Track 22

Filename C:\Rips\Various Artists - The Golden Age of American Rock 'n' Roll Vol. 2 (1993) [FLAC]\22 - Gabriel & The Angels - That's Life (That's Tough).wav

Pre-gap length 0:00:02.55

Peak level 88.2 %
Extraction speed 8.0 X
Track quality 100.0 %
Test CRC DE2FA3C2
Copy CRC DE2FA3C2
Cannot be verified as accurate (confidence 2) [EF62EB60], AccurateRip returned [12C9D368] (AR v2)
Copy OK

Track 23

Filename C:\Rips\Various Artists - The Golden Age of American Rock 'n' Roll Vol. 2 (1993) [FLAC]\23 - Link Wray & His Ray Men - Rumble.wav

Pre-gap length 0:00:02.40

Peak level 84.4 %
Extraction speed 7.6 X
Track quality 100.0 %
Test CRC 47E149A5
Copy CRC 47E149A5
Cannot be verified as accurate (confidence 2) [2D5700F0], AccurateRip returned [170367BE] (AR v2)
Copy OK

Track 24

Filename C:\Rips\Various Artists - The Golden Age of American Rock 'n' Roll Vol. 2 (1993) [FLAC]\24 - Bobby Comstock - Let's Stomp.wav

Pre-gap length 0:00:02.52

Peak level 85.3 %
Extraction speed 7.7 X
Track quality 100.0 %
Test CRC DB3A90FF
Copy CRC DB3A90FF
Cannot be verified as accurate (confidence 2) [A06CFD82], AccurateRip returned [F3C7A242] (AR v2)
Copy OK

Track 25

Filename C:\Rips\Various Artists - The Golden Age of American Rock 'n' Roll Vol. 2 (1993) [FLAC]\25 - The Crescendos - Oh Julie.wav

Pre-gap length 0:00:02.63

Peak level 80.1 %
Extraction speed 8.4 X
Track quality 100.0 %
Test CRC B69A8961
Copy CRC B69A8961
Cannot be verified as accurate (confidence 2) [4E3402E9], AccurateRip returned [B493A6A4] (AR v2)
Copy OK

Track 26

Filename C:\Rips\Various Artists - The Golden Age of American Rock 'n' Roll Vol. 2 (1993) [FLAC]\26 - The Gladiolas - Little Darlin'.wav

Pre-gap length 0:00:02.68

Peak level 92.6 %
Extraction speed 5.1 X
Track quality 99.9 %
Test CRC 6C83ED4F
Copy CRC 6C83ED4F
Cannot be verified as accurate (confidence 2) [B6752F22], AccurateRip returned [76963519] (AR v2)
Copy OK

Track 27

Filename C:\Rips\Various Artists - The Golden Age of American Rock 'n' Roll Vol. 2 (1993) [FLAC]\27 - Sandy Nelson - Teen Beat.wav

Pre-gap length 0:00:02.55

Peak level 88.9 %
Extraction speed 8.4 X
Track quality 100.0 %
Test CRC 1110CE77
Copy CRC 1110CE77
Cannot be verified as accurate (confidence 2) [62A13031], AccurateRip returned [9D5CAEA1] (AR v2)
Copy OK

Track 28

Filename C:\Rips\Various Artists - The Golden Age of American Rock 'n' Roll Vol. 2 (1993) [FLAC]\28 - The Paradons - Diamonds And Pearls.wav

Pre-gap length 0:00:02.35

Peak level 91.2 %
Extraction speed 8.5 X
Track quality 100.0 %
Test CRC 75A35C2F
Copy CRC 75A35C2F
Cannot be verified as accurate (confidence 2) [34D636CB], AccurateRip returned [C3575A23] (AR v2)
Copy OK

Track 29

Filename C:\Rips\Various Artists - The Golden Age of American Rock 'n' Roll Vol. 2 (1993) [FLAC]\29 - The Hollywood Argyles - Alley Oop.wav

Pre-gap length 0:00:02.45

Peak level 89.9 %
Extraction speed 6.1 X
Track quality 99.9 %
Test CRC 25A0E473
Copy CRC 25A0E473
Cannot be verified as accurate (confidence 2) [7207D01C], AccurateRip returned [6F16857B] (AR v2)
Copy OK

Track 30

Filename C:\Rips\Various Artists - The Golden Age of American Rock 'n' Roll Vol. 2 (1993) [FLAC]\30 - The Rivieras - California Sun.wav

Pre-gap length 0:00:02.20

Peak level 88.5 %
Extraction speed 1.7 X
Track quality 99.5 %
Test CRC D01CAE35
Copy CRC D01CAE35
Cannot be verified as accurate (confidence 2) [FAF7232E], AccurateRip returned [4F953439] (AR v2)
Copy OK


No tracks could be verified as accurate
You may have a different pressing from the one(s) in the database

No errors occurred

End of status report

==== Log checksum 31E11B83FF8266C4E0EC3BE7ECE6687D78FAC3E5C45831BA9161E1D13DAD91B7 ====

=========================================

Exact Audio Copy V1.0 beta 3 from 29. August 2011

EAC extraction logfile from 28. July 2012, 21:41

Various Artists / The Golden Age of American Rock 'n' Roll Vol. 3

Used drive : BENQ DVD DC DW1670 Adapter: 1 ID: 0

Read mode : Secure
Utilize accurate stream : Yes
Defeat audio cache : Yes
Make use of C2 pointers : No

Read offset correction : 102
Overread into Lead-In and Lead-Out : No
Fill up missing offset samples with silence : Yes
Delete leading and trailing silent blocks : No
Null samples used in CRC calculations : Yes
Used interface : Installed external ASPI interface
Gap handling : Appended to previous track

Used output format : User Defined Encoder
Selected bitrate : 256 kBit/s
Quality : High
Add ID3 tag : No
Command line compressor : C:\Program\Exact Audio Copy\Flac\flac.exe
Additional command line options : -8 -V -T "ARTIST=%artist%" -T "TITLE=%title%" -T "ALBUM=%albumtitle%" -T "DATE=%year%" -T "TRACKNUMBER=%tracknr%" -T "TOTALTRACKS=%numtracks%" -T "GENRE=%genre%" -T "ALBUMARTIST=%albumartist%" -T "ALBUM ARTIST=%albumartist%" -T "COMMENT=EAC Secure Mode, Test & Copy, AccurateRip, FLAC -8" %source%


TOC of the extracted CD

Track | Start | Length | Start sector | End sector
––––––––––––––––––––––––––––-
1 | 0:00.32 | 3:02.20 | 32 | 13701
2 | 3:02.52 | 2:28.05 | 13702 | 24806
3 | 5:30.57 | 2:47.33 | 24807 | 37364
4 | 8:18.15 | 2:04.47 | 37365 | 46711
5 | 10:22.62 | 2:39.03 | 46712 | 58639
6 | 13:01.65 | 2:51.40 | 58640 | 71504
7 | 15:53.30 | 2:25.32 | 71505 | 82411
8 | 18:18.62 | 2:55.35 | 82412 | 95571
9 | 21:14.22 | 2:43.00 | 95572 | 107796
10 | 23:57.22 | 2:23.33 | 107797 | 118554
11 | 26:20.55 | 2:45.65 | 118555 | 130994
12 | 29:06.45 | 2:10.30 | 130995 | 140774
13 | 31:17.00 | 2:23.62 | 140775 | 151561
14 | 33:40.62 | 2:26.65 | 151562 | 162576
15 | 36:07.52 | 2:19.03 | 162577 | 173004
16 | 38:26.55 | 2:32.20 | 173005 | 184424
17 | 40:59.00 | 2:21.30 | 184425 | 195029
18 | 43:20.30 | 1:47.05 | 195030 | 203059
19 | 45:07.35 | 3:02.47 | 203060 | 216756
20 | 48:10.07 | 2:15.48 | 216757 | 226929
21 | 50:25.55 | 2:33.45 | 226930 | 238449
22 | 52:59.25 | 2:17.67 | 238450 | 248791
23 | 55:17.17 | 2:24.18 | 248792 | 259609
24 | 57:41.35 | 3:01.10 | 259610 | 273194
25 | 60:42.45 | 2:04.22 | 273195 | 282516
26 | 62:46.67 | 3:35.03 | 282517 | 298644
27 | 66:21.70 | 2:17.05 | 298645 | 308924
28 | 68:39.00 | 2:16.52 | 308925 | 319176
29 | 70:55.52 | 2:21.43 | 319177 | 329794
30 | 73:17.20 | 2:24.30 | 329795 | 340624


Track 1

Filename C:\Rips\Various Artists - The Golden Age of American Rock 'n' Roll Vol. 3 (1994) [FLAC]\01 - Bill Parsons - The All American Boy.wav

Pre-gap length 0:00:02.32

Peak level 90.7 %
Extraction speed 3.1 X
Track quality 99.9 %
Test CRC FB09DCD2
Copy CRC FB09DCD2
Accurately ripped (confidence 5) [03B48C74] (AR v1)
Copy OK

Track 2

Filename C:\Rips\Various Artists - The Golden Age of American Rock 'n' Roll Vol. 3 (1994) [FLAC]\02 - Wilbert Harrison - Kansas City.wav

Pre-gap length 0:00:02.62

Peak level 87.7 %
Extraction speed 3.0 X
Track quality 99.9 %
Test CRC 8E827AD7
Copy CRC 8E827AD7
Accurately ripped (confidence 5) [5484D952] (AR v1)
Copy OK

Track 3

Filename C:\Rips\Various Artists - The Golden Age of American Rock 'n' Roll Vol. 3 (1994) [FLAC]\03 - Jack Scott - My True Love.wav

Pre-gap length 0:00:02.27

Peak level 86.6 %
Extraction speed 4.4 X
Track quality 100.0 %
Test CRC 505A581A
Copy CRC 505A581A
Accurately ripped (confidence 5) [2CDF6184] (AR v1)
Copy OK

Track 4

Filename C:\Rips\Various Artists - The Golden Age of American Rock 'n' Roll Vol. 3 (1994) [FLAC]\04 - Jan & Arnie - Jennie Lee.wav

Pre-gap length 0:00:02.28

Peak level 78.1 %
Extraction speed 4.9 X
Track quality 100.0 %
Test CRC 2EB753BA
Copy CRC 2EB753BA
Accurately ripped (confidence 5) [60548740] (AR v1)
Copy OK

Track 5

Filename C:\Rips\Various Artists - The Golden Age of American Rock 'n' Roll Vol. 3 (1994) [FLAC]\05 - Bill Myles - The Joker.wav

Pre-gap length 0:00:02.52

Peak level 78.9 %
Extraction speed 3.5 X
Track quality 99.9 %
Test CRC EC30CEF6
Copy CRC EC30CEF6
Accurately ripped (confidence 5) [E5C2FB9D] (AR v1)
Copy OK

Track 6

Filename C:\Rips\Various Artists - The Golden Age of American Rock 'n' Roll Vol. 3 (1994) [FLAC]\06 - The Rockin' R's - The Beat.wav

Pre-gap length 0:00:02.73

Peak level 55.5 %
Extraction speed 5.7 X
Track quality 100.0 %
Test CRC DAB57AB3
Copy CRC DAB57AB3
Accurately ripped (confidence 5) [C15D32B7] (AR v1)
Copy OK

Track 7

Filename C:\Rips\Various Artists - The Golden Age of American Rock 'n' Roll Vol. 3 (1994) [FLAC]\07 - The Teddy Bears - To Know Him, Is To Love Him.wav

Pre-gap length 0:00:02.38

Peak level 53.7 %
Extraction speed 3.6 X
Track quality 99.9 %
Test CRC F9185717
Copy CRC F9185717
Accurately ripped (confidence 5) [CFF9C480] (AR v1)
Copy OK

Track 8

Filename C:\Rips\Various Artists - The Golden Age of American Rock 'n' Roll Vol. 3 (1994) [FLAC]\08 - The Turbans - When You Dance.wav

Pre-gap length 0:00:02.70

Peak level 87.9 %
Extraction speed 6.1 X
Track quality 100.0 %
Test CRC 802A5A55
Copy CRC 802A5A55
Accurately ripped (confidence 5) [6029F9D6] (AR v1)
Copy OK

Track 9

Filename C:\Rips\Various Artists - The Golden Age of American Rock 'n' Roll Vol. 3 (1994) [FLAC]\09 - Ketty Lester - Love Letters.wav

Pre-gap length 0:00:02.50

Peak level 85.9 %
Extraction speed 4.1 X
Track quality 99.9 %
Test CRC C78A209E
Copy CRC C78A209E
Accurately ripped (confidence 5) [1FF4FCC2] (AR v1)
Copy OK

Track 10

Filename C:\Rips\Various Artists - The Golden Age of American Rock 'n' Roll Vol. 3 (1994) [FLAC]\10 - The Kuf-Linx - So Touch.wav

Pre-gap length 0:00:02.60

Peak level 88.9 %
Extraction speed 4.0 X
Track quality 99.9 %
Test CRC 5F5AD168
Copy CRC 5F5AD168
Accurately ripped (confidence 5) [E083D88D] (AR v1)
Copy OK

Track 11

Filename C:\Rips\Various Artists - The Golden Age of American Rock 'n' Roll Vol. 3 (1994) [FLAC]\11 - The Five Satins - To The Aisle.wav

Pre-gap length 0:00:02.43

Peak level 70.5 %
Extraction speed 6.6 X
Track quality 100.0 %
Test CRC CED2B893
Copy CRC CED2B893
Accurately ripped (confidence 5) [8021CB67] (AR v1)
Copy OK

Track 12

Filename C:\Rips\Various Artists - The Golden Age of American Rock 'n' Roll Vol. 3 (1994) [FLAC]\12 - Billy & Lillie - La Dee Dah.wav

Pre-gap length 0:00:03.25

Peak level 86.2 %
Extraction speed 6.3 X
Track quality 100.0 %
Test CRC 1E8BCF06
Copy CRC 1E8BCF06
Accurately ripped (confidence 5) [357B1C00] (AR v1)
Copy OK

Track 13

Filename C:\Rips\Various Artists - The Golden Age of American Rock 'n' Roll Vol. 3 (1994) [FLAC]\13 - Jody Reynolds - Endless Sleep.wav

Pre-gap length 0:00:02.68

Peak level 82.5 %
Extraction speed 6.7 X
Track quality 100.0 %
Test CRC 1A42AA37
Copy CRC 1A42AA37
Accurately ripped (confidence 4) [B3CE5848] (AR v1)
Copy OK

Track 14

Filename C:\Rips\Various Artists - The Golden Age of American Rock 'n' Roll Vol. 3 (1994) [FLAC]\14 - Tony Harris - Chicken, Baby, Chicken.wav

Pre-gap length 0:00:03.27

Peak level 88.4 %
Extraction speed 6.8 X
Track quality 100.0 %
Test CRC 9E0EB515
Copy CRC 9E0EB515
Accurately ripped (confidence 5) [2B50D5BB] (AR v1)
Copy OK

Track 15

Filename C:\Rips\Various Artists - The Golden Age of American Rock 'n' Roll Vol. 3 (1994) [FLAC]\15 - The Blue Jays - Lover's Island.wav

Pre-gap length 0:00:03.12

Peak level 85.3 %
Extraction speed 7.0 X
Track quality 100.0 %
Test CRC 5B8B46AF
Copy CRC 5B8B46AF
Accurately ripped (confidence 4) [D4C89726] (AR v1)
Copy OK

Track 16

Filename C:\Rips\Various Artists - The Golden Age of American Rock 'n' Roll Vol. 3 (1994) [FLAC]\16 - Gerry Granahan - No Chemise, Please.wav

Pre-gap length 0:00:02.45

Peak level 82.3 %
Extraction speed 7.2 X
Track quality 100.0 %
Test CRC EEB6E3D7
Copy CRC EEB6E3D7
Accurately ripped (confidence 4) [B2A93637] (AR v1)
Copy OK

Track 17

Filename C:\Rips\Various Artists - The Golden Age of American Rock 'n' Roll Vol. 3 (1994) [FLAC]\17 - Skip & Flip - It Was I.wav

Pre-gap length 0:00:02.68

Peak level 73.7 %
Extraction speed 4.5 X
Track quality 99.9 %
Test CRC 2CDCA610
Copy CRC 2CDCA610
Accurately ripped (confidence 5) [B1DF27BE] (AR v1)
Copy OK

Track 18

Filename C:\Rips\Various Artists - The Golden Age of American Rock 'n' Roll Vol. 3 (1994) [FLAC]\18 - The Tokens - Tonight I Fell In Love.wav

Pre-gap length 0:00:02.50

Peak level 84.4 %
Extraction speed 6.9 X
Track quality 100.0 %
Test CRC A38BF3D9
Copy CRC A38BF3D9
Accurately ripped (confidence 5) [24EAA774] (AR v1)
Copy OK

Track 19

Filename C:\Rips\Various Artists - The Golden Age of American Rock 'n' Roll Vol. 3 (1994) [FLAC]\19 - Kathy Young & The Innocents - Happy Birthday Blues.wav

Pre-gap length 0:00:02.55

Peak level 71.0 %
Extraction speed 7.7 X
Track quality 100.0 %
Test CRC CDAA3782
Copy CRC CDAA3782
Accurately ripped (confidence 5) [2C88B978] (AR v1)
Copy OK

Track 20

Filename C:\Rips\Various Artists - The Golden Age of American Rock 'n' Roll Vol. 3 (1994) [FLAC]\20 - Ray Smith - Rockin' Little Angel.wav

Pre-gap length 0:00:02.57

Peak level 85.1 %
Extraction speed 7.5 X
Track quality 100.0 %
Test CRC 997E999C
Copy CRC 997E999C
Accurately ripped (confidence 5) [02FBC0E8] (AR v1)
Copy OK

Track 21

Filename C:\Rips\Various Artists - The Golden Age of American Rock 'n' Roll Vol. 3 (1994) [FLAC]\21 - The Mello-Kings - Tonite, Tonite.wav

Pre-gap length 0:00:02.55

Peak level 78.8 %
Extraction speed 7.8 X
Track quality 100.0 %
Test CRC 8E5E43C1
Copy CRC 8E5E43C1
Accurately ripped (confidence 5) [A461A623] (AR v1)
Copy OK

Track 22

Filename C:\Rips\Various Artists - The Golden Age of American Rock 'n' Roll Vol. 3 (1994) [FLAC]\22 - The Pets - Cha Hua Hua.wav

Pre-gap length 0:00:03.03

Peak level 85.0 %
Extraction speed 7.7 X
Track quality 100.0 %
Test CRC 39B842DD
Copy CRC 39B842DD
Accurately ripped (confidence 5) [D501CDEE] (AR v1)
Copy OK

Track 23

Filename C:\Rips\Various Artists - The Golden Age of American Rock 'n' Roll Vol. 3 (1994) [FLAC]\23 - The Olympics - Western Movies.wav

Pre-gap length 0:00:02.42

Peak level 89.5 %
Extraction speed 8.0 X
Track quality 100.0 %
Test CRC 557B8F87
Copy CRC 557B8F87
Accurately ripped (confidence 5) [F9A63C97] (AR v1)
Copy OK

Track 24

Filename C:\Rips\Various Artists - The Golden Age of American Rock 'n' Roll Vol. 3 (1994) [FLAC]\24 - The Cliques - The Girl In My Dreams.wav

Pre-gap length 0:00:02.60

Peak level 83.9 %
Extraction speed 8.4 X
Track quality 100.0 %
Test CRC EB8BD04D
Copy CRC EB8BD04D
Accurately ripped (confidence 5) [6F96AD02] (AR v1)
Copy OK

Track 25

Filename C:\Rips\Various Artists - The Golden Age of American Rock 'n' Roll Vol. 3 (1994) [FLAC]\25 - Jimmy Gilmer & The Fireballs - Sugar Shack.wav

Pre-gap length 0:00:03.05

Peak level 89.6 %
Extraction speed 7.9 X
Track quality 100.0 %
Test CRC 5C49A7C6
Copy CRC 5C49A7C6
Accurately ripped (confidence 4) [29905E61] (AR v1)
Copy OK

Track 26

Filename C:\Rips\Various Artists - The Golden Age of American Rock 'n' Roll Vol. 3 (1994) [FLAC]\26 - Big Jay McNeely & Band - There Is Something On Your Mind.wav

Pre-gap length 0:00:02.55

Peak level 81.7 %
Extraction speed 8.9 X
Track quality 100.0 %
Test CRC C5560370
Copy CRC C5560370
Accurately ripped (confidence 5) [F0942E4E] (AR v1)
Copy OK

Track 27

Filename C:\Rips\Various Artists - The Golden Age of American Rock 'n' Roll Vol. 3 (1994) [FLAC]\27 - Teddy & The Twighlights - Woman Is A Man's Best Friend.wav

Pre-gap length 0:00:02.40

Peak level 89.9 %
Extraction speed 8.4 X
Track quality 100.0 %
Test CRC FC8A16C0
Copy CRC FC8A16C0
Accurately ripped (confidence 5) [E267C818] (AR v1)
Copy OK

Track 28

Filename C:\Rips\Various Artists - The Golden Age of American Rock 'n' Roll Vol. 3 (1994) [FLAC]\28 - The Castells - Sacred.wav

Pre-gap length 0:00:03.30

Peak level 85.8 %
Extraction speed 8.4 X
Track quality 100.0 %
Test CRC C0FCC0C6
Copy CRC C0FCC0C6
Accurately ripped (confidence 5) [E14A9974] (AR v1)
Copy OK

Track 29

Filename C:\Rips\Various Artists - The Golden Age of American Rock 'n' Roll Vol. 3 (1994) [FLAC]\29 - Tony & Joe - The Freeze.wav

Pre-gap length 0:00:02.37

Peak level 79.0 %
Extraction speed 8.5 X
Track quality 100.0 %
Test CRC D0C1576D
Copy CRC D0C1576D
Accurately ripped (confidence 5) [440E3DC4] (AR v1)
Copy OK

Track 30

Filename C:\Rips\Various Artists - The Golden Age of American Rock 'n' Roll Vol. 3 (1994) [FLAC]\30 - Dicky Doo & The Don'ts - Click Clack.wav

Pre-gap length 0:00:02.43

Peak level 84.9 %
Extraction speed 5.3 X
Track quality 99.9 %
Test CRC 8CB5E463
Copy CRC 8CB5E463
Accurately ripped (confidence 5) [3626F1FA] (AR v1)
Copy OK


All tracks accurately ripped

No errors occurred

End of status report

==== Log checksum 57FB0A3A127396C20E4F277847CBC5BD2A5DF06E1AB14551F9B0B0C67F714D6C ====
All 18 log files included…