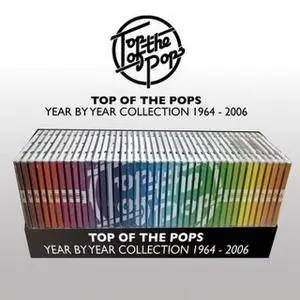 V.A. - Top Of The Pops: 1964-2006 (43CD Box Set, 2008)
EAC Rip | FLAC (*tracks + .cue,log) | Run Time: 52:49:02 | 20,36 Gb
Genre: Pop, rock, r&b, disco, jazz, soul, blues | Label: EMI Gold Imports
This box set is the ultimate pop collection, 43 albums featuring many of the biggest hits performed on the legendary pop music chart BBC TV programme Top of the Pops, which ran for a record shattering 42 years from January 1964 to July 2006! The show totalled an amazing 2205 episodes and at its peak attracted 15 million viewers per week! This complete set features a total of 875 tracks, including over 600 top ten hits and over 150 number one's!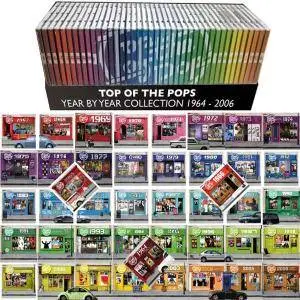 Contents:
CD 01. 1964 - Top Of The Pops
CD 02. 1965 - Top Of The Pops
CD 03. 1966 - Top Of The Pops
CD 04. 1967 - Top Of The Pops
CD 05. 1968 - Top Of The Pops
CD 06. 1969 - Top Of The Pops
CD 07. 1970 - Top Of The Pops
CD 08. 1971 - Top Of The Pops
CD 09. 1972 - Top Of The Pops
CD 10. 1973 - Top Of The Pops
CD 11. 1974 - Top Of The Pops
CD 12. 1975 - Top Of The Pops
CD 13. 1976 - Top Of The Pops
CD 14. 1977 - Top Of The Pops
CD 15. 1978 - Top Of The Pops
CD 16. 1979 - Top Of The Pops
CD 17. 1980 - Top Of The Pops
CD 18. 1981 - Top Of The Pops
CD 19. 1982 - Top Of The Pops
CD 20. 1983 - Top Of The Pops
CD 21. 1984 - Top Of The Pops
CD 22. 1985 - Top Of The Pops
CD 23. 1986 - Top Of The Pops
CD 24. 1987 - Top Of The Pops
CD 25. 1988 - Top Of The Pops
CD 26. 1989 - Top Of The Pops
CD 27. 1990 - Top Of The Pops
CD 28. 1991 - Top Of The Pops
CD 29. 1992 - Top Of The Pops
CD 30. 1993 - Top Of The Pops
CD 31. 1994 - Top Of The Pops
CD 32. 1995 - Top Of The Pops
CD 33. 1996 - Top Of The Pops
CD 34. 1997 - Top Of The Pops
CD 35. 1998 - Top Of The Pops
CD 36. 1999 - Top Of The Pops
CD 37. 2000 - Top Of The Pops
CD 38. 2001 - Top Of The Pops
CD 39. 2002 - Top Of The Pops
CD 40. 2003 - Top Of The Pops
CD 41. 2004 - Top Of The Pops
CD 42. 2005 - Top Of The Pops
CD 43. 2006 - Top Of The Pops
1964
1. The Animals The House Of The Rising Sun
2. Herman's Hermits I'm Into Something Good
3. Sandie Shaw (There's) Always Something There To Remind Me
4. The Beach Boys I Get Around
5. Roy Orbison Oh, Pretty Woman
6. The Hollies Just One Look
7. Manfred Mann Do Wah Diddy Diddy
8. The Nashville Teens Tobacco Road
9. The Swinging Blue Jeans You're No Good
10. The Paramounts Poison Ivy
11. Lulu and The Luvvers Shout
12. Georgie Fame and The Blue Flames Yeh! Yeh!
13. Billy Fury It's Only Make Believe
14. The Shadows The Rise And Fall Of Flingel Bunt
15. Frank Ifield Don't Blame Me
16. Dusty Springfield I Just Don't Know What To Do With Myself
17. Adam Faith A Message To Martha (Kentucky Bluebird)
18. Cliff Bennett and The Rebel Rousers One Way Love
19. The Supremes Where Did Our Love Go
20. Dixie Cups Chapel Of Love
21. The Bachelors Diane
22. Cilla Black You're My World (Il Mio Mondo)
23. Shirley Bassey Goldfinger
24. Peter And Gordon A World Without Love
25. Gerry and The Pacemakers I'm The One
26. Freddie and The Dreamers I Understand

1965
1. Tom Jones It's Not Unusual
2. The Hollies I'm Alive
3. Herman's Hermits A Must To Avoid
4. The Animals Don't Let Me Be Misunderstood
5. The Beach Boys Help Me Rhonda
6. The Shadows Stingray
7. The Shangri-La's Leader Of The Pack
8. The Toys A Lover's Concerto
9. Sandie Shaw Long Live Love
10. The Byrds Mr Tambourine Man
11. The McCoys Hang On Sloopy
12. Manfred Mann If You Gotta Go, Go Now
13. Cher All I Really Want To Do
14. Adam Faith Stop Feeling Sorry For Yourself
15. Freddie and The Dreamers A Little You
16. P J Proby Maria
17. Dobie Gray (I'm In With The) In Crowd
18. The Seekers A World Of Our Own
19. Gerry & The Pacemakers Ferry Cross The Mersey
20. Billy J Kramer and The Dakotas Trains And Boats And Planes
21. Ken Dodd Tears
22. Peter And Gordon True Love Ways
23. The Righteous Brothers You've Lost That Lovin' Feelin'
24. Matt Monro Yesterday
25. Andy Williams Almost There

1966
1. The Troggs Wild Thing
2. The Small Faces All Or Nothing
3. Donovan Sunshine Superman
4. The Byrds 8 Miles High
5. The Beach Boys Good Vibrations
6. Dusty Springfield You Don't Have To Say You Love Me
7. Manfred Mann Pretty Flamingo
8. The Lovin' Spoonful Summer In The City
9. Herman's Hermits No Milk Today
10. The Hollies I Can't Let Go
11. Cliff Bennett and The Rebel Rousers Got To Get You Into My Life
12. Tommy James And The Shondells Hanky Panky
13. The Swinging Blue Jeans Don't Make Me Over
14. Mitch Ryder and The Detroit Wheels Jenny Takes A Ride
15. The Shadows I Met A Girl
16. Paul Jones High Time
17. Roy Orbison Lana
18. Cilla Black Alfie
19. Peter And Gordon Lady Godiva
20. The Seekers Morningtown Ride
21. P J Proby To Make A Big Man Cry
22. Sandie Shaw Tomorrow
23. Cher Bang Bang (My Baby Shot Me Down)
24. Bob Lind Elusive Butterfly
25. Ken Dodd Promises
26. Jim Reeves Distant Drums

1967
1. Donovan Mellow Yellow
2. The Troggs Love Is All Around
3. The Hollies On A Carousel
4. The Flowerpot Men Let's Go To San Francisco
5. Traffic Hole In My Shoe
6. The Spencer Davis Group I'm A Man
7. Herman's Hermits There's A Kind Of Hush (All Over The World)
8. Lulu The Boat That I Row
9. The Turtles Happy Together
10. Jeff Beck Hi Ho Silver Lining
11. Martha Reeves and The Vandellas Jimmy Mack
12. Smokey Robinson and The Miracles I Second That Emotion
13. The Four Tops Standing In The Shadows Of Love
14. The Young Idea With A Little Help From My Friends
15. The Dubliners Seven Drunken Nights
16. The Scaffold Thank U Very Much
17. Bobbie Gentry Ode To Billie Joe
18. The Beach Boys Then I Kissed Her
19. The Seekers Georgy Girl
20. Simon Dupree and The Big Sound Kites
21. Box Tops The Letter
22. Dave Dee, Dozy, Beaky, Mick & Tich Zabadak
23. Georgie Fame The Ballad Of Bonnie & Clyde
24. Shirley Bassey Big Spender
25. Sandie Shaw Puppet On A String

1968
1. Gary Puckett and The Union Gap Young Girl
2. Dusty Springfield Son Of A Preacher Man
3. Herman's Hermits Something Is Happening
4. Cilla Black Step Inside Love
5. Amen Corner Bend Me Shape Me
6. Tommy James And The Shondells Mony Mony
7. The Crazy World Of Arthur Brown Fire
8. Sly and The Family Stone Dance To The Music
9. The Love Affair Everlasting Love
10. Lulu I'm A Tiger
11. The Hollies Jennifer Eccles
12. Canned Heat On The Road Again
13. Donovan Hurdy Gurdy Man
14. The Lemon Pipers Green Tambourine
15. Don Partridge Rosie
16. Dave Dee, Dozy, Beaky, Mick & Tich The Legend Of Xanadu
17. Bedrocks Ob-La-Di Ob-La-Da
18. The Bonzo Dog Doo Dah Band I'm The Urban Spaceman
19. The Scaffold Lily The Pink
20. The Beach Boys Do It Again
21. Bobby Goldsboro Honey
22. Malcolm Roberts May I Have The Next Dream With You
23. Des O'Connor I Pretend
24. Solomon King She Wears My Ring
25. Fleetwood Mac Albatross

1969
1. The Hollies He Ain't Heavy He's My Brother
2. Peter Sarstedt Where Do You Go To (My Lovely)
3. Herman's Hermits My Sentimental Friend
4. Sandie Shaw Monsieur Dupont
5. The Beach Boys I Can Hear Music
6. The Archies Sugar Sugar
7. Lulu Boom Bang A Bang
8. Cilla Black Surround Yourself With Sorrow
9. Paul Jones Aquarius
10. Canned Heat Going Up The Country
11. Jethro Tull Living In The Past
12. Lou Christie I'm Gonna Make You Mine
13. Karen Young Nobody's Child
14. Des O'Connor Dick-A-Dum-Dum (King's Road)
15. Sounds Nice Love At First Sight (Je T'Aime…Moi Non Plus)
16. Starshine Oliver Good Morning
17. Clodagh Rodgers Come Back And Shake Me
18. Nina Simone To Love Somebody
19. The Edwin Hawkins Singers Oh Happy Day
20. Joe South Games People Play
21. Glen Campbell Wichita Lineman
22. Bobbie Gentry I'll Never Fall In Love Again
23. Roger Whittaker Durham Town (The Leavin')
24. Johnny Cash A Boy Named Sue

1970
1. Smokey Robinson and The Miracles The Tears Of A Clown
2. The Four Tops It's All In The Game
3. The Jackson 5 ABC
4. Edwin Starr War
5. James Brown Get Up (I Feel Like Being A) Sex Machine
6. Hot Chocolate Love Is Life
7. The Beach Boys Cotton Fields (The Cotton Song)
8. The Hollies I Can't Tell The Bottom From The Top
9. Herman's Hermits Years May Come Years May Go
10. Melanie Ruby Tuesday
11. Shirley Bassey Something
12. Glen Campbell Honey, Come Back
13. The Band Rag Mama Rag
14. Jethro Tull Teacher
15. Canned Heat Let's Work Together
16. Free All Right Now
17. Dave Edmunds I Hear You Knocking
18. Norman Greenbaum Spirit In The Sky
19. Deep Purple Black Night
20. C.C.S. Whole Lotta Love


1971
1. Diana Ross I'm Still Waiting
2. Rod Stewart Reason To Believe
3. Hot Chocolate I Believe (In Love)
4. Hurricane Smith Don't Let It Die
5. Cilla Black Something Tells Me (Something's Gonna Happen Tonight)
6. The Congregation Softly Whispering I Love You
7. New World Tom Tom Turnaround
8. The Fortunes Freedom Come, Freedom Go
9. Peter Noone Oh You Pretty Things
10. The Supremes Stoned Love
11. The Fantastics Something Old, Something New
12. Middle Of The Road Chirpy Chirpy Cheep Cheep
13. The Sweet Co-Co
14. Tony Orlando & Dawn Knock Three Times
15. Ray Stevens Bridget The Midget
16. Benny Hill Ernie (The Fastest Milkman In The West)
17. The Mixtures The Pushbike Song
18. C.C.S. Tap Turns On The Water
19. The Move Tonight
20. Family In My Own Time
21. Redbone Witch Queen Of New Orleans
22. The Bay City Rollers Keep On Dancing

1972
1. T-Rex Telegram Sam
2. The Sweet Wig Wam Bam
3. The Move California Man
4. Mott The Hoople All The Young Dudes
5. Wizzard Ball Park Incident
6. Argent Hold Your Head Up
7. Deep Purple Fireball
8. Hawkwind Silver Machine
9. Electric Light Orchestra 10538 Overture
10. Family Burlesque
11. Lindisfarne Meet Me On The Corner
12. The Fortunes Storm In A Teacup
13. The Hollies The Baby
14. Hot Chocolate You'll Always Be A Friend
15. Sly and The Family Stone Family Affair
16. Hurricane Smith Oh, Babe What Would You Say
17. Shirley Bassey Diamonds Are Forever
18. Johnny Cash A Thing Called Love
19. Al Green Let's Stay Together
20. Nilsson Living Without You

1973
1. The Sweet Blockbuster
2. Wizzard See My Baby Jive
3. Mud Dyna-Mite
4. Suzi Quatro Can The Can
5. David Essex Rock On
6. Electric Light Orchestra Roll Over Beethoven
7. Mott The Hoople All The Way From Memphis
8. Ike And Tina Turner Nutbush City Limits
9. Thin Lizzy Whiskey In The Jar
10. Status Quo Caroline
11. Hawkwind Urban Guerilla
12. Cozy Powell Dance With The Devil
13. Kenny Heart Of Stone
14. Roy Wood Forever
15. Stealers Wheel Stuck In The Middle With You
16. The Hollies The Day That Curly Billy Shot Down Crazy Sam Mcgee
17. Peters and Lee Welcome Home
18. Shirley Bassey Never Never Never
19. Hot Chocolate Brother Louie
20. The O'Jays Love Train

1974
1. Status Quo Down Down
2. Mud Tiger Feet
3. Suzi Quatro Devil Gate Drive
4. The Rubettes Sugar Baby Love
5. The Arrows Touch Too Much
6. Kenny The Bump
7. Pilot Magic
8. David Essex Gonna Make You A Star
9. Sparks Amateur Hour
10. Steve Harley and Cockney Rebel Judy Teen
11. First Class Beach Baby
12. George McCrae Rock Your Baby
13. The Isley Brothers Summer Breeze
14. The Hollies The Air That I Breathe
15. Paul Anka And Odia Coates (You're) Having My Baby
16. Terry Jacks Seasons In The Sun
17. Charlie Rich The Most Beautiful Girl In The World
18. Hot Chocolate Emma
19. Ray Stevens The Streak
20. Hues Corporation Rock The Boat
21. KC And The Sunshine Band Queen Of Clubs

1975
1. Steve Harley and Cockney Rebel Make Me Smile (Come Up And See Me)
2. Sailor A Glass Of Champagne
3. Chris Spedding Motor Bikin'
4. Pilot January
5. Kenny Fancy Pants
6. Smokie If You Think You Know How To Love Me
7. Suzi Quatro Your Mamma Won't Like Me
8. Mud Oh Boy
9. Johnny Nash Tears On My Pillow
10. The Three Degrees Take Good Care Of Yourself
11. Hot Chocolate You Sexy Thing
12. KC And The Sunshine Band That's The Way (I Like It)
13. Maxine Nightingale Right Back Where We Started From
14. Natalie Cole This Will Be (An Everlasting Love)
15. George McCrae It's Been So Long
16. The Drifters There Goes My First Love
17. Gladys Knight And The Pips The Way We Were (Try To Remember)
18. Minnie Riperton Lovin' You
19. Steeleye Span All Around My Hat
20. Tammy Wynette Stand By Your Man

1976
1. Boney M Daddy Cool
2. KC And The Sunshine Band (Shake Shake Shake) Shake Your Booty
3. Hot Chocolate Don't Stop It Now
4. Tavares Heaven Must Be Missing An Angel
5. Brass Construction Movin'
6. Pussycat Mississippi
7. Silver Convention Get Up And Boogie
8. Lee Garrett You're My Everything
9. Gladys Knight and The Pips Midnight Train To Georgia
10. David Soul Don't Give Up On Us
11. Dr. Hook A Little Bit More
12. Dorothy Moore Misty Blue
13. Joan Armatrading Love And Affection
14. The Isley Brothers Harvest For The World
15. Steve Harley Here Comes The Sun
16. 10cc The Things We Do For Love
17. Thin Lizzy The Boys Are Back In Town
18. Be Bop Deluxe Ships In The Night
19. Smokie Living Next Door To Alice
20. The Wurzels The Combine Harvester (Brand New Key)

1977
1. Bryan Ferry Tokyo Joe
2. The Tom Robinson Band 2-4-6-8 Motorway
3. Status Quo Rockin' All Over The World
4. Thin Lizzy Don't Believe A Word
5. Deep Purple Smoke On The Water
6. The Stranglers Peaches
7. Mr Big Romeo
8. Mink De Ville Spanish Stroll
9. Al Stewart Year Of The Cat
10. Boz Scaggs Lido Shuffle
11. Meri Wilson Telephone Man
12. Althea and Donna Uptown Top Ranking
13. T-Connection Do What You Wanna Do
14. Joe Tex Ain't Gonna Bump No More (With No Big Fat Woman)
15. Tavares Whodunit
16. Heatwave Boogie Nights
17. Maxine Nightingale Love Hit Me
18. Baccara Yes Sir I Can Boogie
19. Hot Chocolate So You Win Again
20. The Commodores Easy

1978
1. The Jacksons Blame It On The Boogie
2. Blondie Denis
3. Electric Light Orchestra Mr Blue Sky
4. Marshall Hain Dancing In The City
5. John Travolta Sandy
6. Tavares More Than A Woman
7. Sarah Brightman I Lost My Heart To A Starship Trooper
8. KC And The Sunshine Band Boogie Shoes
9. T-Connection On Fire
10. Hot Chocolate Every 1's A Winner
11. Earth Wind and Fire September
12. Johnny Mathis With Deniece Williams Too Much, Too Little, Too Late
13. Crystal Gayle Talking In Your Sleep
14. Gerry Rafferty Baker Street
15. Dr. Hook More Like The Movies
16. Racey Lay Your Love On Me
17. Frankie Miller Darlin'
18. Suzi Quatro If You Can't Give Me Love
19. Rich Kids Rich Kids
20. The Stranglers Five Minutes
21. Buzzcocks Ever Fallen In Love (With Someone You Shouldn't've)?

1979
1. Madness The Prince
2. The Beat The Tears Of A Clown
3. The Special AKA Gangsters
4. Blondie Sunday Girl
5. Thin Lizzy Waiting For An Alibi
6. Status Quo Whatever You Want
7. Electric Light Orchestra Don't Bring Me Down
8. The Knack My Sharona
9. Squeeze Cool For Cats
10. Dr Feelgood Milk And Alcohol
11. Gerry Rafferty Night Owl
12. Dr. Hook When You're In Love With A Beautiful Woman
13. Anita Ward Ring My Bell
14. The Dooleys Wanted
15. KC And The Sunshine Band Please Don't Go
16. Earth Wind and Fire After The Love Has Gone
17. Racey Some Girls
18. The Flying Lizards Money
19. The Ruts Babylon's Burning
20. Generation X King Rocker
21. The Stranglers Duchess

1980
1. Atomic - Blondie
2. Antmusic - Adam & The Ants
3. Geno - Dexy's Midnight Runners
4. Too Much Too Young - The Specials
5. Let's Do Rock Steady - The Bodysnatchers
6. It's Different For Girls - Joe Jackson
7. Turning Japanese - The Vapors
8. What You're Proposing - Status Quo
9. Runaway Boys - The Stray Cats
10. Marie Marie - Shakin' Stevens
11. Echo Beach - Martha And The Muffins
12. Enola Gay - Orchestral Manoeuvres In The Dark
13. Sleepwalk - Ultravox
14. To Cut A Long Story Short - Spandau Ballet
15. My Way Of Thinking - UB40
16. Modern Girl - Sheena Easton
17. Celebration - Kool & The Gang
18. Upside Down - Diana Ross
19. Use It Up And Wear It Out - Odyssey
20. No Doubt About It - Hot Chocolate
21. Sexy Eyes - Dr. Hook
22. All Out Of Love - Air Supply

1981
1. That's Entertainment - The Jam
2. Girls On Film - Duran Duran
3. Reward - The Teardrop Explodes
4. Tainted Love - Soft Cell
5. Favourite Shirts (Boy Meets Girl) - Haircut 100
6. Stand And Deliver - Adam & The Ants
7. Spellbound - Siouxsie & The Banshees
8. Just Can't Get Enough - Depeche Mode
9. Chant No 1 (I Don't Need This Pressure On) - Spandau Ballet
10. Souvenir - Orchestral Manoeuvres In The Dark
11. Labelled With Love - Squeeze
12. Ghost Town - The Specials
13. The Lunatics (Have Taken Over The Asylum) - Fun Boy Three
14. Vienna - Ultravox
15. Keep On Loving You - REO Speedwagon
16. Bette Davis Eyes - Kim Carnes
17. Making Your Mind Up - Bucks Fizz
18. It's My Party - Dave Stewart And Barbara Gaskin
19. Going Back To My Roots - Odyssey
20. Intuition - Linx
21. Rapture - Blondie

1982
1. Eye Of The Tiger - Survivor
2. Hungry Like The Wolf - Duran Duran
3. Come On Eileen - Dexy's Midnight Runners
4. Golden Brown - The Stranglers
5. Torch - Soft Cell
6. View From A Bridge - Kim Wilde
7. Goody Two Shoes - Adam Ant
8. Is It A Dream - Classix Nouveaux
9. Centerfold - The J Geils Band
10. Lifeline - Spandau Ballet
11. Hymn - Ultravox
12. My Camera Never Lies - Bucks Fizz
13. Go Wild In The Country - Bow Wow Wow
14. Love Plus One - Haircut 100
15. Island Of Lost Souls - Blondie
16. It Ain't What You Do It's The Way That You Do It
- Fun Boy Three & Bananarama
17. Inside Out - Odyssey
18. No Regrets - Midge Ure
19. It Started With A Kiss - Hot Chocolate
20. Maneater - Daryl Hall And John Oates

1983
1. Is There Something I Should Know - Duran Duran
2. Karma Chameleon - Culture Club
3. Temptation - Heaven 17
4. We Came To Dance - Ultravox
5. Genetic Engineering - Orchestral Manoeuvres In The Dark
6. Our Lips Are Sealed - Fun Boy Three
7. Boxer Beat - Jo Boxers
8. We Are Detective - The Thompson Twins
9. Down Under - Men At Work
10. Africa - Toto
11. Total Eclipse Of The Heart - Bonnie Tyler
12. Too Shy - Kajagoogoo
13. Dancing Tight - Phil Fearon & Galaxy
14. It's Raining Men - The Weather Girls
15. The Sun Goes Down (Living It Up) - Level 42
16. Red Red Wine - UB40
17. Up Where We Belong - Joe Cocker & Jennifer Warnes
18. Wherever I Lay My Hat (That's My Home) - Paul Young
19. Long Hot Summer - The Style Council
20. True - Spandau Ballet

1984
1. Shout - Tears For Fears
2. Doctor Doctor - The Thompson Twins
3. It's A Miracle - Culture Club
4. The Reflex - Duran Duran
5. Only When You Leave - Spandau Ballet
6. You Spin Me Round (Like A Record) - Dead Or Alive
7. Hyperactive! - Thomas Dolby
8. Automatic - The Pointer Sisters
9. Searchin' (I Gotta Find A Man) - Hazell Dean
10. 99 Red Balloons - Nena
11. Girls Just Want To Have Fun - Cyndi Lauper
12. Shout To The Top - The Style Council
13. Wonderland - Big Country
14. It's My Life - Talk Talk
15. Wishful Thinking - China Crisis
16. Locomotion - Orchestral Manoeuvres In The Dark
17. Never Ending Story - Limahl
18. Dancing With Tears In My Eyes - Ultravox
19. Too Late For Goodbyes - Julian Lennon
20. All Cried Out - Alison Moyet
21. Hello - Lionel Richie

1985
1. The Power Of Love - Huey Lewis & The News
2. We Close Our Eyes - Go West
3. A View To A Kill - Duran Duran
4. 19 - Paul Hardcastle
5. Imagination - Belouis Some
6. Walking On Sunshine - Katrina & The Waves
7. White Wedding - Billy Idol
8. No Rest - New Model Army
9. Solid - Ashford & Simpson
10. Some Like It Hot - The Power Station
11. Tarzan Boy - Baltimora
12. The Whole Of The Moon - The Waterboys
13. Road To Nowhere - Talking Heads
14. Body Rock - Maria Vidal
15. Kayleigh - Marillion
16. We Don't Need Another Hero (Thunderdome) - Tina Turner
17. Do What You Do - Jermaine Jackson
18. Round And Around - Jaki Graham
19. That Ole Devil Called Love - Alison Moyet
20. Thinking Of You - The Colourfield

1986
1. The Final Countdown - Europe
2. Look Away - Big Country
3. French Kissin' In The USA - Deborah Harry
4. Walk This Way - Run DMC featuring Aerosmith
5. Sometimes - Erasure
6. Notorious - Duran Duran
7. Addicted To Love - Robert Palmer
8. We Don't Have To Take Our Clothes Off - Jermaine Stewart
9. Give Me The Reason - Luther Vandross
10. Showing Out (Get Fresh At The Weekend) - Mel & Kim
11. Lessons In Love - Level 42
12. System Addict - Five Star
13. Manic Monday - The Bangles
14. C'est La Vie - Robbie Nevil
15. Digging Your Scene - The Blow Monkeys
16. (I Just) Died In Your Arms - Cutting Crew
17. Because Of You - Kevin Rowland & Dexy's Midnight Runners
18. Caravan Of Love - The Housemartins
19. The Wizard - Paul Hardcastle

1987
1. Wishing Well - Terence Trent D'Arby
2. Never Gonna Give You Up - Rick Astley
3. When Smokey Sings - ABC
4. Victim Of Love - Erasure
5. Never Let Me Down Again - Depeche Mode
6. Mony Mony - Billy Idol
7. Heaven Is A Place On Earth - Belinda Carlisle
8. Never Take Me Alive - Spear Of Destiny
9. Hourglass - Squeeze
10. Living In A Box - Living In A Box
11. Shattered Dreams - Johnny Hates Jazz
12. The Slightest Touch - Five Star
13. Surrender - Swing Out Sister
14. Respectable - Mel & Kim
15. Some Guys Have All The Luck - Maxi Priest
16. Everything I Own - Boy George
17. I Really Didn't Mean It - Luther Vandross
18. Wonderful Life - Black
19. Luka - Suzanne Vega

1988
1. Don't Turn Around - Aswad
2. Theme From S-Express - S-Express
3. All She Wants Is - Duran Duran
4. Suedehead - Morrissey
5. The Harder I Try - Brother Beyond
6. All Fired Up - Pat Benatar
I7. Owe You Nothing - Bros
8. Push It - Salt 'N' Pepa
9. That's The Way It Is - Mel & Kim
10. 1 2 3 - Gloria Estefan
11. Mandinka - Sinéad O'Connor
12. Boys (Summertime Love) - Sabrina
13. Who's Leaving Who - Hazell Dean
14. Rush Hour - Jane Wiedlin
15. Hazy Shade Of Winter - The Bangles
16. Running All Over The World - Status Quo
17. This Is Me - Climie Fisher
18. She Makes My Day - Robert Palmer
19. Don't Worry Be Happy - Bobby McFerrin
20. I'm Gonna Be (500 Miles) - The Proclaimers

1989
1. Eternal Flame - The Bangles
2. Something's Gotten Hold Of My Heart - Marc Almond & Gene Pitney
3. Homely Girl - UB40
4. Right Here Waiting - Richard Marx
5. Looking For Linda - Hue And Cry
6. Room In Your Heart - Living In A Box
7. Toy Soldiers - Martika
8. Sowing The Seeds Of Love - Tears For Fears
9. Back To Life (However Do You Want Me)
- Soul II Soul Featuring Caron Wheeler
10. If Only I Could - Sydney Youngblood
11. Hangin' Tough - New Kids On The Block
12. Be My Twin - Brother Beyond
13. Too Much - Bros
14. Stand Up For Your Love Rights - Yazz
15. Nothing Has Been Proved - Dusty Springfield
16. I Don't Want A Lover - Texas
17. I Want That Man - Deborah Harry
18. I Drove All Night - Cyndi Lauper
19. The Last Of The Famous International Playboys - Morrissey

1990
1. Adamski Killer
2. Vanilla Ice Ice Ice Baby
3. M C Hammer U Can't Touch This
4. EMF Unbelievable
5. Jesus Jones Real Real Real
6. Morrissey November Spawned A Monster
7. Betty Boo Doin' The Do
8. Kim Appleby Don't Worry
9. Belinda Carlisle (We Want) The Same Thing
10 Robert Palmer Featuring UB40 Step By Step
12. Was (Not Was) Papa Was A Rollin' Stone
13. The Proclaimers King Of The Road
14. Maxi Priest Close To You
15. UB40 Kingston Town
16. Mantronix Got To Have Your Love
17. Wilson Phillips Hold On
18. Maria McKee Show Me Heaven
19. The Chimes I Still Haven't Found What I'm Looking For
20 Sinead O'Connor Nothing Compares 2. U

1991
1. James Sit Down
2. The Wonder Stuff Size Of A Cow
3. The Mock Turtles Can You Dig It?
4. Pop Will Eat Itself X, Y & Zee
5. Jesus Jones International Bright Young Thing
6. Living Colour Love Rears Its Ugly Head
7. Bassheads Is There Anybody Out There?
8. K-Klass Rhythm Is A Mystery
9. Orchestral Manoeuvres In The Dark Pandora's Box
10 Erasure Love To Hate You
11. New Kids On The Block Call It What You Want
12. Crystal Waters Gypsy Woman (She's Homeless)
13. Cher The Shoop Shoop Song (It's In His Kiss)
14. The Young Disciples Apparently Nothin'
15. C & C Music Factory Things That Make You Go Hmmmm…
16. Kenny Thomas Thinking About Your Love
17. Chesney Hawkes The One And Only
18. Rick Astley Cry For Help
19. Extreme More Than Words
20 Julian Lennon Saltwater

1992
1. Ce Ce Peniston Finally
2. Tasmin Archer Sleeping Satellite
3. Charles & Eddie Would I Lie To You?
4. Billy Ray Cyrus Achy Breaky Heart
5. Shabba Ranks Mr Loverman
6. Incognito Don't You Worry 'Bout A Thing
7. Electronic Disappointed
8. Go West Faithful
9. Morrissey We Hate It When Our Friends Become Successful
10 Sinéad O'Connor Success Has Made A Failure Of Our Home
11. Jon Secada Just Another Day
12. Freddie Jackson Me And Mrs Jones
13. Richard Marx Hazard
14. Wet Wet Wet Goodnight Girl
15. Inspiral Carpets Dragging Me Down
16. Thunder Low Life In High Places
17. Arrested Development People Everyday
18. Carter USM The Only Living Boy In New Cross
19. Hammer Do Not Pass Me By

1993
1. Tina Turner Disco Inferno
2. Kim Wilde If I Can't Have You
3. Eternal Stay
4. Arrested Development Mr Wendal
5. Shara Nelson Down That Road
6. Kenny Thomas Trippin' On Your Love
7. Dina Carroll Don't Be A Stranger
8. Shaggy Oh Carolina
9. UB40 (I Can't Help) Falling In Love With You
10 Tasmin Archer In Your Care
11. Duran Duran Ordinary World
12. Go West The Tracks Of My Tears
13. Bryan Ferry I Put A Spell On You
14. Ugly Kid Joe Cats In The Cradle
15. Thunder A Better Man
16. Deborah Harry I Can See Clearly
17. Belinda Carlisle Big Scary Animal
18. Runrig The Greatest Flame
19. Meat Loaf I'd Do Anything For Love (But I Won't Do That)

1994
1. Sheryl Crow All I Wanna Do
2. The Cranberries Linger
3. Gun Word Up
4. Terrorvision Oblivion
5. The Inspiral Carpets Saturn 5.
6. Shampoo Trouble
7. Juliet Roberts Caught In The Middle
8. M People Renaissance
9. Kylie Minogue Confide In Me
10 Erasure Always
11. C J Lewis Sweets For My Sweet
12. Pato Banton Baby Come Back
13. R Kelly She's Got That Vibe
14. Eternal Oh Baby I
15. Boyzone Love Me For A Reason
16. Wet Wet Wet Love Is All Around
17. Richard Marx Now And Forever
18. Meat Loaf Objects In The Rear View Mirror May Appear Closer Than They Are

1995
1. Meat Loaf I'd Lie For You (And That's The Truth)
2. Supergrass Alright
3. Tina Turner Goldeneye
4. M People Search For The Hero
5. Soul II Soul Love Enuff
6. Judy Cheeks Respect
7. Sean Maguire Suddenly
8. Dana Dawson 3. Is Family
9. Dubstar Stars
10 Eternal Power Of A Woman
11. Louise Light Of My Life
12. Boyzone So Good
13. TLC Waterfalls
14. Mica Paris One
15. Wet Wet Wet Julia Says
16. Robson & Jerome Unchained Melody
17. UB40 Until My Dying Day
18. Shaggy Boombastic

1996
1. Boyzone Words
2. Eternal Good Thing
3. Louise Naked
4. Belinda Carlisle In Too Deep
5. 911. Don't Make Me Wait
6. Dodgy Good Enough
7. Babylon Zoo Spaceman
8. Neneh Cherry Woman
9. Sean Maguire Good Day
10 Gabrielle Give Me A Little More Time
11. Shampoo Girl Power
12. Lighthouse Family Lifted
13. Orchestral Manoeuvres In The Dark Walking On The Milky Way
14. Pato Banton Groovin'
15. Maxi Priest That Girl
16. Shaggy Why You Treat Me So Bad
17. Supergrass Going Out
18. Meat Loaf Not A Dry Eye In The House

1997
1. Boyzone Picture Of You
2. Eternal I Wanna Be The Only One
3. Louise Arms Around The World
4. Kavana I Can Make You Feel Good
5. Five Slam Dunk (Da Funk)
6. 911. Bodyshakin'
7. Hanson MMMBop
8. White Town Your Woman
9. Depeche Mode Barrel Of A Gun
10 No Mercy Please Don't Go
11. Olive You're Not Alone
12. DJ Quicksilver Bellissima
13. Faithless Reverence
14. Shaggy Featuring Marsha Piece Of My Heart
15. Chumbawamba Tubthumping
16. Meredith Brooks Bitch
17. Kula Shaker Hush
18. Supergrass Richard III

1998
1. Paul Weller Brand New Start
2. Pulp This Is Hardcore
3. Shed Seven She Left Me On Friday
4. The Dandy Warhols Not If You Were The Last Junkie On Earth
5. Placebo Pure Morning
6. Bran Van 3000 Drinking In L.A.
7. Air Sexy Boy
8. Tin Tin Out Featuring Shelley Nelson Here's Where The Story Ends
9. Bamboo Bamboogie
10 The Tamperer Featuring Maya Feel It
11. Aqua Doctor Jones
12. Billie Because We Want To
13. B*Witched C'est La Vie
14. Steps Heartbeat
15. Five Everybody Get Up
16. Louise All That Matters
17. Des'ree Life
18. Lighthouse Family High
19. UB40 Come Back Darling
20 Boyzone No Matter What

1999
1. Boyzone When The Going Gets Tough
2. Backstreet Boys I Want It That Way
3. Five Keep On Movin'
4. Steps Love's Got A Hold On My Heart
5. Atomic Kitten Right Now
6. B*Witched Blame It On The Weatherman
7. Billie Honey To The Bee
8. 911. A Little Bit More
9. Martine McCutcheon Perfect Moment
10 TLC No Scrubs
11. Precious Say It Again
12. Melanie C Northern Star
13. Cast Beat Mama
14. The Cranberries Promises
15. Placebo Every You Every Me
16. Supergrass Moving
17. Shanks & Bigfoot Sweet Like Chocolate
18. Cartoons Witch Doctor

2000
1. Coldplay - Yellow
02 Toploader - Dancing In The Moonlight
03 Ronan Keating - Life Is A Rollercoaster
04 Melanie C - Never Be The Same Again
05 Jamelia Featuring Beenie Man - Money
06 Daft Punk - One More Time
07 Sonique - It Feels So Good
08 Melanie B - Tell Me
09 Billie Piper - Day And Night
10 Scooch - More Than I Needed To Know
11 Steps - Stomp
12 Atomic Kitten - See Ya
13. A1 - Take On Me
14. Lene Marlin - Sitting Down Here
15. Louise - 2 Faced
16. Martine McCutcheon - I'm Over You
17. Damage - Ghetto Romance
18. Precious - Rewind
19. Aurora - Ordinary World

2001
1. Atomic Kitten - Whole Again
02 Steps - One For Sorrow
03 Five - Let's Dance
04 Louise - Stuck In The Middle With You
05 Melanie B - Feels So Good
06 Martine McCutcheon - On The Radio
07 Sophie Ellis-Bextor - Murder On The Dancefloor
08 Planet Funk - Chase The Sun
09 Damage - Still Be Lovin' You
10 Blue - All Rise
11 Hear'Say - The Way To Your Love
12 Ronan Keating - Lovin' Each Day
13 Lighthouse Family - (I Wish I Knew How It Would Feel To Be) Free/One
14 Fun Lovin' Criminals - Loco
15 Alien Ant Farm - Smooth Criminal
16 The Dandy Warhols - Bohemian Like You
17 Depeche Mode - Dream On
18 Starsailor - Alcoholic
19 Embrace - Wonder
20 Turin Brakes - Mind Over Money

2002
1. Coldplay In My Place
2. Doves There Goes The Fear
3. Turin Brakes Long Distance
4. Starsailor Poor Misguided Fool
5. Idlewild You Held The World In Your Arms
6. Athlete You Got The Style
7. Supergrass Grace
8. The Music Take The Long Road And Walk It
9. The Vines Outtathaway
10 N.E.R.D. Rock Star
11. Lasgo Something
12. Moby We Are All Made Of Stars
13. Busted What I Go To School For
14. Blue Fly By II
15. Ronan Keating If Tomorrow Never Comes
16. Atomic Kitten The Tide Is High (Get The Feeling)
17. Beverley Knight Shoulda Woulda Coulda
18. Ms Dynamite Dy-Na-Mi-Tee

2003
1. Mark Owen Four Minute Warning
2. Jamelia Superstar
3. Atomic Kitten Love Doesn't Have To Hurt
4. Melanie C Here It Comes Again
5. Blue U Make Me Wanna
6. Busted Crashed The Wedding
7. Javine Real Things
8. Ronan Keating The Long Goodbye
9. Erasure Solsbury Hill
10 Goldfrapp Strict Machine
11. The Thrills Big Sur
12. Turin Brakes Painkiller
13. The Dandy Warhols We Used To Be Friends
14. Starsailor Silence Is Easy
15. Black Rebel Motorcycle Club Stop
16. Placebo The Bitter End
17. Supergrass Seen The Light
18. Audio Bullys The Things
19. Blink 182. Feeling This

2004
1. Joss Stone Super Duper Love
2. Jamelia See It In A Boy's Eyes
3. Beverley Knight Come As You Are
4. Jay Sean Stolen
5. Beenie Man King Of The Dancehall
6. Javine Don't Walk Away
7. Lasgo Surrender
8. DJ Casper Cha Cha Slide
9. Atomic Kitten Someone Like Me
10 Stacie Orrico I Promise
11. Blue Breathe Easy
12. Ronan Keating Featuring Yusuf Islam Father And Son
13. The Thrills Whatever Happened To Corey Haim?
14. Graham Coxon Freakin' Out
15. Supergrass Kiss Of Life
16. Starsailor Four To The Floor
17. Fountains Of Wayne Stacy's Mom
18. Busted Thunderbirds Are Go

2005
1. Coldplay Speed Of Sound
2. The Magic Numbers Love Me Like You
3. Supergrass St. Petersburg
4. Starsailor In The Crossfire
5. Doves Black And White Town
6. Athlete Wires
7. KT Tunstall Suddenly I See
8. Idlewild Love Steals Us From Loneliness
9. Joss Stone Don't Cha Wanna Ride
10 Beverley Knight Keep This Fire Burning
11. Simon Webbe No Worries
12. Erasure Breathe
13. Moby Lift Me Up
14. The Shapeshifters Back To Basics
15. Faith Evans Again
16. Deep Dish Say Hello
17. LCD Soundsystem Daft Punk Is Playing At My House
18. Goldfrapp Ooh La La
19. Sigur Ros Hoppipolla

2006
1. Lily Allen Smile
2. Corinne Bailey Rae Put Your Records On
3. Goldfrapp Ride A White Horse
4. KT Tunstall Another Place To Fall
5. Franz Ferdinand The Fallen
6. Placebo Because I Want You
7. Feeder Lost & Found
8. Graham Coxon Standing On My Own Again
9. The Magic Numbers I See You, You See Me
10 Beth Orton Conceived
11. Breaks Co-op The Otherside
12. Beverley Knight Piece Of My Heart
13. Simon Webbe Coming Around Again
14. Duncan James Sooner Or Later
15. Jamelia Something About You
16. Hi_Tack Say Say Say (Waiting 4. U)
17. All Saints Rock Steady
18. The Source Featuring Candi Staton You Got The Love
X Lossless Decoder version 20090829 (109.6)

XLD extraction logfile from 2009-09-22 12:43:10 +0100

Various Artists / TOTP-1964

Used drive : HL-DT-ST DVDRAM GP08LU10 (revision KE01)

Use cdparanoia mode : YES (CDParanoia III 10.2 engine)
Disable audio cache : OK for the drive with cache less than 2750KB
Make use of C2 pointers : NO
Read offset correction : 667
Max retry count : 100

TOC of the extracted CD
Track | Start | Length | Start sector | End sector
––––––––––––––––––––––––––––-
1 | 00:00:00 | 04:29:60 | 0 | 20234
2 | 04:29:60 | 02:32:29 | 20235 | 31663
3 | 07:02:14 | 02:44:14 | 31664 | 43977
4 | 09:46:28 | 02:12:52 | 43978 | 53929
5 | 11:59:05 | 02:57:35 | 53930 | 67239
6 | 14:56:40 | 02:30:57 | 67240 | 78546
7 | 17:27:22 | 02:22:54 | 78547 | 89250
8 | 19:50:01 | 02:25:57 | 89251 | 100182
9 | 22:15:58 | 02:16:26 | 100183 | 110408
10 | 24:32:09 | 02:04:70 | 110409 | 119778
11 | 26:37:04 | 02:52:56 | 119779 | 132734
12 | 29:29:60 | 02:45:47 | 132735 | 145156
13 | 32:15:32 | 02:28:53 | 145157 | 156309
14 | 34:44:10 | 02:45:25 | 156310 | 168709
15 | 37:29:35 | 02:14:06 | 168710 | 178765
16 | 39:43:41 | 03:00:44 | 178766 | 192309
17 | 42:44:10 | 03:09:06 | 192310 | 206490
18 | 45:53:16 | 02:20:33 | 206491 | 217023
19 | 48:13:49 | 02:30:68 | 217024 | 228341
20 | 50:44:42 | 02:45:20 | 228342 | 240736
21 | 53:29:62 | 02:30:59 | 240737 | 252045
22 | 56:00:46 | 02:57:25 | 252046 | 265345
23 | 58:57:71 | 02:48:54 | 265346 | 277999
24 | 61:46:50 | 02:40:07 | 278000 | 290006
25 | 64:26:57 | 02:17:38 | 290007 | 300319
26 | 66:44:20 | 02:32:28 | 300320 | 311747

All Tracks
Album gain : -6.48 dB
Peak : 1.000000

Track 01
Filename : /Users/Fiddy/Music/New Rips/Top Of The Pops 1964-2006 [43CDs] [2280872] (FLAC)/TOTP-1964-01 The Animals - The House Of The Rising Sun.flac

Track gain : -6.60 dB
Peak : 0.802643
CRC32 hash (test run) : 8B2DBD04
CRC32 hash : 8B2DBD04
CRC32 hash (skip zero) : 6E2584C4
AccurateRip signature : 8FBB80F9
->Track not present in AccurateRip database.
Statistics
Read error : 0
Skipped (treated as error) : 0
Edge jitter error (maybe fixed) : 0
Atom jitter error (maybe fixed) : 0
Drift error (maybe fixed) : 0
Dropped bytes error (maybe fixed) : 0
Duplicated bytes error (maybe fixed) : 0
Inconsistency in error sectors : 0

Track 02
Filename : /Users/Fiddy/Music/New Rips/Top Of The Pops 1964-2006 [43CDs] [2280872] (FLAC)/TOTP-1964-02 Herman's Hermits - I'm Into Something Good.flac

Track gain : -7.35 dB
Peak : 1.000000
CRC32 hash (test run) : 785A24F6
CRC32 hash : 785A24F6
CRC32 hash (skip zero) : CE43CE4C
AccurateRip signature : 01933D1B
->Track not present in AccurateRip database.
Statistics
Read error : 0
Skipped (treated as error) : 0
Edge jitter error (maybe fixed) : 0
Atom jitter error (maybe fixed) : 0
Drift error (maybe fixed) : 0
Dropped bytes error (maybe fixed) : 0
Duplicated bytes error (maybe fixed) : 0
Inconsistency in error sectors : 0

Track 03
Filename : /Users/Fiddy/Music/New Rips/Top Of The Pops 1964-2006 [43CDs] [2280872] (FLAC)/TOTP-1964-03 Sandie Shaw - (There's) Always Something There To Remind Me.flac

Track gain : -6.33 dB
Peak : 0.988159
CRC32 hash (test run) : 9422D19B
CRC32 hash : 9422D19B
CRC32 hash (skip zero) : 740156F6
AccurateRip signature : 6CAC3FE6
->Track not present in AccurateRip database.
Statistics
Read error : 0
Skipped (treated as error) : 0
Edge jitter error (maybe fixed) : 0
Atom jitter error (maybe fixed) : 0
Drift error (maybe fixed) : 0
Dropped bytes error (maybe fixed) : 0
Duplicated bytes error (maybe fixed) : 0
Inconsistency in error sectors : 0

Track 04
Filename : /Users/Fiddy/Music/New Rips/Top Of The Pops 1964-2006 [43CDs] [2280872] (FLAC)/TOTP-1964-04 The Beach Boys - I Get Around.flac

Track gain : -6.04 dB
Peak : 0.929199
CRC32 hash (test run) : 07F60896
CRC32 hash : 07F60896
CRC32 hash (skip zero) : 8D7B6B70
AccurateRip signature : 51B8268D
->Track not present in AccurateRip database.
Statistics
Read error : 0
Skipped (treated as error) : 0
Edge jitter error (maybe fixed) : 0
Atom jitter error (maybe fixed) : 0
Drift error (maybe fixed) : 0
Dropped bytes error (maybe fixed) : 0
Duplicated bytes error (maybe fixed) : 0
Inconsistency in error sectors : 0

Track 05
Filename : /Users/Fiddy/Music/New Rips/Top Of The Pops 1964-2006 [43CDs] [2280872] (FLAC)/TOTP-1964-05 Roy Orbison - Oh, Pretty Woman.flac

Track gain : -6.37 dB
Peak : 0.998901
CRC32 hash (test run) : CE79F8A6
CRC32 hash : CE79F8A6
CRC32 hash (skip zero) : 7F369355
AccurateRip signature : 9182DBAC
->Track not present in AccurateRip database.
Statistics
Read error : 0
Skipped (treated as error) : 0
Edge jitter error (maybe fixed) : 0
Atom jitter error (maybe fixed) : 0
Drift error (maybe fixed) : 0
Dropped bytes error (maybe fixed) : 0
Duplicated bytes error (maybe fixed) : 0
Inconsistency in error sectors : 0

Track 06
Filename : /Users/Fiddy/Music/New Rips/Top Of The Pops 1964-2006 [43CDs] [2280872] (FLAC)/TOTP-1964-06 The Hollies - Just One Look.flac

Track gain : -7.86 dB
Peak : 0.785278
CRC32 hash (test run) : 6BA5B760
CRC32 hash : 6BA5B760
CRC32 hash (skip zero) : 6208BF72
AccurateRip signature : F7E3D54A
->Track not present in AccurateRip database.
Statistics
Read error : 0
Skipped (treated as error) : 0
Edge jitter error (maybe fixed) : 0
Atom jitter error (maybe fixed) : 0
Drift error (maybe fixed) : 0
Dropped bytes error (maybe fixed) : 0
Duplicated bytes error (maybe fixed) : 0
Inconsistency in error sectors : 0

Track 07
Filename : /Users/Fiddy/Music/New Rips/Top Of The Pops 1964-2006 [43CDs] [2280872] (FLAC)/TOTP-1964-07 Manfred Mann - Do Wah Diddy Diddy.flac

Track gain : -6.84 dB
Peak : 0.803528
CRC32 hash (test run) : CD5B2301
CRC32 hash : CD5B2301
CRC32 hash (skip zero) : 162D3AE4
AccurateRip signature : 61060201
->Track not present in AccurateRip database.
Statistics
Read error : 0
Skipped (treated as error) : 0
Edge jitter error (maybe fixed) : 0
Atom jitter error (maybe fixed) : 0
Drift error (maybe fixed) : 0
Dropped bytes error (maybe fixed) : 0
Duplicated bytes error (maybe fixed) : 0
Inconsistency in error sectors : 0

Track 08
Filename : /Users/Fiddy/Music/New Rips/Top Of The Pops 1964-2006 [43CDs] [2280872] (FLAC)/TOTP-1964-08 The Nashville Teens - Tobacco Road.flac

Track gain : -7.28 dB
Peak : 0.825409
CRC32 hash (test run) : BA6CE4AD
CRC32 hash : BA6CE4AD
CRC32 hash (skip zero) : 62392152
AccurateRip signature : EFD3F851
->Track not present in AccurateRip database.
Statistics
Read error : 0
Skipped (treated as error) : 0
Edge jitter error (maybe fixed) : 0
Atom jitter error (maybe fixed) : 0
Drift error (maybe fixed) : 0
Dropped bytes error (maybe fixed) : 0
Duplicated bytes error (maybe fixed) : 0
Inconsistency in error sectors : 0

Track 09
Filename : /Users/Fiddy/Music/New Rips/Top Of The Pops 1964-2006 [43CDs] [2280872] (FLAC)/TOTP-1964-09 The Swinging Blue Jeans - You're No Good.flac

Track gain : -4.55 dB
Peak : 0.920471
CRC32 hash (test run) : F3B1525A
CRC32 hash : F3B1525A
CRC32 hash (skip zero) : A280FBAB
AccurateRip signature : 2B380B47
->Track not present in AccurateRip database.
Statistics
Read error : 0
Skipped (treated as error) : 0
Edge jitter error (maybe fixed) : 0
Atom jitter error (maybe fixed) : 0
Drift error (maybe fixed) : 0
Dropped bytes error (maybe fixed) : 0
Duplicated bytes error (maybe fixed) : 0
Inconsistency in error sectors : 0

Track 10
Filename : /Users/Fiddy/Music/New Rips/Top Of The Pops 1964-2006 [43CDs] [2280872] (FLAC)/TOTP-1964-10 The Paramounts - Poison Ivy.flac

Track gain : -6.96 dB
Peak : 0.544556
CRC32 hash (test run) : 6553FB8D
CRC32 hash : 6553FB8D
CRC32 hash (skip zero) : 9D2723CB
AccurateRip signature : 1C0853CB
->Track not present in AccurateRip database.
Statistics
Read error : 0
Skipped (treated as error) : 0
Edge jitter error (maybe fixed) : 0
Atom jitter error (maybe fixed) : 0
Drift error (maybe fixed) : 0
Dropped bytes error (maybe fixed) : 0
Duplicated bytes error (maybe fixed) : 0
Inconsistency in error sectors : 0

Track 11
Filename : /Users/Fiddy/Music/New Rips/Top Of The Pops 1964-2006 [43CDs] [2280872] (FLAC)/TOTP-1964-11 Lulu & The Luvvers - Shout.flac

Track gain : -6.85 dB
Peak : 0.985168
CRC32 hash (test run) : DEC98B75
CRC32 hash : DEC98B75
CRC32 hash (skip zero) : 6D77C063
AccurateRip signature : 6A7F2C24
->Track not present in AccurateRip database.
Statistics
Read error : 0
Skipped (treated as error) : 0
Edge jitter error (maybe fixed) : 0
Atom jitter error (maybe fixed) : 0
Drift error (maybe fixed) : 0
Dropped bytes error (maybe fixed) : 0
Duplicated bytes error (maybe fixed) : 0
Inconsistency in error sectors : 0

Track 12
Filename : /Users/Fiddy/Music/New Rips/Top Of The Pops 1964-2006 [43CDs] [2280872] (FLAC)/TOTP-1964-12 Georgie Fame & The Blue Flames - Yeh Yeh.flac

Track gain : -5.25 dB
Peak : 0.751465
CRC32 hash (test run) : E24D1486
CRC32 hash : E24D1486
CRC32 hash (skip zero) : 0EE7AD20
AccurateRip signature : 0481734B
->Track not present in AccurateRip database.
Statistics
Read error : 0
Skipped (treated as error) : 0
Edge jitter error (maybe fixed) : 0
Atom jitter error (maybe fixed) : 0
Drift error (maybe fixed) : 0
Dropped bytes error (maybe fixed) : 0
Duplicated bytes error (maybe fixed) : 0
Inconsistency in error sectors : 0

Track 13
Filename : /Users/Fiddy/Music/New Rips/Top Of The Pops 1964-2006 [43CDs] [2280872] (FLAC)/TOTP-1964-13 Billy Fury - It's Only Make Believe.flac

Track gain : -5.53 dB
Peak : 0.954834
CRC32 hash (test run) : 5F531648
CRC32 hash : 5F531648
CRC32 hash (skip zero) : D9AE0055
AccurateRip signature : E6B81263
->Track not present in AccurateRip database.
Statistics
Read error : 0
Skipped (treated as error) : 0
Edge jitter error (maybe fixed) : 0
Atom jitter error (maybe fixed) : 0
Drift error (maybe fixed) : 0
Dropped bytes error (maybe fixed) : 0
Duplicated bytes error (maybe fixed) : 0
Inconsistency in error sectors : 0

Track 14
Filename : /Users/Fiddy/Music/New Rips/Top Of The Pops 1964-2006 [43CDs] [2280872] (FLAC)/TOTP-1964-14 The Shadows - The Rise & Fall Of Flingle Blunt.flac

Track gain : -3.74 dB
Peak : 0.751770
CRC32 hash (test run) : 3A216773
CRC32 hash : 3A216773
CRC32 hash (skip zero) : 56F8C307
AccurateRip signature : 78E09D91
->Track not present in AccurateRip database.
Statistics
Read error : 0
Skipped (treated as error) : 0
Edge jitter error (maybe fixed) : 0
Atom jitter error (maybe fixed) : 0
Drift error (maybe fixed) : 0
Dropped bytes error (maybe fixed) : 0
Duplicated bytes error (maybe fixed) : 0
Inconsistency in error sectors : 0

Track 15
Filename : /Users/Fiddy/Music/New Rips/Top Of The Pops 1964-2006 [43CDs] [2280872] (FLAC)/TOTP-1964-15 Frank Ifield - Don't Blame Me.flac

Track gain : -6.14 dB
Peak : 0.936340
CRC32 hash (test run) : 6A0482CF
CRC32 hash : 6A0482CF
CRC32 hash (skip zero) : BE340414
AccurateRip signature : F9EBDC9A
->Track not present in AccurateRip database.
Statistics
Read error : 0
Skipped (treated as error) : 0
Edge jitter error (maybe fixed) : 0
Atom jitter error (maybe fixed) : 0
Drift error (maybe fixed) : 0
Dropped bytes error (maybe fixed) : 0
Duplicated bytes error (maybe fixed) : 0
Inconsistency in error sectors : 0

Track 16
Filename : /Users/Fiddy/Music/New Rips/Top Of The Pops 1964-2006 [43CDs] [2280872] (FLAC)/TOTP-1964-16 Dusty Springfield - I Just Don't Know What To Do With Myself.flac

Track gain : -7.12 dB
Peak : 0.696716
CRC32 hash (test run) : FEA0D153
CRC32 hash : FEA0D153
CRC32 hash (skip zero) : E1124E9A
AccurateRip signature : DB795C85
->Track not present in AccurateRip database.
Statistics
Read error : 0
Skipped (treated as error) : 0
Edge jitter error (maybe fixed) : 0
Atom jitter error (maybe fixed) : 0
Drift error (maybe fixed) : 0
Dropped bytes error (maybe fixed) : 0
Duplicated bytes error (maybe fixed) : 0
Inconsistency in error sectors : 0

Track 17
Filename : /Users/Fiddy/Music/New Rips/Top Of The Pops 1964-2006 [43CDs] [2280872] (FLAC)/TOTP-1964-17 Adam Faith - A Message To Martha (Kentucky Bluebird).flac

Track gain : -4.86 dB
Peak : 0.777893
CRC32 hash (test run) : 36D8B6DF
CRC32 hash : 36D8B6DF
CRC32 hash (skip zero) : A6487AC9
AccurateRip signature : A02005CE
->Track not present in AccurateRip database.
Statistics
Read error : 0
Skipped (treated as error) : 0
Edge jitter error (maybe fixed) : 0
Atom jitter error (maybe fixed) : 0
Drift error (maybe fixed) : 0
Dropped bytes error (maybe fixed) : 0
Duplicated bytes error (maybe fixed) : 0
Inconsistency in error sectors : 0

Track 18
Filename : /Users/Fiddy/Music/New Rips/Top Of The Pops 1964-2006 [43CDs] [2280872] (FLAC)/TOTP-1964-18 Cliff Bennett & The Rebel Rousers - One Way Love.flac

Track gain : -6.03 dB
Peak : 0.772522
CRC32 hash (test run) : 26B4E048
CRC32 hash : 26B4E048
CRC32 hash (skip zero) : A19A5FDD
AccurateRip signature : 1C043838
->Track not present in AccurateRip database.
Statistics
Read error : 0
Skipped (treated as error) : 0
Edge jitter error (maybe fixed) : 0
Atom jitter error (maybe fixed) : 0
Drift error (maybe fixed) : 0
Dropped bytes error (maybe fixed) : 0
Duplicated bytes error (maybe fixed) : 0
Inconsistency in error sectors : 0

Track 19
Filename : /Users/Fiddy/Music/New Rips/Top Of The Pops 1964-2006 [43CDs] [2280872] (FLAC)/TOTP-1964-19 Diana Ross & The Supremes - Where Did Your Love Go.flac

Track gain : -5.96 dB
Peak : 0.790375
CRC32 hash (test run) : A4088639
CRC32 hash : A4088639
CRC32 hash (skip zero) : 4376B5BD
AccurateRip signature : F2438300
->Track not present in AccurateRip database.
Statistics
Read error : 0
Skipped (treated as error) : 0
Edge jitter error (maybe fixed) : 1
Atom jitter error (maybe fixed) : 1
Drift error (maybe fixed) : 0
Dropped bytes error (maybe fixed) : 0
Duplicated bytes error (maybe fixed) : 0
Inconsistency in error sectors : 0

Track 20
Filename : /Users/Fiddy/Music/New Rips/Top Of The Pops 1964-2006 [43CDs] [2280872] (FLAC)/TOTP-1964-20 The Dixie Cups - Chapel Of Love.flac

Track gain : -5.37 dB
Peak : 1.000000
CRC32 hash (test run) : 01EC8A4F
CRC32 hash : 01EC8A4F
CRC32 hash (skip zero) : 6B5E2786
AccurateRip signature : CD4144DF
->Track not present in AccurateRip database.
Statistics
Read error : 0
Skipped (treated as error) : 0
Edge jitter error (maybe fixed) : 0
Atom jitter error (maybe fixed) : 0
Drift error (maybe fixed) : 0
Dropped bytes error (maybe fixed) : 0
Duplicated bytes error (maybe fixed) : 0
Inconsistency in error sectors : 0

Track 21
Filename : /Users/Fiddy/Music/New Rips/Top Of The Pops 1964-2006 [43CDs] [2280872] (FLAC)/TOTP-1964-21 The Bachelors - Diane.flac

Track gain : -6.07 dB
Peak : 0.757996
CRC32 hash (test run) : 77B878A1
CRC32 hash : 77B878A1
CRC32 hash (skip zero) : BA4B1925
AccurateRip signature : A8F0972E
->Track not present in AccurateRip database.
Statistics
Read error : 0
Skipped (treated as error) : 0
Edge jitter error (maybe fixed) : 0
Atom jitter error (maybe fixed) : 0
Drift error (maybe fixed) : 0
Dropped bytes error (maybe fixed) : 0
Duplicated bytes error (maybe fixed) : 0
Inconsistency in error sectors : 0

Track 22
Filename : /Users/Fiddy/Music/New Rips/Top Of The Pops 1964-2006 [43CDs] [2280872] (FLAC)/TOTP-1964-22 Cilla Black - You're My World.flac

Track gain : -7.91 dB
Peak : 0.822754
CRC32 hash (test run) : EEF41B96
CRC32 hash : EEF41B96
CRC32 hash (skip zero) : 24DCD3A4
AccurateRip signature : 9633DFF3
->Track not present in AccurateRip database.
Statistics
Read error : 0
Skipped (treated as error) : 0
Edge jitter error (maybe fixed) : 0
Atom jitter error (maybe fixed) : 0
Drift error (maybe fixed) : 0
Dropped bytes error (maybe fixed) : 0
Duplicated bytes error (maybe fixed) : 0
Inconsistency in error sectors : 0

Track 23
Filename : /Users/Fiddy/Music/New Rips/Top Of The Pops 1964-2006 [43CDs] [2280872] (FLAC)/TOTP-1964-23 Shirley Bassey - Goldfinger.flac

Track gain : -5.91 dB
Peak : 0.744507
CRC32 hash (test run) : 57FF89A4
CRC32 hash : 57FF89A4
CRC32 hash (skip zero) : B9D210A1
AccurateRip signature : 751D5E02
->Track not present in AccurateRip database.
Statistics
Read error : 0
Skipped (treated as error) : 0
Edge jitter error (maybe fixed) : 0
Atom jitter error (maybe fixed) : 0
Drift error (maybe fixed) : 0
Dropped bytes error (maybe fixed) : 0
Duplicated bytes error (maybe fixed) : 0
Inconsistency in error sectors : 0

Track 24
Filename : /Users/Fiddy/Music/New Rips/Top Of The Pops 1964-2006 [43CDs] [2280872] (FLAC)/TOTP-1964-24 Peter & Gordon - A World Without Love.flac

Track gain : -5.30 dB
Peak : 0.881073
CRC32 hash (test run) : 5AD19316
CRC32 hash : 5AD19316
CRC32 hash (skip zero) : 327680EF
AccurateRip signature : 443D460D
->Track not present in AccurateRip database.
Statistics
Read error : 0
Skipped (treated as error) : 0
Edge jitter error (maybe fixed) : 0
Atom jitter error (maybe fixed) : 0
Drift error (maybe fixed) : 0
Dropped bytes error (maybe fixed) : 0
Duplicated bytes error (maybe fixed) : 0
Inconsistency in error sectors : 0

Track 25
Filename : /Users/Fiddy/Music/New Rips/Top Of The Pops 1964-2006 [43CDs] [2280872] (FLAC)/TOTP-1964-25 Gerry & The Pacemakers - I'm The One.flac

Track gain : -3.72 dB
Peak : 1.000000
CRC32 hash (test run) : 3E5B343B
CRC32 hash : 3E5B343B
CRC32 hash (skip zero) : E42A0667
AccurateRip signature : 651CA8FB
->Track not present in AccurateRip database.
Statistics
Read error : 0
Skipped (treated as error) : 0
Edge jitter error (maybe fixed) : 0
Atom jitter error (maybe fixed) : 0
Drift error (maybe fixed) : 0
Dropped bytes error (maybe fixed) : 0
Duplicated bytes error (maybe fixed) : 0
Inconsistency in error sectors : 0

Track 26
Filename : /Users/Fiddy/Music/New Rips/Top Of The Pops 1964-2006 [43CDs] [2280872] (FLAC)/TOTP-1964-26 Freddie & The Dreamers - I Understand.flac

Track gain : -4.97 dB
Peak : 0.742889
CRC32 hash (test run) : 4831FD23
CRC32 hash : 4831FD23
CRC32 hash (skip zero) : 83EFC8FB
AccurateRip signature : 747AA813
->Track not present in AccurateRip database.
Statistics
Read error : 0
Skipped (treated as error) : 0
Edge jitter error (maybe fixed) : 0
Atom jitter error (maybe fixed) : 0
Drift error (maybe fixed) : 0
Dropped bytes error (maybe fixed) : 0
Duplicated bytes error (maybe fixed) : 0
Inconsistency in error sectors : 0

No errors occurred

End of status report

====================================

X Lossless Decoder version 20090829 (109.6)

XLD extraction logfile from 2009-09-22 13:16:18 +0100

Various Artists / TOTP-1965

Used drive : HL-DT-ST DVDRAM GP08LU10 (revision KE01)

Use cdparanoia mode : YES (CDParanoia III 10.2 engine)
Disable audio cache : OK for the drive with cache less than 2750KB
Make use of C2 pointers : NO
Read offset correction : 667
Max retry count : 100

TOC of the extracted CD
Track | Start | Length | Start sector | End sector
––––––––––––––––––––––––––––-
1 | 00:00:00 | 02:03:35 | 0 | 9259
2 | 02:03:35 | 02:25:50 | 9260 | 20184
3 | 04:29:10 | 01:55:56 | 20185 | 28865
4 | 06:24:66 | 02:27:57 | 28866 | 39947
5 | 08:52:48 | 03:10:28 | 39948 | 54225
6 | 12:03:01 | 02:29:29 | 54226 | 65429
7 | 14:32:30 | 02:50:24 | 65430 | 78203
8 | 17:22:54 | 02:39:46 | 78204 | 90174
9 | 20:02:25 | 02:39:21 | 90175 | 102120
10 | 22:41:46 | 02:32:26 | 102121 | 113546
11 | 25:13:72 | 03:53:62 | 113547 | 131083
12 | 29:07:59 | 02:30:14 | 131084 | 142347
13 | 31:37:73 | 02:59:16 | 142348 | 155788
14 | 34:37:14 | 03:07:11 | 155789 | 169824
15 | 37:44:25 | 02:11:15 | 169825 | 179664
16 | 39:55:40 | 03:37:27 | 179665 | 195966
17 | 43:32:67 | 02:52:41 | 195967 | 208907
18 | 46:25:33 | 02:43:02 | 208908 | 221134
19 | 49:08:35 | 02:25:27 | 221135 | 232036
20 | 51:33:62 | 02:48:57 | 232037 | 244693
21 | 54:22:44 | 02:49:55 | 244694 | 257423
22 | 57:12:24 | 02:39:24 | 257424 | 269372
23 | 59:51:48 | 03:43:25 | 269373 | 286122
24 | 63:34:73 | 02:47:19 | 286123 | 298666
25 | 66:22:17 | 03:00:53 | 298667 | 312219

All Tracks
Album gain : -7.00 dB
Peak : 1.000000

Track 01
Filename : /Users/Fiddy/Music/New Rips/Top Of The Pops 1964-2006 [43CDs] [2280872] (FLAC)/TOTP-1965-01 Tom Jones - It's Not Unusual.flac

Track gain : -6.52 dB
Peak : 0.944061
CRC32 hash (test run) : 9FF0A442
CRC32 hash : 9FF0A442
CRC32 hash (skip zero) : B5139187
AccurateRip signature : 89E81EE1
->Track not present in AccurateRip database.
Statistics
Read error : 0
Skipped (treated as error) : 0
Edge jitter error (maybe fixed) : 0
Atom jitter error (maybe fixed) : 0
Drift error (maybe fixed) : 0
Dropped bytes error (maybe fixed) : 0
Duplicated bytes error (maybe fixed) : 0
Inconsistency in error sectors : 0

Track 02
Filename : /Users/Fiddy/Music/New Rips/Top Of The Pops 1964-2006 [43CDs] [2280872] (FLAC)/TOTP-1965-02 The Hollies - I'm Alive.flac

Track gain : -8.34 dB
Peak : 0.921539
CRC32 hash (test run) : A0A3724F
CRC32 hash : A0A3724F
CRC32 hash (skip zero) : F3F4ABCE
AccurateRip signature : 28E7D5E7
->Track not present in AccurateRip database.
Statistics
Read error : 0
Skipped (treated as error) : 0
Edge jitter error (maybe fixed) : 0
Atom jitter error (maybe fixed) : 0
Drift error (maybe fixed) : 0
Dropped bytes error (maybe fixed) : 0
Duplicated bytes error (maybe fixed) : 0
Inconsistency in error sectors : 0

Track 03
Filename : /Users/Fiddy/Music/New Rips/Top Of The Pops 1964-2006 [43CDs] [2280872] (FLAC)/TOTP-1965-03 Hermans Hermits - A Must To Avoid.flac

Track gain : -5.84 dB
Peak : 0.925079
CRC32 hash (test run) : A991293F
CRC32 hash : A991293F
CRC32 hash (skip zero) : F38D88EF
AccurateRip signature : 6CA0B7CF
->Track not present in AccurateRip database.
Statistics
Read error : 0
Skipped (treated as error) : 0
Edge jitter error (maybe fixed) : 0
Atom jitter error (maybe fixed) : 0
Drift error (maybe fixed) : 0
Dropped bytes error (maybe fixed) : 0
Duplicated bytes error (maybe fixed) : 0
Inconsistency in error sectors : 0

Track 04
Filename : /Users/Fiddy/Music/New Rips/Top Of The Pops 1964-2006 [43CDs] [2280872] (FLAC)/TOTP-1965-04 The Animals - Don't Let Me Be Misunderstood.flac

Track gain : -7.18 dB
Peak : 0.996094
CRC32 hash (test run) : 515E5310
CRC32 hash : 515E5310
CRC32 hash (skip zero) : 0B913027
AccurateRip signature : 44C0B578
->Track not present in AccurateRip database.
Statistics
Read error : 0
Skipped (treated as error) : 0
Edge jitter error (maybe fixed) : 0
Atom jitter error (maybe fixed) : 0
Drift error (maybe fixed) : 0
Dropped bytes error (maybe fixed) : 0
Duplicated bytes error (maybe fixed) : 0
Inconsistency in error sectors : 0

Track 05
Filename : /Users/Fiddy/Music/New Rips/Top Of The Pops 1964-2006 [43CDs] [2280872] (FLAC)/TOTP-1965-05 The Beach Boys - Help Me Rhonda.flac

Track gain : -7.29 dB
Peak : 0.785309
CRC32 hash (test run) : 39EA95AA
CRC32 hash : 39EA95AA
CRC32 hash (skip zero) : F3BE2ADE
AccurateRip signature : C19F307B
->Track not present in AccurateRip database.
Statistics
Read error : 0
Skipped (treated as error) : 0
Edge jitter error (maybe fixed) : 0
Atom jitter error (maybe fixed) : 0
Drift error (maybe fixed) : 0
Dropped bytes error (maybe fixed) : 0
Duplicated bytes error (maybe fixed) : 0
Inconsistency in error sectors : 0

Track 06
Filename : /Users/Fiddy/Music/New Rips/Top Of The Pops 1964-2006 [43CDs] [2280872] (FLAC)/TOTP-1965-06 Shadows - Stingray.flac

Track gain : -4.40 dB
Peak : 0.873138
CRC32 hash (test run) : 8EE36487
CRC32 hash : 8EE36487
CRC32 hash (skip zero) : 9228E359
AccurateRip signature : 697F539C
->Track not present in AccurateRip database.
Statistics
Read error : 0
Skipped (treated as error) : 0
Edge jitter error (maybe fixed) : 0
Atom jitter error (maybe fixed) : 0
Drift error (maybe fixed) : 0
Dropped bytes error (maybe fixed) : 0
Duplicated bytes error (maybe fixed) : 0
Inconsistency in error sectors : 0

Track 07
Filename : /Users/Fiddy/Music/New Rips/Top Of The Pops 1964-2006 [43CDs] [2280872] (FLAC)/TOTP-1965-07 Shangri-Las - Leader Of The Pack.flac

Track gain : -8.66 dB
Peak : 0.771179
CRC32 hash (test run) : F23D2E02
CRC32 hash : F23D2E02
CRC32 hash (skip zero) : 5E54E3C7
AccurateRip signature : 84F1D20B
->Track not present in AccurateRip database.
Statistics
Read error : 0
Skipped (treated as error) : 0
Edge jitter error (maybe fixed) : 0
Atom jitter error (maybe fixed) : 0
Drift error (maybe fixed) : 0
Dropped bytes error (maybe fixed) : 0
Duplicated bytes error (maybe fixed) : 0
Inconsistency in error sectors : 0

Track 08
Filename : /Users/Fiddy/Music/New Rips/Top Of The Pops 1964-2006 [43CDs] [2280872] (FLAC)/TOTP-1965-08 The Toys - A Lovers Concerto.flac

Track gain : -9.42 dB
Peak : 0.873718
CRC32 hash (test run) : 361A2674
CRC32 hash : 361A2674
CRC32 hash (skip zero) : 07CCE466
AccurateRip signature : E7003838
->Track not present in AccurateRip database.
Statistics
Read error : 0
Skipped (treated as error) : 0
Edge jitter error (maybe fixed) : 0
Atom jitter error (maybe fixed) : 0
Drift error (maybe fixed) : 0
Dropped bytes error (maybe fixed) : 0
Duplicated bytes error (maybe fixed) : 0
Inconsistency in error sectors : 0

Track 09
Filename : /Users/Fiddy/Music/New Rips/Top Of The Pops 1964-2006 [43CDs] [2280872] (FLAC)/TOTP-1965-09 Sandie Shaw - Long Live Love.flac

Track gain : -6.83 dB
Peak : 0.991211
CRC32 hash (test run) : 3EE68A87
CRC32 hash : 3EE68A87
CRC32 hash (skip zero) : D859E7E5
AccurateRip signature : 72FB3FDD
->Track not present in AccurateRip database.
Statistics
Read error : 0
Skipped (treated as error) : 0
Edge jitter error (maybe fixed) : 0
Atom jitter error (maybe fixed) : 0
Drift error (maybe fixed) : 0
Dropped bytes error (maybe fixed) : 0
Duplicated bytes error (maybe fixed) : 0
Inconsistency in error sectors : 0

Track 10
Filename : /Users/Fiddy/Music/New Rips/Top Of The Pops 1964-2006 [43CDs] [2280872] (FLAC)/TOTP-1965-10 The Toys - A Lovers Concerto.flac

Track gain : -6.61 dB
Peak : 0.988739
CRC32 hash (test run) : 6111F4F0
CRC32 hash : 6111F4F0
CRC32 hash (skip zero) : 1E4267C4
AccurateRip signature : 566E2B24
->Track not present in AccurateRip database.
Statistics
Read error : 0
Skipped (treated as error) : 0
Edge jitter error (maybe fixed) : 0
Atom jitter error (maybe fixed) : 0
Drift error (maybe fixed) : 0
Dropped bytes error (maybe fixed) : 0
Duplicated bytes error (maybe fixed) : 0
Inconsistency in error sectors : 0

Track 11
Filename : /Users/Fiddy/Music/New Rips/Top Of The Pops 1964-2006 [43CDs] [2280872] (FLAC)/TOTP-1965-11 The Mccoys - Hang On Sloppy.flac

Track gain : -7.14 dB
Peak : 0.966095
CRC32 hash (test run) : 6DF5F336
CRC32 hash : 6DF5F336
CRC32 hash (skip zero) : 7061CC5F
AccurateRip signature : 096D3FEA
->Track not present in AccurateRip database.
Statistics
Read error : 0
Skipped (treated as error) : 0
Edge jitter error (maybe fixed) : 0
Atom jitter error (maybe fixed) : 0
Drift error (maybe fixed) : 0
Dropped bytes error (maybe fixed) : 0
Duplicated bytes error (maybe fixed) : 0
Inconsistency in error sectors : 0

Track 12
Filename : /Users/Fiddy/Music/New Rips/Top Of The Pops 1964-2006 [43CDs] [2280872] (FLAC)/TOTP-1965-12 Manfred Mann - If You Gotta Go, Go Now.flac

Track gain : -4.72 dB
Peak : 1.000000
CRC32 hash (test run) : 6EE53635
CRC32 hash : 6EE53635
CRC32 hash (skip zero) : AE503A16
AccurateRip signature : CAC438D4
->Track not present in AccurateRip database.
Statistics
Read error : 0
Skipped (treated as error) : 0
Edge jitter error (maybe fixed) : 0
Atom jitter error (maybe fixed) : 0
Drift error (maybe fixed) : 0
Dropped bytes error (maybe fixed) : 0
Duplicated bytes error (maybe fixed) : 0
Inconsistency in error sectors : 0

Track 13
Filename : /Users/Fiddy/Music/New Rips/Top Of The Pops 1964-2006 [43CDs] [2280872] (FLAC)/TOTP-1965-13 Cher - All I Really Wanna Do.flac

Track gain : -6.44 dB
Peak : 0.998871
CRC32 hash (test run) : 50B8FF3B
CRC32 hash : 50B8FF3B
CRC32 hash (skip zero) : 275FBBE9
AccurateRip signature : B281FFF0
->Track not present in AccurateRip database.
Statistics
Read error : 0
Skipped (treated as error) : 0
Edge jitter error (maybe fixed) : 0
Atom jitter error (maybe fixed) : 0
Drift error (maybe fixed) : 0
Dropped bytes error (maybe fixed) : 0
Duplicated bytes error (maybe fixed) : 0
Inconsistency in error sectors : 0

Track 14
Filename : /Users/Fiddy/Music/New Rips/Top Of The Pops 1964-2006 [43CDs] [2280872] (FLAC)/TOTP-1965-14 Adam Faith - Stop Feeling Sorry For Yourself.flac

Track gain : -8.42 dB
Peak : 0.989685
CRC32 hash (test run) : ACD541C0
CRC32 hash : ACD541C0
CRC32 hash (skip zero) : 32258AAC
AccurateRip signature : 24522564
->Track not present in AccurateRip database.
Statistics
Read error : 0
Skipped (treated as error) : 0
Edge jitter error (maybe fixed) : 0
Atom jitter error (maybe fixed) : 0
Drift error (maybe fixed) : 0
Dropped bytes error (maybe fixed) : 0
Duplicated bytes error (maybe fixed) : 0
Inconsistency in error sectors : 0

Track 15
Filename : /Users/Fiddy/Music/New Rips/Top Of The Pops 1964-2006 [43CDs] [2280872] (FLAC)/TOTP-1965-15 Freddie & The Dreamers - A Little You.flac

Track gain : -3.97 dB
Peak : 0.848572
CRC32 hash (test run) : E54C9128
CRC32 hash : E54C9128
CRC32 hash (skip zero) : EBEDE9A1
AccurateRip signature : 7E319920
->Track not present in AccurateRip database.
Statistics
Read error : 0
Skipped (treated as error) : 0
Edge jitter error (maybe fixed) : 0
Atom jitter error (maybe fixed) : 0
Drift error (maybe fixed) : 0
Dropped bytes error (maybe fixed) : 0
Duplicated bytes error (maybe fixed) : 0
Inconsistency in error sectors : 0

Track 16
Filename : /Users/Fiddy/Music/New Rips/Top Of The Pops 1964-2006 [43CDs] [2280872] (FLAC)/TOTP-1965-16 P J Proby - Maria.flac

Track gain : -4.36 dB
Peak : 0.697876
CRC32 hash (test run) : 31E32CF9
CRC32 hash : 31E32CF9
CRC32 hash (skip zero) : 7578DBD0
AccurateRip signature : 6395C6F7
->Track not present in AccurateRip database.
Statistics
Read error : 0
Skipped (treated as error) : 0
Edge jitter error (maybe fixed) : 1
Atom jitter error (maybe fixed) : 0
Drift error (maybe fixed) : 0
Dropped bytes error (maybe fixed) : 1
Duplicated bytes error (maybe fixed) : 1
Inconsistency in error sectors : 0

Track 17
Filename : /Users/Fiddy/Music/New Rips/Top Of The Pops 1964-2006 [43CDs] [2280872] (FLAC)/TOTP-1965-17 Dobie Gray - The "In" Crowd.flac

Track gain : -6.72 dB
Peak : 0.952911
CRC32 hash (test run) : 456643A0
CRC32 hash : 456643A0
CRC32 hash (skip zero) : 187DBAE7
AccurateRip signature : 33A90782
->Track not present in AccurateRip database.
Statistics
Read error : 0
Skipped (treated as error) : 0
Edge jitter error (maybe fixed) : 0
Atom jitter error (maybe fixed) : 0
Drift error (maybe fixed) : 0
Dropped bytes error (maybe fixed) : 0
Duplicated bytes error (maybe fixed) : 0
Inconsistency in error sectors : 0

Track 18
Filename : /Users/Fiddy/Music/New Rips/Top Of The Pops 1964-2006 [43CDs] [2280872] (FLAC)/TOTP-1965-18 The Seekers - A World Of Our Own.flac

Track gain : -4.78 dB
Peak : 0.964386
CRC32 hash (test run) : C1986DFE
CRC32 hash : C1986DFE
CRC32 hash (skip zero) : EC50B642
AccurateRip signature : 893B8D54
->Track not present in AccurateRip database.
Statistics
Read error : 0
Skipped (treated as error) : 0
Edge jitter error (maybe fixed) : 0
Atom jitter error (maybe fixed) : 0
Drift error (maybe fixed) : 0
Dropped bytes error (maybe fixed) : 0
Duplicated bytes error (maybe fixed) : 0
Inconsistency in error sectors : 0

Track 19
Filename : /Users/Fiddy/Music/New Rips/Top Of The Pops 1964-2006 [43CDs] [2280872] (FLAC)/TOTP-1965-19 Gerry & The Pacemakers - Ferry' Cross The Mersey.flac

Track gain : -3.05 dB
Peak : 0.880951
CRC32 hash (test run) : E1307867
CRC32 hash : E1307867
CRC32 hash (skip zero) : ED90CE51
AccurateRip signature : 374F3FEA
->Track not present in AccurateRip database.
Statistics
Read error : 0
Skipped (treated as error) : 0
Edge jitter error (maybe fixed) : 0
Atom jitter error (maybe fixed) : 0
Drift error (maybe fixed) : 0
Dropped bytes error (maybe fixed) : 0
Duplicated bytes error (maybe fixed) : 0
Inconsistency in error sectors : 0

Track 20
Filename : /Users/Fiddy/Music/New Rips/Top Of The Pops 1964-2006 [43CDs] [2280872] (FLAC)/TOTP-1965-20 Billy J Kramer & The Dakotas - Trains & Boats & Plains.flac

Track gain : -4.88 dB
Peak : 0.908813
CRC32 hash (test run) : 136CFDEA
CRC32 hash : 136CFDEA
CRC32 hash (skip zero) : 84DABF43
AccurateRip signature : C3D3358A
->Track not present in AccurateRip database.
Statistics
Read error : 0
Skipped (treated as error) : 0
Edge jitter error (maybe fixed) : 0
Atom jitter error (maybe fixed) : 0
Drift error (maybe fixed) : 0
Dropped bytes error (maybe fixed) : 0
Duplicated bytes error (maybe fixed) : 0
Inconsistency in error sectors : 0

Track 21
Filename : /Users/Fiddy/Music/New Rips/Top Of The Pops 1964-2006 [43CDs] [2280872] (FLAC)/TOTP-1965-21 Ken Dodd - Tears.flac

Track gain : -4.24 dB
Peak : 0.721161
CRC32 hash (test run) : 0D75A6CA
CRC32 hash : 0D75A6CA
CRC32 hash (skip zero) : 87EA76F4
AccurateRip signature : 14D047A5
->Track not present in AccurateRip database.
Statistics
Read error : 0
Skipped (treated as error) : 0
Edge jitter error (maybe fixed) : 0
Atom jitter error (maybe fixed) : 0
Drift error (maybe fixed) : 0
Dropped bytes error (maybe fixed) : 0
Duplicated bytes error (maybe fixed) : 0
Inconsistency in error sectors : 0

Track 22
Filename : /Users/Fiddy/Music/New Rips/Top Of The Pops 1964-2006 [43CDs] [2280872] (FLAC)/TOTP-1965-22 Peter & Gordon - True Love Ways.flac

Track gain : -5.89 dB
Peak : 0.760529
CRC32 hash (test run) : 1D1E1282
CRC32 hash : 1D1E1282
CRC32 hash (skip zero) : 8E2410C8
AccurateRip signature : D65D48E9
->Track not present in AccurateRip database.
Statistics
Read error : 0
Skipped (treated as error) : 0
Edge jitter error (maybe fixed) : 0
Atom jitter error (maybe fixed) : 0
Drift error (maybe fixed) : 0
Dropped bytes error (maybe fixed) : 0
Duplicated bytes error (maybe fixed) : 0
Inconsistency in error sectors : 0

Track 23
Filename : /Users/Fiddy/Music/New Rips/Top Of The Pops 1964-2006 [43CDs] [2280872] (FLAC)/TOTP-1965-23 Righteous Brothers - You've Lost That Lovin' Feeling.flac

Track gain : -5.12 dB
Peak : 0.985779
CRC32 hash (test run) : 5573750E
CRC32 hash : 5573750E
CRC32 hash (skip zero) : 7523CF93
AccurateRip signature : 1635D937
->Track not present in AccurateRip database.
Statistics
Read error : 0
Skipped (treated as error) : 0
Edge jitter error (maybe fixed) : 0
Atom jitter error (maybe fixed) : 0
Drift error (maybe fixed) : 0
Dropped bytes error (maybe fixed) : 0
Duplicated bytes error (maybe fixed) : 0
Inconsistency in error sectors : 0

Track 24
Filename : /Users/Fiddy/Music/New Rips/Top Of The Pops 1964-2006 [43CDs] [2280872] (FLAC)/TOTP-1965-24 Matt Monroe - Yesterday.flac

Track gain : -5.43 dB
Peak : 0.860901
CRC32 hash (test run) : F6F599F9
CRC32 hash : F6F599F9
CRC32 hash (skip zero) : 23E5A025
AccurateRip signature : 2F8DCD28
->Track not present in AccurateRip database.
Statistics
Read error : 0
Skipped (treated as error) : 0
Edge jitter error (maybe fixed) : 0
Atom jitter error (maybe fixed) : 0
Drift error (maybe fixed) : 0
Dropped bytes error (maybe fixed) : 0
Duplicated bytes error (maybe fixed) : 0
Inconsistency in error sectors : 0

Track 25
Filename : /Users/Fiddy/Music/New Rips/Top Of The Pops 1964-2006 [43CDs] [2280872] (FLAC)/TOTP-1965-25 Andy Williams - Almost There.flac

Track gain : -5.86 dB
Peak : 0.891266
CRC32 hash (test run) : 927380C9
CRC32 hash : 927380C9
CRC32 hash (skip zero) : DBD9F6A3
AccurateRip signature : 28E7CB66
->Track not present in AccurateRip database.
Statistics
Read error : 0
Skipped (treated as error) : 0
Edge jitter error (maybe fixed) : 0
Atom jitter error (maybe fixed) : 0
Drift error (maybe fixed) : 0
Dropped bytes error (maybe fixed) : 0
Duplicated bytes error (maybe fixed) : 0
Inconsistency in error sectors : 0

No errors occurred

End of status report

====================================================

X Lossless Decoder version 20090829 (109.6)

XLD extraction logfile from 2009-09-22 14:28:49 +0100

Various Artists / TOTP-1966

Used drive : HL-DT-ST DVDRAM GP08LU10 (revision KE01)

Use cdparanoia mode : YES (CDParanoia III 10.2 engine)
Disable audio cache : OK for the drive with cache less than 2750KB
Make use of C2 pointers : NO
Read offset correction : 667
Max retry count : 100

TOC of the extracted CD
Track | Start | Length | Start sector | End sector
––––––––––––––––––––––––––––-
1 | 00:00:13 | 02:36:55 | 13 | 11767
2 | 02:36:68 | 03:05:41 | 11768 | 25683
3 | 05:42:34 | 04:33:07 | 25684 | 46165
4 | 10:15:41 | 03:36:30 | 46166 | 62395
5 | 13:51:71 | 03:36:50 | 62396 | 78645
6 | 17:28:46 | 02:49:33 | 78646 | 91353
7 | 20:18:04 | 02:34:23 | 91354 | 102926
8 | 22:52:27 | 02:41:25 | 102927 | 115026
9 | 25:33:52 | 02:55:74 | 115027 | 128225
10 | 28:29:51 | 02:25:54 | 128226 | 139154
11 | 30:55:30 | 02:30:72 | 139155 | 150476
12 | 33:26:27 | 02:52:72 | 150477 | 163448
13 | 36:19:24 | 02:51:56 | 163449 | 176329
14 | 39:11:05 | 03:20:65 | 176330 | 191394
15 | 42:31:70 | 02:15:10 | 191395 | 201529
16 | 44:47:05 | 02:13:42 | 201530 | 211546
17 | 47:00:47 | 02:17:11 | 211547 | 221832
18 | 49:17:58 | 02:38:37 | 221833 | 233719
19 | 51:56:20 | 02:26:46 | 233720 | 244715
20 | 54:22:66 | 02:39:35 | 244716 | 256675
21 | 57:02:26 | 02:52:46 | 256676 | 269621
22 | 59:54:72 | 02:54:29 | 269622 | 282700
23 | 62:49:26 | 02:45:44 | 282701 | 295119
24 | 65:34:70 | 02:49:37 | 295120 | 307831
25 | 68:24:32 | 02:53:02 | 307832 | 320808
26 | 71:17:34 | 02:51:37 | 320809 | 333670

All Tracks
Album gain : -6.49 dB
Peak : 1.000000

Track 01
Filename : /Users/Fiddy/Music/New Rips/Top Of The Pops 1964-2006 [43CDs] [2280872] (FLAC)/TOTP-1966-01 The Troggs - Wild Thing.flac

Track gain : -8.01 dB
Peak : 0.831787
CRC32 hash (test run) : 68CEB79F
CRC32 hash : 68CEB79F
CRC32 hash (skip zero) : E86CAA50
AccurateRip signature : 515720BC
->Track not present in AccurateRip database.
Statistics
Read error : 0
Skipped (treated as error) : 0
Edge jitter error (maybe fixed) : 0
Atom jitter error (maybe fixed) : 0
Drift error (maybe fixed) : 0
Dropped bytes error (maybe fixed) : 0
Duplicated bytes error (maybe fixed) : 0
Inconsistency in error sectors : 0

Track 02
Filename : /Users/Fiddy/Music/New Rips/Top Of The Pops 1964-2006 [43CDs] [2280872] (FLAC)/TOTP-1966-02 The Small Faces - All Or Nothing.flac

Track gain : -6.48 dB
Peak : 0.831757
CRC32 hash (test run) : 2ABB3F7C
CRC32 hash : 2ABB3F7C
CRC32 hash (skip zero) : 00FC6FAA
AccurateRip signature : BBF66C99
->Track not present in AccurateRip database.
Statistics
Read error : 0
Skipped (treated as error) : 0
Edge jitter error (maybe fixed) : 0
Atom jitter error (maybe fixed) : 0
Drift error (maybe fixed) : 0
Dropped bytes error (maybe fixed) : 0
Duplicated bytes error (maybe fixed) : 0
Inconsistency in error sectors : 0

Track 03
Filename : /Users/Fiddy/Music/New Rips/Top Of The Pops 1964-2006 [43CDs] [2280872] (FLAC)/TOTP-1966-03 Donovan - Sunshine Superman.flac

Track gain : -5.17 dB
Peak : 0.831757
CRC32 hash (test run) : 33B2463E
CRC32 hash : 33B2463E
CRC32 hash (skip zero) : 82EEAAF3
AccurateRip signature : 2DF4964B
->Track not present in AccurateRip database.
Statistics
Read error : 0
Skipped (treated as error) : 0
Edge jitter error (maybe fixed) : 0
Atom jitter error (maybe fixed) : 0
Drift error (maybe fixed) : 0
Dropped bytes error (maybe fixed) : 0
Duplicated bytes error (maybe fixed) : 0
Inconsistency in error sectors : 0

Track 04
Filename : /Users/Fiddy/Music/New Rips/Top Of The Pops 1964-2006 [43CDs] [2280872] (FLAC)/TOTP-1966-04 The Byrds - 8 Mile High.flac

Track gain : -5.33 dB
Peak : 1.000000
CRC32 hash (test run) : 37A5D04D
CRC32 hash : 37A5D04D
CRC32 hash (skip zero) : A0AC07D7
AccurateRip signature : 65ABABB5
->Track not present in AccurateRip database.
Statistics
Read error : 0
Skipped (treated as error) : 0
Edge jitter error (maybe fixed) : 0
Atom jitter error (maybe fixed) : 0
Drift error (maybe fixed) : 0
Dropped bytes error (maybe fixed) : 0
Duplicated bytes error (maybe fixed) : 0
Inconsistency in error sectors : 0

Track 05
Filename : /Users/Fiddy/Music/New Rips/Top Of The Pops 1964-2006 [43CDs] [2280872] (FLAC)/TOTP-1966-05 The Beach Boys - Good Vibrations.flac

Track gain : -6.39 dB
Peak : 0.933289
CRC32 hash (test run) : 4AF118BD
CRC32 hash : 4AF118BD
CRC32 hash (skip zero) : 9CEBE374
AccurateRip signature : 356EC572
->Track not present in AccurateRip database.
Statistics
Read error : 0
Skipped (treated as error) : 0
Edge jitter error (maybe fixed) : 0
Atom jitter error (maybe fixed) : 0
Drift error (maybe fixed) : 0
Dropped bytes error (maybe fixed) : 0
Duplicated bytes error (maybe fixed) : 0
Inconsistency in error sectors : 0

Track 06
Filename : /Users/Fiddy/Music/New Rips/Top Of The Pops 1964-2006 [43CDs] [2280872] (FLAC)/TOTP-1966-06 Dusty Springfield - You Don't Have To Say You Love Me.flac

Track gain : -4.48 dB
Peak : 0.614868
CRC32 hash (test run) : ABEC4F48
CRC32 hash : ABEC4F48
CRC32 hash (skip zero) : 15BEA3EE
AccurateRip signature : D14BB5BF
->Track not present in AccurateRip database.
Statistics
Read error : 0
Skipped (treated as error) : 0
Edge jitter error (maybe fixed) : 0
Atom jitter error (maybe fixed) : 0
Drift error (maybe fixed) : 0
Dropped bytes error (maybe fixed) : 0
Duplicated bytes error (maybe fixed) : 0
Inconsistency in error sectors : 0

Track 07
Filename : /Users/Fiddy/Music/New Rips/Top Of The Pops 1964-2006 [43CDs] [2280872] (FLAC)/TOTP-1966-07 Manfred Mann - Pretty Flamingo.flac

Track gain : -6.89 dB
Peak : 0.927094
CRC32 hash (test run) : 5E7B995F
CRC32 hash : 5E7B995F
CRC32 hash (skip zero) : 0F8A47E6
AccurateRip signature : E73A1F1E
->Track not present in AccurateRip database.
Statistics
Read error : 0
Skipped (treated as error) : 0
Edge jitter error (maybe fixed) : 0
Atom jitter error (maybe fixed) : 0
Drift error (maybe fixed) : 0
Dropped bytes error (maybe fixed) : 0
Duplicated bytes error (maybe fixed) : 0
Inconsistency in error sectors : 0

Track 08
Filename : /Users/Fiddy/Music/New Rips/Top Of The Pops 1964-2006 [43CDs] [2280872] (FLAC)/TOTP-1966-08 Lovin' Spoonful - Summer In The City.flac

Track gain : -6.27 dB
Peak : 0.933258
CRC32 hash (test run) : 55DA728C
CRC32 hash : 55DA728C
CRC32 hash (skip zero) : BD1073B1
AccurateRip signature : 475E3214
->Track not present in AccurateRip database.
Statistics
Read error : 0
Skipped (treated as error) : 0
Edge jitter error (maybe fixed) : 0
Atom jitter error (maybe fixed) : 0
Drift error (maybe fixed) : 0
Dropped bytes error (maybe fixed) : 0
Duplicated bytes error (maybe fixed) : 0
Inconsistency in error sectors : 0

Track 09
Filename : /Users/Fiddy/Music/New Rips/Top Of The Pops 1964-2006 [43CDs] [2280872] (FLAC)/TOTP-1966-09 Herman's Hermits - No Milk Today.flac

Track gain : -5.96 dB
Peak : 0.741333
CRC32 hash (test run) : F2286446
CRC32 hash : F2286446
CRC32 hash (skip zero) : FF1AA82A
AccurateRip signature : AFFF6932
->Track not present in AccurateRip database.
Statistics
Read error : 0
Skipped (treated as error) : 0
Edge jitter error (maybe fixed) : 0
Atom jitter error (maybe fixed) : 0
Drift error (maybe fixed) : 0
Dropped bytes error (maybe fixed) : 0
Duplicated bytes error (maybe fixed) : 0
Inconsistency in error sectors : 0

Track 10
Filename : /Users/Fiddy/Music/New Rips/Top Of The Pops 1964-2006 [43CDs] [2280872] (FLAC)/TOTP-1966-10 The Hollies - I Can't Let Go.flac

Track gain : -7.32 dB
Peak : 0.831787
CRC32 hash (test run) : A5C1DAB8
CRC32 hash : A5C1DAB8
CRC32 hash (skip zero) : 3FE1C875
AccurateRip signature : 8FE651D7
->Track not present in AccurateRip database.
Statistics
Read error : 0
Skipped (treated as error) : 0
Edge jitter error (maybe fixed) : 0
Atom jitter error (maybe fixed) : 0
Drift error (maybe fixed) : 0
Dropped bytes error (maybe fixed) : 0
Duplicated bytes error (maybe fixed) : 0
Inconsistency in error sectors : 0

Track 11
Filename : /Users/Fiddy/Music/New Rips/Top Of The Pops 1964-2006 [43CDs] [2280872] (FLAC)/TOTP-1966-11 Cliff Bennett & The Rebel Rousers - Got To Get You Into My Life.flac

Track gain : -7.88 dB
Peak : 1.000000
CRC32 hash (test run) : 0F3509B9
CRC32 hash : 0F3509B9
CRC32 hash (skip zero) : 464FEDD6
AccurateRip signature : 21CEB53C
->Track not present in AccurateRip database.
Statistics
Read error : 0
Skipped (treated as error) : 0
Edge jitter error (maybe fixed) : 0
Atom jitter error (maybe fixed) : 0
Drift error (maybe fixed) : 0
Dropped bytes error (maybe fixed) : 0
Duplicated bytes error (maybe fixed) : 0
Inconsistency in error sectors : 0

Track 12
Filename : /Users/Fiddy/Music/New Rips/Top Of The Pops 1964-2006 [43CDs] [2280872] (FLAC)/TOTP-1966-12 Tommy James & The Shondells - Hanky Panky.flac

Track gain : -8.17 dB
Peak : 0.831787
CRC32 hash (test run) : EA79C87C
CRC32 hash : EA79C87C
CRC32 hash (skip zero) : 0FB40A7B
AccurateRip signature : C71F5824
->Track not present in AccurateRip database.
Statistics
Read error : 0
Skipped (treated as error) : 0
Edge jitter error (maybe fixed) : 0
Atom jitter error (maybe fixed) : 0
Drift error (maybe fixed) : 0
Dropped bytes error (maybe fixed) : 0
Duplicated bytes error (maybe fixed) : 0
Inconsistency in error sectors : 0

Track 13
Filename : /Users/Fiddy/Music/New Rips/Top Of The Pops 1964-2006 [43CDs] [2280872] (FLAC)/TOTP-1966-13 The Swinging Blue Jeans - Don't Make Me Over.flac

Track gain : -5.74 dB
Peak : 0.831757
CRC32 hash (test run) : B131704E
CRC32 hash : B131704E
CRC32 hash (skip zero) : 9EBE50D5
AccurateRip signature : 44356EF5
->Track not present in AccurateRip database.
Statistics
Read error : 0
Skipped (treated as error) : 0
Edge jitter error (maybe fixed) : 0
Atom jitter error (maybe fixed) : 0
Drift error (maybe fixed) : 0
Dropped bytes error (maybe fixed) : 0
Duplicated bytes error (maybe fixed) : 0
Inconsistency in error sectors : 0

Track 14
Filename : /Users/Fiddy/Music/New Rips/Top Of The Pops 1964-2006 [43CDs] [2280872] (FLAC)/TOTP-1966-14 Mitch Ryder & The Detroit Wheels - Jenny Takes A Ride.flac

Track gain : -7.56 dB
Peak : 1.000000
CRC32 hash (test run) : 164A0D4A
CRC32 hash : 164A0D4A
CRC32 hash (skip zero) : 4B2B907F
AccurateRip signature : D4A9A5AA
->Track not present in AccurateRip database.
Statistics
Read error : 0
Skipped (treated as error) : 0
Edge jitter error (maybe fixed) : 0
Atom jitter error (maybe fixed) : 0
Drift error (maybe fixed) : 0
Dropped bytes error (maybe fixed) : 0
Duplicated bytes error (maybe fixed) : 0
Inconsistency in error sectors : 0

Track 15
Filename : /Users/Fiddy/Music/New Rips/Top Of The Pops 1964-2006 [43CDs] [2280872] (FLAC)/TOTP-1966-15 The Shadows - I Met A Girl.flac

Track gain : -6.76 dB
Peak : 0.831787
CRC32 hash (test run) : 5784847F
CRC32 hash : 5784847F
CRC32 hash (skip zero) : 383EFBC4
AccurateRip signature : ADCCF6F7
->Track not present in AccurateRip database.
Statistics
Read error : 0
Skipped (treated as error) : 0
Edge jitter error (maybe fixed) : 0
Atom jitter error (maybe fixed) : 0
Drift error (maybe fixed) : 0
Dropped bytes error (maybe fixed) : 0
Duplicated bytes error (maybe fixed) : 0
Inconsistency in error sectors : 0

Track 16
Filename : /Users/Fiddy/Music/New Rips/Top Of The Pops 1964-2006 [43CDs] [2280872] (FLAC)/TOTP-1966-16 Paul Jones - High Time.flac

Track gain : -6.70 dB
Peak : 0.831757
CRC32 hash (test run) : E4D9E2CF
CRC32 hash : E4D9E2CF
CRC32 hash (skip zero) : 7AD67DF6
AccurateRip signature : 4D0220F5
->Track not present in AccurateRip database.
Statistics
Read error : 0
Skipped (treated as error) : 0
Edge jitter error (maybe fixed) : 0
Atom jitter error (maybe fixed) : 0
Drift error (maybe fixed) : 0
Dropped bytes error (maybe fixed) : 0
Duplicated bytes error (maybe fixed) : 0
Inconsistency in error sectors : 0

Track 17
Filename : /Users/Fiddy/Music/New Rips/Top Of The Pops 1964-2006 [43CDs] [2280872] (FLAC)/TOTP-1966-17 Roy Orbison - Lana.flac

Track gain : -4.77 dB
Peak : 0.831757
CRC32 hash (test run) : 23DD999C
CRC32 hash : 23DD999C
CRC32 hash (skip zero) : 01291906
AccurateRip signature : 16E775F3
->Track not present in AccurateRip database.
Statistics
Read error : 0
Skipped (treated as error) : 0
Edge jitter error (maybe fixed) : 0
Atom jitter error (maybe fixed) : 0
Drift error (maybe fixed) : 0
Dropped bytes error (maybe fixed) : 0
Duplicated bytes error (maybe fixed) : 0
Inconsistency in error sectors : 0

Track 18
Filename : /Users/Fiddy/Music/New Rips/Top Of The Pops 1964-2006 [43CDs] [2280872] (FLAC)/TOTP-1966-18 Cilla Black - Alfie.flac

Track gain : -7.27 dB
Peak : 0.886261
CRC32 hash (test run) : F9A12CB8
CRC32 hash : F9A12CB8
CRC32 hash (skip zero) : 12A8A764
AccurateRip signature : 9E98181E
->Track not present in AccurateRip database.
Statistics
Read error : 0
Skipped (treated as error) : 0
Edge jitter error (maybe fixed) : 0
Atom jitter error (maybe fixed) : 0
Drift error (maybe fixed) : 0
Dropped bytes error (maybe fixed) : 0
Duplicated bytes error (maybe fixed) : 0
Inconsistency in error sectors : 0

Track 19
Filename : /Users/Fiddy/Music/New Rips/Top Of The Pops 1964-2006 [43CDs] [2280872] (FLAC)/TOTP-1966-19 Peter & Gordon - Lady Godiva.flac

Track gain : -5.74 dB
Peak : 0.831757
CRC32 hash (test run) : AA93B96C
CRC32 hash : AA93B96C
CRC32 hash (skip zero) : 0E2046F6
AccurateRip signature : 770BE2D6
->Track not present in AccurateRip database.
Statistics
Read error : 0
Skipped (treated as error) : 0
Edge jitter error (maybe fixed) : 0
Atom jitter error (maybe fixed) : 0
Drift error (maybe fixed) : 0
Dropped bytes error (maybe fixed) : 0
Duplicated bytes error (maybe fixed) : 0
Inconsistency in error sectors : 0

Track 20
Filename : /Users/Fiddy/Music/New Rips/Top Of The Pops 1964-2006 [43CDs] [2280872] (FLAC)/TOTP-1966-20 The Seekers - Morningtown Ride.flac

Track gain : -6.17 dB
Peak : 0.660309
CRC32 hash (test run) : 6AB93019
CRC32 hash : 6AB93019
CRC32 hash (skip zero) : 50913371
AccurateRip signature : 9F78575D
->Track not present in AccurateRip database.
Statistics
Read error : 0
Skipped (treated as error) : 0
Edge jitter error (maybe fixed) : 1
Atom jitter error (maybe fixed) : 0
Drift error (maybe fixed) : 0
Dropped bytes error (maybe fixed) : 0
Duplicated bytes error (maybe fixed) : 1
Inconsistency in error sectors : 0

Track 21
Filename : /Users/Fiddy/Music/New Rips/Top Of The Pops 1964-2006 [43CDs] [2280872] (FLAC)/TOTP-1966-21 P J Proby - To Make A Big Man Cry.flac

Track gain : -6.98 dB
Peak : 0.831757
CRC32 hash (test run) : 1BEB86CA
CRC32 hash : 1BEB86CA
CRC32 hash (skip zero) : 29BB506B
AccurateRip signature : ED0C8C21
->Track not present in AccurateRip database.
Statistics
Read error : 0
Skipped (treated as error) : 0
Edge jitter error (maybe fixed) : 0
Atom jitter error (maybe fixed) : 0
Drift error (maybe fixed) : 0
Dropped bytes error (maybe fixed) : 0
Duplicated bytes error (maybe fixed) : 0
Inconsistency in error sectors : 0

Track 22
Filename : /Users/Fiddy/Music/New Rips/Top Of The Pops 1964-2006 [43CDs] [2280872] (FLAC)/TOTP-1966-22 Sandie Shaw - Tomorrow.flac

Track gain : -4.40 dB
Peak : 0.831787
CRC32 hash (test run) : E36007DA
CRC32 hash : E36007DA
CRC32 hash (skip zero) : B03BA605
AccurateRip signature : 908FFBA2
->Track not present in AccurateRip database.
Statistics
Read error : 0
Skipped (treated as error) : 0
Edge jitter error (maybe fixed) : 0
Atom jitter error (maybe fixed) : 0
Drift error (maybe fixed) : 0
Dropped bytes error (maybe fixed) : 0
Duplicated bytes error (maybe fixed) : 0
Inconsistency in error sectors : 0

Track 23
Filename : /Users/Fiddy/Music/New Rips/Top Of The Pops 1964-2006 [43CDs] [2280872] (FLAC)/TOTP-1966-23 Cher - Bang Bang (My Baby Shot Me Down).flac

Track gain : -5.33 dB
Peak : 0.831757
CRC32 hash (test run) : AF5D3999
CRC32 hash : AF5D3999
CRC32 hash (skip zero) : D2B10CCF
AccurateRip signature : B6D0FA1C
->Track not present in AccurateRip database.
Statistics
Read error : 0
Skipped (treated as error) : 0
Edge jitter error (maybe fixed) : 0
Atom jitter error (maybe fixed) : 0
Drift error (maybe fixed) : 0
Dropped bytes error (maybe fixed) : 0
Duplicated bytes error (maybe fixed) : 0
Inconsistency in error sectors : 0

Track 24
Filename : /Users/Fiddy/Music/New Rips/Top Of The Pops 1964-2006 [43CDs] [2280872] (FLAC)/TOTP-1966-24 Bob Lind - Elusive Butterfly.flac

Track gain : -4.28 dB
Peak : 1.000000
CRC32 hash (test run) : EDC00ABF
CRC32 hash : EDC00ABF
CRC32 hash (skip zero) : 9D8A7366
AccurateRip signature : B3A1D9BE
->Track not present in AccurateRip database.
Statistics
Read error : 0
Skipped (treated as error) : 0
Edge jitter error (maybe fixed) : 0
Atom jitter error (maybe fixed) : 0
Drift error (maybe fixed) : 0
Dropped bytes error (maybe fixed) : 0
Duplicated bytes error (maybe fixed) : 0
Inconsistency in error sectors : 0

Track 25
Filename : /Users/Fiddy/Music/New Rips/Top Of The Pops 1964-2006 [43CDs] [2280872] (FLAC)/TOTP-1966-25 Ken Dodd - Promises.flac

Track gain : -4.83 dB
Peak : 0.741547
CRC32 hash (test run) : 96469315
CRC32 hash : 96469315
CRC32 hash (skip zero) : 0BC7D41A
AccurateRip signature : 73BB0F99
->Track not present in AccurateRip database.
Statistics
Read error : 0
Skipped (treated as error) : 0
Edge jitter error (maybe fixed) : 0
Atom jitter error (maybe fixed) : 0
Drift error (maybe fixed) : 0
Dropped bytes error (maybe fixed) : 0
Duplicated bytes error (maybe fixed) : 0
Inconsistency in error sectors : 0

Track 26
Filename : /Users/Fiddy/Music/New Rips/Top Of The Pops 1964-2006 [43CDs] [2280872] (FLAC)/TOTP-1966-26 Jim Reeves - Distant Drums.flac

Track gain : -1.40 dB
Peak : 0.866669
CRC32 hash (test run) : A2751527
CRC32 hash : A2751527
CRC32 hash (skip zero) : A46D245E
AccurateRip signature : C37FCAE3
->Track not present in AccurateRip database.
Statistics
Read error : 0
Skipped (treated as error) : 0
Edge jitter error (maybe fixed) : 0
Atom jitter error (maybe fixed) : 0
Drift error (maybe fixed) : 0
Dropped bytes error (maybe fixed) : 0
Duplicated bytes error (maybe fixed) : 0
Inconsistency in error sectors : 0

No errors occurred

End of status report
All 43 log files included…