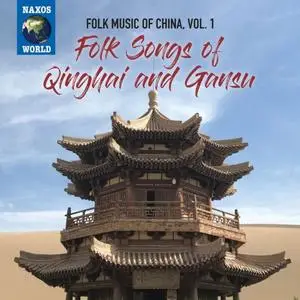 Various Artists - Folk Music of China, Vol. 1: Folk Songs of Qinghai & Gangsu (2019)
FLAC tracks / MP3 320 kbps | 1:04:37 | 163 Mb / 301 Mb
Genre: World, Folk / Label: Naxos World Music
This release kicks off a new series exploring China's rich and diverse musical heritage. The songs featured in this recording are folk songs of the five minority ethnic groups of Qinghai and Gansu provinces – Tu, Bonan, Dongxiang, Yugur and Salar. As with Chinese traditional visual arts, the song titles explain their mood and origin. The five minority ethnic groups that perform on this album mainly live in seven autonomous counties under the administration of the Gansu and Qinghai Provinces in northwestern China. Bordering Qinghai to the west, Gansu is located between the Tibetan Plateau and the Loess Plateau. The Yellow River flows through the southern part of Gansu, where the Qilian Mountains are located. Volume 2, Folk Songs of Inner Mongolia and Heilongjiang is scheduled for release in October 2019.
Track List:
01. Guilan An - Song of the Moon (1:21)
02. Cuilan Bai - The Beautiful Grassland (2:28)
03. Yufang Bai - La La Lo (1:19)
04. Guilan An - History of the Yugurs (1:13)
05. Jianming Guo; Changhai Guo - Dressing the Groom (0:52)
06. Yufang Bai - The Bride Wears the Accessory (0:45)
07. Cuilan Bai - The Yugurs from Xi Zhi Ha Zhi (2:34)
08. Jianming Guo; Changhai Guo - Joda to the Groom (0:54)
09. Yufang Bai - A Pastoral Song (2:32)
10. Cuilan Bai - Here Come the Guests (2:43)
11. Jianming Guo; Changhai Guo - Chanting at the Banquet (1:23)
12. Zhanxiang Han - Ba Xi Gu Liu Liu (0:40)
13. Zhanxiang Han - Yu'er, a l Love Song (1:46)
14. Zhanxiang Han - San Hua Cao (0:50)
15. Zhanxiang Han - Salar Zhi Ling (1:14)
16. Zhanxiang Han - Ixora on a High Mountain, Yu'er (1:25)
17. Zhanxiang Han - Persicaria Orientalis, Hua'er (0:40)
18. Zhanxiang Han - Kids of the Salar Riding Waves, Hua'er (1:00)
19. Zhanxiang Han - The Yellow River on the Left and Cliffs on the Right (1:11)
20. Chenghua Li - Song of Toasting (1:04)
21. Siming Dong; Wanfu Niu; Jinxing Sha - A Traditional Wedding Song of Tu People (1:10)
22. Yuxiu Xi; Chenghua Li; Yumei Long; Yongmei Yang; Dehua Hu - Welcoming Guests (1:13)
23. Wanfu Niu; Siming Dong; Jinxing Sha; Yuxiu Xi; Chenghua Li; Ping Qiao; Wenhua Li - An Zhao Dance (2:50)
24. Chenghua Li; Yuxiu Xi - Come to Play on the Ridge (0:46)
25. Wanfu Niu; Jinxing Sha - Mounting the Horse (0:57)
26. Wanfu Niu - Daughter's Complaint (1:55)
27. Wanfu Niu; Siming Dong; Jinxing Sha; Yuxiu Xi; Chenghua Li - Red Blossom Festival (1:14)
28. Wanfu Niu; Jinxing Sha - A Girl's Song (0:56)
29. Xiaoquan Ma - The Lad Can't Move His Eyes Away (1:16)
30. Jinshan Ma - Dongxiang Yi Ling (1:56)
31. Haishan Ma - Life Is Short (1:15)
32. Xiaoquan Ma; Jinshan Ma - Sour-Sweet Pears (1:32)
33. Jinshan Ma - Dongxiang Si Ling (0:57)
34. Xiaoquan Ma - Hardship in Old Age (3:28)
35. Jinshan Ma - An Old Peasant (0:58)
36. Wei Ma - Picturesque Valley of Tangwang (0:57)
37. Jinshan Ma - A Dongxiang Girl's Song (1:51)
38. Jinshan Ma - Mi La Ga Hei (0:45)
39. Jinshan Ma - The Rolling Dragon Brings the Rain (1:29)
40. Tingrui Zhang - A Bonan Melody (1:25)
41. Tingrui Zhang - A Melody About a Lover (1:23)
42. Tingrui Zhang - Big Eyes (1:25)
43. Tingrui Zhang - A Pony (1:39)
44. Tingrui Zhang - Cang Lang Lang Melody (1:20)
45. Tingrui Zhang - A Banquet Song (0:37)
46. Tingrui Zhang - A Straight Melody (1:33)
ANALYZER: auCDtect: CD records authenticity detector, version 0.8.2
Copyright © 2004 Oleg Berngardt. All rights reserved.
Copyright © 2004 Alexander Djourik. All rights reserved.


FILE: 01. Song Of The Moon.flac
Size: 6055222 Hash: EB7864D320198DB37A78B362E1708E23 Accuracy: -m40
Conclusion: CDDA 100%
Signature: 147BD4CFD06385820AA2661C348E9E48F121D556
FILE: 02. The Beautiful Grassland.flac
Size: 11046604 Hash: A93D2828129181585CBA9234B0B5313C Accuracy: -m40
Conclusion: CDDA 43%
Signature: 99EF6863A9F3D4F80B17E325E62A697223582D90
FILE: 03. La La Lo.flac
Size: 6309072 Hash: 0D3447E548226DE788E57F25643B9841 Accuracy: -m40
Conclusion: CDDA 100%
Signature: A155E4938B0C3C6946F1F49984A4247FAE033A82
FILE: 04. History Of The Yugurs.flac
Size: 5709902 Hash: F3F14168B97EECE49851B4D6E73F62BB Accuracy: -m40
Conclusion: CDDA 100%
Signature: 8D2299B9D782B8A062258C477315E69D6A57F4C5
FILE: 05. Dressing The Groom.flac
Size: 4377475 Hash: 92E721978DF13E1C5C319D9049E8704C Accuracy: -m40
Conclusion: CDDA 100%
Signature: D70C3D2980C07EA4C436EFB6E46672F1F3C7C2D9
FILE: 06. The Bride Wears The Accessory.flac
Size: 3677377 Hash: 6FE1D1DBA3EC19736D1F0D80B5E9EA34 Accuracy: -m40
Conclusion: CDDA 100%
Signature: AE413FC4130E65DE4164DD96E3235F380C9529B9
FILE: 07. The Yugurs From Xi Zhi Ha Zhi.flac
Size: 12207834 Hash: B2DC97503EA176DCDADCF405C8470F71 Accuracy: -m40
Conclusion: CDDA 43%
Signature: CC1A881848FF558EAA02EB1A1DB3DFD70B1BB3F8
FILE: 08. Joda To The Groom.flac
Size: 4600436 Hash: 482F7F796F27E5722A4793D30C002903 Accuracy: -m40
Conclusion: CDDA 100%
Signature: 36FAE805A5B3A8FB2F49DB226C033DEE75D4F809
FILE: 09. A Pastoral Song.flac
Size: 12620773 Hash: E3CBC104A81E9EF53E8F1118AB1201D1 Accuracy: -m40
Conclusion: CDDA 100%
Signature: CF381DBC0981D656386FF49A26DDDF6550DA1989
FILE: 10. Here Come The Guests.flac
Size: 12231762 Hash: B8588A05556B9E90AA1F25DCBA496472 Accuracy: -m40
Conclusion: CDDA 99%
Signature: 9DC0AEB32588ACF7EEAD72A57852F8F3A5081D35
FILE: 11. Chanting At The Banquet.flac
Size: 6992372 Hash: C739A9A65295443A8A235A043067A168 Accuracy: -m40
Conclusion: CDDA 58%
Signature: 127F6DAD1231D9E529CA67EA8FB396D5993FE6AC
FILE: 12. Ba Xi Gu Liu Liu.flac
Size: 3591646 Hash: 1BCDEAEB85B000E94DDE9DF4EE927C90 Accuracy: -m40
Conclusion: CDDA 54%
Signature: 433DA88A9F185581C992180085AF25EBC71D943E
FILE: 13. Yu'er, A L Love Song.flac
Size: 8930789 Hash: A907FC003627F75667264667FA340043 Accuracy: -m40
Conclusion: CDDA 100%
Signature: DB36DB1E580CF823B902E7295C154F0EE1090852
FILE: 14. San Hua Cao.flac
Size: 4333837 Hash: 14065CBCEB19FED56944CF0B94D9DDD9 Accuracy: -m40
Conclusion: CDDA 100%
Signature: F05FCD125A1FD767E2C1C97D947154FD243AF700
FILE: 15. Salar Zhi Ling.flac
Size: 6334743 Hash: 34A15CC0FCE208C48CD87EBFB70DD8A6 Accuracy: -m40
Conclusion: CDDA 100%
Signature: 8070D2D1BF207FE510ECEEC763107D281366FC44
FILE: 16. Ixora On A High Mountain, Yu'er.flac
Size: 7430496 Hash: 531FEE7B515AC2BE12495F1DA6842B1D Accuracy: -m40
Conclusion: CDDA 100%
Signature: C76351372F446745212EE119A4CD873BA19F4850
FILE: 17. Persicaria Orientalis, Hua'er.flac
Size: 3557979 Hash: 7D32EFCE90CF6D4234DB3DCA8BAFAB0B Accuracy: -m40
Conclusion: CDDA 100%
Signature: E6A48D5A1C4F3DA8C19513FCD6E54E971DD5DDF1
FILE: 18. Kids Of The Salar Riding Waves, Hua'er.flac
Size: 5160081 Hash: 5B59E29E5B25127E5F7DFB1BF0988568 Accuracy: -m40
Conclusion: CDDA 100%
Signature: 75FAE4743DE8D946813AF5633466D45786331A3B
FILE: 19. The Yellow River On The Left And Cliffs On The Right.flac
Size: 6270964 Hash: B550AC544EE49342AE41FF34B806600F Accuracy: -m40
Conclusion: CDDA 100%
Signature: F362C4044D38026614D15B47F4922CFB347CB618
FILE: 20. Song Of Toasting.flac
Size: 5366863 Hash: 4D6D39A73C1786352B0EC48352310A0D Accuracy: -m40
Conclusion: CDDA 100%
Signature: 26E668CC28795F8F975672024E643B646815CDC0
FILE: 21. A Traditional Wedding Song Of Tu People.flac
Size: 5923209 Hash: 9C67856E95FDE7644799C1136088B3EB Accuracy: -m40
Conclusion: CDDA 99%
Signature: DF5C2AE28C071D7317F0569D41869B84288508DC
FILE: 22. Welcoming Guests.flac
Size: 6512729 Hash: AE808EB745181ED85F8113E128FFC064 Accuracy: -m40
Conclusion: CDDA 58%
Signature: 1138212DC5A1BF59951A3A9DD761BE261732ACBA
FILE: 23. An Zhao Dance.flac
Size: 15572996 Hash: 86B8EF9552980C5683EB192DB258ACB1 Accuracy: -m40
Conclusion: CDDA 62%
Signature: 8C50619035BA90AFFC109036EA69C77C30BB219D
FILE: 24. Come To Play On The Ridge.flac
Size: 4238062 Hash: F97D49C5290944CA70B93E16F1C5BF25 Accuracy: -m40
Conclusion: CDDA 100%
Signature: B4C6337DAA4900DF99E13E80CFA228E9F1D383CF
FILE: 25. Mounting The Horse.flac
Size: 4983108 Hash: 836B41A12635598FDDFFB8611C886D01 Accuracy: -m40
Conclusion: CDDA 99%
Signature: 99FEB346555FB93172D44B623A8F76DBFAB59FA4
FILE: 26. Daughter's Complaint.flac
Size: 9352031 Hash: 60B49FBC54164632FD92803DFBEFCCD9 Accuracy: -m40
Conclusion: CDDA 100%
Signature: AC4B3812A700D5C5B831E6153A563A5469732FB2
FILE: 27. Red Blossom Festival.flac
Size: 6267406 Hash: E2D18964035F80F192E6283D71782825 Accuracy: -m40
Conclusion: CDDA 100%
Signature: A184F70B33787D49D36C40A1B7F829C3D8EA4DBE
FILE: 28. A Girl's Song.flac
Size: 4880830 Hash: 943F8687F51564C9FB06336E3E31F42D Accuracy: -m40
Conclusion: CDDA 100%
Signature: 7407D7F800FFE9AC2E8CB77FAA0D763FB6706A87
FILE: 29. The Lad Can't Move His Eyes Away.flac
Size: 6155829 Hash: 40C4D44EEFB0CE62F1E7681C1FFDF161 Accuracy: -m40
Conclusion: CDDA 100%
Signature: F19C524ACE9D0B303C69765454767922C534A1AB
FILE: 30. Dongxiang Yi Ling.flac
Size: 9453223 Hash: FD68FA402B4AA3A735F82DFA39A98C8D Accuracy: -m40
Conclusion: CDDA 58%
Signature: 2006BAE752E018FA5E95422122FB0EA40B90667B
FILE: 31. Life Is Short.flac
Size: 6068186 Hash: 98533AEA3D7C4468B5DAE9685F73959F Accuracy: -m40
Conclusion: MPEG 100%
Signature: EC350606C8A1B3BBB090A59FAB35FD1ABAD0B783
FILE: 32. Sour-Sweet Pears.flac
Size: 7458061 Hash: FF965B370CBC6A76EC6F254FA4B4A9E8 Accuracy: -m40
Conclusion: CDDA 100%
Signature: AD26311309038E7AC8746CC026FF294395F09013
FILE: 33. Dongxiang Si Ling.flac
Size: 4545539 Hash: A2E01BD41DF1A25C2E32261EA7A0960D Accuracy: -m40
Conclusion: CDDA 100%
Signature: E5272958D66DE5A84252B1D60BB7C6D517F1FE88
FILE: 34. Hardship In Old Age.flac
Size: 15666828 Hash: 219C14F61DD0A3298CA8713EE0030C2A Accuracy: -m40
Conclusion: CDDA 99%
Signature: EC3C4BD840175A0DAD20C49BA9D709AC929F14B1
FILE: 35. An Old Peasant.flac
Size: 4715296 Hash: 65418DED90331B7B9D5161FF71BF3313 Accuracy: -m40
Conclusion: CDDA 100%
Signature: 51F3AD2ACBEA671DFF9F4C61415DB717D40FFDA0
FILE: 36. Picturesque Valley Of Tangwang.flac
Size: 4325936 Hash: 5E38E978BA5F7CD1DBEDE1ACEF39EA68 Accuracy: -m40
Conclusion: CDDA 100%
Signature: 9C4AA192B536AF05424B5D4962485A487664BE4F
FILE: 37. A Dongxiang Girl's Song.flac
Size: 8655961 Hash: AC5557EA7C9623A20144AD05131605F8 Accuracy: -m40
Conclusion: MPEG 93%
Signature: DBD4D3F2EE58565ACABF5A9678BB162E55522323
FILE: 38. Mi La Ga Hei.flac
Size: 3728137 Hash: C02E11769FB7DF30C3CF538C6DBFF255 Accuracy: -m40
Conclusion: CDDA 100%
Signature: 2DEA7A830E2CACC5391425C5532FD140DDB2F7B6
FILE: 39. The Rolling Dragon Brings The Rain.flac
Size: 7013698 Hash: 350AEE8C9C6B1A6F6DB4E74C21688D0C Accuracy: -m40
Conclusion: CDDA 100%
Signature: 9CC47A3D00B4569B060EF36506074CBD576C38F2
FILE: 40. A Bonan Melody.flac
Size: 6560403 Hash: 5A2198A5D3CEA396C9D0A1CA5BB86ACF Accuracy: -m40
Conclusion: CDDA 100%
Signature: E128D1D5BC1B746A29D9555C9D6E37AB46DDD377
FILE: 41. A Melody About A Lover.flac
Size: 6462597 Hash: A98B7E66C8637B3266A7EC65DAC52149 Accuracy: -m40
Conclusion: CDDA 100%
Signature: B8CD04082300494EC20988AB22FE8D6FDBA3B64F
FILE: 42. Big Eyes.flac
Size: 6602043 Hash: F87E11712ACF6CF93D352EC3BF6ED4A1 Accuracy: -m40
Conclusion: CDDA 100%
Signature: 0A979A554EA4F947EC4D9B9BBD94A3590953E9EE
FILE: 43. A Pony.flac
Size: 7878732 Hash: 1B8DD8728130517C141BCC05D96E8E0B Accuracy: -m40
Conclusion: CDDA 100%
Signature: 8CF9E4D2925FAF600E85FC3440F2B802C9881687
FILE: 44. Cang Lang Lang Melody.flac
Size: 6002462 Hash: DCC71E3016FFF323B11FE1D21724FD82 Accuracy: -m40
Conclusion: CDDA 99%
Signature: 96C7000E8F8317DDD0E58FFA4B37CE7A8E5F3B71
FILE: 45. A Banquet Song.flac
Size: 3002165 Hash: 307995D095648A3EFD9A889E2EA5A1D9 Accuracy: -m40
Conclusion: CDDA 100%
Signature: 80F17A92DC8335632E39BCF4E2718C27ADF8AD02
FILE: 46. A Straight Melody.flac
Size: 7342869 Hash: 438E03EA506F9359503A38F3BBA85B57 Accuracy: -m40
Conclusion: CDDA 100%
Signature: 4959368123AFC6A3B6A7BBC6F909891DC5688289