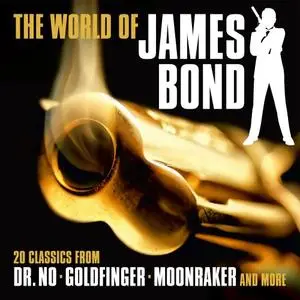 Various Artists - The World of James Bond: 20 Classics from Dr. No, Goldfinger, Moonraker and More (2020)
FLAC tracks | 1:05:08 | 393 Mb
Genre: Soundtrack / Label: Dockland Music
Later this year, James Bond returns to movie theaters in No Time to Die, starring Daniel Craig as Ian Fleming's secret agent 007, license to kill. In this installment, Bond will once again do battle with the forces of SPECTRE, a criminal organization hellbent on world domination. He'll also have to do battle with a different sort of ghost: The audience's accumulated memories from 24 previous movies, stretching back more than half a century.
Track List:
01. The Ian Rich Orchestra - James Bond Theme (2:37)
02. The Ian Rich Orchestra - Goldeneye (From "Goldeneye") (3:29)
03. North German Radio Dance Orchestra - Thunderball (From "Thunderball") (2:36)
04. The Ian Rich Orchestra - Live and Let Die (From "Live and Let Die") (3:12)
05. Royal Philharmonic Orchestra - For Your Eyes Only (From "For Your Eyes Only) (3:06)
06. The Ian Rich Orchestra - Main Theme (From "On Her Majesty's Secret Service") (2:36)
07. The Ian Rich Orchestra - Licence to Kill (From "Licence to Kill") (5:09)
08. North German Radio Dance Orchestra - Goldfinger (From "Goldfinger") (3:09)
09. The Zero Zero Seven Band - Pussy Galore Meets Bond (From "Goldfinger") (3:01)
10. The Ian Rich Orchestra - Moonraker (From "Moonraker") (3:14)
11. The Ian Rich Orchestra - We Have All the Time In the World (From "On Her Majesty's Secret Service") (3:16)
12. The Zero Zero Seven Band - From Russia with Love (From "From Russia with Love") (3:28)
13. The John Bob Brass - Casino Royale (From "Casino Royale") (2:38)
14. 101 Strings Orchestra - 007 (From "From Russia with Love") (1:56)
15. The Ian Rich Orchestra - You Only Live Twice (From "You Only Live Twice") (2:52)
16. 101 Strings Orchestra - Mr. Kiss Kiss Bang Bang (From "Thunderball") (3:39)
17. The Miles Dixon Orchestra - Diamonds Are Forever (From "Diamonds Are Forever") (2:41)
18. 101 Strings Orchestra - The Look of Love (From "Casino Royale") (2:22)
19. The Miles Dixon Orchestra - Nobody Does It Better (From "The Spy Who Loved Me") (3:08)
20. Orlando Pops Orchestra - Themes from James Bond (Medley) (7:00)
ANALYZER: auCDtect: CD records authenticity detector, version 0.8.2
Copyright © 2004 Oleg Berngardt. All rights reserved.
Copyright © 2004 Alexander Djourik. All rights reserved.


FILE: 01. The Ian Rich Orchestra - James Bond Theme.flac
Size: 17205712 Hash: 9F4DF83ECED020873959EBED08B6FE7F Accuracy: -m40
Conclusion: CDDA 100%
Signature: 141774E7BCF21C8C181F0A71A2C57A4D16392082
FILE: 02. The Ian Rich Orchestra - Goldeneye (From _Goldeneye_).flac
Size: 22022272 Hash: 5B1DAEDCEE7F42739C3E7DF2C867DB59 Accuracy: -m40
Conclusion: CDDA 99%
Signature: 8C48E611E75F201AF6090F3313B224FF654EE0E5
FILE: 03. North German Radio Dance Orchestra - Thunderball (From _Thunderball_).flac
Size: 17927710 Hash: 01F33ADE77567FFA2552F14EAABF8F57 Accuracy: -m40
Conclusion: CDDA 100%
Signature: D234CB6804128A76BBEE0F9D129B74E913BDEBE6
FILE: 04. The Ian Rich Orchestra - Live and Let Die (From _Live and Let Die_).flac
Size: 20053129 Hash: D12B9A84A3A7D976795679ED6D9B5459 Accuracy: -m40
Conclusion: CDDA 100%
Signature: C94E7A10317938C2D7AECF77500694FC2CF395B7
FILE: 05. Royal Philharmonic Orchestra - For Your Eyes Only (From _For Your Eyes Only).flac
Size: 18967674 Hash: B296B0CF8CBED7F3D47E36715EF09F65 Accuracy: -m40
Conclusion: CDDA 100%
Signature: EF7328030F3638D67E7892EDE65A214717FAB26F
FILE: 06. The Ian Rich Orchestra - Main Theme (From _On Her Majesty's Secret Service_).flac
Size: 17903350 Hash: 7D6EE824250F5C5FC1E4DC018CE21ACA Accuracy: -m40
Conclusion: CDDA 100%
Signature: 22D69EDDACE9F4F6C0283339E193651EED51C7FB
FILE: 07. The Ian Rich Orchestra - Licence to Kill (From _Licence to Kill_).flac
Size: 33588098 Hash: BFB34A03B02B9658A3872F9A55192E70 Accuracy: -m40
Conclusion: CDDA 100%
Signature: 222DE0DD2B328C7FB0EF1E0ABD6D546951D4FDA4
FILE: 08. North German Radio Dance Orchestra - Goldfinger (From _Goldfinger_).flac
Size: 18472828 Hash: D348264C64CB683E974DDDCE60DE60D7 Accuracy: -m40
Conclusion: CDDA 100%
Signature: 0FCB1B5D391F8A0A97F2BA6CD0A6300EE04E6FC9
FILE: 09. The Zero Zero Seven Band - Pussy Galore Meets Bond (From _Goldfinger_).flac
Size: 17808556 Hash: B28C8982C81FCFDD66DFC6363EDB0503 Accuracy: -m40
Conclusion: CDDA 100%
Signature: 767447F4E1C43ECC32CED5BEC90DCB04A1621DA1
FILE: 10. The Ian Rich Orchestra - Moonraker (From _Moonraker_).flac
Size: 18662549 Hash: 92F6F0DE2E3E10AD2986F786CA0B4983 Accuracy: -m40
Conclusion: CDDA 100%
Signature: 11A6472E239F3D78FCF8684690B6EB080E1B2F80
FILE: 11. The Ian Rich Orchestra - We Have All the Time In the World (From _On Her Majesty's Secret Service_).flac
Size: 20259611 Hash: 5D9EC02A5F092E2FC159A8E5607B34A3 Accuracy: -m40
Conclusion: CDDA 100%
Signature: DB82E97665A3484C1154C9732B405D1A2CF7ED92
FILE: 12. The Zero Zero Seven Band - From Russia with Love (From _From Russia with Love_).flac
Size: 20769419 Hash: 0519556985F3DD31A999E5FCA6E9271D Accuracy: -m40
Conclusion: CDDA 100%
Signature: 9A304994C206CBA8D47F40998F45723F200E753C
FILE: 13. The John Bob Brass - Casino Royale (From _Casino Royale_).flac
Size: 17030613 Hash: E5B690F3458C3EDC4A12F58C9E09B348 Accuracy: -m40
Conclusion: CDDA 100%
Signature: D3C040D3B59056350037D5D19C1D35684E672F9B
FILE: 14. 101 Strings Orchestra - 007 (From _From Russia with Love_).flac
Size: 11747231 Hash: D0C590DD2D652A4BBC1911BF8C5380CC Accuracy: -m40
Conclusion: CDDA 100%
Signature: 2F5499B8867F8CC7DFC005BF65639A6AAC3E92C4
FILE: 15. The Ian Rich Orchestra - You Only Live Twice (From _You Only Live Twice_).flac
Size: 16261272 Hash: F0A6C7E1557107FBEA40EDAEBAEF42A9 Accuracy: -m40
Conclusion: CDDA 99%
Signature: 2A6146996D4C461171EAF575D0721D420CDF79A2
FILE: 16. 101 Strings Orchestra - Mr. Kiss Kiss Bang Bang (From _Thunderball_).flac
Size: 22661631 Hash: F94BED8B2A16798A279B6C2FEC115642 Accuracy: -m40
Conclusion: CDDA 100%
Signature: 56DC573DEC2B9827BFD9D3A5CDA78E62B995355A
FILE: 17. The Miles Dixon Orchestra - Diamonds Are Forever (From _Diamonds Are Forever_).flac
Size: 16766086 Hash: 7EA66F23F1109993BAC95999711CE79D Accuracy: -m40
Conclusion: CDDA 100%
Signature: 7ECD963A62789525C2960247AB8A228F1F84113B
FILE: 18. 101 Strings Orchestra - The Look of Love (From _Casino Royale_).flac
Size: 13717879 Hash: 2A6A0285D0E85641755013D5A1E27274 Accuracy: -m40
Conclusion: CDDA 100%
Signature: A833F0B8047A8091542D1D3355F164C2779AB293
FILE: 19. The Miles Dixon Orchestra - Nobody Does It Better (From _The Spy Who Loved Me_).flac
Size: 19572700 Hash: 3F8CD7B4B2A0BB4B19EE53655638CCE3 Accuracy: -m40
Conclusion: CDDA 100%
Signature: A496C23B579C5798BC082AFCB48B1D9C54735B1B
FILE: 20. Orlando Pops Orchestra - Themes from James Bond (Medley).flac
Size: 35296443 Hash: 22B906324CDF1CEE86F300D6050E2FEA Accuracy: -m40
Conclusion: CDDA 100%
Signature: 861D0C6CF76D0C5D657494763922C28AE58BABED