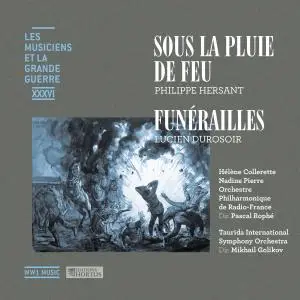 Various Artists - Sous la pluie de feu – Funérailles (Les musiciens et la Grande Guerre, Vol. 36) (2019)
WEB FLAC (tracks+booklet) - 309 MB | Tracks: 7 | 60:30 min
Style: Classical | Label: HORTUS
From his discharge onward Lucien Durosoir had constantly in mind the millions of casualties to whom he dedicated his vast score Funérailles, compelling and anguished. One hundred years later Philippe Hersant in turn, with his double concerto for violin and cello, evokes the widespread massacre, the barbarity out of which emerge the three figures inspiring Sous la pluie de feu: Lucien Durosoir and Maurice Maréchal, and the writer André Pézard from whom its title is borrowed.
Tracklist:
01. Funérailles: I. Roses de Damas, où sont vos parfums?
02. Funérailles: II. Je me souviens
03. Funérailles: III. Voix qui revenez
04. Funérailles: IV. Toc, toc, le menuisier des trépassés
05. Sous la pluie de feu: I
06. Sous la pluie de feu: II
07. Sous la pluie de feu: III


FILE: 01. Funérailles_ I. Roses de Damas, où sont vos parfums _.flac
Size: 48344385 Hash: BA3D83840F734CD945DE6068C2A0609D Accuracy: -m0
Conclusion: MPEG 90%
Signature: 93690C889D45582E0EAE8509D80CB4C3940995E2
FILE: 02. Funérailles_ II. Je me souviens….flac
Size: 59930208 Hash: 6817D121BDBA5C2EA3536E41D5A1D6CD Accuracy: -m0
Conclusion: CDDA 54%
Signature: 3BD80F902684EB488FF9DCD0B83265C243827ED7
FILE: 03. Funérailles_ III. Voix qui revenez….flac
Size: 47722648 Hash: 8C84412E5C991D591C80A6BDC4A5C70E Accuracy: -m0
Conclusion: MPEG 80%
Signature: 8F5FF0ABAB90F638469D2E8240986536C8F1FE1F
FILE: 04. Funérailles_ IV. Toc, toc, le menuisier des trépassés….flac
Size: 61311590 Hash: 29F2DF3A7EA50729F33BBABA478461B9 Accuracy: -m0
Conclusion: CDDA 49%
Signature: E959703E1A56A1BA5FB952E73B436AB69C01121E
FILE: 05. Sous la pluie de feu_ I..flac
Size: 24175049 Hash: 8D3B9DDDB41DF3BA25657D24FC5F9FCE Accuracy: -m0
Conclusion: CDDA 85%
Signature: 24E35F1CF0D05FFA056C11649BF9A8C8DA974AB0
FILE: 06. Sous la pluie de feu_ II..flac
Size: 20638427 Hash: 1957E6B3029CF1E42E78C85AEF85DFE0 Accuracy: -m0
Conclusion: CDDA 100%
Signature: CC96DBF7CF27BE461BBDDF6439A52C2548E287B8
FILE: 07. Sous la pluie de feu_ III..flac
Size: 60860437 Hash: B1F810BC7E5F0DB2F09EC19E8D442990 Accuracy: -m0
Conclusion: CDDA 85%
Signature: C3D23992FD30D76C97CC8DFD5174E15A62B051F7