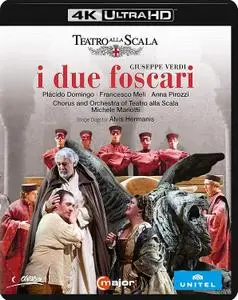 Michele Mariotti, Orchestra del Teatro alla Scala - Verdi: I Due Foscari (2019) [UHD Blu-Ray]
BluRay | BDMV | MPEG-H HEVC Video / 27106 kbps / 2160p / 50 fps | 122 min | 30,1 Gb
Audio1: Italiano / LPCM Audio / 2.0 / 24-bit | Audio2: DTS-HD Master Audio / 5.1 / 48 kHz / 3712 kbps / 24-bit
Classical | C Major | Sub: Italian, English, German, French, Spanish, Korean, Japanese
In his 'new life' as a baritone Plácido Domingo has triumphed in the role of Francesco Foscari in Los Angeles, London and Vienna. Now he takes to the role in La Scala, Milan, the theatre that is the symbol of Italian opera. I due Foscari, premiered in 1844, famously one of Verdi's darkest operas, is staged by Alvis Hermanis, who made such an impact at the Salzburg Festival with Die Soldaten and Il trovatore. Domingo is joined by two of Italy's most exciting singers, the soprano Anna Pirozzi and the tenor Francesco Meli, and the acclaimed Italian conductor Michele Mariotti. The Financial Times was deeply moved by Domingo's performance, calling his interpretation of the role 'sublime'.
Cast:
Francesco Foscari - Plácido Domingo
Jacopo Foscari - Francesco Meli
Lucrezia Contarini - Anna Pirozzi
Jacopo Loredano - Andrea Concetti
Barbarigo - Edoardo Milletti
Pisana - Chiara Isotton
Fante - Azer Rza-Zada
Coro e Orchestra del Teatro alla Scala
Conductor - Michele Mariotti

Disc Title: I DUE FOSCARI
Disc Size: 32 322 571 269 bytes
Protection: AACS2
BD-Java: No
Playlist: 00000.MPLS
Size: 32 051 693 568 bytes
Length: 2:01:48.220
Total Bitrate: 35.09 Mbps
Video: MPEG-H HEVC Video / 27106 kbps / 2160p / 50 fps / Main 10 Profile 5.1 High / 4:2:0 / 10 bits / SDR / BT.709 /
Audio: Italian / LPCM Audio / 2.0 / 48 kHz / 2304 kbps / 24-bit
Audio: Italian / DTS-HD Master Audio / 5.1 / 48 kHz / 3712 kbps / 24-bit (DTS Core: 5.1 / 48 kHz / 1509 kbps / 24-bit)
Subtitle: Italian / 15.955 kbps
Subtitle: English / 18.149 kbps
Subtitle: German / 19.716 kbps
Subtitle: French / 18.653 kbps
Subtitle: Spanish / 16.718 kbps
Subtitle: Korean / 21.148 kbps
Subtitle: Japanese / 17.237 kbps