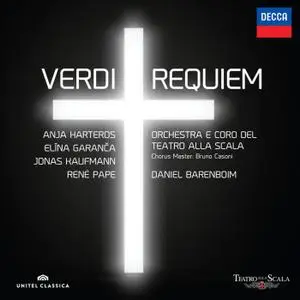 Orchestra del Teatro alla Scala di Milano, Daniel Barenboim - Verdi: Requiem (2013)
WEB | FLAC (tracks) - 368 MB | 01:26:44
Genre: Classical | Label: Decca
The early 2010s have seen a profusion of good performances and recordings of Verdi's Requiem mass. This may be because the work offers operatic singers and conductors a chance to strut their stuff in a one-shot deal, without the expense of mounting an entire operatic production. Whatever the explanation, the situation is a boon for listeners, and the present album takes its place among the very best. The Requiem is the towering work of sacred music in the late 19th century, full of social resonances that are explored in the booklet of this release with conductor Daniel Barenboim leading the Orchestra and Chorus of the La Scala Theatre.