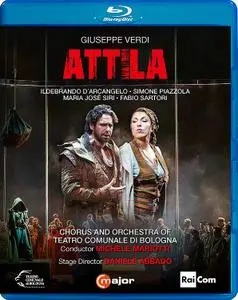 Michele Mariotti, Orchestra del Teatro Comunale di Bologna - Verdi: Attila (2019) [BDRip]
BluRay-rip | AVC | MKV 1920x1080 / 6215 kbps / 29,97 fps | 116 min | 5,58 Gb
Audio: Italiano / AC3 / 5ch / 48.0 KHz / 640 Kbps
Classical | C Major | Sub: Italian, English, German, French, Korean, Japanese
Verdi's opera Attila takes as its starting point Attila's plans to storm Rome with his army of Huns and the Romans' attempts to prevent him. As with Nabucco and I Lombardi, Verdi spiced up the action with a number of patriotic choruses, guaranteeing that – against the background of the Italian movement for unification – the opera was a great success. 'Michele Mariotti owes much to the fact that this evening became a celebration of voices' (Opern-Kritik). Ildebrando D´Arcangelo is 'perfect for the serious Verdi roles', Fabio Sartori has a voice of immense brilliance' (Opern-Kritik), 'Simone Piazzola was an impressive Ezio' (theoperacritic.com) and 'the real warrior of this Attila is the soprano Maria Jose' Siri … with her voice, touching each primordial sentiment in every note of the opera, she commanded 'Attention' from everybody' (La Repubblica).