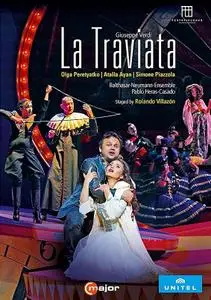 Pablo Heras-Casado, Balthasar-Neumann Chor and Ensemble - Verdi: La Traviata (2016)
NTSC 16:9 (720x480) | Italiano | LinearPCM, 2 ch | DTS, 6 ch | 7.42 Gb (DVD9) | 139 min
Classical | C major | Sub.: Italiano, English, Deutsch, Francais, Espanol, Korean, Chinese, Japanese
Star tenor and director Rolando Villazn's staging of La Traviata at the Festspielhaus in Baden Baden is "visually spectacular" (The Huffington Post) and made for "an enthusiastic reception for the premiere" (Stuttgarter Zeitung)! Villazn "proves again his excellent narrating skills on stage" (WDR Klassik). "The setting and opulence of the stage captivates the spectator, as do the stylized costumes designed by Thibault Vancraenenbroeck for circus artists" (Stuttgarter Zeitung). Olga Peretyatko as Violetta delivers "a fantastic portrait of the title role wavering between adolescent joie de vivre, mature insight and anguish" (Stuttgarter Zeitung). Her partner is the tenor Atalla Ayan as the jealous Alfredo, who delivers a "beguiling interpretation with a dark, warm timbre and rich top notes" (Stuttgarter Zeitung). Simone Piazzolla as Alfredo's strict father Giorgio Germont adds fine vocal lines to provide a strong sense of "Italianit" on stage (Neue Zrcher Zeitung). Conductor is Pablo Heras-Casado, "a great hope of a new generation of conductors" (WDR Klassik).
Cast:
Violetta Valéry - Olga Peretyatko
Alfredo Germont - Atalla Ayan
Giorgio Germont - Simone Piazzola
Gastone / Vicomte de Létorières - Emiliano Gonzalez Toro
Baron Douphol - Tom Fox
Flora Bervoix - Christina Daletska
Marchese D'Obigny - Konstantin Wolff
Doctor Grenvil - Walter Fink
Annina - Deniz Uzun
Flora's Servant - Raimonds Spogis
Commissioner - Stefan Geyer
Giuseppe - Hermann Oswald
Balthasar-Neumann Chor and Ensemble
Pablo Heras-Casado, conductor
Rolando Villazón, stage director