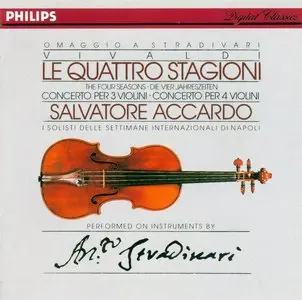 Vivaldi · Le Quattro Stagioni · Concertos per 3 & 4 Violini · Accardo
Classical | EAC | APE, CUE, No LOG, 300 MB | MP3 HQ, Tracks 107 MB
1 CDs | Covers | rs.com | 1988
Salvatore Accardo
Born: 26 September, 1941 Turin, Italy
Violinist and Conductor

Though born in the North of Italy, Salvatore Accardo has always had a strong identification with Italy's southernmost major city, Naples. He began his studies there in the early 1950's and graduated in 1956. His international career began almost immediately and within two years he was touring North and South America as well as Europe.

Early on in his career Accardo became strongly identified with the music of Nicolo Paganini, his fiery virtuoso predecessor. He eventually recorded the famous 24 Caprices for solo violin and all six of the Concertos (a recording 'first'). Accardo is not just a 'fiddler's fiddler' though. He has a wide range of interests and his formidable technique has led him from Bach to contemporary works, many of which he has championed.

Regarded as Italy's foremost violinist of the post WWII era, Salvatore Accardo also enjoys conducting and has maintained his love of Naples by founding a chamber music festival there.
Salvatore Accardo · I Solisti Delle Settimane Internazionali Di Napoli
CD
Antonio Vivaldi (1678-1741)

Le Quattro Stagioni · Concerto per violino, archi e continuo
Concerto n. 1 in Mi maggiore, RV 269 "La primavera"
Concerto n. 2 in sol minore, RV 315 "L'estate
Concerto n. 3 in Fa maggiore, RV 293 "L'autunno"
Concerto n. 4 in fa minore, RV 297 "L'inverno"

Concerto in si minore, RV 580
per 4 violine, archi e continuo

Concerto in Fa maggiore, RV, 551
per 3 violini, archi e continuo