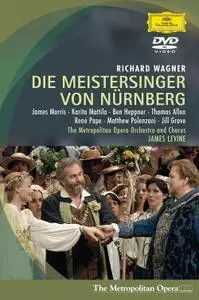 James Levine, The Metropolitan Opera Orchestra - Wagner: Die Meistersinger von Nürnberg (2004/2001)
NTSC 16:9 (720x480) | Deutsch | LinearPCM, 2 ch | DTS, 5 ch | Dolby AC3, 6 ch | 7.81 + 7.26 Gb (2xDVD9) | 292 min
Classical | Deutsche Grammophon | Sub: Deutsch, English, Francais, Espanol, Chinese
Wagner's enchanting Nürnberg has perhaps never looked as marvelous as in this production by Otto Schenk, with sets designed by Günther Schneider-Siemssen. James Levine's conducting is as authoritative as it is affectionate, and the orchestra, the chorus, and the all-star cast which could not be equaled anywhere else in the world—respond with a riveting performance. James Morris is a wise, avuncular Hans Sachs; Ben Heppner's beautifully sung Walther is a perfect match for Karita Mattila's radiant Eva; and René Pape and Thomas Allen turn in stellar performances.
Cast:
Hans Sachs - James Morris
Veit Pogner - René Pape
Sixtus Beckmesser - Thomas Allen
Walther von Stolzing - Ben Heppner
David - Matthew Polenzani
Eva - Karita Mattila
Magdalene - Jill Grove
Ein Nachtwächter - John Relyea
The Metropolitan Opera Orchestra and Chorus
Conductor - James Levine