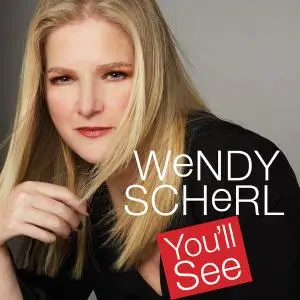 Wendy Scherl - You'll See (2019)
WEB FLAC (Tracks +Booklet) 300 MB | Cover | 53:53 | MP3 CBR 320 kbps | 141 MB
Vocal Pop | Label: Harbinger
None other than Roy Sander of the prestigious Bistro Awards wrote, With her fluent musical vocabulary and sharp interpretive skill, Wendy Scherl illuminates and invigorates every song she sings. Her new Harbinger Records album, Youll See, marks Wendys return to performing after taking an eighteen-year break to raise her two boys. After her appearances at New Yorks premier clubs like BB Kings, Dont Tell Mama, The Triad, The Metropolitan Room, and the Laurie Beechman Theatre, this Metro Star Search award-winner has returned to radiant reviews. Of this new release, David Friedman wrote, Wendy never stopped singing, never stopped studying, never stopped honing her art. Shes back, voice more beautiful than ever, singing with all the warmth and wisdom and humor that only a life well and fully lived can bring. And Youll See is the perfect showcase for Wendys myriad talents. Produced by multi-MAC Award winner Barry Kleinbort and backed by a swinging eight-piece band led by the brilliant Christopher Denny, she sings the cream of American Popular Song. Wendy graces the music and lyrics of such songwriting giants as Irving Berlin, Burt Bacharach and Hal David, Marvin Hamlisch, Stephen Sondheim, Jerry Herman, and others. She even ventures into Bob Dylan, Rusty Magee, and William Finn lending her talents to create unique interpretations of both music and lyrics. Youll See marks a return of a singular talent whos work shines with clarity and emotion.
TRACKLIST
01. Wendy Scherl - You'll See
02. Wendy Scherl - I'm Old Fashioned (From "You Were Never Lovelier")
03. Wendy Scherl - I Got The Sun In The Morning: I Got the Sun in the Morning (From "Annie Get Your Gun")
04. Wendy Scherl - Sleepy Man (From "The Robber Bridgegroom")
05. Wendy Scherl - New York Romance
06. Wendy Scherl - The Kindest Man (From "Marty")
07. Wendy Scherl - To Make You Feel My Love
08. Wendy Scherl - There Are Two Sides to Everything (From "Alice Through the Looking Glass")
09. Wendy Scherl - Whoever You Are, I Love You (From "Promises, Promises")
10. Wendy Scherl - The Way We Were / Niagara
11. Wendy Scherl - Wherever He Ain't (From "Mack and Mabel")
12. Wendy Scherl - Anytime (From "Elegies")
13. Wendy Scherl - Move On (From "Sunday in the Park with George") / I Wouldn't Go Back [From "Closer than Ever"] / Yes [From "70, Girls, 70"]
14. Wendy Scherl - Anyone Can Whistle (From "Anyone Can Whistle")
–––––––––––-
DON'T MODIFY THIS FILE
–––––––––––-
PERFORMER: auCDtect Task Manager, ver. 1.6.0 RC1 build 1.6.0.1
Copyright © 2008-2010 y-soft. All rights reserved
http://y-soft.org
ANALYZER: auCDtect: CD records authenticity detector, version 0.8.2
Copyright © 2004 Oleg Berngardt. All rights reserved.
Copyright © 2004 Alexander Djourik. All rights reserved.
FILE: 14. Anyone Can Whistle (From -Anyone Can Whistle-).flac
Size: 15396451 Hash: CF2BE934A4FBA69C8ECD498AC1790145 Accuracy: -m0
Conclusion: CDDA 100%
Signature: D3BB354F8681D820A27616C860671D9B15FF8966
FILE: 13. Move On (From -Sunday in the Park with George-) - I Wouldn't Go Back [From -Closer than Ever-] - Yes [From -70, Girls, 70-].flac
Size: 24566757 Hash: 2507B71B3FA06143579722CDCE94D1AF Accuracy: -m0
Conclusion: CDDA 100%
Signature: 7236DE5BE5B590C13914BAFA64985EAE35EB1339
FILE: 12. Anytime (From -Elegies-).flac
Size: 28885523 Hash: 249039309C16504F9B426A53174E743B Accuracy: -m0
Conclusion: CDDA 100%
Signature: CC40A65C84832C13C8E87C48C0F8C6989000EE39
FILE: 11. Wherever He Ain't (From -Mack and Mabel-).flac
Size: 20593020 Hash: 349A7DD972B57E140EC3232EE848F303 Accuracy: -m0
Conclusion: CDDA 100%
Signature: 3F1E94A40081199C1CC9E1650AA526712EACC526
FILE: 10. The Way We Were - Niagara.flac
Size: 32669001 Hash: 374C35C772E64AE91ED2E576AD42C1BF Accuracy: -m0
Conclusion: CDDA 100%
Signature: 0D0E4E4F738DE70754D7D3ABFB4035541065D128
FILE: 09. Whoever You Are, I Love You (From -Promises, Promises-).flac
Size: 25538356 Hash: 19946BA8DD6963907C809A974D3277E4 Accuracy: -m0
Conclusion: CDDA 99%
Signature: 1DDDBA713ECF7D9EBF977E59B2C6CC5CBD1CD3ED
FILE: 08. There Are Two Sides to Everything (From -Alice Through the Looking Glass-).flac
Size: 20708064 Hash: 9AEE4CEE7B93CB30C8BABB56AB99275A Accuracy: -m0
Conclusion: CDDA 100%
Signature: BB1DA01D28980BDF9BF786BFDB4D73A5248607FD
FILE: 07. To Make You Feel My Love.flac
Size: 19402817 Hash: 881C6D646E6B42DF06509BA50F66BC38 Accuracy: -m0
Conclusion: CDDA 99%
Signature: 68B203D8ACA9486D20C487B7A3B46B1D0CE12D6D
FILE: 06. The Kindest Man (From -Marty-).flac
Size: 19403270 Hash: 5D77B5D3CEC286C3EC464D146CB546DD Accuracy: -m0
Conclusion: CDDA 100%
Signature: 69FD1E47E8C45E9C4C492C8F03E32167C8B4A72F
FILE: 05. New York Romance.flac
Size: 19916142 Hash: B64022BEF45462282DE96E3F62EB5A9A Accuracy: -m0
Conclusion: CDDA 100%
Signature: D418ACFD21158AED974817FD3E07C6A6B4365CC5
FILE: 04. Sleepy Man (From -The Robber Bridgegroom-).flac
Size: 18375082 Hash: 1D28ED9F23651EAA2F0B0BAD6B7D2894 Accuracy: -m0
Conclusion: CDDA 100%
Signature: 616876F8830755433831AEE681C4FA2A3364A2A4
FILE: 03. I Got The Sun In The Morning- I Got the Sun in the Morning (From -Annie Get Your Gun-).flac
Size: 19422371 Hash: 302DF51481C1828F9683A4F53FB07394 Accuracy: -m0
Conclusion: CDDA 99%
Signature: 250A515C8E01AF4A08CC1A3D1355E3F77BBBD9D9
FILE: 02. I'm Old Fashioned (From -You Were Never Lovelier-).flac
Size: 23452561 Hash: 982DA4C19D028860792C8B9C4F6E890E Accuracy: -m0
Conclusion: CDDA 100%
Signature: 334EFDD3237E945F00E308F4CCF5B9A1D68C0FED
FILE: 01. You'll See.flac
Size: 24579452 Hash: 7FE0E28244EE7E877FC1CFB76940A04B Accuracy: -m0
Conclusion: CDDA 100%
Signature: 77AFDCCA99387F9C6D7F611E7A6D98A884775AB0