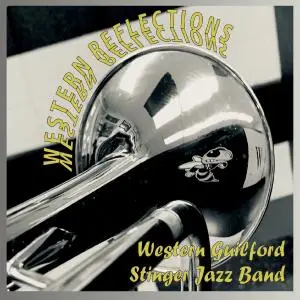 Western Guilford Stinger Jazz Band - Western Reflections (2019)
WEB FLAC (tracks) - 372 MB | Tracks: 16 | 59:41 min
Style: Jazz | Label: Western Guilford Stinger Jazz Band
It's been three years in the making! Come celebrate the release of the WGHS Stinger Jazz Band's newest CD, titled "Western Reflections"! It has 16 songs, and nearly every genre imaginable: jazz, spirituals, big band, rock, ballads, vocals, sax quartet, zydeco (complete with accordion & rubboard). There is even one song that includes both the jazz band and the orchestra. The CD sounds (and looks) amazing!
This has been a huge labor of love for so many. This project is fundraiser for our entire Instrumental Music Program at Western Guilford High School. Come join the Party!
Tracklist:
01. Go Tell It on the Mountain
02. Da Blues Done Gotcha Again!
03. Jambalaya (On the Bayou)
04. Europa
05. Just a Closer Walk with Thee
06. 25 or 6 to 4
07. Brother Benjamin
08. Western Reflections
09. Work Song
10. At Last
11. Hot Rod
12. Mazatlan
13. Mancini Digs That Mambo
14. That Rainy Day Feeling
15. Out of the Doghouse
16. Get It On

FILE: 01. Go Tell It on the Mountain.flac
Size: 23501693 Hash: 741514A5A4352C20E9DA01A3AFA93240 Accuracy: -m0
Conclusion: CDDA 100%
Signature: 0141F09F44F2A54C3BB9553AE6FC5121A95DCB2C
FILE: 02. Da Blues Done Gotcha Again!.flac
Size: 37910621 Hash: 77904BF034DBEAA80E10AE92DE41C87E Accuracy: -m0
Conclusion: CDDA 100%
Signature: 97A06F6D6E0D72CB7D66C82690FD0F913CD91125
FILE: 03. Jambalaya (On the Bayou).flac
Size: 32490991 Hash: E869BFD20717328B4BC2A8EA53F772F6 Accuracy: -m0
Conclusion: CDDA 100%
Signature: 867AA133818C2FBEEBBE4A8A34107A9E4C858047
FILE: 04. Europa.flac
Size: 25236778 Hash: 70614A71CC2FB73593A99578F9499344 Accuracy: -m0
Conclusion: CDDA 100%
Signature: 31141FB4E500EFECC3BC494D49A02AB4E61ED8AB
FILE: 05. Just a Closer Walk with Thee.flac
Size: 18582234 Hash: 9C28CA40E363726E77311EECB21435D1 Accuracy: -m0
Conclusion: CDDA 100%
Signature: B9B474AC4681769860733D044C0DEAC7156C1B71
FILE: 06. 25 or 6 to 4.flac
Size: 21013654 Hash: BDD7E1827EB15082FFEC8100CF264E34 Accuracy: -m0
Conclusion: CDDA 100%
Signature: A1F66E7B034D1700C6EA26EA9D05B12C06B18F99
FILE: 07. Brother Benjamin.flac
Size: 15667237 Hash: E7C7345CF4399E6CD484DFD6C0A7C6FF Accuracy: -m0
Conclusion: CDDA 100%
Signature: 702BA45BAC9AA77B1CC2003D4D5B0741AD1E1BBB
FILE: 08. Western Reflections.flac
Size: 32874395 Hash: 1EAE581670D89DFCC8D277024D6723C5 Accuracy: -m0
Conclusion: CDDA 100%
Signature: 6B321EFBEED2046B12CAAE38F44339844D1494FD
FILE: 09. Work Song.flac
Size: 35318333 Hash: F8967DBF51D031761736EA3D6367C6C9 Accuracy: -m0
Conclusion: CDDA 100%
Signature: B3E02E2AF0AA9B5BA8F1EC8B31DACB6FC2108ADC
FILE: 10. At Last.flac
Size: 22319068 Hash: D68B0E0201D44B97F41B86AAF76DA5A4 Accuracy: -m0
Conclusion: CDDA 100%
Signature: 7268764F3473A0CBB70835EE570B63D84980D341
FILE: 11. Hot Rod.flac
Size: 24247346 Hash: 49538B2E13E001ACAD2DDC623061A55D Accuracy: -m0
Conclusion: CDDA 100%
Signature: 25C5B275BC91D89965A38F7EEE2CCEE3768A9B0E
FILE: 12. Mazatlan.flac
Size: 25503643 Hash: 7469E1428F28007381D8776BBF87F376 Accuracy: -m0
Conclusion: CDDA 100%
Signature: 8CEE6DF8FFE07CD1E721F956F88B244652F940F6
FILE: 13. Mancini Digs That Mambo.flac
Size: 15124527 Hash: 6C5521BEC6B6610FE9A8582586F728EE Accuracy: -m0
Conclusion: CDDA 100%
Signature: 37600144FAE9021388896DBAC198E7B82A071B66
FILE: 14. That Rainy Day Feeling.flac
Size: 18998662 Hash: B762E4A902974D4EB290185465C398FE Accuracy: -m0
Conclusion: CDDA 100%
Signature: 091641C9C3740FD1F7952D816B37DF0FA0997DDD
FILE: 15. Out of the Doghouse.flac
Size: 22377988 Hash: 1E08DAA3BDE93337D1A6DE9B0EC283EA Accuracy: -m0
Conclusion: CDDA 100%
Signature: F1B9314052912F6318012A5841CFE470DB256C3F
FILE: 16. Get It On.flac
Size: 19051145 Hash: 8A628E08E02AC42F2379A836CA8CA4AC Accuracy: -m0
Conclusion: CDDA 100%
Signature: D6D9FF08FFB3876D29A1774AE3A2BD27A0FA4927