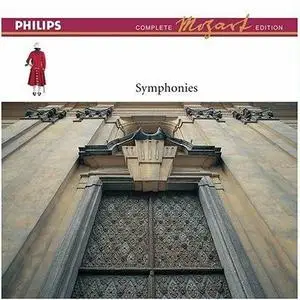 Wolfgang Amadeus Mozart - The Complete Mozart Edition (2006) (180 CDs Box Set)
XLD Rip | FLAC (Tracks+.cue, log) | 180 CDs, 07:16:01:18 min | 46 Gb | Scans->2,96 Gb
Genre: Classical / Label: Philips
To commemorate the bicentenary of the death of Wolfgang Amadeus Mozart (December 5, 1791) Philips Classics Records assembled The Complete Mozart Edition comprising 180 compact discs arranged into 45 themed volumes. Each volume in the series is accompanied by a deluxe booklet with detailed information about the works, with many illustrations. Indicating the significance of this particular series, the words of the accompanying Compactotheque state, "…after the complete Shakespeare, the complete Goethe, or the complete Molière in book form, here is the Complete Mozart on discs."

A modified version of The Complete Mozart Edition, the Complete Compact Mozart Edition, was released in 2000. It consists of 17 individual boxed sets. This version also contains stripped down versions of the booklets that accompanied the original series.

The Complete Mozart Edition and The Complete Compact Mozart Edition are both accompanied by a 200-page booklet which presents a condensed biography of Mozart with many photographs, describes in detail all boxes content and contains a complete index of all the musical works following the Köchel catalogue. This set is not to be confused with the similar complete edition on 170 CDs by Brilliant Classics.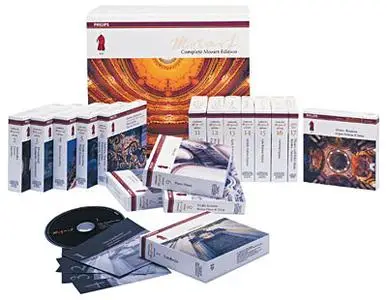 VOLUMES
Volume 1: Symphonies
Volume 2: Serenades, Dances, Marches
Volume 3: Divertimenti for Strings and Winds, Divertimenti & Serenades for Winds
Volume 4: Piano Concertos
Volume 5: Violin Concertos; Wind Concertos
Volume 6: Quintets, Quartets & Trios
Volume 7: String Quartets; String Quintets
Volume 8: Violin Sonatas; String Duos & Trios
Volume 9: Piano Music
Volume 10: Missae; Requiem; Organ Sonatas & Solos
Volume 11: Litanies; Vespers; Oratorios; Cantatas; Masonic Music
Volume 12: Arias, Vocal Ensembles; Canons; Lieder; Notturni
Volume 13: Early Italian Operas
Volume 14: Middle Italian Operas
Volume 15: Late Italian Operas
Volume 16: German Operas
Volume 17: Theatre and Ballet Music - Rarities & Surprises
Box 01 - Symphonies

CD01 - 01 - Symphony 1 in E flat, KV 16; Allegro molto - 06:06
CD01 - 02 - Symphony 1 in E flat, KV 16; Andante - 02:51
CD01 - 03 - Symphony 1 in E flat, KV 16; Presto - 02:15
CD01 - 04 - Symphony 4 in D, KV 19; Allegro - 04:50
CD01 - 05 - Symphony 4 in D, KV 19; Andante - 03:22
CD01 - 06 - Symphony 4 in D; KV 19; Presto - 02:15
CD01 - 07 - Symphony in F, KV App. 223/19a; Allegro assai - 03:55
CD01 - 08 - Symphony in F, KV App. 223/19a; Andante - 03:43
CD01 - 09 - Symphony in F, KV App. 223/19a; Presto - 02:45
CD01 - 10 - Symphony 5 in B flat, KV 22; Allegro - 02:39
CD01 - 11 - Symphony 5 in B flat, KV 22; Andante - 03:08
CD01 - 12 - Symphony 5 in B flat, KV 22; Allegro molto - 01:19
CD01 - 13 - Symphony 6 in F, KV 43; Allegro - 04:35
CD01 - 14 - Symphony 6 in F, KV 43; Andante - 03:43
CD01 - 15 - Symphony 6 in F, KV 43; Menuetto - 02:22
CD01 - 16 - Symphony 6 in F, KV 43; Allegro - 02:59
CD01 - 17 - Symphony 7 in D, KV 45; Ouverture (Allegro) - 02:56
CD01 - 18 - Symphony 7 in D, KV 45; Andante - 02:44
CD01 - 19 - Symphony 7 in D, KV 45; Menuetto - 03:42
CD01 - 20 - Symphony 7 in D, KV 45; (Allegro) - 02:19
CD02 - 01 - Symphony in G, KV deest 'Neue Lambacher'; Allegro - 04:20
CD02 - 02 - Symphony in G, KV deest 'Neue Lambacher'; Andante un poco allegretto - 03:03
CD02 - 03 - Symphony in G, KV deest 'Neue Lambacher'; Menuetto - 02:59
CD02 - 04 - Symphony in G, KV deest 'Neue Lambacher'; Allegro - 04:46
CD02 - 05 - Symphony No. 7a in G, KV App. 221/45a 'Alte Lambacher'; Allegro maestoso - 02:45
CD02 - 06 - Symphony No. 7a in G, KV App. 221/45a 'Alte Lambacher'; Andante - 03:57
CD02 - 07 - Symphony No. 7a in G, KV App. 221/45a 'Alte Lambacher'; Presto - 01:53
CD02 - 08 - Symphony [No. 55] in B flat, KV App. 214/45b; Allegro - 02:18
CD02 - 09 - Symphony [No. 55] in B flat, KV App. 214/45b; Andante - 03:35
CD02 - 10 - Symphony [No. 55] in B flat, KV App. 214/45b; Menuet - 02:49
CD02 - 11 - Symphony [No. 55] in B flat, KV App. 214/45b; Allegro - 02:46
CD02 - 12 - Symphony No. 8 in D, KV 48; (Allegro) - 03:13
CD02 - 13 - Symphony No. 8 in D, KV 48; Andante - 03:38
CD02 - 14 - Symphony No. 8 in D, KV 48; Menuetto - 03:51
CD02 - 15 - Symphony No. 8 in D, KV 48; (Allegro) - 02:40
CD02 - 16 - Minuet in A, KV 61g No. 1 - 01:05
CD02 - 17 - Symphony No. 9 in C, KV 73; Allegro - 03:30
CD02 - 18 - Symphony No. 9 in C, KV 73; Andante - 03:16
CD02 - 19 - Symphony No. 9 in C, KV 73; Menuetto - 02:59
CD02 - 20 - Symphony No. 9 in C, KV 73; Allegro molto - 02:21
CD02 - 21 - Symphony No. 10 in G, KV 74; (Allegro) - 03:11
CD02 - 22 - Symphony No. 10 in G, KV 74; (Andante) - 03:28
CD02 - 23 - Symphony No. 10 in G, KV 74; (Allegro) - 02:03
CD03 - 01 - Symphony [No. 42] in F, KV 75; Allegro - 03:13
CD03 - 02 - Symphony [No. 42] in F, KV 75; Menuetto - 02:56
CD03 - 03 - Symphony [No. 42] in F, KV 75; Andantino - 03:56
CD03 - 04 - Symphony [No. 42] in F, KV 75; Allegro - 02:16
CD03 - 05 - Symphony [No. 43 ] in F, KV 76/42a; Allegro maestoso - 03:42
CD03 - 06 - Symphony [No. 43 ] in F, KV 76/42a; Andante - 04:23
CD03 - 07 - Symphony [No. 43 ] in F, KV 76/42a; Menuetto - 03:29
CD03 - 08 - Symphony [No. 43 ] in F, KV 76/42a; Allegro - 03:26
CD03 - 09 - Symphony [No. 44] in D, KV 81/73l; Allegro - 03:08
CD03 - 10 - Symphony [No. 44] in D, KV 81/73l; Andante - 05:02
CD03 - 11 - Symphony [No. 44] in D, KV 81/73l; Allegro molto - 02:28
CD03 - 12 - Symphony No. 11 in D, KV 84/73q; Allegro - 03:56
CD03 - 13 - Symphony No. 11 in D, KV 84/73q; Andante - 03:07
CD03 - 14 - Symphony No. 11 in D, KV 84/73q; Allegro - 03:51
CD03 - 15 - Symphony [No. 45] in D, KV 95/73n; Allegro - 02:28
CD03 - 16 - Symphony [No. 45] in D, KV 95/73n; Andante - 03:16
CD03 - 17 - Symphony [No. 45] in D, KV 95/73n; Menuetto - 02:59
CD03 - 18 - Symphony [No. 45] in D, KV 95/73n; Allegro - 02:44
CD03 - 19 - Symphony [No. 46] in C, KV 96/111b; Allegro - 02:13
CD03 - 20 - Symphony [No. 46] in C, KV 96/111b; Andante - 04:21
CD03 - 21 - Symphony [No. 46] in C, KV 96/111b; Menuetto - 03:27
CD03 - 22 - Symphony [No. 46] in C, KV 96/111b; Allegro molto - 02:13
CD04 - 01 - Symphony [No. 47] in D, KV 97/73m; Allegro - 02:37
CD04 - 02 - Symphony [No. 47] in D, KV 97/73m; Andante - 02:37
CD04 - 03 - Symphony [No. 47] in D, KV 97/73m; Menuetto - 02:35
CD04 - 04 - Symphony [No. 47] in D, KV 97/73m; Presto - 01:39
CD04 - 05 - Symphony No. 12 in G, KV 110/75b; Allegro - 04:47
CD04 - 06 - Symphony No. 12 in G, KV 110/75b; Andante - 03:26
CD04 - 07 - Symphony No. 12 in G, KV 110/75b; Menuetto - 04:08
CD04 - 08 - Symphony No. 12 in G, KV 110/75b; Allegro - 02:15
CD04 - 09 - Symphony No. 13 in F, KV 112; Allegro - 04:05
CD04 - 10 - Symphony No. 13 in F, KV 112; Andante - 04:26
CD04 - 11 - Symphony No. 13 in F, KV 112; Menuetto - 02:31
CD04 - 12 - Symphony No. 13 in F, KV 112; Molto allegro - 02:50
CD04 - 13 - Symphony No. 14 in A, KV 114; Allegro moderato - 05:32
CD04 - 14 - Symphony No. 14 in A, KV 114; Andante - 04:11
CD04 - 15 - Symphony No. 14 in A, KV 114; Menuetto - 03:19
CD04 - 16 - Symphony No. 14 in A, KV 114; Allegro molto - 03:24
CD04 - 17 - Symphony No. 14 in A, KV 114; Menuetto (alternative) - 01:09
CD04 - 18 - Symphony No. 15 in G, KV 124; Allegro - 03:23
CD04 - 19 - Symphony No. 15 in G, KV 124; Andante - 03:37
CD04 - 20 - Symphony No. 15 in G, KV 124; Menuetto - 03:05
CD04 - 21 - Symphony No. 15 in G, KV 124; Presto - 02:37
CD05 - 01 - Symphony No. 16 in C, KV 128, Allegro maestoso - 04:19
CD05 - 02 - Symphony No. 16 in C, KV 128, Andante grazioso - 03:51
CD05 - 03 - Symphony No. 16 in C, KV 128, Allegro - 03:56
CD05 - 04 - Symphony No. 17 in G, KV 129, Allegro - 04:56
CD05 - 05 - Symphony No. 17 in G, KV 129, Andante - 04:16
CD05 - 06 - Symphony No. 17 in G, KV 129, Allegro - 03:05
CD05 - 07 - Symphony No. 18 in F, KV 130, Allegro - 05:52
CD05 - 08 - Symphony No. 18 in F, KV 130, Andantino grazioso - 04:47
CD05 - 09 - Symphony No. 18 in F, KV 130, Menuetto - 02:28
CD05 - 10 - Symphony No. 18 in F, KV 130, Allegro molto - 07:38
CD05 - 11 - Symphony No. 19 in E flat, KV 132, Allegro - 04:15
CD05 - 12 - Symphony No. 19 in E flat, KV 132, Andante - 05:25
CD05 - 13 - Symphony No. 19 in E flat, KV 132, Menuetto - 04:13
CD05 - 14 - Symphony No. 19 in E flat, KV 132, Allegro - 04:35
CD05 - 15 - Symphony No. 19 in E flat, KV 132, Andante grazioso (alternative) - 03:39
CD06 - 01 - Symphony No. 20 in D, KV 133; Allegro - 07:55
CD06 - 02 - Symphony No. 20 in D, KV 133; Andante - 04:51
CD06 - 03 - Symphony No. 20 in D, KV 133; Menuetto - 03:49
CD06 - 04 - Symphony No. 20 in D, KV 133; (Allegro) - 04:11
CD06 - 05 - Symphony [No. 50] in D, KV 141a (KV 161 & KV 163); Allegro moderato - 03:18
CD06 - 06 - Symphony [No. 50] in D, KV 141a (KV 161 & KV 163); (Andante) - 02:55
CD06 - 07 - Symphony [No. 50] in D, KV 141a (KV 161 & KV 163); Presto - 02:08
CD06 - 08 - Symphony [No. 48] in D, KV 111 & KV 120/111a; Allegro assai (Overture 'Ascani… - 06:46
CD06 - 09 - Symphony [No. 51] in D, KV 196 & KV 121/207a; Allegro molto - 02:47
CD06 - 10 - Symphony [No. 51] in D, KV 196 & KV 121/207a; Andantino grazioso - 03:18
CD06 - 11 - Symphony [No. 51] in D, KV 196 & KV 121/207a; Allegro - 02:34
CD06 - 12 - Symphony [No. 52] in C, KV 208 & KV 102/213c; Molto allegro - 03:16
CD06 - 13 - Symphony [No. 52] in C, KV 208 & KV 102/213c; Andantino - 03:32
CD06 - 14 - Symphony [No. 52] in C, KV 208 & KV 102/213c; Presto assai - 04:31
CD07 - 01 - Symph. Nr.21 A-dur KV134 - I Allegro - 05:50
CD07 - 02 - Symph. Nr.21 A-dur KV134 - II Andante - 06:20
CD07 - 03 - Symph. Nr.21 A-dur KV134 - III Menuetto - 03:46
CD07 - 04 - Symph. Nr.21 A-dur KV134 - IV Allegro - 04:12
CD07 - 05 - Symph. Nr.22 C-dur KV162 - I Allegro assai - 03:28
CD07 - 06 - Symph. Nr.22 C-dur KV162 - II Andantino grazioso - 04:01
CD07 - 07 - Symph. Nr.22 C-dur KV162 - III Presto assai - 01:40
CD07 - 08 - Symph. Nr.23 D-dur KV181,162b - Allegro spiritoso, Andantino grazioso, Presto… - 10:14
CD07 - 09 - Symph. Nr.24 B-dur KV182,173dA - I Allegro spiritoso - 04:14
CD07 - 10 - Symph. Nr.24 B-dur KV182,173dA - II Andantino grazioso - 03:49
CD07 - 11 - Symph. Nr.24 B-dur KV182,173dA - III Allegro - 03:04
CD07 - 12 - Symph. Nr.25 g-moll KV183,173dB - I Allegro con brio - 07:46
CD07 - 13 - Symph. Nr.25 g-moll KV183,173dB - II Andante - 04:09
CD07 - 14 - Symph. Nr.25 g-moll KV183,173dB - III Menuetto - 03:41
CD07 - 15 - Symph. Nr.25 g-moll KV183,173dB - IV Allegro - 04:41
CD08 - 01 - Symph. Nr. 26 (Ouverture) Es-dur, KV 184/161a - Molto Presto - Andante - Allegro - 08:19
CD08 - 02 - Symph. Nr. 27 G-dur, KV 199/161b - I Allegro - 04:49
CD08 - 03 - II Andantino grazioso - 06:12
CD08 - 04 - III Presto - 04:41
CD08 - 05 - Symph. Nr. 28 C-dur, KV 200/189k - I Allegro Spiritoso - 05:20
CD08 - 06 - II Andante - 05:13
CD08 - 07 - III Menuetto (Allegretto) - 03:52
CD08 - 08 - IV Presto - 03:37
CD08 - 09 - Symph. Nr. 29 A-dur, KV 201/186a - I Allegro Moderato - 07:33
CD08 - 10 - II Andante - 05:53
CD08 - 11 - III Menuetto - 03:07
CD08 - 12 - IV Allegro con spirito - 05:00
CD09 - 01 - Sym. Nr.30 D-dur KV202/186b - I Molto allegro - 06:30
CD09 - 02 - Sym. Nr.30 D-dur KV202/186b - II Andantinto con moto - 04:03
CD09 - 03 - Sym. Nr.30 D-dur KV202/186b - III Menuetto - 04:02
CD09 - 04 - Sym. Nr.30 D-dur KV202/186b - IV Presto - 03:33
CD09 - 05 - Sym. Nr.31 D-dur KV297/300a Paris - I Allegro assai - 07:31
CD09 - 06 - Sym. Nr.31 D-dur KV297/300a Paris - II Andante - 06:17
CD09 - 07 - Sym. Nr.31 D-dur KV297/300a Paris - III Allegro - 03:32
CD09 - 08 - Sym. Nr.31 D-dur KV297/300a Paris - II Andante (alternative) - 03:44
CD09 - 09 - Sym. Nr.32 G-dur KV318 - Allegro spiritoso - Andantino - Tempo I - 08:56
CD09 - 10 - Sym. Nr.33 B-dur KV319 - I Allegro assai - 07:09
CD09 - 11 - Sym. Nr.33 B-dur KV319 - II Andante moderato - 05:09
CD09 - 12 - Sym. Nr.33 B-dur KV319 - III Menuetto - 02:56
CD09 - 13 - Sym. Nr.33 B-dur KV319 - IV Finale (Allegro assai) - 06:33
CD10 - 01 - I Allegro Vivace - 07:24
CD10 - 02 - II Andante Di Molto - 08:45
CD10 - 03 - III Finale (Allegro vivace) - 05:39
CD10 - 04 - I Allegro Con Spirito - 05:39
CD10 - 05 - II Andante - 08:54
CD10 - 06 - III Menuetto - 03:29
CD10 - 07 - IV Finale (Presto) - 03:57
CD10 - 08 - I Adagio - Allegro Spiritoso - 10:46
CD10 - 09 - II Poco Adagio - 07:10
CD10 - 10 - III Menuetto - 03:34
CD10 - 11 - IV Finale (Presto) - 08:00
CD11 - 01 - Symphonie-Menuett C-dur, KV 409/383f - 06:15
CD11 - 02 - Adagio maestoso G-dur, KV 444/425a (ex No. 37) - 01:51
CD11 - 03 - Symph. Nr. 38 D-dur, KV 504 Prag - I Adagio - Allegro - 14:18
CD11 - 04 - Symph. Nr. 38 D-dur, KV 504 Prag - II Andante - 09:07
CD11 - 05 - Symph. Nr. 38 D-dur, KV 504 Prag - III Finale (Presto) - 05:59
CD11 - 06 - Symph. Nr. 39 Es-dur, KV 543 - I Adagio - Allegro - 11:01
CD11 - 07 - Symph. Nr. 39 Es-dur, KV 543 - II Andante con moto - 08:17
CD11 - 08 - Symph. Nr. 39 Es-dur, KV 543 - III Menuetto (Allegretto) - 03:59
CD11 - 09 - Symph. Nr. 39 Es-dur, KV 543 - IV Finale (Allegro) - 05:38
CD12 - 01 - Symph Nr 40 Gm KV550 - I Molto allegro - 07:43
CD12 - 02 - Symph Nr 40 Gm KV550 - II Andante - 07:52
CD12 - 03 - Symph Nr 40 Gm KV550 - III Menuetto (Allegretto) - 04:26
CD12 - 04 - Symph Nr 40 Gm KV550 - IV Finale (Allegretto assai) - 06:44
CD12 - 05 - Symph Nr 41 C KV551 Jupiter - I Allegro vivace - 11:23
CD12 - 06 - Symph Nr 41 C KV551 Jupiter - II Andante cantabile - 08:25
CD12 - 07 - Symph Nr 41 C KV551 Jupiter - III Menuetto (Allegretto) - 04:32
CD12 - 08 - Symph Nr 41 C KV551 Jupiter - IV Molto allegro - 06:24

Box 02 - Serenades, Dances, Marches

CD01 - 01 - Galimathias musicum K3… - 05:49
CD01 - 02 - Galimathias musicum K3… - 06:33
CD01 - 03 - Galimathias musicum K3… - 03:25
CD01 - 04 - Divertimento in D K131… - 05:19
CD01 - 05 - Divertimento in D K131… - 06:43
CD01 - 06 - Divertimento in D K131… - 05:36
CD01 - 07 - Divertimento in D K131… - 03:13
CD01 - 08 - Divertimento in D K131… - 03:38
CD01 - 09 - Divertimento in D K131… - 07:53
CD01 - 10 - Cassation in B flat K9… - 02:50
CD01 - 11 - Cassation in B flat K9… - 01:51
CD01 - 12 - Cassation in B flat K9… - 03:08
CD01 - 13 - Cassation in B flat K9… - 02:27
CD01 - 14 - Cassation in B flat K9… - 02:49
CD01 - 15 - Cassation in B flat K9… - 02:06
CD01 - 16 - Cassation in B flat K9… - 03:50
CD02 - 01 - March in D K62 - 03:37
CD02 - 02 - Serenade in D K100 - A… - 04:25
CD02 - 03 - Serenade in D K100 - A… - 06:02
CD02 - 04 - Serenade in D K100 - M… - 02:29
CD02 - 05 - Serenade in D K100 - A… - 03:06
CD02 - 06 - Serenade in D K100 - M… - 02:32
CD02 - 07 - Serenade in D K100 - A… - 03:44
CD02 - 08 - Serenade in D K100 - M… - 02:04
CD02 - 09 - Serenade in D K100 - A… - 03:00
CD02 - 10 - Cassation in G K63 - M… - 03:13
CD02 - 11 - Cassation in G K63 - A… - 03:52
CD02 - 12 - Cassation in G K63 - A… - 03:12
CD02 - 13 - Cassation in G K63 - M… - 03:16
CD02 - 14 - Cassation in G K63 - A… - 06:04
CD02 - 15 - Cassation in G K63 - M… - 03:12
CD02 - 16 - Cassation in G K63 - F… - 02:09
CD03 - 01 - March in D K215 - 03:30
CD03 - 02 - Serenade in D K204 - A… - 08:24
CD03 - 03 - Serenade in D K204 - A… - 06:39
CD03 - 04 - Serenade in D K204 - A… - 05:45
CD03 - 05 - Serenade in D K204 - M… - 03:11
CD03 - 06 - Serenade in D K204 - A… - 05:31
CD03 - 07 - Serenade in D K204 - M… - 03:43
CD03 - 08 - Serenade in D K204 - A… - 04:59
CD03 - 09 - Notturno in D K 286 'f… - 06:30
CD03 - 10 - Notturno in D K 286 'f… - 03:05
CD03 - 11 - Notturno in D K 286 'f… - 07:37
CD04 - 01 - March in D, KV 237 - 04:41
CD04 - 02 - Serenade in D, KV 203- 1. Andante maestoso, Allegro assai - 06:02
CD04 - 03 - Serenade in D, KV 203- 2. Andante - 05:55
CD04 - 04 - Serenade in D, KV 203- 3. Menuetto - 03:04
CD04 - 05 - Serenade in D, KV 203- 4. Allegro - 05:09
CD04 - 06 - Serenade in D, KV 203- 5. Menuetto - 03:03
CD04 - 07 - Serenade in D, KV 203- 6. Andante - 05:28
CD04 - 08 - Serenade in D, KV 203- 7. Menuetto - 04:04
CD04 - 09 - Serenade in D, KV 203- 8. Prestissimo - 05:02
CD04 - 10 - Serenade in D, KV 239, 'Serenata notturna'- 1. Marcia (Maestoso) - 04:24
CD04 - 11 - Serenade in D, KV 239, 'Serenata notturna'- 2. Menuetto - 03:50
CD04 - 12 - Serenade in D, KV 239, 'Serenata notturna'- 3. Rondeau (Allegretto, Adagio, A… - 04:35
CD05 - 01 - Serenade in G, KV 525, 'Eine kleine Nachtmusik'- 1. Allegro - 05:46
CD05 - 02 - Serenade in G, KV 525, 'Eine kleine Nachtmusik'- 2. Romance (Andante) - 06:06
CD05 - 03 - Serenade in G, KV 525, 'Eine kleine Nachtmusik'- 3. Menuetto (Allegretto) - 02:03
CD05 - 04 - Serenade in G, KV 525, 'Eine kleine Nachtmusik'- 4. Rondo (Allegro) - 03:02
CD05 - 05 - March in D, KV 189 - 03:12
CD05 - 06 - Serenade (Final music) in D, KV 185- 1. Allegro assai - 07:09
CD05 - 07 - Serenade (Final music) in D, KV 185- 2. Andante - 05:40
CD05 - 08 - Serenade (Final music) in D, KV 185- 3. Allegro - 02:43
CD05 - 09 - Serenade (Final music) in D, KV 185- 4. Menuetto - 03:10
CD05 - 10 - Serenade (Final music) in D, KV 185- 5. Andante grazioso - 04:26
CD05 - 11 - Serenade (Final music) in D, KV 185- 6. Menuetto - 05:32
CD05 - 12 - Serenade (Final music) in D, KV 185- 7. Adagio - Allegro assai - 06:00
CD06 - 01 - March in D K249 - 03:36
CD06 - 02 - Serenade in D K250 'Ha… - 09:52
CD06 - 03 - Serenade in D K250 'Ha… - 09:29
CD06 - 04 - Serenade in D K250 'Ha… - 03:53
CD06 - 05 - Serenade in D K250 'Ha… - 07:20
CD06 - 06 - Serenade in D K250 'Ha… - 05:31
CD06 - 07 - Serenade in D K250 'Ha… - 07:22
CD06 - 08 - Serenade in D K250 'Ha… - 05:03
CD06 - 09 - Serenade in D K250 'Ha… - 07:47
CD07 - 01 - March in D, KV 335/320a Nr.1 - 04:06
CD07 - 02 - Serenade in D, KV 320, 'Posthorn'- 1. Adagio maestoso, Allegro con spirito - 08:23
CD07 - 03 - Serenade in D, KV 320, 'Posthorn'- 2. Minuetto - 04:11
CD07 - 04 - Serenade in D, KV 320, 'Posthorn'- 3. Concertante (Andante grazioso) - 09:03
CD07 - 05 - Serenade in D, KV 320, 'Posthorn'- 4. Rondeau (Allegro ma non troppo) - 06:02
CD07 - 06 - Serenade in D, KV 320, 'Posthorn'- 5. Andantino - 06:51
CD07 - 07 - Serenade in D, KV 320, 'Posthorn'- 6. Minuetto - 04:42
CD07 - 08 - Serenade in D, KV 320, 'Posthorn'- 7. Finale (Presto) - 04:22
CD07 - 09 - March in D, KV 335/320a Nr.2 - 04:21
CD08 - 01 - 7 Minuets KV 61b - 1. G Major - 02:00
CD08 - 02 - 7 Minuets KV 61b - 2. D Major - 02:08
CD08 - 03 - 7 Minuets KV 61b - 3. A Major - 01:58
CD08 - 04 - 7 Minuets KV 61b - 4. F Major - 02:14
CD08 - 05 - 7 Minuets KV 61b - 5. C Major - 01:39
CD08 - 06 - 7 Minuets KV 61b - 6. G Major - 02:03
CD08 - 07 - 7 Minuets KV 61b - 7. D Major - 01:41
CD08 - 08 - 6 Minuets KV 105-61f - 1. D Major - from Michael Haydn - 01:59
CD08 - 09 - 6 Minuets KV 105-61f - 2. D Major - from Michael Haydn - 01:46
CD08 - 10 - 6 Minuets KV 105-61f - 3. D Major - 01:51
CD08 - 11 - 6 Minuets KV 105-61f - 4. G Major - 01:39
CD08 - 12 - 6 Minuets KV 105-61f - 5. G. Major - 01:37
CD08 - 13 - 6 Minuets KV 105-61f - 6. G Major - 01:31
CD08 - 14 - Minuet in C, KV 61g - No. 2 - 02:25
CD08 - 15 - MInute in D, KV 94-73h - - 01:20
CD08 - 16 - Contredanse in B Flat, KV 123-73g - - 01:18
CD08 - 17 - Minuet in E Flat, KV 122-73t - - 01:21
CD08 - 18 - 6 Minuets KV 104-61e - 1. C Major - 02:05
CD08 - 19 - 6 Minuets KV 104-61e - 2. F Major - 01:45
CD08 - 20 - 6 Minuets KV 104-61e - 3. C Major - 02:08
CD08 - 21 - 6 Minuets KV 104-61e - 4. A Major - 00:53
CD08 - 22 - 6 Minuets KV 104-61e - 5. G Major - 01:59
CD08 - 23 - 6 Minuets KV 104-61e - 6. G Major - 01:49
CD08 - 24 - 19 Minuets KV 103-61d - 1. C Major - 02:31
CD08 - 25 - 19 Minuets KV 103-61d - 2. G Major - 01:43
CD08 - 26 - 19 Minuets KV 103-61d - 3. D Major - 02:12
CD08 - 27 - 19 Minuets KV 103-61d - 4. F Major - 01:50
CD08 - 28 - 19 Minuets KV 103-61d - 5. C Major - 01:40
CD08 - 29 - 19 Minuets KV 103-61d - 6. G Major - 01:52
CD08 - 30 - 19 Minuets KV 103-61d - 7. D Major - 02:30
CD08 - 31 - 19 Minuets KV 103-61d - 8. F Major - 01:56
CD08 - 32 - 19 Minuets KV 103-61d - 9. D Major - 02:27
CD08 - 33 - 19 Minuets KV 103-61d - 10. G Major - 01:56
CD08 - 34 - 19 Minuets KV 103-61d - 11. F Major - 02:05
CD08 - 35 - 19 Minuets KV 103-61d - 12. C Major - 01:42
CD08 - 36 - 19 Minuets KV 103-61d - 13. C Major - 01:52
CD08 - 37 - 19 Minuets KV 103-61d - 14. E Flat Major - 02:07
CD08 - 38 - 19 Minuets KV 103-61d - 15. B Flat Major - 01:48
CD08 - 39 - 19 Minuets KV 103-61d - 16. G. Major - 00:42
CD08 - 40 - 19 Minuets KV 103-61d - 17. E Major - 01:55
CD08 - 41 - 19 Minuets KV 103-61d - 18. A Major - 00:45
CD08 - 42 - 19 Minuets KV 103-61d - 19. C Major - 02:08
CD09 - 01 - K 061h - 01 - Menuets - Do Majeur - 02:11
CD09 - 02 - K 061h - 02 - Menuets - La Majeur - 01:03
CD09 - 03 - K 061h - 03 - Menuets - Rй Majeur - 02:03
CD09 - 04 - K 061h - 04 - Menuets - Si bйmol Majeur - 00:52
CD09 - 05 - K 061h - 05 - Menuets - Sol Majeur - 02:13
CD09 - 06 - K 061h - 06 - Menuets - Do Majeur - 02:11
CD09 - 07 - K 164 (130a) - 01 - Menuets - Rй Majeur - 02:07
CD09 - 08 - K 164 (130a) - 02 - Menuets - Sol Majeur - 01:56
CD09 - 09 - K 164 (130a) - 03 - Menuets - Rй Majeur - 02:05
CD09 - 10 - K 164 (130a) - 04 - Menuets - Sol Majeur - 01:44
CD09 - 11 - K 164 (130a) - 05 - Menuets - Rй Majeur - 01:46
CD09 - 12 - K 164 (130a) - 06 - Menuets - Sol Majeur - 01:52
CD09 - 13 - K 315g (315a) - 01 - Menuets - Do Majeur - 02:03
CD09 - 14 - K 315g (315a) - 02 - Menuets - Sol Majeur - 01:51
CD09 - 15 - K 315g (315a) - 03 - Menuets - Rй Majeur - 01:51
CD09 - 16 - K 315g (315a) - 08 - Menuets - Sol Majeur - 02:19
CD09 - 17 - K 315g (315a) - 04 - Menuets - Do Majeur - 01:57
CD09 - 18 - K 315g (315a) - 05 - Menuets - Fa Majeur - 01:54
CD09 - 19 - K 315g (315a) - 06 - Menuets - Rй Majeur - 01:50
CD09 - 20 - K 315g (315a) - 07 - Menuets - La Majeur - 01:35
CD09 - 21 - K 176 - 01 - Menuets - Do Majeur - 01:56
CD09 - 22 - K 176 - 02 - Menuets - Sol Majeur - 02:18
CD09 - 23 - K 176 - 03 & 04 - Menuets - Mi bйmol Majeur - Si bйmol Majeur - 02:06
CD09 - 24 - K 176 - 05 - Menuets - Fa Majeur - 01:56
CD09 - 25 - K 176 - 06 - Menuets - Rй Majeur - 02:03
CD09 - 26 - K 176 - 07 - Menuets - La Majeur - 00:52
CD09 - 27 - K 176 - 08 - Menuets - Do Majeur - 01:44
CD09 - 28 - K 176 - 09 - Menuets - Sol Majeur - 01:57
CD09 - 29 - K 176 - 10 - Menuets - Si bйmol Majeur - 00:57
CD09 - 30 - K 176 - 11 - Menuets - Fa Majeur - 01:43
CD09 - 31 - K 176 - 12 - Menuets - Rй Majeur - 01:54
CD09 - 32 - K 176 - 13 - Menuets - Sol Majeur - 02:00
CD09 - 33 - K 176 - 14 - Menuets - Do Majeur - 01:51
CD09 - 34 - K 176 - 15 - Menuets - Fa Majeur - 02:21
CD09 - 35 - K 176 - 16 - Menuets - Rй Majeur - 01:50
CD10 - 01 - March in C, KV 214 - - 03:33
CD10 - 02 - 4 Contredanses KV 101 - 1. F Major - 01:53
CD10 - 03 - 4 Contredanses KV 101 - 2. G Major - 01:58
CD10 - 04 - 4 Contredanses KV 101 - 3. D Major - 00:57
CD10 - 05 - 4 Contredanses KV 101 - 4. F Major - 02:01
CD10 - 06 - 4 Contredanses KV 101 - 3. C Major - 01:04
CD10 - 07 - 4 Contredanses KV 101 - 1. G Major - 02:06
CD10 - 08 - 4 Contredanses KV 267-271c - 1. G Major - 01:28
CD10 - 09 - 4 Contredanses KV 267-271c - 2. E Flat Major - 01:31
CD10 - 10 - 4 Contredanses KV 267-271c - 3. A Major - 01:15
CD10 - 11 - 4 Contredanses KV 267-271c - 4. D Major - 01:32
CD10 - 12 - La Chasses - KV A103-299d-320f - 01:56
CD10 - 13 - Gavotte in B Flat, KV 300 - - 02:13
CD10 - 14 - 3 Marches KV 408 - 1. C Major - 04:44
CD10 - 15 - 3 Marches KV 408 - 2. D Major - 03:27
CD10 - 16 - 3 Marches KV 408 - 3. C Major - 03:44
CD10 - 17 - 3 Minuets KV 363 - I. D Major - 01:03
CD10 - 18 - 3 Minuets KV 363 - II. B Glat Major - 01:04
CD10 - 19 - 3 Minuets KV 363 - 3. D Major - 00:55
CD10 - 20 - 6 Contredanses KV 462-448b - 1. C Major - 02:08
CD10 - 21 - 6 Contredanses KV 462-448b - 2. E Flat Major - 01:38
CD10 - 22 - 6 Contredanses KV 462-448b - 3. B Flat Major - 01:03
CD10 - 23 - 6 Contredanses KV 462-448b - 4. D Major - 01:36
CD10 - 24 - 6 Contredanses KV 462-448b - 5. B Flat Major - 01:09
CD10 - 25 - 6 Contredanses KV 462-448b - 6. F Major - 01:45
CD10 - 26 - 2 Minuets KV 461-448a - 1. F Major - 02:33
CD10 - 27 - 2 Minuets KV 461-448a - 2. B Flat Major - 02:27
CD10 - 28 - 5 Minuets KV 461-448a - 1. C Major - 02:08
CD10 - 29 - 5 Minuets KV 461-448a - 2. E Flat Major - 02:00
CD10 - 30 - 5 Minuets KV 461-448a - 3. G Major - 02:03
CD10 - 31 - 5 Minuets KV 461-448a - 4. B Flat Major - 01:50
CD10 - 32 - 5 Minuets KV 461-448a - 5. F Major - 01:56
CD11 - 01 - K 509 - 6 Danses Allemandes - 13:28
CD11 - 02 - K 534 - Rй Majeur - Contredanse - Das Donnerwetter - 02:12
CD11 - 03 - K 535 - Do Majeur - Contredanse - La bataille - 01:30
CD11 - 04 - K 535a - 3 Contredanses - 02:31
CD11 - 05 - K 536 - 01 - 6 Danses allemandes - Do Majeur - 01:48
CD11 - 06 - K 536 - 02 - 6 Danses allemandes - Sol Majeur - 01:55
CD11 - 07 - K 536 - 03 - 6 Danses allemandes - Si bйmol Majeur - 01:47
CD11 - 08 - K 536 - 04 - 6 Danses allemandes - Rй Majeur - 01:45
CD11 - 09 - K 536 - 05 - 6 Danses allemandes - Fa Majeur - 01:39
CD11 - 10 - K 536 - 06 - 6 Danses allemandes - Fa Majeur - 01:45
CD11 - 11 - K 567 - 01 - 6 Danses allemandes - Si bйmol Majeur - 01:32
CD11 - 12 - K 567 - 02 - 6 Danses allemandes - Mi bйmol Majeur - 01:29
CD11 - 13 - K 567 - 03 - 6 Danses allemandes - Sol Majeur - 01:38
CD11 - 14 - K 567 - 04 - 6 Danses allemandes - Rй Majeur - 01:33
CD11 - 15 - K 567 - 05 - 6 Danses allemandes - La Majeur - 02:01
CD11 - 16 - K 567 - 06 - 6 Danses allemandes - Do Majeur - 01:52
CD11 - 17 - K 568 - 01 - 12 menuets - Do Majeur - 02:07
CD11 - 18 - K 568 - 02 - 12 menuets - Fa Majeur - 02:03
CD11 - 19 - K 568 - 03 - 12 menuets - Si bйmol Majeur - 01:59
CD11 - 20 - K 568 - 04 - 12 menuets - Mi bйmol Majeur - 01:58
CD11 - 21 - K 568 - 05 - 12 menuets - Sol Majeur - 01:54
CD11 - 22 - K 568 - 06 - 12 menuets - Rй Majeur - 01:51
CD11 - 23 - K 568 - 07 - 12 menuets - La Majeur - 02:08
CD11 - 24 - K 568 - 08 - 12 menuets - Fa Majeur - 02:11
CD11 - 25 - K 568 - 09 - 12 menuets - Si bйmol Majeur - 02:16
CD11 - 26 - K 568 - 10 - 12 menuets - Rй Majeur - 02:05
CD11 - 27 - K 568 - 11 - 12 menuets - Sol Majeur - 02:02
CD11 - 28 - K 568 - 12 - 12 menuets - Do Majeur - 02:08
CD12 - 01 - K 571 - 01 - 6 Danses Allemandes - Rй Majeur - 01:32
CD12 - 02 - K 571 - 02 - 6 Danses Allemandes - La Majeur - 01:30
CD12 - 03 - K 571 - 03 - 6 Danses Allemandes - Do Majeur - 01:24
CD12 - 04 - K 571 - 04 - 6 Danses Allemandes - Sol Majeur - 01:36
CD12 - 05 - K 571 - 05 - 6 Danses Allemandes - Si bйmol Majeur - 01:32
CD12 - 06 - K 571 - 06 - 6 Danses Allemandes - Rй Majeur - 02:00
CD12 - 07 - K 585 - 01 - 12 Menuets - Rй Majeur - 02:11
CD12 - 08 - K 585 - 02 - 12 Menuets - Fa Majeur - 02:02
CD12 - 09 - K 585 - 03 - 12 Menuets - Si bйmol Majeur - 02:04
CD12 - 10 - K 585 - 04 - 12 Menuets - Mi bйmol Majeur - 02:01
CD12 - 11 - K 585 - 05 - 12 Menuets - Sol Majeur - 02:14
CD12 - 12 - K 585 - 06 - 12 Menuets - Do Majeur - 02:14
CD12 - 13 - K 585 - 07 - 12 Menuets - La Majeur - 02:18
CD12 - 14 - K 585 - 08 - 12 Menuets - Fa Majeur - 02:07
CD12 - 15 - K 585 - 09 - 12 Menuets - Si bйmol Majeur - 02:12
CD12 - 16 - K 585 - 10 - 12 Menuets - Mi bйmol Majeur - 02:14
CD12 - 17 - K 585 - 11 - 12 Menuets - Sol Majeur - 02:26
CD12 - 18 - K 585 - 12 - 12 Menuets - Rй Majeur - 02:14
CD12 - 19 - K 586 - 01 - 12 Danses Allemandes - Do Majeur - 01:56
CD12 - 20 - K 586 - 02 - 12 Danses Allemandes - Sol Majeur - 01:34
CD12 - 21 - K 586 - 03 - 12 Danses Allemandes - Si bйmol Majeur - 01:50
CD12 - 22 - K 586 - 04 - 12 Danses Allemandes - Fa Majeur - 01:51
CD12 - 23 - K 586 - 05 - 12 Danses Allemandes - La Majeur - 01:38
CD12 - 24 - K 586 - 06 - 12 Danses Allemandes - Rй Majeur - 01:31
CD12 - 25 - K 586 - 07 - 12 Danses Allemandes - Sol Majeur - 01:53
CD12 - 26 - K 586 - 08 - 12 Danses Allemandes - Mi bйmol Majeur - 01:48
CD12 - 27 - K 586 - 09 - 12 Danses Allemandes - Si bйmol Majeur - 01:44
CD12 - 28 - K 586 - 10 - 12 Danses Allemandes - Fa Majeur - 01:43
CD12 - 29 - K 586 - 11 - 12 Danses Allemandes - La Majeur - 01:46
CD12 - 30 - K 586 - 12 - 12 Danses Allemandes - Do Majeur - 01:52
CD12 - 31 - K 587 - Do Majeur - Contredanse - Der Sieg vom Helden Koburg - 01:36
CD12 - 32 - K 106 (588a) - 01 - Ouv & 3 Contredanses - Ouverture - Rй Majeur - 01:03
CD12 - 33 - K 106 (588a) - 02 - Ouv & 3 Contredanses - CtreDanse I - Rй Majeur - 01:36
CD12 - 34 - K 106 (588a) - 03 - Ouv & 3 Contredanses - CtreDanse II - La Majeur - 01:40
CD12 - 35 - K 106 (588a) - 04 - Ouv & 3 Contredanses - CtreDanse III - Si bйmol Majeur - 01:39
CD13 - 01 - 6 Minuets KV 599 - 1. C Major - 02:16
CD13 - 02 - 6 Minuets KV 599 - 2. G Major - 02:17
CD13 - 03 - 6 Minuets KV 599 - 3. E Flat Major - 02:11
CD13 - 04 - 6 Minuets KV 599 - 4. B Flat Major - 02:23
CD13 - 05 - 6 Minuets KV 599 - 5. F Major - 01:54
CD13 - 06 - 6 Minuets KV 599 - 6. D Major - 01:57
CD13 - 07 - 6 German Dances KV 600 - 1. C Major - 02:06
CD13 - 08 - 6 German Dances KV 600 - 2. F Major - 01:56
CD13 - 09 - 6 German Dances KV 600 - 3. B Flat Major - 01:56
CD13 - 10 - 6 German Dances KV 600 - 4. E Flat Major - 01:47
CD13 - 11 - 6 German Dances KV 600 - 5. G Major - 01:40
CD13 - 12 - 6 German Dances KV 600 - 6. D Major - 02:09
CD13 - 13 - 4 Minuets KV 601 - 1. A Major - 02:21
CD13 - 14 - 4 Minuets KV 601 - 2. C Major - 02:35
CD13 - 15 - 4 Minuets KV 601 - 3. G Major - 02:00
CD13 - 16 - 4 Minuets KV 601 - 4. D Major - 02:00
CD13 - 17 - 4 German Dances KV 602 - 1. B Flat Major - 01:57
CD13 - 18 - 4 German Dances KV 602 - 2. F Major - 01:54
CD13 - 19 - 4 German Dances KV 602 - 3. C Major - 01:56
CD13 - 20 - 4 German Dances KV 602 - 4. A Major - 01:46
CD13 - 21 - 2 Contredanses KV 603 - 1. D Major - 00:57
CD13 - 22 - 2 Contredanses KV 603 - 2. B Flat Major - 01:19
CD13 - 23 - 2 Minuets KV 604 - 1. B Flat Major - 02:24
CD13 - 24 - 2 Minuets KV 604 - 2. E Flat Major - 02:17
CD13 - 25 - 3 German Dances KV 605 - 1. D Major - 01:56
CD13 - 26 - 3 German Dances KV 605 - 2. G Major - 01:54
CD13 - 27 - 3 German Dances KV 605 - 3. C Major - 02:52
CD13 - 28 - 6 Landler in B Flat, KV 606 - - 05:18
CD13 - 29 - Contredanse in E Flat - KV 607-605a Il triofo delle donne - 01:32
CD13 - 30 - 5 Contredanses KV 609 - 1. C Major - 00:59
CD13 - 31 - 5 Contredanses KV 609 - 2. E Flat Major - 00:47
CD13 - 32 - 5 Contredanses KV 609 - 3. D Major - 01:08
CD13 - 33 - 5 Contredanses KV 609 - 4. C Major - 01:59
CD13 - 34 - 5 Contredanses KV 609 - 5. G Major - 01:24
CD13 - 35 - Contredanse in G, KV 610 - Les Filles malicieuses - 01:39

Box 03 - Divertimenti, Serenades

CD01 - 01 - Divertimento In E Flat… - 04:00
CD01 - 02 - Divertimento In E Flat… - 03:48
CD01 - 03 - Divertimento In E Flat… - 01:51
CD01 - 04 - Divertimento In E Flat… - 03:19
CD01 - 05 - Divertimento In B Flat… - 08:01
CD01 - 06 - Divertimento In B Flat… - 03:25
CD01 - 07 - Divertimento In B Flat… - 03:20
CD01 - 08 - Divertimento In D K251… - 05:01
CD01 - 09 - Divertimento In D K251… - 03:51
CD01 - 10 - Divertimento In D K251… - 03:43
CD01 - 11 - Divertimento In D K251… - 04:29
CD01 - 12 - Divertimento In D K251… - 05:26
CD01 - 13 - Divertimento In D K251… - 02:05
CD02 - 01 - Eine kleine Nachtmusik - Allegro - 05:47
CD02 - 02 - Eine kleine Nachtmusik - Romanze (Andante) - 05:59
CD02 - 03 - Eine kleine Nachtmusik - Menuett (Allegretto) - 02:04
CD02 - 04 - Eine kleine Nachtmusik - Rondo (Allegro) - 03:53
CD02 - 05 - Divertimento - Allegro - 04:22
CD02 - 06 - Divertimento - Andante - 04:39
CD02 - 07 - Divertimneto - Presto - 02:37
CD02 - 08 - Ein musikalischer Spass - Allegro - 04:55
CD02 - 09 - Ein musikalischer Spass - Menuetto (Maestoso), Trio - 06:11
CD02 - 10 - Ein musikalischer Spass - Adagio cantabile - 06:15
CD02 - 11 - Ein musikalischer Spass - Presto - 04:10
CD03 - 01 - 271H - Divertimento in… - 08:28
CD03 - 02 - 271H - Divertimento in… - 01:10
CD03 - 03 - 271H - Divertimento in… - 01:09
CD03 - 04 - 271H - Divertimento in… - 01:06
CD03 - 05 - 271H - Divertimento in… - 01:02
CD03 - 06 - 271H - Divertimento in… - 01:14
CD03 - 07 - 271H - Divertimento in… - 01:04
CD03 - 08 - 271H - Divertimento in… - 01:07
CD03 - 09 - 271H - Divertimento in… - 03:08
CD03 - 10 - 271H - Divertimento in… - 10:46
CD03 - 11 - 271H - Divertimento in… - 04:23
CD03 - 12 - 271H - Divertimento in… - 07:25
CD03 - 13 - 125c - Divertimento in… - 03:40
CD03 - 14 - 125c - Divertimento in… - 05:35
CD03 - 15 - 125c - Divertimento in… - 02:28
CD04 - 01 - March in F K248 - 04:30
CD04 - 02 - Divertimento in F K247 - Allegro - 07:45
CD04 - 03 - Divertimento in F K247 - Andante grazioso - 03:37
CD04 - 04 - Divertimento in F K247 - Menuetto - 03:59
CD04 - 05 - Divertimento in F K247 - Adagio - 07:09
CD04 - 06 - Divertimento in F K247 - Menuetto - 03:25
CD04 - 07 - Divertimento in F K247 - Andante - Allegro assai - 05:32
CD04 - 08 - March in D K290/167AB - 04:58
CD04 - 09 - Divertimento in D K205 /167A - Largo - Allegro - 04:38
CD04 - 10 - Divertimento in D K205 - Menuetto - 02:41
CD04 - 11 - Divertimento in D K205 - Adagio - 04:02
CD04 - 12 - Divertimento in D K205 - Menuetto - 02:54
CD04 - 13 - Divertimento in D K205 - Finale (Presto) - 03:42
CD05 - 01 - March in D major K445 - 03:43
CD05 - 02 - Divertimento in D major K334 : I. Allegro - 09:56
CD05 - 03 - Divertimento in D major K334 : II. Thema mit Variationen (Andante) - 09:06
CD05 - 04 - Divertimento in D major K334 : III. Menuetto - 04:34
CD05 - 05 - Divertimento in D major K334 : IV. Adagio - 11:03
CD05 - 06 - Divertimento in D major K334 : V. Menuetto - 07:12
CD05 - 07 - Divertimento in D major K334 : VI. Rondo (Allegro) - 09:41
CD06 - 01 - Serenade in B flat, KV 361/370a 'Gran Partita' - Largo - 01:52
CD06 - 02 - Serenade in B flat, KV 361/370a 'Gran Partita' - Allegro molto - 07:05
CD06 - 03 - Serenade in B flat, KV 361/370a 'Gran Partita' - Menuetto - 08:37
CD06 - 04 - Serenade in B flat, KV 361/370a 'Gran Partita' - Adagio - 05:43
CD06 - 05 - Serenade in B flat, KV 361/370a 'Gran Partita' - Menuetto - 05:04
CD06 - 06 - Serenade in B flat, KV 361/370a 'Gran Partita' - Romanze - 07:31
CD06 - 07 - Serenade in B flat, KV 361/370a 'Gran Partita' - Thema mit Variationen - 09:49
CD06 - 08 - Serenade in B flat, KV 361/370a 'Gran Partita' - Finale - 03:19
CD06 - 09 - Divertimento in C, KV 188/240b - Andante - 02:23
CD06 - 10 - Divertimento in C, KV 188/240b - Allegro - 01:52
CD06 - 11 - Divertimento in C, KV 188/240b - Menuetto - 01:11
CD06 - 12 - Divertimento in C, KV 188/240b - Andante - 01:45
CD06 - 13 - Divertimento in C, KV 188/240b - Menuetto - 00:53
CD06 - 14 - Divertimento in C, KV 188/240b - Gavotte - 00:53
CD07 - 01 - Serenade in C Minor, K. 388/384 a 'Nacht Musique' - 1. Allegro - 08:24
CD07 - 02 - Andante - 04:22
CD07 - 03 - Menuetto in canone - 04:32
CD07 - 04 - Allegro 2 - 06:48
CD07 - 05 - Serenade in Eb, K. 375 - 1. Allegro maestoso - 08:31
CD07 - 06 - 2. Menuetto - 04:17
CD07 - 07 - 3. Adagio - 06:05
CD07 - 08 - 4. Menuetto 2 - 02:56
CD07 - 09 - 5. Finale (Allegro) - 03:53
CD08 - 01 - Allegro assai KV 186/159b - 01:56
CD08 - 02 - Menuetto KV 186/159b - 02:24
CD08 - 03 - Andante KV 186/159b - 02:21
CD08 - 04 - Adagio KV 186/159b - 02:31
CD08 - 05 - Allegro KV 186/159b - 02:16
CD08 - 06 - Allegro in E flat KV 166/159d - 03:10
CD08 - 07 - Menuetto in E flat KV 166/159d - 04:35
CD08 - 08 - Andante grazioso in E flat KV 166/159d - 02:48
CD08 - 09 - Adagio in E flat KV 166/159d - 01:07
CD08 - 10 - Allegro in E flat KV 166/159d - 02:07
CD08 - 11 - Adagio in B flat KV 411/484a - 06:09
CD08 - 12 - Adagio in F KV 410/484d - 01:33
CD08 - 13 - Adagio in C KV App. 94/580a - 09:40
CD08 - 14 - Divertimento in E flat KV 289/271g - 06:17
CD08 - 15 - Menuetto in E flat, KV 289/271g - 03:57
CD08 - 16 - Adagio in E flat, KV 289/271g - 03:12
CD08 - 17 - Finale (Presto) KV 289/271g - 03:01
CD09 - 01 - Allegro spiritoso - 04:23
CD09 - 02 - Andante - 02:39
CD09 - 03 - Menuetto - 02:44
CD09 - 04 - Contredanse en Rondeau (Molto allegro) - 01:17
CD09 - 05 - Allegro in B Flat, KV 240 - 04:41
CD09 - 06 - Andante grzioso in B flat, KV 240 - 02:55
CD09 - 07 - Menuetto in B flat, KV 240 - 02:22
CD09 - 08 - Allegro in B flat, KV 240 - 04:28
CD09 - 09 - Andante in E Flat - 05:08
CD09 - 10 - Menuetto in E flat - 02:43
CD09 - 11 - Polonaise (Andante) - 02:45
CD09 - 12 - Presto assai - 01:29
CD09 - 13 - Tema con variazioni - 10:08
CD09 - 14 - Menuetto in F - 02:57
CD09 - 15 - Allegro assai - 02:00
CD09 - 16 - Allegro molto in B flat - 06:09
CD09 - 17 - Andantino in B flat - 02:01
CD09 - 18 - Menuetto (Moderato) in B flat - 02:41
CD09 - 19 - Presto - 01:37
CD10 - 01 - Allegro Divertimento in B flat - 03:34
CD10 - 02 - Menuetto in B flat KV 299 No 1 - 02:59
CD10 - 03 - Adagio in B flat KV 299 No 1 - 02:47
CD10 - 04 - Menuetto in B flat KV 299 No 1 - 02:52
CD10 - 05 - Rondo (Allegro) in B flat KV 299 No 1 - 02:25
CD10 - 06 - No 4 Polonaise - 01:21
CD10 - 07 - No 6 Menuetto - 03:43
CD10 - 08 - No 12 Allegro - 00:53
CD10 - 09 - Allegro in B flat KV 299 No 3 - 03:32
CD10 - 10 - Menuetto in B flat KV 299 No 3 - 05:48
CD10 - 11 - Adagio in B flat KV 299 No 3 - 04:04
CD10 - 12 - Menuetto in B flat KV 299 No 3 - 04:58
CD10 - 13 - Rondo (Allegro assai) - 04:05
CD10 - 14 - No 2 menuetto (Allegretto) - 02:32
CD10 - 15 - no 5 Larghetto - 01:10
CD10 - 16 - no 11 Menuetto - 01:57
CD10 - 17 - Allegro moderato - 03:11
CD10 - 18 - menuetto - 03:55
CD10 - 19 - Romance (Adagio ma un poco andante) - 03:40
CD10 - 20 - Menuetto (Allegretto) - 03:19
CD10 - 21 - rondo (Andante - Aliegro) - 03:56
CD11 - 01 - Allegro in B flat KV AP.229/439b nє2 - 02:07
CD11 - 02 - Menuetto in B flat KV AP.229/439b nє2 - 04:01
CD11 - 03 - Larghetto in B flat KV AP.229/439b nє2 - 04:26
CD11 - 04 - Menuetto in B flat 2 KV AP.229/439b nє2 - 04:10
CD11 - 05 - Rondo in B flat KV AP.229/439b nє2 - 03:58
CD11 - 06 - No 7 Adagio KV 487/496a - 02:20
CD11 - 07 - No 10 Andante KV 487/496a - 01:14
CD11 - 08 - No 9 Menuetto KV 487/496a - 02:11
CD11 - 09 - Allegro in B flat KV AP.229/439b No 4 - 03:21
CD11 - 10 - Larghetto in B flat KV AP.229/439b No 4 - 02:15
CD11 - 11 - Menuetto in B flat KV AP.229/439b No 4 - 03:16
CD11 - 12 - Adagio in B flat KV AP.229/439b No 4 - 02:21
CD11 - 13 - Rondo (Allegretto)KV AP.229/439b No 4 - 02:20
CD11 - 14 - No 1 Allegro KV 487/496a - 01:06
CD11 - 15 - No 3 Andante KV 487/496a - 01:24
CD11 - 16 - No 8 Allegro KV 487/496a - 01:26
CD11 - 17 - Adagio in B flat KV AP.229/439b No 5 - 02:57
CD11 - 18 - Menuetto in B Flat KV AP.229/439b No 5 - 03:00
CD11 - 19 - Adagio in B flat KV AP.229/439b No 5 - 02:03
CD11 - 20 - Polonaise in B flat KV AP.229/439b No 5 - 01:27
CD11 - 21 - Romanze (Andante) KV AP.229/439b No 5 - 02:16
CD11 - 22 - Divertimento - Allegro KV AP.227/C17.02 - 02:11
CD11 - 23 - Divertimento - Menuetto KV AP.227/C17.02 - 02:11
CD11 - 24 - Divertimento - Adagio KV AP.227/C17.02 - 02:37
CD11 - 25 - Divertimento - Menuetto KV AP.227/C17.02 - 02:45
CD11 - 26 - Divertimento - Finale (Andantino) - 02:23

Box 04 - Piano Concertos

CD01 - 01 - Concerto No. 1 in F, KV 37; Allegro - 05:24
CD01 - 02 - Concerto No. 1 in F, KV 37; Andante - 05:56
CD01 - 03 - Concerto No. 1 in F, KV 37; (Allegro) - 04:50
CD01 - 04 - Concerto No. 2 in B flat, KV 39; Allegro spiritoso - 05:33
CD01 - 05 - Concerto No. 2 in B flat, KV 39; Andante staccato - 05:23
CD01 - 06 - Concerto No. 2 in B flat, KV 39; Molto allegro - 03:48
CD01 - 07 - Concerto No. 3 in D, KV 40; Allegro maestoso - 05:35
CD01 - 08 - Concerto No. 3 in D, KV 40; Andante - 04:53
CD01 - 09 - Concerto No. 3 in D, KV 40; Presto - 02:32
CD01 - 10 - Concerto No. 4 in G, KV 41; Allegro - 05:31
CD01 - 11 - Concerto No. 4 in G, KV 41; Andante - 04:17
CD01 - 12 - Concerto No. 4 in G, KV 41; Molto allegro - 03:51
CD02 - 01 - Concerto in D, KV 107 No. 1; Allegro - 05:25
CD02 - 02 - Concerto in D, KV 107 No. 1; Andante - 04:32
CD02 - 03 - Concerto in D, KV 107 No. 1; Tempo di Minuetto - 03:48
CD02 - 04 - Concerto in G, KV 107 No. 2; Allegro - 04:04
CD02 - 05 - Concerto in G, KV 107 No. 2; Allegretto - 04:28
CD02 - 06 - Concerto in E Flat, KV 107 No. 3; Allegro - 05:13
CD02 - 07 - Concerto in E Flat, KV 107 No. 3; Allegretto (Rondeaux) - 04:30
CD02 - 08 - Concerto No. 7 in F, KV 242, 'Lodron'; Allegro - 08:43
CD02 - 09 - Concerto No. 7 in F, KV 242, 'Lodron'; Adagio - 10:31
CD02 - 10 - Concerto No. 7 in F, KV 242, 'Lodron'; Rondeau. Tempo di Menuetto - 06:17
CD03 - 01 - Concerto No. 5 in D, KV 175; Allegro - 08:04
CD03 - 02 - Concerto No. 5 in D, KV 175; Andante ma un poco adagio - 08:45
CD03 - 03 - Concerto No. 5 in D, KV 175; Allegro - 05:14
CD03 - 04 - Concerto No. 6 in B flat, KV 238; Allegro aperto - 07:03
CD03 - 05 - Concerto No. 6 in B flat, KV 238; (Andante un poco adagio) - 06:39
CD03 - 06 - Concerto No. 6 in B flat, KV 238; Rondeau. Allegro - 07:08
CD03 - 07 - Concerto No. 10 in E flat (for two pianos), KV 365/316a; Allegro - 09:58
CD03 - 08 - Concerto No. 10 in E flat (for two pianos), KV 365/316a; Andante - 08:09
CD03 - 09 - Concerto No. 10 in E flat (for two pianos), KV 365/316a; Rondeaux. Allegro - 06:56
CD04 - 01 - KK Nr.7 in F-Dur, KV 242, 'Lodron' Allegro - 08:01
CD04 - 02 - KK Nr.7 in F-Dur, KV 242, 'Lodron' Adagio - 09:10
CD04 - 03 - KK Nr.7 in F-Dur, KV 242, 'Lodron' Rondeau (Tempo di menuetto) - 05:45
CD04 - 04 - KK Nr.8 in C-Dur, KV 246, 'Lutzow' Allegro aperto - 07:39
CD04 - 05 - KK Nr.8 in C-Dur, KV 246, 'Lutzow' Andante - 08:09
CD04 - 06 - KK Nr.8 in C-Dur, KV 246, 'Lutzow' Rondeau (Tempo di menuetto) - 07:41
CD04 - 07 - KK Nr.11 in F-Dur, KV 413/387a Allegro - 09:15
CD04 - 08 - KK Nr.11 in F-Dur, KV 413/387a Larghetto - 08:00
CD04 - 09 - KK Nr.11 in F-Dur, KV 413/387a Tempo di menuetto - 05:43
CD05 - 01 - Concerto No. 9 in E flat, KV 271, 'Jeunehomme'; Allegro - 10:22
CD05 - 02 - Concerto No. 9 in E flat, KV 271, 'Jeunehomme'; Andantino - 12:21
CD05 - 03 - Concerto No. 9 in E flat, KV 271 'Jeunehomme', Rondeau. Presto - 10:14
CD05 - 04 - Concerto No. 12 in A, KV 414/385p; Allegro - 10:42
CD05 - 05 - Concerto No. 12 in A, KV 414/385p; Andante - 08:51
CD05 - 06 - Concerto No. 12 in A, KV 414/385p; Allegretto - 06:27
CD05 - 07 - Rondo in A, KV 386 - 08:42
CD06 - 01 - Concerto No. 13 in C, KV 415/387b; Allegro - 10:24
CD06 - 02 - Concerto No. 13 in C, KV 415/387b; Andante - 08:46
CD06 - 03 - Concerto No. 13 in C, KV 415/387b; Allegro - 09:06
CD06 - 04 - Concerto No. 17 in G, KV 453; Allegro - 11:38
CD06 - 05 - Concerto No. 17 in G, KV 453; Andante - 10:30
CD06 - 06 - Concerto No. 17 in G, KV 453; Allegretto - 07:38
CD06 - 07 - Rondo in D, KV 382; Allegretto grazioso - 05:56
CD06 - 08 - Rondo in D, KV 382; Adagio - 02:18
CD06 - 09 - Rondo in D, KV 382; Allegro - 01:56
CD07 - 01 - Piano Concerto No. 14 in E Flat, K 449 - i. Allegro vivace - 08:36
CD07 - 02 - Piano Concerto No. 14 in E Flat, K 449 - ii. Andantino - 07:26
CD07 - 03 - Piano Concerto No. 14 in E Flat, K 449 - iii. Allegro ma non troppo - 06:24
CD07 - 04 - Piano Concerto No. 15 in B Flat, K 450 - i. Allegro - 11:06
CD07 - 05 - Piano Concerto No. 15 in B Flat, K 450 - ii. Andante - 06:25
CD07 - 06 - Piano Concerto No. 15 in B Flat, K 450 - iii. Allegro - 08:00
CD07 - 07 - Piano Concerto No. 16 in D, K 451 - i. Allegro assai - 10:16
CD07 - 08 - Piano Concerto No. 16 in D, K 451 - ii. Andante - 06:31
CD07 - 09 - Piano Concerto No. 16 in D, K 451 - iii. Allegro di molto - 06:16
CD08 - 01 - Concerto No. 18 in B flat, KV 456; Allegro vivace - 12:02
CD08 - 02 - Concerto No. 18 in B flat, KV 456; Andante un poco sostenuto - 09:40
CD08 - 03 - Concerto No. 18 in B flat, KV 456; Allegro vivace (2) - 07:05
CD08 - 04 - Concerto No. 19 in F, KV 459; Allegro vivace - 12:24
CD08 - 05 - Concerto No. 19 in F, KV 459; Allegretto - 08:23
CD08 - 06 - Concerto No. 19 in F, KV 459; Allegro assai - 07:21
CD09 - 01 - Piano Concerto No. 20 in D minor, KV 466: Allegro - 13:27
CD09 - 02 - Piano Concerto No. 20 in D minor, KV 466: Romance - 09:18
CD09 - 03 - Piano Concerto No. 20 in D minor, KV 466: Rondo (Allegro assai) - 07:16
CD09 - 04 - Piano Concerto No. 21 in C, KV 467: (Allegro) - 13:34
CD09 - 05 - Piano Concerto No. 21 in C, KV 467: Andante - 06:40
CD09 - 06 - Piano Concerto No. 21 in C, KV 467: Allegro vivace assai - 06:16
CD10 - 01 - Piano Concerto No. 22 In E Flat, KV 482 - Allegro - 13:21
CD10 - 02 - Piano Concerto No. 22 In E Flat, KV 482 - Andante - 09:37
CD10 - 03 - Piano Concerto No. 22 In E Flat, KV 482 - Allegro - Andante Cantabile - Tempo I - 11:55
CD10 - 04 - Piano Concerto No. 23 In A, KV 488 - Allegro - 11:13
CD10 - 05 - Piano Concerto No. 23 In A, KV 488 - Adagio - 06:50
CD10 - 06 - Piano Concerto No. 23 In A, KV 488 - Allegro Assai - 08:03
CD11 - 01 - Concerto No. 24 in C minor, KV 491; Allegro - 13:15
CD11 - 02 - Concerto No. 24 in C minor, KV 491; Larghetto - 07:18
CD11 - 03 - Concerto No. 24 in C minor, KV 491; (Allegretto) - 09:04
CD11 - 04 - Concerto No. 25 in C, KV 503; Allegro maestoso - 15:03
CD11 - 05 - Concerto No. 25 in C, KV 503; Andante - 08:25
CD11 - 06 - Concerto No. 25 in C, KV 503; (Allegretto) - 09:22
CD12 - 01 - Concerto No. 26 in D, KV 537, 'Coronation'; Allegro - 14:22
CD12 - 02 - Concerto No. 26 in D, KV 537, 'Coronation'; (Larghetto) - 06:13
CD12 - 03 - Concerto No. 26 in D, KV 537, Coronation'; (Allegretto) - 10:10
CD12 - 04 - Concerto No. 27 in B flat, KV 595; Allegro - 13:55
CD12 - 05 - Concerto No. 27 in B flat, KV 595; Larghetto - 06:59
CD12 - 06 - Concerto No. 27 in B flat, KV 595; Allegro - 08:31

Box 05 - Violin Concertos, Wind Concertos

CD01 - 01 - Violin Concerto in B flat, KV 207 : 1. Allegro Moderato - 07:26
CD01 - 02 - Violin Concerto in B flat, KV 207 : 2. Adagio - 07:40
CD01 - 03 - Violin Concerto in B flat, KV 207 : 3. Presto - 06:00
CD01 - 04 - Violin Concerto in D, KV 211 : 1. Allegro Moderato - 08:47
CD01 - 05 - Violin Concerto in D, KV 211 : 2. Andante - 07:23
CD01 - 06 - Violin Concerto in D, KV 211 : 3. Rondeau (Allegro) - 04:39
CD01 - 07 - Violin Concerto in G, KV 216 : 1. Allegro - 10:09
CD01 - 08 - Violin Concerto in G, KV 216 : 2. Adagio - 08:18
CD01 - 09 - Violin Concerto in G, KV 216 : 3. Rondeau (Allegro) - 06:26
CD01 - 10 - Adagio for Violin and Orchestra in E, KV 261 - 06:54
CD02 - 01 - Violin Concerto in D, KV 218 : 1. Allegro - 09:32
CD02 - 02 - Violin Concerto in D, KV 218 : 2. Andante cantabile - 06:49
CD02 - 03 - Violin Concerto in D, KV 218 : 3. Rondeau (Andante grazioso) - 07:23
CD02 - 04 - Violin Concerto in A, KV 219 : 1. Allegro aperto - 09:56
CD02 - 05 - Violin Concerto in A, KV 219 : 2. Adagio - 09:28
CD02 - 06 - Violin Concerto in A, KV 219 : 3. Rondeau (tempodi menuetto) - 08:45
CD02 - 07 - Rondo for Violin and Orchestra in B flat, KV 269/261a - 06:40
CD02 - 08 - Rondo for Violin and Orchestra in C, KV 373 - 05:34
CD03 - 01 - Violin Concerto in D, KV 271a/271i : 1. Allegro maestoso - 11:46
CD03 - 02 - Violin Concerto in D, KV 271a/271i : 2. Andante - 08:11
CD03 - 03 - Violin Concerto in D, KV 271a/271i : 3. Rondo (Allegro) - 09:14
CD03 - 04 - Concertone for 2 Violins and Orchestra in C, KV 190/186e : 1. Allegro spiritoso - 09:09
CD03 - 05 - Concertone for 2 Violins and Orchestra in C, KV 190/186e : 2. Andantino grazioso - 10:47
CD03 - 06 - Concertone for 2 Violins and Orchestra in C, KV 190/186e : 3. Tempo di menuet… - 09:54
CD04 - 01 - Sinfonia concertante in E flat, KV 364/320d : 1. Allegro maestoso - 13:55
CD04 - 02 - Sinfonia concertante in E flat, KV 364/320d : 2. Andante - 11:06
CD04 - 03 - Sinfonia concertante in E flat, KV 364/320d : 1. Presto - 06:14
CD04 - 04 - Concerto for Violin, Piano and Orchestra in D, KV App. 56/315f : 1. Allegro - 12:19
CD04 - 05 - Concerto for Violin, Piano and Orchestra in D, KV App. 56/315f : 2. Andantino… - 06:37
CD04 - 06 - Concerto for Violin, Piano and Orchestra in D, KV App. 56/315f : 3. Allegrett… - 06:56
CD04 - 07 - Sinfonia concertante in A, KV App. 104/320e : Allegro - 11:18
CD05 - 01 - Concerto for Flute, Harp and Orchestra in C, KV 299/297c; Allegro - 10:27
CD05 - 02 - Concerto for Flute, Harp and Orchestra in C, KV 299/297c; Andantino - 08:35
CD05 - 03 - Concerto for Flute, Harp and Orchestra in C, KV 299/297c; Rondeau (Allegro) - 08:21
CD05 - 04 - Flute Concerto in G, KV 313/285c; Allegro maestoso - 09:07
CD05 - 05 - Flute Concerto in G, KV 313;285c; Adagio ma non troppo - 08:29
CD05 - 06 - Flute Concerto in G, KV 313/285c; Rondo (Tempo di Menuetto) - 06:49
CD05 - 07 - Andante for Flute and Orchestra in C, KV 315/285e - 06:03
CD06 - 01 - Clarinet Concerto in A, KV 622; Allegro - 12:00
CD06 - 02 - Clarinet Concerto in A, KV 622; Adagio - 07:47
CD06 - 03 - Clarinet Concerto in A, KV 622; Rondo (Allegro) - 08:41
CD06 - 04 - Bassoon Concerto in B flat, KV 191/186e; Allegro - 06:59
CD06 - 05 - Bassoon Concerto in B flat, KV 191/186e; Andante ma adagio - 06:07
CD06 - 06 - Bassoon Concerto in B flat, KV 191/186e; Rondo (Tempo di menuetto) - 04:07
CD07 - 01 - Hornkonzert in D, KV 412; (Allegro) - 04:53
CD07 - 02 - Hornkonzert in D, KV 412; Allegro - 04:17
CD07 - 03 - Hornkonzert in Es-Dur, KV 417; Allegro maestoso - 06:29
CD07 - 04 - Hornkonzert in Es-Dur, KV 417; Andante - 03:20
CD07 - 05 - Hornkonzert in Es-Dur, KV 417; Rondo - 03:42
CD07 - 06 - Hornkonzert in Es-Dur, KV 447; Allegro - 07:33
CD07 - 07 - Hornkonzert in Es-Dur, KV 447; Romanze (Larghetto) - 04:51
CD07 - 08 - Hornkonzert in Es-Dur, KV 447; Allegro - 03:44
CD07 - 09 - Hornkonzert in Es-Dur, KV 495; Allegro moderato - 08:15
CD07 - 10 - Hornkonzert in Es-Dur, KV 495; Romanza (Andante) - 04:13
CD07 - 11 - Hornkonzert in Es-Dur, KV 495; Rondo (Allegro vivace) - 03:38
CD07 - 12 - Rondo Es-Dur fьr Horn und Orchester, KV 371 - 05:50
CD08 - 01 - Symphonie concertante in Es-Dur KV 297B - 1 - Allegro - 09:36
CD08 - 02 - Symphonie concertante in Es-Dur KV 297B - 2 - Adagio - 06:31
CD08 - 03 - Symphonie concertante in Es-Dur KV 297B - 3 - Andantino con variazioni - 12:20
CD08 - 04 - Oboenkonzert in C-Dur KV 314 - 1 - Allegro aperto - 06:55
CD08 - 05 - Oboenkonzert in C-Dur KV 314 - 2 - Adagio ma non troppo - 07:31
CD08 - 06 - Oboenkonzert in C-Dur KV 314 - 3 - Rondo (Allegretto) - 05:32
CD09 - 01 - Flute Concerto in D, K314/285d; Allegro aperto - 07:58
CD09 - 02 - Flute Concerto in D, K314/285d; Andante ma non troppo - 06:23
CD09 - 03 - Flute Concerto in D, K314/285d; Allegro - 06:06
CD09 - 04 - Sinfonia concertante in E flat, KV App. C14.01/K297b; Allegro - 13:44
CD09 - 05 - Sinfonia concertante in E flat, KV App. C14.01/K297b; Adagio - 07:30
CD09 - 06 - Sinfonia concertante in E flat, KV App. C14.01/K297b; Andantino con variazoni - 08:51

Box 06 - Quintets, Quartets, Trios, etc

CD01 - 01 - K581 / I. Allegro - Clarinet Quintet - 09:55
CD01 - 02 - K581 / II. Larghetto - Clarinet Quintet - 07:36
CD01 - 03 - K581 / III. Menuetto - Clarinet Quintet - 07:43
CD01 - 04 - K581 / IV. Allegretto con variazioni - Clarinet Quintet - 09:51
CD01 - 05 - K407 / I. Allegro - Horn Quintet - 06:26
CD01 - 06 - K407 / II. Andante - Horn Quintet - 07:32
CD01 - 07 - K407 / III. Allegro - Horn Quintet - 03:59
CD01 - 08 - K370 / I. Allergro - Oboe Quartet - 05:08
CD01 - 09 - K370 / II. Adagio - Oboe Quartet - 04:14
CD01 - 10 - K370 / III. Rondeau (Allegro) - Oboe Quartet - 04:38
CD01 - 11 - K292 / I. Allegro - Sonata for Bassoon and Cello - 03:51
CD01 - 12 - K292 / II. Andante - Sonata for Bassoon and Cello - 02:57
CD01 - 13 - K292 / III. Rondo (Allegro) - Sonata for Bassoon and Cello - 02:46
CD02 - 01 - K285 / I. Allegro - 06:44
CD02 - 02 - K285 / II. Adagio - 02:24
CD02 - 03 - K285 / III. Rondeau - 04:12
CD02 - 04 - K298 / I. Tema (Andante) con variazioni - 05:53
CD02 - 05 - K298 / II. Menuetto - 02:08
CD02 - 06 - K298 / III. Rondeau (Allegretto grazioso) - 02:56
CD02 - 07 - K285b / I. Allegro - 05:56
CD02 - 08 - K285b / II. Tema (Andantino) con variazioni - 09:35
CD02 - 09 - K285a / I. Andante - 06:18
CD02 - 10 - K285a / II. Tempo di menuetto - 03:35
CD03 - 01 - Two original movements from the string quintet in B flat, KV 174 / Trio - 01:24
CD03 - 02 - Two original movements from the string quintet in B flat, KV 174 / Finale (Al… - 07:22
CD03 - 03 - K168a / Minuet in F - 01:34
CD03 - 04 - Allegro in F, KV 188 / 246c for a divertimento - 05:11
CD03 - 05 - Minuet in B flat, KV App. 68 / 259a for a string quartet - 04:25
CD03 - 06 - Movement in A, KV App. 72 / 464a for a string quartet - 07:43
CD03 - 07 - (Allegro) on B flat, KV App. 80 / 514a for a string quartet - 06:17
CD03 - 08 - Allegro in F, KV App. 90 / 580b - 07:09
CD03 - 09 - Allegro in G, KV App.66 / 562e for a string trio - 04:02
CD03 - 10 - Allegro in B flat, KV App. 91 / 516c for a clarinet quintet - 04:20
CD03 - 11 - K app. 79 / Allegro mederato in A minor - 05:22
CD04 - 01 - Quintet KV 452 - I. Largo-Allegro Moderatro - 10:03
CD04 - 02 - Quintet KV 452 - II. Larghetto - 09:40
CD04 - 03 - Quintet KV 452 - III. Allegretto - 05:11
CD04 - 04 - Trio KV 498 - I. Andante - 06:22
CD04 - 05 - Trio KV 498 - II. Menuetto - 05:54
CD04 - 06 - Trio KV 498 - Rondeaux - 08:23
CD04 - 07 - Adagio and Rondo KV 617 - I. Adagio - Bruno Hoffman - 06:48
CD04 - 08 - Adagio and Rondo KV 617 - II. Rondo - Bruno Hoffman - 09:40
CD04 - 09 - Adagio KV 356 - Bruno Hoffmann - 04:03
CD05 - 01 - Piano Quartet No. 1 in G Minor, K 478 - I. Allegro - 14:24
CD05 - 02 - Piano Quartet No. 1 in G Minor, K 478 - II. Andante - 07:03
CD05 - 03 - Piano Quartet No. 1 in G Minor, K 478 - III. Rondo (Allegro moderato) - 07:43
CD05 - 04 - Piano Quartet No. 2 in E Flat, K 493 - I. Allegro - 14:14
CD05 - 05 - Piano Quartet No. 2 in E Flat, K 493 - II. Larghetto - 09:18
CD05 - 06 - Piano Quartet No. 2 in E Flat, K 493 - III. Allegretto - 08:26
CD06 - 01 - Trio in B flat, KV 254 - I. Allegro assai - 06:23
CD06 - 02 - Trio in B flat, KV 254 - II. Adagio - 07:26
CD06 - 03 - Trio in B flat, KV 254 - III. Rondeau (Tempo di menuetto) - 06:51
CD06 - 04 - Trio in G, KV 496 - I. Allegro - 08:37
CD06 - 05 - Trio in G, KV 496 - II. Andante - 07:57
CD06 - 06 - Trio in G, KV 496 - III. Allegretto (Thema mit Variationen) - 10:45
CD07 - 01 - Piano Trio in B flat, KV 502 - I. Allegro - 08:09
CD07 - 02 - II. Larghetto - 09:15
CD07 - 03 - III. Allegretto - 06:01
CD07 - 04 - Piano Trio in E, KV 542 - I. Allegro - 07:33
CD07 - 05 - II. Andante grazioso - 04:59
CD07 - 06 - III. Allegro - 06:51
CD08 - 01 - Piano Trio in C, KV 548 - I. Allegro - 07:27
CD08 - 02 - II. Andante cantabile - 09:43
CD08 - 03 - III. Allegro - 04:17
CD08 - 04 - Piano Trio in G, KV 564 - I. Allegro - 05:24
CD08 - 05 - II. Andante (Thema mit variationen) - 07:14
CD08 - 06 - III. Allegretto - 04:52
CD08 - 07 - Piano Trio in D minor, KV 442 - I. Allegro - 05:29
CD08 - 08 - II. Tempo di minuetto - 06:04
CD08 - 09 - III. Allegro - 05:11

Box 07 - String Quarter & Quintets

CD01 - 01 - String Quartet No. 1 in G major, K. 80 (83f) - I. Adagio - 06:42
CD01 - 02 - String Quartet No. 1 in G major, K. 80 (83f) - II. Allegro - 03:14
CD01 - 03 - String Quartet No. 1 in G major, K. 80 (83f) - III. Menuetto - 03:09
CD01 - 04 - String Quartet No. 1 in G major, K. 80 (83f) - IV. Rondo - 02:15
CD01 - 05 - String Quartet No. 2 in D major, K. 155 (134a) - I. Allegro - 03:43
CD01 - 06 - String Quartet No. 2 in D major, K. 155 (134a) - II. Andante - 04:42
CD01 - 07 - String Quartet No. 2 in D major, K. 155 (134a) - III. Molto allegro - 01:27
CD01 - 08 - String Quartet No. 3 in G major, K. 156 (134b) - I. Presto - 03:14
CD01 - 09 - String Quartet No. 3 in G major, K. 156 (134b) - II. Adagio - 06:45
CD01 - 10 - String Quartet No. 3 in G major, K. 156 (134b) - III. Tempo di menuetto - 03:53
CD01 - 11 - String Quartet No. 3 in G major, K. 156 (134b) - II. Adagio (Original version) - 02:49
CD01 - 12 - String Quartet No. 4 in C major, K. 157 - I. Allegro - 05:31
CD01 - 13 - String Quartet No. 4 in C major, K. 157 - II. Andante - 05:04
CD01 - 14 - String Quartet No. 4 in C major, K. 157 - III. Presto - 01:58
CD01 - 15 - String Quartet No. 5 in F major, K. 158 - I. Allegro - 03:38
CD01 - 16 - String Quartet No. 5 in F major, K. 158 - II. Andante un poco allegretto - 05:47
CD01 - 17 - String Quartet No. 5 in F major, K. 158 - III. Tempo di menuetto - 06:22
CD02 - 01 - String Quartet No. 6 in B flat major, K. 159 - I. Andante - 05:26
CD02 - 02 - String Quartet No. 6 in B flat major, K. 159 - II. Allegro - 05:16
CD02 - 03 - String Quartet No. 6 in B flat major, K. 159 - III. Rondo. Allegro grazioso - 02:36
CD02 - 04 - String Quartet No. 7 in E flat major, K. 160 (159a) - I. Allegro - 03:20
CD02 - 05 - String Quartet No. 7 in E flat major, K. 160 (159a) - II. Un poco adagio - 05:17
CD02 - 06 - String Quartet No. 7 in E flat major, K. 160 (159a) - III. Presto - 02:43
CD02 - 07 - String Quartet No. 8 in F major, K. 168 - I. Allegro - 04:29
CD02 - 08 - String Quartet No. 8 in F major, K. 168 - II. Andante - 05:38
CD02 - 09 - String Quartet No. 8 in F major, K. 168 - III. Menuetto - 02:38
CD02 - 10 - String Quartet No. 8 in F major, K. 168 - IV. Allegro - 02:08
CD02 - 11 - String Quartet No. 9 in A major, K. 169 - I. Molto allegro - 03:31
CD02 - 12 - String Quartet No. 9 in A major, K. 169 - II. Andante - 07:19
CD02 - 13 - String Quartet No. 9 in A major, K. 169 - III. Menuetto - 03:09
CD02 - 14 - String Quartet No. 9 in A major, K. 169 - IV. Rondeaux. Allegro - 01:38
CD03 - 01 - String Quartet No. 10 in C major, K. 170 - I. Andante - 04:48
CD03 - 02 - String Quartet No. 10 in C major, K. 170 - II. Menuetto - 03:07
CD03 - 03 - String Quartet No. 10 in C major, K. 170 - III. Un poco adagio - 05:15
CD03 - 04 - String Quartet No. 10 in C major, K. 170 - IV. Rondeaux. Allegro - 02:36
CD03 - 05 - String Quartet No. 11 in E flat major, K. 171 - I. Adagio - Allegro assai - A… - 06:04
CD03 - 06 - String Quartet No. 11 in E flat major, K. 171 - II. Menuetto - 02:55
CD03 - 07 - String Quartet No. 11 in E flat major, K. 171 - III. Andante - 04:51
CD03 - 08 - String Quartet No. 11 in E flat major, K. 171 - IV. Allegro assai - 02:55
CD03 - 09 - String Quartet No. 12 in B flat major, K. 172 - I. Allegro spiritoso - 04:07
CD03 - 10 - String Quartet No. 12 in B flat major, K. 172 - II. Adagio - 05:04
CD03 - 11 - String Quartet No. 12 in B flat major, K. 172 - III. Menuetto - 03:08
CD03 - 12 - String Quartet No. 12 in B flat major, K. 172 - IV. Allegro assai - 03:38
CD03 - 13 - String Quartet No. 13 in D minor, K. 173 - I. Allegro ma molto moderato - 05:33
CD03 - 14 - String Quartet No. 13 in D minor, K. 173 - II. Andantino grazioso - 03:23
CD03 - 15 - String Quartet No. 13 in D minor, K. 173 - III. Menuetto - 04:04
CD03 - 16 - String Quartet No. 13 in D minor, K. 173 - IV. Allegro - 03:30
CD04 - 01 - String Quartet No.14 in G major, K. 387 - I. Allegro vivace assai - 07:28
CD04 - 02 - String Quartet No.14 in G major, K. 387 - II. Allegretto - 08:20
CD04 - 03 - String Quartet No.14 in G major, K. 387 - III. Andante cantabile - 07:19
CD04 - 04 - String Quartet No.14 in G major, K. 387 - IV. Molto allegro - 06:08
CD04 - 05 - String Quartet No.15 in D minor, K. 421 (417b) - I. Allegro moderato - 07:28
CD04 - 06 - String Quartet No.15 in D minor, K. 421 (417b) - II. Andante - 06:10
CD04 - 07 - String Quartet No.15 in D minor, K. 421 (417b) - III. Allegretto - 04:12
CD04 - 08 - String Quartet No.15 in D minor, K. 421 (417b) - IV. Allegretto ma non troppo - 09:41
CD05 - 01 - I. No.16, KV 428 / Allegro ma non troppo - 07:22
CD05 - 02 - II. No.16, KV 428 / Andante con moto - 09:08
CD05 - 03 - III. No.16, KV 428 / Allegretto - 06:25
CD05 - 04 - IV. No.16, KV 428 / Allegro vivace - 05:29
CD05 - 05 - I. No.17, KV 458, 'The Hunt' / Allegro vivace assai - 08:58
CD05 - 06 - II. No.17, KV 458, 'The Hunt' / Moderato - 04:27
CD05 - 07 - III. No.17, KV 458, 'The Hunt' / Adagio - 07:49
CD05 - 08 - IV. No.17, KV 458, 'The Hunt' / Allegro assai - 06:36
CD06 - 01 - I. No.18, KV 464 / Allegro - 06:48
CD06 - 02 - II .No.18, KV 464 / Menuetto - 06:17
CD06 - 03 - III. No.18, KV 464 / Andante - 13:33
CD06 - 04 - IV. No.18, KV 464 / Allegro non troppo - 07:11
CD06 - 05 - I. No.19, KV 465, 'Dissonance' / Adagio - Allegro - 11:24
CD06 - 06 - II. No.19, KV 465, 'Dissonance' / Andante cantabile - 07:22
CD06 - 07 - II. No.19, KV 465, 'Dissonance' / Allegretto - 05:33
CD06 - 08 - III. No.19, KV 465, 'Dissonance' / Allegro molto - 07:45
CD07 - 01 - I. No.20, KV 499 / Allegretto - 10:05
CD07 - 02 - II. No.20, KV 499 / Menuetto (Allegretto) - 03:04
CD07 - 03 - III. No.20, KV 499 / Adagio - 09:08
CD07 - 04 - IV. No.20, KV 499 / Allegro - 07:07
CD07 - 05 - I. No.21, KV 575 / Allegretto - 07:32
CD07 - 06 - II. Nno.21, KV 575 / Andante - 04:54
CD07 - 07 - III. No.21, KV 575 / Menuetto (Allegro) - 06:09
CD07 - 08 - IV. No.21, KV 575 / Allegretto - 06:20
CD08 - 01 - I. No.22, KV 589 / Allegro - 06:14
CD08 - 02 - II. No.22, KV 589 / Larghetto - 06:37
CD08 - 03 - III. No.22, KV 589 / Menuetto (Moderato) - 06:59
CD08 - 04 - IV. No.22, KV 589 / Allegro assai - 03:39
CD08 - 05 - I. No.23, KV 590 / Allegro moderato - 08:56
CD08 - 06 - II. No.23, KV 590 / Allegretto - 07:33
CD08 - 07 - III. No.23, KV 590 / Menuetto (Allegretto) - 04:07
CD08 - 08 - IV. No.23, KV 590 / Allegro - 07:11
CD09 - 01 - String Quintet No. 1 in B flat KV174 - I. Allegro - 08:47
CD09 - 02 - String Quintet No. 1 in B flat KV174 - II. Adagio - 05:31
CD09 - 03 - String Quintet No. 1 in B flat KV174 - III. Menuetto ma allegretto - 03:59
CD09 - 04 - String Quintet No. 1 in B flat KV174 - IV. Allegro - 05:43
CD09 - 05 - String Quintet No. 4 in C minor KV406/516b - I. Allegro - 08:13
CD09 - 06 - String Quintet No. 4 in C minor KV406/516b - II. Andante - 04:14
CD09 - 07 - String Quintet No. 4 in C minor KV406/516b - III. Menuetto in canone - 04:42
CD09 - 08 - String Quintet No. 4 in C minor KV406/516b - IV. Allegro - 06:25
CD10 - 01 - String Quintet No. 2 in C, K. 515 / 1. Allegro - 14:26
CD10 - 02 - String Quintet No. 2 in C, K. 515 / 2. Andante - 08:29
CD10 - 03 - String Quintet No. 2 in C, K. 515 / 3. Menuetto (Allegretto) - 06:00
CD10 - 04 - String Quintet No. 2 in C, K. 515 / 4. (Allegro) - 07:36
CD10 - 05 - String Quintet No. 3 in G minor, K. 516 / 1. Allegro - 10:52
CD10 - 06 - String Quintet No. 3 in G minor, K. 516 / 2. Menuetto (Allegretto) - 05:12
CD10 - 07 - String Quintet No. 3 in G minor, K. 516 / 3. Adagio ma non troppo - 07:23
CD10 - 08 - String Quintet No. 3 in G minor, K. 516 / 4. Adagio - Allegro - 09:47
CD11 - 01 - I. Larghetto-Allegro - No. 5, KV 593 - 10:15
CD11 - 02 - II. Adagio - No. 5, KV 593 - 07:22
CD11 - 03 - III. Menuetto, Allegretto - No. 5, KV 593 - 05:23
CD11 - 04 - IV. Allegro - No. 5, KV 593 - 05:15
CD11 - 05 - I. Allegro di molto - No. 6, KV 614 - 07:18
CD11 - 06 - II. Andante - No. 6, KV 614 - 07:13
CD11 - 07 - III. Menuetto, Allegretto - No. 6, KV 614 - 04:23
CD11 - 08 - IV. Allegro - No. 6, KV 614 - 05:31

Box 08 - Violin Sonatas, String Duos & Trios

CD01 - 01 - Sonata in F, KV 547 - Andante Cantabile - 04:03
CD01 - 02 - Allegro - 06:08
CD01 - 03 - Andante con variazioni - 06:55
CD01 - 04 - Andante and Allegretto in C, KV 404/385d - Andante - 01:56
CD01 - 05 - Allegretto - 01:23
CD01 - 06 - Andante in A and Fugue in A minor, KV 402/385e - Andante ma poco adagio - 04:00
CD01 - 07 - Fuga. Allegro moderato - 02:53
CD01 - 08 - Sonata in C, KV 403/385c - Sonate in C-dur - en ut majeur - Allegro moderato - 04:46
CD01 - 09 - Andante - 02:59
CD01 - 10 - Allegretto - 04:37
CD01 - 11 - Adagio in C minor,KV 396/385f - 03:47
CD01 - 12 - Allegro in B flat, Kv 372 - 07:40
CD01 - 13 - 12 Variations in G, KV 359/374a on 'La bergиre Cйlimиne' - 13:22
CD01 - 14 - Sonata in C, KV 46d - Allegro - 02:14
CD01 - 15 - Menuet I & II - 02:12
CD01 - 16 - Sonata in F, KV 46e - Allegro - 01:24
CD01 - 17 - Menuet I & II - 02:31
CD02 - 01 - I. Allegro, Sonata in C, KV 6 - 04:30
CD02 - 02 - II. Andante - 03:18
CD02 - 03 - III. Menuet I & II - 02:10
CD02 - 04 - IV. Allegro molto - 02:49
CD02 - 05 - I. Allegro molto, Sonata in D, KV 7 - 03:57
CD02 - 06 - II. Adagio - 02:59
CD02 - 07 - III. Menuet I & II - 02:25
CD02 - 08 - I. Allegro, Sonata in B flat, KV 8 - 03:32
CD02 - 09 - II. Andante grazioso - 04:03
CD02 - 10 - III. Menuet I & II - 03:07
CD02 - 11 - I. Allegro spiritoso, Sonata in G, KV 9 - 05:59
CD02 - 12 - II. Andante - 03:53
CD02 - 13 - III. Menuet I & II - 04:45
CD02 - 14 - I. Allegro, Sonata in B flat, KV 10 - 02:42
CD02 - 15 - II. Andante - 03:10
CD02 - 16 - III. Menuetto I & II - 02:49
CD02 - 17 - I. Allegro, Sonata in G, KV 11 - 03:04
CD02 - 18 - II. Menuetto - 03:55
CD02 - 19 - I. Andante, Sonata in A, KV 12 - 03:24
CD02 - 20 - II. Allegro - 02:20
CD03 - 01 - Sonata in F, KV 13: Allegro - 02:49
CD03 - 02 - Sonata in F, KV 13: Andante - 03:16
CD03 - 03 - Sonata in F, KV 13: Menuetto I & II - 01:39
CD03 - 04 - Sonata in C, KV 14: Allegro - 02:57
CD03 - 05 - Sonata in C, KV 14: Allegro - 02:41
CD03 - 06 - Sonata in C, KV 14: Menuetto I & II 'en carillon' - 03:03
CD03 - 07 - Sonata in B flat, KV 15: Andante maestoso - 04:42
CD03 - 08 - Sonata in B flat, KV 15: Allegro grazioso - 01:25
CD03 - 09 - Sonata in E flat, KV 26: Allegro molto - 03:31
CD03 - 10 - Sonata in E flat, KV 26: Adagio poco andante - 03:34
CD03 - 11 - Sonata in E flat, KV 26: Rondo, Allegro - 02:20
CD03 - 12 - Sonata in G, KV 27: Andante poco adagio - 03:34
CD03 - 13 - Sonata in G, KV 27: Allegro - 03:49
CD03 - 14 - Sonata in C, KV 28: Allegro maestoso - 03:24
CD03 - 15 - Sonata in C, KV 28: Allegro grazioso - 02:26
CD03 - 16 - Sonata in D, KV 29: Allegro molto - 03:40
CD03 - 17 - Sonata in D, KV 29: Menuetto - 03:31
CD03 - 18 - Sonata in F, KV 30: Adagio - 03:22
CD03 - 19 - Sonata in F, KV 30: Rondo. Tempo di menuetto. Moderato - 02:43
CD03 - 20 - Sonata in B flat, KV 31: Allegro - 04:17
CD03 - 21 - Sonata in B flat, KV 31: Tempo di menuetto. Moderato - 04:09
CD04 - 01 - Violin Sonata in C KV296 - Allegro vivace - 06:17
CD04 - 02 - Violin Sonata in C KV296 - Andante sostenuto - 04:56
CD04 - 03 - Violin Sonata in C KV296 - Allegro [Rondo] - 04:53
CD04 - 04 - Violin Sonata in G KV301 - Allegro con spirito - 08:03
CD04 - 05 - Violin Sonata in G KV301 - Allegro - 05:11
CD04 - 06 - Violin Sonata in E flat KV302 - Allegro - 05:23
CD04 - 07 - Violin Sonata in E flat KV302 - Rondo. Andante grazioso - 06:19
CD04 - 08 - Violin Sonata in E flat KV303 - Adagio. Molto allegro - 05:13
CD04 - 09 - Violin Sonata in E flat KV303 - Tempo di menuetto - 04:37
CD04 - 10 - Violin and Piano Sonata in E minor KV304/300c - Allegro - 06:36
CD04 - 11 - Violin and Piano Sonata in E minor KV304/300c - Tempo di menuetto - 05:37
CD05 - 01 - Sonatas in A, KV 305/293d - Allegro di molto - 04:41
CD05 - 02 - Tema - 01:07
CD05 - 03 - Variazioni I - 00:57
CD05 - 04 - Variazioni II - 00:57
CD05 - 05 - Variazioni III - 00:56
CD05 - 06 - Variazioni IV - 01:09
CD05 - 07 - Variazioni V - 00:58
CD05 - 08 - Variazioni VI - 00:51
CD05 - 09 - Sonata in D, KV 306/300l - Allegro con spirito - 07:29
CD05 - 10 - Andante cantabile - 06:39
CD05 - 11 - Allegretto - 06:35
CD05 - 12 - Six Variations in G minor,KV 360/374b - Tema - 01:09
CD05 - 13 - Variazione I - 00:56
CD05 - 14 - Variazione II - 01:00
CD05 - 15 - Variazione III - 01:00
CD05 - 16 - Variazione IV - 00:59
CD05 - 17 - Variazione V - 01:00
CD05 - 18 - Variazione VI - 01:01
CD05 - 19 - Sonata in F, KV 376/374d - Allegro - 04:47
CD05 - 20 - Andante - 05:04
CD05 - 21 - Rondт. Allegretto grazioso - 05:48
CD05 - 22 - Sonata in F, KV 377/374e - Allegro - 04:19
CD05 - 23 - Tema - 01:22
CD05 - 24 - Variazione I - 01:08
CD05 - 25 - Variazione II - 01:10
CD05 - 26 - Variazione III - 01:08
CD05 - 27 - Variazione IV - 01:07
CD05 - 28 - Variazione V - 01:11
CD05 - 29 - Variazione VI - 01:48
CD05 - 30 - Tempo di menuetto - 05:25
CD06 - 01 - Violin and Piano Sonata in B flat major KV378/317d - Allegro moderato - 08:56
CD06 - 02 - Violin and Piano Sonata in B flat major KV378/317d - Andantino sostenuto e ca… - 05:40
CD06 - 03 - Violin and Piano Sonata in B flat major KV378/317d - Rondeau. Allegro - 04:07
CD06 - 04 - Sonata in G KV379/373a - Adagio - 05:10
CD06 - 05 - Sonata in G KV379/373a - Allegro - 04:13
CD06 - 06 - Sonata in G KV379/373a - Tema - 01:12
CD06 - 07 - Sonata in G KV379/373a - Variazione I - 01:19
CD06 - 08 - Sonata in G KV379/373a - Variazione II - 01:12
CD06 - 09 - Sonata in G KV379/373a - Variazione III - 01:11
CD06 - 10 - Sonata in G KV379/373a - Variazione IV - 01:18
CD06 - 11 - Sonata in G KV379/373a - Variazione V - 02:32
CD06 - 12 - Sonata in G KV379/373a - Tema - 01:33
CD06 - 13 - Sonata in E flat KV380/374f - Allegro - 06:57
CD06 - 14 - Sonata in E flat KV380/374f - Andante con moto - 06:57
CD06 - 15 - Sonata in E flat KV380/374f - Rondeau [Allegro] - 04:35
CD07 - 01 - Sonata in B flat, KV 454 ( Largo - Allegro ) - 07:04
CD07 - 02 - Andante - 07:15
CD07 - 03 - Allegretto - 06:42
CD07 - 04 - Sonata in E flat, KV 481 ( Molto allegro ) - 07:23
CD07 - 05 - Adagio - 07:06
CD07 - 06 - Allegretto (con sei variazioni) - Tema - 01:07
CD07 - 07 - Variazione I - 01:02
CD07 - 08 - Variazione II - 01:03
CD07 - 09 - Variazione III - 01:02
CD07 - 10 - Variazione IV - 01:12
CD07 - 11 - Variazione V - 01:16
CD07 - 12 - Variazione VI - 01:18
CD07 - 13 - Sonata in A, Kv 526 ( Molto allegro ) - 06:32
CD07 - 14 - Andante - 07:00
CD07 - 15 - Presto - 07:10
CD08 - 01 - Divertimento in E flat, KV 563: - Allegro - 08:28
CD08 - 02 - Divertimento in E flat, KV 563: - Adagio - 08:17
CD08 - 03 - Divertimento in E flat, KV 563: - Menuetto, Allegretto-Trio - 05:51
CD08 - 04 - Divertimento in E flat, KV 563: - Andante - 07:30
CD08 - 05 - Divertimento in E flat, KV 563: - Menuetto, Allegretto-Trio I-II - 05:16
CD08 - 06 - Divertimento in E flat, KV 563: - Allegro - 05:56
CD08 - 07 - Duo for Violin and Violon in G, kv.423: - Allegro - 06:11
CD08 - 08 - Duo for Violin and Violon in G, kv.423: - Adagio - 03:34
CD08 - 09 - Duo for Violin and Violon in G, kv.423: - Rondeau, Allegro - 05:03
CD08 - 10 - Duo for Violin and Viola in B falt, KV.424: - Adagio-Allegro - 08:08
CD08 - 11 - Duo for Violin and Viola in B falt, KV.424: - Andante cantabile - 03:07
CD08 - 12 - Duo for Violin and Viola in B falt, KV.424: - Tema con variazioni. Andante … - 08:38
CD09 - 01 - Sonate (Trio) in B flat, KV 266/271f - Adagio - 06:09
CD09 - 02 - Sonate (Trio) in B flat, KV 266/271f - Menuetto, Allegretto - 03:22
CD09 - 03 - Six Preludes and Fugues, KV.404a, No.1 in D minor - Adagio (nach J.S. Bach • … - 04:07
CD09 - 04 - Six Preludes and Fugues, KV.404a, No.1 in D minor - Fuga (nach J.S. Bach • Da… - 03:50
CD09 - 05 - Six Preludes and Fugues, KV.404a, No.2 in G minor - Adagio (nach J.S. Bach •… - 03:22
CD09 - 06 - Six Preludes and Fugues, KV.404a, No.2 in G minor - Fuga (nach J.S. Bach • Da… - 02:54
CD09 - 07 - Six Preludes and Fugues, KV.404a, No.3 in F - Adagio (nach J.S. Bach • Das wo… - 03:17
CD09 - 08 - Six Preludes and Fugues, KV.404a, No.3 in F - Fuga (nach J.S. Bach • Das wohl… - 02:58
CD09 - 09 - Six Preludes and Fugues, KV.404a, No.4 in F - Adagio (nach J.S. Bach • Adagio… - 03:28
CD09 - 10 - Six Preludes and Fugues, KV.404a, No.4 in F - Fuga (nach J.S. Bach • Die Kuns… - 06:28
CD09 - 11 - Six Preludes and Fugues, KV.404a, No.5 in E flat - Largo (nach J.S. Bach • La… - 03:52
CD09 - 12 - Six Preludes and Fugues, KV.404a, No.5 in E flat - Fuga (nach J.S. Bach • thi… - 04:47
CD09 - 13 - Six Preludes and Fugues, KV.404a, No.6 in F minor - Adagio (nach W.F. Bach Fu… - 05:02
CD09 - 14 - Six Preludes and Fugues, KV.404a, No.6. in F minor - Fuga (nach W.F. Bach Fu… - 03:35

Box 09 - Piano Music

CD01 - 01 - Piano sonata in C major KV 279 - I. Allegro - 04:49
CD01 - 02 - Piano sonata in C major KV 279 - II. Andante - 05:45
CD01 - 03 - Piano sonata in C major KV 279 - III. Allegro - 03:16
CD01 - 04 - Piano sonata in F major KV 280 - I. Allegro assai - 04:23
CD01 - 05 - Piano sonata in F major KV 280 - II. Adagio - 07:07
CD01 - 06 - Piano sonata in F major KV 280 - III. Presto - 02:46
CD01 - 07 - Piano sonata in B - flat major KV 281: I. Allegro - 04:31
CD01 - 08 - Piano sonata in B - flat major KV 281: II. Andante amoroso - 04:55
CD01 - 09 - Piano sonata in B - flat major KV 281: III. Rondeau (allegro) - 04:27
CD01 - 10 - Piano sonata in E - flat major KV 282: I. Adagio - 06:00
CD01 - 11 - Piano sonata in E-flat major KV 282: II. Menuetto I - II - 03:59
CD01 - 12 - Piano sonata in E - flat major KV 282: III. Allegro - 02:14
CD01 - 13 - Piano sonata in G major KV 283 - I. Allegro - 03:52
CD01 - 14 - Piano sonata in G major KV 283 - II. Andante - 06:17
CD01 - 15 - Piano sonata in G major KV 283 - III. Presto - 03:53
CD02 - 01 - Piano Sonata in D major 'Dьrnitz', KV 284/205b - I. Allegro - 04:50
CD02 - 02 - Piano Sonata in D major 'Dьrnitz', KV 284/205b - II. Rondeau en polonaise (an… - 04:17
CD02 - 03 - Piano Sonata in D major 'Dьrnitz', KV 284/205b - III. Tema con variazioni - 14:49
CD02 - 04 - Piano Sonata in C major, KV 309/284b - I. Allegro con spirito - 05:42
CD02 - 05 - Piano Sonata in C major, KV 309/284b - II. Andante, un poco adagio - 04:49
CD02 - 06 - Piano Sonata in C major, KV 309/284b - III. Rondeau (allegretto grazioso) - 05:53
CD02 - 07 - Piano Sonata in A minor, KV 310/300d - I. Allegro maestoso - 08:15
CD02 - 08 - Piano Sonata in A minor, KV 310/300d - II. Andante cantabile con espressione - 10:44
CD02 - 09 - Piano Sonata in A minor, KV 310/300d - III. Presto - 02:51
CD03 - 01 - Piano sonata No.9 in D major, K311 - 284c - I. Allegro con spirito - 04:17
CD03 - 02 - Piano sonata No.9 in D major, K311 - 284c - II. Andantino con espressione - 04:54
CD03 - 03 - Piano sonata No.9 in D major, K311 - 284c - III. Rondeau (allegro) - 05:51
CD03 - 04 - Piano sonata No.10 in C major, K330 - 300h - I. Allegro moderato - 06:20
CD03 - 05 - Piano sonata No.10 in C major, K330 - 300h - II. Andante cantabile - 06:28
CD03 - 06 - Piano sonata No.10 in C major, K330 - 300h - III. Allegretto - 05:18
CD03 - 07 - Piano sonata No.11 in A major 'alla Turca', K331 - 300i - I. Tema (andante gr… - 13:58
CD03 - 08 - Piano sonata No.11 in A major 'alla Turca', K331 - 300i - II. Menuetto - 06:36
CD03 - 09 - Piano sonata No.11 in A major 'alla Turca', K331 - 300i - III. Alla Turca (al… - 03:34
CD04 - 01 - Piano sonata in F major, KV 332: I. Allegro - 06:52
CD04 - 02 - Piano sonata in F major, KV 332: II. Adagio - 05:05
CD04 - 03 - Piano sonata in F major, KV 332: III. Allegro assai - 06:35
CD04 - 04 - Piano sonata in B-flat major, KV 333: I. Allegro - 07:07
CD04 - 05 - Piano sonata in B-flat major, KV 333: II. Andante cantabile - 07:28
CD04 - 06 - Piano sonata in B-flat major, KV 333: III. Allegretto grazioso - 06:04
CD04 - 07 - Fantasia for piano in C minor, KV 475 - 13:16
CD04 - 08 - Piano sonata in C minor, KV 457: I. Molto allegro - 05:18
CD04 - 09 - Piano sonata in C minor, KV 457: II. Adagio - 08:15
CD04 - 10 - Piano sonata in C minor, KV 457: III. Allegro assai - 04:17
CD05 - 01 - Piano sonata in C major 'fur Anfanger', KV 545: I. Allegro - 04:34
CD05 - 02 - Piano sonata in C major 'fur Anfanger', KV 545: II. Andante - 07:05
CD05 - 03 - Piano sonata in C major 'fur Anfanger', KV 545: III. Rondo (allegro) - 02:01
CD05 - 04 - Piano sonata in B-flat major, KV 570: I. Allegro - 05:50
CD05 - 05 - Piano sonata in B-flat major, KV 570: II. Adagio - 09:07
CD05 - 06 - Piano sonata in B-flat major, KV 570: III. Allegretto - 03:29
CD05 - 07 - Piano sonata in D major, KV 576: I. Allegro - 05:16
CD05 - 08 - Piano sonata in D major, KV 576: II. Adagio - 05:19
CD05 - 09 - Piano sonata in D major, KV 576: III. Allegretto - 04:14
CD05 - 10 - Piano sonata in F major KV533/494: I. Allegro - 07:43
CD05 - 11 - Piano sonata in F major KV533/494: II. Andante - 09:32
CD05 - 12 - Piano sonata in F major KV533/494: III. Rondo (allegretto) - 06:09
CD06 - 01 - Eight Variations in G, KV 24 - 05:55
CD06 - 02 - Seven Variations in D, KV 25 - 06:47
CD06 - 03 - Twelve Variations in C, KV 179/189a - 18:45
CD06 - 04 - Six Variations in G, KV 180/173c - 08:32
CD06 - 05 - Nine Variations in C, KV 264/315d - 15:52
CD07 - 01 - Zwцlf Variationen in C-Dur, KV 265/300e - 13:15
CD07 - 02 - Acht Variationen in F-Dur, KV 352/374c - 12:58
CD07 - 03 - Zwцlf Variationen in Es-Dur, KV 353/300f - 14:15
CD07 - 04 - Zwцlf Variationen in Es-Dur KV 354/299a - 18:20
CD07 - 05 - Sechs Variationen in F-Dur, KV 398/416e - 07:02
CD08 - 01 - Zehn Variationen in G-Dur, KV 455 - 13:41
CD08 - 02 - Zwцlf Variationen in B-Dur, KV 500 - 09:29
CD08 - 03 - Neun Variationen in D-Dur, KV 573 - 13:49
CD08 - 04 - Acht Variationen in F-Dur, KV 613 - 15:24
CD09 - 01 - Minuet in D, KV 355/576b - 03:08
CD09 - 02 - Fantasia in D minor, KV 397/385g - 07:21
CD09 - 03 - Rondo in D, KV 485 - 05:19
CD09 - 04 - Rondo in A minor, KV 511 - 10:55
CD09 - 05 - Adagio in B minor, KV 540 - 10:50
CD09 - 06 - Eine kleine Gigue in G, KV 574 - 01:49
CD10 - 01 - Klavierstьck in F-Dur, KV 33B - 00:57
CD10 - 02 - Capriccio in C-Dur, KV 395/ 300g - 04:26
CD10 - 03 - Marsch in C-Dur, KV 408 Nr. 1/ 383e - 04:30
CD10 - 04 - Prдludium und Fuge in C-Dur, KV 394/ 383a Prдludium - 04:31
CD10 - 05 - Fuge - 04:20
CD10 - 06 - Allegro in C-Dur, KV 5a - 02:14
CD10 - 07 - Allegro in g-moll, KV 312/ 590d - 05:19
CD10 - 08 - Suite in C-Dur, KV 399/ 385i Ouverture - Allegro - 03:53
CD10 - 09 - Allemande - 03:50
CD10 - 10 - Courante - 02:20
CD10 - 11 - Allegro in B-Dur, KV 400/ 372a - 06:39
CD10 - 12 - Thema und zwei Variationen in A-Dur, KV 460/ 454a - 03:34
CD10 - 13 - Kleiner Trauermarsch in c-moll, KV 453a - 01:53
CD10 - 14 - Menuett in F-Dur, KV 4 - 01:11
CD10 - 15 - Menuett in D-Dur, KV 94/ 73a - 01:05
CD10 - 16 - Andante in C-Dur, KV 1a - 00:20
CD10 - 17 - Allegro in C-Dur, KV 1b - 00:15
CD10 - 18 - Allegro in F-Dur, KV 1c - 00:34
CD10 - 19 - Menuett in F-Dur, KV 1d - 01:19
CD10 - 20 - Menuett in F-Dur, KV 2 - 01:04
CD10 - 21 - Allegro in B-Dur, KV 3 - 01:04
CD10 - 22 - Menuett in F-Dur, KV 5 - 01:03
CD10 - 23 - Menuett in G-Dur, KV 1/ 1e - Menuett in C-Dur, KV 1f - 01:09
CD10 - 24 - Fuge in g-moll, KV 401/ 375e - 03:22
CD11 - 01 - Sonata in C for Piano Duet, K19d - I. Allegro - 04:40
CD11 - 02 - Sonata in C for Piano Duet, K19d - II. Menuetto - 03:53
CD11 - 03 - Sonata in C for Piano Duet, K19d - III. Rondo - Allegro - 03:45
CD11 - 04 - Sonata in D for Piano Duet, K381-123a - I. Allegro - 03:39
CD11 - 05 - Sonata in D for Piano Duet, K381-123a - II. Andante - 06:16
CD11 - 06 - Sonata in D for Piano Duet, K381-123a - III. Allegro molto - 03:12
CD11 - 07 - Sonata in B flat for Piano Duet, K358-186c - I. Allegro - 04:06
CD11 - 08 - Sonata in B flat for Piano Duet, K358-186c - II. Adagio - 05:30
CD11 - 09 - Sonata in B flat for Piano Duet, K358-186c - III. Molto presto - 03:04
CD11 - 10 - Sonata in D for two pianos, K448 - I. Allegro con spirito - 08:34
CD11 - 11 - Sonata in D for two pianos, K448 - II. Andante - 09:28
CD11 - 12 - Sonata in D for two pianos, K448 - III. Allegro molto - 06:19
CD11 - 13 - Fugue in C minor for Two Pianos, K426 - Fugue in C minor for Two Pianos, K426 - 04:08
CD11 - 14 - Larghetto and Allegro in E flat for Two Pianos, K deest - Larghetto and Alleg… - 07:53
CD12 - 01 - Sonata in F for Piano Duet - I. Adagio - Allegro di molto - 09:38
CD12 - 02 - Sonata in F for Piano Duet - II. Andante - 08:51
CD12 - 03 - Sonata in F for Piano Duet - III. Allegro - 08:09
CD12 - 04 - Sonata in G for Piano Duo, K357-497a+500a - I. Allegro K357-497a - 06:28
CD12 - 05 - Sonata in G for Piano Duo, K357-497a+500a - II. Andante K500a - 06:22
CD12 - 06 - Andante with Five Variations in G for Piano Duo, K501 - Andante with Five Var… - 08:02
CD12 - 07 - Sonata in C for Piano Duet, K521 - I. Allegro - 09:21
CD12 - 08 - Sonata in C for Piano Duet, K521 - II. Andante - 07:36
CD12 - 09 - Sonata in C for Piano Duet, K521 - III. Allegretto - 08:03

Box 10 - Missae, Requiem, Organ Sonatas & Solos

CD01 - 01 - Missa in C, KV 66 'Dominicus' - Kyrie - 03:05
CD01 - 02 - Missa in C, KV 66 'Dominicus' - Gloria - 15:20
CD01 - 03 - Missa in C, KV 66 'Dominicus' - Credo - 14:18
CD01 - 04 - Missa in C, KV 66 'Dominicus' - Sanctus - 02:07
CD01 - 05 - Missa in C, KV 66 'Dominicus' - Benedictus - 02:12
CD01 - 06 - Missa in C, KV 66 'Dominicus' - Agnus Dei - 03:58
CD01 - 07 - Missa brevis in G, KV 49 - 47d: Kyrie - 02:09
CD01 - 08 - Missa brevis in G, KV 49 - 47d: Gloria - 04:04
CD01 - 09 - Missa brevis in G, KV 49 - 47d: Credo - 09:00
CD01 - 10 - Missa brevis in G, KV 49 - 47d: Sanctus - 01:39
CD01 - 11 - Missa brevis in G, KV 49 - 47d: Benedictus - 01:47
CD01 - 12 - Missa brevis in G, KV 49 - 47d: Agnus Dei - 03:46
CD02 - 01 - Missa in C, KV 167 'in honorem S[anctissi]mae Trinitatis': Kyrie - 03:16
CD02 - 02 - Missa in C, KV 167 'in honorem S[anctissi]mae Trinitatis': Gloria - 04:24
CD02 - 03 - Missa in C, KV 167 'in honorem S[anctissi]mae Trinitatis': Credo - 12:02
CD02 - 04 - Missa in C, KV 167 'in honorem S[anctissi]mae Trinitatis': Sanctus - 01:25
CD02 - 05 - Missa in C, KV 167 'in honorem S[anctissi]mae Trinitatis': Benedictus - 04:06
CD02 - 06 - Missa in C, KV 167 'in honorem S[anctissi]mae Trinitatis': Agnus Dei - 06:08
CD02 - 07 - Missa brevis in G, KV 140/App, C1. 12: Kyrie - 02:09
CD02 - 08 - Missa brevis in G, KV 140/App, C1. 12: Gloria - 04:17
CD02 - 09 - Missa brevis in G, KV 140/App, C1. 12: Credo - 04:32
CD02 - 10 - Missa brevis in G, KV 140/App, C1. 12: Sanctus - 00:51
CD02 - 11 - Missa brevis in G, KV 140/App, C1. 12: Benedictus - 02:03
CD02 - 12 - Missa brevis in G, KV 140/App, C1. 12: Agnus Dei - 04:22
CD02 - 13 - Missa brevis in d, KV 65/61a: Kyrie - 02:17
CD02 - 14 - Missa brevis in d, KV 65/61a: Gloria - 02:40
CD02 - 15 - Missa brevis in d, KV 65/61a: Credo - 05:23
CD02 - 16 - Missa brevis in d, KV 65/61a: Sanctus - 01:05
CD02 - 17 - Missa brevis in d, KV 65/61a: Benedictus - 01:19
CD02 - 18 - Missa brevis in d, KV 65/61a: Agnus Dei - 02:13
CD03 - 01 - Missa [solemnis] in C, KV 337 - Kyrie - 02:34
CD03 - 02 - Missa [solemnis] in C, KV 337 - Gloria - 02:57
CD03 - 03 - Missa [solemnis] in C, KV 337 - Credo - 04:43
CD03 - 04 - Missa [solemnis] in C, KV 337 - Sanctus - 02:18
CD03 - 05 - Missa [solemnis] in C, KV 337 - Benedictus - 02:59
CD03 - 06 - Missa [solemnis] in C, KV 337 - Agnus Dei - 06:12
CD03 - 07 - Missa brevis in D, KV 194 - 186h: Kyrie - 02:14
CD03 - 08 - Missa brevis in D, KV 194 - 186h: Gloria - 02:50
CD03 - 09 - Missa brevis in D, KV 194 - 186h: Credo - 06:49
CD03 - 10 - Missa brevis in D, KV 194 - 186h: Sanctus - 01:26
CD03 - 11 - Missa brevis in D, KV 194 - 186h: Benedictus - 02:05
CD03 - 12 - Missa brevis in D, KV 194 - 186h: Agnus Dei - 04:58
CD03 - 13 - Missa brevis in B flat, KV 275 - 272b: Kyrie - 02:08
CD03 - 14 - Missa brevis in B flat, KV 275 - 272b: Gloria - 02:57
CD03 - 15 - Missa brevis in B flat, KV 275 - 272b: Credo - 04:35
CD03 - 16 - Missa brevis in B flat, KV 275 - 272b: Sanctus - 01:19
CD03 - 17 - Missa brevis in B flat, KV 275 - 272b: Benedictus - 02:34
CD03 - 18 - Missa brevis in B flat, KV 275 - 272b: Agnus Dei - 05:35
CD04 - 01 - Missa [solemnis] in c, KV 139 - 47a: Kyrie - 07:42
CD04 - 02 - Missa [solemnis] in c, KV 139 - 47a: Gloria - 11:49
CD04 - 03 - Missa [solemnis] in c, KV 139 - 47a: Credo - 12:44
CD04 - 04 - Missa [solemnis] in c, KV 139 - 47a: Sanctus - 01:29
CD04 - 05 - Missa [solemnis] in c, KV 139 - 47a: Benedictus - 02:22
CD04 - 06 - Missa [solemnis] in c, KV 139 - 47a: Agnus Dei by - 05:00
CD04 - 07 - Missa brevis in C, KV 259 - Kyrie - 01:59
CD04 - 08 - Missa brevis in C, KV 259 - Gloria - 01:44
CD04 - 09 - Missa brevis in C, KV 259 - Credo - 03:35
CD04 - 10 - Missa brevis in C, KV 259 - Sanctus - 01:00
CD04 - 11 - Missa brevis in C, KV 259 - Benedictus - 01:49
CD04 - 12 - Missa brevis in C, KV 259 - Agnus Dei - 03:26
CD05 - 01 - Missa brevis in F, KV 192 - 186f: Kyrie - 03:21
CD05 - 02 - Missa brevis in F, KV 192 - 186f: Gloria - 04:17
CD05 - 03 - Missa brevis in F, KV 192 - 186f: Credo - 05:50
CD05 - 04 - Missa brevis in F, KV 192 - 186f: Sanctus - 01:21
CD05 - 05 - Missa brevis in F, KV 192 - 186f: Benedictus - 01:48
CD05 - 06 - Missa brevis in F, KV 192 - 186f: Agnus Dei - 04:28
CD05 - 07 - Missa in C, KV 257 - Kyrie - 02:34
CD05 - 08 - Missa in C, KV 257 - Gloria - 03:17
CD05 - 09 - Missa in C, KV 257 - Credo - 07:43
CD05 - 10 - Missa in C, KV 257 - Sanctus - 01:39
CD05 - 11 - Missa in C, KV 257 - Benedictus - 05:22
CD05 - 12 - Missa in C, KV 257 - Agnus Dei - 06:31
CD06 - 01 - Missa in C, KV 317 - Kyrie - 02:50
CD06 - 02 - Missa in C, KV 317 - Gloria - 04:48
CD06 - 03 - Missa in C, KV 317 - Credo - 06:41
CD06 - 04 - Missa in C, KV 317 - Sanctus - 01:36
CD06 - 05 - Missa in C, KV 317 - Benedictus - 03:15
CD06 - 06 - Missa in C, KV 317 - Agnus Dei - 06:12
CD06 - 07 - Missa brevis in C, KV 220 - 196b 'Spatzenmesse': Kyrie - 01:57
CD06 - 08 - Missa brevis in C, KV 220 - 196b 'Spatzenmesse': Gloria - 02:58
CD06 - 09 - Missa brevis in C, KV 220 - 196b 'Spatzenmesse': Credo - 04:09
CD06 - 10 - Missa brevis in C, KV 220 - 196b 'Spatzenmesse': Sanctus - 00:58
CD06 - 11 - Missa brevis in C, KV 220 - 196b 'Spatzenmesse': Benedictus - 03:14
CD06 - 12 - Missa brevis in C, KV 220 - 196b 'Spatzenmesse': Agnus Dei - 03:45
CD07 - 01 - Missa brevis in C, KV 258, Kyrie - 02:15
CD07 - 02 - Missa brevis in C, KV 258, Gloria - 02:45
CD07 - 03 - Missa brevis in C, KV 258, Credo - 05:51
CD07 - 04 - Missa brevis in C, KV 258, Sanctus - 01:06
CD07 - 05 - Missa brevis in C, KV 258, Benedictus - 02:24
CD07 - 06 - Missa brevis in C, KV 258, Agnus Dei - 03:25
CD07 - 07 - Missa longa in C, KV 262/246a, Kyrie - 03:26
CD07 - 08 - Missa longa in C, KV 262/246a, Gloria - 05:50
CD07 - 09 - Missa longa in C, KV 262/246a, Credo - 12:40
CD07 - 10 - Missa longa in C, KV 262/246a, Sanctus - 01:20
CD07 - 11 - Missa longa in C, KV 262/246a, Benedictus - 03:08
CD07 - 12 - Missa longa in C, KV 262/246a, Agnus Dei - 04:25
CD08 - 01 - Kyrie - 07:20
CD08 - 02 - Gloria - 02:28
CD08 - 03 - Laudamus te - 04:37
CD08 - 04 - Gratias - 01:21
CD08 - 05 - Domine - 02:40
CD08 - 06 - Qui tollis - 06:17
CD08 - 07 - Quoniam - 03:53
CD08 - 08 - Jesu Christi - 00:46
CD08 - 09 - Cum Sancto Spiritu - 03:47
CD08 - 10 - 3. Credo: Credo - 03:31
CD08 - 11 - Et incarnatus est - 08:07
CD08 - 12 - 4. Sanctus - 03:49
CD08 - 13 - Benedictus - 05:22
CD09 - 01 - I Introitus : Requiem - 05:16
CD09 - 02 - II. Kyrie - 02:40
CD09 - 03 - III. Sequentia - Dies irae - 01:51
CD09 - 04 - III. Sequentia - Tuba mirum - 03:25
CD09 - 05 - RIII. Sequentia - Rex tremendae - 02:03
CD09 - 06 - III. Sequentia - Recordare - 05:30
CD09 - 07 - III. Sequentia - Confutatis - 02:47
CD09 - 08 - III. Sequentia - Lacrimosa - 03:04
CD09 - 09 - IV. Offertorium - Domine Jesu - 03:56
CD09 - 10 - IV. Offertorium - Hostias - 04:38
CD09 - 11 - V. Sanctus - 01:38
CD09 - 12 - VI. Benedictus - 05:20
CD09 - 13 - VII. Agnus Dei - 03:10
CD09 - 14 - VIII. Communio - Lux aeterna - 05:48
CD10 - 01 - Church Sonata No.1 in E-flat, KV 67/41h - 02:20
CD10 - 02 - Church Sonata No.2 in B-flat, KV 68/41i - 04:15
CD10 - 03 - Church Sonata No.3 in D, KV 69/41k - 04:06
CD10 - 04 - Church Sonata No.4 in D, KV 144/124a - 04:53
CD10 - 05 - Church Sonata No.5 in F, KV 145/124b - 03:13
CD10 - 06 - Church Sonata No.6 in B-flat, KV 212 - 04:44
CD10 - 07 - Church Sonata No.7 in F, KV 224/241a - 06:26
CD10 - 08 - Church Sonata No.9 in G, KV 241 - 04:06
CD10 - 09 - Church Sonata No.8 in A, KV 225/241b - 06:14
CD10 - 10 - Church Sonata No.10 in F, KV 244 - 05:26
CD10 - 11 - Church Sonata No.11 in D, KV 245 - 05:37
CD10 - 12 - Church Sonata No.12 in C, KV 263 - 05:27
CD11 - 01 - Church Sonata No.13 in G, KV 274/271d - 05:09
CD11 - 02 - Church Sonata No.14 in C, KV 278/271e - 04:04
CD11 - 03 - Church Sonata No.15 in C, KV 328/317c - 07:08
CD11 - 04 - Church Sonata No.16 in C, KV 329/317a - 04:36
CD11 - 05 - Church Sonata No.17 in C, KV 336/336d - 04:49
CD11 - 06 - Adagio and Allegro in F Minor, KV 594 I.Adagio - 02:22
CD11 - 07 - Adagio and Allegro in F Minor, KV 594 II.Allegro - 07:15
CD11 - 08 - Adagio and Allegro in F Minor, KV 594 III.Adagio - 02:18
CD11 - 09 - Fantasia in F Minor, KV 608 I.Allegro - 03:50
CD11 - 10 - Fantasia in F Minor, KV 608 II.Andante - 05:07
CD11 - 11 - Fantasia in F Minor, KV 608 III.Allegro - 02:50
CD11 - 12 - Andante in F, KV 616 - 08:34

Box 11 - Litanies, Vespers, Oratorios, Cantatas, Masonic Music

CD01 - 01 - Litaniae de BMV (Lauretanae), KV 109/74e: 1. Kyrie eleison - 01:51
CD01 - 02 - Litaniae de BMV (Lauretanae), KV 109/74e: 2. Sancta Maria - 04:55
CD01 - 03 - Litaniae de BMV (Lauretanae), KV 109/74e: 3. Salus infirmorum - 01:05
CD01 - 04 - Litaniae de BMV (Lauretanae), KV 109/74e: 4. Regina angelorum - 01:46
CD01 - 05 - Litaniae de BMV (Lauretanae), KV 109/74e: 5. Agnus Dei - 02:54
CD01 - 06 - Litaniae de venerabili altaris sacramento, KV 243: 1. Kyrie eleison - 04:00
CD01 - 07 - Litaniae de venerabili altaris sacramento, KV 243: 2. Panis vivus - 04:58
CD01 - 08 - Litaniae de venerabili altaris sacramento, KV 243: 3. Verbum caro factum - 01:32
CD01 - 09 - Litaniae de venerabili altaris sacramento, KV 243: 4. Hostia sancta - 04:53
CD01 - 10 - Litaniae de venerabili altaris sacramento, KV 243: 5. Trememndum ac vivificum - 03:16
CD01 - 11 - Litaniae de venerabili altaris sacramento, KV 243: 6. Dulcissimum convivium - 03:45
CD01 - 12 - Litaniae de venerabili altaris sacramento, KV 243: 7. Viaticum in Domino mori… - 01:42
CD01 - 13 - Litaniae de venerabili altaris sacramento, KV 243: 8. Pignus futurae gloriae - 04:50
CD01 - 14 - Litaniae de venerabili altaris sacramento, KV 243: 9. Agnus Dei - 04:38
CD01 - 15 - Litaniae de venerabili altaris sacramento, KV 243: 10. Miserere - 02:30
CD01 - 16 - Vesperae solennes de Dominica, KV 321: 1. Dixit Dominus domino meo - 03:23
CD01 - 17 - Vesperae solennes de Dominica, KV 321: 2. Confitebor tibi, Domine - 05:57
CD01 - 18 - Vesperae solennes de Dominica, KV 321: 3. Beatus vir qui timet Dominum - 04:17
CD01 - 19 - Vesperae solennes de Dominica, KV 321: 4. Laudate pueri Dominum - 03:45
CD01 - 20 - Vesperae solennes de Dominica, KV 321: 5. Laudate Dominum omnes gentes - 04:03
CD01 - 21 - Vesperae solennes de Dominica, KV 321: 6. Magnificat anima mea - 04:58
CD02 - 01 - Litaniae de venerabili altaris sacramento, KV 125: 1. Kyrie eleison - 03:52
CD02 - 02 - Litaniae de venerabili altaris sacramento, KV 125: 2. Panis vivus - 05:52
CD02 - 03 - Litaniae de venerabili altaris sacramento, KV 125: 3. Verbum caro factum - 01:14
CD02 - 04 - Litaniae de venerabili altaris sacramento, KV 125: 4. Hostia sancta-/5.Tremen… - 04:06
CD02 - 05 - Litaniae de venerabili altaris sacramento, KV 125: 6. Panis omnipotentia - 05:53
CD02 - 06 - Litaniae de venerabili altaris sacramento, KV 125: 7. Viaticum in Domino mori… - 02:05
CD02 - 07 - Litaniae de venerabili altaris sacramento, KV 125: 8. Pignus futurae gloriae - 05:11
CD02 - 08 - Litaniae de venerabili altaris sacramento, KV 125: 9. Agnus Dei - 07:40
CD02 - 09 - Litaniae Lauretanae BMV, KV 195/186d: 1. Kyrie eleison - 06:05
CD02 - 10 - Litaniae Lauretanae BMV, KV 195/186d: 2. Sancta Maria - 09:03
CD02 - 11 - Litaniae Lauretanae BMV, KV 195/186d: 3. Salus infirmorum - 03:31
CD02 - 12 - Litaniae Lauretanae BMV, KV 195/186d: 4. Regina angelorum - 04:43
CD02 - 13 - Litaniae Lauretanae BMV, KV 195/186d: 5. Agnus Dei - 05:04
CD02 - 14 - Dixit et Magnificat, KV 193/186g: 1. Dixit Domnius Domino meo - 04:56
CD02 - 15 - Dixit et Magnificat, KV 193/186g: 2. Magnificat anima mea - 05:58
CD03 - 01 - Vesperae solennes de confessore, K. 339: I Dixit Dominus - 03:50
CD03 - 02 - Vesperae solennes de confessore, K. 339: II Confitebor - 05:15
CD03 - 03 - Vesperae solennes de confessore, K. 339: III Beatus vir - 04:21
CD03 - 04 - Vesperae solennes de confessore, K. 339: IV Laudate pueri - 04:44
CD03 - 05 - Vesperae solennes de confessore, K. 339: V Laudate Dominum - 05:15
CD03 - 06 - Vesperae solennes de confessore, K. 339: VI Magnificat - 05:24
CD03 - 07 - Kyrie in D Minor, K. 341 - 08:31
CD03 - 08 - Ave verum corpus, K. 618 - 04:00
CD03 - 09 - Exsultate, jubilate, K. 165 - 15:23
CD04 - 01 - God Is Our Refuge, KV 20: Motette (Ps. 46:1) - 01:29
CD04 - 02 - Kyrie, KV 33 in F - 03:45
CD04 - 03 - Scande coeli limina, KV 34: Offertorium in Festo Sancti Benedicti: 1. Scande … - 03:19
CD04 - 04 - Scande coeli limina, KV 34: Offertorium in Festo Sancti Benedicti: 2. Cara o … - 02:03
CD04 - 05 - Cibavit eos ex adipe frumenti, KV 44/73u: Antiphon-Antienne-Antifona - 02:04
CD04 - 06 - Veni, Sancte Spiritus, KV 47: Antiphon-Antienne-Antifona - 04:03
CD04 - 07 - Inter natos mulierum, KV 72/74f: Offertorium pro Festo Sancti Joannis Baptistae - 07:29
CD04 - 08 - Miserere mei, Deus, KV 85/73s - 09:43
CD04 - 09 - Quaerite primum regnum Dei, KV 86/73v: Antiphon-Antienne-Antifona - 01:58
CD04 - 10 - Kyrie, KV 90 in d - 03:12
CD04 - 11 - Kyrie, KV 91/186i in D - 02:19
CD04 - 12 - Regina coeli, laetare, KV 108/74d: Marian antiphon : 1. Regina coeli - 03:05
CD04 - 13 - Regina coeli, laetare, KV 108/74d: Marian antiphon : 2. Quia quem meruisti - 04:46
CD04 - 14 - Regina coeli, laetare, KV 108/74d: Marian antiphon : 3. Ora pro nobis Deum - 05:42
CD04 - 15 - Regina coeli, laetare, KV 108/74d: Marian antiphon : 4. Alleluja - 02:52
CD04 - 16 - Benedictus sit Deus Pater, KV 117 66a: Offertorium 1. Benedictus sit Deus Pater - 01:58
CD04 - 17 - Benedictus sit Deus Pater, KV 117 66a: Offertorium 2. Introibo domum tuam - 04:33
CD04 - 18 - Benedictus sit Deus Pater, KV 117 66a: 3. Jubilate Deo omnis terra - 02:13
CD05 - 01 - Regina coeli, laetare, KV 127: Marian antiphon: 1. Regina coeli, laetare - 04:02
CD05 - 02 - Regina coeli, laetare, KV 127: Marian antiphon: 2. Quia quem meruisti/3. Ora … - 08:52
CD05 - 03 - Regina coeli, laetare, KV 127: Marian antiphon: 4. Allelujah - 02:48
CD05 - 04 - Te Deum laudamus, KV 141/66b: 1. Te Deum laudamus/2. Aeterna fac/3. In te Dom… - 06:56
CD05 - 05 - Ergo interest, an quis, KV 143/73a: Motette 1. Ergo interest, an quis - 06:30
CD05 - 06 - Sub tuum praesidium, KV 198/C3.08: Offertorium - 05:59
CD05 - 07 - Misericordias Domini, KV 222/205a: Offertorium - 07:36
CD05 - 08 - Venite, populi, venite, KV 260/248a: Offertorium de Venerabili Sacramento - 05:41
CD05 - 09 - Sancta Maria, mater Dei, KV 273: Graduale ad festum BMV - 05:33
CD05 - 10 - Regina coeli, KV 276/321b: Marian antiphon - 06:35
CD05 - 11 - Alma Dei creatoris, KV 277/272a: Offertorium de BMV - 06:06
CD05 - 12 - Kyrie, KV 322/296a in E-flat - 04:31
CD05 - 13 - Kyrie, KV 323/App.15 in C - 03:10
CD06 - 01 - Die Schuldigkeit des ersten Gebots: Sinfonia - 03:25
CD06 - 02 - Die l blich' und gerechte Bitt - 01:43
CD06 - 03 - Mit Jammer mu ich schauen - 05:54
CD06 - 04 - So viler Seelen Fall - 02:11
CD06 - 05 - Ein ergrimmter L we br llet - 09:17
CD06 - 06 - Erwache, fauler Knecht - 09:25
CD06 - 07 - Er reget sich - 04:13
CD06 - 08 - Hat der Sch pfer dieses Leben - 07:22
CD06 - 09 - Da Tr ume Tr ume sind - 01:33
CD06 - 10 - Jener Donnerworte Kraft - 09:18
CD07 - 01 - Ist dieses, o so zweifle nimmermehr - 01:49
CD07 - 02 - Schildre einen Philosophen - 05:15
CD07 - 03 - Wen h r' ich nun hier in der N he? - 04:14
CD07 - 04 - Manches bel will zuweilen - 08:26
CD07 - 05 - Er h lt mich einem Kranken gleich - 03:37
CD07 - 06 - La t mich eurer Gnade Schein - 09:59
CD07 - 07 - Kommet het, ihr frechen S nder (Aria) - 06:05
CD07 - 08 - Grabmusik: Wo bin ich? bittrer Schmerz! - 01:01
CD07 - 09 - Felsen, spaltet euren Rachen - 06:32
CD07 - 10 - Geliebte Seel', was redest du? - 01:02
CD07 - 11 - Betrachtet dies Herz und frgae mich - 04:37
CD07 - 12 - O Himmel, was ein traurig Licht - 01:19
CD07 - 13 - Jesu, was hab' ich getan - 04:29
CD07 - 14 - O lobenswerter Sinn! - 00:16
CD07 - 15 - Jesu, wahrer Gottessohn - 04:39
CD08 - 01 - La Betulia liberata: Overtura - 03:57
CD08 - 02 - Popoli di Betulia - 00:58
CD08 - 03 - D'ogni colpa la colpa maggiore - 06:54
CD08 - 04 - E in che sperar? - 01:40
CD08 - 05 - Ma qual virtu non cede - 03:33
CD08 - 06 - Gi le memorie antiche - 03:17
CD08 - 07 - Non hai cor - 04:58
CD08 - 08 - E qual pace sperate - 02:29
CD08 - 09 - Piet , se irato sei - 03:57
CD08 - 10 - Chi costei - 03:54
CD08 - 11 - Del pari infeconda - 05:59
CD08 - 12 - O saggia, oh santa - 02:22
CD08 - 13 - Piet , se irato sei - 03:56
CD08 - 14 - Signor, Carmi a te viene - 02:57
CD08 - 15 - Terribile d'aspetto - 03:57
CD08 - 16 - Ti consola, Achior - 02:51
CD08 - 17 - Parto inerme, e non pavento - 06:55
CD08 - 18 - Oh prodigo! Oh stupor! - 02:28
CD09 - 01 - Troppo mal corrisponde - 06:12
CD09 - 02 - Se Dio veder tu vuoi - 07:51
CD09 - 03 - Confuso io son - 01:22
CD09 - 04 - Quel nocchier che in gran procella - 06:35
CD09 - 05 - Lungamente non dura - 09:24
CD09 - 06 - Proginer che fa ritorno - 08:37
CD09 - 07 - Giuditta, Ozia - 01:09
CD09 - 08 - Te solo adoro - 02:48
CD09 - 09 - Di tua vottoria - 00:36
CD09 - 10 - Con troppa rea vilt - 05:37
CD09 - 11 - Quanta cura hai di noi - 03:34
CD09 - 12 - Quei moti che senti - 02:21
CD09 - 13 - Seguansi, O Carmi - 00:59
CD09 - 14 - Lodi al gran Dio - 08:05
CD10 - 01 - Davide penitente: Alzai le flebili voci al Signor - 06:48
CD10 - 02 - Cantiam le glorie - 02:17
CD10 - 03 - Lungi le cure ingrate - 04:31
CD10 - 04 - Sii pur sempre benigno, oh Dio - 01:30
CD10 - 05 - Sorgi, o Signore, e spargi i tuoi nemici - 02:31
CD10 - 06 - A te, fra tanti affanni - 06:47
CD10 - 07 - Se vuoi, puniscimi - 05:25
CD10 - 08 - Tra l'oscure ombre funeste - 06:11
CD10 - 09 - Tutte le mie speranze ho risposte in te - 04:10
CD10 - 10 - Chi in Dio sol spera - 05:14
CD11 - 01 - Laut verk nde unsre Freude - 03:15
CD11 - 02 - Dieser Gottheit Allmacht - 03:12
CD11 - 03 - Wohlan, ihr Br der - 01:00
CD11 - 04 - Lange solen diese Mauern - 02:57
CD11 - 05 - Laut verk nde unsre Freude - 01:30
CD11 - 06 - Adagio in C minor - 02:19
CD11 - 07 - Fuge in C minor - 04:03
CD11 - 08 - Die ihr einem neuen Grade - 03:00
CD11 - 09 - O heiliges Band der Freundschaft treuer Br der - 03:43
CD11 - 10 - Dir, Seele des Weltalls - 03:29
CD11 - 11 - Dir danken wir die Freude - 04:01
CD11 - 12 - Maurerische Trauermusik - 04:48
CD11 - 13 - Zerflie et heut, geliebter Br der - 02:10
CD11 - 14 - Ihr unsre neuen Leiter - 03:21
CD11 - 15 - Sehen, wie dem starrenn Forscherauge - 05:11
CD11 - 16 - Drum singet und jauchzet, ihr Br der - 01:44
CD11 - 17 - Die ihr unerme lichen Weltalls Sch pfer ehrt - 07:02
CD11 - 18 - La t uns mit geschlun'nen H nden - 04:48
CD12 - 01 - Intrada - 02:57
CD12 - 02 - Amice! iam parata sunt omnia - 03:02
CD12 - 03 - Numen o Latonium! - 05:11
CD12 - 04 - Heu me! Perimus! - 01:46
CD12 - 05 - Saepe terrent Numina - 08:49
CD12 - 06 - Ah nate! vera loqueris - 03:10
CD12 - 07 - Iam pastor Apollo - 03:48
CD12 - 08 - Amare numquid filia - 01:55
CD12 - 09 - Laetari, iocari - 06:38
CD13 - 01 - Rex! De salute filii est actum - 05:34
CD13 - 02 - En! Duos conspicis - 03:19
CD13 - 03 - Heu! Numen! Ecce! - 02:30
CD13 - 04 - Discede curdelis! - 07:37
CD13 - 05 - Non est - Quis ergo - 02:31
CD13 - 06 - Ut navis in aequore luxuriante - 06:38
CD13 - 07 - Quocumque me converto - 03:02
CD13 - 08 - Natus cadit - 05:40
CD13 - 09 - Rex! Me redire cogit - 05:35
CD13 - 10 - Tandem post turbida fulmina - 03:01

Box 12 - Arias, Vocal Ensembles, Canons, Lieder, Notturni

CD01 - 01 - Va, dal furor portata , KV 21/19c - 06:34
CD01 - 02 - Conservati fedele, KV 23 - 06:20
CD01 - 03 - Or che il dover m'astringe - Tali e cotanti sono, KV 36/33i - 09:25
CD01 - 04 - A Berenice e vologeso sposi - Sol nascente in questo giorno, KV 70/61c - 10:35
CD01 - 05 - Cara, se le mie pene, KV deest - 08:56
CD01 - 06 - Per piиta, bell'idol mio, KV 78/73b - 04:17
CD01 - 07 - Fra cento affani e cento, KV 88/73c - 10:00
CD01 - 08 - O temerario Arbace! - Per quel paterno amplesso, KV 79/73d - 05:55
CD01 - 09 - Misero me! - Misero pargoletto, KV 77/73e - 13:40
CD02 - 01 - Se ardire e speranza KV82-73o - 06:26
CD02 - 02 - Se tutti i mali miei KV83-73p - 07:12
CD02 - 03 - Non Curo l'affetto KV74b - 04:47
CD02 - 04 - Si mostra la sorte KV209 - 04:07
CD02 - 05 - Con ossequio con rispetto KV210 - 02:42
CD02 - 06 - Voi avette un cor fedele KV217 - 06:41
CD02 - 07 - Ombra felice - Io ti lascio e questo addio KV255 - 06:47
CD02 - 08 - Clarice cara mia sposa dev'essere KV256 - 01:49
CD02 - 09 - Ah, lo previdi - Ah, t'invola agl'occhi miei - Deh, non varcar KV272 - 13:22
CD02 - 10 - Alcandro, lo confesso - Non so d'onde viene KV294 - 08:55
CD02 - 11 - Se al labbro mio non credi KV295 - 12:02
CD03 - 01 - Basta vincesti; eccoti il foglio - Ah, non lasciarmi, no KV486a-295a - 05:32
CD03 - 02 - Popoli di Tessaglia - Io non chiedo, eterni Dei KV316-300b - 11:24
CD03 - 03 - Ma che vi fece, o stelle - Sperai vicino il lido KV368 - 08:38
CD03 - 04 - Misera! dove son_ L'aure del Tebro - Ah non son io che parlo KV369 - 06:43
CD03 - 05 - A questo seno deh vieni - Or che il cielo a me ti rende KV374 - 08:10
CD03 - 06 - Nehmt meinen Dank, ihr holden Gonner KV383 - 03:35
CD03 - 07 - Mia speranza adorata - Ah non sai qual pena sia KV416 - 08:39
CD03 - 08 - Vorrei spiegarvi, oh Dio KV418 - 07:12
CD03 - 09 - No, che non sei capace KV419 - 04:30
CD03 - 10 - Per pieta, non ricercate KV420 - 07:07
CD03 - 11 - Cosi dunque tradisci - Aspri rimorsi atroci KV432-421a - 03:58
CD04 - 01 - Misero! O sogno, o son desto? - Aura che interno spiri, KV 431/425b - 10:29
CD04 - 02 - Ch'io mi scordi di te - Non temer, amato bene, KV 505 - 10:01
CD04 - 03 - Alcandro, lo confesso - Non so d'onde viene, KV 512 - 07:18
CD04 - 04 - Mentre ti lascio, o figlia, KV 513 - 07:03
CD04 - 05 - Bella mia fiamma, addio - Resta, oh cara, KV 528 - 09:37
CD04 - 06 - Ah se in ciel, benigne stelle, KV 538 - 07:32
CD04 - 07 - Ich mцchte wohl der Kaiser zein, KV 539 - 02:14
CD04 - 08 - Un bacio di mano, KV 541 - 01:55
CD04 - 09 - Alma grande e nobil core, KV 578 - 04:26
CD04 - 10 - Chi sa, chi sa qual sia, KV 582 - 03:20
CD04 - 11 - Vado, ma dove, oh Dei!, KV 583 - 04:08
CD04 - 12 - Per questa bella mano, KV 612 - 06:49
CD04 - 13 - Io ti lascio, oh cara, addio, KV anh 245/621a - 04:04
CD05 - 01 - Se tutti i mali miei KV83-73p - 07:21
CD05 - 02 - Cara la dolce fiamma KV293e - 12:51
CD05 - 03 - Alcandro lo confesso - Non so d'onde viene KV294 - 09:44
CD05 - 04 - Se al labbro mio non credi KV295 - 10:13
CD05 - 05 - Der Liebe himmlisches Gefuehl KV119-382h - 06:05
CD05 - 06 - In te spero, o sposo amato KV440-383h - 07:10
CD05 - 07 - MuBt ich auch durch tausend Drachen KV435-416b - 04:26
CD05 - 08 - Manner suchen stets zu naschen KV433-416c - 02:18
CD05 - 09 - Ah! spiegarti, oh Dio, vorrei KV178-417e - 03:02
CD05 - 10 - Schon lacht der holde Fruehling KV580 - 07:50
CD06 - 01 - «Guarda la donna in viso» No 5 KV51/46a - 05:05
CD06 - 02 - «Sono in amore, voglio marito» No 23 KV51/46a - 03:05
CD06 - 03 - «Al destin che la minaccia» No 1 KV51/46a - 08:46
CD06 - 04 - «In faccia all'oggetto» No 9 KV51/46a - 05:10
CD06 - 05 - «Lungi da te, mio bene» No 13 KV51/46a - 07:41
CD06 - 06 - «Se viver non degg'io» No 18 KV51/46a - 08:32
CD06 - 07 - «Vado incontro al fato» No 20 KV51/46a - 03:01
CD06 - 08 - «Ah, se a morir mi chiama» No 14 KV135 - 07:52
CD06 - 09 - «Venga la morte» - «Non temer, amato bene» KV490 - 08:23
CD06 - 10 - «Principessa, a toui sguardi» - «Spiegarti non poss'io» KV489 - 06:55
CD06 - 11 - «Welch дngsliches Beben» KV389/384A - 05:46
CD07 - 01 - Ehi, Sor paggio - Non piu andrai - 05:19
CD07 - 02 - Giunse alfini il momento - Al desio di chi t'adora - 07:00
CD07 - 03 - Un moto di gioia mi sento - 03:29
CD07 - 04 - Per queste tue manine - 03:42
CD07 - 05 - Rivolgete a lui lo sguardo - 05:15
CD07 - 06 - O Calpe! Dir donnert's am Fusse - 02:33
CD07 - 07 - Del gran regno delle amazzoni - 03:54
CD07 - 08 - Liebes Mandel, wo is's Bandel? - 03:32
CD07 - 09 - Dite almeno in che mancai - 06:10
CD07 - 10 - Mandina amabile, auesto danaro - 05:18
CD07 - 11 - Grazie agl'inganni tuoi - 01:34
CD07 - 12 - Dem hohen Kaiser-Worte treu - 02:25
CD07 - 13 - Caro mio Druck und Schluck - 02:27
CD07 - 14 - Nun, liebes Weibchen, ziehst mit mir - 02:34
CD08 - 01 - KV348/382g-V'amo di core teneramenteC12 - 00:56
CD08 - 02 - KV232/509a-Lieber Freistдdtler, lieber GaulimauliC4 - 02:24
CD08 - 03 - KV558-Gehn wir im PraterC4 - 01:58
CD08 - 04 - KV559-Difficile lectu mihi marsC3 - 01:48
CD08 - 05 - KV559a-O du eselhafter PeierlC4 - 02:41
CD08 - 06 - KV229/382a-Sie ist dahinC3 - 02:28
CD08 - 07 - KV230-Selig, selig alleC2 - 01:30
CD08 - 08 - KV73i-Canon en La - 01:41
CD08 - 09 - KV228/515b-Ach, zu kurz ist unsers Lebens LaufC4 - 00:44
CD08 - 10 - KV562-Caro bell'idol mioC3 - 02:19
CD08 - 11 - KV508a-n1,2-Canons en Fa - 01:26
CD08 - 12 - KVdeest et KV 508a-N3-5 canons а intervalles + Canon en Fa - 01:52
CD08 - 13 - KV347/382f-Wo der perlende Wein im Glase blinktC6 - 00:53
CD08 - 14 - KV507-Heiterkeit und leichtes BlutC3 - 00:26
CD08 - 15 - KV508-Auf das Wohl aller FreundeC3 - 00:24
CD08 - 16 - KV556-Grechtelt's enkC4 - 01:47
CD08 - 17 - KV231/382c-Leck mich im Arsch (LaBt uns froh sein)C6 - 02:21
CD08 - 18 - KV233/382d-Nichts labt mich mehr als Wein (Leck mir den Arsch…) C3 - 02:39
CD08 - 19 - KV234/382e-Essen, Trinken, das erhдltC3 - 03:06
CD08 - 20 - KV561-Bona nox, bist a rechta OxC4 - 01:45
CD08 - 21 - KVdeest-n6,10-KV 508a 4,6-N2-5,3,canons en Fa - 01:38
CD08 - 22 - KV73r/89a-Incipe Domino C3 - 02:10
CD08 - 23 - KV73r/89a-Cantate Domino-C9 - 01:46
CD08 - 24 - KV73r/89a-Confitebor tibi, Domine-C2 - 01:35
CD08 - 25 - KV73r/89a-Thebana bella cantus-C6 - 00:45
CD08 - 26 - KVAnh191/562c-Canon en Do-C4 - 01:56
CD08 - 27 - KV508A-Canon en Do-C3 - 00:57
CD08 - 28 - KV555-Lacrimoso son'io-C4 - 02:05
CD08 - 29 - KV557-Nascoso и il mio sol-C4 - 03:07
CD08 - 30 - KVdeestN11,14-KV 508aN7,8-4+1canons а intervalles - 01:33
CD08 - 31 - KV562a-Canon en Sib - 00:58
CD08 - 32 - KVdeest-Canon en Fa - 01:01
CD08 - 33 - KV89/73k-Kyrie-C5 - 04:17
CD08 - 34 - KV554-Ave Maria-C4 - 02:37
CD08 - 35 - KV553-Alleluia-C4 - 01:35
CD09 - 01 - An die Freude, KV 53 - 02:33
CD09 - 02 - Wie unglucklich bin ich nit, KV 147 - 01:07
CD09 - 03 - An die Freundschaft, KV 148 - 01:46
CD09 - 04 - Die grosmutige Gelassenheit, KV 149 - 00:49
CD09 - 05 - Geheime Liebe, KV 150 - 01:23
CD09 - 06 - Die Zufriedenheit im niedrigen Stande, KV 151 - 01:01
CD09 - 07 - Ridente la calma, KV 152 - 03:36
CD09 - 08 - Oiseaux, si tous les ans, KV 307 - 01:30
CD09 - 09 - Dans un bois solitaire, KV 308 - 02:43
CD09 - 10 - O Gottes Lamm, KV 343 No. 1 - 01:48
CD09 - 11 - Als aus Agypen, KV 343 No. 2 - 01:34
CD09 - 12 - Die Zufriedenheit, KV 349 - 02:44
CD09 - 13 - Komm, liebe Zither, komm, KV 351 - 01:52
CD09 - 14 - Ich Wurd' auf meinem Pfad, KV 390 - 02:07
CD09 - 15 - Sie du mein Trost, KV 391 - 03:03
CD09 - 16 - Verdankt sei es dem Glanz der Grosen, KV 392 - 02:16
CD09 - 17 - Warnung, KV 433 - 01:58
CD09 - 18 - Gesellenreise, KV 468 - 02:06
CD09 - 19 - Der Zauberer, KV 472 - 02:03
CD09 - 20 - Die Zufriedenheit, KV 473 - 03:01
CD09 - 21 - Die betrogene Welt, KV 474 - 03:05
CD10 - 01 - Das Veilchen - 02:35
CD10 - 02 - Lied der Freiheit - 02:12
CD10 - 03 - Die Alte - 02:36
CD10 - 04 - Die Verschweigung - 02:56
CD10 - 05 - Das Lied der Trennung - 04:32
CD10 - 06 - Als Luise die Briefe ihres ungetreuen Liebhabers verbrannte - 01:33
CD10 - 07 - Abendempfindung an Laura - 05:00
CD10 - 08 - An Chloe - 02:22
CD10 - 09 - Des kleinen Friedrichs Geburtstag - 02:04
CD10 - 10 - Das Traumbild - 02:56
CD10 - 11 - Die kleine Spinnerin - 01:41
CD10 - 12 - Um moto di gioia - 01:30
CD10 - 13 - Sehnsucht nach dem Fruhling - 02:30
CD10 - 14 - Der Fruhling - 02:12
CD10 - 15 - Das Kinderspiel - 01:10
CD10 - 16 - Due pupille amabili - 01:08
CD10 - 17 - Se lontan, ben mio, tu sei - 01:32
CD10 - 18 - Ecco quel fiero istante - 01:52
CD10 - 19 - Mi lagnero tacendo - 03:13
CD10 - 20 - Luci care luci belle - 01:26
CD10 - 21 - Piu non si trovano - 02:34

Box 13 - Early Italian Operas

CD01 - La Finta Semplice - 01 - Sinfonia - 05:45
CD01 - La Finta Semplice - 02 - Bella cosa e far l'amore! - 01:57
CD01 - La Finta Semplice - 03 - Ritiriamoci, amici! - 02:20
CD01 - La Finta Semplice - 04 - Toppa briga a prender moglie - 02:46
CD01 - La Finta Semplice - 05 - L'un de' patroni e alzato - 01:25
CD01 - La Finta Semplice - 06 - Marito io vorrei - 04:25
CD01 - La Finta Semplice - 07 - Oh, starem male insieme - 00:27
CD01 - La Finta Semplice - 08 - Non c'e al mondo altro che donne - 01:54
CD01 - La Finta Semplice - 09 - Con chi l'ha Don Cassandro? - 03:06
CD01 - La Finta Semplice - 10 - Guarda la donna in viso - 05:02
CD01 - La Finta Semplice - 11 - Eh! Ben ben, ci vedremo, e sua sorella - 00:16
CD01 - La Finta Semplice - 12 - Colla bocca, e non col core - 03:01
CD01 - La Finta Semplice - 13 - Sicche m'avete inteso? - 03:25
CD01 - La Finta Semplice - 14 - Oh, la prendo da vero - 00:34
CD01 - La Finta Semplice - 15 - Cosa ha mai la donna indosso - 03:49
CD01 - La Finta Semplice - 16 - Grand'uomo che son io - 03:00
CD01 - La Finta Semplice - 17 - Ella vuole ed io torrei - 04:16
CD01 - La Finta Semplice - 18 - Eh ben, sorella mia? - 00:33
CD01 - La Finta Semplice - 19 - Senti l'eco, ove t'aggiri - 06:18
CD01 - La Finta Semplice - 20 - Ninetta. - Che volete? - 01:11
CD01 - La Finta Semplice - 21 - Chi mi vuol bene - 02:06
CD01 - La Finta Semplice - 22 - Adesso e fatto tutto - 00:21
CD01 - La Finta Semplice - 23 - Dove avete la creanza? - 07:26
CD01 - La Finta Semplice - 24 - Sono I padroni miei a pranzo ancor - 01:16
CD01 - La Finta Semplice - 25 - Un marito, donne care - 02:46
CD01 - La Finta Semplice - 26 - Eh, quando sia mia sposa - 00:57
CD01 - La Finta Semplice - 27 - Con certe persone vuol esser bastone - 02:01
CD02 - La Finta Semplice - 01 - Non mi marito piщ - 01:38
CD02 - La Finta Semplice - 02 - Se a maritarmi arrivo - 03:00
CD02 - La Finta Semplice - 03 - Quando avoo moglie anch'io - 01:02
CD02 - La Finta Semplice - 04 - Amoretti, che ascosi qui siete - 03:53
CD02 - La Finta Semplice - 05 - Vado subitamente - 00:15
CD02 - La Finta Semplice - 06 - Ubriaco non son io - 01:57
CD02 - La Finta Semplice - 07 - Egli и venuto - 01:51
CD02 - La Finta Semplice - 08 - Sposa cara, sposa bella - 04:24
CD02 - La Finta Semplice - 09 - Mia signora Madama - 00:38
CD02 - La Finta Semplice - 10 - Me no vo' prender spasso - 02:05
CD02 - La Finta Semplice - 11 - Ehi… Dormite, signore? - 01:02
CD02 - La Finta Semplice - 12 - Ho sentito a dir da tutte - 04:56
CD02 - La Finta Semplice - 13 - Di voi cercavo appunto - 01:50
CD02 - La Finta Semplice - 14 - Cospetton, cospettonaccio! - 02:57
CD02 - La Finta Semplice - 15 - Dove andate, signore? - 00:22
CD02 - La Finta Semplice - 16 - Siam quasi in porto adesso - 00:16
CD02 - La Finta Semplice - 17 - Vieni a tempo, Simone - 00:40
CD02 - La Finta Semplice - 18 - In voi, belle, и leggiadria - 03:20
CD02 - La Finta Semplice - 19 - T'ho detto, buffone - 07:23
CD02 - La Finta Semplice - 20 - Vieni, vieni, oh mia Ninetta - 02:52
CD02 - La Finta Semplice - 21 - Io non ho gran paura - 00:37
CD02 - La Finta Semplice - 22 - Sono in amore, voglio marito - 03:05
CD02 - La Finta Semplice - 23 - Che scompiglio, che flagello - 02:52
CD02 - La Finta Semplice - 24 - Che smorfie, che paura! - 01:01
CD02 - La Finta Semplice - 25 - Nelle guerre d'amore - 07:31
CD02 - La Finta Semplice - 26 - E cosi, Baronessa? - 01:15
CD02 - La Finta Semplice - 27 - Eh ben, quando facciamo questo nozze, signora? - 02:01
CD02 - La Finta Semplice - 28 - Se le pupille io giro - 10:15
CD03 - Mitridate - 01 - Overture - 06:00
CD03 - Mitridate - 02 - Vieni, Signor/Se a me s'unisce Arbate - 04:42
CD03 - Mitridate - 03 - Al destin, che la minaccia - 06:39
CD03 - Mitridate - 04 - Qual tumulto nell'alma - 01:23
CD03 - Mitridate - 05 - Soffre il mio cor con pace - 08:02
CD03 - Mitridate - 06 - Sin a quando, o Regina - 03:10
CD03 - Mitridate - 07 - L'odio nel cor frenate - 03:51
CD03 - Mitridate - 08 - Principe, che facemmo! - 03:01
CD03 - Mitridate - 09 - Un tale addio, germano, si spiega assai - 01:15
CD03 - Mitridate - 10 - Parto: Nel gran cimento - 04:30
CD03 - Mitridate - 11 - Eccovi in un momento - 00:59
CD03 - Mitridate - 12 - Venga pur, minacci e frema - 07:26
CD03 - Mitridate - 13 - Marcia - 02:10
CD03 - Mitridate - 14 - Se di lauri il crine adorno - 04:11
CD03 - Mitridate - 15 - Tu mi rivedi, Arbate - 03:34
CD03 - Mitridate - 16 - In faccia all'oggetto - 06:46
CD03 - Mitridate - 17 - Teme Ismene a ragion - 02:30
CD03 - Mitridate - 18 - Respira alfin - 02:09
CD03 - Mitridate - 19 - Quel ribelle e quell'ingrato - 03:22
CD04 - Mitridate - 01 - Questo e l'amor, Farnace - 02:06
CD04 - Mitridate - 02 - Va, l'error mio palesa - 03:23
CD04 - Mitridate - 03 - Perfido, ascolta?Ah Mitridate! - 04:07
CD04 - Mitridate - 04 - Tu, che fedel mi sei - 04:22
CD04 - Mitridate - 05 - Che diro? Che ascoltai? - 06:55
CD04 - Mitridate - 06 - Lungi da te, mio bene - 07:48
CD04 - Mitridate - 07 - Grazie ai Numi parti - 01:59
CD04 - Mitridate - 08 - Nel grave tormento - 05:06
CD04 - Mitridate - 09 - Qui, dove la vendetta - 05:26
CD04 - Mitridate - 10 - So quanto a te dispiace - 06:34
CD04 - Mitridate - 11 - Ah, giacche son tradito - 00:39
CD04 - Mitridate - 12 - "Son reo; l'error confesso" - 03:11
CD04 - Mitridate - 13 - E crederai, signor - 04:43
CD04 - Mitridate - 14 - Gia di peita mi spoglio - 02:40
CD04 - Mitridate - 15 - Sifare, per pieta stringi l'acciaro - 03:27
CD04 - Mitridate - 16 - Se viver non degg'io - 06:43
CD05 - Mitridate - 01 - Pиra omai chi m'oltraggia - 02:06
CD05 - Mitridate - 02 - Tu sai per chi m'accese - 05:42
CD05 - Mitridate - 03 - Re crudel, Re spietato - 03:04
CD05 - Mitridate - 04 - Vado incontro al fato estremo - 03:17
CD05 - Mitridate - 05 - Lagrime intempestive - 00:52
CD05 - Mitridate - 06 - Ah ben ne fui presaga! - 07:46
CD05 - Mitridate - 07 - Che fai, Regina? - 01:48
CD05 - Mitridate - 08 - Se il rigor d'ingrata sorte - 03:08
CD05 - Mitridate - 09 - Sorte crudel, stelle inimiche - 02:24
CD05 - Mitridate - 10 - Se di regnar sei vago - 04:21
CD05 - Mitridate - 11 - Vadasi… Oh ciel - 01:16
CD05 - Mitridate - 12 - Giа dagli occhi i velo и tolto - 07:35
CD05 - Mitridate - 13 - Figlio, amico, non piщ - 05:03
CD05 - Mitridate - 14 - Non si ceda al campidoglio - 01:01
CD06 - Ascanio in Alba - 01 - Overtura - 03:30
CD06 - Ascanio in Alba - 02 - Andante grazioso - 01:19
CD06 - Ascanio in Alba - 03 - Di te piu amabile, ne Dea maggiore - 02:17
CD06 - Ascanio in Alba - 04 - Geni, Grazie, ed Amori, fermate il pie - 02:53
CD06 - Ascanio in Alba - 05 - L'ombra de' rami tuoi - 04:54
CD06 - Ascanio in Alba - 06 - Ma la Ninfa gentil - 05:16
CD06 - Ascanio in Alba - 07 - Di te piu amabile, ne Dea maggiore (2) - 01:18
CD06 - Ascanio in Alba - 08 - Perche tacer degg'io? - 05:24
CD06 - Ascanio in Alba - 09 - Cara, lontano ancora - 04:52
CD06 - Ascanio in Alba - 10 - Venga, de' sommi Eroi/ Ma qual canto risona - 04:34
CD06 - Ascanio in Alba - 11 - Ma tu, chi sei, che ignoto qui t'aggiri fra noi? - 02:01
CD06 - Ascanio in Alba - 12 - Se il labbro piu non dice - 03:23
CD06 - Ascanio in Alba - 13 - Quanto soavi al core de la tua stirpe - 02:06
CD06 - Ascanio in Alba - 14 - Hai di Diana il core/ Oh, generosa Diva - 04:19
CD06 - Ascanio in Alba - 15 - Venga, de' sommi Eroi/ Di propria man la Dea a voi la donera - 04:17
CD06 - Ascanio in Alba - 16 - Oh mia gloria, oh mia cura - 00:31
CD06 - Ascanio in Alba - 17 - Per la gioia in questo seno - 05:19
CD07 - Ascanio in Alba - 01 - Misera! Che faro? - 02:18
CD07 - Ascanio in Alba - 02 - Si, ma d'un altro amore - 02:43
CD07 - Ascanio in Alba - 03 - Ah no, Silvia t'inganni - 03:43
CD07 - Ascanio in Alba - 04 - Come e felice stato - 04:18
CD07 - Ascanio in Alba - 05 - Silvia, mira, che il sole omai s'avanza - 01:08
CD07 - Ascanio in Alba - 06 - Venga, de' sommi Eroi - 01:38
CD07 - Ascanio in Alba - 07 - Cielo! Che vidi mai? - 01:07
CD07 - Ascanio in Alba - 08 - Ah di si nobil alma - 04:20
CD07 - Ascanio in Alba - 09 - Un'altra prova a te mirar conviene - 02:00
CD07 - Ascanio in Alba - 10 - Al chiaror di que' bei rai - 03:42
CD07 - Ascanio in Alba - 11 - Di te piu amabile, ne Dea maggiore - 01:18
CD07 - Ascanio in Alba - 12 - Star lontana non so - 01:34
CD07 - Ascanio in Alba - 13 - Spiega il desio - 07:15
CD07 - Ascanio in Alba - 14 - Gia l'ore sen volano - 01:20
CD07 - Ascanio in Alba - 15 - Cerco di loco in loco/ Silvia, ove sei? - 08:43
CD07 - Ascanio in Alba - 16 - Dal tuo gentil sembiante - 10:36
CD08 - Ascanio in Alba - 01 - Ahime! Che veggio mai? - 01:02
CD08 - Ascanio in Alba - 02 - Al mio ben mi veggio avanti - 05:16
CD08 - Ascanio in Alba - 03 - Ferma, aspetta, ove vai? - 03:42
CD08 - Ascanio in Alba - 04 - Infelici affetti miei - 05:05
CD08 - Ascanio in Alba - 05 - Anima grande/ Che strano evento/ Ahi la crudel - 01:43
CD08 - Ascanio in Alba - 06 - Torna mio bene, ascolta - 03:51
CD08 - Ascanio in Alba - 07 - Venga, de' sommi Eroi - 01:39
CD08 - Ascanio in Alba - 08 - Che strana meraviglia - 00:37
CD08 - Ascanio in Alba - 09 - Sento, che il cor mi dice/ Si, Padre, alfin mi taccia - 04:55
CD08 - Ascanio in Alba - 10 - Scendi, celeste Venere - 02:09
CD08 - Ascanio in Alba - 11 - Ma s'allontani almen - 01:04
CD08 - Ascanio in Alba - 12 - No, non possiamo vivere/ Ecco ingombran l'altare - 04:33
CD08 - Ascanio in Alba - 13 - Invoca, o figlia - 01:03
CD08 - Ascanio in Alba - 14 - Ah caro sposo, oh Dio! - 04:47
CD08 - Ascanio in Alba - 15 - Eccovi al fin di vostre pene - 02:09
CD08 - Ascanio in Alba - 16 - Che bel piacer io sento - 01:27
CD08 - Ascanio in Alba - 17 - Ah chi nodi piu forti - 01:57
CD08 - Ascanio in Alba - 18 - Alma Dea, tutto il mondo governa - 01:05
CD09 - Il sogno di Scipione - 01 - Overtura - 06:11
CD09 - Il sogno di Scipione - 02 - Recitativo: Vieni e segui i miei passi - 02:42
CD09 - Il sogno di Scipione - 03 - Aria: Risolver non osa - 07:29
CD09 - Il sogno di Scipione - 04 - Recitativo - 00:32
CD09 - Il sogno di Scipione - 05 - Aria: Lieve sono al par del vento - 06:52
CD09 - Il sogno di Scipione - 06 - Recitativo: Dunque ove son? - 02:32
CD09 - Il sogno di Scipione - 07 - Aria: Ciglio che al sol si gira - 07:53
CD09 - Il sogno di Scipione - 08 - Recitativo: E quali abitatori - 00:33
CD09 - Il sogno di Scipione - 09 - Coro: Germe di cento eroi - 02:38
CD09 - Il sogno di Scipione - 10 - Recitativo: Numi, и vero o m'inganno? - 02:27
CD09 - Il sogno di Scipione - 11 - Aria: Se vuoi che te raccolgano - 07:49
CD09 - Il sogno di Scipione - 12 - Recitativo: Se qui vivon gli eroi - 03:24
CD09 - Il sogno di Scipione - 13 - Aria: Voi colaggiщ ridete - 08:48
CD09 - Il sogno di Scipione - 14 - Recitativo: Publio, padre, ah lasciate - 01:52
CD09 - Il sogno di Scipione - 15 - Aria: Quercia annosa su l'erte pendici - 03:21
CD10 - Il sogno di Scipione - 01 - Recitativo Giacchи al voler de' Fati - 02:55
CD10 - Il sogno di Scipione - 02 - Aria A chi serena io miro - 06:51
CD10 - Il sogno di Scipione - 03 - Recitativo e a si enorme possanza - 02:15
CD10 - Il sogno di Scipione - 04 - Aria Biancheggia in mar lo scoglio - 07:20
CD10 - Il sogno di Scipione - 05 - Retitativo Non piщ. Bella Constanza - 00:42
CD10 - Il sogno di Scipione - 06 - Aria Di' che se l'arbitra - 07:24
CD10 - Il sogno di Scipione - 07 - Recitativo Ev'и mortal che ardisca - 03:38
CD10 - Il sogno di Scipione - 08 - Recitativo Non и Scipio - 00:42
CD10 - Il sogno di Scipione - 09 - Aria Ah perchй cercar degg'io - 03:19
CD10 - Il sogno di Scipione - 10 - Coro Cento volte con lieto sembiante - 01:25
CD10 - Il sogno di Scipione - 11 - Cantata Di OMaggio - Recitativo Non и Scipio - 00:47
CD10 - Il sogno di Scipione - 12 - Aria Ah perchй cercar degg'io - 08:08
CD10 - Il sogno di Scipione - 13 - Coro Cento volte con lieto sembiante - 01:23
CD11 - Lucio Silla disc1 - 01 - Molto allegro/Andante/Molto allegro - 07:38
CD11 - Lucio Silla disc1 - 02 - Ah ciel l'amico Cinna - 04:20
CD11 - Lucio Silla disc1 - 03 - Vieni ov'amor t'invita - 09:26
CD11 - Lucio Silla disc1 - 04 - Dunque sperar poss'io - 02:06
CD11 - Lucio Silla disc1 - 05 - Il tenero momento - 08:03
CD11 - Lucio Silla disc1 - 06 - A te dell'amor mio - 02:59
CD11 - Lucio Silla disc1 - 07 - Se lusinghiera speme - 05:10
CD11 - Lucio Silla disc1 - 08 - Signor, duolmi vederti/ Sempre dovro vederti - 05:18
CD11 - Lucio Silla disc1 - 09 - Dalla sponda tenebrsa - 06:56
CD11 - Lucio Silla disc1 - 10 - E tollerare io posso - 01:41
CD11 - Lucio Silla disc1 - 11 - Il desio di vendetta - 05:12
CD11 - Lucio Silla disc1 - 12 - Morte, morte fatal - 04:39
CD11 - Lucio Silla disc1 - 13 - Fuor di questre urne dolenti/ O del padre ombra diletta - 05:25
CD12 - Lucio Silla K135, 7-14 - 01 - Hager/Mozarteum / Ucio Silla, K135: Recitativo accompagnato: Si l'empio Silla… - 09:07
CD12 - Lucio Silla K135, 7-14 - 02 - Hager/Mozarteum / Ucio Silla, K135, Act II: Recitativo: Tel predisso o signor - 03:24
CD12 - Lucio Silla K135, 7-14 - 03 - Hager/Mozarteum / Ucio Silla, K135, Act II: No.8 Aria: Guerrier, che d'un acc… - 05:40
CD12 - Lucio Silla K135, 7-14 - 04 - Hager/Mozarteum / Ucio Silla, K135, Act II: Recitativo: Ah no, mai non credea - 09:47
CD12 - Lucio Silla K135, 7-14 - 05 - Hager/Mozarteum / Ucio Silla, K135, Act II: No.9: Aria: Quest' improvviso tre… - 03:01
CD12 - Lucio Silla K135, 7-14 - 06 - Hager/Mozarteum / Ucio Silla, K135, Act II: Recitativo: Ah si, s'affretti il … - 01:32
CD12 - Lucio Silla K135, 7-14 - 07 - Hager/Mozarteum / Ucio Silla, K135, Act II: No.10 Aria: Se il labbro timido - 04:37
CD12 - Lucio Silla K135, 7-14 - 08 - Hager/Mozarteum / Ucio Silla, K135, Act II: Recitativo: di piegarsi capace - 05:04
CD12 - Lucio Silla K135, 7-14 - 09 - Hager/Mozarteum / Ucio Silla, K135, Act II: No.11 Aria: ah se il crudel periglio - 07:43
CD12 - Lucio Silla K135, 7-14 - 10 - Hager/Mozarteum / Ucio Silla, K135, Act II: Recitativo accompagnato: Ah si, s… - 05:48
CD12 - Lucio Silla K135, 7-14 - 11 - Hager/Mozarteum / Ucio Silla, K135, Act II: No.12 Aria: Nel fortunato istante… - 02:50
CD12 - Lucio Silla K135, 7-14 - 12 - Hager/Mozarteum / Ucio Silla, K135, Act II: No.13 Aria: D'ogni pietа mi spoglio - 02:18
CD12 - Lucio Silla K135, 7-14 - 13 - Hager/Mozarteum / Ucio Silla, K135, Act II: Recitativo: Che intesi eterni Dei? - 06:29
CD12 - Lucio Silla K135, 7-14 - 14 - Hager/Mozarteum / Ucio Silla, K135, Act II: No14 Aria: Ah se a morir mi chiama - 07:11
CD13 - Lucio Silla disc3 - 01 - Perche mi balzi in seno - 01:37
CD13 - Lucio Silla disc3 - 02 - Quando sugl'arsi campi - 06:31
CD13 - Lucio Silla disc3 - 03 - In um istante oh come - 02:47
CD13 - Lucio Silla disc3 - 04 - Parto, m'affretto - 04:28
CD13 - Lucio Silla disc3 - 05 - Se gloria il crin ti cinse - 02:12
CD13 - Lucio Silla disc3 - 06 - Padri coscritti - 05:13
CD13 - Lucio Silla disc3 - 07 - Quell'orgoglioso sdegno - 04:01
CD13 - Lucio Silla disc3 - 08 - Ah si tu solo, amico - 03:18
CD13 - Lucio Silla disc3 - 09 - Strider sento la procella - 03:58
CD13 - Lucio Silla disc3 - 10 - Forse tu credi, amico - 02:02
CD13 - Lucio Silla disc3 - 11 - De' piu superbi il core - 07:01
CD13 - Lucio Silla disc3 - 12 - Ah no, che il fato estremo - 04:09
CD13 - Lucio Silla disc3 - 13 - Pupille amate - 03:39
CD13 - Lucio Silla disc3 - 14 - Sposo .. Mia vita? - 02:50
CD13 - Lucio Silla disc3 - 15 - Fra i pensier piu funesti di morte - 03:29
CD13 - Lucio Silla disc3 - 16 - Celia, Cinna non piu - 08:40
CD13 - Lucio Silla disc3 - 17 - Il gran Silla a Roma in seno - 03:22

Box 14 - Middle Italian Operas

CD01 - La Finta Giardiniera disc1 - 01 - Overtura - 04:43
CD01 - La Finta Giardiniera disc1 - 02 - Act I: No. 1 Introduzione: Che lieto giorno - 05:30
CD01 - La Finta Giardiniera disc1 - 03 - Recitativo: Viva, viva il buon gusto - 02:06
CD01 - La Finta Giardiniera disc1 - 04 - Aria: Se l'augellin sen fugge - 04:16
CD01 - La Finta Giardiniera disc1 - 05 - Recitativo: Presto, Nardo, Serpetta andate - 02:31
CD01 - La Finta Giardiniera disc1 - 06 - Aria: Dentro il mio petto io sento - 05:47
CD01 - La Finta Giardiniera disc1 - 07 - Recitativo: Della nemica sorte - 03:35
CD01 - La Finta Giardiniera disc1 - 08 - Aria: Noi donne poverine - 03:53
CD01 - La Finta Giardiniera disc1 - 09 - Recitativo: Sarei felice appieno / Io per me non capisco - 01:07
CD01 - La Finta Giardiniera disc1 - 10 - Aria: A forza di martelli - 03:05
CD01 - La Finta Giardiniera disc1 - 11 - Recitativo: Mia cara nipotina - 01:46
CD01 - La Finta Giardiniera disc1 - 12 - Aria: Che belta, che leggiadria - 03:49
CD01 - La Finta Giardiniera disc1 - 13 - Recitativo: Sposa, Arminda, mio sole - 03:31
CD01 - La Finta Giardiniera disc1 - 14 - Aria: Si promette facilmente - 04:55
CD01 - La Finta Giardiniera disc1 - 15 - Recitativo: Che dite, signor Conte - 02:10
CD01 - La Finta Giardiniera disc1 - 16 - Aria: Da Scirocco a Tramontana - 04:23
CD01 - La Finta Giardiniera disc1 - 17 - Recitativo: Evviva, evviva i consoli Romani - 00:53
CD01 - La Finta Giardiniera disc1 - 18 - Act I: No. 9a Cavatinia: Un marito, oh Dio, vorrei - 02:56
CD01 - La Finta Giardiniera disc1 - 19 - Recitativo: Bravo, signor buffone - 01:08
CD01 - La Finta Giardiniera disc1 - 20 - Aria: Appena mi vedon - 03:26
CD02 - La Finta Giardiniera disc2 - 01 - Cavatina: Geme la tortorella - 05:10
CD02 - La Finta Giardiniera disc2 - 02 - Recitativo: Io son la tortorella / Vi son io - 02:54
CD02 - La Finta Giardiniera disc2 - 03 - Finale: Numi! che incanto e questo - 03:37
CD02 - La Finta Giardiniera disc2 - 04 - Finale: Che silenzio! fan lunari - 03:35
CD02 - La Finta Giardiniera disc2 - 05 - Finale: Ma voi, che pretendete - 07:24
CD02 - La Finta Giardiniera disc2 - 06 - Recitativo: Non fuggirmi spietata - 03:23
CD02 - La Finta Giardiniera disc2 - 07 - Aria: Vorrei punirti indegno - 04:02
CD02 - La Finta Giardiniera disc2 - 08 - Recitativo: A costei non e donna - 02:51
CD02 - La Finta Giardiniera disc2 - 09 - Aria: Con un vezzo all'italiana - 03:15
CD02 - La Finta Giardiniera disc2 - 10 - Recitativo: Costui mi da piacere - 03:20
CD02 - La Finta Giardiniera disc2 - 11 - Aria: Care pupille belle - 07:11
CD02 - La Finta Giardiniera disc2 - 12 - Recitativo: Va, Conte disgraziato - 01:53
CD02 - La Finta Giardiniera disc2 - 13 - Aria: Un voce sento al core - 06:55
CD02 - La Finta Giardiniera disc2 - 14 - Recitativo: Ah che son stato un sciocco! - 02:24
CD02 - La Finta Giardiniera disc2 - 15 - Aria: Una damina, una nipote - 03:44
CD02 - La Finta Giardiniera disc2 - 16 - Recitativo: Sappi Arminda, ben mio - 00:53
CD02 - La Finta Giardiniera disc2 - 17 - Aria: Dolce d'amor compagna - 05:21
CD03 - La Finta Giardiniera disc3 - 01 - Recitativo: Credimi nipotina / Io lo difendo - 05:02
CD03 - La Finta Giardiniera disc3 - 02 - Recitativo e Aria: Ah non partir … m'ascolta - 06:53
CD03 - La Finta Giardiniera disc3 - 03 - Recitativo: Oh poveretto me! / Va pur, ma questa volta - 02:05
CD03 - La Finta Giardiniera disc3 - 04 - Aria: Chi vuol godere il mondo - 04:45
CD03 - La Finta Giardiniera disc3 - 05 - Aria: Crudeli, oh Dio! Fermate - 03:38
CD03 - La Finta Giardiniera disc3 - 06 - Cavatina: Ah dal pianto, dal singhiozzo - 03:10
CD03 - La Finta Giardiniera disc3 - 07 - Finale: Fra quest'ombre - 04:01
CD03 - La Finta Giardiniera disc3 - 08 - Recitativo: Qui fermate amici il piede - 04:04
CD03 - La Finta Giardiniera disc3 - 09 - Andantino: Mio Tirsi, deh senti le dolci sirene - 06:27
CD03 - La Finta Giardiniera disc3 - 10 - Act III: Recitativo: Sentimi, Nardo mio - 02:10
CD03 - La Finta Giardiniera disc3 - 11 - Act III: No. 24 Aria e Duetto: Mirate che contrasto - 03:17
CD03 - La Finta Giardiniera disc3 - 12 - Recitativo: Oh, l'ho pensata bene - 02:16
CD03 - La Finta Giardiniera disc3 - 13 - Act III: No 25 Aria: Mio padrone, io dir volevo - 03:44
CD03 - La Finta Giardiniera disc3 - 14 - Recitativo: Ramiro, orsu, alle corte - 01:23
CD03 - La Finta Giardiniera disc3 - 15 - Aria: Va pure ad altri in braccio - 03:30
CD03 - La Finta Giardiniera disc3 - 16 - Act III:No. 27 Recitativo e duetto: Dove mai son! - 11:56
CD03 - La Finta Giardiniera disc3 - 17 - Recitativo: Ma nipote, mia cara - 01:53
CD03 - La Finta Giardiniera disc3 - 18 - No. 28 Finale, Coro: Viva pur la Giardiniera - 01:40
CD04 - Il Re Pastore disc1 - 01 - No. 1 Overtura - 02:52
CD04 - Il Re Pastore disc1 - 02 - Intendo amico rio - 03:32
CD04 - Il Re Pastore disc1 - 03 - No. 2 Aria: Alla selva, al prato - 05:22
CD04 - Il Re Pastore disc1 - 04 - Recitativo: Compagne amene - 01:32
CD04 - Il Re Pastore disc1 - 05 - Recitativo accompagnato: Ditelo voi pastori - 02:18
CD04 - Il Re Pastore disc1 - 06 - No. 3 Aria/ Aer tranquillo - 06:43
CD04 - Il Re Pastore disc1 - 07 - Recitativo/ Perdono amici Dei - 03:56
CD04 - Il Re Pastore disc1 - 08 - No. 4 Aria / Si spande al sole in faccia - 04:44
CD04 - Il Re Pastore disc1 - 09 - Recitativo: Agenore? T'arresta - 01:41
CD04 - Il Re Pastore disc1 - 10 - No. 5 Aria: Per me rispondete - 04:51
CD04 - Il Re Pastore disc1 - 11 - Recitativo No: voi non siete, o Dei - 00:34
CD04 - Il Re Pastore disc1 - 12 - No. 6 Aria : Di tante sue procelle - 04:21
CD04 - Il Re Pastore disc1 - 13 - Recitativo: Dove t'affretti, Elisa? - 03:40
CD04 - Il Re Pastore disc1 - 14 - Rectativo accompagnato: Perdona Elisa - 03:04
CD04 - Il Re Pastore disc1 - 15 - No. 7 Duetto: Vanne, vanne a regnar ben mio - 05:51
CD05 - Il Re Pastore disc2 - 01 - Recitativo: Questa del campo greco - 01:07
CD05 - Il Re Pastore disc2 - 02 - No. 8 Aria: Barbaro! Oh Dio mi vedi divisa dal mio ben - 05:39
CD05 - Il Re Pastore disc2 - 03 - Recitativo: La bella Elisa - 03:43
CD05 - Il Re Pastore disc2 - 04 - No. 9 Aria : Se vincendo vi rendo felici - 06:29
CD05 - Il Re Pastore disc2 - 05 - Recitativo: Oime! Declina il sol - 02:07
CD05 - Il Re Pastore disc2 - 06 - No. 10 Rondeaux: L'amero, saro costante - 07:32
CD05 - Il Re Pastore disc2 - 07 - Recitativo: Uscite, alfine uscite - 03:17
CD05 - Il Re Pastore disc2 - 08 - No. 11 Aria: Se tu di me fai dono - 05:05
CD05 - Il Re Pastore disc2 - 09 - Recitativo: Misero cor! No. 12 Aria: Sol puo dir come si trova - 03:18
CD05 - Il Re Pastore disc2 - 10 - No. 13 Aria: Voi che fausti ognor donate - 04:37
CD05 - Il Re Pastore disc2 - 11 - Recitativo: Ola! Che piu si tarda? - 03:01
CD05 - Il Re Pastore disc2 - 12 - No. 14 Coro: Viva, viva l'invitto duce - 05:54
CD06 - Idomeneo, Re di Creta (CD 1) - 01 - Ouverture - 04:51
CD06 - Idomeneo, Re di Creta (CD 1) - 02 - Recitativo: Quando avran fine omai (Ilia) - 03:52
CD06 - Idomeneo, Re di Creta (CD 1) - 03 - Atto I - No. 1. Aria: Padre, germani, addio! - Recitativo: Ecco Idamante, ahi… - 04:13
CD06 - Idomeneo, Re di Creta (CD 1) - 04 - Atto I - Recitativo: Radunate i Troiani (Idamante, Ilia) - 03:49
CD06 - Idomeneo, Re di Creta (CD 1) - 05 - Atto I - No.2. Aria: Non ho colpa (Idamante) - 06:43
CD06 - Idomeneo, Re di Creta (CD 1) - 06 - Atto I - Recitativo: Ecco il misero resto de' Troiani (Ilia, Idamante) - 01:04
CD06 - Idomeneo, Re di Creta (CD 1) - 07 - Atto I - No. 3. Coro: Godiam la pace (Coro de'Troiani e Cretesi, Due Cretesi) - 02:24
CD06 - Idomeneo, Re di Creta (CD 1) - 08 - Atto I - Recitativo: Prence, signor, tutta la Grecia oltraggi (Elettra, Idama… - 02:49
CD06 - Idomeneo, Re di Creta (CD 1) - 09 - Atto I - Recitativo: Estinto и Idomeneo? (Elettra) - 01:49
CD06 - Idomeneo, Re di Creta (CD 1) - 10 - Atto I - No. 4. Aria: Tutte nel cor vio sento (Elettra) - 03:35
CD06 - Idomeneo, Re di Creta (CD 1) - 11 - Atto I - No. 5. Coro: Pietа! Numi, pietа! - 01:26
CD06 - Idomeneo, Re di Creta (CD 1) - 12 - Atto I - Pantomima e Recitativo: Eccoci salvi alfin (Idomeneo) - 03:04
CD06 - Idomeneo, Re di Creta (CD 1) - 13 - Atto I - No. 6. Aria: Vedrommi intorno (Idomeneo) - 04:12
CD06 - Idomeneo, Re di Creta (CD 1) - 14 - Atto I - Recitativo: Cieli!, che veggo? (Idomeneo, Idamante) - 06:34
CD06 - Idomeneo, Re di Creta (CD 1) - 15 - Atto I - No. 7. Aria: Il padre adorato (Idamante) - 03:01
CD06 - Idomeneo, Re di Creta (CD 1) - 16 - Atto I - Intermezzo: No. 8. Marcia - 04:13
CD06 - Idomeneo, Re di Creta (CD 1) - 17 - Atto I - Intermezzo: Coro Nettuno s'onori - 05:40
CD06 - Idomeneo, Re di Creta (CD 1) - 18 - Atto II - Recitativo: Tutto m'и noto (Arbace, Idomeneo) - 02:44
CD06 - Idomeneo, Re di Creta (CD 1) - 19 - Atto II - Recitativo: Se mai pomposo apparse (Ilia, Idomeneo) - 01:10
CD06 - Idomeneo, Re di Creta (CD 1) - 20 - Atto II - No. 11. Aria: Se il padre perdei (Ilia) - 06:19
CD07 - Idomeneo, Re di Creta (CD 2) - 01 - Atto II - Recitativo: Qual mi conturba i sensi (Idomeneo) - 02:28
CD07 - Idomeneo, Re di Creta (CD 2) - 02 - Atto II - No. 12b. Aria: Fuor del mar (Idomeneo) - 06:33
CD07 - Idomeneo, Re di Creta (CD 2) - 03 - Atto II - Recitativo: Chi mai del mio provт (Idomeneo) - 01:43
CD07 - Idomeneo, Re di Creta (CD 2) - 04 - Atto II - No. 13. Aria: Idol mio, se ritroso (Elettra) - 05:24
CD07 - Idomeneo, Re di Creta (CD 2) - 05 - Atto II - No. 14. Marcia e Recitativo: Odo da lunge (Elettra) - 01:20
CD07 - Idomeneo, Re di Creta (CD 2) - 06 - Atto II - Recitativo: Sidonie sponde! (Elettra) - 00:51
CD07 - Idomeneo, Re di Creta (CD 2) - 07 - Atto II - No. 15. Coro: Placido и il mar - 04:36
CD07 - Idomeneo, Re di Creta (CD 2) - 08 - Atto II - Recitativo: Vattene prence (Idomeneo, Idamante) - 00:29
CD07 - Idomeneo, Re di Creta (CD 2) - 09 - Atto II - No. 16. Terzetto: Pria di partir, oh Dio! (Idamante, Elettra, Idome… - 04:53
CD07 - Idomeneo, Re di Creta (CD 2) - 10 - Atto II - No. 17. Coro: Qual nuovo terrore! - 02:08
CD07 - Idomeneo, Re di Creta (CD 2) - 11 - Atto II - Recitativo: Eccoti in me, barbaro Nume! (Idomeneo) - 02:00
CD07 - Idomeneo, Re di Creta (CD 2) - 12 - Atto II - No. 18. Coro: Corriamo, fuggiamo - 01:44
CD07 - Idomeneo, Re di Creta (CD 2) - 13 - Atto III - Recitativo: Solitudini amiche (Ilia) - 01:09
CD07 - Idomeneo, Re di Creta (CD 2) - 14 - Atto III - No. 19. Aria: Zaffiretti lisinghieri (Ilia) - 05:53
CD07 - Idomeneo, Re di Creta (CD 2) - 15 - Atto III - Recitativo: Principessa, a'tuoi sguardi (Idamante, Ilia) - 04:10
CD07 - Idomeneo, Re di Creta (CD 2) - 16 - Atto III - No. 20a. Duetto: S'io non moro a questi accenti (Idamante, Ilia) - 03:37
CD07 - Idomeneo, Re di Creta (CD 2) - 17 - Atto III - Recitativo: Cieli! che vedo? (Idomeneo, Ilia, Idamante, Elettra) - 02:34
CD07 - Idomeneo, Re di Creta (CD 2) - 18 - Atto III - No. 21. Quartetto: Andrт ramingo e solo (Idamante, Ilia, Idomeneo,… - 05:33
CD07 - Idomeneo, Re di Creta (CD 2) - 19 - Atto III - Recitativo: Sire, alla reggia tua (Arbace, Ilia, Idomeneo, Elettra) - 00:33
CD07 - Idomeneo, Re di Creta (CD 2) - 20 - Atto III - Recitativo: Sventurata Sidon! (Arbace) - 03:42
CD07 - Idomeneo, Re di Creta (CD 2) - 21 - Atto III - No. 23. Recitativo: Volgi intorno lo sguardo (Gran Sacerdote, Idom… - 04:39
CD07 - Idomeneo, Re di Creta (CD 2) - 22 - Atto III - No. 24. Coro: Oh voto tremendo! (Popolo, Gran Sacerdote) - 05:24
CD07 - Idomeneo, Re di Creta (CD 2) - 23 - Atto III - No. 25. Marcia - 02:05
CD08 - Idomeneo, Re di Creta (CD 3) - 01 - Atto III - No. 26. Cavatina con coro: Accogli, oh re del mar (Idomeneo, Sacer… - 03:52
CD08 - Idomeneo, Re di Creta (CD 3) - 02 - Atto III - Coro: Stupenda vittoria! - Recitativo: Qual risuona qui intorno (A… - 01:15
CD08 - Idomeneo, Re di Creta (CD 3) - 03 - Atto III - No. 27. Recitativo: Padre, nio caro padre (Idamante, Idomeneo) - 05:38
CD08 - Idomeneo, Re di Creta (CD 3) - 04 - Atto III - Recitativo: Ferma, oho sire, che fai? (Ilia, Idomeneo, Idamante) - 01:15
CD08 - Idomeneo, Re di Creta (CD 3) - 05 - Atto III - No. 28d. La Voce: Ha vinto Amore - 02:40
CD08 - Idomeneo, Re di Creta (CD 3) - 06 - Atto III - No. 29. Recitativo: Oh ciel pietoso! (Idomeneo, Idamante, Ilia, Ar… - 01:22
CD08 - Idomeneo, Re di Creta (CD 3) - 07 - Atto III - No. 29a. Aria: D'Oreste, d'Aiace (Elettra) - 03:30
CD08 - Idomeneo, Re di Creta (CD 3) - 08 - Atto III - No. 30. Recitativo: Popoli, a voi l'ultima legge (Idomeneo) - 06:37
CD08 - Idomeneo, Re di Creta (CD 3) - 09 - Atto III - No. 30a. Aria: Torna la pace al core (Idomeneo) - 07:51
CD08 - Idomeneo, Re di Creta (CD 3) - 10 - Atto III - No. 31. Coro: Scenda Amor, scenda Imeneo - 04:17
CD08 - Idomeneo, Re di Creta (CD 3) - 11 - Appendice - No. 8a. Ballo delle donne Cretesi - 02:41
CD08 - Idomeneo, Re di Creta (CD 3) - 12 - Appendice - No. 10a. Aria: Se il tuo duol (Arbace) - 05:18
CD08 - Idomeneo, Re di Creta (CD 3) - 13 - Appendice - No. 22. Aria: Se colа ne'fati и scritto (Arbace) - 08:17
CD08 - Idomeneo, Re di Creta (CD 3) - 14 - Appendice - Recitativo: Deh vibra un colpo (Idamante. Idomeneo) - 02:00
CD08 - Idomeneo, Re di Creta (CD 3) - 15 - Appendice - No. 27a. Aria: No, la morte io non pavento (Idamante) - 05:02
CD08 - Idomeneo, Re di Creta (CD 3) - 16 - Appendice - No. 32. Ballet KV 367 Chaconne: Allegro - 04:14
CD08 - Idomeneo, Re di Creta (CD 3) - 17 - Appendice - No. 32. Ballet KV 367 Chaconne: Largetto - 03:03
CD08 - Idomeneo, Re di Creta (CD 3) - 18 - Appendice - No. 32. Ballet KV 367 Chaconne: Allegro - 02:53
CD08 - Idomeneo, Re di Creta (CD 3) - 19 - Appendice - No. 32. Ballet KV 367 Chaconne: Largo - Allegretto - Piщ allegro - 04:32
CD09 - L'Oca del Cairo; Lo Sposo Deluso - 01 - Wolfgang Amadeus L'Oca del Cairo, KV422 [fragment][reconstructed by … - 03:53
CD09 - L'Oca del Cairo; Lo Sposo Deluso - 02 - Wolfgang Amadeus L'Oca del Cairo, KV422 [fragment][reconstructed by … - 01:56
CD09 - L'Oca del Cairo; Lo Sposo Deluso - 03 - Wolfgang Amadeus L'Oca del Cairo, KV422 [fragment][reconstructed by … - 03:07
CD09 - L'Oca del Cairo; Lo Sposo Deluso - 04 - Wolfgang Amadeus L'Oca del Cairo, KV422 [fragment][reconstructed by … - 00:19
CD09 - L'Oca del Cairo; Lo Sposo Deluso - 05 - Wolfgang Amadeus L'Oca del Cairo, KV422 [fragment][reconstructed by … - 01:01
CD09 - L'Oca del Cairo; Lo Sposo Deluso - 06 - Wolfgang Amadeus L'Oca del Cairo, KV422 [fragment][reconstructed by … - 02:24
CD09 - L'Oca del Cairo; Lo Sposo Deluso - 07 - Wolfgang Amadeus L'Oca del Cairo, KV422 [fragment][reconstructed by … - 05:02
CD09 - L'Oca del Cairo; Lo Sposo Deluso - 08 - Wolfgang Amadeus L'Oca del Cairo, KV422 [fragment][reconstructed by … - 00:31
CD09 - L'Oca del Cairo; Lo Sposo Deluso - 09 - Wolfgang Amadeus L'Oca del Cairo, KV422 [fragment][reconstructed by … - 02:37
CD09 - L'Oca del Cairo; Lo Sposo Deluso - 10 - Wolfgang Amadeus L'Oca del Cairo, KV422 [fragment][reconstructed by … - 00:20
CD09 - L'Oca del Cairo; Lo Sposo Deluso - 11 - Wolfgang Amadeus L'Oca del Cairo, KV422 [fragment][reconstructed by … - 06:35
CD09 - L'Oca del Cairo; Lo Sposo Deluso - 12 - Wolfgang Amadeus L'Oca del Cairo, KV422 [fragment][reconstructed by … - 02:58
CD09 - L'Oca del Cairo; Lo Sposo Deluso - 13 - Wolfgang Amadeus L'Oca del Cairo, KV422 [fragment][reconstructed by … - 13:27
CD09 - L'Oca del Cairo; Lo Sposo Deluso - 14 - Wolfgang Amadeus Lo Sposo Deluso, KV430-424a [fragment]; Ouvertura - 05:06
CD09 - L'Oca del Cairo; Lo Sposo Deluso - 15 - Wolfgang Amadeus Lo Sposo Deluso, KV430-424a [fragment]; No.1 Quarte… - 05:07
CD09 - L'Oca del Cairo; Lo Sposo Deluso - 16 - Wolfgang Amadeus Lo Sposo Deluso, KV430-424a [fragment]; No.2 Aria N… - 03:47
CD09 - L'Oca del Cairo; Lo Sposo Deluso - 17 - Wolfgang Amadeus Lo Sposo Deluso, KV430-424a [fragment]; No.3 Aria N… - 04:05
CD09 - L'Oca del Cairo; Lo Sposo Deluso - 18 - Wolfgang Amadeus Lo Sposo Deluso, KV430-424a [fragment]; No.4 Terzet… - 03:28

Box 15 - Late Italian Operas

CD01 - Le Nozze Di Figaro (Disc 1 of 3) - 01 - Sinfonia - 04:07
CD01 - Le Nozze Di Figaro (Disc 1 of 3) - 02 - Cinque…dieci…venti - 03:30
CD01 - Le Nozze Di Figaro (Disc 1 of 3) - 03 - Se a caso Madama - 05:04
CD01 - Le Nozze Di Figaro (Disc 1 of 3) - 04 - Se Vuol ballare - 03:39
CD01 - Le Nozze Di Figaro (Disc 1 of 3) - 05 - La vendetta - 03:52
CD01 - Le Nozze Di Figaro (Disc 1 of 3) - 06 - Via, resti servita - 03:46
CD01 - Le Nozze Di Figaro (Disc 1 of 3) - 07 - Non so piu cosa son, cosa faccio - 02:51
CD01 - Le Nozze Di Figaro (Disc 1 of 3) - 08 - Ah, son perduto! - 03:30
CD01 - Le Nozze Di Figaro (Disc 1 of 3) - 09 - Cosa sento! tosto andate - 05:14
CD01 - Le Nozze Di Figaro (Disc 1 of 3) - 10 - Giovani liete - 05:00
CD01 - Le Nozze Di Figaro (Disc 1 of 3) - 11 - Non piu andrai - 03:47
CD01 - Le Nozze Di Figaro (Disc 1 of 3) - 12 - Porgi, amor, qualche ristoro - 04:08
CD01 - Le Nozze Di Figaro (Disc 1 of 3) - 13 - Vieni, cara Susanna - 05:12
CD01 - Le Nozze Di Figaro (Disc 1 of 3) - 14 - Voi che sapete - 03:52
CD01 - Le Nozze Di Figaro (Disc 1 of 3) - 15 - Venite… inginocchiatevi… - 03:20
CD02 - Le Nozze Di Figaro (Disc 2 of 3) - 01 - Recitativo - Quante buffonerie! - 03:42
CD02 - Le Nozze Di Figaro (Disc 2 of 3) - 02 - No. 14 Terzetto - Susanna, or via, sortite - 04:09
CD02 - Le Nozze Di Figaro (Disc 2 of 3) - 03 - No. 15 Duettino: Aprite, presto, aprite - Recitativo: O guarda il demonietto! - 02:44
CD02 - Le Nozze Di Figaro (Disc 2 of 3) - 04 - No. 16 Finale - Esci, ormai, garzon malnato - 07:46
CD02 - Le Nozze Di Figaro (Disc 2 of 3) - 05 - Signori, di fuori - 08:54
CD02 - Le Nozze Di Figaro (Disc 2 of 3) - 06 - Voi signor, che giusto siete - 03:37
CD02 - Le Nozze Di Figaro (Disc 2 of 3) - 07 - Act three: Recitativo - Che imbarazzo e mai questo! - 02:39
CD02 - Le Nozze Di Figaro (Disc 2 of 3) - 08 - No. 17 Duettino - Crudel! Perche finora - 03:35
CD02 - Le Nozze Di Figaro (Disc 2 of 3) - 09 - No. 18 Recitativo ed Aria - Hai gia vinta la causa! - 04:53
CD02 - Le Nozze Di Figaro (Disc 2 of 3) - 10 - Recitativo - Andiamo, andiam, bel paggio - 00:39
CD02 - Le Nozze Di Figaro (Disc 2 of 3) - 11 - No. 20 Recitativo ed Aria - E Susanna non vien! - 06:16
CD02 - Le Nozze Di Figaro (Disc 2 of 3) - 12 - Recitativo - E decisa la lite - 02:06
CD02 - Le Nozze Di Figaro (Disc 2 of 3) - 13 - No. 19 Sestetto - Riconosci in questo amplesso - 06:37
CD02 - Le Nozze Di Figaro (Disc 2 of 3) - 14 - Cosa mi narri! - No. 21 Duettino: Che soave zefiretto - 03:38
CD02 - Le Nozze Di Figaro (Disc 2 of 3) - 15 - No. 22 Coro - Ricevete, padroncina - 04:14
CD02 - Le Nozze Di Figaro (Disc 2 of 3) - 16 - Allegretto - Amanti costanti - 03:24
CD02 - Le Nozze Di Figaro (Disc 2 of 3) - 17 - Fandango - Eh gia, solita usanza - 03:28
CD03 - Le Nozze Di Figaro (Disc 3 of 3) - 01 - No. 24 Cavatina: L'ho perduta - 01:43
CD03 - Le Nozze Di Figaro (Disc 3 of 3) - 02 - Recitativo: Barbarina, cos'hai? - 02:38
CD03 - Le Nozze Di Figaro (Disc 3 of 3) - 03 - No. 25 Aria: Il capro e la capretta - 04:02
CD03 - Le Nozze Di Figaro (Disc 3 of 3) - 04 - Recitativo: Nel padiglione a manca - 02:03
CD03 - Le Nozze Di Figaro (Disc 3 of 3) - 05 - No. 26 Aria: In quegli anni - 04:00
CD03 - Le Nozze Di Figaro (Disc 3 of 3) - 06 - No. 27 Recitativo ed Aria: Tutto e disposto - 04:29
CD03 - Le Nozze Di Figaro (Disc 3 of 3) - 07 - Recit: Signora, ella mi disse - 01:00
CD03 - Le Nozze Di Figaro (Disc 3 of 3) - 08 - No. 28 Recitativo ed Aria: Giunse alfin il momento - 05:09
CD03 - Le Nozze Di Figaro (Disc 3 of 3) - 09 - Recitativo: Perfida! E in quella forma - 00:34
CD03 - Le Nozze Di Figaro (Disc 3 of 3) - 10 - No. 29 Finale: Pian pianin le andro - 05:58
CD03 - Le Nozze Di Figaro (Disc 3 of 3) - 11 - Tutto e tranquillo e placido - 05:42
CD03 - Le Nozze Di Figaro (Disc 3 of 3) - 12 - Gente, gente, all'armi - 05:01
CD04 - Don Giovanni (CD 1) - 01 - Ouverture - 06:06
CD04 - Don Giovanni (CD 1) - 02 - Notte e giorno faticar - 05:41
CD04 - Don Giovanni (CD 1) - 03 - Ah! del padre in periglio - 02:44
CD04 - Don Giovanni (CD 1) - 04 - Fuggi, crudele, fuggi! - 03:30
CD04 - Don Giovanni (CD 1) - 05 - Orsu;, spicciati presto - 01:28
CD04 - Don Giovanni (CD 1) - 06 - Ah! chi mi dice mai - 03:21
CD04 - Don Giovanni (CD 1) - 07 - Chi e' la'? - 02:43
CD04 - Don Giovanni (CD 1) - 08 - Madamina il catalogo e' questo - 05:21
CD04 - Don Giovanni (CD 1) - 09 - Giovinette, che fate all'amore - 03:37
CD04 - Don Giovanni (CD 1) - 10 - Ho capito, signor si'! - 01:32
CD04 - Don Giovanni (CD 1) - 11 - Alfin siam liberati - 01:46
CD04 - Don Giovanni (CD 1) - 12 - La' ci darem la mano - 03:41
CD04 - Don Giovanni (CD 1) - 13 - Ah, fuggi il traditor - 01:10
CD04 - Don Giovanni (CD 1) - 14 - Mi par ch'il demonio si diverta - 01:03
CD04 - Don Giovanni (CD 1) - 15 - Non ti fidar, o misera - 04:22
CD04 - Don Giovanni (CD 1) - 16 - Don Ottavio… son morta! - 03:19
CD04 - Don Giovanni (CD 1) - 17 - Or sai chi l'onore - 03:09
CD05 - Don Giovanni - 01 - Come mai creder deggio - 00:33
CD05 - Don Giovanni - 02 - Dalla sua pace - 04:21
CD05 - Don Giovanni - 03 - Io deggio ad ogni patto - 01:32
CD05 - Don Giovanni - 04 - Fin ch'han dal vino - 01:14
CD05 - Don Giovanni - 05 - Masetto… ma senti un po'… - 01:12
CD05 - Don Giovanni - 06 - batti, batti, o bel Masetto - 04:06
CD05 - Don Giovanni - 07 - Guarda un po' come seppe questa strega - 04:08
CD05 - Don Giovanni - 08 - Bisogna aver coraggio - 04:06
CD05 - Don Giovanni - 09 - Riposate, vezzose ragazze - 01:16
CD05 - Don Giovanni - 10 - Venite pur avanti - 03:57
CD05 - Don Giovanni - 11 - Ecco il birbo che t'ha offesa - 03:25
CD05 - Don Giovanni - 12 - Eh via, buffone, non mi seccar - 03:17
CD05 - Don Giovanni - 13 - Ah! taci, ingiusto core - 04:46
CD05 - Don Giovanni - 14 - Amico, che ti par? - 01:59
CD05 - Don Giovanni - 15 - Deh! vieni alla finestra - 03:00
CD05 - Don Giovanni - 16 - Meta' di voi qua vadano - 02:47
CD05 - Don Giovanni - 17 - Zitto… Lascia ch'io senta… Ottimamente - 02:08
CD05 - Don Giovanni - 18 - Vedrai, carino - 03:29
CD06 - Don Giovanni (CD 3) - 01 - Di molte faci il lume - 00:41
CD06 - Don Giovanni (CD 3) - 02 - Sola, sola in buio loco - 07:33
CD06 - Don Giovanni (CD 3) - 03 - Ah! Pieta', signori miei - 02:23
CD06 - Don Giovanni (CD 3) - 04 - Il mio tesoro intanto - 04:25
CD06 - Don Giovanni (CD 3) - 05 - In quali eccessi - 02:19
CD06 - Don Giovanni (CD 3) - 06 - Mi tradi' quell'alma ingrata - 03:55
CD06 - Don Giovanni (CD 3) - 07 - Ah! Ah! Ah! Questa e' buona! - 04:15
CD06 - Don Giovanni (CD 3) - 08 - O statua gentilissima - 03:18
CD06 - Don Giovanni (CD 3) - 09 - Calmatevi, idol mio - 00:44
CD06 - Don Giovanni (CD 3) - 10 - Crudele? Ah no! mio bene! - 01:44
CD06 - Don Giovanni (CD 3) - 11 - Non mi dir, bell'idol mio - 05:24
CD06 - Don Giovanni (CD 3) - 12 - Gia' la mensa e' preparata - 04:38
CD06 - Don Giovanni (CD 3) - 13 - L'ultima prova - 03:15
CD06 - Don Giovanni (CD 3) - 14 - Don Giovanni, a cenar teco m'invitasti! - 07:07
CD06 - Don Giovanni (CD 3) - 15 - Ah! dov'e' il perfido? - 01:37
CD06 - Don Giovanni (CD 3) - 16 - Or che tutti, o mio tesoro - 03:06
CD06 - Don Giovanni (CD 3) - 17 - Questo e' il fin di chi fa mal! - 01:42
CD07 - Cosi Fan Tutte [CD1.3] - 01 - Overture - 04:28
CD07 - Cosi Fan Tutte [CD1.3] - 02 - La mia Dorabella - 02:54
CD07 - Cosi Fan Tutte [CD1.3] - 03 - E la fede delle femmine - 02:26
CD07 - Cosi Fan Tutte [CD1.3] - 04 - Una bella serenata - 02:15
CD07 - Cosi Fan Tutte [CD1.3] - 05 - Ah, guarda, sorella - 05:45
CD07 - Cosi Fan Tutte [CD1.3] - 06 - Vorrei dir, e cor no ho - 01:31
CD07 - Cosi Fan Tutte [CD1.3] - 07 - Sento, oh Dio, che questo piede - 05:26
CD07 - Cosi Fan Tutte [CD1.3] - 08 - Al fato dan legge - 01:47
CD07 - Cosi Fan Tutte [CD1.3] - 09 - Bella vita militar! - 02:05
CD07 - Cosi Fan Tutte [CD1.3] - 10 - Di scrivermi ogni giorno - 03:37
CD07 - Cosi Fan Tutte [CD1.3] - 11 - Soave sia il vento - 05:02
CD07 - Cosi Fan Tutte [CD1.3] - 12 - Ah, scostati! - 05:32
CD07 - Cosi Fan Tutte [CD1.3] - 13 - In uomini, in soldati - 05:09
CD07 - Cosi Fan Tutte [CD1.3] - 14 - Alla bella Despinetta - 06:44
CD07 - Cosi Fan Tutte [CD1.3] - 15 - Stelle! Che ardir! - 06:22
CD07 - Cosi Fan Tutte [CD1.3] - 16 - Non siate ritrosi - 01:40
CD07 - Cosi Fan Tutte [CD1.3] - 17 - E voi ridete? - 01:49
CD07 - Cosi Fan Tutte [CD1.3] - 18 - Un'aura amorosa - 04:46
CD08 - Cosi Fan Tutte [CD2.3] - 01 - Ho, la saria da ridere! - 02:14
CD08 - Cosi Fan Tutte [CD2.3] - 02 - Ah, che tutta in un momento - 02:58
CD08 - Cosi Fan Tutte [CD2.3] - 03 - Si mora, si, si mora - 05:20
CD08 - Cosi Fan Tutte [CD2.3] - 04 - Eccovi il medico - 03:11
CD08 - Cosi Fan Tutte [CD2.3] - 05 - Dove son? - 03:46
CD08 - Cosi Fan Tutte [CD2.3] - 06 - Dammi un bacio - 03:25
CD08 - Cosi Fan Tutte [CD2.3] - 07 - Andate la - 02:47
CD08 - Cosi Fan Tutte [CD2.3] - 08 - Una donna a quindici anni - 05:09
CD08 - Cosi Fan Tutte [CD2.3] - 09 - Prendero quel brunettino - 03:21
CD08 - Cosi Fan Tutte [CD2.3] - 10 - Secondate, aurette amiche - 04:06
CD08 - Cosi Fan Tutte [CD2.3] - 11 - La mano a me date - 05:10
CD08 - Cosi Fan Tutte [CD2.3] - 12 - Il core vi dono - 04:31
CD08 - Cosi Fan Tutte [CD2.3] - 13 - Barbara! Perche fuggi? - 01:53
CD08 - Cosi Fan Tutte [CD2.3] - 14 - Ah, lo veggio - 04:08
CD08 - Cosi Fan Tutte [CD2.3] - 15 - Ei parte…senti…ah no! - 01:34
CD08 - Cosi Fan Tutte [CD2.3] - 16 - Per pieta, ben mio, perdona - 07:39
CD09 - Cosi Fan Tutte (CD 3/3) - 01 - Amico, abbiamo vinto! - 04:02
CD09 - Cosi Fan Tutte (CD 3/3) - 02 - Donne mie, la fate a tanti - 03:06
CD09 - Cosi Fan Tutte (CD 3/3) - 03 - In qual fiero contrasto - 04:39
CD09 - Cosi Fan Tutte (CD 3/3) - 04 - Ora vedo che siete - 02:53
CD09 - Cosi Fan Tutte (CD 3/3) - 05 - E amore un ladroncello - 03:29
CD09 - Cosi Fan Tutte (CD 3/3) - 06 - Comme tutto congiura - 02:33
CD09 - Cosi Fan Tutte (CD 3/3) - 07 - Fra gli amplessi in pochi stanti - 06:14
CD09 - Cosi Fan Tutte (CD 3/3) - 08 - Oh poveretto me - 02:02
CD09 - Cosi Fan Tutte (CD 3/3) - 09 - Tutti accusan le donne - 01:39
CD09 - Cosi Fan Tutte (CD 3/3) - 10 - Fate presto, o cari amici - 01:53
CD09 - Cosi Fan Tutte (CD 3/3) - 11 - Benedetti i doppi coniugi - 04:43
CD09 - Cosi Fan Tutte (CD 3/3) - 12 - E nel tuo, nel mio bicchiero - 01:55
CD09 - Cosi Fan Tutte (CD 3/3) - 13 - Miel signori, tutto и fatto - 03:28
CD09 - Cosi Fan Tutte (CD 3/3) - 14 - Sani e salvi - 03:31
CD09 - Cosi Fan Tutte (CD 3/3) - 15 - Ah, signor, son rea di morte - 06:08
CD10 - La Clemenza Di Tito (disc 1) - 01 - Overture - 04:55
CD10 - La Clemenza Di Tito (disc 1) - 02 - Act One: Recitativo - Ma Che ? Sempre L'istesso - 02:04
CD10 - La Clemenza Di Tito (disc 1) - 03 - Act One: No.1 Duetto - Come Ti Piace Imponi - 03:03
CD10 - La Clemenza Di Tito (disc 1) - 04 - Act One: Recitativo - Amico, Il Passo Affretta - 01:29
CD10 - La Clemenza Di Tito (disc 1) - 05 - Act One: No.2 Aria - Deh Se Piacer Mi Vuoi - 05:32
CD10 - La Clemenza Di Tito (disc 1) - 06 - Act One: Recitativo - Amico, Ecco Il Momento - 01:21
CD10 - La Clemenza Di Tito (disc 1) - 07 - Act One: No.4 Marcia - 02:03
CD10 - La Clemenza Di Tito (disc 1) - 08 - Act One: No.5 Coso - Serbate, Oh Dei Custodi - 06:31
CD10 - La Clemenza Di Tito (disc 1) - 09 - Act One: Recitativo - Adesso, Oh Sesto, Parla Per Me - 02:21
CD10 - La Clemenza Di Tito (disc 1) - 10 - Act One: No.6 Aria - Del Piщ Sublime Soglio - 02:38
CD10 - La Clemenza Di Tito (disc 1) - 11 - Act One: Recitativo - Non Ci Pentiam - 01:26
CD10 - La Clemenza Di Tito (disc 1) - 12 - Act One: No.7 Duetto - Ah Perdona Al Primo Affetto - 03:08
CD10 - La Clemenza Di Tito (disc 1) - 13 - Act One: Recitativo - Servilia ! Augusta ! - 01:22
CD10 - La Clemenza Di Tito (disc 1) - 14 - Act One: No.8 Aria - Ah, Se Fosse Intorno Al Trono - 02:15
CD10 - La Clemenza Di Tito (disc 1) - 15 - Act One: Recitativo - Felice Me ! - 02:32
CD10 - La Clemenza Di Tito (disc 1) - 16 - Act One: No.9 Aria - Parto, Ma Tu Ben Mio - 06:21
CD10 - La Clemenza Di Tito (disc 1) - 17 - Act One: Recitativo - Vedrai, Tito, Vedrai - 00:45
CD10 - La Clemenza Di Tito (disc 1) - 18 - Act One: No.10 Terzetto - Vengo… Aspettate… Sesto !… - 02:27
CD10 - La Clemenza Di Tito (disc 1) - 19 - Act One: No.11 Recitativo Accompagnato - Oh Dei, Che Smania И Questa - 03:58
CD10 - La Clemenza Di Tito (disc 1) - 20 - Act One: No.12 Quintetto Con Coro - Deh Conservate, Oh Dei - 06:31
CD11 - La Clemenza Di Tito Disc 2 - 01 - Act Two: Recitativo - Sesto, Come Tu Credi - 01:18
CD11 - La Clemenza Di Tito Disc 2 - 02 - Act Two: No.13 Aria - Torna Di Tito A Lato - 02:30
CD11 - La Clemenza Di Tito Disc 2 - 03 - Act Two: Recitativo - Partir Deggio, O Restar ? - 01:20
CD11 - La Clemenza Di Tito Disc 2 - 04 - Act Two: No.14 Terzetto - Se Al Volto Mai Ti Senti - 04:40
CD11 - La Clemenza Di Tito Disc 2 - 05 - Act Two: No.15 Coro - Ah Grazie Si Rendano - 03:49
CD11 - La Clemenza Di Tito Disc 2 - 06 - Act Two: Recitativo - Giа De' Pubblici Giuochi - 01:01
CD11 - La Clemenza Di Tito Disc 2 - 07 - Act Two: No.16 Aria - Tardi S'avvede - 01:40
CD11 - La Clemenza Di Tito Disc 2 - 08 - Act Two: Recitativo - No, Cosi Scellerato - 01:13
CD11 - La Clemenza Di Tito Disc 2 - 09 - Act Two: No.17 Aria - Tu Fosti Tradito - 03:10
CD11 - La Clemenza Di Tito Disc 2 - 10 - Act Two: Recitativo Accompagnato - Che Orror ! Che Tradimento ! - 02:51
CD11 - La Clemenza Di Tito Disc 2 - 11 - Act Two: No.18 Terzetto - Quello Di Tito И Il Volto ! - 03:58
CD11 - La Clemenza Di Tito Disc 2 - 12 - Act Two: Recitativo - Odimi, Oh Sesto; Siam Soli - 01:29
CD11 - La Clemenza Di Tito Disc 2 - 13 - Act Two: No.19 Aria (Rondo) - Deh Per Questo Istante Solo - 07:05
CD11 - La Clemenza Di Tito Disc 2 - 14 - Act Two: Recitativo - Dove S'intese Mai Piщ Constumace Infedeltа ? - 01:03
CD11 - La Clemenza Di Tito Disc 2 - 15 - Act Two: No.20 Aria - Se All'impero - 05:09
CD11 - La Clemenza Di Tito Disc 2 - 16 - Act Two: Recitativo - Non Giova Lusingarsi - 01:21
CD11 - La Clemenza Di Tito Disc 2 - 17 - Act Two: No.21 Aria - S'altro Che Lagrime - 02:05
CD11 - La Clemenza Di Tito Disc 2 - 18 - Act Two: No.22 Recitativo Accompagnato - Ecco Il Punto, Oh Vitellia - 02:17
CD11 - La Clemenza Di Tito Disc 2 - 19 - Act Two: No.23 Rondo - Non Piщ Di Fiori - 07:35
CD11 - La Clemenza Di Tito Disc 2 - 20 - Act Two: No.24 Coro - Che Del Ciel, Che Degli Dei - 01:56
CD11 - La Clemenza Di Tito Disc 2 - 21 - Act Two: Recitativo - Sesto, De' Tuoi Delitti - 01:40
CD11 - La Clemenza Di Tito Disc 2 - 22 - Act Two: No.25 Recitativo Accompagnato - Ma Che Giorno И Mai Questo ? - 01:40
CD11 - La Clemenza Di Tito Disc 2 - 23 - Act Two: No.26 Sestetto Con Coro - Tu, И Ver, M'assolvi, Augusto - 04:13

Box 16 - German Operas

CD01 - Bastien und Bastienne - 01 - Intrada - 01:55
CD01 - Bastien und Bastienne - 02 - Mein liebster freund hat mich verlassen - 02:26
CD01 - Bastien und Bastienne - 03 - Ich geh jetzt auf die weide - 01:34
CD01 - Bastien und Bastienne - 04 - Befraget mich ein zartes Kind - 01:57
CD01 - Bastien und Bastienne - 05 - Guten Morgen, Herr Colas - 02:16
CD01 - Bastien und Bastienne - 06 - Wenn mein Bastien ieinst im scherze - 02:54
CD01 - Bastien und Bastienne - 07 - Wьrd ich auch, wie manche buhlerinnen - 02:45
CD01 - Bastien und Bastienne - 08 - Auf den Rat, den ich gegeben - 02:18
CD01 - Bastien und Bastienne - 09 - Grossen Dank dir abzustatten - 02:01
CD01 - Bastien und Bastienne - 10 - Geh, du sagst mir ein Fabel - 01:58
CD01 - Bastien und Bastienne - 11 - Diggi, daggi - 01:54
CD01 - Bastien und Bastienne - 12 - Meiner liebsten Schцne Wangen - 03:24
CD01 - Bastien und Bastienne - 13 - Er war mir sonst treu und ergeben - 02:50
CD01 - Bastien und Bastienne - 14 - Geh hin! Ich will mich in die Stadt begeben - 06:13
CD01 - Bastien und Bastienne - 15 - Dein trotz vermehrt sich durch mein Leiden - 01:09
CD01 - Bastien und Bastienne - 16 - Geh!, Herz von Flandern! - 06:05
CD01 - Bastien und Bastienne - 17 - Kinder! Kinder! - 03:35
CD01 - Bastien und Bastienne - 18 - Die Zufriedenheit (KV 349/367a) - 03:21
CD01 - Bastien und Bastienne - 19 - Komm, liebe Zither (KV 351/367b) - 02:00
CD02 - Die Gдrtnerin Aus Liebe - 01 - Overtьre - 05:19
CD02 - Die Gдrtnerin Aus Liebe - 02 - Welches Vergnьgen - 06:18
CD02 - Die Gдrtnerin Aus Liebe - 03 - (dia) Es lebe der gute Geschmack - 00:34
CD02 - Die Gдrtnerin Aus Liebe - 04 - Scheu ist das freie Vцglein - 04:53
CD02 - Die Gдrtnerin Aus Liebe - 05 - (dia) Serpetta, Nardo, Geschwind! - 00:29
CD02 - Die Gдrtnerin Aus Liebe - 06 - Zu meinem Ohr erschallet - 06:18
CD02 - Die Gдrtnerin Aus Liebe - 07 - (dia) Grausames Schicksal - 00:53
CD02 - Die Gдrtnerin Aus Liebe - 08 - Wir Mдdchen sind sehr ьbel dran - 03:59
CD02 - Die Gдrtnerin Aus Liebe - 09 - (monolog) Ach, zum Henker! - 00:33
CD02 - Die Gдrtnerin Aus Liebe - 10 - Der Hammer zwingt das Eisen - 03:44
CD02 - Die Gдrtnerin Aus Liebe - 11 - (dia) Arminda, liebe Nicht - 00:13
CD02 - Die Gдrtnerin Aus Liebe - 12 - Welch ein Reiz in diesem Bilde - 03:48
CD02 - Die Gдrtnerin Aus Liebe - 13 - (dia) Arminda, der Graf Belfiore - 00:30
CD02 - Die Gдrtnerin Aus Liebe - 14 - Wenn die Mдnner sich verlieben - 05:23
CD02 - Die Gдrtnerin Aus Liebe - 15 - (dia) Ihr Feuer reist mich hin! - 00:55
CD02 - Die Gдrtnerin Aus Liebe - 16 - Hier vom Osten bis zum Westen - 04:59
CD02 - Die Gдrtnerin Aus Liebe - 17 - (dia) Ha, ha, ha, ha - 00:18
CD02 - Die Gдrtnerin Aus Liebe - 18 - Der Vergnьgen in dem Eh'stand / (dia) Votrefflich, Herr Spasmacher! - 02:59
CD02 - Die Gдrtnerin Aus Liebe - 19 - Sobald sie mich sehen - 04:22
CD03 - Die Gдrtnerin Aus Liebe, K. 196 - 01 - Ferne von ihrem Neste - 04:07
CD03 - Die Gдrtnerin Aus Liebe, K. 196 - 02 - (dia) Das wird wohl die Schцn sein! - 00:45
CD03 - Die Gдrtnerin Aus Liebe, K. 196 - 03 - Himmel, bin ich von Sinnen? - 15:52
CD03 - Die Gдrtnerin Aus Liebe, K. 196 - 04 - ACT II: Um deine Straf zu fьhlen - 05:04
CD03 - Die Gдrtnerin Aus Liebe, K. 196 - 05 - (dia) Meine Prinzessin, verzeih - 00:17
CD03 - Die Gдrtnerin Aus Liebe, K. 196 - 06 - Nach der welschen Art und Weise - 03:36
CD03 - Die Gдrtnerin Aus Liebe, K. 196 - 07 - (dia) Welch ein Zufall! - 01:15
CD03 - Die Gдrtnerin Aus Liebe, K. 196 - 08 - Las mich ins Auge dir schauen - 06:26
CD03 - Die Gдrtnerin Aus Liebe, K. 196 - 09 - (dia) Was hцre ich? - 00:45
CD03 - Die Gдrtnerin Aus Liebe, K. 196 - 10 - Es ertцnt und spricht ganz leise - 06:26
CD03 - Die Gдrtnerin Aus Liebe, K. 196 - 11 - (dia) Oh, ich Dummkopf - 00:35
CD03 - Die Gдrtnerin Aus Liebe, K. 196 - 12 - Wie? Was? Ein Frдulein? - 04:24
CD03 - Die Gдrtnerin Aus Liebe, K. 196 - 13 - Ach, schmeichelhafte Hoffnung - 06:19
CD03 - Die Gдrtnerin Aus Liebe, K. 196 - 14 - (dia) Liebe Nichte - 02:00
CD03 - Die Gдrtnerin Aus Liebe, K. 196 - 15 - Verweil doch und hцr' mich / Schon erstarren meine Glieder - 07:53
CD04 - Die Gдrtnerin Aus Liebe, K. 196 - 01 - (dia) O Himmel, welch ein Unglьck - 00:44
CD04 - Die Gдrtnerin Aus Liebe, K. 196 - 02 - Wer will die Welt geneisen - 04:50
CD04 - Die Gдrtnerin Aus Liebe, K. 196 - 03 - Ach haltet, Barbaren - 04:08
CD04 - Die Gдrtnerin Aus Liebe, K. 196 - 04 - Ach, vor Trдnen, Schluchzen, Seufzen - 03:59
CD04 - Die Gдrtnerin Aus Liebe, K. 196 - 05 - Hier in diesen Finsternissen - 04:34
CD04 - Die Gдrtnerin Aus Liebe, K. 196 - 06 - Nun ihr Freunde! - 02:51
CD04 - Die Gдrtnerin Aus Liebe, K. 196 - 07 - Falscher Verrдter - 02:15
CD04 - Die Gдrtnerin Aus Liebe, K. 196 - 08 - Hцrst du nicht, mein Tirsis - 07:46
CD04 - Die Gдrtnerin Aus Liebe, K. 196 - 09 - (monolog) O je! Meine liebe Herrin - 03:43
CD04 - Die Gдrtnerin Aus Liebe, K. 196 - 10 - (dia) Ich habe die Sache - 00:24
CD04 - Die Gдrtnerin Aus Liebe, K. 196 - 11 - Nun mein Herr? - 04:27
CD04 - Die Gдrtnerin Aus Liebe, K. 196 - 12 - (dia) Ramiro, was kцnnen Sie - 00:13
CD04 - Die Gдrtnerin Aus Liebe, K. 196 - 13 - Wenn auch von dir verslassen - 04:16
CD04 - Die Gдrtnerin Aus Liebe, K. 196 - 14 - Wo bin ich wohl? - 04:48
CD04 - Die Gдrtnerin Aus Liebe, K. 196 - 15 - Du mich fliehen! - 03:48
CD04 - Die Gдrtnerin Aus Liebe, K. 196 - 16 - Wie? du rufst mich? - 03:53
CD04 - Die Gдrtnerin Aus Liebe, K. 196 - 17 - (dia) O Glьck ьber Glьck! - 00:45
CD04 - Die Gдrtnerin Aus Liebe, K. 196 - 18 - Liebe, Treue hat gesieget! - 01:49
CD05 - Zaide - Der Schauspieldirektor - 01 - Zaide - Sinfonia in G, KV 318 (Overture) - 08:19
CD05 - Zaide - Der Schauspieldirektor - 02 - 1. Lied-Bruder, lasst uns lustig sein - 01:01
CD05 - Zaide - Der Schauspieldirektor - 03 - 2. Melologo - Unerforschliche Fugung - 06:31
CD05 - Zaide - Der Schauspieldirektor - 04 - Monolog - Noch nie war wir vergonnt - 00:42
CD05 - Zaide - Der Schauspieldirektor - 05 - 3. Arie - Ruhe sanft, mein holdes Leben - 05:52
CD05 - Zaide - Der Schauspieldirektor - 06 - Monolog - Ah! So gut habe ich noch nie geschlafen - 00:31
CD05 - Zaide - Der Schauspieldirektor - 07 - 4. Arie - Rase, Schicksal, wute immer - 03:56
CD05 - Zaide - Der Schauspieldirektor - 08 - Dialong - Meine Seele hupft voor Freuden - 01:47
CD05 - Zaide - Der Schauspieldirektor - 09 - 5. Duett - Meine Seele hupft vor Freuden - 02:25
CD05 - Zaide - Der Schauspieldirektor - 10 - Dialog - Ungluckseliger! - 01:10
CD05 - Zaide - Der Schauspieldirektor - 11 - 6. Arie - Herr und Freund! - 03:47
CD05 - Zaide - Der Schauspieldirektor - 12 - Monolog - Weit Weiche ich von meiner Pflicht - 00:33
CD05 - Zaide - Der Schauspieldirektor - 13 - 7. Arie - Nur mutig, mein Herze - 04:16
CD05 - Zaide - Der Schauspieldirektor - 14 - Dialog - Eilt, Gomatz, ihr wisst den Weg! - 00:17
CD05 - Zaide - Der Schauspieldirektor - 15 - 8. Terzetto - O selige Wonne! - 06:17
CD05 - Zaide - Der Schauspieldirektor - 16 - Act 2 - 9. Melologo - Saide entflohen! - 03:02
CD05 - Zaide - Der Schauspieldirektor - 17 - Arie - Der stolze Low' - 05:19
CD05 - Zaide - Der Schauspieldirektor - 18 - Monolog - Nun, so waren wir den Allazim los! - 00:18
CD05 - Zaide - Der Schauspieldirektor - 19 - 10. Arie - We hungrig bei der tafel sitzt - 03:21
CD06 - Zaide / Der Schauspieldirektor - Disk 2 of 2 - 01 - Dialog - Da steht ihr also vor mir - 00:32
CD06 - Zaide / Der Schauspieldirektor - Disk 2 of 2 - 02 - 11. Arie - Ich bin so bos' als gut - 05:55
CD06 - Zaide / Der Schauspieldirektor - Disk 2 of 2 - 03 - Monolog - Weshalb muss ich im dunklen Kerker schmachten? - 00:13
CD06 - Zaide / Der Schauspieldirektor - Disk 2 of 2 - 04 - 12. Arie - Trostlos schluchzet Philomele - 06:54
CD06 - Zaide / Der Schauspieldirektor - Disk 2 of 2 - 05 - Dialog - Hort, Zaide, ich werde euch die Freiheit schenken - 00:42
CD06 - Zaide / Der Schauspieldirektor - Disk 2 of 2 - 06 - 13. Arie - Tiger! wetze nur die Klauen - 04:41
CD06 - Zaide / Der Schauspieldirektor - Disk 2 of 2 - 07 - Dialog - Nun zu dir, Allazim - 00:25
CD06 - Zaide / Der Schauspieldirektor - Disk 2 of 2 - 08 - 14. Arie - Ihr Machtigen seht ungeruhrt - 04:27
CD06 - Zaide / Der Schauspieldirektor - Disk 2 of 2 - 09 - Dialog - Es ist umsonst - 01:20
CD06 - Zaide / Der Schauspieldirektor - Disk 2 of 2 - 10 - 15. Quartett - Freundin! stille deine Tranen - 06:29
CD06 - Zaide / Der Schauspieldirektor - Disk 2 of 2 - 11 - Dialog - O grosser Soliman - 01:10
CD06 - Zaide / Der Schauspieldirektor - Disk 2 of 2 - 12 - March in D, KV 335, No. 1 - 03:04
CD06 - Zaide / Der Schauspieldirektor - Disk 2 of 2 - 13 - Overture to Der Schauspieldirektor - 04:00
CD06 - Zaide / Der Schauspieldirektor - Disk 2 of 2 - 14 - 1. Ariette - Da schlagt die Abschiedsstunde - 04:16
CD06 - Zaide / Der Schauspieldirektor - Disk 2 of 2 - 15 - 2. Rondo - Bester Jungling - 03:14
CD06 - Zaide / Der Schauspieldirektor - Disk 2 of 2 - 16 - 3. Terzett - Ich bin die erste Sangerin - 06:02
CD06 - Zaide / Der Schauspieldirektor - Disk 2 of 2 - 17 - 4. Schlussgesang - Jeder Kunstler Strebt nach Ehre - 04:58
CD07 - Die Entfuhrung Aus Dem Serail disc1 - 01 - Overture - 04:13
CD07 - Die Entfuhrung Aus Dem Serail disc1 - 02 - Act 1: No. 1 Arie: Heir soll ich dich denn sehen - 02:27
CD07 - Die Entfuhrung Aus Dem Serail disc1 - 03 - Act 1: Dialog: Aber wie soll ich in den Palast kommen? - 00:06
CD07 - Die Entfuhrung Aus Dem Serail disc1 - 04 - Act 1: No. 2 Lied und Duett: Wer ein Liebchen hat gefunded - 06:45
CD07 - Die Entfuhrung Aus Dem Serail disc1 - 05 - Act 1: Dialog: Alla sei Dank! - 00:22
CD07 - Die Entfuhrung Aus Dem Serail disc1 - 06 - Act 1: No. 3 Arie: Solche hergelaufne Laffen - 05:12
CD07 - Die Entfuhrung Aus Dem Serail disc1 - 07 - Act 1: Dialog: Geh nur, verwunschter Aufpasser - 01:25
CD07 - Die Entfuhrung Aus Dem Serail disc1 - 08 - Act 1: No. 4 Rezitativ und Arie: Kinstanze, dich wiederzusehen - 04:56
CD07 - Die Entfuhrung Aus Dem Serail disc1 - 09 - Act 1: No. 5 Chor der Janitscharen: Singt dem groBen Bassa Lieder - 01:41
CD07 - Die Entfuhrung Aus Dem Serail disc1 - 10 - Act 1: Dialog: Immer noch taurig, geliebte Konstanze - 00:59
CD07 - Die Entfuhrung Aus Dem Serail disc1 - 11 - Act 1: No. 6 Arie: Ach ich liebte, war so glucklich - 05:10
CD07 - Die Entfuhrung Aus Dem Serail disc1 - 12 - Act 1: Dialog: Undankbare! / Ihr Schmerz, ihre Tranen - 02:05
CD07 - Die Entfuhrung Aus Dem Serail disc1 - 13 - Act 1: No. 7 Terzett: Marsch! Trollt euch fort! - 02:20
CD07 - Die Entfuhrung Aus Dem Serail disc1 - 14 - Act 2: No. 8 Arie: Durch Zartlichkeit und Schmeicheln - 03:34
CD07 - Die Entfuhrung Aus Dem Serail disc1 - 15 - Act 2: Dialog: Ei seht doch mal - 01:38
CD07 - Die Entfuhrung Aus Dem Serail disc1 - 16 - Act 2: No. 9 Duett: Ich gehe, doch rate ich dir - 03:36
CD07 - Die Entfuhrung Aus Dem Serail disc1 - 17 - Act 2: No. 10 Rezitativ und Arie: Welcher Kummer herrscht - 02:07
CD07 - Die Entfuhrung Aus Dem Serail disc1 - 18 - Act 2: No. 10 Rezitativ und Arie: Traurigkeit ward mir zum Lose - 05:32
CD07 - Die Entfuhrung Aus Dem Serail disc1 - 19 - Act 2: Dialog: Nun, Konstanze, has du dich entschieden? - 00:44
CD07 - Die Entfuhrung Aus Dem Serail disc1 - 20 - Act 2: No. 11 Arie: Introduction - 08:53
CD07 - Die Entfuhrung Aus Dem Serail disc1 - 21 - Act 2: Dialog: Kein Bassa, keine Konstanze mehr da? - 01:21
CD07 - Die Entfuhrung Aus Dem Serail disc1 - 22 - Act 2: No. 12 Arie: Welche Wonne, welche Lust - 02:39
CD08 - Die Entfьhrung Aus Dem Serail (2) - 01 - 2. Akt; Dialog - Ah, DaЯ Es Schon Vorbei Wдre - 00:15
CD08 - Die Entfьhrung Aus Dem Serail (2) - 02 - 2. Akt; Nr. 13 Arie - Frisch Zum Kampfe - 03:22
CD08 - Die Entfьhrung Aus Dem Serail (2) - 03 - 2. Akt; Dialog - Ha! Geht's Hier So Lustig Zu - 01:27
CD08 - Die Entfьhrung Aus Dem Serail (2) - 04 - 2. Akt; Nr. 14 Duett - Vivat Bacchus! Bacchus Lebe! - 02:27
CD08 - Die Entfьhrung Aus Dem Serail (2) - 05 - 2. Akt; Dialog - Hцr, Alter, Trink Nicht Zu Viel - 01:30
CD08 - Die Entfьhrung Aus Dem Serail (2) - 06 - 2. Akt; Nr. 15 Arie - Wenn Der Freude Trдnen FlieЯen - 04:13
CD08 - Die Entfьhrung Aus Dem Serail (2) - 07 - 2. Akt; Nr. 16 Quartett - Ach Belmonte! Ach, Mein Leben! - 06:38
CD08 - Die Entfьhrung Aus Dem Serail (2) - 08 - 2. Akt; Nr. 16 Quartett - Wenn Unsrer Ehre Wegen - 04:37
CD08 - Die Entfьhrung Aus Dem Serail (2) - 09 - 3. Akt; No. 17 Arie - Ich Baue Ganz Auf Deine Stдrke - 07:53
CD08 - Die Entfьhrung Aus Dem Serail (2) - 10 - 3. Akt; Dialog - Alles Liegt Auf Dem Ohr - 00:18
CD08 - Die Entfьhrung Aus Dem Serail (2) - 11 - 3. Akt; Nr. 18 Romanze - In Mohrenland Gefangen War - 02:39
CD08 - Die Entfьhrung Aus Dem Serail (2) - 12 - 3. Akt; Dialog - Endlich, Sie Macht Auf, Herr - 02:14
CD08 - Die Entfьhrung Aus Dem Serail (2) - 13 - 3. Akt; Nr. 19 Arie - Ha, Wie Will Ich Triumphieren - 03:27
CD08 - Die Entfьhrung Aus Dem Serail (2) - 14 - 3. Akt; Dialog - Was Ist Das Fьr Ein Lдrm - 02:39
CD08 - Die Entfьhrung Aus Dem Serail (2) - 15 - 3. Akt; Nr. 20 Rezitativ & Duett - Welch Ein Geschick! - 02:02
CD08 - Die Entfьhrung Aus Dem Serail (2) - 16 - 3. Akt; Nr. 20 Rezitativ & Duett - Meinetwegen Willst Du Sterben! - 06:42
CD08 - Die Entfьhrung Aus Dem Serail (2) - 17 - 3. Akt; Dialog - Nun, Belmonte Lostados! - 02:18
CD08 - Die Entfьhrung Aus Dem Serail (2) - 18 - 3. Akt; No. 21a Vaudeville - Nie Werd' Ich Deine Huld Verkennen; Nr. 21b Chor… - 05:37
CD09 - Die Zauberflцte (1/3) - 01 - Ouvertьre - 07:10
CD09 - Die Zauberflцte (1/3) - 02 - Zu Hilfe! Zu Hilfe! - 06:58
CD09 - Die Zauberflцte (1/3) - 03 - Der Vogelfдnger bin ich ja - 02:58
CD09 - Die Zauberflцte (1/3) - 04 - He da! - 04:11
CD09 - Die Zauberflцte (1/3) - 05 - Dies Bildnis ist bezaubernd schцn - 03:54
CD09 - Die Zauberflцte (1/3) - 06 - Rьste dich mit Mut und Standhaftigkeit - 01:28
CD09 - Die Zauberflцte (1/3) - 07 - O zittre nicht, mein lieber Sohn - 05:27
CD09 - Die Zauberflцte (1/3) - 08 - Hm! hm! hm! hm! - 06:36
CD09 - Die Zauberflцte (1/3) - 09 - Haha… Pst… Was soll denn das Lachen? - 01:24
CD09 - Die Zauberflцte (1/3) - 10 - Du feines Tдubchen, nur herein - 01:58
CD09 - Die Zauberflцte (1/3) - 11 - Mutter! Mutter!… Bin ich nicht ein Narr - 03:34
CD09 - Die Zauberflцte (1/3) - 12 - Bei Mдnnern, welche Liebe fьhlen - 03:02
CD10 - Die Zauberflцte (CD 2/3) - 01 - Zum Ziele fьhrt dich diese Bahn - 01:50
CD10 - Die Zauberflцte (CD 2/3) - 02 - Die Weisheitslehre dieser Knaben - 01:50
CD10 - Die Zauberflцte (CD 2/3) - 03 - Wo willst du kьhner Fremdling hin? - 06:11
CD10 - Die Zauberflцte (CD 2/3) - 04 - Wie stark ist nicht dein Zauberton - 03:12
CD10 - Die Zauberflцte (CD 2/3) - 05 - Schnelle Fьsse, rascher Mut - 03:16
CD10 - Die Zauberflцte (CD 2/3) - 06 - Es lebe Sarastro! Sarastro lebe! - 01:57
CD10 - Die Zauberflцte (CD 2/3) - 07 - Herr, ich bin zwar Verbrecherin - 05:34
CD10 - Die Zauberflцte (CD 2/3) - 08 - Wenn Tugend und Gerechtigkeit - 01:09
CD10 - Die Zauberflцte (CD 2/3) - 09 - Marsch der Priester - 03:00
CD10 - Die Zauberflцte (CD 2/3) - 10 - Ihr, eingeweihte Diener - 03:26
CD10 - Die Zauberflцte (CD 2/3) - 11 - O Isis und Osiris - 02:55
CD10 - Die Zauberflцte (CD 2/3) - 12 - Papageno! Wo denkst du, dass wir uns befinden? - 02:53
CD10 - Die Zauberflцte (CD 2/3) - 13 - Sprecher, Zweiter Sprecher - 01:28
CD10 - Die Zauberflцte (CD 2/3) - 14 - Wie? Wie? Wie? - 03:11
CD10 - Die Zauberflцte (CD 2/3) - 15 - Heil dir, Jьngling - 01:08
CD10 - Die Zauberflцte (CD 2/3) - 16 - Alles fьhlt der Liebe Freuden - 01:18
CD10 - Die Zauberflцte (CD 2/3) - 17 - Zurьck! - 02:22
CD10 - Die Zauberflцte (CD 2/3) - 18 - Der Hцlle Rache kocht in meinem Herzen - 02:51
CD10 - Die Zauberflцte (CD 2/3) - 19 - Morden soll ich? - 01:17
CD10 - Die Zauberflцte (CD 2/3) - 20 - In diesen heil'gen Hallen - 04:09
CD10 - Die Zauberflцte (CD 2/3) - 21 - Hier seid ihr euch beide allein ьberlassen - 02:41
CD10 - Die Zauberflцte (CD 2/3) - 22 - Seid uns zum zweiten Mal willkommen - 01:42
CD11 - Die Zauberflцte CD 3/3) - 01 - Dialog - Tamino, wollen wir nicht speise - 01:42
CD11 - Die Zauberflцte CD 3/3) - 02 - 17 - Ach, ich f hl's - 04:12
CD11 - Die Zauberflцte CD 3/3) - 03 - Dialog - Nicht wahr, Tamino, ich kann au - 00:41
CD11 - Die Zauberflцte CD 3/3) - 04 - 18 - O Isis und Osiris, welche Wonne! - 03:14
CD11 - Die Zauberflцte CD 3/3) - 05 - Dialog - Prinz, dein Betragen war bis hi - 00:52
CD11 - Die Zauberflцte CD 3/3) - 06 - 19 - Soll ich dich, Teurer, nicht mehr - 03:36
CD11 - Die Zauberflцte CD 3/3) - 07 - Dialog - Tamino! Willst du mich denn g n - 01:40
CD11 - Die Zauberflцte CD 3/3) - 08 - 20 - Ein M dchen oder Weibchen - 04:19
CD11 - Die Zauberflцte CD 3/3) - 09 - Dialog - Da bin ich schon, mein Engel! - 01:35
CD11 - Die Zauberflцte CD 3/3) - 10 - 21 - Bald prangt, den Morgen zu verk und - 06:13
CD11 - Die Zauberflцte CD 3/3) - 11 - Der, welcher wandert diese Stra e voll - 09:38
CD11 - Die Zauberflцte CD 3/3) - 12 - Wir wandelten durch Feuersgluten - 03:32
CD11 - Die Zauberflцte CD 3/3) - 13 - Papagena! Papagena! Papagena! - 08:05
CD11 - Die Zauberflцte CD 3/3) - 14 - Nur stille, stille, stille - 05:19

Box 17 - Theatre and Ballet Music, Rarities, Surprises

CD01 - 01 - Contredanse in F KV33b - 01:16
CD01 - 02 - Contredanse in F KV15h - 00:47
CD01 - 03 - Contredanse in F KV15x - 00:55
CD01 - 04 - Divertimento in C KV15b-Anh 109b No 2 - Maestoso - 01:53
CD01 - 05 - Divertimento in C KV15a-Anh 109b No 1 - Allegro - 01:03
CD01 - 06 - Divertimento in C KV15f - Menuetto - 02:37
CD01 - 07 - Divertimento in G minor KV15p-Anh 109b No 3 - Allegro non troppo - 02:28
CD01 - 08 - Divertimento in Gm,KV 15q-Andante - 03:17
CD01 - 09 - Divertimento in Gm,KV15r[Anh 109b No.7]-Finale - 02:09
CD01 - 10 - Divertimento in D,KV15o-Marcia [Andantino] - 02:09
CD01 - 11 - Divertimento in D,KV15bb-Notturno [Andantino] - 01:31
CD01 - 12 - Divertimento in D,KV15l-Contredanse [Allegro] - 01:10
CD01 - 13 - Divertimento in D,KV15i & 15k-Menuetto-Trio - 02:21
CD01 - 14 - Divertimento in D,KV15d-Finale [Allegro moderato] - 01:17
CD01 - 15 - Contredanse in G,KV 15e - 00:37
CD01 - 16 - Contredanse in Cm,KV 15z - 02:26
CD01 - 17 - Divertimento in F,KV 15t[Anh 109b No.5]-Allegro - 03:33
CD01 - 18 - Divertimento in F,KV 15u-Siciliana [Andantino] - 02:06
CD01 - 19 - Divertimento in F,KV 15v-Finale [Allegro] - 03:32
CD01 - 20 - Divertimento in Bb,KV 15ii-Marcia [Andantino] - 03:22
CD01 - 21 - Divertimento in Bb,KV 15ll[Anh 109b No.9]-Presto - 00:48
CD01 - 22 - Divertimento in Bb,KV 15p & 15qq-Menuetto-Trio - 02:27
CD01 - 23 - Divertimento in Bb,KV 15mm-Adagio - 02:05
CD01 - 24 - Divertimento in Bb,KV 15gg-Cotillon [Allegro] - 01:54
CD01 - 25 - Divertimento in Eb,KV 15kk-Allegro Assai) - 01:51
CD01 - 26 - Divertimento in Eb,KV 15dd-Andante - 02:22
CD01 - 27 - Divertimento in Eb,KV 15cc & 15ff-Menuetto-Trio - 04:48

CD02 - 01 - Overtura - 04:04
CD02 - 02 - Notte E Giorno Faticar - 02:02
CD02 - 03 - Madamina, Il Catalogo E Questo - 03:38
CD02 - 04 - Giovinette Che Fate All'Amore - 01:10
CD02 - 05 - La Ci Darem La Mano - 02:54
CD02 - 06 - Dalla Sua Pace - 03:47
CD02 - 07 - Fin Ch'Han Dal Vino - 01:02
CD02 - 08 - Finale I - 07:00
CD02 - 09 - Deh! Vieni Alla Finestra - 01:54
CD02 - 10 - Vedrai, Carino - 02:29
CD02 - 11 - Mi Tradi Quell'Alma Ingrata - 02:01
CD02 - 12 - Non Mi Dir, Bell'Idol Mio - 04:09
CD02 - 13 - Finale Ii - 03:00
CD02 - 14 - Ouverture - 01:46
CD02 - 15 - Hier Soll Ich Dich Denn Sehen - 02:43
CD02 - 16 - Durch Zartlichkeit Und Schmeicheln - 02:57
CD02 - 17 - Ich Gehe, Doch Rate Ich Dir - 02:50
CD02 - 18 - Welche Wonne, Welche Lust - 02:40
CD02 - 19 - Vivat Bacchus! Bacchus Lebe! - 01:44
CD02 - 20 - Wenn Der Freude Tranen Fliessen - 03:57
CD02 - 21 - Ha, Wie Will Ich Triumphieren - 01:55
CD03 - 01 - Rondo in E flat for Horn and Orchestra, KV 371 - 05:33
CD03 - 02 - [Larghetto] in B flat, KV 452a/anh 54 - 02:27
CD03 - 03 - Contredanse in B flat, KV 535b/Anh. 107 - 01:28
CD03 - 04 - Contredanse in D, KV 565a - 01:37
CD03 - 05 - 'Tantum ergo' in D, KV 197/Anh. 186e - 03:18
CD03 - 06 - 'Tantum ergo' in B flat, KV 142/Anh. 196d - 04:52
CD03 - 07 - Modulating prelude in F major/E minor, KV deest - 01:48
CD03 - 08 - Non piu. Tutto ascoltai - Non temer, amato bene - 10:11
CD03 - 09 - March KV deest - 01:51
CD03 - 10 - Musikalisches Wьrfelspel, KV 516f - 06:31
CD04 - 01 - 336a (choruses & interludes) - 07:31
CD04 - 02 - "2. Interlude (Maestoso-Allegro; after Act 1)" - 05:10
CD04 - 03 - "3. Interlude (Andante; after Act 2)" - 06:02
CD04 - 04 - "4. Interlude (Allegro; after Act 3)" - 03:49
CD04 - 05 - 5. Interlude (Allegro vivace assai: after Act 4) - 03:49
CD04 - 06 - 6. Chorus 'Gottheit, ьber alle mдchtig' - 10:12
CD04 - 07 - 7a. Interlude (after Act 5) - 01:29
CD04 - 08 - 7b. Chorus 'Ihr Kinder des Staubes' - 06:34
CD04 - 09 - Chaconne: Allegro - Ballet music for 'Idomeneo' K.367 - 04:13
CD04 - 10 - Larghetto - 03:01
CD04 - 11 - Allegro - 02:58
CD04 - 12 - Largo-Allegretto-Piщ allegro - 04:59
CD04 - 13 - Passepied - 03:10
CD04 - 14 - Gavotte - 02:19
CD04 - 15 - Passacaille - 06:16
CD05 - 01 - Ouverture - K.345 = choruses & interludes for 'Thamos, Kцnig in Дgypten' - 03:08
CD05 - 02 - Larghetto - 01:14
CD05 - 03 - Gavotte (Allegretto) - 01:27
CD05 - 04 - Andantino-Allegro - 01:26
CD05 - 05 - (Vivo) - 01:04
CD05 - 06 - Gavotte gracieuse - 01:14
CD05 - 07 - Pantomime - 02:15
CD05 - 08 - Passepied - 00:51
CD05 - 09 - (-) - 01:19
CD05 - 10 - Gavotte - 03:35
CD05 - 11 - Agitй - 00:42
CD05 - 12 - Andante - 01:32
CD05 - 13 - (Allegro) - K.367 = Ballet music for 'Idomeneo' - 01:02
CD05 - 14 - Contredanse - 04:43
CD05 - 15 - Le forgeron travaille (Moderato)- Pour la femme (Allegro) - 02:03
CD05 - 16 - "Un petit travaille… (Allegretto); Il danse avec une autre danseuse (Allegre…" - 02:27
CD05 - 17 - "Pantomime avec le bвton (Allegro come una cadenza); Elle lui dit de se mettre…" - 02:14
CD05 - 18 - Gigue (Ils dansent ensemble) - 02:35
CD05 - 19 - "Elle le prend par le nez (Largo); Contredanse-Allegro agitato" - 03:31
CD05 - 20 - Tambourin - 01:20
CD05 - 21 - Ouverture (Allegro) - K.446 = Music for a pantomime ('Pantalon und Colombine') - 03:40
CD05 - 22 - Allegro-Maestoso-Allegro - 04:01
CD05 - 23 - Poco adagio-Andante molto - 02:02
CD05 - 24 - Adagio-Allegro-Allegro assai - 04:52
CD05 - 25 - Allegro maestoso-Larghetto - 03:15
CD05 - 26 - Allegro-Maestoso - 04:18
CD05 - 27 - Allegro-Marcia (Maestoso, quasi marcia funebre) - 04:37
CD05 - 28 - Finale (Presto) - 01:22
X Lossless Decoder version 20110821 (136.1)

XLD extraction logfile from 2011-09-23 00:24:50 +0300

Academy of St Martin-in-the-Fields, Sir Neville Marriner / Symphonies [Volume 1]

Used drive : TSSTcorp CDDVDW SE-S084C (revision TS01)

Ripper mode : XLD Secure Ripper
Disable audio cache : OK for the drive with a cache less than 1375KiB
Make use of C2 pointers : NO
Read offset correction : 6
Max retry count : 100
Gap status : Analyzed, Appended (except HTOA)

TOC of the extracted CD
Track | Start | Length | Start sector | End sector
––––––––––––––––––––––––––––-
1 | 00:00:33 | 06:10:00 | 33 | 27782
2 | 06:10:33 | 02:49:25 | 27783 | 40482
3 | 08:59:58 | 02:22:50 | 40483 | 51182
4 | 11:22:33 | 04:43:37 | 51183 | 72444
5 | 16:05:70 | 03:21:13 | 72445 | 87532
6 | 19:27:08 | 02:20:25 | 87533 | 98057
7 | 21:47:33 | 03:50:00 | 98058 | 115307
8 | 25:37:33 | 03:43:50 | 115308 | 132082
9 | 29:21:08 | 02:50:25 | 132083 | 144857
10 | 32:11:33 | 02:34:00 | 144858 | 156407
11 | 34:45:33 | 03:05:00 | 156408 | 170282
12 | 37:50:33 | 01:29:00 | 170283 | 176957
13 | 39:19:33 | 04:27:25 | 176958 | 197007
14 | 43:46:58 | 03:43:25 | 197008 | 213757
15 | 47:30:08 | 02:20:25 | 213758 | 224282
16 | 49:50:33 | 03:06:00 | 224283 | 238232
17 | 52:56:33 | 02:50:50 | 238233 | 251032
18 | 55:47:08 | 02:43:50 | 251033 | 263307
19 | 58:30:58 | 03:42:50 | 263308 | 280007
20 | 62:13:33 | 02:15:25 | 280008 | 290157

List of alternate offset correction values
# | Absolute | Relative | Confidence
–––––––––––––––––––––
1 | 1339 | 1333 | 20
2 | 1397 | 1391 | 9
3 | 670 | 664 | 3

AccurateRip Summary
Track 01 : OK (confidence 6)
Track 02 : OK (confidence 6)
Track 03 : OK (confidence 6)
Track 04 : OK (confidence 6)
Track 05 : OK (confidence 6)
Track 06 : OK (confidence 6)
Track 07 : OK (confidence 6)
Track 08 : OK (confidence 6)
Track 09 : OK (confidence 6)
Track 10 : OK (confidence 6)
Track 11 : OK (confidence 6)
Track 12 : OK (confidence 6)
Track 13 : OK (confidence 6)
Track 14 : OK (confidence 6)
Track 15 : OK (confidence 6)
Track 16 : OK (confidence 6)
Track 17 : OK (confidence 6)
Track 18 : OK (confidence 6)
Track 19 : OK (confidence 6)
Track 20 : OK (confidence 5)
->All tracks accurately ripped.

All Tracks
Album gain : -1.07 dB
Peak : 0.952911
Statistics
Read error : 0
Jitter error (maybe fixed) : 0
Retry sector count : 0
Damaged sector count : 0

Track 01
Filename : /Users/iMac/Documents/Complete Mozart Edition/Volume 1/Disc 1of12/01 - Symphony No. 1 E Flat Major, K16 - I. Allegro molto.flac
Pre-gap length : 00:02:33

Track gain : -2.32 dB
Peak : 0.952911
CRC32 hash (test run) : 64EB411B
CRC32 hash : 64EB411B
CRC32 hash (skip zero) : B73C8E35
AccurateRip signature : 896143DD
->Accurately ripped! (confidence 6)
Statistics
Read error : 0
Jitter error (maybe fixed) : 0
Retry sector count : 0
Damaged sector count : 0

Track 02
Filename : /Users/iMac/Documents/Complete Mozart Edition/Volume 1/Disc 1of12/02 - Symphony No. 1 E Flat Major, K16 - II. Andante.flac
Pre-gap length : 00:04:00

Track gain : 0.90 dB
Peak : 0.728027
CRC32 hash (test run) : 61899338
CRC32 hash : 61899338
CRC32 hash (skip zero) : 5A180B29
AccurateRip signature : A5537120
->Accurately ripped! (confidence 6)
Statistics
Read error : 0
Jitter error (maybe fixed) : 0
Retry sector count : 0
Damaged sector count : 0

Track 03
Filename : /Users/iMac/Documents/Complete Mozart Edition/Volume 1/Disc 1of12/03 - Symphony No. 1 E Flat Major, K16 - III. Presto.flac
Pre-gap length : 00:02:25

Track gain : 0.41 dB
Peak : 0.743958
CRC32 hash (test run) : A007A38F
CRC32 hash : A007A38F
CRC32 hash (skip zero) : 72ADE0F6
AccurateRip signature : 8D87FD9B
->Accurately ripped! (confidence 6)
Statistics
Read error : 0
Jitter error (maybe fixed) : 0
Retry sector count : 0
Damaged sector count : 0

Track 04
Filename : /Users/iMac/Documents/Complete Mozart Edition/Volume 1/Disc 1of12/04 - Symphony No. 4 in D Major, K19 - I. Allegro.flac
Pre-gap length : 00:09:50

Track gain : -2.67 dB
Peak : 0.825195
CRC32 hash (test run) : 9CF2DE51
CRC32 hash : 9CF2DE51
CRC32 hash (skip zero) : 55E90499
AccurateRip signature : 42489130
->Accurately ripped! (confidence 6)
Statistics
Read error : 0
Jitter error (maybe fixed) : 0
Retry sector count : 0
Damaged sector count : 0

Track 05
Filename : /Users/iMac/Documents/Complete Mozart Edition/Volume 1/Disc 1of12/05 - Symphony No. 4 in D Major, K19 - II. Andante.flac
Pre-gap length : 00:02:74

Track gain : 2.35 dB
Peak : 0.579498
CRC32 hash (test run) : 99D33F42
CRC32 hash : 99D33F42
CRC32 hash (skip zero) : 18799B70
AccurateRip signature : 3F4129F6
->Accurately ripped! (confidence 6)
Statistics
Read error : 0
Jitter error (maybe fixed) : 0
Retry sector count : 0
Damaged sector count : 0

Track 06
Filename : /Users/iMac/Documents/Complete Mozart Edition/Volume 1/Disc 1of12/06 - Symphony No. 4 in D Major, K19 - III. Presto.flac
Pre-gap length : 00:02:25

Track gain : -0.71 dB
Peak : 0.711975
CRC32 hash (test run) : 1D58D4F0
CRC32 hash : 1D58D4F0
CRC32 hash (skip zero) : 4CDB107C
AccurateRip signature : 4DE6DF36
->Accurately ripped! (confidence 6)
Statistics
Read error : 0
Jitter error (maybe fixed) : 0
Retry sector count : 0
Damaged sector count : 0

Track 07
Filename : /Users/iMac/Documents/Complete Mozart Edition/Volume 1/Disc 1of12/07 - Symphony in F Major, K App. 223-19a - I. Allegro assai.flac
Pre-gap length : 00:08:00

Track gain : -0.09 dB
Peak : 0.763184
CRC32 hash (test run) : 2DB4748B
CRC32 hash : 2DB4748B
CRC32 hash (skip zero) : D771F4FA
AccurateRip signature : 25A34388
->Accurately ripped! (confidence 6)
Statistics
Read error : 0
Jitter error (maybe fixed) : 0
Retry sector count : 0
Damaged sector count : 0

Track 08
Filename : /Users/iMac/Documents/Complete Mozart Edition/Volume 1/Disc 1of12/08 - Symphony in F Major, K App. 223-19a - II. Andante.flac
Pre-gap length : 00:02:50

Track gain : 7.05 dB
Peak : 0.320801
CRC32 hash (test run) : 999EBD3A
CRC32 hash : 999EBD3A
CRC32 hash (skip zero) : B158E035
AccurateRip signature : 91C5E4E9
->Accurately ripped! (confidence 6)
Statistics
Read error : 0
Jitter error (maybe fixed) : 0
Retry sector count : 0
Damaged sector count : 0

Track 09
Filename : /Users/iMac/Documents/Complete Mozart Edition/Volume 1/Disc 1of12/09 - Symphony in F Major, K App. 223-19a - III. Presto.flac
Pre-gap length : 00:03:00

Track gain : -0.70 dB
Peak : 0.863556
CRC32 hash (test run) : 24798B2C
CRC32 hash : 24798B2C
CRC32 hash (skip zero) : 4E73229E
AccurateRip signature : D4E41DEE
->Accurately ripped! (confidence 6)
Statistics
Read error : 0
Jitter error (maybe fixed) : 0
Retry sector count : 0
Damaged sector count : 0

Track 10
Filename : /Users/iMac/Documents/Complete Mozart Edition/Volume 1/Disc 1of12/10 - Symphony No. 5 in B Flat Major, K22 - I. Allegro.flac
Pre-gap length : 00:08:50

Track gain : -5.17 dB
Peak : 0.949585
CRC32 hash (test run) : CAEF995F
CRC32 hash : CAEF995F
CRC32 hash (skip zero) : E20DBD56
AccurateRip signature : 45D03991
->Accurately ripped! (confidence 6)
Statistics
Read error : 0
Jitter error (maybe fixed) : 0
Retry sector count : 0
Damaged sector count : 0

Track 11
Filename : /Users/iMac/Documents/Complete Mozart Edition/Volume 1/Disc 1of12/11 - Symphony No. 5 in B Flat Major, K22 - II. Andante.flac
Pre-gap length : 00:04:00

Track gain : -1.81 dB
Peak : 0.681366
CRC32 hash (test run) : 17646BAD
CRC32 hash : 17646BAD
CRC32 hash (skip zero) : 4F013A97
AccurateRip signature : E3C6920E
->Accurately ripped! (confidence 6)
Statistics
Read error : 0
Jitter error (maybe fixed) : 0
Retry sector count : 0
Damaged sector count : 0

Track 12
Filename : /Users/iMac/Documents/Complete Mozart Edition/Volume 1/Disc 1of12/12 - Symphony No. 5 in B Flat Major, K22 - III. Allegro molto.flac
Pre-gap length : 00:01:25

Track gain : -2.91 dB
Peak : 0.733490
CRC32 hash (test run) : 3681A392
CRC32 hash : 3681A392
CRC32 hash (skip zero) : 2F24E24D
AccurateRip signature : 772220D3
->Accurately ripped! (confidence 6)
Statistics
Read error : 0
Jitter error (maybe fixed) : 0
Retry sector count : 0
Damaged sector count : 0

Track 13
Filename : /Users/iMac/Documents/Complete Mozart Edition/Volume 1/Disc 1of12/13 - Symphony No. 6 in F Major, K43 - I. Allegro.flac
Pre-gap length : 00:11:00

Track gain : -1.36 dB
Peak : 0.847565
CRC32 hash (test run) : 748F739A
CRC32 hash : 748F739A
CRC32 hash (skip zero) : 5F247488
AccurateRip signature : FD52366E
->Accurately ripped! (confidence 6)
Statistics
Read error : 0
Jitter error (maybe fixed) : 0
Retry sector count : 0
Damaged sector count : 0

Track 14
Filename : /Users/iMac/Documents/Complete Mozart Edition/Volume 1/Disc 1of12/14 - Symphony No. 6 in F Major, K43 - II. Andante.flac
Pre-gap length : 00:03:00

Track gain : 3.82 dB
Peak : 0.492676
CRC32 hash (test run) : 4C095FF1
CRC32 hash : 4C095FF1
CRC32 hash (skip zero) : A19D81C3
AccurateRip signature : B11CB51E
->Accurately ripped! (confidence 6)
Statistics
Read error : 0
Jitter error (maybe fixed) : 0
Retry sector count : 0
Damaged sector count : 0

Track 15
Filename : /Users/iMac/Documents/Complete Mozart Edition/Volume 1/Disc 1of12/15 - Symphony No. 6 in F Major, K43 - III. Menuetto.flac
Pre-gap length : 00:03:00

Track gain : 1.95 dB
Peak : 0.445892
CRC32 hash (test run) : 12B70467
CRC32 hash : 12B70467
CRC32 hash (skip zero) : 4F190BD6
AccurateRip signature : E7399E03
->Accurately ripped! (confidence 6)
Statistics
Read error : 0
Jitter error (maybe fixed) : 0
Retry sector count : 0
Damaged sector count : 0

Track 16
Filename : /Users/iMac/Documents/Complete Mozart Edition/Volume 1/Disc 1of12/16 - Symphony No. 6 in F Major, K43 - IV. Allegro.flac
Pre-gap length : 00:01:00

Track gain : 0.44 dB
Peak : 0.734314
CRC32 hash (test run) : 1FD656F1
CRC32 hash : 1FD656F1
CRC32 hash (skip zero) : 1161B15D
AccurateRip signature : 97D6464E
->Accurately ripped! (confidence 6)
Statistics
Read error : 0
Jitter error (maybe fixed) : 0
Retry sector count : 0
Damaged sector count : 0

Track 17
Filename : /Users/iMac/Documents/Complete Mozart Edition/Volume 1/Disc 1of12/17 - Symphony No. 7 in D Major, K45 (Overture La finte semplice) - I. Ouverture (Allegro).flac
Pre-gap length : 00:08:38

Track gain : -0.68 dB
Peak : 0.863007
CRC32 hash (test run) : 7304F128
CRC32 hash : 7304F128
CRC32 hash (skip zero) : E227BCC9
AccurateRip signature : B1E9778F
->Accurately ripped! (confidence 6)
Statistics
Read error : 0
Jitter error (maybe fixed) : 0
Retry sector count : 0
Damaged sector count : 0

Track 18
Filename : /Users/iMac/Documents/Complete Mozart Edition/Volume 1/Disc 1of12/18 - Symphony No. 7 in D Major, K45 (Overture La finte semplice) - II. Andante.flac
Pre-gap length : 00:03:49

Track gain : 7.08 dB
Peak : 0.365936
CRC32 hash (test run) : 5F4C21C9
CRC32 hash : 5F4C21C9
CRC32 hash (skip zero) : FCA65FC8
AccurateRip signature : B28C786C
->Accurately ripped! (confidence 6)
Statistics
Read error : 0
Jitter error (maybe fixed) : 0
Retry sector count : 0
Damaged sector count : 0

Track 19
Filename : /Users/iMac/Documents/Complete Mozart Edition/Volume 1/Disc 1of12/19 - Symphony No. 7 in D Major, K45 (Overture La finte semplice) - III. Menuetto.flac
Pre-gap length : 00:03:00

Track gain : 0.91 dB
Peak : 0.611542
CRC32 hash (test run) : CC07D772
CRC32 hash : CC07D772
CRC32 hash (skip zero) : 0324B6AB
AccurateRip signature : C06EDA9C
->Accurately ripped! (confidence 6)
Statistics
Read error : 0
Jitter error (maybe fixed) : 0
Retry sector count : 0
Damaged sector count : 0

Track 20
Filename : /Users/iMac/Documents/Complete Mozart Edition/Volume 1/Disc 1of12/20 - Symphony No. 7 in D Major, K45 (Overture La finte semplice) - IV. (Allegro).flac
Pre-gap length : 00:03:25

Track gain : -0.28 dB
Peak : 0.762329
CRC32 hash (test run) : B41D2328
CRC32 hash : B41D2328
CRC32 hash (skip zero) : 52C727B4
AccurateRip signature : 67A52CA1
->Accurately ripped! (confidence 5)
Statistics
Read error : 0
Jitter error (maybe fixed) : 0
Retry sector count : 0
Damaged sector count : 0

No errors occurred

End of status report
X Lossless Decoder version 20110821 (136.1)

XLD extraction logfile from 2011-09-22 23:37:49 +0300

Academy of St Martin-in-the-Fields, Sir Neville Marriner / Symphonies [Volume 1]

Used drive : TSSTcorp CDDVDW SE-S084C (revision TS01)

Ripper mode : XLD Secure Ripper
Disable audio cache : OK for the drive with a cache less than 1375KiB
Make use of C2 pointers : NO
Read offset correction : 6
Max retry count : 100
Gap status : Analyzed, Appended (except HTOA)

TOC of the extracted CD
Track | Start | Length | Start sector | End sector
––––––––––––––––––––––––––––-
1 | 00:00:33 | 04:22:50 | 33 | 19732
2 | 04:23:08 | 03:01:50 | 19733 | 33357
3 | 07:24:58 | 02:58:00 | 33358 | 46707
4 | 10:22:58 | 04:53:00 | 46708 | 68682
5 | 15:15:58 | 02:39:00 | 68683 | 80607
6 | 17:54:58 | 03:58:00 | 80608 | 98457
7 | 21:52:58 | 01:59:00 | 98458 | 107382
8 | 23:51:58 | 02:12:00 | 107383 | 117282
9 | 26:03:58 | 03:33:37 | 117283 | 133294
10 | 29:37:20 | 02:48:13 | 133295 | 145907
11 | 32:25:33 | 02:53:25 | 145908 | 158907
12 | 35:18:58 | 03:08:25 | 158908 | 173032
13 | 38:27:08 | 03:37:12 | 173033 | 189319
14 | 42:04:20 | 03:50:38 | 189320 | 206607
15 | 45:54:58 | 02:45:37 | 206608 | 219019
16 | 48:40:20 | 01:04:38 | 219020 | 223857
17 | 49:44:58 | 03:26:12 | 223858 | 239319
18 | 53:10:70 | 03:13:63 | 239320 | 253857
19 | 56:24:58 | 03:00:00 | 253858 | 267357
20 | 59:24:58 | 02:26:00 | 267358 | 278307
21 | 61:50:58 | 03:03:00 | 278308 | 292032
22 | 64:53:58 | 03:29:00 | 292033 | 307707
23 | 68:22:58 | 02:02:00 | 307708 | 316857

List of alternate offset correction values
# | Absolute | Relative | Confidence
–––––––––––––––––––––
1 | 670 | 664 | 19
2 | 1810 | 1804 | 7
3 | 3 | -3 | 3
4 | 1523 | 1517 | 2

AccurateRip Summary
Track 01 : OK (confidence 4)
Track 02 : OK (confidence 4)
Track 03 : OK (confidence 4)
Track 04 : OK (confidence 4)
Track 05 : OK (confidence 4)
Track 06 : OK (confidence 4)
Track 07 : OK (confidence 4)
Track 08 : OK (confidence 4)
Track 09 : OK (confidence 4)
Track 10 : OK (confidence 4)
Track 11 : OK (confidence 4)
Track 12 : OK (confidence 4)
Track 13 : OK (confidence 4)
Track 14 : OK (confidence 4)
Track 15 : OK (confidence 4)
Track 16 : OK (confidence 3)
Track 17 : OK (confidence 4)
Track 18 : OK (confidence 4)
Track 19 : OK (confidence 4)
Track 20 : OK (confidence 4)
Track 21 : OK (confidence 4)
Track 22 : OK (confidence 4)
Track 23 : OK (confidence 4)
->All tracks accurately ripped.

All Tracks
Album gain : -1.22 dB
Peak : 0.987518
Statistics
Read error : 0
Jitter error (maybe fixed) : 0
Retry sector count : 1
Damaged sector count : 0

Track 01
Filename : /Users/iMac/Documents/Complete Mozart Edition/Volume 1/Disc 2of12/01 - Symphony in G Major, K deest 'Neue Lambacher' - I. Allegro.flac
Pre-gap length : 00:02:33

Track gain : -1.61 dB
Peak : 0.784241
CRC32 hash (test run) : 15434606
CRC32 hash : 15434606
CRC32 hash (skip zero) : D5DD667A
AccurateRip signature : 0C8200F8
->Accurately ripped! (confidence 4)
Statistics
Read error : 0
Jitter error (maybe fixed) : 0
Retry sector count : 0
Damaged sector count : 0

Track 02
Filename : /Users/iMac/Documents/Complete Mozart Edition/Volume 1/Disc 2of12/02 - Symphony in G Major, K deest 'Neue Lambacher' - II. Andante un poco allegretto.flac
Pre-gap length : 00:03:00

Track gain : 4.88 dB
Peak : 0.393097
CRC32 hash (test run) : 76424FE6
CRC32 hash : 76424FE6
CRC32 hash (skip zero) : 2146B61E
AccurateRip signature : 0CD76964
->Accurately ripped! (confidence 4)
Statistics
Read error : 0
Jitter error (maybe fixed) : 0
Retry sector count : 0
Damaged sector count : 0

Track 03
Filename : /Users/iMac/Documents/Complete Mozart Edition/Volume 1/Disc 2of12/03 - Symphony in G Major, K deest 'Neue Lambacher' - III. Menuetto.flac
Pre-gap length : 00:02:00

Track gain : 1.63 dB
Peak : 0.609406
CRC32 hash (test run) : 60500CCE
CRC32 hash : 60500CCE
CRC32 hash (skip zero) : 40579618
AccurateRip signature : C1A5ED74
->Accurately ripped! (confidence 4)
Statistics
Read error : 0
Jitter error (maybe fixed) : 0
Retry sector count : 0
Damaged sector count : 0

Track 04
Filename : /Users/iMac/Documents/Complete Mozart Edition/Volume 1/Disc 2of12/04 - Symphony in G Major, K deest 'Neue Lambacher' - IV. Allegro.flac
Pre-gap length : 00:01:00

Track gain : -1.76 dB
Peak : 0.987518
CRC32 hash (test run) : 2772AACC
CRC32 hash : 2772AACC
CRC32 hash (skip zero) : 5B135CA6
AccurateRip signature : 6F90F456
->Accurately ripped! (confidence 4)
Statistics
Read error : 0
Jitter error (maybe fixed) : 0
Retry sector count : 0
Damaged sector count : 0

Track 05
Filename : /Users/iMac/Documents/Complete Mozart Edition/Volume 1/Disc 2of12/05 - Symphony No.7a in G Major, K App. 221-45a 'Alta Lambacher' - I. Allegro maestoso.flac
Pre-gap length : 00:08:00

Track gain : -1.62 dB
Peak : 0.919983
CRC32 hash (test run) : EAC4CB42
CRC32 hash : EAC4CB42
CRC32 hash (skip zero) : 2C16C1D4
AccurateRip signature : CAC53607
->Accurately ripped! (confidence 4)
Statistics
Read error : 0
Jitter error (maybe fixed) : 0
Retry sector count : 0
Damaged sector count : 0

Track 06
Filename : /Users/iMac/Documents/Complete Mozart Edition/Volume 1/Disc 2of12/06 - Symphony No.7a in G Major, K App. 221-45a 'Alta Lambacher' - II. Andante.flac
Pre-gap length : 00:02:00

Track gain : 5.59 dB
Peak : 0.421875
CRC32 hash (test run) : F0157490
CRC32 hash : F0157490
CRC32 hash (skip zero) : 0D8AC979
AccurateRip signature : 922EC3DE
->Accurately ripped! (confidence 4)
Statistics
Read error : 0
Jitter error (maybe fixed) : 0
Retry sector count : 0
Damaged sector count : 0

Track 07
Filename : /Users/iMac/Documents/Complete Mozart Edition/Volume 1/Disc 2of12/07 - Symphony No.7a in G Major, K App. 221-45a 'Alta Lambacher' - III. Presto.flac
Pre-gap length : 00:03:00

Track gain : -0.77 dB
Peak : 0.838165
CRC32 hash (test run) : EC64115F
CRC32 hash : EC64115F
CRC32 hash (skip zero) : 0EA95291
AccurateRip signature : D50F30F4
->Accurately ripped! (confidence 4)
Statistics
Read error : 0
Jitter error (maybe fixed) : 0
Retry sector count : 0
Damaged sector count : 0

Track 08
Filename : /Users/iMac/Documents/Complete Mozart Edition/Volume 1/Disc 2of12/08 - Symphony [No. 55] in B Flat, K App. 214-45b - I. Allegro.flac
Pre-gap length : 00:09:00

Track gain : -3.09 dB
Peak : 0.939972
CRC32 hash (test run) : DE2947F8
CRC32 hash : DE2947F8
CRC32 hash (skip zero) : 46A9C2C1
AccurateRip signature : 1DBEB94F
->Accurately ripped! (confidence 4)
Statistics
Read error : 0
Jitter error (maybe fixed) : 0
Retry sector count : 0
Damaged sector count : 0

Track 09
Filename : /Users/iMac/Documents/Complete Mozart Edition/Volume 1/Disc 2of12/09 - Symphony [No. 55] in B Flat, K App. 214-45b - II. Andante.flac
Pre-gap length : 00:03:00

Track gain : 5.31 dB
Peak : 0.379456
CRC32 hash (test run) : 3AD93BB7
CRC32 hash : 3AD93BB7
CRC32 hash (skip zero) : BAEBEBF5
AccurateRip signature : F2E94F41
->Accurately ripped! (confidence 4)
Statistics
Read error : 0
Jitter error (maybe fixed) : 0
Retry sector count : 0
Damaged sector count : 0

Track 10
Filename : /Users/iMac/Documents/Complete Mozart Edition/Volume 1/Disc 2of12/10 - Symphony [No. 55] in B Flat, K App. 214-45b - III. Menuet.flac
Pre-gap length : 00:01:37

Track gain : -2.84 dB
Peak : 0.908813
CRC32 hash (test run) : F7D0B9C1
CRC32 hash : F7D0B9C1
CRC32 hash (skip zero) : D97BF842
AccurateRip signature : 62322766
->Accurately ripped! (confidence 4)
Statistics
Read error : 0
Jitter error (maybe fixed) : 0
Retry sector count : 0
Damaged sector count : 0

Track 11
Filename : /Users/iMac/Documents/Complete Mozart Edition/Volume 1/Disc 2of12/11 - Symphony [No. 55] in B Flat, K App. 214-45b - IV. Allegro.flac
Pre-gap length : 00:01:00

Track gain : -3.80 dB
Peak : 0.927246
CRC32 hash (test run) : 4F0BDF4E
CRC32 hash : 4F0BDF4E
CRC32 hash (skip zero) : 1809B814
AccurateRip signature : 1C34E3DA
->Accurately ripped! (confidence 4)
Statistics
Read error : 0
Jitter error (maybe fixed) : 0
Retry sector count : 0
Damaged sector count : 0

Track 12
Filename : /Users/iMac/Documents/Complete Mozart Edition/Volume 1/Disc 2of12/12 - Symphony No. 8 in D Major, K48 - I. (Allegro).flac
Pre-gap length : 00:08:00

Track gain : -0.71 dB
Peak : 0.949188
CRC32 hash (test run) : 1E3DBB02
CRC32 hash : 1E3DBB02
CRC32 hash (skip zero) : D66872D7
AccurateRip signature : 93E50719
->Accurately ripped! (confidence 4)
Statistics
Read error : 0
Jitter error (maybe fixed) : 0
Retry sector count : 0
Damaged sector count : 0

Track 13
Filename : /Users/iMac/Documents/Complete Mozart Edition/Volume 1/Disc 2of12/13 - Symphony No. 8 in D Major, K48 - II. Andante.flac
Pre-gap length : 00:03:25

Track gain : 12.57 dB
Peak : 0.196655
CRC32 hash (test run) : 52C3D5EB
CRC32 hash : 52C3D5EB
CRC32 hash (skip zero) : 87D47585
AccurateRip signature : CD442DE1
->Accurately ripped! (confidence 4)
Statistics
Read error : 0
Jitter error (maybe fixed) : 0
Retry sector count : 0
Damaged sector count : 0

Track 14
Filename : /Users/iMac/Documents/Complete Mozart Edition/Volume 1/Disc 2of12/14 - Symphony No. 8 in D Major, K48 - III. Menuetto.flac
Pre-gap length : 00:03:00

Track gain : 0.00 dB
Peak : 0.734161
CRC32 hash (test run) : BF1FE767
CRC32 hash : BF1FE767
CRC32 hash (skip zero) : 29B88719
AccurateRip signature : 0D3CD650
->Accurately ripped! (confidence 4)
Statistics
Read error : 0
Jitter error (maybe fixed) : 0
Retry sector count : 0
Damaged sector count : 0

Track 15
Filename : /Users/iMac/Documents/Complete Mozart Edition/Volume 1/Disc 2of12/15 - Symphony No. 8 in D Major, K48 - IV. (Allegro).flac
Pre-gap length : 00:02:38

Track gain : 0.10 dB
Peak : 0.869049
CRC32 hash (test run) : D1EB3F89
CRC32 hash : D1EB3F89
CRC32 hash (skip zero) : 24687673
AccurateRip signature : A27AEC96
->Accurately ripped! (confidence 4)
Statistics
Read error : 0
Jitter error (maybe fixed) : 0
Retry sector count : 0
Damaged sector count : 0

Track 16
Filename : /Users/iMac/Documents/Complete Mozart Edition/Volume 1/Disc 2of12/16 - Minuet in A Major, K61g No. 1.flac
Pre-gap length : 00:08:37

Track gain : 8.29 dB
Peak : 0.247559
CRC32 hash (test run) : 97BEB4EB
CRC32 hash : 97BEB4EB
CRC32 hash (skip zero) : 60174F25
AccurateRip signature : 458517FA
->Accurately ripped! (confidence 3)
Statistics
Read error : 0
Jitter error (maybe fixed) : 0
Retry sector count : 0
Damaged sector count : 0

Track 17
Filename : /Users/iMac/Documents/Complete Mozart Edition/Volume 1/Disc 2of12/17 - Symphony No. 9 in C Major, K73 - I. Allegro.flac
Pre-gap length : 00:08:25

Track gain : -0.98 dB
Peak : 0.858124
CRC32 hash (test run) : 0AFD4BB1
CRC32 hash : 0AFD4BB1
CRC32 hash (skip zero) : C2A79FD7
AccurateRip signature : C90CE98B
->Accurately ripped! (confidence 4)
Statistics
Read error : 0
Jitter error (maybe fixed) : 0
Retry sector count : 1
Damaged sector count : 0

Track 18
Filename : /Users/iMac/Documents/Complete Mozart Edition/Volume 1/Disc 2of12/18 - Symphony No. 9 in C Major, K73 - II. Andante.flac
Pre-gap length : 00:04:12

Track gain : 4.44 dB
Peak : 0.556671
CRC32 hash (test run) : 824CFB53
CRC32 hash : 824CFB53
CRC32 hash (skip zero) : 6F2090F6
AccurateRip signature : 26959D78
->Accurately ripped! (confidence 4)
Statistics
Read error : 0
Jitter error (maybe fixed) : 0
Retry sector count : 0
Damaged sector count : 0

Track 19
Filename : /Users/iMac/Documents/Complete Mozart Edition/Volume 1/Disc 2of12/19 - Symphony No. 9 in C Major, K73 - III. Menuetto.flac
Pre-gap length : 00:02:00

Track gain : 0.31 dB
Peak : 0.800171
CRC32 hash (test run) : AB84518E
CRC32 hash : AB84518E
CRC32 hash (skip zero) : 9AAC3AE8
AccurateRip signature : 4F0DD213
->Accurately ripped! (confidence 4)
Statistics
Read error : 0
Jitter error (maybe fixed) : 0
Retry sector count : 0
Damaged sector count : 0

Track 20
Filename : /Users/iMac/Documents/Complete Mozart Edition/Volume 1/Disc 2of12/20 - Symphony No. 9 in C Major, K73 - IV. Allegro molto.flac
Pre-gap length : 00:03:00

Track gain : -2.62 dB
Peak : 0.955017
CRC32 hash (test run) : B7742B89
CRC32 hash : B7742B89
CRC32 hash (skip zero) : DDD16B23
AccurateRip signature : A6F01052
->Accurately ripped! (confidence 4)
Statistics
Read error : 0
Jitter error (maybe fixed) : 0
Retry sector count : 0
Damaged sector count : 0

Track 21
Filename : /Users/iMac/Documents/Complete Mozart Edition/Volume 1/Disc 2of12/21 - Symphony No. 10 in G Major, K74 - I. (Allegro).flac
Pre-gap length : 00:08:00

Track gain : -2.88 dB
Peak : 0.847717
CRC32 hash (test run) : 7570881B
CRC32 hash : 7570881B
CRC32 hash (skip zero) : 77800C8F
AccurateRip signature : 5E1CFE41
->Accurately ripped! (confidence 4)
Statistics
Read error : 0
Jitter error (maybe fixed) : 0
Retry sector count : 0
Damaged sector count : 0

Track 22
Filename : /Users/iMac/Documents/Complete Mozart Edition/Volume 1/Disc 2of12/22 - Symphony No. 10 in G Major, K74 - II. (Andante).flac

Track gain : 4.39 dB
Peak : 0.533508
CRC32 hash (test run) : F15D0E28
CRC32 hash : F15D0E28
CRC32 hash (skip zero) : B481F3E9
AccurateRip signature : E16945EF
->Accurately ripped! (confidence 4)
Statistics
Read error : 0
Jitter error (maybe fixed) : 0
Retry sector count : 0
Damaged sector count : 0

Track 23
Filename : /Users/iMac/Documents/Complete Mozart Edition/Volume 1/Disc 2of12/23 - Symphony No. 10 in G Major, K74 - III. (Allegro).flac
Pre-gap length : 00:01:25

Track gain : -2.80 dB
Peak : 0.898651
CRC32 hash (test run) : 3F674DBC
CRC32 hash : 3F674DBC
CRC32 hash (skip zero) : B0746382
AccurateRip signature : CD3A9A35
->Accurately ripped! (confidence 4)
Statistics
Read error : 0
Jitter error (maybe fixed) : 0
Retry sector count : 0
Damaged sector count : 0

No errors occurred

End of status report
X Lossless Decoder version 20110821 (136.1)

XLD extraction logfile from 2011-09-22 22:28:28 +0300

Academy of St Martin-in-the-Fields, Sir Neville Marriner / Symphonies [Volume 1]

Used drive : TSSTcorp CDDVDW SE-S084C (revision TS01)

Ripper mode : XLD Secure Ripper
Disable audio cache : OK for the drive with a cache less than 1375KiB
Make use of C2 pointers : NO
Read offset correction : 6
Max retry count : 100
Gap status : Analyzed, Appended (except HTOA)

TOC of the extracted CD
Track | Start | Length | Start sector | End sector
––––––––––––––––––––––––––––-
1 | 00:00:33 | 03:15:00 | 33 | 14657
2 | 03:15:33 | 02:56:50 | 14658 | 27907
3 | 06:12:08 | 03:54:25 | 27908 | 45482
4 | 10:06:33 | 02:24:00 | 45483 | 56282
5 | 12:30:33 | 03:35:25 | 56283 | 72432
6 | 16:05:58 | 04:22:50 | 72433 | 92132
7 | 20:28:33 | 03:30:37 | 92133 | 107919
8 | 23:58:70 | 03:29:63 | 107920 | 123657
9 | 27:28:58 | 03:02:50 | 123658 | 137357
10 | 30:31:33 | 05:01:00 | 137358 | 159932
11 | 35:32:33 | 02:35:25 | 159933 | 171582
12 | 38:07:58 | 03:49:00 | 171583 | 188757
13 | 41:56:58 | 03:09:00 | 188758 | 202932
14 | 45:05:58 | 03:56:25 | 202933 | 220657
15 | 49:02:08 | 02:19:50 | 220658 | 231132
16 | 51:21:58 | 03:19:50 | 231133 | 246107
17 | 54:41:33 | 02:58:25 | 246108 | 259482
18 | 57:39:58 | 02:49:50 | 259483 | 272207
19 | 60:29:33 | 02:07:00 | 272208 | 281732
20 | 62:36:33 | 04:20:00 | 281733 | 301232
21 | 66:56:33 | 03:28:00 | 301233 | 316832
22 | 70:24:33 | 02:09:37 | 316833 | 326544

List of alternate offset correction values
# | Absolute | Relative | Confidence
–––––––––––––––––––––
1 | 670 | 664 | 17
2 | 36 | 30 | 9
3 | 3 | -3 | 5

AccurateRip Summary
Track 01 : OK (confidence 4)
Track 02 : OK (confidence 4)
Track 03 : OK (confidence 4)
Track 04 : OK (confidence 4)
Track 05 : OK (confidence 4)
Track 06 : OK (confidence 4)
Track 07 : OK (confidence 4)
Track 08 : OK (confidence 4)
Track 09 : OK (confidence 4)
Track 10 : OK (confidence 4)
Track 11 : OK (confidence 4)
Track 12 : OK (confidence 4)
Track 13 : OK (confidence 4)
Track 14 : OK (confidence 4)
Track 15 : OK (confidence 4)
Track 16 : OK (confidence 4)
Track 17 : OK (confidence 4)
Track 18 : OK (confidence 4)
Track 19 : OK (confidence 4)
Track 20 : OK (confidence 4)
Track 21 : OK (confidence 4)
Track 22 : OK (confidence 4)
->All tracks accurately ripped.

All Tracks
Album gain : -1.32 dB
Peak : 0.973236
Statistics
Read error : 0
Jitter error (maybe fixed) : 0
Retry sector count : 0
Damaged sector count : 0

Track 01
Filename : /Users/iMac/Documents/Complete Mozart Edition/Volume 1/Disc 3of12/01 - Symphony [No. 42] in F Major, K75 - I. Allegro.flac
Pre-gap length : 00:02:33

Track gain : -1.32 dB
Peak : 0.787750
CRC32 hash (test run) : 2BD49D49
CRC32 hash : 2BD49D49
CRC32 hash (skip zero) : D576D101
AccurateRip signature : A3403611
->Accurately ripped! (confidence 4)
Statistics
Read error : 0
Jitter error (maybe fixed) : 0
Retry sector count : 0
Damaged sector count : 0

Track 02
Filename : /Users/iMac/Documents/Complete Mozart Edition/Volume 1/Disc 3of12/02 - Symphony [No. 42] in F Major, K75 - II. Menuetto.flac
Pre-gap length : 00:02:00

Track gain : 1.31 dB
Peak : 0.518982
CRC32 hash (test run) : D8F47092
CRC32 hash : D8F47092
CRC32 hash (skip zero) : F31C79A8
AccurateRip signature : 30B6F537
->Accurately ripped! (confidence 4)
Statistics
Read error : 0
Jitter error (maybe fixed) : 0
Retry sector count : 0
Damaged sector count : 0

Track 03
Filename : /Users/iMac/Documents/Complete Mozart Edition/Volume 1/Disc 3of12/03 - Symphony [No. 42] in F Major, K75 - III. Andantino.flac
Pre-gap length : 00:02:50

Track gain : 7.49 dB
Peak : 0.324005
CRC32 hash (test run) : 6B95211C
CRC32 hash : 6B95211C
CRC32 hash (skip zero) : 5E31F537
AccurateRip signature : A1E0B653
->Accurately ripped! (confidence 4)
Statistics
Read error : 0
Jitter error (maybe fixed) : 0
Retry sector count : 0
Damaged sector count : 0

Track 04
Filename : /Users/iMac/Documents/Complete Mozart Edition/Volume 1/Disc 3of12/04 - Symphony [No. 42] in F Major, K75 - IV. Allegro.flac
Pre-gap length : 00:01:25

Track gain : -2.02 dB
Peak : 0.847137
CRC32 hash (test run) : 331CF87D
CRC32 hash : 331CF87D
CRC32 hash (skip zero) : 3874B49B
AccurateRip signature : E06DDB77
->Accurately ripped! (confidence 4)
Statistics
Read error : 0
Jitter error (maybe fixed) : 0
Retry sector count : 0
Damaged sector count : 0

Track 05
Filename : /Users/iMac/Documents/Complete Mozart Edition/Volume 1/Disc 3of12/05 - Symphony [No. 43] in F Major, K76-42a - I. Allegro maestoso.flac
Pre-gap length : 00:09:00

Track gain : -3.27 dB
Peak : 0.908752
CRC32 hash (test run) : 0500207C
CRC32 hash : 0500207C
CRC32 hash (skip zero) : D3ECB24B
AccurateRip signature : 0D02D068
->Accurately ripped! (confidence 4)
Statistics
Read error : 0
Jitter error (maybe fixed) : 0
Retry sector count : 0
Damaged sector count : 0

Track 06
Filename : /Users/iMac/Documents/Complete Mozart Edition/Volume 1/Disc 3of12/06 - Symphony [No. 43] in F Major, K76-42a - II. Andante.flac
Pre-gap length : 00:02:50

Track gain : 0.28 dB
Peak : 0.844116
CRC32 hash (test run) : C07ECEFE
CRC32 hash : C07ECEFE
CRC32 hash (skip zero) : 07B5B0E9
AccurateRip signature : 4DECDAB8
->Accurately ripped! (confidence 4)
Statistics
Read error : 0
Jitter error (maybe fixed) : 0
Retry sector count : 0
Damaged sector count : 0

Track 07
Filename : /Users/iMac/Documents/Complete Mozart Edition/Volume 1/Disc 3of12/07 - Symphony [No. 43] in F Major, K76-42a - III. Menuetto.flac
Pre-gap length : 00:02:25

Track gain : -3.40 dB
Peak : 0.935272
CRC32 hash (test run) : 0D2E4CE4
CRC32 hash : 0D2E4CE4
CRC32 hash (skip zero) : 3859C1B9
AccurateRip signature : 44E96AFD
->Accurately ripped! (confidence 4)
Statistics
Read error : 0
Jitter error (maybe fixed) : 0
Retry sector count : 0
Damaged sector count : 0

Track 08
Filename : /Users/iMac/Documents/Complete Mozart Edition/Volume 1/Disc 3of12/08 - Symphony [No. 43] in F Major, K76-42a - IV. Allegro.flac
Pre-gap length : 00:03:37

Track gain : -3.26 dB
Peak : 0.955017
CRC32 hash (test run) : 9A70D8E8
CRC32 hash : 9A70D8E8
CRC32 hash (skip zero) : 441B682A
AccurateRip signature : 63247734
->Accurately ripped! (confidence 4)
Statistics
Read error : 0
Jitter error (maybe fixed) : 0
Retry sector count : 0
Damaged sector count : 0

Track 09
Filename : /Users/iMac/Documents/Complete Mozart Edition/Volume 1/Disc 3of12/09 - Symphony [No. 44] in D Major, K81-73l - I. Allegro.flac
Pre-gap length : 00:07:25

Track gain : -1.55 dB
Peak : 0.808563
CRC32 hash (test run) : 85004850
CRC32 hash : 85004850
CRC32 hash (skip zero) : 61327707
AccurateRip signature : 2347EEAD
->Accurately ripped! (confidence 4)
Statistics
Read error : 0
Jitter error (maybe fixed) : 0
Retry sector count : 0
Damaged sector count : 0

Track 10
Filename : /Users/iMac/Documents/Complete Mozart Edition/Volume 1/Disc 3of12/10 - Symphony [No. 44] in D Major, K81-73l - II. Andante.flac
Pre-gap length : 00:02:00

Track gain : 6.10 dB
Peak : 0.511597
CRC32 hash (test run) : 287FD9F9
CRC32 hash : 287FD9F9
CRC32 hash (skip zero) : 46E8EEF0
AccurateRip signature : BA757FAE
->Accurately ripped! (confidence 4)
Statistics
Read error : 0
Jitter error (maybe fixed) : 0
Retry sector count : 0
Damaged sector count : 0

Track 11
Filename : /Users/iMac/Documents/Complete Mozart Edition/Volume 1/Disc 3of12/11 - Symphony [No. 44] in D Major, K81-73l - III. Allegro molto.flac
Pre-gap length : 00:01:00

Track gain : -1.67 dB
Peak : 0.751648
CRC32 hash (test run) : 7C691F80
CRC32 hash : 7C691F80
CRC32 hash (skip zero) : B86345D8
AccurateRip signature : B0FBD20A
->Accurately ripped! (confidence 4)
Statistics
Read error : 0
Jitter error (maybe fixed) : 0
Retry sector count : 0
Damaged sector count : 0

Track 12
Filename : /Users/iMac/Documents/Complete Mozart Edition/Volume 1/Disc 3of12/12 - Symphony No. 1iin D Major, K84-73q - I. Allegro.flac
Pre-gap length : 00:08:25

Track gain : -2.80 dB
Peak : 0.896088
CRC32 hash (test run) : DA1E9DD7
CRC32 hash : DA1E9DD7
CRC32 hash (skip zero) : 461270A4
AccurateRip signature : 2E3E5FB8
->Accurately ripped! (confidence 4)
Statistics
Read error : 0
Jitter error (maybe fixed) : 0
Retry sector count : 0
Damaged sector count : 0

Track 13
Filename : /Users/iMac/Documents/Complete Mozart Edition/Volume 1/Disc 3of12/13 - Symphony No. 1iin D Major, K84-73q - II. Andante.flac
Pre-gap length : 00:01:25

Track gain : 5.06 dB
Peak : 0.539795
CRC32 hash (test run) : 3327FBFF
CRC32 hash : 3327FBFF
CRC32 hash (skip zero) : F273266C
AccurateRip signature : 7B13A996
->Accurately ripped! (confidence 4)
Statistics
Read error : 0
Jitter error (maybe fixed) : 0
Retry sector count : 0
Damaged sector count : 0

Track 14
Filename : /Users/iMac/Documents/Complete Mozart Edition/Volume 1/Disc 3of12/14 - Symphony No. 1iin D Major, K84-73q - III. Allegro.flac
Pre-gap length : 00:03:00

Track gain : -0.78 dB
Peak : 0.839630
CRC32 hash (test run) : E1F7344D
CRC32 hash : E1F7344D
CRC32 hash (skip zero) : 13AE7465
AccurateRip signature : F2BFF0FA
->Accurately ripped! (confidence 4)
Statistics
Read error : 0
Jitter error (maybe fixed) : 0
Retry sector count : 0
Damaged sector count : 0

Track 15
Filename : /Users/iMac/Documents/Complete Mozart Edition/Volume 1/Disc 3of12/15 - Symphony [No. 45] in D Major, K95-73n - I. Allegro.flac
Pre-gap length : 00:08:50

Track gain : -0.93 dB
Peak : 0.802582
CRC32 hash (test run) : 80D6A988
CRC32 hash : 80D6A988
CRC32 hash (skip zero) : DD4684EF
AccurateRip signature : 96F1E777
->Accurately ripped! (confidence 4)
Statistics
Read error : 0
Jitter error (maybe fixed) : 0
Retry sector count : 0
Damaged sector count : 0

Track 16
Filename : /Users/iMac/Documents/Complete Mozart Edition/Volume 1/Disc 3of12/16 - Symphony [No. 45] in D Major, K95-73n - II. Andante.flac

Track gain : 5.97 dB
Peak : 0.324890
CRC32 hash (test run) : 12C385EB
CRC32 hash : 12C385EB
CRC32 hash (skip zero) : 861166BA
AccurateRip signature : 6220C6AF
->Accurately ripped! (confidence 4)
Statistics
Read error : 0
Jitter error (maybe fixed) : 0
Retry sector count : 0
Damaged sector count : 0

Track 17
Filename : /Users/iMac/Documents/Complete Mozart Edition/Volume 1/Disc 3of12/17 - Symphony [No. 45] in D Major, K95-73n - III. Menuetto.flac
Pre-gap length : 00:04:00

Track gain : -0.04 dB
Peak : 0.672272
CRC32 hash (test run) : 2DD77638
CRC32 hash : 2DD77638
CRC32 hash (skip zero) : 9CDFAD3B
AccurateRip signature : 590B358B
->Accurately ripped! (confidence 4)
Statistics
Read error : 0
Jitter error (maybe fixed) : 0
Retry sector count : 0
Damaged sector count : 0

Track 18
Filename : /Users/iMac/Documents/Complete Mozart Edition/Volume 1/Disc 3of12/18 - Symphony [No. 45] in D Major, K95-73n - IV. Allegro.flac
Pre-gap length : 00:03:00

Track gain : -1.66 dB
Peak : 0.835602
CRC32 hash (test run) : 266C14CA
CRC32 hash : 266C14CA
CRC32 hash (skip zero) : 25942821
AccurateRip signature : 9174268C
->Accurately ripped! (confidence 4)
Statistics
Read error : 0
Jitter error (maybe fixed) : 0
Retry sector count : 0
Damaged sector count : 0

Track 19
Filename : /Users/iMac/Documents/Complete Mozart Edition/Volume 1/Disc 3of12/19 - Symphony [No. 46] in C Major, K96-111b - I. Allegro.flac
Pre-gap length : 00:09:00

Track gain : -1.47 dB
Peak : 0.973236
CRC32 hash (test run) : E9A73683
CRC32 hash : E9A73683
CRC32 hash (skip zero) : 9EE1EEB2
AccurateRip signature : 2F7078A2
->Accurately ripped! (confidence 4)
Statistics
Read error : 0
Jitter error (maybe fixed) : 0
Retry sector count : 0
Damaged sector count : 0

Track 20
Filename : /Users/iMac/Documents/Complete Mozart Edition/Volume 1/Disc 3of12/20 - Symphony [No. 46] in C Major, K96-111b - II. Andante.flac
Pre-gap length : 00:03:00

Track gain : 9.03 dB
Peak : 0.269073
CRC32 hash (test run) : AA99A647
CRC32 hash : AA99A647
CRC32 hash (skip zero) : AD867790
AccurateRip signature : 09B5B670
->Accurately ripped! (confidence 4)
Statistics
Read error : 0
Jitter error (maybe fixed) : 0
Retry sector count : 0
Damaged sector count : 0

Track 21
Filename : /Users/iMac/Documents/Complete Mozart Edition/Volume 1/Disc 3of12/21 - Symphony [No. 46] in C Major, K96-111b - III. Menuetto.flac
Pre-gap length : 00:02:00

Track gain : -1.75 dB
Peak : 0.852753
CRC32 hash (test run) : 7C876162
CRC32 hash : 7C876162
CRC32 hash (skip zero) : 5549DAA0
AccurateRip signature : 4494F6E7
->Accurately ripped! (confidence 4)
Statistics
Read error : 0
Jitter error (maybe fixed) : 0
Retry sector count : 0
Damaged sector count : 0

Track 22
Filename : /Users/iMac/Documents/Complete Mozart Edition/Volume 1/Disc 3of12/22 - Symphony [No. 46] in C Major, K96-111b - IV. Allegro molto.flac
Pre-gap length : 00:03:00

Track gain : -1.50 dB
Peak : 0.897583
CRC32 hash (test run) : 0ED34639
CRC32 hash : 0ED34639
CRC32 hash (skip zero) : D1940903
AccurateRip signature : 4ACAF514
->Accurately ripped! (confidence 4)
Statistics
Read error : 0
Jitter error (maybe fixed) : 0
Retry sector count : 0
Damaged sector count : 0

No errors occurred

End of status report
X Lossless Decoder version 20110821 (136.1)

XLD extraction logfile from 2011-09-22 23:06:00 +0300

Academy of St Martin-in-the-Fields, Sir Neville Marriner / Symphonies [Volume 1]

Used drive : TSSTcorp CDDVDW SE-S084C (revision TS01)

Ripper mode : XLD Secure Ripper
Disable audio cache : OK for the drive with a cache less than 1375KiB
Make use of C2 pointers : NO
Read offset correction : 6
Max retry count : 100
Gap status : Analyzed, Appended (except HTOA)

TOC of the extracted CD
Track | Start | Length | Start sector | End sector
––––––––––––––––––––––––––––-
1 | 00:00:33 | 02:41:00 | 33 | 12107
2 | 02:41:33 | 02:36:00 | 12108 | 23807
3 | 05:17:33 | 02:36:00 | 23808 | 35507
4 | 07:53:33 | 01:45:00 | 35508 | 43382
5 | 09:38:33 | 04:39:00 | 43383 | 64307
6 | 14:17:33 | 03:26:00 | 64308 | 79757
7 | 17:43:33 | 04:08:00 | 79758 | 98357
8 | 21:51:33 | 02:22:00 | 98358 | 109007
9 | 24:13:33 | 03:58:00 | 109008 | 126857
10 | 28:11:33 | 04:26:00 | 126858 | 146807
11 | 32:37:33 | 02:30:00 | 146808 | 158057
12 | 35:07:33 | 02:59:00 | 158058 | 171482
13 | 38:06:33 | 05:25:00 | 171483 | 195857
14 | 43:31:33 | 04:10:00 | 195858 | 214607
15 | 47:41:33 | 03:19:00 | 214608 | 229532
16 | 51:00:33 | 03:27:00 | 229533 | 245057
17 | 54:27:33 | 01:13:00 | 245058 | 250532
18 | 55:40:33 | 03:17:00 | 250533 | 265307
19 | 58:57:33 | 03:35:00 | 265308 | 281432
20 | 62:32:33 | 03:06:00 | 281433 | 295382
21 | 65:38:33 | 02:35:00 | 295383 | 307007

List of alternate offset correction values
# | Absolute | Relative | Confidence
–––––––––––––––––––––
1 | 687 | 681 | 12
2 | -754 | -760 | 6
3 | -1982 | -1988 | 2

AccurateRip Summary
Track 01 : OK (confidence 10)
Track 02 : OK (confidence 10)
Track 03 : OK (confidence 10)
Track 04 : OK (confidence 10)
Track 05 : OK (confidence 10)
Track 06 : OK (confidence 10)
Track 07 : OK (confidence 10)
Track 08 : OK (confidence 10)
Track 09 : OK (confidence 10)
Track 10 : OK (confidence 10)
Track 11 : OK (confidence 10)
Track 12 : OK (confidence 10)
Track 13 : OK (confidence 10)
Track 14 : OK (confidence 10)
Track 15 : OK (confidence 10)
Track 16 : OK (confidence 10)
Track 17 : OK (confidence 10)
Track 18 : OK (confidence 10)
Track 19 : OK (confidence 10)
Track 20 : OK (confidence 10)
Track 21 : OK (confidence 9)
->All tracks accurately ripped.

All Tracks
Album gain : -1.64 dB
Peak : 0.977203
Statistics
Read error : 0
Jitter error (maybe fixed) : 0
Retry sector count : 0
Damaged sector count : 0

Track 01
Filename : /Users/iMac/Documents/Complete Mozart Edition/Volume 1/Disc 4of12/01 - Symphony [No. 47] in D Major, K97-73m - I. Allegro.flac
Pre-gap length : 00:02:33

Track gain : -2.44 dB
Peak : 0.781860
CRC32 hash (test run) : 6E2D629B
CRC32 hash : 6E2D629B
CRC32 hash (skip zero) : 2CA0DEBD
AccurateRip signature : 86B21777
->Accurately ripped! (confidence 10)
Statistics
Read error : 0
Jitter error (maybe fixed) : 0
Retry sector count : 0
Damaged sector count : 0

Track 02
Filename : /Users/iMac/Documents/Complete Mozart Edition/Volume 1/Disc 4of12/02 - Symphony [No. 47] in D Major, K97-73m - II. Andante.flac
Pre-gap length : 00:04:00

Track gain : 9.53 dB
Peak : 0.284637
CRC32 hash (test run) : 06A6AD1D
CRC32 hash : 06A6AD1D
CRC32 hash (skip zero) : 66ECE94E
AccurateRip signature : 0C1D83F9
->Accurately ripped! (confidence 10)
Statistics
Read error : 0
Jitter error (maybe fixed) : 0
Retry sector count : 0
Damaged sector count : 0

Track 03
Filename : /Users/iMac/Documents/Complete Mozart Edition/Volume 1/Disc 4of12/03 - Symphony [No. 47] in D Major, K97-73m - III. Menuetto.flac
Pre-gap length : 00:03:00

Track gain : -2.19 dB
Peak : 0.814514
CRC32 hash (test run) : 0AB8A1E2
CRC32 hash : 0AB8A1E2
CRC32 hash (skip zero) : 5D145CD5
AccurateRip signature : C8F5A1C5
->Accurately ripped! (confidence 10)
Statistics
Read error : 0
Jitter error (maybe fixed) : 0
Retry sector count : 0
Damaged sector count : 0

Track 04
Filename : /Users/iMac/Documents/Complete Mozart Edition/Volume 1/Disc 4of12/04 - Symphony [No. 47] in D Major, K97-73m - IV. Presto.flac
Pre-gap length : 00:04:00

Track gain : -2.51 dB
Peak : 0.934753
CRC32 hash (test run) : 8DE16C81
CRC32 hash : 8DE16C81
CRC32 hash (skip zero) : 025BD4CC
AccurateRip signature : 2E3FE373
->Accurately ripped! (confidence 10)
Statistics
Read error : 0
Jitter error (maybe fixed) : 0
Retry sector count : 0
Damaged sector count : 0

Track 05
Filename : /Users/iMac/Documents/Complete Mozart Edition/Volume 1/Disc 4of12/05 - Symphony No. 12 in G Major, K110-75b - I. Allegro.flac
Pre-gap length : 00:10:00

Track gain : -2.84 dB
Peak : 0.861176
CRC32 hash (test run) : 2B3DE078
CRC32 hash : 2B3DE078
CRC32 hash (skip zero) : 4EF24ACC
AccurateRip signature : 8EBFDAC2
->Accurately ripped! (confidence 10)
Statistics
Read error : 0
Jitter error (maybe fixed) : 0
Retry sector count : 0
Damaged sector count : 0

Track 06
Filename : /Users/iMac/Documents/Complete Mozart Edition/Volume 1/Disc 4of12/06 - Symphony No. 12 in G Major, K110-75b - II. Andante.flac
Pre-gap length : 00:02:00

Track gain : 1.61 dB
Peak : 0.600403
CRC32 hash (test run) : B30B28F3
CRC32 hash : B30B28F3
CRC32 hash (skip zero) : 5F9CC938
AccurateRip signature : 5980C773
->Accurately ripped! (confidence 10)
Statistics
Read error : 0
Jitter error (maybe fixed) : 0
Retry sector count : 0
Damaged sector count : 0

Track 07
Filename : /Users/iMac/Documents/Complete Mozart Edition/Volume 1/Disc 4of12/07 - Symphony No. 12 in G Major, K110-75b - III. Menuetto.flac
Pre-gap length : 00:02:00

Track gain : -1.80 dB
Peak : 0.777740
CRC32 hash (test run) : A5867BA1
CRC32 hash : A5867BA1
CRC32 hash (skip zero) : 8CA13E2B
AccurateRip signature : FA53CC7F
->Accurately ripped! (confidence 10)
Statistics
Read error : 0
Jitter error (maybe fixed) : 0
Retry sector count : 0
Damaged sector count : 0

Track 08
Filename : /Users/iMac/Documents/Complete Mozart Edition/Volume 1/Disc 4of12/08 - Symphony No. 12 in G Major, K110-75b - IV. Allegro.flac
Pre-gap length : 00:02:00

Track gain : -3.16 dB
Peak : 0.977203
CRC32 hash (test run) : 74AA515C
CRC32 hash : 74AA515C
CRC32 hash (skip zero) : 907AD56E
AccurateRip signature : 911C64B7
->Accurately ripped! (confidence 10)
Statistics
Read error : 0
Jitter error (maybe fixed) : 0
Retry sector count : 0
Damaged sector count : 0

Track 09
Filename : /Users/iMac/Documents/Complete Mozart Edition/Volume 1/Disc 4of12/09 - Symphony No. 13 in F Major, K112 - I. Allegro.flac
Pre-gap length : 00:09:00

Track gain : -2.29 dB
Peak : 0.945343
CRC32 hash (test run) : 36F996CA
CRC32 hash : 36F996CA
CRC32 hash (skip zero) : 9C6BF4D6
AccurateRip signature : 5979B6D2
->Accurately ripped! (confidence 10)
Statistics
Read error : 0
Jitter error (maybe fixed) : 0
Retry sector count : 0
Damaged sector count : 0

Track 10
Filename : /Users/iMac/Documents/Complete Mozart Edition/Volume 1/Disc 4of12/10 - Symphony No. 13 in F Major, K112 - II. Andante.flac
Pre-gap length : 00:02:00

Track gain : 2.80 dB
Peak : 0.657745
CRC32 hash (test run) : F1C68314
CRC32 hash : F1C68314
CRC32 hash (skip zero) : E58350D1
AccurateRip signature : DC98056D
->Accurately ripped! (confidence 10)
Statistics
Read error : 0
Jitter error (maybe fixed) : 0
Retry sector count : 0
Damaged sector count : 0

Track 11
Filename : /Users/iMac/Documents/Complete Mozart Edition/Volume 1/Disc 4of12/11 - Symphony No. 13 in F Major, K112 - III. Menuetto.flac
Pre-gap length : 00:02:00

Track gain : 0.30 dB
Peak : 0.804749
CRC32 hash (test run) : 9BBBC830
CRC32 hash : 9BBBC830
CRC32 hash (skip zero) : 5CC31E3C
AccurateRip signature : C49463A2
->Accurately ripped! (confidence 10)
Statistics
Read error : 0
Jitter error (maybe fixed) : 0
Retry sector count : 0
Damaged sector count : 0

Track 12
Filename : /Users/iMac/Documents/Complete Mozart Edition/Volume 1/Disc 4of12/12 - Symphony No. 13 in F Major, K112 - IV. Molto allegro.flac
Pre-gap length : 00:01:00

Track gain : -2.92 dB
Peak : 0.943146
CRC32 hash (test run) : 5409B715
CRC32 hash : 5409B715
CRC32 hash (skip zero) : CD284E87
AccurateRip signature : 99230788
->Accurately ripped! (confidence 10)
Statistics
Read error : 0
Jitter error (maybe fixed) : 0
Retry sector count : 0
Damaged sector count : 0

Track 13
Filename : /Users/iMac/Documents/Complete Mozart Edition/Volume 1/Disc 4of12/13 - Symphony No. 14 in A Major, K114 - I. Allegro moderato.flac
Pre-gap length : 00:10:00

Track gain : -0.74 dB
Peak : 0.754700
CRC32 hash (test run) : CE775E75
CRC32 hash : CE775E75
CRC32 hash (skip zero) : 0395D156
AccurateRip signature : 9AAC2EF7
->Accurately ripped! (confidence 10)
Statistics
Read error : 0
Jitter error (maybe fixed) : 0
Retry sector count : 0
Damaged sector count : 0

Track 14
Filename : /Users/iMac/Documents/Complete Mozart Edition/Volume 1/Disc 4of12/14 - Symphony No. 14 in A Major, K114 - II. Andante.flac
Pre-gap length : 00:03:00

Track gain : 7.18 dB
Peak : 0.410217
CRC32 hash (test run) : F3EF74DC
CRC32 hash : F3EF74DC
CRC32 hash (skip zero) : F4F56FEC
AccurateRip signature : 76DFFD11
->Accurately ripped! (confidence 10)
Statistics
Read error : 0
Jitter error (maybe fixed) : 0
Retry sector count : 0
Damaged sector count : 0

Track 15
Filename : /Users/iMac/Documents/Complete Mozart Edition/Volume 1/Disc 4of12/15 - Symphony No. 14 in A Major, K114 - III. Menuetto.flac
Pre-gap length : 00:02:00

Track gain : -0.80 dB
Peak : 0.718384
CRC32 hash (test run) : FD9877CE
CRC32 hash : FD9877CE
CRC32 hash (skip zero) : D6AFDC03
AccurateRip signature : 40BEFB98
->Accurately ripped! (confidence 10)
Statistics
Read error : 0
Jitter error (maybe fixed) : 0
Retry sector count : 0
Damaged sector count : 0

Track 16
Filename : /Users/iMac/Documents/Complete Mozart Edition/Volume 1/Disc 4of12/16 - Symphony No. 14 in A Major, K114 - IV. Allegro molto.flac
Pre-gap length : 00:02:00

Track gain : -2.84 dB
Peak : 0.960144
CRC32 hash (test run) : 6BAAE193
CRC32 hash : 6BAAE193
CRC32 hash (skip zero) : 74F15DF9
AccurateRip signature : 0D672248
->Accurately ripped! (confidence 10)
Statistics
Read error : 0
Jitter error (maybe fixed) : 0
Retry sector count : 0
Damaged sector count : 0

Track 17
Filename : /Users/iMac/Documents/Complete Mozart Edition/Volume 1/Disc 4of12/17 - Symphony No. 14 in A Major, K114 - III. Menuetto (alternative).flac
Pre-gap length : 00:05:00

Track gain : -2.00 dB
Peak : 0.805634
CRC32 hash (test run) : 21F362A8
CRC32 hash : 21F362A8
CRC32 hash (skip zero) : 7AB8AD43
AccurateRip signature : DA80C646
->Accurately ripped! (confidence 10)
Statistics
Read error : 0
Jitter error (maybe fixed) : 0
Retry sector count : 0
Damaged sector count : 0

Track 18
Filename : /Users/iMac/Documents/Complete Mozart Edition/Volume 1/Disc 4of12/18 - Symphony No. 15 in G Major, K124 - I. Allegro.flac
Pre-gap length : 00:09:00

Track gain : -2.93 dB
Peak : 0.932037
CRC32 hash (test run) : FF5B9361
CRC32 hash : FF5B9361
CRC32 hash (skip zero) : C9B9F1E8
AccurateRip signature : B8839E7C
->Accurately ripped! (confidence 10)
Statistics
Read error : 0
Jitter error (maybe fixed) : 0
Retry sector count : 0
Damaged sector count : 0

Track 19
Filename : /Users/iMac/Documents/Complete Mozart Edition/Volume 1/Disc 4of12/19 - Symphony No. 15 in G Major, K124 - II. Andante.flac
Pre-gap length : 00:03:00

Track gain : 4.86 dB
Peak : 0.459869
CRC32 hash (test run) : 5846A1B0
CRC32 hash : 5846A1B0
CRC32 hash (skip zero) : B7192E9A
AccurateRip signature : B9821B3A
->Accurately ripped! (confidence 10)
Statistics
Read error : 0
Jitter error (maybe fixed) : 0
Retry sector count : 0
Damaged sector count : 0

Track 20
Filename : /Users/iMac/Documents/Complete Mozart Edition/Volume 1/Disc 4of12/20 - Symphony No. 15 in G Major, K124 - III. Menuetto.flac
Pre-gap length : 00:01:00

Track gain : -1.08 dB
Peak : 0.741180
CRC32 hash (test run) : 7619463E
CRC32 hash : 7619463E
CRC32 hash (skip zero) : 38B4215D
AccurateRip signature : E8C23C91
->Accurately ripped! (confidence 10)
Statistics
Read error : 0
Jitter error (maybe fixed) : 0
Retry sector count : 0
Damaged sector count : 0

Track 21
Filename : /Users/iMac/Documents/Complete Mozart Edition/Volume 1/Disc 4of12/21 - Symphony No. 15 in G Major, K124 - IV. Presto.flac
Pre-gap length : 00:02:00

Track gain : -2.42 dB
Peak : 0.877167
CRC32 hash (test run) : 3B1D3C70
CRC32 hash : 3B1D3C70
CRC32 hash (skip zero) : 0B58287C
AccurateRip signature : BA781003
->Accurately ripped! (confidence 9)
Statistics
Read error : 0
Jitter error (maybe fixed) : 0
Retry sector count : 0
Damaged sector count : 0

No errors occurred

End of status report
X Lossless Decoder version 20110821 (136.1)

XLD extraction logfile from 2011-09-22 21:58:08 +0300

Academy of St Martin-in-the-Fields, Sir Neville Marriner / Symphonies [Volume 1]

Used drive : TSSTcorp CDDVDW SE-S084C (revision TS01)

Ripper mode : XLD Secure Ripper
Disable audio cache : OK for the drive with a cache less than 1375KiB
Make use of C2 pointers : NO
Read offset correction : 6
Max retry count : 100
Gap status : Analyzed, Appended (except HTOA)

TOC of the extracted CD
Track | Start | Length | Start sector | End sector
––––––––––––––––––––––––––––-
1 | 00:00:32 | 04:21:00 | 32 | 19606
2 | 04:21:32 | 03:48:00 | 19607 | 36706
3 | 08:09:32 | 04:03:00 | 36707 | 54931
4 | 12:12:32 | 04:50:00 | 54932 | 76681
5 | 17:02:32 | 04:14:50 | 76682 | 95781
6 | 21:17:07 | 03:11:25 | 95782 | 110131
7 | 24:28:32 | 05:45:50 | 110132 | 136056
8 | 30:14:07 | 04:49:25 | 136057 | 157756
9 | 35:03:32 | 02:28:00 | 157757 | 168856
10 | 37:31:32 | 07:44:00 | 168857 | 203656
11 | 45:15:32 | 04:08:00 | 203657 | 222256
12 | 49:23:32 | 05:26:00 | 222257 | 246706
13 | 54:49:32 | 04:12:00 | 246707 | 265606
14 | 59:01:32 | 04:37:00 | 265607 | 286381
15 | 63:38:32 | 03:36:20 | 286382 | 302601

AccurateRip Summary
Track 01 : OK (confidence 7)
Track 02 : OK (confidence 7)
Track 03 : OK (confidence 7)
Track 04 : OK (confidence 7)
Track 05 : OK (confidence 7)
Track 06 : OK (confidence 7)
Track 07 : OK (confidence 7)
Track 08 : OK (confidence 7)
Track 09 : OK (confidence 7)
Track 10 : OK (confidence 7)
Track 11 : OK (confidence 7)
Track 12 : OK (confidence 7)
Track 13 : OK (confidence 7)
Track 14 : OK (confidence 7)
Track 15 : OK (confidence 7)
->All tracks accurately ripped.

All Tracks
Album gain : -2.22 dB
Peak : 0.999969
Statistics
Read error : 0
Jitter error (maybe fixed) : 0
Retry sector count : 0
Damaged sector count : 0

Track 01
Filename : /Users/iMac/Documents/Complete Mozart Edition/Volume 1/Disc 5of12/01 - Symphony No. 16 in C Major, K128 - I. Allegro maestoso.flac
Pre-gap length : 00:02:32

Track gain : -0.99 dB
Peak : 0.875092
CRC32 hash (test run) : 25E2663D
CRC32 hash : 25E2663D
CRC32 hash (skip zero) : 73237C2F
AccurateRip signature : BA4C10F2
->Accurately ripped! (confidence 7)
Statistics
Read error : 0
Jitter error (maybe fixed) : 0
Retry sector count : 0
Damaged sector count : 0

Track 02
Filename : /Users/iMac/Documents/Complete Mozart Edition/Volume 1/Disc 5of12/02 - Symphony No. 16 in C Major, K128 - II. Andante grazioso.flac
Pre-gap length : 00:02:37

Track gain : 3.16 dB
Peak : 0.607239
CRC32 hash (test run) : 810A25EC
CRC32 hash : 810A25EC
CRC32 hash (skip zero) : 96A1C3FB
AccurateRip signature : 6FF8AE03
->Accurately ripped! (confidence 7)
Statistics
Read error : 0
Jitter error (maybe fixed) : 0
Retry sector count : 0
Damaged sector count : 0

Track 03
Filename : /Users/iMac/Documents/Complete Mozart Edition/Volume 1/Disc 5of12/03 - Symphony No. 16 in C Major, K128 - III. Allegro.flac

Track gain : -0.99 dB
Peak : 0.897125
CRC32 hash (test run) : 3F3E0325
CRC32 hash : 3F3E0325
CRC32 hash (skip zero) : 9E7916C2
AccurateRip signature : B50B201C
->Accurately ripped! (confidence 7)
Statistics
Read error : 0
Jitter error (maybe fixed) : 0
Retry sector count : 0
Damaged sector count : 0

Track 04
Filename : /Users/iMac/Documents/Complete Mozart Edition/Volume 1/Disc 5of12/04 - Symphony No. 17 in G Major, K129 - I. Allegro.flac
Pre-gap length : 00:07:00

Track gain : -2.17 dB
Peak : 0.879181
CRC32 hash (test run) : 11F9948E
CRC32 hash : 11F9948E
CRC32 hash (skip zero) : 244A7E8B
AccurateRip signature : 3F28416B
->Accurately ripped! (confidence 7)
Statistics
Read error : 0
Jitter error (maybe fixed) : 0
Retry sector count : 0
Damaged sector count : 0

Track 05
Filename : /Users/iMac/Documents/Complete Mozart Edition/Volume 1/Disc 5of12/05 - Symphony No. 17 in G Major, K129 - II. Andante.flac
Pre-gap length : 00:01:37

Track gain : 2.48 dB
Peak : 0.580200
CRC32 hash (test run) : 8E3F6DA7
CRC32 hash : 8E3F6DA7
CRC32 hash (skip zero) : CE99CE07
AccurateRip signature : EE8BA5B7
->Accurately ripped! (confidence 7)
Statistics
Read error : 0
Jitter error (maybe fixed) : 0
Retry sector count : 0
Damaged sector count : 0

Track 06
Filename : /Users/iMac/Documents/Complete Mozart Edition/Volume 1/Disc 5of12/06 - Symphony No. 17 in G Major, K129 - III. Allegro.flac

Track gain : -3.90 dB
Peak : 0.999969
CRC32 hash (test run) : 4221D11B
CRC32 hash : 4221D11B
CRC32 hash (skip zero) : D16CBE40
AccurateRip signature : 8D530625
->Accurately ripped! (confidence 7)
Statistics
Read error : 0
Jitter error (maybe fixed) : 0
Retry sector count : 0
Damaged sector count : 0

Track 07
Filename : /Users/iMac/Documents/Complete Mozart Edition/Volume 1/Disc 5of12/07 - Symphony No. 18 in F Major, K130 - I. Allegro.flac
Pre-gap length : 00:06:00

Track gain : -4.04 dB
Peak : 0.952515
CRC32 hash (test run) : 403E3C9A
CRC32 hash : 403E3C9A
CRC32 hash (skip zero) : 7F074ED2
AccurateRip signature : A3242EE6
->Accurately ripped! (confidence 7)
Statistics
Read error : 0
Jitter error (maybe fixed) : 0
Retry sector count : 0
Damaged sector count : 0

Track 08
Filename : /Users/iMac/Documents/Complete Mozart Edition/Volume 1/Disc 5of12/08 - Symphony No. 18 in F Major, K130 - II. Andantino grazioso.flac

Track gain : 1.86 dB
Peak : 0.690002
CRC32 hash (test run) : 9621466E
CRC32 hash : 9621466E
CRC32 hash (skip zero) : BC029CF8
AccurateRip signature : 0AEDBD63
->Accurately ripped! (confidence 7)
Statistics
Read error : 0
Jitter error (maybe fixed) : 0
Retry sector count : 0
Damaged sector count : 0

Track 09
Filename : /Users/iMac/Documents/Complete Mozart Edition/Volume 1/Disc 5of12/09 - Symphony No. 18 in F Major, K130 - III. Menuetto.flac
Pre-gap length : 00:02:00

Track gain : -4.47 dB
Peak : 0.913727
CRC32 hash (test run) : 042291F5
CRC32 hash : 042291F5
CRC32 hash (skip zero) : F533DD26
AccurateRip signature : AB690753
->Accurately ripped! (confidence 7)
Statistics
Read error : 0
Jitter error (maybe fixed) : 0
Retry sector count : 0
Damaged sector count : 0

Track 10
Filename : /Users/iMac/Documents/Complete Mozart Edition/Volume 1/Disc 5of12/10 - Symphony No. 18 in F Major, K130 - IV. Allegro molto.flac
Pre-gap length : 00:02:00

Track gain : -3.94 dB
Peak : 0.864288
CRC32 hash (test run) : 480EE337
CRC32 hash : 480EE337
CRC32 hash (skip zero) : 509F3120
AccurateRip signature : 2A427962
->Accurately ripped! (confidence 7)
Statistics
Read error : 0
Jitter error (maybe fixed) : 0
Retry sector count : 0
Damaged sector count : 0

Track 11
Filename : /Users/iMac/Documents/Complete Mozart Edition/Volume 1/Disc 5of12/11 - Symphony No. 19 in E Flat Major, K132 - I. Allegro.flac
Pre-gap length : 00:08:00

Track gain : -5.24 dB
Peak : 0.999969
CRC32 hash (test run) : F3155C44
CRC32 hash : F3155C44
CRC32 hash (skip zero) : 4DE494B4
AccurateRip signature : 10E6BA5B
->Accurately ripped! (confidence 7)
Statistics
Read error : 0
Jitter error (maybe fixed) : 0
Retry sector count : 0
Damaged sector count : 0

Track 12
Filename : /Users/iMac/Documents/Complete Mozart Edition/Volume 1/Disc 5of12/12 - Symphony No. 19 in E Flat Major, K132 - II. Andante.flac
Pre-gap length : 00:01:25

Track gain : 2.23 dB
Peak : 0.611877
CRC32 hash (test run) : D536A0EC
CRC32 hash : D536A0EC
CRC32 hash (skip zero) : 61FCC91A
AccurateRip signature : E5F9E2C5
->Accurately ripped! (confidence 7)
Statistics
Read error : 0
Jitter error (maybe fixed) : 0
Retry sector count : 0
Damaged sector count : 0

Track 13
Filename : /Users/iMac/Documents/Complete Mozart Edition/Volume 1/Disc 5of12/13 - Symphony No. 19 in E Flat Major, K132 - III. Menuetto.flac
Pre-gap length : 00:02:00

Track gain : 0.13 dB
Peak : 0.659515
CRC32 hash (test run) : 62F105DD
CRC32 hash : 62F105DD
CRC32 hash (skip zero) : 1AD2B5ED
AccurateRip signature : 9921C419
->Accurately ripped! (confidence 7)
Statistics
Read error : 0
Jitter error (maybe fixed) : 0
Retry sector count : 0
Damaged sector count : 0

Track 14
Filename : /Users/iMac/Documents/Complete Mozart Edition/Volume 1/Disc 5of12/14 - Symphony No. 19 in E Flat Major, K132 - IV. Allegro.flac
Pre-gap length : 00:01:00

Track gain : -0.15 dB
Peak : 0.923035
CRC32 hash (test run) : 96439DDE
CRC32 hash : 96439DDE
CRC32 hash (skip zero) : 25FB9F4C
AccurateRip signature : 000BCB06
->Accurately ripped! (confidence 7)
Statistics
Read error : 0
Jitter error (maybe fixed) : 0
Retry sector count : 0
Damaged sector count : 0

Track 15
Filename : /Users/iMac/Documents/Complete Mozart Edition/Volume 1/Disc 5of12/15 - Symphony No. 19 in E Flat Major, K132 - II. Andantino grazioso (alternative).flac
Pre-gap length : 00:03:00

Track gain : 4.29 dB
Peak : 0.470825
CRC32 hash (test run) : E36B8394
CRC32 hash : E36B8394
CRC32 hash (skip zero) : 33D42B90
AccurateRip signature : DC456335
->Accurately ripped! (confidence 7)
Statistics
Read error : 0
Jitter error (maybe fixed) : 0
Retry sector count : 0
Damaged sector count : 0

No errors occurred

End of status report
X Lossless Decoder version 20110821 (136.1)

XLD extraction logfile from 2011-09-22 15:44:29 +0300

Academy of St Martin-in-the-Fields, Sir Neville Marriner / Symphonies [Volume 1]

Used drive : MATSHITA DVD-R UJ-85J (revision FBZ8)

Ripper mode : XLD Secure Ripper
Disable audio cache : OK for the drive with a cache less than 1375KiB
Make use of C2 pointers : NO
Read offset correction : 102
Max retry count : 100
Gap status : Analyzed, Appended (except HTOA)

TOC of the extracted CD
Track | Start | Length | Start sector | End sector
––––––––––––––––––––––––––––-
1 | 00:00:33 | 07:56:00 | 33 | 35732
2 | 07:56:33 | 04:51:00 | 35733 | 57557
3 | 12:47:33 | 03:49:00 | 57558 | 74732
4 | 16:36:33 | 04:17:00 | 74733 | 94007
5 | 20:53:33 | 03:10:00 | 94008 | 108257
6 | 24:03:33 | 02:54:62 | 108258 | 121369
7 | 26:58:20 | 02:16:13 | 121370 | 131582
8 | 29:14:33 | 06:45:00 | 131583 | 161957
9 | 35:59:33 | 02:41:00 | 161958 | 174032
10 | 38:40:33 | 03:18:25 | 174033 | 188907
11 | 41:58:58 | 02:39:50 | 188908 | 200882
12 | 44:38:33 | 03:09:07 | 200883 | 215064
13 | 47:47:40 | 03:32:30 | 215065 | 230994
14 | 51:19:70 | 04:30:38 | 230995 | 251282

List of alternate offset correction values
# | Absolute | Relative | Confidence
–––––––––––––––––––––
1 | 769 | 667 | 15
2 | 719 | 617 | 10
3 | -444 | -546 | 10
4 | 1833 | 1731 | 7

AccurateRip Summary
Track 01 : OK (confidence 11)
Track 02 : OK (confidence 11)
Track 03 : OK (confidence 11)
Track 04 : OK (confidence 11)
Track 05 : OK (confidence 11)
Track 06 : OK (confidence 11)
Track 07 : OK (confidence 11)
Track 08 : OK (confidence 11)
Track 09 : OK (confidence 11)
Track 10 : OK (confidence 11)
Track 11 : OK (confidence 10)
Track 12 : OK (confidence 11)
Track 13 : OK (confidence 11)
Track 14 : OK (confidence 10)
->All tracks accurately ripped.

All Tracks
Album gain : -1.92 dB
Peak : 0.991302
Statistics
Read error : 0
Jitter error (maybe fixed) : 0
Retry sector count : 0
Damaged sector count : 0

Track 01
Filename : /Users/detemps/Desktop/Volume 1/Disc 6of12/01 - Symphony No. 20 in D Major, K133 - I. Allegro.flac
Pre-gap length : 00:02:33

Track gain : -2.81 dB
Peak : 0.990936
CRC32 hash (test run) : 8155E331
CRC32 hash : 8155E331
CRC32 hash (skip zero) : 154AE4B8
AccurateRip signature : 0B175E24
->Accurately ripped! (confidence 11)
Statistics
Read error : 0
Jitter error (maybe fixed) : 0
Retry sector count : 0
Damaged sector count : 0

Track 02
Filename : /Users/detemps/Desktop/Volume 1/Disc 6of12/02 - Symphony No. 20 in D Major, K133 - II. Andante.flac
Pre-gap length : 00:01:50

Track gain : 4.59 dB
Peak : 0.469177
CRC32 hash (test run) : C79F978C
CRC32 hash : C79F978C
CRC32 hash (skip zero) : 9E4BDA76
AccurateRip signature : E94FEC25
->Accurately ripped! (confidence 11)
Statistics
Read error : 0
Jitter error (maybe fixed) : 0
Retry sector count : 0
Damaged sector count : 0

Track 03
Filename : /Users/detemps/Desktop/Volume 1/Disc 6of12/03 - Symphony No. 20 in D Major, K133 - III. Menuetto.flac
Pre-gap length : 00:02:00

Track gain : -2.43 dB
Peak : 0.850525
CRC32 hash (test run) : 8E7F9476
CRC32 hash : 8E7F9476
CRC32 hash (skip zero) : 02D1EC1C
AccurateRip signature : 457BCCED
->Accurately ripped! (confidence 11)
Statistics
Read error : 0
Jitter error (maybe fixed) : 0
Retry sector count : 0
Damaged sector count : 0

Track 04
Filename : /Users/detemps/Desktop/Volume 1/Disc 6of12/04 - Symphony No. 20 in D Major, K133 - IV. (Allegro).flac
Pre-gap length : 00:01:50

Track gain : -0.06 dB
Peak : 0.802277
CRC32 hash (test run) : 9C31833A
CRC32 hash : 9C31833A
CRC32 hash (skip zero) : 2DC73FFA
AccurateRip signature : 5DAE9913
->Accurately ripped! (confidence 11)
Statistics
Read error : 0
Jitter error (maybe fixed) : 0
Retry sector count : 0
Damaged sector count : 0

Track 05
Filename : /Users/detemps/Desktop/Volume 1/Disc 6of12/05 - Symphony [No. 50] in D Major, K141a (K161 & K163) - I. Allegro moerato.flac
Pre-gap length : 00:08:00

Track gain : -3.97 dB
Peak : 0.991302
CRC32 hash (test run) : 62B2C0A3
CRC32 hash : 62B2C0A3
CRC32 hash (skip zero) : 62CCF383
AccurateRip signature : 2DF2C70E
->Accurately ripped! (confidence 11)
Statistics
Read error : 0
Jitter error (maybe fixed) : 0
Retry sector count : 0
Damaged sector count : 0

Track 06
Filename : /Users/detemps/Desktop/Volume 1/Disc 6of12/06 - Symphony [No. 50] in D Major, K141a (K161 & K163) - II. (Andante).flac

Track gain : 5.30 dB
Peak : 0.545837
CRC32 hash (test run) : 5883E8AD
CRC32 hash : 5883E8AD
CRC32 hash (skip zero) : 6B7F2CC4
AccurateRip signature : 3750B3D9
->Accurately ripped! (confidence 11)
Statistics
Read error : 0
Jitter error (maybe fixed) : 0
Retry sector count : 0
Damaged sector count : 0

Track 07
Filename : /Users/detemps/Desktop/Volume 1/Disc 6of12/07 - Symphony [No. 50] in D Major, K141a (K161 & K163) - III. Presto.flac

Track gain : -3.13 dB
Peak : 0.863617
CRC32 hash (test run) : AFAF895A
CRC32 hash : AFAF895A
CRC32 hash (skip zero) : 302E9B3B
AccurateRip signature : D3FA0FDF
->Accurately ripped! (confidence 11)
Statistics
Read error : 0
Jitter error (maybe fixed) : 0
Retry sector count : 0
Damaged sector count : 0

Track 08
Filename : /Users/detemps/Desktop/Volume 1/Disc 6of12/08 - Symphony [No. 48] in D Major, K111 & K120-K111a - I.Allegro assai (Overture Ascanio in Alba) - II. Andante - III. Presto.flac
Pre-gap length : 00:08:00

Track gain : -2.00 dB
Peak : 0.950592
CRC32 hash (test run) : B039AD2B
CRC32 hash : B039AD2B
CRC32 hash (skip zero) : C39B3E8D
AccurateRip signature : 9AAA1F41
->Accurately ripped! (confidence 11)
Statistics
Read error : 0
Jitter error (maybe fixed) : 0
Retry sector count : 0
Damaged sector count : 0

Track 09
Filename : /Users/detemps/Desktop/Volume 1/Disc 6of12/09 - Symphony [No. 51] in D Major, K196 & K121-207a - I. Allegro molto.flac
Pre-gap length : 00:07:00

Track gain : -4.15 dB
Peak : 0.972900
CRC32 hash (test run) : 399C629B
CRC32 hash : 399C629B
CRC32 hash (skip zero) : 2501D0FC
AccurateRip signature : 84FE6918
->Accurately ripped! (confidence 11)
Statistics
Read error : 0
Jitter error (maybe fixed) : 0
Retry sector count : 0
Damaged sector count : 0

Track 10
Filename : /Users/detemps/Desktop/Volume 1/Disc 6of12/10 - Symphony [No. 51] in D Major, K196 & K121-207a - II. Andantino grazioso.flac
Pre-gap length : 00:01:00

Track gain : 7.37 dB
Peak : 0.328827
CRC32 hash (test run) : 228ACC8B
CRC32 hash : 228ACC8B
CRC32 hash (skip zero) : 41FDFF94
AccurateRip signature : 18EE456E
->Accurately ripped! (confidence 11)
Statistics
Read error : 0
Jitter error (maybe fixed) : 0
Retry sector count : 0
Damaged sector count : 0

Track 11
Filename : /Users/detemps/Desktop/Volume 1/Disc 6of12/11 - Symphony [No. 51] in D Major, K196 & K121-207a - III. Allegro.flac
Pre-gap length : 00:01:00

Track gain : -2.37 dB
Peak : 0.912720
CRC32 hash (test run) : DCFE129D
CRC32 hash : DCFE129D
CRC32 hash (skip zero) : 993E4BEC
AccurateRip signature : 9480D085
->Accurately ripped! (confidence 10)
Statistics
Read error : 0
Jitter error (maybe fixed) : 0
Retry sector count : 0
Damaged sector count : 0

Track 12
Filename : /Users/detemps/Desktop/Volume 1/Disc 6of12/12 - Symphony [No. 52] in C Major, K208 & K102-213c - I. Molto allegro.flac
Pre-gap length : 00:07:00

Track gain : -0.58 dB
Peak : 0.757751
CRC32 hash (test run) : FD78833E
CRC32 hash : FD78833E
CRC32 hash (skip zero) : 495423D4
AccurateRip signature : 89A5E3F6
->Accurately ripped! (confidence 11)
Statistics
Read error : 0
Jitter error (maybe fixed) : 0
Retry sector count : 0
Damaged sector count : 0

Track 13
Filename : /Users/detemps/Desktop/Volume 1/Disc 6of12/13 - Symphony [No. 52] in C Major, K208 & K102-213c - II. Andantino.flac

Track gain : 4.20 dB
Peak : 0.492371
CRC32 hash (test run) : 3F449EEB
CRC32 hash : 3F449EEB
CRC32 hash (skip zero) : 09BA8B7C
AccurateRip signature : 702E9559
->Accurately ripped! (confidence 11)
Statistics
Read error : 0
Jitter error (maybe fixed) : 0
Retry sector count : 0
Damaged sector count : 0

Track 14
Filename : /Users/detemps/Desktop/Volume 1/Disc 6of12/14 - Symphony [No. 52] in C Major, K208 & K102-213c - III. Presto assai.flac

Track gain : -0.53 dB
Peak : 0.863098
CRC32 hash (test run) : 5D20502D
CRC32 hash : 5D20502D
CRC32 hash (skip zero) : 257D8CEC
AccurateRip signature : D73DD84C
->Accurately ripped! (confidence 10)
Statistics
Read error : 0
Jitter error (maybe fixed) : 0
Retry sector count : 0
Damaged sector count : 0

No errors occurred

End of status report
X Lossless Decoder version 20110821 (136.1)

XLD extraction logfile from 2011-09-22 21:20:12 +0300

Academy of St Martin-in-the-Fields, Sir Neville Marriner / Symphonies [Volume 1]

Used drive : TSSTcorp CDDVDW SE-S084C (revision TS01)

Ripper mode : XLD Secure Ripper
Disable audio cache : OK for the drive with a cache less than 1375KiB
Make use of C2 pointers : NO
Read offset correction : 6
Max retry count : 100
Gap status : Analyzed, Appended (except HTOA)

TOC of the extracted CD
Track | Start | Length | Start sector | End sector
––––––––––––––––––––––––––––-
1 | 00:00:32 | 05:51:00 | 32 | 26356
2 | 05:51:32 | 06:19:00 | 26357 | 54781
3 | 12:10:32 | 03:47:00 | 54782 | 71806
4 | 15:57:32 | 04:17:00 | 71807 | 91081
5 | 20:14:32 | 03:23:15 | 91082 | 106321
6 | 23:37:47 | 03:59:60 | 106322 | 124306
7 | 27:37:32 | 01:44:00 | 124307 | 132106
8 | 29:21:32 | 10:15:38 | 132107 | 178269
9 | 39:36:70 | 04:08:37 | 178270 | 196906
10 | 43:45:32 | 03:49:00 | 196907 | 214081
11 | 47:34:32 | 03:08:00 | 214082 | 228181
12 | 50:42:32 | 07:43:00 | 228182 | 262906
13 | 58:25:32 | 04:07:00 | 262907 | 281431
14 | 62:32:32 | 03:39:00 | 281432 | 297856
15 | 66:11:32 | 04:41:00 | 297857 | 318931

List of alternate offset correction values
# | Absolute | Relative | Confidence
–––––––––––––––––––––
1 | -1484 | -1490 | 8
2 | -1855 | -1861 | 3

AccurateRip Summary
Track 01 : OK (confidence 7)
Track 02 : OK (confidence 7)
Track 03 : OK (confidence 7)
Track 04 : OK (confidence 7)
Track 05 : OK (confidence 7)
Track 06 : OK (confidence 7)
Track 07 : OK (confidence 7)
Track 08 : OK (confidence 7)
Track 09 : OK (confidence 7)
Track 10 : OK (confidence 7)
Track 11 : OK (confidence 7)
Track 12 : OK (confidence 7)
Track 13 : OK (confidence 7)
Track 14 : OK (confidence 6)
Track 15 : OK (confidence 6)
->All tracks accurately ripped.

All Tracks
Album gain : -0.71 dB
Peak : 0.947693
Statistics
Read error : 0
Jitter error (maybe fixed) : 0
Retry sector count : 0
Damaged sector count : 0

Track 01
Filename : /Users/iMac/Documents/Complete Mozart Edition/Volume 1/Disc 7of12/01 - Symphony No. 21 in A Major, K134 - I. Allegro.flac
Pre-gap length : 00:02:32

Track gain : 0.19 dB
Peak : 0.755554
CRC32 hash (test run) : 40D5242E
CRC32 hash : 40D5242E
CRC32 hash (skip zero) : 364BF2C5
AccurateRip signature : A4A6B3D7
->Accurately ripped! (confidence 7)
Statistics
Read error : 0
Jitter error (maybe fixed) : 0
Retry sector count : 0
Damaged sector count : 0

Track 02
Filename : /Users/iMac/Documents/Complete Mozart Edition/Volume 1/Disc 7of12/02 - Symphony No. 21 in A Major, K134 - II. Andante.flac
Pre-gap length : 00:01:50

Track gain : 2.55 dB
Peak : 0.572296
CRC32 hash (test run) : 46DE7A08
CRC32 hash : 46DE7A08
CRC32 hash (skip zero) : 3EC4E380
AccurateRip signature : 28494EFF
->Accurately ripped! (confidence 7)
Statistics
Read error : 0
Jitter error (maybe fixed) : 0
Retry sector count : 0
Damaged sector count : 0

Track 03
Filename : /Users/iMac/Documents/Complete Mozart Edition/Volume 1/Disc 7of12/03 - Symphony No. 21 in A Major, K134 - III. Menuetto.flac
Pre-gap length : 00:01:00

Track gain : 1.24 dB
Peak : 0.637451
CRC32 hash (test run) : 7532C345
CRC32 hash : 7532C345
CRC32 hash (skip zero) : 932D174B
AccurateRip signature : 9C21C479
->Accurately ripped! (confidence 7)
Statistics
Read error : 0
Jitter error (maybe fixed) : 0
Retry sector count : 0
Damaged sector count : 0

Track 04
Filename : /Users/iMac/Documents/Complete Mozart Edition/Volume 1/Disc 7of12/04 - Symphony No. 21 in A Major, K134 - IV. Allegro.flac
Pre-gap length : 00:01:45

Track gain : 0.15 dB
Peak : 0.632416
CRC32 hash (test run) : 262E4D76
CRC32 hash : 262E4D76
CRC32 hash (skip zero) : C1EE5A05
AccurateRip signature : 270E7DBE
->Accurately ripped! (confidence 7)
Statistics
Read error : 0
Jitter error (maybe fixed) : 0
Retry sector count : 0
Damaged sector count : 0

Track 05
Filename : /Users/iMac/Documents/Complete Mozart Edition/Volume 1/Disc 7of12/05 - Symphony No. 22 in C Major, K162 - I. Allegro assai.flac
Pre-gap length : 00:06:25

Track gain : -1.55 dB
Peak : 0.914307
CRC32 hash (test run) : C1900755
CRC32 hash : C1900755
CRC32 hash (skip zero) : 4F88CD48
AccurateRip signature : 998DBD2A
->Accurately ripped! (confidence 7)
Statistics
Read error : 0
Jitter error (maybe fixed) : 0
Retry sector count : 0
Damaged sector count : 0

Track 06
Filename : /Users/iMac/Documents/Complete Mozart Edition/Volume 1/Disc 7of12/06 - Symphony No. 22 in C Major, K162 - II. Andantino grazioso.flac
Pre-gap length : 00:02:00

Track gain : 8.12 dB
Peak : 0.312866
CRC32 hash (test run) : 6D2CF1F8
CRC32 hash : 6D2CF1F8
CRC32 hash (skip zero) : D7CA4FD4
AccurateRip signature : C0E7472B
->Accurately ripped! (confidence 7)
Statistics
Read error : 0
Jitter error (maybe fixed) : 0
Retry sector count : 0
Damaged sector count : 0

Track 07
Filename : /Users/iMac/Documents/Complete Mozart Edition/Volume 1/Disc 7of12/07 - Symphony No. 22 in C Major, K162 - III. Presto assai.flac
Pre-gap length : 00:01:27

Track gain : -0.30 dB
Peak : 0.729736
CRC32 hash (test run) : 8B386DDE
CRC32 hash : 8B386DDE
CRC32 hash (skip zero) : F5F35380
AccurateRip signature : A4DF3C06
->Accurately ripped! (confidence 7)
Statistics
Read error : 0
Jitter error (maybe fixed) : 0
Retry sector count : 0
Damaged sector count : 0

Track 08
Filename : /Users/iMac/Documents/Complete Mozart Edition/Volume 1/Disc 7of12/08 - Symphony No. 23 in D Major, K181-162b - I. Allegro spiritoso- II. Andantino grazioso- III. Presto assai.flac
Pre-gap length : 00:05:37

Track gain : -0.90 dB
Peak : 0.827972
CRC32 hash (test run) : 91841B2E
CRC32 hash : 91841B2E
CRC32 hash (skip zero) : BC0492ED
AccurateRip signature : 07502A81
->Accurately ripped! (confidence 7)
Statistics
Read error : 0
Jitter error (maybe fixed) : 0
Retry sector count : 0
Damaged sector count : 0

Track 09
Filename : /Users/iMac/Documents/Complete Mozart Edition/Volume 1/Disc 7of12/09 - Symphony No. 24 in B Flat Major, K182-173dA - I. Allegro spiritoso.flac
Pre-gap length : 00:06:65

Track gain : -1.18 dB
Peak : 0.917145
CRC32 hash (test run) : FFBF4153
CRC32 hash : FFBF4153
CRC32 hash (skip zero) : 06A678E1
AccurateRip signature : 9499CB4B
->Accurately ripped! (confidence 7)
Statistics
Read error : 0
Jitter error (maybe fixed) : 0
Retry sector count : 0
Damaged sector count : 0

Track 10
Filename : /Users/iMac/Documents/Complete Mozart Edition/Volume 1/Disc 7of12/10 - Symphony No. 24 in B Flat Major, K182-173dA - II. Andantino grazioso.flac
Pre-gap length : 00:01:37

Track gain : 7.18 dB
Peak : 0.418671
CRC32 hash (test run) : FA362647
CRC32 hash : FA362647
CRC32 hash (skip zero) : EE7371F0
AccurateRip signature : 243D60BB
->Accurately ripped! (confidence 7)
Statistics
Read error : 0
Jitter error (maybe fixed) : 0
Retry sector count : 0
Damaged sector count : 0

Track 11
Filename : /Users/iMac/Documents/Complete Mozart Edition/Volume 1/Disc 7of12/11 - Symphony No. 24 in B Flat Major, K182-173dA - III. Allegro.flac
Pre-gap length : 00:02:00

Track gain : -0.21 dB
Peak : 0.794708
CRC32 hash (test run) : 33EA4189
CRC32 hash : 33EA4189
CRC32 hash (skip zero) : 8386945B
AccurateRip signature : 15E58742
->Accurately ripped! (confidence 7)
Statistics
Read error : 0
Jitter error (maybe fixed) : 0
Retry sector count : 0
Damaged sector count : 0

Track 12
Filename : /Users/iMac/Documents/Complete Mozart Edition/Volume 1/Disc 7of12/12 - Symphony No. 25 in G Minor, K183-173dB - I. Allegro con brio.flac
Pre-gap length : 00:06:00

Track gain : -2.64 dB
Peak : 0.947693
CRC32 hash (test run) : D790A153
CRC32 hash : D790A153
CRC32 hash (skip zero) : 4C990E49
AccurateRip signature : 4D24D5FB
->Accurately ripped! (confidence 7)
Statistics
Read error : 0
Jitter error (maybe fixed) : 0
Retry sector count : 0
Damaged sector count : 0

Track 13
Filename : /Users/iMac/Documents/Complete Mozart Edition/Volume 1/Disc 7of12/13 - Symphony No. 25 in G Minor, K183-173dB - II. Andante.flac
Pre-gap length : 00:03:00

Track gain : 6.83 dB
Peak : 0.446930
CRC32 hash (test run) : B3CB074D
CRC32 hash : B3CB074D
CRC32 hash (skip zero) : 814F3034
AccurateRip signature : 9A4E3D17
->Accurately ripped! (confidence 7)
Statistics
Read error : 0
Jitter error (maybe fixed) : 0
Retry sector count : 0
Damaged sector count : 0

Track 14
Filename : /Users/iMac/Documents/Complete Mozart Edition/Volume 1/Disc 7of12/14 - Symphony No. 25 in G Minor, K183-173dB - III. Menuetto.flac
Pre-gap length : 00:01:37

Track gain : -1.93 dB
Peak : 0.830811
CRC32 hash (test run) : BE1840F6
CRC32 hash : BE1840F6
CRC32 hash (skip zero) : 1D2F924C
AccurateRip signature : 6A270715
->Accurately ripped! (confidence 6)
Statistics
Read error : 0
Jitter error (maybe fixed) : 0
Retry sector count : 0
Damaged sector count : 0

Track 15
Filename : /Users/iMac/Documents/Complete Mozart Edition/Volume 1/Disc 7of12/15 - Symphony No. 25 in G Minor, K183-173dB - IV. Allegro.flac

Track gain : -2.28 dB
Peak : 0.905792
CRC32 hash (test run) : F422CFCB
CRC32 hash : F422CFCB
CRC32 hash (skip zero) : 2692654A
AccurateRip signature : 42C98507
->Accurately ripped! (confidence 6)
Statistics
Read error : 0
Jitter error (maybe fixed) : 0
Retry sector count : 0
Damaged sector count : 0

No errors occurred

End of status report
X Lossless Decoder version 20110821 (136.1)

XLD extraction logfile from 2011-09-22 20:52:19 +0300

Academy of St Martin-in-the-Fields, Sir Neville Marriner / Symphonies [Volume 1]

Used drive : MATSHITA DVD-R UJ-85J (revision FBZ8)

Ripper mode : XLD Secure Ripper
Disable audio cache : OK for the drive with a cache less than 1375KiB
Make use of C2 pointers : NO
Read offset correction : 102
Max retry count : 100
Gap status : Analyzed, Appended (except HTOA)

TOC of the extracted CD
Track | Start | Length | Start sector | End sector
––––––––––––––––––––––––––––-
1 | 00:00:33 | 08:28:00 | 33 | 38132
2 | 08:28:33 | 04:45:00 | 38133 | 59507
3 | 13:13:33 | 06:07:00 | 59508 | 87032
4 | 19:20:33 | 04:49:00 | 87033 | 108707
5 | 24:09:33 | 05:12:00 | 108708 | 132107
6 | 29:21:33 | 05:12:00 | 132108 | 155507
7 | 34:33:33 | 03:53:00 | 155508 | 172982
8 | 38:26:33 | 03:46:00 | 172983 | 189932
9 | 42:12:33 | 07:26:00 | 189933 | 223382
10 | 49:38:33 | 05:52:00 | 223383 | 249782
11 | 55:30:33 | 03:06:00 | 249783 | 263732
12 | 58:36:33 | 04:59:00 | 263733 | 286157

List of alternate offset correction values
# | Absolute | Relative | Confidence
–––––––––––––––––––––
1 | 1430 | 1328 | 18
2 | 1585 | 1483 | 4
3 | 1696 | 1594 | 2

AccurateRip Summary
Track 01 : OK (confidence 6)
Track 02 : OK (confidence 6)
Track 03 : OK (confidence 6)
Track 04 : OK (confidence 6)
Track 05 : OK (confidence 6)
Track 06 : OK (confidence 6)
Track 07 : OK (confidence 6)
Track 08 : OK (confidence 6)
Track 09 : OK (confidence 6)
Track 10 : OK (confidence 6)
Track 11 : OK (confidence 6)
Track 12 : OK (confidence 5)
->All tracks accurately ripped.

All Tracks
Album gain : -0.42 dB
Peak : 0.998535
Statistics
Read error : 0
Jitter error (maybe fixed) : 0
Retry sector count : 0
Damaged sector count : 0

Track 01
Filename : /Users/detemps/Desktop/Volume 1/Disc 8of12/01 - Symphony No. 26 (Overture) in E Flat Major, K184-161a - I. Molto presto- II. Andante- III. Allegro.flac
Pre-gap length : 00:02:33

Track gain : -1.00 dB
Peak : 0.934113
CRC32 hash (test run) : FB7DCAA5
CRC32 hash : FB7DCAA5
CRC32 hash (skip zero) : 57275F3A
AccurateRip signature : B1202E30
->Accurately ripped! (confidence 6)
Statistics
Read error : 0
Jitter error (maybe fixed) : 0
Retry sector count : 0
Damaged sector count : 0

Track 02
Filename : /Users/detemps/Desktop/Volume 1/Disc 8of12/02 - Symphony No. 27 in G Major, K199-161b - I. Allegro.flac
Pre-gap length : 00:10:00

Track gain : -0.70 dB
Peak : 0.872833
CRC32 hash (test run) : 6D3328D8
CRC32 hash : 6D3328D8
CRC32 hash (skip zero) : 66A08123
AccurateRip signature : 1B33F5B3
->Accurately ripped! (confidence 6)
Statistics
Read error : 0
Jitter error (maybe fixed) : 0
Retry sector count : 0
Damaged sector count : 0

Track 03
Filename : /Users/detemps/Desktop/Volume 1/Disc 8of12/03 - Symphony No. 27 in G Major, K199-161b - II. Andantino grazioso.flac
Pre-gap length : 00:06:00

Track gain : 7.53 dB
Peak : 0.348663
CRC32 hash (test run) : B4ACB133
CRC32 hash : B4ACB133
CRC32 hash (skip zero) : 0307627D
AccurateRip signature : D4F40F31
->Accurately ripped! (confidence 6)
Statistics
Read error : 0
Jitter error (maybe fixed) : 0
Retry sector count : 0
Damaged sector count : 0

Track 04
Filename : /Users/detemps/Desktop/Volume 1/Disc 8of12/04 - Symphony No. 27 in G Major, K199-161b - III. Presto.flac
Pre-gap length : 00:01:00

Track gain : -0.32 dB
Peak : 0.850769
CRC32 hash (test run) : BAA7557C
CRC32 hash : BAA7557C
CRC32 hash (skip zero) : 39D47848
AccurateRip signature : 1C8B3115
->Accurately ripped! (confidence 6)
Statistics
Read error : 0
Jitter error (maybe fixed) : 0
Retry sector count : 0
Damaged sector count : 0

Track 05
Filename : /Users/detemps/Desktop/Volume 1/Disc 8of12/05 - Symphony No. 28 in C Major, K200-189k - I. Allegro spiritoso.flac
Pre-gap length : 00:09:00

Track gain : -1.44 dB
Peak : 0.814331
CRC32 hash (test run) : B85711A8
CRC32 hash : B85711A8
CRC32 hash (skip zero) : 59CC5E9F
AccurateRip signature : D223351D
->Accurately ripped! (confidence 6)
Statistics
Read error : 0
Jitter error (maybe fixed) : 0
Retry sector count : 0
Damaged sector count : 0

Track 06
Filename : /Users/detemps/Desktop/Volume 1/Disc 8of12/06 - Symphony No. 28 in C Major, K200-189k - II. Andante.flac
Pre-gap length : 00:01:00

Track gain : 6.05 dB
Peak : 0.508148
CRC32 hash (test run) : ABCAC405
CRC32 hash : ABCAC405
CRC32 hash (skip zero) : 5F5AB98D
AccurateRip signature : 575FE2B8
->Accurately ripped! (confidence 6)
Statistics
Read error : 0
Jitter error (maybe fixed) : 0
Retry sector count : 0
Damaged sector count : 0

Track 07
Filename : /Users/detemps/Desktop/Volume 1/Disc 8of12/07 - Symphony No. 28 in C Major, K200-189k - III. Menuetto (Allegretto).flac

Track gain : -0.70 dB
Peak : 0.823639
CRC32 hash (test run) : 4E72733B
CRC32 hash : 4E72733B
CRC32 hash (skip zero) : 39389BEA
AccurateRip signature : D5710BDC
->Accurately ripped! (confidence 6)
Statistics
Read error : 0
Jitter error (maybe fixed) : 0
Retry sector count : 0
Damaged sector count : 0

Track 08
Filename : /Users/detemps/Desktop/Volume 1/Disc 8of12/08 - Symphony No. 28 in C Major, K200-189k - IV. Presto.flac
Pre-gap length : 00:01:00

Track gain : -0.37 dB
Peak : 0.808075
CRC32 hash (test run) : D0E38F3A
CRC32 hash : D0E38F3A
CRC32 hash (skip zero) : D4A1908D
AccurateRip signature : EF9E7303
->Accurately ripped! (confidence 6)
Statistics
Read error : 0
Jitter error (maybe fixed) : 0
Retry sector count : 0
Damaged sector count : 0

Track 09
Filename : /Users/detemps/Desktop/Volume 1/Disc 8of12/09 - Symphony No. 29 in A Major, K201-186a - I. Allegro moderato.flac
Pre-gap length : 00:10:00

Track gain : -0.81 dB
Peak : 0.831024
CRC32 hash (test run) : 561696A9
CRC32 hash : 561696A9
CRC32 hash (skip zero) : 3F60D821
AccurateRip signature : F4389014
->Accurately ripped! (confidence 6)
Statistics
Read error : 0
Jitter error (maybe fixed) : 0
Retry sector count : 0
Damaged sector count : 0

Track 10
Filename : /Users/detemps/Desktop/Volume 1/Disc 8of12/10 - Symphony No. 29 in A Major, K201-186a - II. Andante.flac
Pre-gap length : 00:03:00

Track gain : 6.59 dB
Peak : 0.508911
CRC32 hash (test run) : 4E7F0E2F
CRC32 hash : 4E7F0E2F
CRC32 hash (skip zero) : CD73C602
AccurateRip signature : 27C8BD53
->Accurately ripped! (confidence 6)
Statistics
Read error : 0
Jitter error (maybe fixed) : 0
Retry sector count : 0
Damaged sector count : 0

Track 11
Filename : /Users/detemps/Desktop/Volume 1/Disc 8of12/11 - Symphony No. 29 in A Major, K201-186a - III. Menuetto.flac
Pre-gap length : 00:02:00

Track gain : 0.61 dB
Peak : 0.688141
CRC32 hash (test run) : 953B3847
CRC32 hash : 953B3847
CRC32 hash (skip zero) : 4E2D4DC4
AccurateRip signature : D1C67056
->Accurately ripped! (confidence 6)
Statistics
Read error : 0
Jitter error (maybe fixed) : 0
Retry sector count : 0
Damaged sector count : 0

Track 12
Filename : /Users/detemps/Desktop/Volume 1/Disc 8of12/12 - Symphony No. 29 in A Major, K201-186a - IV. Allegro con spirito.flac
Pre-gap length : 00:01:00

Track gain : -1.75 dB
Peak : 0.998535
CRC32 hash (test run) : 774FC954
CRC32 hash : 774FC954
CRC32 hash (skip zero) : 3B3871C7
AccurateRip signature : 31669324
->Accurately ripped! (confidence 5)
Statistics
Read error : 0
Jitter error (maybe fixed) : 0
Retry sector count : 0
Damaged sector count : 0

No errors occurred

End of status report
X Lossless Decoder version 20110821 (136.1)

XLD extraction logfile from 2011-09-22 14:02:31 +0300

Academy of St Martin-in-the-Fields, Sir Neville Marriner / Symphonies [Volume 1]

Used drive : MATSHITA DVD-R UJ-846 (revision FB2U)

Ripper mode : XLD Secure Ripper
Disable audio cache : OK for the drive with a cache less than 1375KiB
Make use of C2 pointers : NO
Read offset correction : 102
Max retry count : 100
Gap status : Analyzed, Appended (except HTOA)

TOC of the extracted CD
Track | Start | Length | Start sector | End sector
––––––––––––––––––––––––––––-
1 | 00:00:33 | 06:33:00 | 33 | 29507
2 | 06:33:33 | 04:02:00 | 29508 | 47657
3 | 10:35:33 | 04:01:00 | 47658 | 65732
4 | 14:36:33 | 03:41:00 | 65733 | 82307
5 | 18:17:33 | 07:25:00 | 82308 | 115682
6 | 25:42:33 | 06:14:00 | 115683 | 143732
7 | 31:56:33 | 03:40:00 | 143733 | 160232
8 | 35:36:33 | 03:49:00 | 160233 | 177407
9 | 39:25:33 | 08:50:00 | 177408 | 217157
10 | 48:15:33 | 07:03:00 | 217158 | 248882
11 | 55:18:33 | 05:09:00 | 248883 | 272057
12 | 60:27:33 | 02:55:00 | 272058 | 285182
13 | 63:22:33 | 06:33:00 | 285183 | 314657

List of alternate offset correction values
# | Absolute | Relative | Confidence
–––––––––––––––––––––
1 | 766 | 664 | 14
2 | 471 | 369 | 6
3 | 99 | -3 | 6

AccurateRip Summary
Track 01 : OK (confidence 4)
Track 02 : OK (confidence 4)
Track 03 : OK (confidence 4)
Track 04 : OK (confidence 4)
Track 05 : OK (confidence 4)
Track 06 : OK (confidence 3)
Track 07 : OK (confidence 4)
Track 08 : OK (confidence 4)
Track 09 : OK (confidence 4)
Track 10 : OK (confidence 4)
Track 11 : OK (confidence 4)
Track 12 : OK (confidence 4)
Track 13 : OK (confidence 4)
->All tracks accurately ripped.

All Tracks
Album gain : -0.41 dB
Peak : 0.977722
Statistics
Read error : 0
Jitter error (maybe fixed) : 0
Retry sector count : 6
Damaged sector count : 0

Track 01
Filename : /Users/iMac/Documents/Complete Mozart Edition/Volume 1/Disc 9of12/01 - Symphony No. 30 in D Major, K202-186b - I. Molto allegro.flac
Pre-gap length : 00:02:33

Track gain : 0.29 dB
Peak : 0.937988
CRC32 hash (test run) : 248E68FB
CRC32 hash : 248E68FB
CRC32 hash (skip zero) : 68337A16
AccurateRip signature : 7D9C96EC
->Accurately ripped! (confidence 4)
Statistics
Read error : 0
Jitter error (maybe fixed) : 0
Retry sector count : 0
Damaged sector count : 0

Track 02
Filename : /Users/iMac/Documents/Complete Mozart Edition/Volume 1/Disc 9of12/02 - Symphony No. 30 in D Major, K202-186b - II. Andantino con moto.flac
Pre-gap length : 00:03:00

Track gain : 6.57 dB
Peak : 0.412537
CRC32 hash (test run) : FE56B848
CRC32 hash : FE56B848
CRC32 hash (skip zero) : 5BEBB90B
AccurateRip signature : E2D20D46
->Accurately ripped! (confidence 4)
Statistics
Read error : 0
Jitter error (maybe fixed) : 0
Retry sector count : 0
Damaged sector count : 0

Track 03
Filename : /Users/iMac/Documents/Complete Mozart Edition/Volume 1/Disc 9of12/03 - Symphony No. 30 in D Major, K202-186b - III. Menuetto.flac
Pre-gap length : 00:02:00

Track gain : -0.41 dB
Peak : 0.732422
CRC32 hash (test run) : 9C6C61D9
CRC32 hash : 9C6C61D9
CRC32 hash (skip zero) : 4733E75D
AccurateRip signature : 6CD9E767
->Accurately ripped! (confidence 4)
Statistics
Read error : 0
Jitter error (maybe fixed) : 0
Retry sector count : 0
Damaged sector count : 0

Track 04
Filename : /Users/iMac/Documents/Complete Mozart Edition/Volume 1/Disc 9of12/04 - Symphony No. 30 in D Major, K202-186b - IV. Presto.flac
Pre-gap length : 00:01:00

Track gain : -0.04 dB
Peak : 0.684998
CRC32 hash (test run) : 7216F652
CRC32 hash : 7216F652
CRC32 hash (skip zero) : 2CAE6595
AccurateRip signature : 770B5EC7
->Accurately ripped! (confidence 4)
Statistics
Read error : 0
Jitter error (maybe fixed) : 0
Retry sector count : 0
Damaged sector count : 0

Track 05
Filename : /Users/iMac/Documents/Complete Mozart Edition/Volume 1/Disc 9of12/05 - Symphony No. 31 in D Major, K297-300a 'Paris' - I. Allegro assai.flac
Pre-gap length : 00:09:00

Track gain : -1.36 dB
Peak : 0.907104
CRC32 hash (test run) : F666C67C
CRC32 hash : F666C67C
CRC32 hash (skip zero) : 9B6B03C7
AccurateRip signature : EC5B930A
->Accurately ripped! (confidence 4)
Statistics
Read error : 0
Jitter error (maybe fixed) : 0
Retry sector count : 0
Damaged sector count : 0

Track 06
Filename : /Users/iMac/Documents/Complete Mozart Edition/Volume 1/Disc 9of12/06 - Symphony No. 31 in D Major, K297-300a 'Paris' - II. Andante.flac
Pre-gap length : 00:03:00

Track gain : 5.14 dB
Peak : 0.485291
CRC32 hash (test run) : 31C084A2
CRC32 hash : 31C084A2
CRC32 hash (skip zero) : F0CCE2F1
AccurateRip signature : 076A1489
->Accurately ripped! (confidence 3)
Statistics
Read error : 0
Jitter error (maybe fixed) : 0
Retry sector count : 0
Damaged sector count : 0

Track 07
Filename : /Users/iMac/Documents/Complete Mozart Edition/Volume 1/Disc 9of12/07 - Symphony No. 31 in D Major, K297-300a 'Paris' - III. Allegro.flac

Track gain : -2.14 dB
Peak : 0.977051
CRC32 hash (test run) : 6CFDFAB8
CRC32 hash : 6CFDFAB8
CRC32 hash (skip zero) : 8567593A
AccurateRip signature : 24108EC1
->Accurately ripped! (confidence 4)
Statistics
Read error : 0
Jitter error (maybe fixed) : 0
Retry sector count : 0
Damaged sector count : 0

Track 08
Filename : /Users/iMac/Documents/Complete Mozart Edition/Volume 1/Disc 9of12/08 - Symphony No. 31 in D Major, K297-300a 'Paris' - II. Andante (alternative).flac
Pre-gap length : 00:08:00

Track gain : 4.21 dB
Peak : 0.564758
CRC32 hash (test run) : F2CE9234
CRC32 hash : F2CE9234
CRC32 hash (skip zero) : 804F88B9
AccurateRip signature : 02AC4FED
->Accurately ripped! (confidence 4)
Statistics
Read error : 0
Jitter error (maybe fixed) : 0
Retry sector count : 0
Damaged sector count : 0

Track 09
Filename : /Users/iMac/Documents/Complete Mozart Edition/Volume 1/Disc 9of12/09 - Symphony No. 32 (Overture) in G Major, K318 - I. Allegro spiritoso- II. Andate- III. Tempo I.flac
Pre-gap length : 00:13:00

Track gain : -1.02 dB
Peak : 0.977722
CRC32 hash (test run) : 649048D3
CRC32 hash : 649048D3
CRC32 hash (skip zero) : D3763D58
AccurateRip signature : 3957497A
->Accurately ripped! (confidence 4)
Statistics
Read error : 0
Jitter error (maybe fixed) : 0
Retry sector count : 0
Damaged sector count : 0

Track 10
Filename : /Users/iMac/Documents/Complete Mozart Edition/Volume 1/Disc 9of12/10 - Symphony No. 33 in B Flat Major, K319 - I. Allegro assai.flac
Pre-gap length : 00:07:00

Track gain : -1.20 dB
Peak : 0.836365
CRC32 hash (test run) : 79C4AA58
CRC32 hash : 79C4AA58
CRC32 hash (skip zero) : 38906014
AccurateRip signature : 1B3E6517
->Accurately ripped! (confidence 4)
Statistics
Read error : 0
Jitter error (maybe fixed) : 0
Retry sector count : 0
Damaged sector count : 0

Track 11
Filename : /Users/iMac/Documents/Complete Mozart Edition/Volume 1/Disc 9of12/11 - Symphony No. 33 in B Flat Major, K319 - II. Andante moderato.flac
Pre-gap length : 00:01:00

Track gain : 5.23 dB
Peak : 0.545837
CRC32 hash (test run) : EAEA7525
CRC32 hash : EAEA7525
CRC32 hash (skip zero) : C0686774
AccurateRip signature : D5D74AEB
->Accurately ripped! (confidence 4)
Statistics
Read error : 0
Jitter error (maybe fixed) : 0
Retry sector count : 0
Damaged sector count : 0

Track 12
Filename : /Users/iMac/Documents/Complete Mozart Edition/Volume 1/Disc 9of12/12 - Symphony No. 33 in B Flat Major, K319 - III. Menuetto.flac
Pre-gap length : 00:01:00

Track gain : -0.37 dB
Peak : 0.756165
CRC32 hash (test run) : E72B56AD
CRC32 hash : E72B56AD
CRC32 hash (skip zero) : 37A7A2A5
AccurateRip signature : DBDAAE61
->Accurately ripped! (confidence 4)
Statistics
Read error : 0
Jitter error (maybe fixed) : 0
Retry sector count : 0
Damaged sector count : 0

Track 13
Filename : /Users/iMac/Documents/Complete Mozart Edition/Volume 1/Disc 9of12/13 - Symphony No. 33 in B Flat Major, K319 - IV. Finale (Allegro assai).flac

Track gain : -0.88 dB
Peak : 0.767426
CRC32 hash (test run) : F28DA87E
CRC32 hash : F28DA87E
CRC32 hash (skip zero) : 442C5631
AccurateRip signature : F13A9AF3
->Accurately ripped! (confidence 4)
Statistics
Read error : 0
Jitter error (maybe fixed) : 0
Retry sector count : 6
Damaged sector count : 0

No errors occurred

End of status report
X Lossless Decoder version 20110821 (136.1)

XLD extraction logfile from 2011-09-22 13:29:24 +0300

Academy of St Martin-in-the-Fields, Sir Neville Marriner / Symphonies [Volume 12]

Used drive : MATSHITA DVD-R UJ-846 (revision FB2U)

Ripper mode : XLD Secure Ripper
Disable audio cache : OK for the drive with a cache less than 1375KiB
Make use of C2 pointers : NO
Read offset correction : 102
Max retry count : 100
Gap status : Analyzed, Appended (except HTOA)

TOC of the extracted CD
Track | Start | Length | Start sector | End sector
––––––––––––––––––––––––––––-
1 | 00:00:33 | 07:25:00 | 33 | 33407
2 | 07:25:33 | 08:44:00 | 33408 | 72707
3 | 16:09:33 | 05:46:00 | 72708 | 98657
4 | 21:55:33 | 05:31:00 | 98658 | 123482
5 | 27:26:33 | 08:54:00 | 123483 | 163532
6 | 36:20:33 | 03:29:00 | 163533 | 179207
7 | 39:49:33 | 04:05:00 | 179208 | 197582
8 | 43:54:33 | 10:44:00 | 197583 | 245882
9 | 54:38:33 | 07:04:00 | 245883 | 277682
10 | 61:42:33 | 03:35:00 | 277683 | 293807
11 | 65:17:33 | 07:59:00 | 293808 | 329732

List of alternate offset correction values
# | Absolute | Relative | Confidence
–––––––––––––––––––––
1 | 1433 | 1331 | 15
2 | 1512 | 1410 | 11
3 | 766 | 664 | 5

AccurateRip Summary
Track 01 : OK (confidence 6)
Track 02 : OK (confidence 6)
Track 03 : OK (confidence 6)
Track 04 : OK (confidence 6)
Track 05 : OK (confidence 6)
Track 06 : OK (confidence 6)
Track 07 : OK (confidence 6)
Track 08 : OK (confidence 6)
Track 09 : OK (confidence 6)
Track 10 : OK (confidence 6)
Track 11 : OK (confidence 6)
->All tracks accurately ripped.

All Tracks
Album gain : -0.10 dB
Peak : 0.975616
Statistics
Read error : 0
Jitter error (maybe fixed) : 0
Retry sector count : 25
Damaged sector count : 0

Track 01
Filename : /Users/iMac/Documents/Complete Mozart Edition/Volume 1/Disc 10of12/01 - Symphony No. 34 in C Major, K338 - I. Allegro vivace.flac
Pre-gap length : 00:02:33

Track gain : -0.57 dB
Peak : 0.863495
CRC32 hash (test run) : 837170E2
CRC32 hash : 837170E2
CRC32 hash (skip zero) : E4CBEC21
AccurateRip signature : 27BF8D1F
->Accurately ripped! (confidence 6)
Statistics
Read error : 0
Jitter error (maybe fixed) : 0
Retry sector count : 0
Damaged sector count : 0

Track 02
Filename : /Users/iMac/Documents/Complete Mozart Edition/Volume 1/Disc 10of12/02 - Symphony No. 34 in C Major, K338 - II. Andante di moto.flac
Pre-gap length : 00:02:00

Track gain : 11.99 dB
Peak : 0.268555
CRC32 hash (test run) : CDCB7D30
CRC32 hash : CDCB7D30
CRC32 hash (skip zero) : BF2B3069
AccurateRip signature : B7344F6E
->Accurately ripped! (confidence 6)
Statistics
Read error : 0
Jitter error (maybe fixed) : 0
Retry sector count : 0
Damaged sector count : 0

Track 03
Filename : /Users/iMac/Documents/Complete Mozart Edition/Volume 1/Disc 10of12/03 - Symphony No. 34 in C Major, K338 - III. Finale (Allegro vivace).flac
Pre-gap length : 00:01:00

Track gain : 1.13 dB
Peak : 0.737854
CRC32 hash (test run) : 9296FD25
CRC32 hash : 9296FD25
CRC32 hash (skip zero) : 6838F931
AccurateRip signature : 0BCFDAD4
->Accurately ripped! (confidence 6)
Statistics
Read error : 0
Jitter error (maybe fixed) : 0
Retry sector count : 0
Damaged sector count : 0

Track 04
Filename : /Users/iMac/Documents/Complete Mozart Edition/Volume 1/Disc 10of12/04 - Symphony No. 35 in D Major, K385 'Haffner' - I. Allegro con spirito.flac
Pre-gap length : 00:08:00

Track gain : -2.10 dB
Peak : 0.975616
CRC32 hash (test run) : 5149B973
CRC32 hash : 5149B973
CRC32 hash (skip zero) : 73791141
AccurateRip signature : 5E2C731F
->Accurately ripped! (confidence 6)
Statistics
Read error : 0
Jitter error (maybe fixed) : 0
Retry sector count : 0
Damaged sector count : 0

Track 05
Filename : /Users/iMac/Documents/Complete Mozart Edition/Volume 1/Disc 10of12/05 - Symphony No. 35 in D Major, K385 'Haffner' - II. (Andante).flac

Track gain : 5.48 dB
Peak : 0.426971
CRC32 hash (test run) : EAE20156
CRC32 hash : EAE20156
CRC32 hash (skip zero) : 1E7DBB77
AccurateRip signature : D293356E
->Accurately ripped! (confidence 6)
Statistics
Read error : 0
Jitter error (maybe fixed) : 0
Retry sector count : 0
Damaged sector count : 0

Track 06
Filename : /Users/iMac/Documents/Complete Mozart Edition/Volume 1/Disc 10of12/06 - Symphony No. 35 in D Major, K385 'Haffner' - III. Menuetto.flac

Track gain : -0.30 dB
Peak : 0.721954
CRC32 hash (test run) : 746E4BDE
CRC32 hash : 746E4BDE
CRC32 hash (skip zero) : C26697A4
AccurateRip signature : 66AE24DA
->Accurately ripped! (confidence 6)
Statistics
Read error : 0
Jitter error (maybe fixed) : 0
Retry sector count : 0
Damaged sector count : 0

Track 07
Filename : /Users/iMac/Documents/Complete Mozart Edition/Volume 1/Disc 10of12/07 - Symphony No. 35 in D Major, K385 'Haffner' - IV. Finale (Presto).flac

Track gain : -1.47 dB
Peak : 0.782715
CRC32 hash (test run) : 6C07B0CF
CRC32 hash : 6C07B0CF
CRC32 hash (skip zero) : 710AFEA5
AccurateRip signature : 24013C90
->Accurately ripped! (confidence 6)
Statistics
Read error : 0
Jitter error (maybe fixed) : 0
Retry sector count : 0
Damaged sector count : 0

Track 08
Filename : /Users/iMac/Documents/Complete Mozart Edition/Volume 1/Disc 10of12/08 - Symphony No. 36 in C Major, K425 'Linz' - I. Adagio - Allegro spiritoso.flac
Pre-gap length : 00:08:00

Track gain : -0.88 dB
Peak : 0.921661
CRC32 hash (test run) : 979B8352
CRC32 hash : 979B8352
CRC32 hash (skip zero) : 01E4FC92
AccurateRip signature : C2FA5AFD
->Accurately ripped! (confidence 6)
Statistics
Read error : 0
Jitter error (maybe fixed) : 0
Retry sector count : 0
Damaged sector count : 0

Track 09
Filename : /Users/iMac/Documents/Complete Mozart Edition/Volume 1/Disc 10of12/09 - Symphony No. 36 in C Major, K425 'Linz' - II. Poco adagio.flac
Pre-gap length : 00:06:00

Track gain : 3.41 dB
Peak : 0.554260
CRC32 hash (test run) : BF8FD637
CRC32 hash : BF8FD637
CRC32 hash (skip zero) : 9D338BA8
AccurateRip signature : 6B942070
->Accurately ripped! (confidence 6)
Statistics
Read error : 0
Jitter error (maybe fixed) : 0
Retry sector count : 0
Damaged sector count : 0

Track 10
Filename : /Users/iMac/Documents/Complete Mozart Edition/Volume 1/Disc 10of12/10 - Symphony No. 36 in C Major, K425 'Linz' - III. Menuetto.flac

Track gain : 1.59 dB
Peak : 0.683899
CRC32 hash (test run) : 5041AC9A
CRC32 hash : 5041AC9A
CRC32 hash (skip zero) : C7FF7A97
AccurateRip signature : 1A477F1C
->Accurately ripped! (confidence 6)
Statistics
Read error : 0
Jitter error (maybe fixed) : 0
Retry sector count : 0
Damaged sector count : 0

Track 11
Filename : /Users/iMac/Documents/Complete Mozart Edition/Volume 1/Disc 10of12/11 - Symphony No. 36 in C Major, K425 'Linz' - IV. Finale (Presto).flac
Pre-gap length : 00:01:00

Track gain : -0.39 dB
Peak : 0.893921
CRC32 hash (test run) : B435624E
CRC32 hash : B435624E
CRC32 hash (skip zero) : 49FD2666
AccurateRip signature : 704EAD17
->Accurately ripped! (confidence 6)
Statistics
Read error : 0
Jitter error (maybe fixed) : 0
Retry sector count : 25
Damaged sector count : 0

No errors occurred

End of status report
X Lossless Decoder version 20110821 (136.1)

XLD extraction logfile from 2011-09-22 12:54:03 +0300

Academy of St Martin-in-the-Fields, Sir Neville Marriner / Symphonies [Volume 1]

Used drive : MATSHITA DVD-R UJ-846 (revision FB2U)

Ripper mode : XLD Secure Ripper
Disable audio cache : OK for the drive with a cache less than 1375KiB
Make use of C2 pointers : NO
Read offset correction : 102
Max retry count : 100
Gap status : Analyzed, Appended (except HTOA)

TOC of the extracted CD
Track | Start | Length | Start sector | End sector
––––––––––––––––––––––––––––-
1 | 00:00:33 | 06:23:00 | 33 | 28757
2 | 06:23:33 | 01:49:00 | 28758 | 36932
3 | 08:12:33 | 14:14:00 | 36933 | 100982
4 | 22:26:33 | 09:06:00 | 100983 | 141932
5 | 31:32:33 | 06:06:00 | 141933 | 169382
6 | 37:38:33 | 10:58:00 | 169383 | 218732
7 | 48:36:33 | 08:12:00 | 218733 | 255632
8 | 56:48:33 | 04:01:00 | 255633 | 273707
9 | 60:49:33 | 05:36:00 | 273708 | 298907

List of alternate offset correction values
# | Absolute | Relative | Confidence
–––––––––––––––––––––
1 | 2097 | 1995 | 16
2 | 1430 | 1328 | 5
3 | 551 | 449 | 5
4 | -910 | -1012 | 5

AccurateRip Summary
Track 01 : OK (confidence 5)
Track 02 : OK (confidence 4)
Track 03 : OK (confidence 5)
Track 04 : OK (confidence 5)
Track 05 : OK (confidence 5)
Track 06 : OK (confidence 5)
Track 07 : OK (confidence 5)
Track 08 : OK (confidence 4)
Track 09 : OK (confidence 4)
->All tracks accurately ripped.

All Tracks
Album gain : -0.36 dB
Peak : 0.903198
Statistics
Read error : 0
Jitter error (maybe fixed) : 0
Retry sector count : 0
Damaged sector count : 0

Track 01
Filename : /Users/iMac/Documents/Complete Mozart Edition/Volume 1/Disc 11of12/01 - Minuet for a Symphony in C Major, K409.flac
Pre-gap length : 00:02:33

Track gain : 0.49 dB
Peak : 0.817963
CRC32 hash (test run) : D4FE914C
CRC32 hash : D4FE914C
CRC32 hash (skip zero) : 774FC831
AccurateRip signature : 630D3EDD
->Accurately ripped! (confidence 5)
Statistics
Read error : 0
Jitter error (maybe fixed) : 0
Retry sector count : 0
Damaged sector count : 0

Track 02
Filename : /Users/iMac/Documents/Complete Mozart Edition/Volume 1/Disc 11of12/02 - Adagio maestoso in G Minor, K444.flac
Pre-gap length : 00:08:00

Track gain : 1.16 dB
Peak : 0.574310
CRC32 hash (test run) : C57BD5E4
CRC32 hash : C57BD5E4
CRC32 hash (skip zero) : F6E6D935
AccurateRip signature : 8F64CF52
->Accurately ripped! (confidence 4)
Statistics
Read error : 0
Jitter error (maybe fixed) : 0
Retry sector count : 0
Damaged sector count : 0

Track 03
Filename : /Users/iMac/Documents/Complete Mozart Edition/Volume 1/Disc 11of12/03 - Symphony No. 38 in D Major, K504 'Prague' - I. Adagio - Allegro.flac
Pre-gap length : 00:06:00

Track gain : -1.01 dB
Peak : 0.874359
CRC32 hash (test run) : B26988D2
CRC32 hash : B26988D2
CRC32 hash (skip zero) : 7350009E
AccurateRip signature : 92F98A0A
->Accurately ripped! (confidence 5)
Statistics
Read error : 0
Jitter error (maybe fixed) : 0
Retry sector count : 0
Damaged sector count : 0

Track 04
Filename : /Users/iMac/Documents/Complete Mozart Edition/Volume 1/Disc 11of12/04 - Symphony No. 38 in D Major, K504 'Prague' - II. Andante.flac
Pre-gap length : 00:02:00

Track gain : 4.97 dB
Peak : 0.682800
CRC32 hash (test run) : CCFD8F4D
CRC32 hash : CCFD8F4D
CRC32 hash (skip zero) : 558154F1
AccurateRip signature : 176F1F14
->Accurately ripped! (confidence 5)
Statistics
Read error : 0
Jitter error (maybe fixed) : 0
Retry sector count : 0
Damaged sector count : 0

Track 05
Filename : /Users/iMac/Documents/Complete Mozart Edition/Volume 1/Disc 11of12/05 - Symphony No. 38 in D Major, K504 'Prague' - III. Finale (Presto).flac
Pre-gap length : 00:01:00

Track gain : -0.56 dB
Peak : 0.808502
CRC32 hash (test run) : 81757623
CRC32 hash : 81757623
CRC32 hash (skip zero) : EE873324
AccurateRip signature : 60000830
->Accurately ripped! (confidence 5)
Statistics
Read error : 0
Jitter error (maybe fixed) : 0
Retry sector count : 0
Damaged sector count : 0

Track 06
Filename : /Users/iMac/Documents/Complete Mozart Edition/Volume 1/Disc 11of12/06 - Symphony No. 39 in E Flat Major, K543 - I. Adagio - Allegro.flac
Pre-gap length : 00:08:00

Track gain : -1.08 dB
Peak : 0.903198
CRC32 hash (test run) : CBD059CC
CRC32 hash : CBD059CC
CRC32 hash (skip zero) : 0F26CDF1
AccurateRip signature : 8EB17715
->Accurately ripped! (confidence 5)
Statistics
Read error : 0
Jitter error (maybe fixed) : 0
Retry sector count : 0
Damaged sector count : 0

Track 07
Filename : /Users/iMac/Documents/Complete Mozart Edition/Volume 1/Disc 11of12/07 - Symphony No. 39 in E Flat Major, K543 - II. Andante con moto.flac
Pre-gap length : 00:05:00

Track gain : 2.07 dB
Peak : 0.562195
CRC32 hash (test run) : D89F21AB
CRC32 hash : D89F21AB
CRC32 hash (skip zero) : 4FD6C7F7
AccurateRip signature : D7F3D90D
->Accurately ripped! (confidence 5)
Statistics
Read error : 0
Jitter error (maybe fixed) : 0
Retry sector count : 0
Damaged sector count : 0

Track 08
Filename : /Users/iMac/Documents/Complete Mozart Edition/Volume 1/Disc 11of12/08 - Symphony No. 39 in E Flat Major, K543 - III. Menuetto (Allegro).flac

Track gain : 1.46 dB
Peak : 0.698730
CRC32 hash (test run) : 5B03C194
CRC32 hash : 5B03C194
CRC32 hash (skip zero) : 1454D41F
AccurateRip signature : B119A4BA
->Accurately ripped! (confidence 4)
Statistics
Read error : 0
Jitter error (maybe fixed) : 0
Retry sector count : 0
Damaged sector count : 0

Track 09
Filename : /Users/iMac/Documents/Complete Mozart Edition/Volume 1/Disc 11of12/09 - Symphony No. 39 in E Flat Major, K543 - IV. Finale (Allegro).flac
Pre-gap length : 00:02:00

Track gain : -1.71 dB
Peak : 0.868439
CRC32 hash (test run) : CD3494CE
CRC32 hash : CD3494CE
CRC32 hash (skip zero) : 000CEF19
AccurateRip signature : 98710425
->Accurately ripped! (confidence 4)
Statistics
Read error : 0
Jitter error (maybe fixed) : 0
Retry sector count : 0
Damaged sector count : 0

No errors occurred

End of status report
X Lossless Decoder version 20110821 (136.1)

XLD extraction logfile from 2011-09-22 12:26:54 +0300

Academy of St Martin-in-the-Fields, Sir Neville Marriner / Symphonies [Volume 1]

Used drive : MATSHITA DVD-R UJ-846 (revision FB2U)

Ripper mode : XLD Secure Ripper
Disable audio cache : OK for the drive with a cache less than 1375KiB
Make use of C2 pointers : NO
Read offset correction : 102
Max retry count : 100
Gap status : Analyzed, Appended (except HTOA)

TOC of the extracted CD
Track | Start | Length | Start sector | End sector
––––––––––––––––––––––––––––-
1 | 00:00:33 | 07:44:00 | 33 | 34832
2 | 07:44:33 | 07:52:00 | 34833 | 70232
3 | 15:36:33 | 04:25:00 | 70233 | 90107
4 | 20:01:33 | 06:50:00 | 90108 | 120857
5 | 26:51:33 | 11:22:00 | 120858 | 172007
6 | 38:13:33 | 08:22:00 | 172008 | 209657
7 | 46:35:33 | 04:31:00 | 209658 | 229982
8 | 51:06:33 | 06:23:00 | 229983 | 258707

List of alternate offset correction values
# | Absolute | Relative | Confidence
–––––––––––––––––––––
1 | 766 | 664 | 21
2 | 1759 | 1657 | 16
3 | 939 | 837 | 14
4 | 1587 | 1485 | 6
5 | 1728 | 1626 | 6

AccurateRip Summary
Track 01 : OK (confidence 6)
Track 02 : OK (confidence 6)
Track 03 : OK (confidence 6)
Track 04 : OK (confidence 6)
Track 05 : OK (confidence 6)
Track 06 : OK (confidence 6)
Track 07 : OK (confidence 6)
Track 08 : OK (confidence 6)
->All tracks accurately ripped.

All Tracks
Album gain : -0.77 dB
Peak : 0.962097
Statistics
Read error : 0
Jitter error (maybe fixed) : 0
Retry sector count : 1
Damaged sector count : 0

Track 01
Filename : /Users/iMac/Documents/Complete Mozart Edition/Volume 1/Disc 1of12/01 - Symphony No. 40 in G Minor, K550 - I. Molto Allegro.flac
Pre-gap length : 00:02:33

Track gain : -1.36 dB
Peak : 0.847626
CRC32 hash (test run) : A7D35E98
CRC32 hash : A7D35E98
CRC32 hash (skip zero) : FFD93BF2
AccurateRip signature : F9EA080B
->Accurately ripped! (confidence 6)
Statistics
Read error : 0
Jitter error (maybe fixed) : 0
Retry sector count : 0
Damaged sector count : 0

Track 02
Filename : /Users/iMac/Documents/Complete Mozart Edition/Volume 1/Disc 1of12/02 - Symphony No. 40 in G Minor, K550 - II. Andante.flac
Pre-gap length : 00:01:00

Track gain : 2.10 dB
Peak : 0.620850
CRC32 hash (test run) : 2A90E035
CRC32 hash : 2A90E035
CRC32 hash (skip zero) : 1893E57B
AccurateRip signature : 5FC6C8C0
->Accurately ripped! (confidence 6)
Statistics
Read error : 0
Jitter error (maybe fixed) : 0
Retry sector count : 0
Damaged sector count : 0

Track 03
Filename : /Users/iMac/Documents/Complete Mozart Edition/Volume 1/Disc 1of12/03 - Symphony No. 40 in G Minor, K550 - III. Menuetto (Allegretto).flac
Pre-gap length : 00:01:00

Track gain : -0.21 dB
Peak : 0.675629
CRC32 hash (test run) : EED1C743
CRC32 hash : EED1C743
CRC32 hash (skip zero) : A34761C9
AccurateRip signature : 17D52D0D
->Accurately ripped! (confidence 6)
Statistics
Read error : 0
Jitter error (maybe fixed) : 0
Retry sector count : 0
Damaged sector count : 0

Track 04
Filename : /Users/iMac/Documents/Complete Mozart Edition/Volume 1/Disc 1of12/04 - Symphony No. 40 in G Minor, K550 - IV. Finale (Allegro assai).flac

Track gain : -0.13 dB
Peak : 0.892670
CRC32 hash (test run) : B5656337
CRC32 hash : B5656337
CRC32 hash (skip zero) : C3ED6E7C
AccurateRip signature : 9CCC2B56
->Accurately ripped! (confidence 6)
Statistics
Read error : 0
Jitter error (maybe fixed) : 0
Retry sector count : 0
Damaged sector count : 0

Track 05
Filename : /Users/iMac/Documents/Complete Mozart Edition/Volume 1/Disc 1of12/05 - Symphony No. 41 in C Major, K551 'Jupiter' - I. Allegro vivace.flac
Pre-gap length : 00:06:00

Track gain : -1.87 dB
Peak : 0.905304
CRC32 hash (test run) : 13436C7D
CRC32 hash : 13436C7D
CRC32 hash (skip zero) : F5991B64
AccurateRip signature : CC630298
->Accurately ripped! (confidence 6)
Statistics
Read error : 0
Jitter error (maybe fixed) : 0
Retry sector count : 0
Damaged sector count : 0

Track 06
Filename : /Users/iMac/Documents/Complete Mozart Edition/Volume 1/Disc 1of12/06 - Symphony No. 41 in C Major, K551 'Jupiter' - II. Andante cantabile.flac
Pre-gap length : 00:05:00

Track gain : 5.34 dB
Peak : 0.449829
CRC32 hash (test run) : C55197F3
CRC32 hash : C55197F3
CRC32 hash (skip zero) : 99CF7B0D
AccurateRip signature : 890B7CD1
->Accurately ripped! (confidence 6)
Statistics
Read error : 0
Jitter error (maybe fixed) : 0
Retry sector count : 0
Damaged sector count : 0

Track 07
Filename : /Users/iMac/Documents/Complete Mozart Edition/Volume 1/Disc 1of12/07 - Symphony No. 41 in C Major, K551 'Jupiter' - III. Menuetto (Allegretto).flac
Pre-gap length : 00:02:00

Track gain : -0.25 dB
Peak : 0.802307
CRC32 hash (test run) : 098BA2AF
CRC32 hash : 098BA2AF
CRC32 hash (skip zero) : E6187269
AccurateRip signature : 1C8EAD00
->Accurately ripped! (confidence 6)
Statistics
Read error : 0
Jitter error (maybe fixed) : 0
Retry sector count : 0
Damaged sector count : 0

Track 08
Filename : /Users/iMac/Documents/Complete Mozart Edition/Volume 1/Disc 1of12/08 - Symphony No. 41 in C Major, K551 'Jupiter' - IV. Molto allegro.flac
Pre-gap length : 00:01:00

Track gain : -1.39 dB
Peak : 0.962097
CRC32 hash (test run) : 827EC696
CRC32 hash : 827EC696
CRC32 hash (skip zero) : 89B8515A
AccurateRip signature : 4292D5CA
->Accurately ripped! (confidence 6)
Statistics
Read error : 0
Jitter error (maybe fixed) : 0
Retry sector count : 1
Damaged sector count : 0

No errors occurred

End of status report
X Lossless Decoder version 20110821 (136.1)

XLD extraction logfile from 2011-09-23 01:08:00 +0300

Various Artists / Serenades for Orchestra [Volume 2]

Used drive : TSSTcorp CDDVDW SE-S084C (revision TS01)

Ripper mode : XLD Secure Ripper
Disable audio cache : OK for the drive with a cache less than 1375KiB
Make use of C2 pointers : NO
Read offset correction : 6
Max retry count : 100
Gap status : Analyzed, Appended (except HTOA)

TOC of the extracted CD
Track | Start | Length | Start sector | End sector
––––––––––––––––––––––––––––-
1 | 00:00:33 | 05:48:00 | 33 | 26132
2 | 05:48:33 | 06:32:37 | 26133 | 55569
3 | 12:20:70 | 03:33:38 | 55570 | 71582
4 | 15:54:33 | 05:11:00 | 71583 | 94907
5 | 21:05:33 | 06:42:00 | 94908 | 125057
6 | 27:47:33 | 05:36:00 | 125058 | 150257
7 | 33:23:33 | 03:13:00 | 150258 | 164732
8 | 36:36:33 | 03:39:00 | 164733 | 181157
9 | 40:15:33 | 07:58:00 | 181158 | 217007
10 | 48:13:33 | 02:44:00 | 217008 | 229307
11 | 50:57:33 | 01:51:00 | 229308 | 237632
12 | 52:48:33 | 03:08:00 | 237633 | 251732
13 | 55:56:33 | 02:27:00 | 251733 | 262757
14 | 58:23:33 | 02:49:00 | 262758 | 275432
15 | 61:12:33 | 02:06:00 | 275433 | 284882
16 | 63:18:33 | 03:50:00 | 284883 | 302132

List of alternate offset correction values
# | Absolute | Relative | Confidence
–––––––––––––––––––––
1 | 1337 | 1331 | 11
2 | 1823 | 1817 | 5
3 | 670 | 664 | 3

AccurateRip Summary
Track 01 : OK (confidence 5)
Track 02 : OK (confidence 5)
Track 03 : OK (confidence 5)
Track 04 : OK (confidence 5)
Track 05 : OK (confidence 5)
Track 06 : OK (confidence 5)
Track 07 : OK (confidence 5)
Track 08 : OK (confidence 5)
Track 09 : OK (confidence 5)
Track 10 : OK (confidence 5)
Track 11 : OK (confidence 5)
Track 12 : OK (confidence 5)
Track 13 : OK (confidence 5)
Track 14 : OK (confidence 5)
Track 15 : OK (confidence 5)
Track 16 : OK (confidence 5)
->All tracks accurately ripped.

All Tracks
Album gain : 0.49 dB
Peak : 0.956696
Statistics
Read error : 0
Jitter error (maybe fixed) : 0
Retry sector count : 0
Damaged sector count : 0

Track 01
Filename : /Users/iMac/Documents/Complete Mozart Edition/Volume 2/Disc 1of13/01 - 'Galimathias musicum', K32 - I. Molto allegro-.flac
Pre-gap length : 00:02:33

Track gain : -0.22 dB
Peak : 0.777344
CRC32 hash (test run) : F178A8A9
CRC32 hash : F178A8A9
CRC32 hash (skip zero) : CDE6CF07
AccurateRip signature : 235DDB4B
->Accurately ripped! (confidence 5)
Statistics
Read error : 0
Jitter error (maybe fixed) : 0
Retry sector count : 0
Damaged sector count : 0

Track 02
Filename : /Users/iMac/Documents/Complete Mozart Edition/Volume 2/Disc 1of13/02 - 'Galimathias musicum', K32 - II. Molto adagio-.flac

Track gain : 1.25 dB
Peak : 0.838318
CRC32 hash (test run) : 25FFD849
CRC32 hash : 25FFD849
CRC32 hash (skip zero) : 9A714D5C
AccurateRip signature : 432A9484
->Accurately ripped! (confidence 5)
Statistics
Read error : 0
Jitter error (maybe fixed) : 0
Retry sector count : 0
Damaged sector count : 0

Track 03
Filename : /Users/iMac/Documents/Complete Mozart Edition/Volume 2/Disc 1of13/03 - 'Galimathias musicum', K32 - III. Fuga.flac

Track gain : -1.68 dB
Peak : 0.934448
CRC32 hash (test run) : FB16FC89
CRC32 hash : FB16FC89
CRC32 hash (skip zero) : 7BE73140
AccurateRip signature : E1DBA974
->Accurately ripped! (confidence 5)
Statistics
Read error : 0
Jitter error (maybe fixed) : 0
Retry sector count : 0
Damaged sector count : 0

Track 04
Filename : /Users/iMac/Documents/Complete Mozart Edition/Volume 2/Disc 1of13/04 - Divertimento in D Major, K131 - I. (Allegro).flac
Pre-gap length : 00:09:00

Track gain : -0.58 dB
Peak : 0.732971
CRC32 hash (test run) : 2A527D47
CRC32 hash : 2A527D47
CRC32 hash (skip zero) : 2436B679
AccurateRip signature : 7376F12A
->Accurately ripped! (confidence 5)
Statistics
Read error : 0
Jitter error (maybe fixed) : 0
Retry sector count : 0
Damaged sector count : 0

Track 05
Filename : /Users/iMac/Documents/Complete Mozart Edition/Volume 2/Disc 1of13/05 - Divertimento in D Major, K131 - II. Adagio.flac
Pre-gap length : 00:01:00

Track gain : 8.58 dB
Peak : 0.369110
CRC32 hash (test run) : 516215D3
CRC32 hash : 516215D3
CRC32 hash (skip zero) : 0F433DAD
AccurateRip signature : 58F3888A
->Accurately ripped! (confidence 5)
Statistics
Read error : 0
Jitter error (maybe fixed) : 0
Retry sector count : 0
Damaged sector count : 0

Track 06
Filename : /Users/iMac/Documents/Complete Mozart Edition/Volume 2/Disc 1of13/06 - Divertimento in D Major, K131 - III. Menuetto.flac

Track gain : -0.26 dB
Peak : 0.803223
CRC32 hash (test run) : 60499D0C
CRC32 hash : 60499D0C
CRC32 hash (skip zero) : AAE5C474
AccurateRip signature : 1D2DC85C
->Accurately ripped! (confidence 5)
Statistics
Read error : 0
Jitter error (maybe fixed) : 0
Retry sector count : 0
Damaged sector count : 0

Track 07
Filename : /Users/iMac/Documents/Complete Mozart Edition/Volume 2/Disc 1of13/07 - Divertimento in D Major, K131 - IV. Allegretto.flac

Track gain : 4.13 dB
Peak : 0.470795
CRC32 hash (test run) : 683C7D70
CRC32 hash : 683C7D70
CRC32 hash (skip zero) : F8BD5FD4
AccurateRip signature : 5CF9CDCC
->Accurately ripped! (confidence 5)
Statistics
Read error : 0
Jitter error (maybe fixed) : 0
Retry sector count : 0
Damaged sector count : 0

Track 08
Filename : /Users/iMac/Documents/Complete Mozart Edition/Volume 2/Disc 1of13/08 - Divertimento in D Major, K131 - V. Menuetto.flac

Track gain : -0.02 dB
Peak : 0.863983
CRC32 hash (test run) : 57C16202
CRC32 hash : 57C16202
CRC32 hash (skip zero) : 9011DC90
AccurateRip signature : 5F84B91B
->Accurately ripped! (confidence 5)
Statistics
Read error : 0
Jitter error (maybe fixed) : 0
Retry sector count : 0
Damaged sector count : 0

Track 09
Filename : /Users/iMac/Documents/Complete Mozart Edition/Volume 2/Disc 1of13/09 - Divertimento in D Major, K131 - VI. Adagio - Allegro molto - Allegro assai.flac
Pre-gap length : 00:01:00

Track gain : -0.07 dB
Peak : 0.956696
CRC32 hash (test run) : 33FE9B0C
CRC32 hash : 33FE9B0C
CRC32 hash (skip zero) : E6B27A7F
AccurateRip signature : 1CDFF318
->Accurately ripped! (confidence 5)
Statistics
Read error : 0
Jitter error (maybe fixed) : 0
Retry sector count : 0
Damaged sector count : 0

Track 10
Filename : /Users/iMac/Documents/Complete Mozart Edition/Volume 2/Disc 1of13/10 - Cassation in B Flat Major, K99-63a - I. Marche.flac
Pre-gap length : 00:06:00

Track gain : 1.25 dB
Peak : 0.568237
CRC32 hash (test run) : 209522FA
CRC32 hash : 209522FA
CRC32 hash (skip zero) : C1113727
AccurateRip signature : CB3AC9F4
->Accurately ripped! (confidence 5)
Statistics
Read error : 0
Jitter error (maybe fixed) : 0
Retry sector count : 0
Damaged sector count : 0

Track 11
Filename : /Users/iMac/Documents/Complete Mozart Edition/Volume 2/Disc 1of13/11 - Cassation in B Flat Major, K99-63a - II. Allegro molto.flac

Track gain : -0.67 dB
Peak : 0.714661
CRC32 hash (test run) : 4647CD2A
CRC32 hash : 4647CD2A
CRC32 hash (skip zero) : 680B36C3
AccurateRip signature : C7FD0AB6
->Accurately ripped! (confidence 5)
Statistics
Read error : 0
Jitter error (maybe fixed) : 0
Retry sector count : 0
Damaged sector count : 0

Track 12
Filename : /Users/iMac/Documents/Complete Mozart Edition/Volume 2/Disc 1of13/12 - Cassation in B Flat Major, K99-63a - III. Andante.flac

Track gain : 9.45 dB
Peak : 0.363708
CRC32 hash (test run) : B3B06889
CRC32 hash : B3B06889
CRC32 hash (skip zero) : 9ED420D4
AccurateRip signature : 15288972
->Accurately ripped! (confidence 5)
Statistics
Read error : 0
Jitter error (maybe fixed) : 0
Retry sector count : 0
Damaged sector count : 0

Track 13
Filename : /Users/iMac/Documents/Complete Mozart Edition/Volume 2/Disc 1of13/13 - Cassation in B Flat Major, K99-63a - IV. Menuet.flac

Track gain : 0.92 dB
Peak : 0.620514
CRC32 hash (test run) : 98859C3C
CRC32 hash : 98859C3C
CRC32 hash (skip zero) : 155A9379
AccurateRip signature : 406CE9F3
->Accurately ripped! (confidence 5)
Statistics
Read error : 0
Jitter error (maybe fixed) : 0
Retry sector count : 0
Damaged sector count : 0

Track 14
Filename : /Users/iMac/Documents/Complete Mozart Edition/Volume 2/Disc 1of13/14 - Cassation in B Flat Major, K99-63a - V. Andante.flac

Track gain : 6.01 dB
Peak : 0.376556
CRC32 hash (test run) : DEAC7797
CRC32 hash : DEAC7797
CRC32 hash (skip zero) : E4905E94
AccurateRip signature : 1B6D66B6
->Accurately ripped! (confidence 5)
Statistics
Read error : 0
Jitter error (maybe fixed) : 0
Retry sector count : 0
Damaged sector count : 0

Track 15
Filename : /Users/iMac/Documents/Complete Mozart Edition/Volume 2/Disc 1of13/15 - Cassation in B Flat Major, K99-63a - VI. Menuet.flac

Track gain : 1.78 dB
Peak : 0.522766
CRC32 hash (test run) : 0015BFE6
CRC32 hash : 0015BFE6
CRC32 hash (skip zero) : 029BFFE1
AccurateRip signature : 921C8301
->Accurately ripped! (confidence 5)
Statistics
Read error : 0
Jitter error (maybe fixed) : 0
Retry sector count : 0
Damaged sector count : 0

Track 16
Filename : /Users/iMac/Documents/Complete Mozart Edition/Volume 2/Disc 1of13/16 - Cassation in B Flat Major, K99-63a - VII. Allegro-.flac

Track gain : 1.44 dB
Peak : 0.568237
CRC32 hash (test run) : 1795D729
CRC32 hash : 1795D729
CRC32 hash (skip zero) : A73F1DA8
AccurateRip signature : 2450F4B2
->Accurately ripped! (confidence 5)
Statistics
Read error : 0
Jitter error (maybe fixed) : 0
Retry sector count : 0
Damaged sector count : 0

No errors occurred

End of status report
X Lossless Decoder version 20110821 (136.1)

XLD extraction logfile from 2011-09-23 01:38:30 +0300

Various Artists / Serenades for Orchestra

Used drive : TSSTcorp CDDVDW SE-S084C (revision TS01)

Ripper mode : XLD Secure Ripper
Disable audio cache : OK for the drive with a cache less than 1375KiB
Make use of C2 pointers : NO
Read offset correction : 6
Max retry count : 100
Gap status : Analyzed, Appended (except HTOA)

TOC of the extracted CD
Track | Start | Length | Start sector | End sector
––––––––––––––––––––––––––––-
1 | 00:00:33 | 03:37:00 | 33 | 16307
2 | 03:37:33 | 04:25:00 | 16308 | 36182
3 | 08:02:33 | 06:02:00 | 36183 | 63332
4 | 14:04:33 | 02:29:00 | 63333 | 74507
5 | 16:33:33 | 03:06:00 | 74508 | 88457
6 | 19:39:33 | 02:32:00 | 88458 | 99857
7 | 22:11:33 | 03:44:00 | 99858 | 116657
8 | 25:55:33 | 02:04:00 | 116658 | 125957
9 | 27:59:33 | 03:06:00 | 125958 | 139907
10 | 31:05:33 | 03:08:00 | 139908 | 154007
11 | 34:13:33 | 03:52:00 | 154008 | 171407
12 | 38:05:33 | 03:12:00 | 171408 | 185807
13 | 41:17:33 | 03:18:00 | 185808 | 200657
14 | 44:35:33 | 06:02:00 | 200658 | 227807
15 | 50:37:33 | 03:12:00 | 227808 | 242207
16 | 53:49:33 | 02:08:00 | 242208 | 251807

List of alternate offset correction values
# | Absolute | Relative | Confidence
–––––––––––––––––––––
1 | 1339 | 1333 | 11
2 | 670 | 664 | 3

AccurateRip Summary
Track 01 : OK (confidence 5)
Track 02 : OK (confidence 5)
Track 03 : OK (confidence 5)
Track 04 : OK (confidence 5)
Track 05 : OK (confidence 5)
Track 06 : OK (confidence 5)
Track 07 : OK (confidence 5)
Track 08 : OK (confidence 5)
Track 09 : OK (confidence 5)
Track 10 : OK (confidence 5)
Track 11 : OK (confidence 5)
Track 12 : OK (confidence 5)
Track 13 : OK (confidence 5)
Track 14 : OK (confidence 5)
Track 15 : OK (confidence 5)
Track 16 : OK (confidence 5)
->All tracks accurately ripped.

All Tracks
Album gain : 0.63 dB
Peak : 0.913452
Statistics
Read error : 0
Jitter error (maybe fixed) : 0
Retry sector count : 0
Damaged sector count : 0

Track 01
Filename : /Users/iMac/Documents/Complete Mozart Edition/Volume 2/Disc 2of13/01 - March in D Major, K62.flac
Pre-gap length : 00:02:33

Track gain : -0.81 dB
Peak : 0.746979
CRC32 hash (test run) : 99C18F8F
CRC32 hash : 99C18F8F
CRC32 hash (skip zero) : CC0E1252
AccurateRip signature : C5D68EBE
->Accurately ripped! (confidence 5)
Statistics
Read error : 0
Jitter error (maybe fixed) : 0
Retry sector count : 0
Damaged sector count : 0

Track 02
Filename : /Users/iMac/Documents/Complete Mozart Edition/Volume 2/Disc 2of13/02 - Serenade in D Major, K100-62a - I. Allegro.flac

Track gain : -0.04 dB
Peak : 0.792786
CRC32 hash (test run) : 4C0C9010
CRC32 hash : 4C0C9010
CRC32 hash (skip zero) : 17FFD6D5
AccurateRip signature : 8A8E05B6
->Accurately ripped! (confidence 5)
Statistics
Read error : 0
Jitter error (maybe fixed) : 0
Retry sector count : 0
Damaged sector count : 0

Track 03
Filename : /Users/iMac/Documents/Complete Mozart Edition/Volume 2/Disc 2of13/03 - Serenade in D Major, K100-62a - II. Andante.flac

Track gain : 2.65 dB
Peak : 0.506073
CRC32 hash (test run) : F7F55573
CRC32 hash : F7F55573
CRC32 hash (skip zero) : 3813D71D
AccurateRip signature : 8CFB5555
->Accurately ripped! (confidence 5)
Statistics
Read error : 0
Jitter error (maybe fixed) : 0
Retry sector count : 0
Damaged sector count : 0

Track 04
Filename : /Users/iMac/Documents/Complete Mozart Edition/Volume 2/Disc 2of13/04 - Serenade in D Major, K100-62a - III. Menuetto.flac

Track gain : 5.72 dB
Peak : 0.350861
CRC32 hash (test run) : 1BB5F9FC
CRC32 hash : 1BB5F9FC
CRC32 hash (skip zero) : 571FB0BE
AccurateRip signature : 479E963B
->Accurately ripped! (confidence 5)
Statistics
Read error : 0
Jitter error (maybe fixed) : 0
Retry sector count : 0
Damaged sector count : 0

Track 05
Filename : /Users/iMac/Documents/Complete Mozart Edition/Volume 2/Disc 2of13/05 - Serenade in D Major, K100-62a - IV. Allegro.flac

Track gain : 2.17 dB
Peak : 0.516724
CRC32 hash (test run) : A971D87F
CRC32 hash : A971D87F
CRC32 hash (skip zero) : 2B4275A4
AccurateRip signature : ABB4B4EA
->Accurately ripped! (confidence 5)
Statistics
Read error : 0
Jitter error (maybe fixed) : 0
Retry sector count : 0
Damaged sector count : 0

Track 06
Filename : /Users/iMac/Documents/Complete Mozart Edition/Volume 2/Disc 2of13/06 - Serenade in D Major, K100-62a - V. Menuetto.flac

Track gain : -0.24 dB
Peak : 0.650696
CRC32 hash (test run) : F69F68B9
CRC32 hash : F69F68B9
CRC32 hash (skip zero) : BF4E1853
AccurateRip signature : ABD0F4A0
->Accurately ripped! (confidence 5)
Statistics
Read error : 0
Jitter error (maybe fixed) : 0
Retry sector count : 0
Damaged sector count : 0

Track 07
Filename : /Users/iMac/Documents/Complete Mozart Edition/Volume 2/Disc 2of13/07 - Serenade in D Major, K100-62a - VI. Andante.flac

Track gain : 6.52 dB
Peak : 0.309235
CRC32 hash (test run) : 2BDBE9CE
CRC32 hash : 2BDBE9CE
CRC32 hash (skip zero) : E3E095CE
AccurateRip signature : 4A359A19
->Accurately ripped! (confidence 5)
Statistics
Read error : 0
Jitter error (maybe fixed) : 0
Retry sector count : 0
Damaged sector count : 0

Track 08
Filename : /Users/iMac/Documents/Complete Mozart Edition/Volume 2/Disc 2of13/08 - Serenade in D Major, K100-62a - VII. Menuetto.flac

Track gain : -1.62 dB
Peak : 0.913452
CRC32 hash (test run) : 21FB66FD
CRC32 hash : 21FB66FD
CRC32 hash (skip zero) : 55E8BFCB
AccurateRip signature : 852F0D37
->Accurately ripped! (confidence 5)
Statistics
Read error : 0
Jitter error (maybe fixed) : 0
Retry sector count : 0
Damaged sector count : 0

Track 09
Filename : /Users/iMac/Documents/Complete Mozart Edition/Volume 2/Disc 2of13/09 - Serenade in D Major, K100-62a - VIII. Allegro.flac

Track gain : -1.05 dB
Peak : 0.838470
CRC32 hash (test run) : 94804FC4
CRC32 hash : 94804FC4
CRC32 hash (skip zero) : 99A5FB81
AccurateRip signature : C2868EE1
->Accurately ripped! (confidence 5)
Statistics
Read error : 0
Jitter error (maybe fixed) : 0
Retry sector count : 0
Damaged sector count : 0

Track 10
Filename : /Users/iMac/Documents/Complete Mozart Edition/Volume 2/Disc 2of13/10 - Cassation (Finalmusik) in G Major, K63 - I. Marcia.flac
Pre-gap length : 00:06:00

Track gain : -0.07 dB
Peak : 0.666992
CRC32 hash (test run) : 957F2215
CRC32 hash : 957F2215
CRC32 hash (skip zero) : 3AF6BE90
AccurateRip signature : EBF1BE8E
->Accurately ripped! (confidence 5)
Statistics
Read error : 0
Jitter error (maybe fixed) : 0
Retry sector count : 0
Damaged sector count : 0

Track 11
Filename : /Users/iMac/Documents/Complete Mozart Edition/Volume 2/Disc 2of13/11 - Cassation (Finalmusik) in G Major, K63 - II. Allegro.flac
Pre-gap length : 00:01:00

Track gain : 1.64 dB
Peak : 0.716309
CRC32 hash (test run) : 0D6ACB77
CRC32 hash : 0D6ACB77
CRC32 hash (skip zero) : 8FB37838
AccurateRip signature : 44A94607
->Accurately ripped! (confidence 5)
Statistics
Read error : 0
Jitter error (maybe fixed) : 0
Retry sector count : 0
Damaged sector count : 0

Track 12
Filename : /Users/iMac/Documents/Complete Mozart Edition/Volume 2/Disc 2of13/12 - Cassation (Finalmusik) in G Major, K63 - III. Andante.flac
Pre-gap length : 00:01:00

Track gain : 12.03 dB
Peak : 0.201202
CRC32 hash (test run) : 6AC2D1BF
CRC32 hash : 6AC2D1BF
CRC32 hash (skip zero) : 9546B170
AccurateRip signature : 61EC18D0
->Accurately ripped! (confidence 5)
Statistics
Read error : 0
Jitter error (maybe fixed) : 0
Retry sector count : 0
Damaged sector count : 0

Track 13
Filename : /Users/iMac/Documents/Complete Mozart Edition/Volume 2/Disc 2of13/13 - Cassation (Finalmusik) in G Major, K63 - IV. Menuetto.flac
Pre-gap length : 00:01:00

Track gain : -1.74 dB
Peak : 0.862305
CRC32 hash (test run) : 26AD5EDE
CRC32 hash : 26AD5EDE
CRC32 hash (skip zero) : C6433B51
AccurateRip signature : 1CACF01D
->Accurately ripped! (confidence 5)
Statistics
Read error : 0
Jitter error (maybe fixed) : 0
Retry sector count : 0
Damaged sector count : 0

Track 14
Filename : /Users/iMac/Documents/Complete Mozart Edition/Volume 2/Disc 2of13/14 - Cassation (Finalmusik) in G Major, K63 - V. Adagio.flac
Pre-gap length : 00:03:00

Track gain : 9.58 dB
Peak : 0.260956
CRC32 hash (test run) : D78336FE
CRC32 hash : D78336FE
CRC32 hash (skip zero) : 021EE737
AccurateRip signature : D90468E6
->Accurately ripped! (confidence 5)
Statistics
Read error : 0
Jitter error (maybe fixed) : 0
Retry sector count : 0
Damaged sector count : 0

Track 15
Filename : /Users/iMac/Documents/Complete Mozart Edition/Volume 2/Disc 2of13/15 - Cassation (Finalmusik) in G Major, K63 - VI. Menuetto.flac
Pre-gap length : 00:01:00

Track gain : 5.36 dB
Peak : 0.466339
CRC32 hash (test run) : 6EC9484D
CRC32 hash : 6EC9484D
CRC32 hash (skip zero) : 3DEF1FFD
AccurateRip signature : 714FFE59
->Accurately ripped! (confidence 5)
Statistics
Read error : 0
Jitter error (maybe fixed) : 0
Retry sector count : 0
Damaged sector count : 0

Track 16
Filename : /Users/iMac/Documents/Complete Mozart Edition/Volume 2/Disc 2of13/16 - Cassation (Finalmusik) in G Major, K63 - VII. Finale (Allegro assai).flac
Pre-gap length : 00:01:00

Track gain : 2.98 dB
Peak : 0.470673
CRC32 hash (test run) : 51B8C85C
CRC32 hash : 51B8C85C
CRC32 hash (skip zero) : 500D48FA
AccurateRip signature : FF761729
->Accurately ripped! (confidence 5)
Statistics
Read error : 0
Jitter error (maybe fixed) : 0
Retry sector count : 0
Damaged sector count : 0

No errors occurred

End of status report
X Lossless Decoder version 20110821 (136.1)

XLD extraction logfile from 2011-09-23 02:02:53 +0300

Various Artists / Serenades for Orchestra [Volume 2]

Used drive : TSSTcorp CDDVDW SE-S084C (revision TS01)

Ripper mode : XLD Secure Ripper
Disable audio cache : OK for the drive with a cache less than 1375KiB
Make use of C2 pointers : NO
Read offset correction : 6
Max retry count : 100
Gap status : Analyzed, Appended (except HTOA)

TOC of the extracted CD
Track | Start | Length | Start sector | End sector
––––––––––––––––––––––––––––-
1 | 00:00:32 | 03:31:00 | 32 | 15856
2 | 03:31:32 | 08:24:00 | 15857 | 53656
3 | 11:55:32 | 06:40:00 | 53657 | 83656
4 | 18:35:32 | 05:44:00 | 83657 | 109456
5 | 24:19:32 | 03:10:00 | 109457 | 123706
6 | 27:29:32 | 05:31:00 | 123707 | 148531
7 | 33:00:32 | 03:44:00 | 148532 | 165331
8 | 36:44:32 | 05:04:00 | 165332 | 188131
9 | 41:48:32 | 06:26:00 | 188132 | 217081
10 | 48:14:32 | 03:03:00 | 217082 | 230806
11 | 51:17:32 | 07:36:00 | 230807 | 265006

List of alternate offset correction values
# | Absolute | Relative | Confidence
–––––––––––––––––––––
1 | -1328 | -1334 | 3

AccurateRip Summary
Track 01 : OK (confidence 5)
Track 02 : OK (confidence 5)
Track 03 : OK (confidence 6)
Track 04 : OK (confidence 6)
Track 05 : OK (confidence 6)
Track 06 : OK (confidence 6)
Track 07 : OK (confidence 6)
Track 08 : OK (confidence 6)
Track 09 : OK (confidence 6)
Track 10 : OK (confidence 6)
Track 11 : OK (confidence 5)
->All tracks accurately ripped.

All Tracks
Album gain : 3.12 dB
Peak : 0.803741
Statistics
Read error : 0
Jitter error (maybe fixed) : 0
Retry sector count : 0
Damaged sector count : 0

Track 01
Filename : /Users/iMac/Documents/Complete Mozart Edition/Volume 2/Disc 3of13/01 - March in D Major, K215-213b.flac
Pre-gap length : 00:02:32

Track gain : 1.22 dB
Peak : 0.663757
CRC32 hash (test run) : 5A9428AF
CRC32 hash : 5A9428AF
CRC32 hash (skip zero) : 86E8A33F
AccurateRip signature : 6DCB0E39
->Accurately ripped! (confidence 5)
Statistics
Read error : 0
Jitter error (maybe fixed) : 0
Retry sector count : 0
Damaged sector count : 0

Track 02
Filename : /Users/iMac/Documents/Complete Mozart Edition/Volume 2/Disc 3of13/02 - Serenade in D Major, K204-213a - I. Allegro assai.flac
Pre-gap length : 00:02:00

Track gain : 1.92 dB
Peak : 0.694885
CRC32 hash (test run) : 4A620A7E
CRC32 hash : 4A620A7E
CRC32 hash (skip zero) : 1CB90AC6
AccurateRip signature : A2B9E34D
->Accurately ripped! (confidence 5)
Statistics
Read error : 0
Jitter error (maybe fixed) : 0
Retry sector count : 0
Damaged sector count : 0

Track 03
Filename : /Users/iMac/Documents/Complete Mozart Edition/Volume 2/Disc 3of13/03 - Serenade in D Major, K204-213a - II. Andante moderato.flac
Pre-gap length : 00:02:00

Track gain : 4.47 dB
Peak : 0.484039
CRC32 hash (test run) : BC403650
CRC32 hash : BC403650
CRC32 hash (skip zero) : 74E29A00
AccurateRip signature : F53DA0B4
->Accurately ripped! (confidence 6)
Statistics
Read error : 0
Jitter error (maybe fixed) : 0
Retry sector count : 0
Damaged sector count : 0

Track 04
Filename : /Users/iMac/Documents/Complete Mozart Edition/Volume 2/Disc 3of13/04 - Serenade in D Major, K204-213a - III. Allegro.flac
Pre-gap length : 00:03:00

Track gain : 3.40 dB
Peak : 0.572144
CRC32 hash (test run) : 2E3B8991
CRC32 hash : 2E3B8991
CRC32 hash (skip zero) : AE4326CE
AccurateRip signature : 9E53072E
->Accurately ripped! (confidence 6)
Statistics
Read error : 0
Jitter error (maybe fixed) : 0
Retry sector count : 0
Damaged sector count : 0

Track 05
Filename : /Users/iMac/Documents/Complete Mozart Edition/Volume 2/Disc 3of13/05 - Serenade in D Major, K204-213a - IV. Menuetto.flac
Pre-gap length : 00:02:00

Track gain : 5.75 dB
Peak : 0.423370
CRC32 hash (test run) : E7B21992
CRC32 hash : E7B21992
CRC32 hash (skip zero) : EBC69847
AccurateRip signature : 197E113B
->Accurately ripped! (confidence 6)
Statistics
Read error : 0
Jitter error (maybe fixed) : 0
Retry sector count : 0
Damaged sector count : 0

Track 06
Filename : /Users/iMac/Documents/Complete Mozart Edition/Volume 2/Disc 3of13/06 - Serenade in D Major, K204-213a - V. (Andante).flac
Pre-gap length : 00:01:00

Track gain : 4.32 dB
Peak : 0.561188
CRC32 hash (test run) : D066BFF9
CRC32 hash : D066BFF9
CRC32 hash (skip zero) : 80B2180D
AccurateRip signature : 7DF8E5E6
->Accurately ripped! (confidence 6)
Statistics
Read error : 0
Jitter error (maybe fixed) : 0
Retry sector count : 0
Damaged sector count : 0

Track 07
Filename : /Users/iMac/Documents/Complete Mozart Edition/Volume 2/Disc 3of13/07 - Serenade in D Major, K204-213a - VI. Menuetto.flac
Pre-gap length : 00:01:00

Track gain : 2.60 dB
Peak : 0.601349
CRC32 hash (test run) : 7A1B8A2D
CRC32 hash : 7A1B8A2D
CRC32 hash (skip zero) : 007AD72D
AccurateRip signature : 7C4D4F49
->Accurately ripped! (confidence 6)
Statistics
Read error : 0
Jitter error (maybe fixed) : 0
Retry sector count : 0
Damaged sector count : 0

Track 08
Filename : /Users/iMac/Documents/Complete Mozart Edition/Volume 2/Disc 3of13/08 - Serenade in D Major, K204-213a - VII. Andantino (grazioso).flac
Pre-gap length : 00:02:00

Track gain : 2.26 dB
Peak : 0.803741
CRC32 hash (test run) : 23C0CF05
CRC32 hash : 23C0CF05
CRC32 hash (skip zero) : 614E0C2A
AccurateRip signature : 25DB655B
->Accurately ripped! (confidence 6)
Statistics
Read error : 0
Jitter error (maybe fixed) : 0
Retry sector count : 0
Damaged sector count : 0

Track 09
Filename : /Users/iMac/Documents/Complete Mozart Edition/Volume 2/Disc 3of13/09 - Notturno in D Major for 4 orchestras, K286 - I. Andante.flac
Pre-gap length : 00:07:00

Track gain : 7.68 dB
Peak : 0.319977
CRC32 hash (test run) : 23BB895E
CRC32 hash : 23BB895E
CRC32 hash (skip zero) : FD9A7D22
AccurateRip signature : 9D446EF8
->Accurately ripped! (confidence 6)
Statistics
Read error : 0
Jitter error (maybe fixed) : 0
Retry sector count : 0
Damaged sector count : 0

Track 10
Filename : /Users/iMac/Documents/Complete Mozart Edition/Volume 2/Disc 3of13/10 - Notturno in D Major for 4 orchestras, K286 - II. Allegretto grazioso.flac
Pre-gap length : 00:03:00

Track gain : 5.57 dB
Peak : 0.444214
CRC32 hash (test run) : 4A1060D9
CRC32 hash : 4A1060D9
CRC32 hash (skip zero) : C9C09EE4
AccurateRip signature : 53A7870F
->Accurately ripped! (confidence 6)
Statistics
Read error : 0
Jitter error (maybe fixed) : 0
Retry sector count : 0
Damaged sector count : 0

Track 11
Filename : /Users/iMac/Documents/Complete Mozart Edition/Volume 2/Disc 3of13/11 - Notturno in D Major for 4 orchestras, K286 - III. Menuetto.flac
Pre-gap length : 00:01:00

Track gain : 2.73 dB
Peak : 0.647583
CRC32 hash (test run) : D4FB03E1
CRC32 hash : D4FB03E1
CRC32 hash (skip zero) : EF0ED16B
AccurateRip signature : 99153D0C
->Accurately ripped! (confidence 5)
Statistics
Read error : 0
Jitter error (maybe fixed) : 0
Retry sector count : 0
Damaged sector count : 0

No errors occurred

End of status report
X Lossless Decoder version 20110821 (136.1)

XLD extraction logfile from 2011-09-23 02:34:00 +0300

Various Artists / Serenades for Orchestra [Volume 2]

Used drive : TSSTcorp CDDVDW SE-S084C (revision TS01)

Ripper mode : XLD Secure Ripper
Disable audio cache : OK for the drive with a cache less than 1375KiB
Make use of C2 pointers : NO
Read offset correction : 6
Max retry count : 100
Gap status : Analyzed, Appended (except HTOA)

TOC of the extracted CD
Track | Start | Length | Start sector | End sector
––––––––––––––––––––––––––––-
1 | 00:00:33 | 04:40:60 | 33 | 21092
2 | 04:41:18 | 06:03:15 | 21093 | 48332
3 | 10:44:33 | 05:56:00 | 48333 | 75032
4 | 16:40:33 | 03:01:40 | 75033 | 88647
5 | 19:41:73 | 05:08:35 | 88648 | 111782
6 | 24:50:33 | 03:04:00 | 111783 | 125582
7 | 27:54:33 | 05:27:50 | 125583 | 150157
8 | 33:22:08 | 04:04:25 | 150158 | 168482
9 | 37:26:33 | 05:04:00 | 168483 | 191282
10 | 42:30:33 | 04:22:00 | 191283 | 210932
11 | 46:52:33 | 03:49:00 | 210933 | 228107
12 | 50:41:33 | 04:35:00 | 228108 | 248732

List of alternate offset correction values
# | Absolute | Relative | Confidence
–––––––––––––––––––––
1 | 675 | 669 | 10
2 | 685 | 679 | 7
3 | 1207 | 1201 | 5
4 | 1482 | 1476 | 2

AccurateRip Summary
Track 01 : OK (confidence 8)
Track 02 : OK (confidence 8)
Track 03 : OK (confidence 8)
Track 04 : OK (confidence 8)
Track 05 : OK (confidence 8)
Track 06 : OK (confidence 8)
Track 07 : OK (confidence 8)
Track 08 : OK (confidence 8)
Track 09 : OK (confidence 8)
Track 10 : OK (confidence 8)
Track 11 : OK (confidence 8)
Track 12 : OK (confidence 7)
->All tracks accurately ripped.

All Tracks
Album gain : 1.67 dB
Peak : 0.774628
Statistics
Read error : 0
Jitter error (maybe fixed) : 0
Retry sector count : 0
Damaged sector count : 0

Track 01
Filename : /Users/iMac/Documents/Complete Mozart Edition/Volume 2/Disc 4of13/01 - March in D Major, K237-189c.flac
Pre-gap length : 00:02:33

Track gain : -0.66 dB
Peak : 0.774628
CRC32 hash (test run) : C8382C4F
CRC32 hash : C8382C4F
CRC32 hash (skip zero) : 3FA5C940
AccurateRip signature : C839302E
->Accurately ripped! (confidence 8)
Statistics
Read error : 0
Jitter error (maybe fixed) : 0
Retry sector count : 0
Damaged sector count : 0

Track 02
Filename : /Users/iMac/Documents/Complete Mozart Edition/Volume 2/Disc 4of13/02 - Serenade in D Major, K203-189b - I. Andante maestoso - Allegro assai.flac

Track gain : 1.04 dB
Peak : 0.754944
CRC32 hash (test run) : 4EE1DC08
CRC32 hash : 4EE1DC08
CRC32 hash (skip zero) : B5CEF0BE
AccurateRip signature : 44374FBC
->Accurately ripped! (confidence 8)
Statistics
Read error : 0
Jitter error (maybe fixed) : 0
Retry sector count : 0
Damaged sector count : 0

Track 03
Filename : /Users/iMac/Documents/Complete Mozart Edition/Volume 2/Disc 4of13/03 - Serenade in D Major, K203-189b - II. (Andante).flac
Pre-gap length : 00:01:00

Track gain : 4.24 dB
Peak : 0.491425
CRC32 hash (test run) : E7BD4F2E
CRC32 hash : E7BD4F2E
CRC32 hash (skip zero) : 1B9C3407
AccurateRip signature : 4586575D
->Accurately ripped! (confidence 8)
Statistics
Read error : 0
Jitter error (maybe fixed) : 0
Retry sector count : 0
Damaged sector count : 0

Track 04
Filename : /Users/iMac/Documents/Complete Mozart Edition/Volume 2/Disc 4of13/04 - Serenade in D Major, K203-189b - III. Menuetto.flac
Pre-gap length : 00:02:00

Track gain : 7.27 dB
Peak : 0.430389
CRC32 hash (test run) : E22DE394
CRC32 hash : E22DE394
CRC32 hash (skip zero) : FCE0B304
AccurateRip signature : 2EAC6041
->Accurately ripped! (confidence 8)
Statistics
Read error : 0
Jitter error (maybe fixed) : 0
Retry sector count : 0
Damaged sector count : 0

Track 05
Filename : /Users/iMac/Documents/Complete Mozart Edition/Volume 2/Disc 4of13/05 - Serenade in D Major, K203-189b - IV. (Allegro).flac

Track gain : 3.60 dB
Peak : 0.418274
CRC32 hash (test run) : C8383DFB
CRC32 hash : C8383DFB
CRC32 hash (skip zero) : 01D01A4F
AccurateRip signature : B78891C2
->Accurately ripped! (confidence 8)
Statistics
Read error : 0
Jitter error (maybe fixed) : 0
Retry sector count : 0
Damaged sector count : 0

Track 06
Filename : /Users/iMac/Documents/Complete Mozart Edition/Volume 2/Disc 4of13/06 - Serenade in D Major, K203-189b - V. Menuetto.flac

Track gain : 2.73 dB
Peak : 0.598206
CRC32 hash (test run) : A4FE537A
CRC32 hash : A4FE537A
CRC32 hash (skip zero) : C7A3A85A
AccurateRip signature : 59CA4B43
->Accurately ripped! (confidence 8)
Statistics
Read error : 0
Jitter error (maybe fixed) : 0
Retry sector count : 0
Damaged sector count : 0

Track 07
Filename : /Users/iMac/Documents/Complete Mozart Edition/Volume 2/Disc 4of13/07 - Serenade in D Major, K203-189b - VI. (Andante).flac
Pre-gap length : 00:01:00

Track gain : 10.76 dB
Peak : 0.402069
CRC32 hash (test run) : E2C69DEF
CRC32 hash : E2C69DEF
CRC32 hash (skip zero) : 52082BBE
AccurateRip signature : B67B6659
->Accurately ripped! (confidence 8)
Statistics
Read error : 0
Jitter error (maybe fixed) : 0
Retry sector count : 0
Damaged sector count : 0

Track 08
Filename : /Users/iMac/Documents/Complete Mozart Edition/Volume 2/Disc 4of13/08 - Serenade in D Major, K203-189b - VII. Menuetto.flac
Pre-gap length : 00:01:05

Track gain : 0.74 dB
Peak : 0.701508
CRC32 hash (test run) : E18C0999
CRC32 hash : E18C0999
CRC32 hash (skip zero) : 5D4D3880
AccurateRip signature : C218F7F5
->Accurately ripped! (confidence 8)
Statistics
Read error : 0
Jitter error (maybe fixed) : 0
Retry sector count : 0
Damaged sector count : 0

Track 09
Filename : /Users/iMac/Documents/Complete Mozart Edition/Volume 2/Disc 4of13/09 - Serenade in D Major, K203-189b - VIII. Prestissimo.flac
Pre-gap length : 00:01:00

Track gain : 0.01 dB
Peak : 0.712646
CRC32 hash (test run) : 3C1C600B
CRC32 hash : 3C1C600B
CRC32 hash (skip zero) : 3FE389D1
AccurateRip signature : 1E47D8C7
->Accurately ripped! (confidence 8)
Statistics
Read error : 0
Jitter error (maybe fixed) : 0
Retry sector count : 0
Damaged sector count : 0

Track 10
Filename : /Users/iMac/Documents/Complete Mozart Edition/Volume 2/Disc 4of13/10 - Serenade in D Major, K239 'Serenata notturna' - I. Marcia (Maestoso).flac
Pre-gap length : 00:03:00

Track gain : 2.14 dB
Peak : 0.524078
CRC32 hash (test run) : 6E7562CD
CRC32 hash : 6E7562CD
CRC32 hash (skip zero) : 483C3DBC
AccurateRip signature : 0C527529
->Accurately ripped! (confidence 8)
Statistics
Read error : 0
Jitter error (maybe fixed) : 0
Retry sector count : 0
Damaged sector count : 0

Track 11
Filename : /Users/iMac/Documents/Complete Mozart Edition/Volume 2/Disc 4of13/11 - Serenade in D Major, K239 'Serenata notturna' - II. Menuetto.flac
Pre-gap length : 00:01:00

Track gain : 5.91 dB
Peak : 0.367462
CRC32 hash (test run) : 2CFAACBA
CRC32 hash : 2CFAACBA
CRC32 hash (skip zero) : 3306845F
AccurateRip signature : E5E37450
->Accurately ripped! (confidence 8)
Statistics
Read error : 0
Jitter error (maybe fixed) : 0
Retry sector count : 0
Damaged sector count : 0

Track 12
Filename : /Users/iMac/Documents/Complete Mozart Edition/Volume 2/Disc 4of13/12 - Serenade in D Major, K239 'Serenata notturna' - III. Rondeau (Allegretto - Adagio - Allegro).flac

Track gain : 2.94 dB
Peak : 0.742920
CRC32 hash (test run) : 1D8EA19A
CRC32 hash : 1D8EA19A
CRC32 hash (skip zero) : 5390243B
AccurateRip signature : 3003B738
->Accurately ripped! (confidence 7)
Statistics
Read error : 0
Jitter error (maybe fixed) : 0
Retry sector count : 0
Damaged sector count : 0

No errors occurred

End of status report
X Lossless Decoder version 20110821 (136.1)

XLD extraction logfile from 2011-09-23 02:58:51 +0300

Various Artists / Serenades for Orchestra [Volume 2]

Used drive : TSSTcorp CDDVDW SE-S084C (revision TS01)

Ripper mode : XLD Secure Ripper
Disable audio cache : OK for the drive with a cache less than 1375KiB
Make use of C2 pointers : NO
Read offset correction : 6
Max retry count : 100
Gap status : Analyzed, Appended (except HTOA)

TOC of the extracted CD
Track | Start | Length | Start sector | End sector
––––––––––––––––––––––––––––-
1 | 00:00:33 | 05:46:00 | 33 | 25982
2 | 05:46:33 | 06:06:00 | 25983 | 53432
3 | 11:52:33 | 02:03:00 | 53433 | 62657
4 | 13:55:33 | 03:08:00 | 62658 | 76757
5 | 17:03:33 | 03:06:00 | 76758 | 90707
6 | 20:09:33 | 07:09:00 | 90708 | 122882
7 | 27:18:33 | 05:40:00 | 122883 | 148382
8 | 32:58:33 | 02:44:00 | 148383 | 160682
9 | 35:42:33 | 03:09:00 | 160683 | 174857
10 | 38:51:33 | 04:26:00 | 174858 | 194807
11 | 43:17:33 | 05:33:00 | 194808 | 219782
12 | 48:50:33 | 05:59:00 | 219783 | 246707

List of alternate offset correction values
# | Absolute | Relative | Confidence
–––––––––––––––––––––
1 | 673 | 667 | 11
2 | 707 | 701 | 4
3 | 648 | 642 | 2

AccurateRip Summary
Track 01 : OK (confidence 9)
Track 02 : OK (confidence 9)
Track 03 : OK (confidence 9)
Track 04 : OK (confidence 9)
Track 05 : OK (confidence 9)
Track 06 : OK (confidence 9)
Track 07 : OK (confidence 9)
Track 08 : OK (confidence 9)
Track 09 : OK (confidence 9)
Track 10 : OK (confidence 9)
Track 11 : OK (confidence 9)
Track 12 : OK (confidence 9)
->All tracks accurately ripped.

All Tracks
Album gain : -0.04 dB
Peak : 0.911896
Statistics
Read error : 0
Jitter error (maybe fixed) : 0
Retry sector count : 0
Damaged sector count : 0

Track 01
Filename : /Users/iMac/Documents/Complete Mozart Edition/Volume 2/Disc 5of13/01 - Serenade in G Major, K525 'Eine kleine Nachtmusik' - I. Allegro.flac
Pre-gap length : 00:02:33

Track gain : 0.12 dB
Peak : 0.900909
CRC32 hash (test run) : 7A2DD5F5
CRC32 hash : 7A2DD5F5
CRC32 hash (skip zero) : 68DCD34D
AccurateRip signature : 3C5E1588
->Accurately ripped! (confidence 9)
Statistics
Read error : 0
Jitter error (maybe fixed) : 0
Retry sector count : 0
Damaged sector count : 0

Track 02
Filename : /Users/iMac/Documents/Complete Mozart Edition/Volume 2/Disc 5of13/02 - Serenade in G Major, K525 'Eine kleine Nachtmusik' - II. Romance (Andante).flac

Track gain : 5.98 dB
Peak : 0.632660
CRC32 hash (test run) : 9B7DA5EC
CRC32 hash : 9B7DA5EC
CRC32 hash (skip zero) : AF38BA9C
AccurateRip signature : 50299A3A
->Accurately ripped! (confidence 9)
Statistics
Read error : 0
Jitter error (maybe fixed) : 0
Retry sector count : 0
Damaged sector count : 0

Track 03
Filename : /Users/iMac/Documents/Complete Mozart Edition/Volume 2/Disc 5of13/03 - Serenade in G Major, K525 'Eine kleine Nachtmusik' - III. Menuetto (Allegretto).flac

Track gain : 2.96 dB
Peak : 0.432129
CRC32 hash (test run) : 4CEA0618
CRC32 hash : 4CEA0618
CRC32 hash (skip zero) : 8756D3CA
AccurateRip signature : 5D33C925
->Accurately ripped! (confidence 9)
Statistics
Read error : 0
Jitter error (maybe fixed) : 0
Retry sector count : 0
Damaged sector count : 0

Track 04
Filename : /Users/iMac/Documents/Complete Mozart Edition/Volume 2/Disc 5of13/04 - Serenade in G Major, K525 'Eine kleine Nachtmusik' - IV. Rondo (Allegro).flac

Track gain : 1.23 dB
Peak : 0.840027
CRC32 hash (test run) : 57D882D5
CRC32 hash : 57D882D5
CRC32 hash (skip zero) : 7149A01C
AccurateRip signature : 0FCEDBFD
->Accurately ripped! (confidence 9)
Statistics
Read error : 0
Jitter error (maybe fixed) : 0
Retry sector count : 0
Damaged sector count : 0

Track 05
Filename : /Users/iMac/Documents/Complete Mozart Edition/Volume 2/Disc 5of13/05 - March in D Major, K189-167b.flac
Pre-gap length : 00:06:00

Track gain : -0.30 dB
Peak : 0.755890
CRC32 hash (test run) : 31673470
CRC32 hash : 31673470
CRC32 hash (skip zero) : 95288819
AccurateRip signature : 3F808176
->Accurately ripped! (confidence 9)
Statistics
Read error : 0
Jitter error (maybe fixed) : 0
Retry sector count : 0
Damaged sector count : 0

Track 06
Filename : /Users/iMac/Documents/Complete Mozart Edition/Volume 2/Disc 5of13/06 - Serenade (Finalmusik) in D Major, K185-167a - I. Allegro assai.flac

Track gain : -1.23 dB
Peak : 0.873932
CRC32 hash (test run) : 51E99899
CRC32 hash : 51E99899
CRC32 hash (skip zero) : BECEB419
AccurateRip signature : 6059C03E
->Accurately ripped! (confidence 9)
Statistics
Read error : 0
Jitter error (maybe fixed) : 0
Retry sector count : 0
Damaged sector count : 0

Track 07
Filename : /Users/iMac/Documents/Complete Mozart Edition/Volume 2/Disc 5of13/07 - Serenade (Finalmusik) in D Major, K185-167a - II. Andante.flac

Track gain : 2.30 dB
Peak : 0.695312
CRC32 hash (test run) : 1BC72381
CRC32 hash : 1BC72381
CRC32 hash (skip zero) : 3C7E3CF6
AccurateRip signature : BA60063E
->Accurately ripped! (confidence 9)
Statistics
Read error : 0
Jitter error (maybe fixed) : 0
Retry sector count : 0
Damaged sector count : 0

Track 08
Filename : /Users/iMac/Documents/Complete Mozart Edition/Volume 2/Disc 5of13/08 - Serenade (Finalmusik) in D Major, K185-167a - III. Allegro.flac

Track gain : 0.31 dB
Peak : 0.910095
CRC32 hash (test run) : 2765A4CA
CRC32 hash : 2765A4CA
CRC32 hash (skip zero) : 4E60DA40
AccurateRip signature : A61E0F64
->Accurately ripped! (confidence 9)
Statistics
Read error : 0
Jitter error (maybe fixed) : 0
Retry sector count : 0
Damaged sector count : 0

Track 09
Filename : /Users/iMac/Documents/Complete Mozart Edition/Volume 2/Disc 5of13/09 - Serenade (Finalmusik) in D Major, K185-167a - IV. Menuetto.flac
Pre-gap length : 00:01:00

Track gain : -0.39 dB
Peak : 0.724152
CRC32 hash (test run) : 34309961
CRC32 hash : 34309961
CRC32 hash (skip zero) : 36440E65
AccurateRip signature : 558F0B08
->Accurately ripped! (confidence 9)
Statistics
Read error : 0
Jitter error (maybe fixed) : 0
Retry sector count : 0
Damaged sector count : 0

Track 10
Filename : /Users/iMac/Documents/Complete Mozart Edition/Volume 2/Disc 5of13/10 - Serenade (Finalmusik) in D Major, K185-167a - V. Andante grazioso.flac

Track gain : 3.87 dB
Peak : 0.482300
CRC32 hash (test run) : B4EEE604
CRC32 hash : B4EEE604
CRC32 hash (skip zero) : DC7C3087
AccurateRip signature : E419A98A
->Accurately ripped! (confidence 9)
Statistics
Read error : 0
Jitter error (maybe fixed) : 0
Retry sector count : 0
Damaged sector count : 0

Track 11
Filename : /Users/iMac/Documents/Complete Mozart Edition/Volume 2/Disc 5of13/11 - Serenade (Finalmusik) in D Major, K185-167a - VI. Menuetto.flac

Track gain : -2.13 dB
Peak : 0.911896
CRC32 hash (test run) : B698B5A0
CRC32 hash : B698B5A0
CRC32 hash (skip zero) : 8E59016D
AccurateRip signature : 65FA334A
->Accurately ripped! (confidence 9)
Statistics
Read error : 0
Jitter error (maybe fixed) : 0
Retry sector count : 0
Damaged sector count : 0

Track 12
Filename : /Users/iMac/Documents/Complete Mozart Edition/Volume 2/Disc 5of13/12 - Serenade (Finalmusik) in D Major, K185-167a - VII. Adagio - Allegro assai.flac
Pre-gap length : 00:01:00

Track gain : -0.84 dB
Peak : 0.856354
CRC32 hash (test run) : F35C881C
CRC32 hash : F35C881C
CRC32 hash (skip zero) : E2075129
AccurateRip signature : 65C1C5DE
->Accurately ripped! (confidence 9)
Statistics
Read error : 0
Jitter error (maybe fixed) : 0
Retry sector count : 0
Damaged sector count : 0

No errors occurred

End of status report
X Lossless Decoder version 20110821 (136.1)

XLD extraction logfile from 2011-09-23 08:40:07 +0300

Various Artists / Serenads for Orchestra [Volume 2]

Used drive : TSSTcorp CDDVDW SE-S084C (revision TS01)

Ripper mode : XLD Secure Ripper
Disable audio cache : OK for the drive with a cache less than 1375KiB
Make use of C2 pointers : NO
Read offset correction : 6
Max retry count : 100
Gap status : Analyzed, Appended (except HTOA)

TOC of the extracted CD
Track | Start | Length | Start sector | End sector
––––––––––––––––––––––––––––-
1 | 00:00:32 | 03:37:63 | 32 | 16369
2 | 03:38:20 | 09:50:50 | 16370 | 60669
3 | 13:28:70 | 09:30:37 | 60670 | 103456
4 | 22:59:32 | 03:51:50 | 103457 | 120831
5 | 26:51:07 | 07:21:25 | 120832 | 153931
6 | 34:12:32 | 05:31:00 | 153932 | 178756
7 | 39:43:32 | 07:21:38 | 178757 | 211869
8 | 47:04:70 | 05:02:62 | 211870 | 234581
9 | 52:07:57 | 07:45:38 | 234582 | 269494

List of alternate offset correction values
# | Absolute | Relative | Confidence
–––––––––––––––––––––
1 | 356 | 350 | 3

AccurateRip Summary
Track 01 : OK (confidence 5)
Track 02 : OK (confidence 5)
Track 03 : OK (confidence 5)
Track 04 : OK (confidence 5)
Track 05 : OK (confidence 5)
Track 06 : OK (confidence 5)
Track 07 : OK (confidence 5)
Track 08 : OK (confidence 5)
Track 09 : OK (confidence 4)
->All tracks accurately ripped.

All Tracks
Album gain : -0.14 dB
Peak : 0.908386
Statistics
Read error : 0
Jitter error (maybe fixed) : 0
Retry sector count : 0
Damaged sector count : 0

Track 01
Filename : /Users/iMac/Documents/Complete Mozart Edition/Volume 2/Disc 6of13/01 - March in D Major, K249.flac
Pre-gap length : 00:02:32

Track gain : -2.50 dB
Peak : 0.821472
CRC32 hash (test run) : FE06FC93
CRC32 hash : FE06FC93
CRC32 hash (skip zero) : DB29EE30
AccurateRip signature : 4770F673
->Accurately ripped! (confidence 5)
Statistics
Read error : 0
Jitter error (maybe fixed) : 0
Retry sector count : 0
Damaged sector count : 0

Track 02
Filename : /Users/iMac/Documents/Complete Mozart Edition/Volume 2/Disc 6of13/02 - Serenade in D Major, K250-248b 'Haffner' - I. Allegro maestoso - Allegro molto.flac
Pre-gap length : 00:01:63

Track gain : -0.28 dB
Peak : 0.908386
CRC32 hash (test run) : 0866B6F1
CRC32 hash : 0866B6F1
CRC32 hash (skip zero) : 701256F2
AccurateRip signature : 5450BDA3
->Accurately ripped! (confidence 5)
Statistics
Read error : 0
Jitter error (maybe fixed) : 0
Retry sector count : 0
Damaged sector count : 0

Track 03
Filename : /Users/iMac/Documents/Complete Mozart Edition/Volume 2/Disc 6of13/03 - Serenade in D Major, K250-248b 'Haffner' - II. Andante.flac
Pre-gap length : 00:00:38

Track gain : 2.06 dB
Peak : 0.616364
CRC32 hash (test run) : E6FE3D0E
CRC32 hash : E6FE3D0E
CRC32 hash (skip zero) : 1F7F47A1
AccurateRip signature : 9FE0D86E
->Accurately ripped! (confidence 5)
Statistics
Read error : 0
Jitter error (maybe fixed) : 0
Retry sector count : 0
Damaged sector count : 0

Track 04
Filename : /Users/iMac/Documents/Complete Mozart Edition/Volume 2/Disc 6of13/04 - Serenade in D Major, K250-248b 'Haffner' - III. Menuetto.flac
Pre-gap length : 00:01:62

Track gain : -1.25 dB
Peak : 0.848572
CRC32 hash (test run) : 6225A78A
CRC32 hash : 6225A78A
CRC32 hash (skip zero) : C85519CB
AccurateRip signature : 2CFD3B20
->Accurately ripped! (confidence 5)
Statistics
Read error : 0
Jitter error (maybe fixed) : 0
Retry sector count : 0
Damaged sector count : 0

Track 05
Filename : /Users/iMac/Documents/Complete Mozart Edition/Volume 2/Disc 6of13/05 - Serenade in D Major, K250-248b 'Haffner' - IV. Rondo (Allegro).flac
Pre-gap length : 00:00:25

Track gain : 2.23 dB
Peak : 0.831940
CRC32 hash (test run) : 53129370
CRC32 hash : 53129370
CRC32 hash (skip zero) : 38CE1993
AccurateRip signature : 46A76E3B
->Accurately ripped! (confidence 5)
Statistics
Read error : 0
Jitter error (maybe fixed) : 0
Retry sector count : 0
Damaged sector count : 0

Track 06
Filename : /Users/iMac/Documents/Complete Mozart Edition/Volume 2/Disc 6of13/06 - Serenade in D Major, K250-248b 'Haffner' - V. Menuetto galante.flac
Pre-gap length : 00:01:50

Track gain : -0.98 dB
Peak : 0.859253
CRC32 hash (test run) : DC76761A
CRC32 hash : DC76761A
CRC32 hash (skip zero) : CDE430A2
AccurateRip signature : 3A1552C6
->Accurately ripped! (confidence 5)
Statistics
Read error : 0
Jitter error (maybe fixed) : 0
Retry sector count : 0
Damaged sector count : 0

Track 07
Filename : /Users/iMac/Documents/Complete Mozart Edition/Volume 2/Disc 6of13/07 - Serenade in D Major, K250-248b 'Haffner' - VI. Andante.flac
Pre-gap length : 00:01:50

Track gain : 0.57 dB
Peak : 0.674805
CRC32 hash (test run) : 2A20F033
CRC32 hash : 2A20F033
CRC32 hash (skip zero) : 54623F19
AccurateRip signature : E64D0CD5
->Accurately ripped! (confidence 5)
Statistics
Read error : 0
Jitter error (maybe fixed) : 0
Retry sector count : 0
Damaged sector count : 0

Track 08
Filename : /Users/iMac/Documents/Complete Mozart Edition/Volume 2/Disc 6of13/08 - Serenade in D Major, K250-248b 'Haffner' - VII. Menuetto.flac
Pre-gap length : 00:01:38

Track gain : -0.41 dB
Peak : 0.800934
CRC32 hash (test run) : ACE09CE7
CRC32 hash : ACE09CE7
CRC32 hash (skip zero) : CB5B4408
AccurateRip signature : 1090DA1E
->Accurately ripped! (confidence 5)
Statistics
Read error : 0
Jitter error (maybe fixed) : 0
Retry sector count : 0
Damaged sector count : 0

Track 09
Filename : /Users/iMac/Documents/Complete Mozart Edition/Volume 2/Disc 6of13/09 - Serenade in D Major, K250-248b 'Haffner' - VIII. Adagio - Allegro assai.flac
Pre-gap length : 00:01:00

Track gain : -0.12 dB
Peak : 0.801178
CRC32 hash (test run) : 07A1545C
CRC32 hash : 07A1545C
CRC32 hash (skip zero) : 1903DE05
AccurateRip signature : 84095027
->Accurately ripped! (confidence 4)
Statistics
Read error : 0
Jitter error (maybe fixed) : 0
Retry sector count : 0
Damaged sector count : 0

No errors occurred

End of status report
X Lossless Decoder version 20110821 (136.1)

XLD extraction logfile from 2011-09-23 09:04:09 +0300

Various Artists / Serenades for Orchestra [Volume 2]

Used drive : TSSTcorp CDDVDW SE-S084C (revision TS01)

Ripper mode : XLD Secure Ripper
Disable audio cache : OK for the drive with a cache less than 1375KiB
Make use of C2 pointers : NO
Read offset correction : 6
Max retry count : 100
Gap status : Analyzed, Appended (except HTOA)

TOC of the extracted CD
Track | Start | Length | Start sector | End sector
––––––––––––––––––––––––––––-
1 | 00:00:32 | 04:11:00 | 32 | 18856
2 | 04:11:32 | 08:18:13 | 18857 | 56219
3 | 12:29:45 | 04:11:37 | 56220 | 75081
4 | 16:41:07 | 09:03:25 | 75082 | 115831
5 | 25:44:32 | 06:03:00 | 115832 | 143056
6 | 31:47:32 | 06:50:00 | 143057 | 173806
7 | 38:37:32 | 04:42:00 | 173807 | 194956
8 | 43:19:32 | 04:24:00 | 194957 | 214756
9 | 47:43:32 | 04:18:00 | 214757 | 234106

AccurateRip Summary
Track 01 : OK (confidence 5)
Track 02 : OK (confidence 5)
Track 03 : OK (confidence 5)
Track 04 : OK (confidence 5)
Track 05 : OK (confidence 5)
Track 06 : OK (confidence 5)
Track 07 : OK (confidence 5)
Track 08 : OK (confidence 5)
Track 09 : OK (confidence 5)
->All tracks accurately ripped.

All Tracks
Album gain : 0.30 dB
Peak : 0.977203
Statistics
Read error : 0
Jitter error (maybe fixed) : 0
Retry sector count : 0
Damaged sector count : 0

Track 01
Filename : /Users/iMac/Documents/Complete Mozart Edition/Volume 2/Disc 7of13/01 - March in D Major, K335-320a No. 1.flac
Pre-gap length : 00:02:32

Track gain : -1.74 dB
Peak : 0.935089
CRC32 hash (test run) : 276ED47D
CRC32 hash : 276ED47D
CRC32 hash (skip zero) : 1AC80310
AccurateRip signature : 6CA01F51
->Accurately ripped! (confidence 5)
Statistics
Read error : 0
Jitter error (maybe fixed) : 0
Retry sector count : 0
Damaged sector count : 0

Track 02
Filename : /Users/iMac/Documents/Complete Mozart Edition/Volume 2/Disc 7of13/02 - Serenade in D Major, K320 'Posthorn' - I. Adagio maestoso - Allegro con spirito.flac
Pre-gap length : 00:05:00

Track gain : -0.82 dB
Peak : 0.977203
CRC32 hash (test run) : 9CCA54C5
CRC32 hash : 9CCA54C5
CRC32 hash (skip zero) : 4B2FA695
AccurateRip signature : 3147B2CC
->Accurately ripped! (confidence 5)
Statistics
Read error : 0
Jitter error (maybe fixed) : 0
Retry sector count : 0
Damaged sector count : 0

Track 03
Filename : /Users/iMac/Documents/Complete Mozart Edition/Volume 2/Disc 7of13/03 - Serenade in D Major, K320 'Posthorn' - II. Menuetto.flac

Track gain : 1.22 dB
Peak : 0.682739
CRC32 hash (test run) : 9707B512
CRC32 hash : 9707B512
CRC32 hash (skip zero) : 4CC66F9A
AccurateRip signature : B0CE4C82
->Accurately ripped! (confidence 5)
Statistics
Read error : 0
Jitter error (maybe fixed) : 0
Retry sector count : 0
Damaged sector count : 0

Track 04
Filename : /Users/iMac/Documents/Complete Mozart Edition/Volume 2/Disc 7of13/04 - Serenade in D Major, K320 'Posthorn' - III. Concertante (Andante grazioso).flac
Pre-gap length : 00:01:00

Track gain : 5.07 dB
Peak : 0.615448
CRC32 hash (test run) : 4C894C55
CRC32 hash : 4C894C55
CRC32 hash (skip zero) : 639C6690
AccurateRip signature : 67E7A956
->Accurately ripped! (confidence 5)
Statistics
Read error : 0
Jitter error (maybe fixed) : 0
Retry sector count : 0
Damaged sector count : 0

Track 05
Filename : /Users/iMac/Documents/Complete Mozart Edition/Volume 2/Disc 7of13/05 - Serenade in D Major, K320 'Posthorn' - IV. Rondeau (Allegro ma non troppo).flac
Pre-gap length : 00:01:00

Track gain : 6.35 dB
Peak : 0.471405
CRC32 hash (test run) : 77DF9CE5
CRC32 hash : 77DF9CE5
CRC32 hash (skip zero) : B289E019
AccurateRip signature : 666B9BF9
->Accurately ripped! (confidence 5)
Statistics
Read error : 0
Jitter error (maybe fixed) : 0
Retry sector count : 0
Damaged sector count : 0

Track 06
Filename : /Users/iMac/Documents/Complete Mozart Edition/Volume 2/Disc 7of13/06 - Serenade in D Major, K320 'Posthorn' - V. Andantino.flac
Pre-gap length : 00:02:00

Track gain : 7.09 dB
Peak : 0.329102
CRC32 hash (test run) : 5EB6747E
CRC32 hash : 5EB6747E
CRC32 hash (skip zero) : F27544C8
AccurateRip signature : 9AF69149
->Accurately ripped! (confidence 5)
Statistics
Read error : 0
Jitter error (maybe fixed) : 0
Retry sector count : 0
Damaged sector count : 0

Track 07
Filename : /Users/iMac/Documents/Complete Mozart Edition/Volume 2/Disc 7of13/07 - Serenade in D Major, K320 'Posthorn' - VI. Menuetto.flac
Pre-gap length : 00:01:00

Track gain : 1.25 dB
Peak : 0.749329
CRC32 hash (test run) : D9C6A7F7
CRC32 hash : D9C6A7F7
CRC32 hash (skip zero) : 1792F93C
AccurateRip signature : F5B8EDAE
->Accurately ripped! (confidence 5)
Statistics
Read error : 0
Jitter error (maybe fixed) : 0
Retry sector count : 0
Damaged sector count : 0

Track 08
Filename : /Users/iMac/Documents/Complete Mozart Edition/Volume 2/Disc 7of13/08 - Serenade in D Major, K320 'Posthorn' - VII. Finale (Presto).flac
Pre-gap length : 00:01:00

Track gain : -0.50 dB
Peak : 0.799408
CRC32 hash (test run) : F57BCC72
CRC32 hash : F57BCC72
CRC32 hash (skip zero) : B5ED236D
AccurateRip signature : DEB86B06
->Accurately ripped! (confidence 5)
Statistics
Read error : 0
Jitter error (maybe fixed) : 0
Retry sector count : 0
Damaged sector count : 0

Track 09
Filename : /Users/iMac/Documents/Complete Mozart Edition/Volume 2/Disc 7of13/09 - March in D Major, K335-320a No. 2.flac
Pre-gap length : 00:03:00

Track gain : -0.73 dB
Peak : 0.826355
CRC32 hash (test run) : D88FA5EE
CRC32 hash : D88FA5EE
CRC32 hash (skip zero) : 66E86841
AccurateRip signature : 40F64F66
->Accurately ripped! (confidence 5)
Statistics
Read error : 0
Jitter error (maybe fixed) : 0
Retry sector count : 0
Damaged sector count : 0

No errors occurred

End of status report
X Lossless Decoder version 20110821 (136.1)

XLD extraction logfile from 2011-09-23 09:36:35 +0300

Wiener Mozart Ensemble, Willi Boskovsky / Dances [Volume 2]

Used drive : TSSTcorp CDDVDW SE-S084C (revision TS01)

Ripper mode : XLD Secure Ripper
Disable audio cache : OK for the drive with a cache less than 1375KiB
Make use of C2 pointers : NO
Read offset correction : 6
Max retry count : 100
Gap status : Analyzed, Appended (except HTOA)

TOC of the extracted CD
Track | Start | Length | Start sector | End sector
––––––––––––––––––––––––––––-
1 | 00:00:32 | 02:01:00 | 32 | 9106
2 | 02:01:32 | 02:06:38 | 9107 | 18594
3 | 04:07:70 | 01:57:55 | 18595 | 27424
4 | 06:05:50 | 02:13:32 | 27425 | 37431
5 | 08:19:07 | 01:38:50 | 37432 | 44831
6 | 09:57:57 | 02:03:25 | 44832 | 54081
7 | 12:01:07 | 01:49:25 | 54082 | 62281
8 | 13:50:32 | 01:51:00 | 62282 | 70606
9 | 15:41:32 | 01:46:00 | 70607 | 78556
10 | 17:27:32 | 01:51:00 | 78557 | 86881
11 | 19:18:32 | 01:39:00 | 86882 | 94306
12 | 20:57:32 | 01:37:00 | 94307 | 101581
13 | 22:34:32 | 01:38:00 | 101582 | 108931
14 | 24:12:32 | 02:19:00 | 108932 | 119356
15 | 26:31:32 | 01:21:00 | 119357 | 125431
16 | 27:52:32 | 01:19:00 | 125432 | 131356
17 | 29:11:32 | 01:21:00 | 131357 | 137431
18 | 30:32:32 | 02:01:38 | 137432 | 146544
19 | 32:33:70 | 01:44:37 | 146545 | 154381
20 | 34:18:32 | 02:07:38 | 154382 | 163944
21 | 36:25:70 | 00:52:37 | 163945 | 167881
22 | 37:18:32 | 01:59:00 | 167882 | 176806
23 | 39:17:32 | 01:56:00 | 176807 | 185506
24 | 41:13:32 | 02:24:00 | 185507 | 196306
25 | 43:37:32 | 01:43:00 | 196307 | 204031
26 | 45:20:32 | 02:12:00 | 204032 | 213931
27 | 47:32:32 | 01:50:00 | 213932 | 222181
28 | 49:22:32 | 01:40:00 | 222182 | 229681
29 | 51:02:32 | 01:52:00 | 229682 | 238081
30 | 52:54:32 | 02:31:00 | 238082 | 249406
31 | 55:25:32 | 01:55:00 | 249407 | 258031
32 | 57:20:32 | 02:27:00 | 258032 | 269056
33 | 59:47:32 | 01:56:00 | 269057 | 277756
34 | 61:43:32 | 02:05:00 | 277757 | 287131
35 | 63:48:32 | 01:42:00 | 287132 | 294781
36 | 65:30:32 | 01:52:00 | 294782 | 303181
37 | 67:22:32 | 02:07:00 | 303182 | 312706
38 | 69:29:32 | 01:48:00 | 312707 | 320806
39 | 71:17:32 | 00:42:00 | 320807 | 323956
40 | 71:59:32 | 01:56:00 | 323957 | 332656
41 | 73:55:32 | 00:44:00 | 332657 | 335956
42 | 74:39:32 | 02:08:00 | 335957 | 345556

AccurateRip Summary
Track 01 : OK (confidence 5)
Track 02 : OK (confidence 5)
Track 03 : OK (confidence 5)
Track 04 : OK (confidence 5)
Track 05 : OK (confidence 5)
Track 06 : OK (confidence 5)
Track 07 : OK (confidence 5)
Track 08 : OK (confidence 5)
Track 09 : OK (confidence 5)
Track 10 : OK (confidence 5)
Track 11 : OK (confidence 5)
Track 12 : OK (confidence 5)
Track 13 : OK (confidence 5)
Track 14 : OK (confidence 4)
Track 15 : OK (confidence 4)
Track 16 : OK (confidence 4)
Track 17 : OK (confidence 4)
Track 18 : OK (confidence 4)
Track 19 : OK (confidence 4)
Track 20 : OK (confidence 4)
Track 21 : OK (confidence 4)
Track 22 : OK (confidence 4)
Track 23 : OK (confidence 4)
Track 24 : OK (confidence 4)
Track 25 : OK (confidence 4)
Track 26 : OK (confidence 4)
Track 27 : OK (confidence 4)
Track 28 : OK (confidence 4)
Track 29 : OK (confidence 4)
Track 30 : OK (confidence 4)
Track 31 : OK (confidence 4)
Track 32 : OK (confidence 4)
Track 33 : OK (confidence 4)
Track 34 : OK (confidence 4)
Track 35 : OK (confidence 4)
Track 36 : OK (confidence 4)
Track 37 : OK (confidence 4)
Track 38 : OK (confidence 4)
Track 39 : OK (confidence 4)
Track 40 : OK (confidence 4)
Track 41 : OK (confidence 4)
Track 42 : OK (confidence 4)
->All tracks accurately ripped.

All Tracks
Album gain : -1.12 dB
Peak : 0.999634
Statistics
Read error : 0
Jitter error (maybe fixed) : 0
Retry sector count : 0
Damaged sector count : 0

Track 01
Filename : /Users/iMac/Documents/Complete Mozart Edition/Volume 2/Disc 8of13/01 - 7 Minuets, K61b (65a) - I. G Major.flac
Pre-gap length : 00:02:32

Track gain : 4.20 dB
Peak : 0.391937
CRC32 hash (test run) : 54FB82A4
CRC32 hash : 54FB82A4
CRC32 hash (skip zero) : 125570E6
AccurateRip signature : 30088177
->Accurately ripped! (confidence 5)
Statistics
Read error : 0
Jitter error (maybe fixed) : 0
Retry sector count : 0
Damaged sector count : 0

Track 02
Filename : /Users/iMac/Documents/Complete Mozart Edition/Volume 2/Disc 8of13/02 - 7 Minuets, K61b (65a) - II. D Major.flac
Pre-gap length : 00:01:00

Track gain : 1.82 dB
Peak : 0.596893
CRC32 hash (test run) : B42A5152
CRC32 hash : B42A5152
CRC32 hash (skip zero) : 5375A0B0
AccurateRip signature : B51E7955
->Accurately ripped! (confidence 5)
Statistics
Read error : 0
Jitter error (maybe fixed) : 0
Retry sector count : 0
Damaged sector count : 0

Track 03
Filename : /Users/iMac/Documents/Complete Mozart Edition/Volume 2/Disc 8of13/03 - 7 Minuets, K61b (65a) - III. A Major.flac

Track gain : 3.76 dB
Peak : 0.513947
CRC32 hash (test run) : 8538500D
CRC32 hash : 8538500D
CRC32 hash (skip zero) : B0AD552A
AccurateRip signature : 110959EA
->Accurately ripped! (confidence 5)
Statistics
Read error : 0
Jitter error (maybe fixed) : 0
Retry sector count : 0
Damaged sector count : 0

Track 04
Filename : /Users/iMac/Documents/Complete Mozart Edition/Volume 2/Disc 8of13/04 - 7 Minuets, K61b (65a) - IV. F Major.flac

Track gain : 3.27 dB
Peak : 0.597137
CRC32 hash (test run) : DAED7DE0
CRC32 hash : DAED7DE0
CRC32 hash (skip zero) : 6BECC6FB
AccurateRip signature : 435203DB
->Accurately ripped! (confidence 5)
Statistics
Read error : 0
Jitter error (maybe fixed) : 0
Retry sector count : 0
Damaged sector count : 0

Track 05
Filename : /Users/iMac/Documents/Complete Mozart Edition/Volume 2/Disc 8of13/05 - 7 Minuets, K61b (65a) - V. C Major.flac

Track gain : 3.55 dB
Peak : 0.512207
CRC32 hash (test run) : 338E896E
CRC32 hash : 338E896E
CRC32 hash (skip zero) : 3FA3FA72
AccurateRip signature : 7635510E
->Accurately ripped! (confidence 5)
Statistics
Read error : 0
Jitter error (maybe fixed) : 0
Retry sector count : 0
Damaged sector count : 0

Track 06
Filename : /Users/iMac/Documents/Complete Mozart Edition/Volume 2/Disc 8of13/06 - 7 Minuets, K61b (65a) - VI. G Major.flac

Track gain : 4.47 dB
Peak : 0.485168
CRC32 hash (test run) : 225CC539
CRC32 hash : 225CC539
CRC32 hash (skip zero) : A345FFBF
AccurateRip signature : 18658D48
->Accurately ripped! (confidence 5)
Statistics
Read error : 0
Jitter error (maybe fixed) : 0
Retry sector count : 0
Damaged sector count : 0

Track 07
Filename : /Users/iMac/Documents/Complete Mozart Edition/Volume 2/Disc 8of13/07 - 7 Minuets, K61b (65a) - VII. D Major.flac

Track gain : 3.78 dB
Peak : 0.429169
CRC32 hash (test run) : ED1A45EA
CRC32 hash : ED1A45EA
CRC32 hash (skip zero) : 557E8251
AccurateRip signature : 5DA7ACDA
->Accurately ripped! (confidence 5)
Statistics
Read error : 0
Jitter error (maybe fixed) : 0
Retry sector count : 0
Damaged sector count : 0

Track 08
Filename : /Users/iMac/Documents/Complete Mozart Edition/Volume 2/Disc 8of13/08 - 6 Minuets, K105-61f - I. D Major.flac
Pre-gap length : 00:08:00

Track gain : -3.53 dB
Peak : 0.776978
CRC32 hash (test run) : FED6FAB7
CRC32 hash : FED6FAB7
CRC32 hash (skip zero) : A18FDC8D
AccurateRip signature : F5A70468
->Accurately ripped! (confidence 5)
Statistics
Read error : 0
Jitter error (maybe fixed) : 0
Retry sector count : 0
Damaged sector count : 0

Track 09
Filename : /Users/iMac/Documents/Complete Mozart Edition/Volume 2/Disc 8of13/09 - 6 Minuets, K105-61f - II. D Major.flac

Track gain : -1.18 dB
Peak : 0.746552
CRC32 hash (test run) : DFED60BD
CRC32 hash : DFED60BD
CRC32 hash (skip zero) : B0008AD3
AccurateRip signature : F0595113
->Accurately ripped! (confidence 5)
Statistics
Read error : 0
Jitter error (maybe fixed) : 0
Retry sector count : 0
Damaged sector count : 0

Track 10
Filename : /Users/iMac/Documents/Complete Mozart Edition/Volume 2/Disc 8of13/10 - 6 Minuets, K105-61f - III. D Major.flac

Track gain : 0.32 dB
Peak : 0.654205
CRC32 hash (test run) : D1E6ACB4
CRC32 hash : D1E6ACB4
CRC32 hash (skip zero) : 72B9A45D
AccurateRip signature : 8C7D19B4
->Accurately ripped! (confidence 5)
Statistics
Read error : 0
Jitter error (maybe fixed) : 0
Retry sector count : 0
Damaged sector count : 0

Track 11
Filename : /Users/iMac/Documents/Complete Mozart Edition/Volume 2/Disc 8of13/11 - 6 Minuets, K105-61f - IV. G Major.flac

Track gain : -0.82 dB
Peak : 0.741974
CRC32 hash (test run) : 9B9C19EA
CRC32 hash : 9B9C19EA
CRC32 hash (skip zero) : 42F11D1B
AccurateRip signature : E6D493D0
->Accurately ripped! (confidence 5)
Statistics
Read error : 0
Jitter error (maybe fixed) : 0
Retry sector count : 0
Damaged sector count : 0

Track 12
Filename : /Users/iMac/Documents/Complete Mozart Edition/Volume 2/Disc 8of13/12 - 6 Minuets, K105-61f - V. G Major.flac

Track gain : -2.38 dB
Peak : 0.753662
CRC32 hash (test run) : 597D24FB
CRC32 hash : 597D24FB
CRC32 hash (skip zero) : 812968D7
AccurateRip signature : B6D4BD7F
->Accurately ripped! (confidence 5)
Statistics
Read error : 0
Jitter error (maybe fixed) : 0
Retry sector count : 0
Damaged sector count : 0

Track 13
Filename : /Users/iMac/Documents/Complete Mozart Edition/Volume 2/Disc 8of13/13 - 6 Minuets, K105-61f - VI. G Major.flac

Track gain : -2.26 dB
Peak : 0.857391
CRC32 hash (test run) : EA6D51C0
CRC32 hash : EA6D51C0
CRC32 hash (skip zero) : 40BAA646
AccurateRip signature : 72B5BB94
->Accurately ripped! (confidence 5)
Statistics
Read error : 0
Jitter error (maybe fixed) : 0
Retry sector count : 0
Damaged sector count : 0

Track 14
Filename : /Users/iMac/Documents/Complete Mozart Edition/Volume 2/Disc 8of13/14 - Minuet in C Major, K61g No. 2.flac
Pre-gap length : 00:07:00

Track gain : 2.11 dB
Peak : 0.575745
CRC32 hash (test run) : 1691AB8E
CRC32 hash : 1691AB8E
CRC32 hash (skip zero) : BD69C4FD
AccurateRip signature : 8BEECFA6
->Accurately ripped! (confidence 4)
Statistics
Read error : 0
Jitter error (maybe fixed) : 0
Retry sector count : 0
Damaged sector count : 0

Track 15
Filename : /Users/iMac/Documents/Complete Mozart Edition/Volume 2/Disc 8of13/15 - Minuet in D Major, K94-73h.flac
Pre-gap length : 00:01:00

Track gain : 4.27 dB
Peak : 0.492615
CRC32 hash (test run) : E8E403B4
CRC32 hash : E8E403B4
CRC32 hash (skip zero) : DD944156
AccurateRip signature : AC107C2D
->Accurately ripped! (confidence 4)
Statistics
Read error : 0
Jitter error (maybe fixed) : 0
Retry sector count : 0
Damaged sector count : 0

Track 16
Filename : /Users/iMac/Documents/Complete Mozart Edition/Volume 2/Disc 8of13/16 - Contredanse in B Flat Major, K123-73g.flac
Pre-gap length : 00:02:00

Track gain : -1.65 dB
Peak : 0.642578
CRC32 hash (test run) : 82E1484D
CRC32 hash : 82E1484D
CRC32 hash (skip zero) : AF48473E
AccurateRip signature : D4B729E2
->Accurately ripped! (confidence 4)
Statistics
Read error : 0
Jitter error (maybe fixed) : 0
Retry sector count : 0
Damaged sector count : 0

Track 17
Filename : /Users/iMac/Documents/Complete Mozart Edition/Volume 2/Disc 8of13/17 - Minuet in E Flat Major, K122-73t.flac
Pre-gap length : 00:03:00

Track gain : 0.25 dB
Peak : 0.599304
CRC32 hash (test run) : 6E4A4C7C
CRC32 hash : 6E4A4C7C
CRC32 hash (skip zero) : 6EAAEBA4
AccurateRip signature : C5583DCA
->Accurately ripped! (confidence 4)
Statistics
Read error : 0
Jitter error (maybe fixed) : 0
Retry sector count : 0
Damaged sector count : 0

Track 18
Filename : /Users/iMac/Documents/Complete Mozart Edition/Volume 2/Disc 8of13/18 - 6 Minuets, K104-61e - I. C Major.flac
Pre-gap length : 00:03:00

Track gain : -2.46 dB
Peak : 0.789398
CRC32 hash (test run) : 36EBA70C
CRC32 hash : 36EBA70C
CRC32 hash (skip zero) : 5E9F8433
AccurateRip signature : A4257601
->Accurately ripped! (confidence 4)
Statistics
Read error : 0
Jitter error (maybe fixed) : 0
Retry sector count : 0
Damaged sector count : 0

Track 19
Filename : /Users/iMac/Documents/Complete Mozart Edition/Volume 2/Disc 8of13/19 - 6 Minuets, K104-61e - II. F Major.flac

Track gain : -1.67 dB
Peak : 0.680145
CRC32 hash (test run) : 424A19C5
CRC32 hash : 424A19C5
CRC32 hash (skip zero) : C69154A8
AccurateRip signature : DA99BE7C
->Accurately ripped! (confidence 4)
Statistics
Read error : 0
Jitter error (maybe fixed) : 0
Retry sector count : 0
Damaged sector count : 0

Track 20
Filename : /Users/iMac/Documents/Complete Mozart Edition/Volume 2/Disc 8of13/20 - 6 Minuets, K104-61e - III. C Major.flac

Track gain : -2.39 dB
Peak : 0.839142
CRC32 hash (test run) : 24F54539
CRC32 hash : 24F54539
CRC32 hash (skip zero) : CD084787
AccurateRip signature : 3454BB41
->Accurately ripped! (confidence 4)
Statistics
Read error : 0
Jitter error (maybe fixed) : 0
Retry sector count : 0
Damaged sector count : 0

Track 21
Filename : /Users/iMac/Documents/Complete Mozart Edition/Volume 2/Disc 8of13/21 - 6 Minuets, K104-61e - IV. A Major.flac

Track gain : 3.44 dB
Peak : 0.425201
CRC32 hash (test run) : 3A41F3BA
CRC32 hash : 3A41F3BA
CRC32 hash (skip zero) : 83D523B5
AccurateRip signature : 755E4A8F
->Accurately ripped! (confidence 4)
Statistics
Read error : 0
Jitter error (maybe fixed) : 0
Retry sector count : 0
Damaged sector count : 0

Track 22
Filename : /Users/iMac/Documents/Complete Mozart Edition/Volume 2/Disc 8of13/22 - 6 Minuets, K104-61e - V. G Major.flac

Track gain : -4.75 dB
Peak : 0.999634
CRC32 hash (test run) : 631AAB79
CRC32 hash : 631AAB79
CRC32 hash (skip zero) : 1DD87875
AccurateRip signature : 6C6184E9
->Accurately ripped! (confidence 4)
Statistics
Read error : 0
Jitter error (maybe fixed) : 0
Retry sector count : 0
Damaged sector count : 0

Track 23
Filename : /Users/iMac/Documents/Complete Mozart Edition/Volume 2/Disc 8of13/23 - 6 Minuets, K104-61e - VI. G Major.flac

Track gain : -3.32 dB
Peak : 0.838196
CRC32 hash (test run) : 129916E6
CRC32 hash : 129916E6
CRC32 hash (skip zero) : EFDF0643
AccurateRip signature : 0333A1F4
->Accurately ripped! (confidence 4)
Statistics
Read error : 0
Jitter error (maybe fixed) : 0
Retry sector count : 0
Damaged sector count : 0

Track 24
Filename : /Users/iMac/Documents/Complete Mozart Edition/Volume 2/Disc 8of13/24 - 19 Minuets, K103-61d - I. C Major.flac
Pre-gap length : 00:07:00

Track gain : -0.96 dB
Peak : 0.787445
CRC32 hash (test run) : 71F7BA28
CRC32 hash : 71F7BA28
CRC32 hash (skip zero) : DAAA9936
AccurateRip signature : AD0C8540
->Accurately ripped! (confidence 4)
Statistics
Read error : 0
Jitter error (maybe fixed) : 0
Retry sector count : 0
Damaged sector count : 0

Track 25
Filename : /Users/iMac/Documents/Complete Mozart Edition/Volume 2/Disc 8of13/25 - 19 Minuets, K103-61d - II. G Major.flac

Track gain : -3.42 dB
Peak : 0.735901
CRC32 hash (test run) : 40E492BE
CRC32 hash : 40E492BE
CRC32 hash (skip zero) : 0874F5B5
AccurateRip signature : 20570483
->Accurately ripped! (confidence 4)
Statistics
Read error : 0
Jitter error (maybe fixed) : 0
Retry sector count : 0
Damaged sector count : 0

Track 26
Filename : /Users/iMac/Documents/Complete Mozart Edition/Volume 2/Disc 8of13/26 - 19 Minuets, K103-61d - III. D Major.flac

Track gain : -1.12 dB
Peak : 0.742920
CRC32 hash (test run) : 90D1E1FE
CRC32 hash : 90D1E1FE
CRC32 hash (skip zero) : B367D413
AccurateRip signature : 824D42B9
->Accurately ripped! (confidence 4)
Statistics
Read error : 0
Jitter error (maybe fixed) : 0
Retry sector count : 0
Damaged sector count : 0

Track 27
Filename : /Users/iMac/Documents/Complete Mozart Edition/Volume 2/Disc 8of13/27 - 19 Minuets, K103-61d - IV. F Major.flac

Track gain : -1.50 dB
Peak : 0.780701
CRC32 hash (test run) : 9F2BC6A0
CRC32 hash : 9F2BC6A0
CRC32 hash (skip zero) : 3000E4FD
AccurateRip signature : AEC2B554
->Accurately ripped! (confidence 4)
Statistics
Read error : 0
Jitter error (maybe fixed) : 0
Retry sector count : 0
Damaged sector count : 0

Track 28
Filename : /Users/iMac/Documents/Complete Mozart Edition/Volume 2/Disc 8of13/28 - 19 Minuets, K103-61d - V. C Major.flac

Track gain : -2.05 dB
Peak : 0.783447
CRC32 hash (test run) : E99BD9F0
CRC32 hash : E99BD9F0
CRC32 hash (skip zero) : D3637F6B
AccurateRip signature : 2324D060
->Accurately ripped! (confidence 4)
Statistics
Read error : 0
Jitter error (maybe fixed) : 0
Retry sector count : 0
Damaged sector count : 0

Track 29
Filename : /Users/iMac/Documents/Complete Mozart Edition/Volume 2/Disc 8of13/29 - 19 Minuets, K103-61d - VI. G Major.flac

Track gain : -3.25 dB
Peak : 0.777039
CRC32 hash (test run) : 0031DEDD
CRC32 hash : 0031DEDD
CRC32 hash (skip zero) : 0A55E3B5
AccurateRip signature : 533A3B2E
->Accurately ripped! (confidence 4)
Statistics
Read error : 0
Jitter error (maybe fixed) : 0
Retry sector count : 0
Damaged sector count : 0

Track 30
Filename : /Users/iMac/Documents/Complete Mozart Edition/Volume 2/Disc 8of13/30 - 19 Minuets, K103-61d - VII. D Major.flac

Track gain : -0.27 dB
Peak : 0.699829
CRC32 hash (test run) : 96D21B9D
CRC32 hash : 96D21B9D
CRC32 hash (skip zero) : 40B264C2
AccurateRip signature : EF34383B
->Accurately ripped! (confidence 4)
Statistics
Read error : 0
Jitter error (maybe fixed) : 0
Retry sector count : 0
Damaged sector count : 0

Track 31
Filename : /Users/iMac/Documents/Complete Mozart Edition/Volume 2/Disc 8of13/31 - 19 Minuets, K103-61d - VIII. F Major.flac
Pre-gap length : 00:01:00

Track gain : 1.14 dB
Peak : 0.718414
CRC32 hash (test run) : 1F66D10C
CRC32 hash : 1F66D10C
CRC32 hash (skip zero) : 0D196E08
AccurateRip signature : 73A697DF
->Accurately ripped! (confidence 4)
Statistics
Read error : 0
Jitter error (maybe fixed) : 0
Retry sector count : 0
Damaged sector count : 0

Track 32
Filename : /Users/iMac/Documents/Complete Mozart Edition/Volume 2/Disc 8of13/32 - 19 Minuets, K103-61d - IX. D Major.flac

Track gain : 0.89 dB
Peak : 0.639526
CRC32 hash (test run) : BDA18431
CRC32 hash : BDA18431
CRC32 hash (skip zero) : 42B54E51
AccurateRip signature : 2DE87037
->Accurately ripped! (confidence 4)
Statistics
Read error : 0
Jitter error (maybe fixed) : 0
Retry sector count : 0
Damaged sector count : 0

Track 33
Filename : /Users/iMac/Documents/Complete Mozart Edition/Volume 2/Disc 8of13/33 - 19 Minuets, K103-61d - X. G Major.flac

Track gain : -2.05 dB
Peak : 0.978668
CRC32 hash (test run) : FFD7AB61
CRC32 hash : FFD7AB61
CRC32 hash (skip zero) : E4135F55
AccurateRip signature : B6D6842D
->Accurately ripped! (confidence 4)
Statistics
Read error : 0
Jitter error (maybe fixed) : 0
Retry sector count : 0
Damaged sector count : 0

Track 34
Filename : /Users/iMac/Documents/Complete Mozart Edition/Volume 2/Disc 8of13/34 - 19 Minuets, K103-61d - XI. F Major.flac

Track gain : 0.17 dB
Peak : 0.672119
CRC32 hash (test run) : F5539D93
CRC32 hash : F5539D93
CRC32 hash (skip zero) : 05466254
AccurateRip signature : 7C02B62F
->Accurately ripped! (confidence 4)
Statistics
Read error : 0
Jitter error (maybe fixed) : 0
Retry sector count : 0
Damaged sector count : 0

Track 35
Filename : /Users/iMac/Documents/Complete Mozart Edition/Volume 2/Disc 8of13/35 - 19 Minuets, K103-61d - XII. C Major.flac

Track gain : 0.29 dB
Peak : 0.594727
CRC32 hash (test run) : 5C18A877
CRC32 hash : 5C18A877
CRC32 hash (skip zero) : E46F9AB9
AccurateRip signature : B36F829F
->Accurately ripped! (confidence 4)
Statistics
Read error : 0
Jitter error (maybe fixed) : 0
Retry sector count : 0
Damaged sector count : 0

Track 36
Filename : /Users/iMac/Documents/Complete Mozart Edition/Volume 2/Disc 8of13/36 - 19 Minuets, K103-61d - XIII. C Major.flac

Track gain : -0.75 dB
Peak : 0.627991
CRC32 hash (test run) : 985257D2
CRC32 hash : 985257D2
CRC32 hash (skip zero) : BB49A668
AccurateRip signature : D62A4248
->Accurately ripped! (confidence 4)
Statistics
Read error : 0
Jitter error (maybe fixed) : 0
Retry sector count : 0
Damaged sector count : 0

Track 37
Filename : /Users/iMac/Documents/Complete Mozart Edition/Volume 2/Disc 8of13/37 - 19 Minuets, K103-61d - XIV. E Flat Major.flac

Track gain : 0.41 dB
Peak : 0.604095
CRC32 hash (test run) : B268966B
CRC32 hash : B268966B
CRC32 hash (skip zero) : D195B0D0
AccurateRip signature : 72824A55
->Accurately ripped! (confidence 4)
Statistics
Read error : 0
Jitter error (maybe fixed) : 0
Retry sector count : 0
Damaged sector count : 0

Track 38
Filename : /Users/iMac/Documents/Complete Mozart Edition/Volume 2/Disc 8of13/38 - 19 Minuets, K103-61d - XV. B Flat Major.flac

Track gain : 2.23 dB
Peak : 0.431610
CRC32 hash (test run) : A8FD6014
CRC32 hash : A8FD6014
CRC32 hash (skip zero) : 752EBEFF
AccurateRip signature : 45444AE7
->Accurately ripped! (confidence 4)
Statistics
Read error : 0
Jitter error (maybe fixed) : 0
Retry sector count : 0
Damaged sector count : 0

Track 39
Filename : /Users/iMac/Documents/Complete Mozart Edition/Volume 2/Disc 8of13/39 - 19 Minuets, K103-61d - XVI. G Major.flac

Track gain : -2.57 dB
Peak : 0.634430
CRC32 hash (test run) : F2679E09
CRC32 hash : F2679E09
CRC32 hash (skip zero) : DC445EBA
AccurateRip signature : BB5A79BB
->Accurately ripped! (confidence 4)
Statistics
Read error : 0
Jitter error (maybe fixed) : 0
Retry sector count : 0
Damaged sector count : 0

Track 40
Filename : /Users/iMac/Documents/Complete Mozart Edition/Volume 2/Disc 8of13/40 - 19 Minuets, K103-61d - XVII. E Major.flac

Track gain : 2.39 dB
Peak : 0.566711
CRC32 hash (test run) : 8A002BBE
CRC32 hash : 8A002BBE
CRC32 hash (skip zero) : 2D1005FB
AccurateRip signature : EF0A87E1
->Accurately ripped! (confidence 4)
Statistics
Read error : 0
Jitter error (maybe fixed) : 0
Retry sector count : 0
Damaged sector count : 0

Track 41
Filename : /Users/iMac/Documents/Complete Mozart Edition/Volume 2/Disc 8of13/41 - 19 Minuets, K103-61d - XVIII. A Major.flac
Pre-gap length : 00:01:00

Track gain : 3.16 dB
Peak : 0.404449
CRC32 hash (test run) : FB39471C
CRC32 hash : FB39471C
CRC32 hash (skip zero) : F92E33FD
AccurateRip signature : 7634112F
->Accurately ripped! (confidence 4)
Statistics
Read error : 0
Jitter error (maybe fixed) : 0
Retry sector count : 0
Damaged sector count : 0

Track 42
Filename : /Users/iMac/Documents/Complete Mozart Edition/Volume 2/Disc 8of13/42 - 19 Minuets, K103-61d - XIX. X Major.flac

Track gain : -0.32 dB
Peak : 0.715240
CRC32 hash (test run) : D8383987
CRC32 hash : D8383987
CRC32 hash (skip zero) : BF26D5C5
AccurateRip signature : 0EAF280B
->Accurately ripped! (confidence 4)
Statistics
Read error : 0
Jitter error (maybe fixed) : 0
Retry sector count : 0
Damaged sector count : 0

No errors occurred

End of status report
X Lossless Decoder version 20110821 (136.1)

XLD extraction logfile from 2011-09-23 11:54:32 +0300

Wiener Mozart Ensemble, Willi Boskovsky / Dances [Volume 2]

Used drive : TSSTcorp CDDVDW SE-S084C (revision TS01)

Ripper mode : XLD Secure Ripper
Disable audio cache : OK for the drive with a cache less than 1375KiB
Make use of C2 pointers : NO
Read offset correction : 6
Max retry count : 100
Gap status : Analyzed, Appended (except HTOA)

TOC of the extracted CD
Track | Start | Length | Start sector | End sector
––––––––––––––––––––––––––––-
1 | 00:00:33 | 02:11:00 | 33 | 9857
2 | 02:11:33 | 01:03:00 | 9858 | 14582
3 | 03:14:33 | 02:03:00 | 14583 | 23807
4 | 05:17:33 | 00:52:00 | 23808 | 27707
5 | 06:09:33 | 02:14:00 | 27708 | 37757
6 | 08:23:33 | 02:18:00 | 37758 | 48107
7 | 10:41:33 | 01:59:00 | 48108 | 57032
8 | 12:40:33 | 01:57:00 | 57033 | 65807
9 | 14:37:33 | 02:04:00 | 65808 | 75107
10 | 16:41:33 | 01:44:00 | 75108 | 82907
11 | 18:25:33 | 01:46:00 | 82908 | 90857
12 | 20:11:33 | 01:59:00 | 90858 | 99782
13 | 22:10:33 | 01:55:50 | 99783 | 108457
14 | 24:06:08 | 01:51:25 | 108458 | 116807
15 | 25:57:33 | 01:51:00 | 116808 | 125132
16 | 27:48:33 | 02:19:00 | 125133 | 135557
17 | 30:07:33 | 01:57:00 | 135558 | 144332
18 | 32:04:33 | 01:54:00 | 144333 | 152882
19 | 33:58:33 | 01:52:00 | 152883 | 161282
20 | 35:50:33 | 01:39:00 | 161283 | 168707
21 | 37:29:33 | 01:50:00 | 168708 | 176957
22 | 39:19:33 | 02:18:00 | 176958 | 187307
23 | 41:37:33 | 02:07:00 | 187308 | 196832
24 | 43:44:33 | 01:55:00 | 196833 | 205457
25 | 45:39:33 | 02:04:00 | 205458 | 214757
26 | 47:43:33 | 00:52:00 | 214758 | 218657
27 | 48:35:33 | 01:44:00 | 218658 | 226457
28 | 50:19:33 | 01:57:00 | 226458 | 235232
29 | 52:16:33 | 00:56:00 | 235233 | 239432
30 | 53:12:33 | 01:43:00 | 239433 | 247157
31 | 54:55:33 | 01:55:00 | 247158 | 255782
32 | 56:50:33 | 01:59:00 | 255783 | 264707
33 | 58:49:33 | 01:51:00 | 264708 | 273032
34 | 60:40:33 | 02:21:00 | 273033 | 283607
35 | 63:01:33 | 01:50:00 | 283608 | 291857

List of alternate offset correction values
# | Absolute | Relative | Confidence
–––––––––––––––––––––
1 | 673 | 667 | 8
2 | 1352 | 1346 | 3

AccurateRip Summary
Track 01 : OK (confidence 6)
Track 02 : OK (confidence 6)
Track 03 : OK (confidence 6)
Track 04 : OK (confidence 6)
Track 05 : OK (confidence 6)
Track 06 : OK (confidence 6)
Track 07 : OK (confidence 6)
Track 08 : OK (confidence 6)
Track 09 : OK (confidence 6)
Track 10 : OK (confidence 6)
Track 11 : OK (confidence 6)
Track 12 : OK (confidence 6)
Track 13 : OK (confidence 6)
Track 14 : OK (confidence 6)
Track 15 : OK (confidence 6)
Track 16 : OK (confidence 6)
Track 17 : OK (confidence 6)
Track 18 : OK (confidence 6)
Track 19 : OK (confidence 6)
Track 20 : OK (confidence 6)
Track 21 : OK (confidence 6)
Track 22 : OK (confidence 6)
Track 23 : OK (confidence 6)
Track 24 : OK (confidence 6)
Track 25 : OK (confidence 6)
Track 26 : OK (confidence 6)
Track 27 : OK (confidence 6)
Track 28 : OK (confidence 6)
Track 29 : OK (confidence 6)
Track 30 : OK (confidence 6)
Track 31 : OK (confidence 6)
Track 32 : OK (confidence 6)
Track 33 : OK (confidence 6)
Track 34 : OK (confidence 6)
Track 35 : OK (confidence 6)
->All tracks accurately ripped.

All Tracks
Album gain : -2.59 dB
Peak : 0.962006
Statistics
Read error : 0
Jitter error (maybe fixed) : 0
Retry sector count : 0
Damaged sector count : 0

Track 01
Filename : /Users/iMac/Documents/Complete Mozart Edition/Volume 2/Disc 9of13/01 - 6 Minuets, K61h - I. C Major.flac
Pre-gap length : 00:02:33

Track gain : -1.61 dB
Peak : 0.642456
CRC32 hash (test run) : 01CF78ED
CRC32 hash : 01CF78ED
CRC32 hash (skip zero) : 1464741E
AccurateRip signature : 18C28AF6
->Accurately ripped! (confidence 6)
Statistics
Read error : 0
Jitter error (maybe fixed) : 0
Retry sector count : 0
Damaged sector count : 0

Track 02
Filename : /Users/iMac/Documents/Complete Mozart Edition/Volume 2/Disc 9of13/02 - 6 Minuets, K61h - II. A Major.flac

Track gain : 5.93 dB
Peak : 0.328369
CRC32 hash (test run) : 38C2AEE4
CRC32 hash : 38C2AEE4
CRC32 hash (skip zero) : EC40CD1C
AccurateRip signature : 9FE1E071
->Accurately ripped! (confidence 6)
Statistics
Read error : 0
Jitter error (maybe fixed) : 0
Retry sector count : 0
Damaged sector count : 0

Track 03
Filename : /Users/iMac/Documents/Complete Mozart Edition/Volume 2/Disc 9of13/03 - 6 Minuets, K61h - III. D Major.flac

Track gain : 0.44 dB
Peak : 0.611786
CRC32 hash (test run) : AC6E2CD3
CRC32 hash : AC6E2CD3
CRC32 hash (skip zero) : 3AAF58ED
AccurateRip signature : 9E666138
->Accurately ripped! (confidence 6)
Statistics
Read error : 0
Jitter error (maybe fixed) : 0
Retry sector count : 0
Damaged sector count : 0

Track 04
Filename : /Users/iMac/Documents/Complete Mozart Edition/Volume 2/Disc 9of13/04 - 6 Minuets, K61h - IV. B Flat Major.flac

Track gain : 2.71 dB
Peak : 0.491241
CRC32 hash (test run) : B1B032DF
CRC32 hash : B1B032DF
CRC32 hash (skip zero) : EFDF6D4A
AccurateRip signature : 6478F9A8
->Accurately ripped! (confidence 6)
Statistics
Read error : 0
Jitter error (maybe fixed) : 0
Retry sector count : 0
Damaged sector count : 0

Track 05
Filename : /Users/iMac/Documents/Complete Mozart Edition/Volume 2/Disc 9of13/05 - 6 Minuets, K61h - V. G Major.flac

Track gain : -3.56 dB
Peak : 0.727051
CRC32 hash (test run) : 34C87575
CRC32 hash : 34C87575
CRC32 hash (skip zero) : 82335677
AccurateRip signature : 8FFA4013
->Accurately ripped! (confidence 6)
Statistics
Read error : 0
Jitter error (maybe fixed) : 0
Retry sector count : 0
Damaged sector count : 0

Track 06
Filename : /Users/iMac/Documents/Complete Mozart Edition/Volume 2/Disc 9of13/06 - 6 Minuets, K61h - VI. C Major.flac
Pre-gap length : 00:01:00

Track gain : -1.67 dB
Peak : 0.783112
CRC32 hash (test run) : C14AF84B
CRC32 hash : C14AF84B
CRC32 hash (skip zero) : 57A84279
AccurateRip signature : C9D35387
->Accurately ripped! (confidence 6)
Statistics
Read error : 0
Jitter error (maybe fixed) : 0
Retry sector count : 0
Damaged sector count : 0

Track 07
Filename : /Users/iMac/Documents/Complete Mozart Edition/Volume 2/Disc 9of13/07 - 6 Minuets, K164-130a - I. D Major.flac
Pre-gap length : 00:08:00

Track gain : -0.45 dB
Peak : 0.678162
CRC32 hash (test run) : 6A1E8C54
CRC32 hash : 6A1E8C54
CRC32 hash (skip zero) : 0B7D5E99
AccurateRip signature : 6CC41174
->Accurately ripped! (confidence 6)
Statistics
Read error : 0
Jitter error (maybe fixed) : 0
Retry sector count : 0
Damaged sector count : 0

Track 08
Filename : /Users/iMac/Documents/Complete Mozart Edition/Volume 2/Disc 9of13/08 - 6 Minuets, K164-130a - II. G Major.flac

Track gain : -4.17 dB
Peak : 0.723480
CRC32 hash (test run) : 55DD0CD3
CRC32 hash : 55DD0CD3
CRC32 hash (skip zero) : 8F8EAB4A
AccurateRip signature : F8F464B1
->Accurately ripped! (confidence 6)
Statistics
Read error : 0
Jitter error (maybe fixed) : 0
Retry sector count : 0
Damaged sector count : 0

Track 09
Filename : /Users/iMac/Documents/Complete Mozart Edition/Volume 2/Disc 9of13/09 - 6 Minuets, K164-130a - III. D Major.flac
Pre-gap length : 00:01:00

Track gain : -0.19 dB
Peak : 0.738892
CRC32 hash (test run) : EF213906
CRC32 hash : EF213906
CRC32 hash (skip zero) : 2E49636B
AccurateRip signature : 00232837
->Accurately ripped! (confidence 6)
Statistics
Read error : 0
Jitter error (maybe fixed) : 0
Retry sector count : 0
Damaged sector count : 0

Track 10
Filename : /Users/iMac/Documents/Complete Mozart Edition/Volume 2/Disc 9of13/10 - 6 Minuets, K164-130a - IV. G Major.flac

Track gain : -3.24 dB
Peak : 0.860016
CRC32 hash (test run) : 14838F65
CRC32 hash : 14838F65
CRC32 hash (skip zero) : 29DE00E8
AccurateRip signature : D86FAE91
->Accurately ripped! (confidence 6)
Statistics
Read error : 0
Jitter error (maybe fixed) : 0
Retry sector count : 0
Damaged sector count : 0

Track 11
Filename : /Users/iMac/Documents/Complete Mozart Edition/Volume 2/Disc 9of13/11 - 6 Minuets, K164-130a - V. D Major.flac

Track gain : -0.25 dB
Peak : 0.676788
CRC32 hash (test run) : 26FD1D0D
CRC32 hash : 26FD1D0D
CRC32 hash (skip zero) : 90DD65FA
AccurateRip signature : 27BA7BA0
->Accurately ripped! (confidence 6)
Statistics
Read error : 0
Jitter error (maybe fixed) : 0
Retry sector count : 0
Damaged sector count : 0

Track 12
Filename : /Users/iMac/Documents/Complete Mozart Edition/Volume 2/Disc 9of13/12 - 6 Minuets, K164-130a - VI. G Major.flac

Track gain : -3.72 dB
Peak : 0.899475
CRC32 hash (test run) : 9439C337
CRC32 hash : 9439C337
CRC32 hash (skip zero) : CF25489E
AccurateRip signature : DCEEC2C7
->Accurately ripped! (confidence 6)
Statistics
Read error : 0
Jitter error (maybe fixed) : 0
Retry sector count : 0
Damaged sector count : 0

Track 13
Filename : /Users/iMac/Documents/Complete Mozart Edition/Volume 2/Disc 9of13/13 - 8 Minuets, K315g (315a) - I. C Major.flac
Pre-gap length : 00:07:00

Track gain : -0.96 dB
Peak : 0.751617
CRC32 hash (test run) : 83D6614A
CRC32 hash : 83D6614A
CRC32 hash (skip zero) : 844838F1
AccurateRip signature : 7FD8D86B
->Accurately ripped! (confidence 6)
Statistics
Read error : 0
Jitter error (maybe fixed) : 0
Retry sector count : 0
Damaged sector count : 0

Track 14
Filename : /Users/iMac/Documents/Complete Mozart Edition/Volume 2/Disc 9of13/14 - 8 Minuets, K315g (315a) - II. G Major.flac

Track gain : 1.50 dB
Peak : 0.507141
CRC32 hash (test run) : 71936697
CRC32 hash : 71936697
CRC32 hash (skip zero) : 384BC16B
AccurateRip signature : C93E2EA4
->Accurately ripped! (confidence 6)
Statistics
Read error : 0
Jitter error (maybe fixed) : 0
Retry sector count : 0
Damaged sector count : 0

Track 15
Filename : /Users/iMac/Documents/Complete Mozart Edition/Volume 2/Disc 9of13/15 - 8 Minuets, K315g (315a) - III. D Major.flac

Track gain : 1.27 dB
Peak : 0.552979
CRC32 hash (test run) : E4AE2294
CRC32 hash : E4AE2294
CRC32 hash (skip zero) : 273D2931
AccurateRip signature : E7EEE39C
->Accurately ripped! (confidence 6)
Statistics
Read error : 0
Jitter error (maybe fixed) : 0
Retry sector count : 0
Damaged sector count : 0

Track 16
Filename : /Users/iMac/Documents/Complete Mozart Edition/Volume 2/Disc 9of13/16 - 8 Minuets, K315g (315a) - IV. G Major.flac

Track gain : -1.59 dB
Peak : 0.782104
CRC32 hash (test run) : 0183D9D6
CRC32 hash : 0183D9D6
CRC32 hash (skip zero) : 8A145FAE
AccurateRip signature : 2DB90DA7
->Accurately ripped! (confidence 6)
Statistics
Read error : 0
Jitter error (maybe fixed) : 0
Retry sector count : 0
Damaged sector count : 0

Track 17
Filename : /Users/iMac/Documents/Complete Mozart Edition/Volume 2/Disc 9of13/17 - 8 Minuets, K315g (315a) - V. C Major.flac

Track gain : -0.94 dB
Peak : 0.699219
CRC32 hash (test run) : A51C61C1
CRC32 hash : A51C61C1
CRC32 hash (skip zero) : 4E1B860B
AccurateRip signature : 9566E530
->Accurately ripped! (confidence 6)
Statistics
Read error : 0
Jitter error (maybe fixed) : 0
Retry sector count : 0
Damaged sector count : 0

Track 18
Filename : /Users/iMac/Documents/Complete Mozart Edition/Volume 2/Disc 9of13/18 - 8 Minuets, K315g (315a) - VI. F Major.flac

Track gain : -2.34 dB
Peak : 0.717041
CRC32 hash (test run) : F8FD4C91
CRC32 hash : F8FD4C91
CRC32 hash (skip zero) : B2F58480
AccurateRip signature : 9FF48AA8
->Accurately ripped! (confidence 6)
Statistics
Read error : 0
Jitter error (maybe fixed) : 0
Retry sector count : 0
Damaged sector count : 0

Track 19
Filename : /Users/iMac/Documents/Complete Mozart Edition/Volume 2/Disc 9of13/19 - 8 Minuets, K315g (315a) - VII. D Major.flac

Track gain : -0.68 dB
Peak : 0.623474
CRC32 hash (test run) : FB4968C7
CRC32 hash : FB4968C7
CRC32 hash (skip zero) : CF1FB5BF
AccurateRip signature : C0B4049D
->Accurately ripped! (confidence 6)
Statistics
Read error : 0
Jitter error (maybe fixed) : 0
Retry sector count : 0
Damaged sector count : 0

Track 20
Filename : /Users/iMac/Documents/Complete Mozart Edition/Volume 2/Disc 9of13/20 - 8 Minuets, K315g (315a) - VIII. A Major.flac
Pre-gap length : 00:02:00

Track gain : -4.12 dB
Peak : 0.870911
CRC32 hash (test run) : 9B1AA454
CRC32 hash : 9B1AA454
CRC32 hash (skip zero) : 96C5A53F
AccurateRip signature : E7CE3943
->Accurately ripped! (confidence 6)
Statistics
Read error : 0
Jitter error (maybe fixed) : 0
Retry sector count : 0
Damaged sector count : 0

Track 21
Filename : /Users/iMac/Documents/Complete Mozart Edition/Volume 2/Disc 9of13/21 - 16 Minuets, K176 - I. C Major.flac
Pre-gap length : 00:06:00

Track gain : -2.21 dB
Peak : 0.715210
CRC32 hash (test run) : 4A3A9E21
CRC32 hash : 4A3A9E21
CRC32 hash (skip zero) : C45E59FD
AccurateRip signature : 300D5E1E
->Accurately ripped! (confidence 6)
Statistics
Read error : 0
Jitter error (maybe fixed) : 0
Retry sector count : 0
Damaged sector count : 0

Track 22
Filename : /Users/iMac/Documents/Complete Mozart Edition/Volume 2/Disc 9of13/22 - 16 Minuets, K176 - II. G Major.flac

Track gain : -2.41 dB
Peak : 0.850677
CRC32 hash (test run) : FAB3FEEA
CRC32 hash : FAB3FEEA
CRC32 hash (skip zero) : 8AAE8EC9
AccurateRip signature : D2191921
->Accurately ripped! (confidence 6)
Statistics
Read error : 0
Jitter error (maybe fixed) : 0
Retry sector count : 0
Damaged sector count : 0

Track 23
Filename : /Users/iMac/Documents/Complete Mozart Edition/Volume 2/Disc 9of13/23 - 16 Minuets, K176 - III. E Flat Major - IV. B Flat Major.flac

Track gain : -0.79 dB
Peak : 0.636658
CRC32 hash (test run) : 2116F5F6
CRC32 hash : 2116F5F6
CRC32 hash (skip zero) : A6AD9002
AccurateRip signature : D732091A
->Accurately ripped! (confidence 6)
Statistics
Read error : 0
Jitter error (maybe fixed) : 0
Retry sector count : 0
Damaged sector count : 0

Track 24
Filename : /Users/iMac/Documents/Complete Mozart Edition/Volume 2/Disc 9of13/24 - 16 Minuets, K176 - V. F Major.flac
Pre-gap length : 00:01:00

Track gain : -2.57 dB
Peak : 0.775299
CRC32 hash (test run) : DCA07560
CRC32 hash : DCA07560
CRC32 hash (skip zero) : 34C6FF0F
AccurateRip signature : 7C2F0FA8
->Accurately ripped! (confidence 6)
Statistics
Read error : 0
Jitter error (maybe fixed) : 0
Retry sector count : 0
Damaged sector count : 0

Track 25
Filename : /Users/iMac/Documents/Complete Mozart Edition/Volume 2/Disc 9of13/25 - 16 Minuets, K176 - VI. D Major.flac

Track gain : -3.57 dB
Peak : 0.829803
CRC32 hash (test run) : 2C4EF81E
CRC32 hash : 2C4EF81E
CRC32 hash (skip zero) : B0A658DA
AccurateRip signature : F6CAB450
->Accurately ripped! (confidence 6)
Statistics
Read error : 0
Jitter error (maybe fixed) : 0
Retry sector count : 0
Damaged sector count : 0

Track 26
Filename : /Users/iMac/Documents/Complete Mozart Edition/Volume 2/Disc 9of13/26 - 16 Minuets, K176 - VII. A Major.flac
Pre-gap length : 00:01:00

Track gain : -6.20 dB
Peak : 0.932465
CRC32 hash (test run) : DC4065F9
CRC32 hash : DC4065F9
CRC32 hash (skip zero) : 2E110E0E
AccurateRip signature : 8A2235B5
->Accurately ripped! (confidence 6)
Statistics
Read error : 0
Jitter error (maybe fixed) : 0
Retry sector count : 0
Damaged sector count : 0

Track 27
Filename : /Users/iMac/Documents/Complete Mozart Edition/Volume 2/Disc 9of13/27 - 16 Minuets, K176 - VIII. C Major.flac
Pre-gap length : 00:01:00

Track gain : -2.39 dB
Peak : 0.962006
CRC32 hash (test run) : 731757FF
CRC32 hash : 731757FF
CRC32 hash (skip zero) : 6663EB5D
AccurateRip signature : 6200A8E7
->Accurately ripped! (confidence 6)
Statistics
Read error : 0
Jitter error (maybe fixed) : 0
Retry sector count : 0
Damaged sector count : 0

Track 28
Filename : /Users/iMac/Documents/Complete Mozart Edition/Volume 2/Disc 9of13/28 - 16 Minuets, K176 - IX. G Major.flac
Pre-gap length : 00:01:00

Track gain : -3.07 dB
Peak : 0.820068
CRC32 hash (test run) : D630AD85
CRC32 hash : D630AD85
CRC32 hash (skip zero) : CC325D22
AccurateRip signature : 542436A5
->Accurately ripped! (confidence 6)
Statistics
Read error : 0
Jitter error (maybe fixed) : 0
Retry sector count : 0
Damaged sector count : 0

Track 29
Filename : /Users/iMac/Documents/Complete Mozart Edition/Volume 2/Disc 9of13/29 - 16 Minuets, K176 - X. B Flat Major.flac
Pre-gap length : 00:01:00

Track gain : -3.51 dB
Peak : 0.851746
CRC32 hash (test run) : 77981A90
CRC32 hash : 77981A90
CRC32 hash (skip zero) : 35545EA0
AccurateRip signature : 1575DAB1
->Accurately ripped! (confidence 6)
Statistics
Read error : 0
Jitter error (maybe fixed) : 0
Retry sector count : 0
Damaged sector count : 0

Track 30
Filename : /Users/iMac/Documents/Complete Mozart Edition/Volume 2/Disc 9of13/30 - 16 Minuets, K176 - XI. F Major.flac

Track gain : -3.94 dB
Peak : 0.809479
CRC32 hash (test run) : C66A1325
CRC32 hash : C66A1325
CRC32 hash (skip zero) : 22A2132E
AccurateRip signature : 426586B3
->Accurately ripped! (confidence 6)
Statistics
Read error : 0
Jitter error (maybe fixed) : 0
Retry sector count : 0
Damaged sector count : 0

Track 31
Filename : /Users/iMac/Documents/Complete Mozart Edition/Volume 2/Disc 9of13/31 - 16 Minuets, K176 - XII. D Major.flac

Track gain : -3.80 dB
Peak : 0.911591
CRC32 hash (test run) : 8761B08E
CRC32 hash : 8761B08E
CRC32 hash (skip zero) : 1C872843
AccurateRip signature : 445E236E
->Accurately ripped! (confidence 6)
Statistics
Read error : 0
Jitter error (maybe fixed) : 0
Retry sector count : 0
Damaged sector count : 0

Track 32
Filename : /Users/iMac/Documents/Complete Mozart Edition/Volume 2/Disc 9of13/32 - 16 Minuets, K176 - XIII. G Major.flac
Pre-gap length : 00:01:00

Track gain : -3.99 dB
Peak : 0.793701
CRC32 hash (test run) : 66F1F12F
CRC32 hash : 66F1F12F
CRC32 hash (skip zero) : 8D035FB8
AccurateRip signature : D619E0FC
->Accurately ripped! (confidence 6)
Statistics
Read error : 0
Jitter error (maybe fixed) : 0
Retry sector count : 0
Damaged sector count : 0

Track 33
Filename : /Users/iMac/Documents/Complete Mozart Edition/Volume 2/Disc 9of13/33 - 16 Minuets, K176 - XIV. C Major.flac

Track gain : -2.51 dB
Peak : 0.899078
CRC32 hash (test run) : 3A7B2F41
CRC32 hash : 3A7B2F41
CRC32 hash (skip zero) : FEC2CA0B
AccurateRip signature : BFB242C3
->Accurately ripped! (confidence 6)
Statistics
Read error : 0
Jitter error (maybe fixed) : 0
Retry sector count : 0
Damaged sector count : 0

Track 34
Filename : /Users/iMac/Documents/Complete Mozart Edition/Volume 2/Disc 9of13/34 - 16 Minuets, K176 - XV. F Major.flac

Track gain : -4.30 dB
Peak : 0.830078
CRC32 hash (test run) : 8C453FFD
CRC32 hash : 8C453FFD
CRC32 hash (skip zero) : 4E1EDA30
AccurateRip signature : 406B9BDD
->Accurately ripped! (confidence 6)
Statistics
Read error : 0
Jitter error (maybe fixed) : 0
Retry sector count : 0
Damaged sector count : 0

Track 35
Filename : /Users/iMac/Documents/Complete Mozart Edition/Volume 2/Disc 9of13/35 - 16 Minuets, K176 - XVI. D Major.flac

Track gain : -2.64 dB
Peak : 0.778351
CRC32 hash (test run) : F5ABB647
CRC32 hash : F5ABB647
CRC32 hash (skip zero) : C2A4ABA4
AccurateRip signature : 70D87423
->Accurately ripped! (confidence 6)
Statistics
Read error : 0
Jitter error (maybe fixed) : 0
Retry sector count : 0
Damaged sector count : 0

No errors occurred

End of status report
X Lossless Decoder version 20110821 (136.1)

XLD extraction logfile from 2011-09-23 12:34:40 +0300

Wiener Mozart Ensemble, Willi Boskovsky / Dances & Marches [Volume 2]

Used drive : TSSTcorp CDDVDW SE-S084C (revision TS01)

Ripper mode : XLD Secure Ripper
Disable audio cache : OK for the drive with a cache less than 1375KiB
Make use of C2 pointers : NO
Read offset correction : 6
Max retry count : 100
Gap status : Analyzed, Appended (except HTOA)

TOC of the extracted CD
Track | Start | Length | Start sector | End sector
––––––––––––––––––––––––––––-
1 | 00:00:33 | 03:37:00 | 33 | 16307
2 | 03:37:33 | 01:49:00 | 16308 | 24482
3 | 05:26:33 | 02:00:00 | 24483 | 33482
4 | 07:26:33 | 00:55:50 | 33483 | 37657
5 | 08:22:08 | 02:05:25 | 37658 | 47057
6 | 10:27:33 | 00:58:70 | 47058 | 51477
7 | 11:26:28 | 02:10:05 | 51478 | 61232
8 | 13:36:33 | 01:24:00 | 61233 | 67532
9 | 15:00:33 | 01:31:00 | 67533 | 74357
10 | 16:31:33 | 01:15:00 | 74358 | 79982
11 | 17:46:33 | 01:41:00 | 79983 | 87557
12 | 19:27:33 | 01:50:00 | 87558 | 95807
13 | 21:17:33 | 02:14:00 | 95808 | 105857
14 | 23:31:33 | 04:44:00 | 105858 | 127157
15 | 28:15:33 | 03:26:00 | 127158 | 142607
16 | 31:41:33 | 03:45:00 | 142608 | 159482
17 | 35:26:33 | 00:59:00 | 159483 | 163907
18 | 36:25:33 | 01:03:50 | 163908 | 168682
19 | 37:29:08 | 00:58:25 | 168683 | 173057
20 | 38:27:33 | 02:05:00 | 173058 | 182432
21 | 40:32:33 | 01:39:00 | 182433 | 189857
22 | 42:11:33 | 01:01:50 | 189858 | 194482
23 | 43:13:08 | 01:36:50 | 194483 | 201732
24 | 44:49:58 | 01:08:00 | 201733 | 206832
25 | 45:57:58 | 01:50:50 | 206833 | 215132
26 | 47:48:33 | 02:28:00 | 215133 | 226232
27 | 50:16:33 | 02:28:00 | 226233 | 237332
28 | 52:44:33 | 02:06:00 | 237333 | 246782
29 | 54:50:33 | 02:00:00 | 246783 | 255782
30 | 56:50:33 | 02:04:00 | 255783 | 265082
31 | 58:54:33 | 01:49:00 | 265083 | 273257
32 | 60:43:33 | 01:56:00 | 273258 | 281957

List of alternate offset correction values
# | Absolute | Relative | Confidence
–––––––––––––––––––––
1 | 2001 | 1995 | 9
2 | 2240 | 2234 | 3

AccurateRip Summary
Track 01 : OK (confidence 4)
Track 02 : OK (confidence 4)
Track 03 : OK (confidence 4)
Track 04 : OK (confidence 4)
Track 05 : OK (confidence 4)
Track 06 : OK (confidence 4)
Track 07 : OK (confidence 4)
Track 08 : OK (confidence 4)
Track 09 : OK (confidence 4)
Track 10 : OK (confidence 4)
Track 11 : OK (confidence 4)
Track 12 : OK (confidence 4)
Track 13 : OK (confidence 4)
Track 14 : OK (confidence 4)
Track 15 : OK (confidence 4)
Track 16 : OK (confidence 4)
Track 17 : OK (confidence 4)
Track 18 : OK (confidence 4)
Track 19 : OK (confidence 4)
Track 20 : OK (confidence 4)
Track 21 : OK (confidence 4)
Track 22 : OK (confidence 4)
Track 23 : OK (confidence 4)
Track 24 : OK (confidence 4)
Track 25 : OK (confidence 4)
Track 26 : OK (confidence 4)
Track 27 : OK (confidence 4)
Track 28 : OK (confidence 4)
Track 29 : OK (confidence 4)
Track 30 : OK (confidence 4)
Track 31 : OK (confidence 4)
Track 32 : OK (confidence 4)
->All tracks accurately ripped.

All Tracks
Album gain : -1.56 dB
Peak : 0.999878
Statistics
Read error : 0
Jitter error (maybe fixed) : 0
Retry sector count : 0
Damaged sector count : 0

Track 01
Filename : /Users/iMac/Documents/Complete Mozart Edition/Volume 2/Disc 10of13/01 - March in C Major, K214.flac
Pre-gap length : 00:02:33

Track gain : -2.20 dB
Peak : 0.998230
CRC32 hash (test run) : 85002137
CRC32 hash : 85002137
CRC32 hash (skip zero) : 0D00C2AB
AccurateRip signature : D84599AC
->Accurately ripped! (confidence 4)
Statistics
Read error : 0
Jitter error (maybe fixed) : 0
Retry sector count : 0
Damaged sector count : 0

Track 02
Filename : /Users/iMac/Documents/Complete Mozart Edition/Volume 2/Disc 10of13/02 - 4 Contredanses, K101 - I. F Major.flac
Pre-gap length : 00:04:00

Track gain : -2.26 dB
Peak : 0.712463
CRC32 hash (test run) : 0AF7AF46
CRC32 hash : 0AF7AF46
CRC32 hash (skip zero) : 883134A2
AccurateRip signature : ABEB9506
->Accurately ripped! (confidence 4)
Statistics
Read error : 0
Jitter error (maybe fixed) : 0
Retry sector count : 0
Damaged sector count : 0

Track 03
Filename : /Users/iMac/Documents/Complete Mozart Edition/Volume 2/Disc 10of13/03 - 4 Contredanses, K101 - II. G Major.flac

Track gain : 5.72 dB
Peak : 0.386047
CRC32 hash (test run) : 8AB14139
CRC32 hash : 8AB14139
CRC32 hash (skip zero) : DF9FFAD6
AccurateRip signature : D8CCC2AA
->Accurately ripped! (confidence 4)
Statistics
Read error : 0
Jitter error (maybe fixed) : 0
Retry sector count : 0
Damaged sector count : 0

Track 04
Filename : /Users/iMac/Documents/Complete Mozart Edition/Volume 2/Disc 10of13/04 - 4 Contredanses, K101 - III. D Major.flac
Pre-gap length : 00:01:00

Track gain : 2.45 dB
Peak : 0.498260
CRC32 hash (test run) : 92952F68
CRC32 hash : 92952F68
CRC32 hash (skip zero) : B1A8A06B
AccurateRip signature : 4A5A1E18
->Accurately ripped! (confidence 4)
Statistics
Read error : 0
Jitter error (maybe fixed) : 0
Retry sector count : 0
Damaged sector count : 0

Track 05
Filename : /Users/iMac/Documents/Complete Mozart Edition/Volume 2/Disc 10of13/05 - 4 Contredanses, K101 - IV. F Major.flac

Track gain : -0.07 dB
Peak : 0.667145
CRC32 hash (test run) : 1DFCA3E1
CRC32 hash : 1DFCA3E1
CRC32 hash (skip zero) : E23E281F
AccurateRip signature : 4D3F37A3
->Accurately ripped! (confidence 4)
Statistics
Read error : 0
Jitter error (maybe fixed) : 0
Retry sector count : 0
Damaged sector count : 0

Track 06
Filename : /Users/iMac/Documents/Complete Mozart Edition/Volume 2/Disc 10of13/06 - 2 Contredanses for Count Czernin, K269b - III. C Major.flac
Pre-gap length : 00:05:00

Track gain : 1.60 dB
Peak : 0.578461
CRC32 hash (test run) : 13DCFEC0
CRC32 hash : 13DCFEC0
CRC32 hash (skip zero) : 902B4845
AccurateRip signature : C4D2E01D
->Accurately ripped! (confidence 4)
Statistics
Read error : 0
Jitter error (maybe fixed) : 0
Retry sector count : 0
Damaged sector count : 0

Track 07
Filename : /Users/iMac/Documents/Complete Mozart Edition/Volume 2/Disc 10of13/07 - 2 Contredanses for Count Czernin, K269b - I. G Major.flac

Track gain : -1.53 dB
Peak : 0.689453
CRC32 hash (test run) : 79C12B6C
CRC32 hash : 79C12B6C
CRC32 hash (skip zero) : 1711D8B1
AccurateRip signature : C73BF578
->Accurately ripped! (confidence 4)
Statistics
Read error : 0
Jitter error (maybe fixed) : 0
Retry sector count : 0
Damaged sector count : 0

Track 08
Filename : /Users/iMac/Documents/Complete Mozart Edition/Volume 2/Disc 10of13/08 - 4 Contredanses, K267-271c - I. G Major.flac
Pre-gap length : 00:04:00

Track gain : 0.61 dB
Peak : 0.530304
CRC32 hash (test run) : F3DF967B
CRC32 hash : F3DF967B
CRC32 hash (skip zero) : D5C7B401
AccurateRip signature : 3D1648D7
->Accurately ripped! (confidence 4)
Statistics
Read error : 0
Jitter error (maybe fixed) : 0
Retry sector count : 0
Damaged sector count : 0

Track 09
Filename : /Users/iMac/Documents/Complete Mozart Edition/Volume 2/Disc 10of13/09 - 4 Contredanses, K267-271c - II. E Flat Major.flac

Track gain : 2.02 dB
Peak : 0.506958
CRC32 hash (test run) : DBFD12E5
CRC32 hash : DBFD12E5
CRC32 hash (skip zero) : A3710F44
AccurateRip signature : E09AD32B
->Accurately ripped! (confidence 4)
Statistics
Read error : 0
Jitter error (maybe fixed) : 0
Retry sector count : 0
Damaged sector count : 0

Track 10
Filename : /Users/iMac/Documents/Complete Mozart Edition/Volume 2/Disc 10of13/10 - 4 Contredanses, K267-271c - III. A Major.flac

Track gain : 1.19 dB
Peak : 0.518616
CRC32 hash (test run) : 0886182B
CRC32 hash : 0886182B
CRC32 hash (skip zero) : 2637E78F
AccurateRip signature : B6BDA32E
->Accurately ripped! (confidence 4)
Statistics
Read error : 0
Jitter error (maybe fixed) : 0
Retry sector count : 0
Damaged sector count : 0

Track 11
Filename : /Users/iMac/Documents/Complete Mozart Edition/Volume 2/Disc 10of13/11 - 4 Contredanses, K267-271c - IV. D Major.flac

Track gain : 2.65 dB
Peak : 0.590179
CRC32 hash (test run) : 70F5392F
CRC32 hash : 70F5392F
CRC32 hash (skip zero) : 13DDBAF9
AccurateRip signature : C1851B9F
->Accurately ripped! (confidence 4)
Statistics
Read error : 0
Jitter error (maybe fixed) : 0
Retry sector count : 0
Damaged sector count : 0

Track 12
Filename : /Users/iMac/Documents/Complete Mozart Edition/Volume 2/Disc 10of13/12 - 'La Chasse' KA103-299d (320f).flac
Pre-gap length : 00:07:00

Track gain : -3.41 dB
Peak : 0.763672
CRC32 hash (test run) : FCAE4C03
CRC32 hash : FCAE4C03
CRC32 hash (skip zero) : 09AE1CCF
AccurateRip signature : D6AF36A7
->Accurately ripped! (confidence 4)
Statistics
Read error : 0
Jitter error (maybe fixed) : 0
Retry sector count : 0
Damaged sector count : 0

Track 13
Filename : /Users/iMac/Documents/Complete Mozart Edition/Volume 2/Disc 10of13/13 - Gavotte in B Flat Major, K300.flac
Pre-gap length : 00:03:00

Track gain : -1.55 dB
Peak : 0.799377
CRC32 hash (test run) : 99FE0D36
CRC32 hash : 99FE0D36
CRC32 hash (skip zero) : 20C7A150
AccurateRip signature : FD6E2DF8
->Accurately ripped! (confidence 4)
Statistics
Read error : 0
Jitter error (maybe fixed) : 0
Retry sector count : 0
Damaged sector count : 0

Track 14
Filename : /Users/iMac/Documents/Complete Mozart Edition/Volume 2/Disc 10of13/14 - 3 Marches, K408 - I. C Major.flac
Pre-gap length : 00:03:00

Track gain : -1.80 dB
Peak : 0.871979
CRC32 hash (test run) : 78AE59B7
CRC32 hash : 78AE59B7
CRC32 hash (skip zero) : 87D9F8EB
AccurateRip signature : CC59F8D5
->Accurately ripped! (confidence 4)
Statistics
Read error : 0
Jitter error (maybe fixed) : 0
Retry sector count : 0
Damaged sector count : 0

Track 15
Filename : /Users/iMac/Documents/Complete Mozart Edition/Volume 2/Disc 10of13/15 - 3 Marches, K408 - II. D Major.flac
Pre-gap length : 00:04:00

Track gain : -1.92 dB
Peak : 0.837982
CRC32 hash (test run) : C3583D48
CRC32 hash : C3583D48
CRC32 hash (skip zero) : 206761A1
AccurateRip signature : 005A3E6C
->Accurately ripped! (confidence 4)
Statistics
Read error : 0
Jitter error (maybe fixed) : 0
Retry sector count : 0
Damaged sector count : 0

Track 16
Filename : /Users/iMac/Documents/Complete Mozart Edition/Volume 2/Disc 10of13/16 - 3 Marches, K408 - III. C Major.flac
Pre-gap length : 00:03:00

Track gain : -2.47 dB
Peak : 0.999603
CRC32 hash (test run) : 17E8E144
CRC32 hash : 17E8E144
CRC32 hash (skip zero) : 490BE3F4
AccurateRip signature : F819391E
->Accurately ripped! (confidence 4)
Statistics
Read error : 0
Jitter error (maybe fixed) : 0
Retry sector count : 0
Damaged sector count : 0

Track 17
Filename : /Users/iMac/Documents/Complete Mozart Edition/Volume 2/Disc 10of13/17 - 3 Minuets, K363 - I. D Major.flac
Pre-gap length : 00:04:00

Track gain : -3.34 dB
Peak : 0.707336
CRC32 hash (test run) : 7D5E0104
CRC32 hash : 7D5E0104
CRC32 hash (skip zero) : FB0F68ED
AccurateRip signature : F7CB4647
->Accurately ripped! (confidence 4)
Statistics
Read error : 0
Jitter error (maybe fixed) : 0
Retry sector count : 0
Damaged sector count : 0

Track 18
Filename : /Users/iMac/Documents/Complete Mozart Edition/Volume 2/Disc 10of13/18 - 3 Minuets, K363 - II. B Flat Major.flac

Track gain : -2.55 dB
Peak : 0.654419
CRC32 hash (test run) : FB3B7EAD
CRC32 hash : FB3B7EAD
CRC32 hash (skip zero) : 4626ACC3
AccurateRip signature : 695FAFCD
->Accurately ripped! (confidence 4)
Statistics
Read error : 0
Jitter error (maybe fixed) : 0
Retry sector count : 0
Damaged sector count : 0

Track 19
Filename : /Users/iMac/Documents/Complete Mozart Edition/Volume 2/Disc 10of13/19 - 3 Minuets, K363 - III. D Major.flac

Track gain : 4.03 dB
Peak : 0.380493
CRC32 hash (test run) : 57BA6314
CRC32 hash : 57BA6314
CRC32 hash (skip zero) : 6145F844
AccurateRip signature : 18478195
->Accurately ripped! (confidence 4)
Statistics
Read error : 0
Jitter error (maybe fixed) : 0
Retry sector count : 0
Damaged sector count : 0

Track 20
Filename : /Users/iMac/Documents/Complete Mozart Edition/Volume 2/Disc 10of13/20 - 6 Contredanses, K462-448b - I. C Major.flac
Pre-gap length : 00:03:00

Track gain : 1.38 dB
Peak : 0.561462
CRC32 hash (test run) : 4EB3D7EF
CRC32 hash : 4EB3D7EF
CRC32 hash (skip zero) : 6B12437D
AccurateRip signature : ADEE59A6
->Accurately ripped! (confidence 4)
Statistics
Read error : 0
Jitter error (maybe fixed) : 0
Retry sector count : 0
Damaged sector count : 0

Track 21
Filename : /Users/iMac/Documents/Complete Mozart Edition/Volume 2/Disc 10of13/21 - 6 Contredanses, K462-448b - II. E Flat Major.flac

Track gain : 2.78 dB
Peak : 0.501770
CRC32 hash (test run) : 955CB5A0
CRC32 hash : 955CB5A0
CRC32 hash (skip zero) : C0C71EE3
AccurateRip signature : 6477582C
->Accurately ripped! (confidence 4)
Statistics
Read error : 0
Jitter error (maybe fixed) : 0
Retry sector count : 0
Damaged sector count : 0

Track 22
Filename : /Users/iMac/Documents/Complete Mozart Edition/Volume 2/Disc 10of13/22 - 6 Contredanses, K462-448b - III. B Flat Major.flac

Track gain : 2.22 dB
Peak : 0.449707
CRC32 hash (test run) : 9C1BC75F
CRC32 hash : 9C1BC75F
CRC32 hash (skip zero) : ABD95C22
AccurateRip signature : C03B9E51
->Accurately ripped! (confidence 4)
Statistics
Read error : 0
Jitter error (maybe fixed) : 0
Retry sector count : 0
Damaged sector count : 0

Track 23
Filename : /Users/iMac/Documents/Complete Mozart Edition/Volume 2/Disc 10of13/23 - 6 Contredanses, K462-448b - IV. D Major.flac

Track gain : 2.98 dB
Peak : 0.540131
CRC32 hash (test run) : 0FB9BD78
CRC32 hash : 0FB9BD78
CRC32 hash (skip zero) : BADA66DE
AccurateRip signature : 445A7DBC
->Accurately ripped! (confidence 4)
Statistics
Read error : 0
Jitter error (maybe fixed) : 0
Retry sector count : 0
Damaged sector count : 0

Track 24
Filename : /Users/iMac/Documents/Complete Mozart Edition/Volume 2/Disc 10of13/24 - 6 Contredanses, K462-448b - V. B Flat Major.flac

Track gain : 1.46 dB
Peak : 0.550629
CRC32 hash (test run) : 922BD0C9
CRC32 hash : 922BD0C9
CRC32 hash (skip zero) : 1E2698FE
AccurateRip signature : CA726DC0
->Accurately ripped! (confidence 4)
Statistics
Read error : 0
Jitter error (maybe fixed) : 0
Retry sector count : 0
Damaged sector count : 0

Track 25
Filename : /Users/iMac/Documents/Complete Mozart Edition/Volume 2/Disc 10of13/25 - 6 Contredanses, K462-448b - VI. F Major.flac

Track gain : 3.15 dB
Peak : 0.407196
CRC32 hash (test run) : 63596528
CRC32 hash : 63596528
CRC32 hash (skip zero) : 0D800B7E
AccurateRip signature : 2A6F9CBB
->Accurately ripped! (confidence 4)
Statistics
Read error : 0
Jitter error (maybe fixed) : 0
Retry sector count : 0
Damaged sector count : 0

Track 26
Filename : /Users/iMac/Documents/Complete Mozart Edition/Volume 2/Disc 10of13/26 - 2 Minuets with Contredanses, K463-448c - I. F Major.flac
Pre-gap length : 00:06:00

Track gain : 0.27 dB
Peak : 0.792206
CRC32 hash (test run) : 5FA025EF
CRC32 hash : 5FA025EF
CRC32 hash (skip zero) : F09D9724
AccurateRip signature : B96F3613
->Accurately ripped! (confidence 4)
Statistics
Read error : 0
Jitter error (maybe fixed) : 0
Retry sector count : 0
Damaged sector count : 0

Track 27
Filename : /Users/iMac/Documents/Complete Mozart Edition/Volume 2/Disc 10of13/27 - 2 Minuets with Contredanses, K463-448c - II. B Flat Major.flac
Pre-gap length : 00:01:00

Track gain : 3.37 dB
Peak : 0.576202
CRC32 hash (test run) : A54AC689
CRC32 hash : A54AC689
CRC32 hash (skip zero) : 3FE7B194
AccurateRip signature : FBCDD7E9
->Accurately ripped! (confidence 4)
Statistics
Read error : 0
Jitter error (maybe fixed) : 0
Retry sector count : 0
Damaged sector count : 0

Track 28
Filename : /Users/iMac/Documents/Complete Mozart Edition/Volume 2/Disc 10of13/28 - 5 Minuets, K461-448a - I. C Major.flac
Pre-gap length : 00:02:00

Track gain : -6.38 dB
Peak : 0.999878
CRC32 hash (test run) : 3692B14B
CRC32 hash : 3692B14B
CRC32 hash (skip zero) : D6274F9E
AccurateRip signature : 82480CC1
->Accurately ripped! (confidence 4)
Statistics
Read error : 0
Jitter error (maybe fixed) : 0
Retry sector count : 0
Damaged sector count : 0

Track 29
Filename : /Users/iMac/Documents/Complete Mozart Edition/Volume 2/Disc 10of13/29 - 5 Minuets, K461-448a - II. E Flat Major.flac

Track gain : -1.20 dB
Peak : 0.792114
CRC32 hash (test run) : C79B2D00
CRC32 hash : C79B2D00
CRC32 hash (skip zero) : 9D417C97
AccurateRip signature : 2FDFA506
->Accurately ripped! (confidence 4)
Statistics
Read error : 0
Jitter error (maybe fixed) : 0
Retry sector count : 0
Damaged sector count : 0

Track 30
Filename : /Users/iMac/Documents/Complete Mozart Edition/Volume 2/Disc 10of13/30 - 5 Minuets, K461-448a - III. G Major.flac

Track gain : -3.86 dB
Peak : 0.778900
CRC32 hash (test run) : 4B14B7E8
CRC32 hash : 4B14B7E8
CRC32 hash (skip zero) : BE6398CF
AccurateRip signature : FE452C1F
->Accurately ripped! (confidence 4)
Statistics
Read error : 0
Jitter error (maybe fixed) : 0
Retry sector count : 0
Damaged sector count : 0

Track 31
Filename : /Users/iMac/Documents/Complete Mozart Edition/Volume 2/Disc 10of13/31 - 5 Minuets, K461-448a - IV. B Flat Major.flac
Pre-gap length : 00:01:00

Track gain : -1.74 dB
Peak : 0.808044
CRC32 hash (test run) : 535467BF
CRC32 hash : 535467BF
CRC32 hash (skip zero) : 6B860BD6
AccurateRip signature : EF4D51B4
->Accurately ripped! (confidence 4)
Statistics
Read error : 0
Jitter error (maybe fixed) : 0
Retry sector count : 0
Damaged sector count : 0

Track 32
Filename : /Users/iMac/Documents/Complete Mozart Edition/Volume 2/Disc 10of13/32 - 5 Minuets, K461-448a - V. F Major.flac

Track gain : -4.57 dB
Peak : 0.858521
CRC32 hash (test run) : 9C0B64DF
CRC32 hash : 9C0B64DF
CRC32 hash (skip zero) : 89E4C081
AccurateRip signature : FC247DE3
->Accurately ripped! (confidence 4)
Statistics
Read error : 0
Jitter error (maybe fixed) : 0
Retry sector count : 0
Damaged sector count : 0

No errors occurred

End of status report
X Lossless Decoder version 20110821 (136.1)

XLD extraction logfile from 2011-09-23 13:20:48 +0300

Wiener Mozart Ensemble, Willi Boskovsky / Dances [Volume 2]

Used drive : TSSTcorp CDDVDW SE-S084C (revision TS01)

Ripper mode : XLD Secure Ripper
Disable audio cache : OK for the drive with a cache less than 1375KiB
Make use of C2 pointers : NO
Read offset correction : 6
Max retry count : 100
Gap status : Analyzed, Appended (except HTOA)

TOC of the extracted CD
Track | Start | Length | Start sector | End sector
––––––––––––––––––––––––––––-
1 | 00:00:33 | 13:33:00 | 33 | 61007
2 | 13:33:33 | 02:09:00 | 61008 | 70682
3 | 15:42:33 | 01:29:00 | 70683 | 77357
4 | 17:11:33 | 02:31:00 | 77358 | 88682
5 | 19:42:33 | 01:48:00 | 88683 | 96782
6 | 21:30:33 | 01:54:00 | 96783 | 105332
7 | 23:24:33 | 01:48:00 | 105333 | 113432
8 | 25:12:33 | 01:44:00 | 113433 | 121232
9 | 26:56:33 | 01:38:50 | 121233 | 128632
10 | 28:35:08 | 01:52:25 | 128633 | 137057
11 | 30:27:33 | 01:25:15 | 137058 | 143447
12 | 31:52:48 | 01:28:72 | 143448 | 150119
13 | 33:21:45 | 01:37:63 | 150120 | 157457
14 | 34:59:33 | 01:32:37 | 157458 | 164394
15 | 36:31:70 | 02:01:13 | 164395 | 173482
16 | 38:33:08 | 02:00:25 | 173483 | 182507
17 | 40:33:33 | 01:59:00 | 182508 | 191432
18 | 42:32:33 | 02:03:00 | 191433 | 200657
19 | 44:35:33 | 01:59:00 | 200658 | 209582
20 | 46:34:33 | 01:58:00 | 209583 | 218432
21 | 48:32:33 | 01:53:47 | 218433 | 226954
22 | 50:26:05 | 01:50:33 | 226955 | 235237
23 | 52:16:38 | 02:07:70 | 235238 | 244832
24 | 54:24:33 | 02:11:17 | 244833 | 254674
25 | 56:35:50 | 02:15:58 | 254675 | 264857
26 | 58:51:33 | 02:05:00 | 264858 | 274232
27 | 60:56:33 | 02:02:00 | 274233 | 283382
28 | 62:58:33 | 02:08:00 | 283383 | 292982

List of alternate offset correction values
# | Absolute | Relative | Confidence
–––––––––––––––––––––
1 | 673 | 667 | 6
2 | 1218 | 1212 | 3

AccurateRip Summary
Track 01 : OK (confidence 6)
Track 02 : OK (confidence 6)
Track 03 : OK (confidence 6)
Track 04 : OK (confidence 6)
Track 05 : OK (confidence 6)
Track 06 : OK (confidence 6)
Track 07 : OK (confidence 6)
Track 08 : OK (confidence 6)
Track 09 : OK (confidence 6)
Track 10 : OK (confidence 6)
Track 11 : OK (confidence 6)
Track 12 : OK (confidence 6)
Track 13 : OK (confidence 6)
Track 14 : OK (confidence 6)
Track 15 : OK (confidence 6)
Track 16 : OK (confidence 6)
Track 17 : OK (confidence 6)
Track 18 : OK (confidence 6)
Track 19 : OK (confidence 6)
Track 20 : OK (confidence 6)
Track 21 : OK (confidence 6)
Track 22 : OK (confidence 6)
Track 23 : OK (confidence 6)
Track 24 : OK (confidence 6)
Track 25 : OK (confidence 6)
Track 26 : OK (confidence 6)
Track 27 : OK (confidence 6)
Track 28 : OK (confidence 6)
->All tracks accurately ripped.

All Tracks
Album gain : -2.53 dB
Peak : 0.999786
Statistics
Read error : 0
Jitter error (maybe fixed) : 0
Retry sector count : 0
Damaged sector count : 0

Track 01
Filename : /Users/iMac/Documents/Complete Mozart Edition/Volume 2/Disc 11of13/01 - 6 German Dances, K509 - I. C Major - II. G Major - III. B Flat Major - IV. D Major - V. F Major - VI. F Major.flac
Pre-gap length : 00:02:33

Track gain : -1.61 dB
Peak : 0.928650
CRC32 hash (test run) : 5C22919F
CRC32 hash : 5C22919F
CRC32 hash (skip zero) : E4554AEF
AccurateRip signature : 499B8C28
->Accurately ripped! (confidence 6)
Statistics
Read error : 0
Jitter error (maybe fixed) : 0
Retry sector count : 0
Damaged sector count : 0

Track 02
Filename : /Users/iMac/Documents/Complete Mozart Edition/Volume 2/Disc 11of13/02 - Contredanse in D Major, K534 'Das Donnerwetter'.flac
Pre-gap length : 00:05:00

Track gain : -5.23 dB
Peak : 0.946167
CRC32 hash (test run) : 39FBC95F
CRC32 hash : 39FBC95F
CRC32 hash (skip zero) : 2B430DCB
AccurateRip signature : EDABBBF1
->Accurately ripped! (confidence 6)
Statistics
Read error : 0
Jitter error (maybe fixed) : 0
Retry sector count : 0
Damaged sector count : 0

Track 03
Filename : /Users/iMac/Documents/Complete Mozart Edition/Volume 2/Disc 11of13/03 - Contredanse in C Major, K535 'La Bataille'.flac
Pre-gap length : 00:02:00

Track gain : -5.58 dB
Peak : 0.976532
CRC32 hash (test run) : 47CA3B65
CRC32 hash : 47CA3B65
CRC32 hash (skip zero) : 76C060C3
AccurateRip signature : 2EBF941C
->Accurately ripped! (confidence 6)
Statistics
Read error : 0
Jitter error (maybe fixed) : 0
Retry sector count : 0
Damaged sector count : 0

Track 04
Filename : /Users/iMac/Documents/Complete Mozart Edition/Volume 2/Disc 11of13/04 - 3 Contredanses, K 535a - I. C Major - II. G Major - III. G Major.flac
Pre-gap length : 00:01:00

Track gain : -1.25 dB
Peak : 0.747559
CRC32 hash (test run) : E0338495
CRC32 hash : E0338495
CRC32 hash (skip zero) : 0DF02091
AccurateRip signature : F364490B
->Accurately ripped! (confidence 6)
Statistics
Read error : 0
Jitter error (maybe fixed) : 0
Retry sector count : 0
Damaged sector count : 0

Track 05
Filename : /Users/iMac/Documents/Complete Mozart Edition/Volume 2/Disc 11of13/05 - 6 German Dances, K536 - I. C Major.flac
Pre-gap length : 00:01:00

Track gain : -1.57 dB
Peak : 0.708008
CRC32 hash (test run) : A573F4D6
CRC32 hash : A573F4D6
CRC32 hash (skip zero) : 13826836
AccurateRip signature : A3E16973
->Accurately ripped! (confidence 6)
Statistics
Read error : 0
Jitter error (maybe fixed) : 0
Retry sector count : 0
Damaged sector count : 0

Track 06
Filename : /Users/iMac/Documents/Complete Mozart Edition/Volume 2/Disc 11of13/06 - 6 German Dances, K536 - II. G Major.flac
Pre-gap length : 00:01:00

Track gain : -3.42 dB
Peak : 0.911041
CRC32 hash (test run) : CF31E7EE
CRC32 hash : CF31E7EE
CRC32 hash (skip zero) : 8516A1FF
AccurateRip signature : 476C1EAA
->Accurately ripped! (confidence 6)
Statistics
Read error : 0
Jitter error (maybe fixed) : 0
Retry sector count : 0
Damaged sector count : 0

Track 07
Filename : /Users/iMac/Documents/Complete Mozart Edition/Volume 2/Disc 11of13/07 - 6 German Dances, K536 - III. B Flat Major.flac

Track gain : -0.52 dB
Peak : 0.659790
CRC32 hash (test run) : B8707E2C
CRC32 hash : B8707E2C
CRC32 hash (skip zero) : A534BC37
AccurateRip signature : B83D91E0
->Accurately ripped! (confidence 6)
Statistics
Read error : 0
Jitter error (maybe fixed) : 0
Retry sector count : 0
Damaged sector count : 0

Track 08
Filename : /Users/iMac/Documents/Complete Mozart Edition/Volume 2/Disc 11of13/08 - 6 German Dances, K536 - IV. D Major.flac
Pre-gap length : 00:01:00

Track gain : -1.39 dB
Peak : 0.759369
CRC32 hash (test run) : 8E553AE2
CRC32 hash : 8E553AE2
CRC32 hash (skip zero) : 59842813
AccurateRip signature : A69666A9
->Accurately ripped! (confidence 6)
Statistics
Read error : 0
Jitter error (maybe fixed) : 0
Retry sector count : 0
Damaged sector count : 0

Track 09
Filename : /Users/iMac/Documents/Complete Mozart Edition/Volume 2/Disc 11of13/09 - 6 German Dances, K536 - V. F Major.flac

Track gain : -1.36 dB
Peak : 0.701721
CRC32 hash (test run) : B53D95DA
CRC32 hash : B53D95DA
CRC32 hash (skip zero) : 5BD0300C
AccurateRip signature : 2E6F21AB
->Accurately ripped! (confidence 6)
Statistics
Read error : 0
Jitter error (maybe fixed) : 0
Retry sector count : 0
Damaged sector count : 0

Track 10
Filename : /Users/iMac/Documents/Complete Mozart Edition/Volume 2/Disc 11of13/10 - 6 German Dances, K536 - VI. F Major.flac

Track gain : -2.15 dB
Peak : 0.726685
CRC32 hash (test run) : 57E2E506
CRC32 hash : 57E2E506
CRC32 hash (skip zero) : BD548A9B
AccurateRip signature : B742C8D1
->Accurately ripped! (confidence 6)
Statistics
Read error : 0
Jitter error (maybe fixed) : 0
Retry sector count : 0
Damaged sector count : 0

Track 11
Filename : /Users/iMac/Documents/Complete Mozart Edition/Volume 2/Disc 11of13/11 - 6 German Dances, K567 - I. B Flat Major.flac
Pre-gap length : 00:07:00

Track gain : 1.42 dB
Peak : 0.586426
CRC32 hash (test run) : D7BE7B90
CRC32 hash : D7BE7B90
CRC32 hash (skip zero) : CB361FE8
AccurateRip signature : 5508F525
->Accurately ripped! (confidence 6)
Statistics
Read error : 0
Jitter error (maybe fixed) : 0
Retry sector count : 0
Damaged sector count : 0

Track 12
Filename : /Users/iMac/Documents/Complete Mozart Edition/Volume 2/Disc 11of13/12 - 6 German Dances, K567 - II. E Flat Major.flac

Track gain : -1.19 dB
Peak : 0.682739
CRC32 hash (test run) : D9E9E697
CRC32 hash : D9E9E697
CRC32 hash (skip zero) : 836ABFFE
AccurateRip signature : 5F68870A
->Accurately ripped! (confidence 6)
Statistics
Read error : 0
Jitter error (maybe fixed) : 0
Retry sector count : 0
Damaged sector count : 0

Track 13
Filename : /Users/iMac/Documents/Complete Mozart Edition/Volume 2/Disc 11of13/13 - 6 German Dances, K567 - III. G Major.flac

Track gain : 0.99 dB
Peak : 0.589569
CRC32 hash (test run) : 3A59931F
CRC32 hash : 3A59931F
CRC32 hash (skip zero) : B879A747
AccurateRip signature : D12DA9B8
->Accurately ripped! (confidence 6)
Statistics
Read error : 0
Jitter error (maybe fixed) : 0
Retry sector count : 0
Damaged sector count : 0

Track 14
Filename : /Users/iMac/Documents/Complete Mozart Edition/Volume 2/Disc 11of13/14 - 6 German Dances, K567 - IV. D Major.flac

Track gain : -1.24 dB
Peak : 0.732422
CRC32 hash (test run) : 45A00995
CRC32 hash : 45A00995
CRC32 hash (skip zero) : C58AD517
AccurateRip signature : FA1B8A1D
->Accurately ripped! (confidence 6)
Statistics
Read error : 0
Jitter error (maybe fixed) : 0
Retry sector count : 0
Damaged sector count : 0

Track 15
Filename : /Users/iMac/Documents/Complete Mozart Edition/Volume 2/Disc 11of13/15 - 6 German Dances, K567 - V. A Major.flac

Track gain : -2.30 dB
Peak : 0.794739
CRC32 hash (test run) : 863A7E5B
CRC32 hash : 863A7E5B
CRC32 hash (skip zero) : F6BAEE8C
AccurateRip signature : 51C2C96A
->Accurately ripped! (confidence 6)
Statistics
Read error : 0
Jitter error (maybe fixed) : 0
Retry sector count : 0
Damaged sector count : 0

Track 16
Filename : /Users/iMac/Documents/Complete Mozart Edition/Volume 2/Disc 11of13/16 - 6 German Dances, K567 - VI. C Major.flac

Track gain : -2.43 dB
Peak : 0.871582
CRC32 hash (test run) : DDE24736
CRC32 hash : DDE24736
CRC32 hash (skip zero) : F82A5144
AccurateRip signature : 750F54A7
->Accurately ripped! (confidence 6)
Statistics
Read error : 0
Jitter error (maybe fixed) : 0
Retry sector count : 0
Damaged sector count : 0

Track 17
Filename : /Users/iMac/Documents/Complete Mozart Edition/Volume 2/Disc 11of13/17 - 12 Minuets, K568 - I. C Major.flac
Pre-gap length : 00:08:00

Track gain : -2.84 dB
Peak : 0.873962
CRC32 hash (test run) : 359A3E68
CRC32 hash : 359A3E68
CRC32 hash (skip zero) : 8FDC985C
AccurateRip signature : 2255380B
->Accurately ripped! (confidence 6)
Statistics
Read error : 0
Jitter error (maybe fixed) : 0
Retry sector count : 0
Damaged sector count : 0

Track 18
Filename : /Users/iMac/Documents/Complete Mozart Edition/Volume 2/Disc 11of13/18 - 12 Minuets, K568 - II. F Major.flac

Track gain : -2.24 dB
Peak : 0.996033
CRC32 hash (test run) : AA162BFC
CRC32 hash : AA162BFC
CRC32 hash (skip zero) : AE2153AC
AccurateRip signature : 1DD4C4AB
->Accurately ripped! (confidence 6)
Statistics
Read error : 0
Jitter error (maybe fixed) : 0
Retry sector count : 0
Damaged sector count : 0

Track 19
Filename : /Users/iMac/Documents/Complete Mozart Edition/Volume 2/Disc 11of13/19 - 12 Minuets, K568 - III. B Flat Major.flac

Track gain : -1.74 dB
Peak : 0.828888
CRC32 hash (test run) : 6952F4A7
CRC32 hash : 6952F4A7
CRC32 hash (skip zero) : 4742C57C
AccurateRip signature : C83A736A
->Accurately ripped! (confidence 6)
Statistics
Read error : 0
Jitter error (maybe fixed) : 0
Retry sector count : 0
Damaged sector count : 0

Track 20
Filename : /Users/iMac/Documents/Complete Mozart Edition/Volume 2/Disc 11of13/20 - 12 Minuets, K568 - IV. E Flat Major.flac

Track gain : -4.53 dB
Peak : 0.999786
CRC32 hash (test run) : 7C758A8C
CRC32 hash : 7C758A8C
CRC32 hash (skip zero) : D3F622D1
AccurateRip signature : C9DB8D4C
->Accurately ripped! (confidence 6)
Statistics
Read error : 0
Jitter error (maybe fixed) : 0
Retry sector count : 0
Damaged sector count : 0

Track 21
Filename : /Users/iMac/Documents/Complete Mozart Edition/Volume 2/Disc 11of13/21 - 12 Minuets, K568 - V. G Major.flac

Track gain : -1.56 dB
Peak : 0.695953
CRC32 hash (test run) : 65E13D6E
CRC32 hash : 65E13D6E
CRC32 hash (skip zero) : FC5A42E7
AccurateRip signature : E94BE805
->Accurately ripped! (confidence 6)
Statistics
Read error : 0
Jitter error (maybe fixed) : 0
Retry sector count : 0
Damaged sector count : 0

Track 22
Filename : /Users/iMac/Documents/Complete Mozart Edition/Volume 2/Disc 11of13/22 - 12 Minuets, K568 - VI. D Major.flac

Track gain : -3.21 dB
Peak : 0.808014
CRC32 hash (test run) : 0367DC77
CRC32 hash : 0367DC77
CRC32 hash (skip zero) : 35415EA1
AccurateRip signature : 5218BF64
->Accurately ripped! (confidence 6)
Statistics
Read error : 0
Jitter error (maybe fixed) : 0
Retry sector count : 0
Damaged sector count : 0

Track 23
Filename : /Users/iMac/Documents/Complete Mozart Edition/Volume 2/Disc 11of13/23 - 12 Minuets, K568 - VII. A Major.flac

Track gain : -0.71 dB
Peak : 0.703949
CRC32 hash (test run) : 2A5C033A
CRC32 hash : 2A5C033A
CRC32 hash (skip zero) : BC3BCA8F
AccurateRip signature : D3B347FB
->Accurately ripped! (confidence 6)
Statistics
Read error : 0
Jitter error (maybe fixed) : 0
Retry sector count : 0
Damaged sector count : 0

Track 24
Filename : /Users/iMac/Documents/Complete Mozart Edition/Volume 2/Disc 11of13/24 - 12 Minuets, K568 - VIII. F Major.flac

Track gain : -1.40 dB
Peak : 0.643707
CRC32 hash (test run) : 027C5918
CRC32 hash : 027C5918
CRC32 hash (skip zero) : B9F5A1EF
AccurateRip signature : 2AC3EC44
->Accurately ripped! (confidence 6)
Statistics
Read error : 0
Jitter error (maybe fixed) : 0
Retry sector count : 0
Damaged sector count : 0

Track 25
Filename : /Users/iMac/Documents/Complete Mozart Edition/Volume 2/Disc 11of13/25 - 12 Minuets, K568 - IX. B Flat Major.flac

Track gain : -2.78 dB
Peak : 0.959412
CRC32 hash (test run) : 4B1E7D0F
CRC32 hash : 4B1E7D0F
CRC32 hash (skip zero) : 615D74CD
AccurateRip signature : 576846C3
->Accurately ripped! (confidence 6)
Statistics
Read error : 0
Jitter error (maybe fixed) : 0
Retry sector count : 0
Damaged sector count : 0

Track 26
Filename : /Users/iMac/Documents/Complete Mozart Edition/Volume 2/Disc 11of13/26 - 12 Minuets, K568 - X. D Major.flac

Track gain : -3.59 dB
Peak : 0.908295
CRC32 hash (test run) : 9D499CB9
CRC32 hash : 9D499CB9
CRC32 hash (skip zero) : 7372B5EF
AccurateRip signature : 63F5CABA
->Accurately ripped! (confidence 6)
Statistics
Read error : 0
Jitter error (maybe fixed) : 0
Retry sector count : 0
Damaged sector count : 0

Track 27
Filename : /Users/iMac/Documents/Complete Mozart Edition/Volume 2/Disc 11of13/27 - 12 Minuets, K568 - XI. G Major.flac

Track gain : -2.32 dB
Peak : 0.847992
CRC32 hash (test run) : BAC6CE5B
CRC32 hash : BAC6CE5B
CRC32 hash (skip zero) : 1646696E
AccurateRip signature : EC115BA8
->Accurately ripped! (confidence 6)
Statistics
Read error : 0
Jitter error (maybe fixed) : 0
Retry sector count : 0
Damaged sector count : 0

Track 28
Filename : /Users/iMac/Documents/Complete Mozart Edition/Volume 2/Disc 11of13/28 - 12 Minuets, K568 - XII. C Major.flac

Track gain : -4.33 dB
Peak : 0.933472
CRC32 hash (test run) : 67FC3BA6
CRC32 hash : 67FC3BA6
CRC32 hash (skip zero) : 74EC9A88
AccurateRip signature : 5AF7E858
->Accurately ripped! (confidence 6)
Statistics
Read error : 0
Jitter error (maybe fixed) : 0
Retry sector count : 0
Damaged sector count : 0

No errors occurred

End of status report
X Lossless Decoder version 20110821 (136.1)

XLD extraction logfile from 2011-09-23 14:01:55 +0300

Wiener Mozart Ensemble, Willi Boskovsky / Dances [Volume 2]

Used drive : TSSTcorp CDDVDW SE-S084C (revision TS01)

Ripper mode : XLD Secure Ripper
Disable audio cache : OK for the drive with a cache less than 1375KiB
Make use of C2 pointers : NO
Read offset correction : 6
Max retry count : 100
Gap status : Analyzed, Appended (except HTOA)

TOC of the extracted CD
Track | Start | Length | Start sector | End sector
––––––––––––––––––––––––––––-
1 | 00:00:33 | 01:32:50 | 33 | 6982
2 | 01:33:08 | 01:29:25 | 6983 | 13682
3 | 03:02:33 | 01:23:50 | 13683 | 19957
4 | 04:26:08 | 01:36:25 | 19958 | 27182
5 | 06:02:33 | 01:33:00 | 27183 | 34157
6 | 07:35:33 | 02:06:00 | 34158 | 43607
7 | 09:41:33 | 02:04:00 | 43608 | 52907
8 | 11:45:33 | 02:02:00 | 52908 | 62057
9 | 13:47:33 | 02:03:50 | 62058 | 71332
10 | 15:51:08 | 02:01:25 | 71333 | 80432
11 | 17:52:33 | 02:16:00 | 80433 | 90632
12 | 20:08:33 | 02:12:00 | 90633 | 100532
13 | 22:20:33 | 02:18:00 | 100533 | 110882
14 | 24:38:33 | 02:07:00 | 110883 | 120407
15 | 26:45:33 | 02:12:00 | 120408 | 130307
16 | 28:57:33 | 02:14:00 | 130308 | 140357
17 | 31:11:33 | 02:26:00 | 140358 | 151307
18 | 33:37:33 | 02:22:00 | 151308 | 161957
19 | 35:59:33 | 01:48:00 | 161958 | 170057
20 | 37:47:33 | 01:34:50 | 170058 | 177157
21 | 39:22:08 | 01:49:25 | 177158 | 185357
22 | 41:11:33 | 01:51:00 | 185358 | 193682
23 | 43:02:33 | 01:38:50 | 193683 | 201082
24 | 44:41:08 | 01:30:25 | 201083 | 207857
25 | 46:11:33 | 01:52:62 | 207858 | 216319
26 | 48:04:20 | 01:48:38 | 216320 | 224457
27 | 49:52:58 | 01:44:00 | 224458 | 232257
28 | 51:36:58 | 01:42:12 | 232258 | 239919
29 | 53:18:70 | 01:45:63 | 239920 | 247857
30 | 55:04:58 | 01:58:50 | 247858 | 256757
31 | 57:03:33 | 01:32:00 | 256758 | 263657
32 | 58:35:33 | 00:59:57 | 263658 | 268139
33 | 59:35:15 | 01:37:08 | 268140 | 275422
34 | 61:12:23 | 01:38:72 | 275423 | 282844
35 | 62:51:20 | 01:39:13 | 282845 | 290282

List of alternate offset correction values
# | Absolute | Relative | Confidence
–––––––––––––––––––––
1 | 670 | 664 | 11
2 | 1314 | 1308 | 3

AccurateRip Summary
Track 01 : OK (confidence 4)
Track 02 : OK (confidence 4)
Track 03 : OK (confidence 4)
Track 04 : OK (confidence 4)
Track 05 : OK (confidence 4)
Track 06 : OK (confidence 4)
Track 07 : OK (confidence 4)
Track 08 : OK (confidence 4)
Track 09 : OK (confidence 4)
Track 10 : OK (confidence 4)
Track 11 : OK (confidence 4)
Track 12 : OK (confidence 4)
Track 13 : OK (confidence 4)
Track 14 : OK (confidence 4)
Track 15 : OK (confidence 4)
Track 16 : OK (confidence 4)
Track 17 : OK (confidence 4)
Track 18 : OK (confidence 4)
Track 19 : OK (confidence 4)
Track 20 : OK (confidence 4)
Track 21 : OK (confidence 4)
Track 22 : OK (confidence 4)
Track 23 : OK (confidence 4)
Track 24 : OK (confidence 4)
Track 25 : OK (confidence 4)
Track 26 : OK (confidence 4)
Track 27 : OK (confidence 4)
Track 28 : OK (confidence 4)
Track 29 : OK (confidence 4)
Track 30 : OK (confidence 4)
Track 31 : OK (confidence 4)
Track 32 : OK (confidence 4)
Track 33 : OK (confidence 4)
Track 34 : OK (confidence 4)
Track 35 : OK (confidence 4)
->All tracks accurately ripped.

All Tracks
Album gain : -2.47 dB
Peak : 0.976288
Statistics
Read error : 0
Jitter error (maybe fixed) : 0
Retry sector count : 0
Damaged sector count : 0

Track 01
Filename : /Users/iMac/Documents/Complete Mozart Edition/Volume 2/Disc 12of13/01 - 6 German Dances, K571- I. D Major.flac
Pre-gap length : 00:02:33

Track gain : -1.93 dB
Peak : 0.676971
CRC32 hash (test run) : 09218C1C
CRC32 hash : 09218C1C
CRC32 hash (skip zero) : CD42D2D4
AccurateRip signature : 262B6640
->Accurately ripped! (confidence 4)
Statistics
Read error : 0
Jitter error (maybe fixed) : 0
Retry sector count : 0
Damaged sector count : 0

Track 02
Filename : /Users/iMac/Documents/Complete Mozart Edition/Volume 2/Disc 12of13/02 - 6 German Dances, K571- II. A Major.flac

Track gain : -0.09 dB
Peak : 0.641144
CRC32 hash (test run) : 79C7473A
CRC32 hash : 79C7473A
CRC32 hash (skip zero) : 193B350A
AccurateRip signature : F4A9D2F0
->Accurately ripped! (confidence 4)
Statistics
Read error : 0
Jitter error (maybe fixed) : 0
Retry sector count : 0
Damaged sector count : 0

Track 03
Filename : /Users/iMac/Documents/Complete Mozart Edition/Volume 2/Disc 12of13/03 - 6 German Dances, K571- III. C Major.flac

Track gain : -2.53 dB
Peak : 0.827820
CRC32 hash (test run) : 273E73E5
CRC32 hash : 273E73E5
CRC32 hash (skip zero) : 5EB3562D
AccurateRip signature : 1ED57337
->Accurately ripped! (confidence 4)
Statistics
Read error : 0
Jitter error (maybe fixed) : 0
Retry sector count : 0
Damaged sector count : 0

Track 04
Filename : /Users/iMac/Documents/Complete Mozart Edition/Volume 2/Disc 12of13/04 - 6 German Dances, K571- IV. G Major.flac

Track gain : -2.96 dB
Peak : 0.733459
CRC32 hash (test run) : 601BF75C
CRC32 hash : 601BF75C
CRC32 hash (skip zero) : 6DAF08A0
AccurateRip signature : 0E6B7B18
->Accurately ripped! (confidence 4)
Statistics
Read error : 0
Jitter error (maybe fixed) : 0
Retry sector count : 0
Damaged sector count : 0

Track 05
Filename : /Users/iMac/Documents/Complete Mozart Edition/Volume 2/Disc 12of13/05 - 6 German Dances, K571- V. B Flat Major.flac

Track gain : -3.13 dB
Peak : 0.713715
CRC32 hash (test run) : D6BB540B
CRC32 hash : D6BB540B
CRC32 hash (skip zero) : 0EC56FB1
AccurateRip signature : DC96055B
->Accurately ripped! (confidence 4)
Statistics
Read error : 0
Jitter error (maybe fixed) : 0
Retry sector count : 0
Damaged sector count : 0

Track 06
Filename : /Users/iMac/Documents/Complete Mozart Edition/Volume 2/Disc 12of13/06 - 6 German Dances, K571- VI. D Major.flac
Pre-gap length : 00:01:00

Track gain : -3.90 dB
Peak : 0.954102
CRC32 hash (test run) : 11D556DD
CRC32 hash : 11D556DD
CRC32 hash (skip zero) : 13BBF457
AccurateRip signature : 4A74D21B
->Accurately ripped! (confidence 4)
Statistics
Read error : 0
Jitter error (maybe fixed) : 0
Retry sector count : 0
Damaged sector count : 0

Track 07
Filename : /Users/iMac/Documents/Complete Mozart Edition/Volume 2/Disc 12of13/07 - 12 Minuets, K585 - I. D Major.flac
Pre-gap length : 00:07:00

Track gain : -3.66 dB
Peak : 0.976288
CRC32 hash (test run) : E413B377
CRC32 hash : E413B377
CRC32 hash (skip zero) : A4071FDD
AccurateRip signature : 0FD68CC7
->Accurately ripped! (confidence 4)
Statistics
Read error : 0
Jitter error (maybe fixed) : 0
Retry sector count : 0
Damaged sector count : 0

Track 08
Filename : /Users/iMac/Documents/Complete Mozart Edition/Volume 2/Disc 12of13/08 - 12 Minuets, K585 - II. F Major.flac

Track gain : -2.28 dB
Peak : 0.907715
CRC32 hash (test run) : 8CD93516
CRC32 hash : 8CD93516
CRC32 hash (skip zero) : 0AAB4DAB
AccurateRip signature : E1B3C68D
->Accurately ripped! (confidence 4)
Statistics
Read error : 0
Jitter error (maybe fixed) : 0
Retry sector count : 0
Damaged sector count : 0

Track 09
Filename : /Users/iMac/Documents/Complete Mozart Edition/Volume 2/Disc 12of13/09 - 12 Minuets, K585 - III. B Flat Major.flac

Track gain : -4.65 dB
Peak : 0.915863
CRC32 hash (test run) : 4F973813
CRC32 hash : 4F973813
CRC32 hash (skip zero) : B4249A6B
AccurateRip signature : 42479A18
->Accurately ripped! (confidence 4)
Statistics
Read error : 0
Jitter error (maybe fixed) : 0
Retry sector count : 0
Damaged sector count : 0

Track 10
Filename : /Users/iMac/Documents/Complete Mozart Edition/Volume 2/Disc 12of13/10 - 12 Minuets, K585 - IV. E Flat Major.flac

Track gain : -2.44 dB
Peak : 0.839600
CRC32 hash (test run) : 85ED8639
CRC32 hash : 85ED8639
CRC32 hash (skip zero) : 0FCD8B30
AccurateRip signature : A852ACAA
->Accurately ripped! (confidence 4)
Statistics
Read error : 0
Jitter error (maybe fixed) : 0
Retry sector count : 0
Damaged sector count : 0

Track 11
Filename : /Users/iMac/Documents/Complete Mozart Edition/Volume 2/Disc 12of13/11 - 12 Minuets, K585 - V. G Major.flac

Track gain : -3.31 dB
Peak : 0.776459
CRC32 hash (test run) : 013669A0
CRC32 hash : 013669A0
CRC32 hash (skip zero) : A2CDC222
AccurateRip signature : BDA34790
->Accurately ripped! (confidence 4)
Statistics
Read error : 0
Jitter error (maybe fixed) : 0
Retry sector count : 0
Damaged sector count : 0

Track 12
Filename : /Users/iMac/Documents/Complete Mozart Edition/Volume 2/Disc 12of13/12 - 12 Minuets, K585 - VI. C Major.flac
Pre-gap length : 00:02:00

Track gain : -2.01 dB
Peak : 0.871826
CRC32 hash (test run) : 30E6BE2B
CRC32 hash : 30E6BE2B
CRC32 hash (skip zero) : 23756D7E
AccurateRip signature : BD975E95
->Accurately ripped! (confidence 4)
Statistics
Read error : 0
Jitter error (maybe fixed) : 0
Retry sector count : 0
Damaged sector count : 0

Track 13
Filename : /Users/iMac/Documents/Complete Mozart Edition/Volume 2/Disc 12of13/13 - 12 Minuets, K585 - VII. A Major.flac

Track gain : -2.45 dB
Peak : 0.716888
CRC32 hash (test run) : E9A33AD8
CRC32 hash : E9A33AD8
CRC32 hash (skip zero) : 10FA73C7
AccurateRip signature : 0CDBE8AB
->Accurately ripped! (confidence 4)
Statistics
Read error : 0
Jitter error (maybe fixed) : 0
Retry sector count : 0
Damaged sector count : 0

Track 14
Filename : /Users/iMac/Documents/Complete Mozart Edition/Volume 2/Disc 12of13/14 - 12 Minuets, K585 - VIII. F Major.flac

Track gain : -3.69 dB
Peak : 0.877258
CRC32 hash (test run) : 3D2513B2
CRC32 hash : 3D2513B2
CRC32 hash (skip zero) : 3EB8547D
AccurateRip signature : 9BD2AC1B
->Accurately ripped! (confidence 4)
Statistics
Read error : 0
Jitter error (maybe fixed) : 0
Retry sector count : 0
Damaged sector count : 0

Track 15
Filename : /Users/iMac/Documents/Complete Mozart Edition/Volume 2/Disc 12of13/15 - 12 Minuets, K585 - IX. B Flat Major.flac

Track gain : -3.73 dB
Peak : 0.867676
CRC32 hash (test run) : 01E7D8A2
CRC32 hash : 01E7D8A2
CRC32 hash (skip zero) : 4EF55F44
AccurateRip signature : F0E9682B
->Accurately ripped! (confidence 4)
Statistics
Read error : 0
Jitter error (maybe fixed) : 0
Retry sector count : 0
Damaged sector count : 0

Track 16
Filename : /Users/iMac/Documents/Complete Mozart Edition/Volume 2/Disc 12of13/16 - 12 Minuets, K585 - X. E Flat Major.flac

Track gain : -2.80 dB
Peak : 0.887329
CRC32 hash (test run) : CC2046EA
CRC32 hash : CC2046EA
CRC32 hash (skip zero) : 645F13D6
AccurateRip signature : FE5E71EA
->Accurately ripped! (confidence 4)
Statistics
Read error : 0
Jitter error (maybe fixed) : 0
Retry sector count : 0
Damaged sector count : 0

Track 17
Filename : /Users/iMac/Documents/Complete Mozart Edition/Volume 2/Disc 12of13/17 - 12 Minuets, K585 - XI. G Major.flac

Track gain : -1.71 dB
Peak : 0.699219
CRC32 hash (test run) : AF5A5A63
CRC32 hash : AF5A5A63
CRC32 hash (skip zero) : BC12C0AE
AccurateRip signature : 22ADDEA9
->Accurately ripped! (confidence 4)
Statistics
Read error : 0
Jitter error (maybe fixed) : 0
Retry sector count : 0
Damaged sector count : 0

Track 18
Filename : /Users/iMac/Documents/Complete Mozart Edition/Volume 2/Disc 12of13/18 - 12 Minuets, K585 - XII. D Major.flac

Track gain : -2.03 dB
Peak : 0.906647
CRC32 hash (test run) : BD827AE9
CRC32 hash : BD827AE9
CRC32 hash (skip zero) : A2CCE86B
AccurateRip signature : 6D2B04F1
->Accurately ripped! (confidence 4)
Statistics
Read error : 0
Jitter error (maybe fixed) : 0
Retry sector count : 0
Damaged sector count : 0

Track 19
Filename : /Users/iMac/Documents/Complete Mozart Edition/Volume 2/Disc 12of13/19 - 12 German Dances, K586 - I. C Major.flac
Pre-gap length : 00:08:00

Track gain : -1.05 dB
Peak : 0.662018
CRC32 hash (test run) : 88B8EB93
CRC32 hash : 88B8EB93
CRC32 hash (skip zero) : 580780B6
AccurateRip signature : B79A5840
->Accurately ripped! (confidence 4)
Statistics
Read error : 0
Jitter error (maybe fixed) : 0
Retry sector count : 0
Damaged sector count : 0

Track 20
Filename : /Users/iMac/Documents/Complete Mozart Edition/Volume 2/Disc 12of13/20 - 12 German Dances, K586 - II. G Major.flac

Track gain : -1.85 dB
Peak : 0.699188
CRC32 hash (test run) : 8AE320F8
CRC32 hash : 8AE320F8
CRC32 hash (skip zero) : 3DE7B27D
AccurateRip signature : 13A78367
->Accurately ripped! (confidence 4)
Statistics
Read error : 0
Jitter error (maybe fixed) : 0
Retry sector count : 0
Damaged sector count : 0

Track 21
Filename : /Users/iMac/Documents/Complete Mozart Edition/Volume 2/Disc 12of13/21 - 12 German Dances, K586 - III. B Flat Major.flac

Track gain : -1.87 dB
Peak : 0.656738
CRC32 hash (test run) : C1C03551
CRC32 hash : C1C03551
CRC32 hash (skip zero) : 3745F719
AccurateRip signature : 4636FD5A
->Accurately ripped! (confidence 4)
Statistics
Read error : 0
Jitter error (maybe fixed) : 0
Retry sector count : 0
Damaged sector count : 0

Track 22
Filename : /Users/iMac/Documents/Complete Mozart Edition/Volume 2/Disc 12of13/22 - 12 German Dances, K586 - IV. F Major.flac

Track gain : -0.75 dB
Peak : 0.571777
CRC32 hash (test run) : EF67B342
CRC32 hash : EF67B342
CRC32 hash (skip zero) : D1D18FC3
AccurateRip signature : 822F81F5
->Accurately ripped! (confidence 4)
Statistics
Read error : 0
Jitter error (maybe fixed) : 0
Retry sector count : 0
Damaged sector count : 0

Track 23
Filename : /Users/iMac/Documents/Complete Mozart Edition/Volume 2/Disc 12of13/23 - 12 German Dances, K586 - V. A Major.flac

Track gain : -1.90 dB
Peak : 0.769470
CRC32 hash (test run) : 5ACDAD1D
CRC32 hash : 5ACDAD1D
CRC32 hash (skip zero) : 7E19B82D
AccurateRip signature : 34F2A163
->Accurately ripped! (confidence 4)
Statistics
Read error : 0
Jitter error (maybe fixed) : 0
Retry sector count : 0
Damaged sector count : 0

Track 24
Filename : /Users/iMac/Documents/Complete Mozart Edition/Volume 2/Disc 12of13/24 - 12 German Dances, K586 - VI. D Major.flac

Track gain : -1.96 dB
Peak : 0.833984
CRC32 hash (test run) : 71C7BBF5
CRC32 hash : 71C7BBF5
CRC32 hash (skip zero) : 57D557A6
AccurateRip signature : 8370D5FB
->Accurately ripped! (confidence 4)
Statistics
Read error : 0
Jitter error (maybe fixed) : 0
Retry sector count : 0
Damaged sector count : 0

Track 25
Filename : /Users/iMac/Documents/Complete Mozart Edition/Volume 2/Disc 12of13/25 - 12 German Dances, K586 - VII. G Major.flac

Track gain : 0.20 dB
Peak : 0.599762
CRC32 hash (test run) : 1E44F561
CRC32 hash : 1E44F561
CRC32 hash (skip zero) : 94F2C3EA
AccurateRip signature : B1B98869
->Accurately ripped! (confidence 4)
Statistics
Read error : 0
Jitter error (maybe fixed) : 0
Retry sector count : 0
Damaged sector count : 0

Track 26
Filename : /Users/iMac/Documents/Complete Mozart Edition/Volume 2/Disc 12of13/26 - 12 German Dances, K586 - VIII. E Flat Major.flac

Track gain : 0.14 dB
Peak : 0.628754
CRC32 hash (test run) : 2CEF86CB
CRC32 hash : 2CEF86CB
CRC32 hash (skip zero) : D91C945B
AccurateRip signature : 5077A969
->Accurately ripped! (confidence 4)
Statistics
Read error : 0
Jitter error (maybe fixed) : 0
Retry sector count : 0
Damaged sector count : 0

Track 27
Filename : /Users/iMac/Documents/Complete Mozart Edition/Volume 2/Disc 12of13/27 - 12 German Dances, K586 - IX. B Flat Major.flac

Track gain : -2.81 dB
Peak : 0.645386
CRC32 hash (test run) : 1EB10073
CRC32 hash : 1EB10073
CRC32 hash (skip zero) : 54521E96
AccurateRip signature : 61B7A1F0
->Accurately ripped! (confidence 4)
Statistics
Read error : 0
Jitter error (maybe fixed) : 0
Retry sector count : 0
Damaged sector count : 0

Track 28
Filename : /Users/iMac/Documents/Complete Mozart Edition/Volume 2/Disc 12of13/28 - 12 German Dances, K586 - X. F Major.flac

Track gain : -1.01 dB
Peak : 0.713470
CRC32 hash (test run) : 7EC0A9BA
CRC32 hash : 7EC0A9BA
CRC32 hash (skip zero) : CB36477C
AccurateRip signature : C205952F
->Accurately ripped! (confidence 4)
Statistics
Read error : 0
Jitter error (maybe fixed) : 0
Retry sector count : 0
Damaged sector count : 0

Track 29
Filename : /Users/iMac/Documents/Complete Mozart Edition/Volume 2/Disc 12of13/29 - 12 German Dances, K586 - XI. A Major.flac

Track gain : -2.36 dB
Peak : 0.795654
CRC32 hash (test run) : 068DFB98
CRC32 hash : 068DFB98
CRC32 hash (skip zero) : BFE1FCFA
AccurateRip signature : F9361C34
->Accurately ripped! (confidence 4)
Statistics
Read error : 0
Jitter error (maybe fixed) : 0
Retry sector count : 0
Damaged sector count : 0

Track 30
Filename : /Users/iMac/Documents/Complete Mozart Edition/Volume 2/Disc 12of13/30 - 12 German Dances, K586 - XII. C Major.flac

Track gain : -2.74 dB
Peak : 0.817230
CRC32 hash (test run) : 6570E51E
CRC32 hash : 6570E51E
CRC32 hash (skip zero) : E511F852
AccurateRip signature : DA6A4C56
->Accurately ripped! (confidence 4)
Statistics
Read error : 0
Jitter error (maybe fixed) : 0
Retry sector count : 0
Damaged sector count : 0

Track 31
Filename : /Users/iMac/Documents/Complete Mozart Edition/Volume 2/Disc 12of13/31 - Contredanse in C Major, K587 'Der Sieg vom Helden Koburg'.flac
Pre-gap length : 00:07:00

Track gain : -2.69 dB
Peak : 0.853760
CRC32 hash (test run) : 30DAD00C
CRC32 hash : 30DAD00C
CRC32 hash (skip zero) : 3258ADB9
AccurateRip signature : 584D26D7
->Accurately ripped! (confidence 4)
Statistics
Read error : 0
Jitter error (maybe fixed) : 0
Retry sector count : 0
Damaged sector count : 0

Track 32
Filename : /Users/iMac/Documents/Complete Mozart Edition/Volume 2/Disc 12of13/32 - Overture & 3 Contredanses, K106-588a - I. Overture in D Major.flac
Pre-gap length : 00:03:00

Track gain : -4.00 dB
Peak : 0.723450
CRC32 hash (test run) : 0D7198C7
CRC32 hash : 0D7198C7
CRC32 hash (skip zero) : 04C7012E
AccurateRip signature : DA402D80
->Accurately ripped! (confidence 4)
Statistics
Read error : 0
Jitter error (maybe fixed) : 0
Retry sector count : 0
Damaged sector count : 0

Track 33
Filename : /Users/iMac/Documents/Complete Mozart Edition/Volume 2/Disc 12of13/33 - Overture & 3 Contredanses, K106-588a - II. Contredanse I in D Major.flac

Track gain : 0.30 dB
Peak : 0.695312
CRC32 hash (test run) : B9517A54
CRC32 hash : B9517A54
CRC32 hash (skip zero) : 77D25F3C
AccurateRip signature : 5F09F87B
->Accurately ripped! (confidence 4)
Statistics
Read error : 0
Jitter error (maybe fixed) : 0
Retry sector count : 0
Damaged sector count : 0

Track 34
Filename : /Users/iMac/Documents/Complete Mozart Edition/Volume 2/Disc 12of13/34 - Overture & 3 Contredanses, K106-588a - III. Dontredanse II in A Major.flac

Track gain : 1.60 dB
Peak : 0.570831
CRC32 hash (test run) : 91F1644F
CRC32 hash : 91F1644F
CRC32 hash (skip zero) : 98948362
AccurateRip signature : 49853CA0
->Accurately ripped! (confidence 4)
Statistics
Read error : 0
Jitter error (maybe fixed) : 0
Retry sector count : 0
Damaged sector count : 0

Track 35
Filename : /Users/iMac/Documents/Complete Mozart Edition/Volume 2/Disc 12of13/35 - Overture & 3 Contredanses, K106-588a - IV. Contredanse III in B Flat Major.flac

Track gain : -2.14 dB
Peak : 0.768738
CRC32 hash (test run) : 1CA16D19
CRC32 hash : 1CA16D19
CRC32 hash (skip zero) : 836FBCA5
AccurateRip signature : 56325566
->Accurately ripped! (confidence 4)
Statistics
Read error : 0
Jitter error (maybe fixed) : 0
Retry sector count : 0
Damaged sector count : 0

No errors occurred

End of status report
X Lossless Decoder version 20110821 (136.1)

XLD extraction logfile from 2011-09-23 20:27:12 +0300

Wiener Mozart Ensemble / Dances [Volume 2]

Used drive : TSSTcorp CDDVDW SE-S084C (revision TS01)

Ripper mode : XLD Secure Ripper
Disable audio cache : OK for the drive with a cache less than 1375KiB
Make use of C2 pointers : NO
Read offset correction : 6
Max retry count : 100
Gap status : Analyzed, Appended (except HTOA)

TOC of the extracted CD
Track | Start | Length | Start sector | End sector
––––––––––––––––––––––––––––-
1 | 00:00:33 | 02:16:00 | 33 | 10232
2 | 02:16:33 | 02:17:00 | 10233 | 20507
3 | 04:33:33 | 02:13:00 | 20508 | 30482
4 | 06:46:33 | 02:22:00 | 30483 | 41132
5 | 09:08:33 | 01:55:00 | 41133 | 49757
6 | 11:03:33 | 02:04:00 | 49758 | 59057
7 | 13:07:33 | 01:57:35 | 59058 | 67867
8 | 15:04:68 | 01:56:15 | 67868 | 76582
9 | 17:01:08 | 01:56:25 | 76583 | 85307
10 | 18:57:33 | 01:47:00 | 85308 | 93332
11 | 20:44:33 | 01:40:00 | 93333 | 100832
12 | 22:24:33 | 02:16:00 | 100833 | 111032
13 | 24:40:33 | 02:14:00 | 111033 | 121082
14 | 26:54:33 | 02:36:00 | 121083 | 132782
15 | 29:30:33 | 01:59:00 | 132783 | 141707
16 | 31:29:33 | 02:06:00 | 141708 | 151157
17 | 33:35:33 | 01:51:00 | 151158 | 159482
18 | 35:26:33 | 01:57:00 | 159483 | 168257
19 | 37:23:33 | 01:52:00 | 168258 | 176657
20 | 39:15:33 | 01:51:00 | 176658 | 184982
21 | 41:06:33 | 00:52:00 | 184983 | 188882
22 | 41:58:33 | 01:21:00 | 188883 | 194957
23 | 43:19:33 | 02:21:00 | 194958 | 205532
24 | 45:40:33 | 02:21:00 | 205533 | 216107
25 | 48:01:33 | 01:52:50 | 216108 | 224557
26 | 49:54:08 | 01:54:00 | 224558 | 233107
27 | 51:48:08 | 02:53:25 | 233108 | 246107
28 | 54:41:33 | 05:24:00 | 246108 | 270407
29 | 60:05:33 | 01:28:00 | 270408 | 277007
30 | 61:33:33 | 00:56:00 | 277008 | 281207
31 | 62:29:33 | 00:47:50 | 281208 | 284782
32 | 63:17:08 | 01:08:00 | 284783 | 289882
33 | 64:25:08 | 01:59:25 | 289883 | 298832
34 | 66:24:33 | 01:31:00 | 298833 | 305657
35 | 67:55:33 | 01:32:00 | 305658 | 312557

List of alternate offset correction values
# | Absolute | Relative | Confidence
–––––––––––––––––––––
1 | 675 | 669 | 9
2 | 1540 | 1534 | 4

AccurateRip Summary
Track 01 : OK (confidence 4)
Track 02 : OK (confidence 4)
Track 03 : OK (confidence 4)
Track 04 : OK (confidence 4)
Track 05 : OK (confidence 4)
Track 06 : OK (confidence 3)
Track 07 : OK (confidence 4)
Track 08 : OK (confidence 4)
Track 09 : OK (confidence 4)
Track 10 : OK (confidence 4)
Track 11 : OK (confidence 4)
Track 12 : OK (confidence 4)
Track 13 : OK (confidence 4)
Track 14 : OK (confidence 4)
Track 15 : OK (confidence 4)
Track 16 : OK (confidence 4)
Track 17 : OK (confidence 4)
Track 18 : OK (confidence 4)
Track 19 : OK (confidence 4)
Track 20 : OK (confidence 4)
Track 21 : OK (confidence 4)
Track 22 : OK (confidence 4)
Track 23 : OK (confidence 4)
Track 24 : OK (confidence 4)
Track 25 : OK (confidence 4)
Track 26 : OK (confidence 4)
Track 27 : OK (confidence 4)
Track 28 : OK (confidence 4)
Track 29 : OK (confidence 4)
Track 30 : OK (confidence 4)
Track 31 : OK (confidence 4)
Track 32 : OK (confidence 4)
Track 33 : OK (confidence 4)
Track 34 : OK (confidence 4)
Track 35 : OK (confidence 3)
->All tracks accurately ripped.

All Tracks
Album gain : -3.38 dB
Peak : 0.991669
Statistics
Read error : 0
Jitter error (maybe fixed) : 0
Retry sector count : 0
Damaged sector count : 0

Track 01
Filename : /Users/iMac/Documents/Complete Mozart Edition/Volume 2/Disc 13of13/01 - 6 Minuets, K599 - I. C Major.flac
Pre-gap length : 00:02:33

Track gain : -2.54 dB
Peak : 0.811157
CRC32 hash (test run) : 96828640
CRC32 hash : 96828640
CRC32 hash (skip zero) : 98E9A45A
AccurateRip signature : D96C54CD
->Accurately ripped! (confidence 4)
Statistics
Read error : 0
Jitter error (maybe fixed) : 0
Retry sector count : 0
Damaged sector count : 0

Track 02
Filename : /Users/iMac/Documents/Complete Mozart Edition/Volume 2/Disc 13of13/02 - 6 Minuets, K599 - II. G Major.flac

Track gain : -2.75 dB
Peak : 0.770142
CRC32 hash (test run) : E84B231F
CRC32 hash : E84B231F
CRC32 hash (skip zero) : 9273E2DD
AccurateRip signature : 8619ECF2
->Accurately ripped! (confidence 4)
Statistics
Read error : 0
Jitter error (maybe fixed) : 0
Retry sector count : 0
Damaged sector count : 0

Track 03
Filename : /Users/iMac/Documents/Complete Mozart Edition/Volume 2/Disc 13of13/03 - 6 Minuets, K599 - III. E Flat Major.flac

Track gain : -1.24 dB
Peak : 0.636597
CRC32 hash (test run) : 9410324B
CRC32 hash : 9410324B
CRC32 hash (skip zero) : 25CDDD72
AccurateRip signature : 254CB1C5
->Accurately ripped! (confidence 4)
Statistics
Read error : 0
Jitter error (maybe fixed) : 0
Retry sector count : 0
Damaged sector count : 0

Track 04
Filename : /Users/iMac/Documents/Complete Mozart Edition/Volume 2/Disc 13of13/04 - 6 Minuets, K599 - IV. B Flat Major.flac
Pre-gap length : 00:01:00

Track gain : -1.68 dB
Peak : 0.659851
CRC32 hash (test run) : 756D5B14
CRC32 hash : 756D5B14
CRC32 hash (skip zero) : 6BD10340
AccurateRip signature : 254ECCAB
->Accurately ripped! (confidence 4)
Statistics
Read error : 0
Jitter error (maybe fixed) : 0
Retry sector count : 0
Damaged sector count : 0

Track 05
Filename : /Users/iMac/Documents/Complete Mozart Edition/Volume 2/Disc 13of13/05 - 6 Minuets, K599 - V. F Major.flac

Track gain : -1.02 dB
Peak : 0.656372
CRC32 hash (test run) : A7DEBD03
CRC32 hash : A7DEBD03
CRC32 hash (skip zero) : AC22E584
AccurateRip signature : 2D266E89
->Accurately ripped! (confidence 4)
Statistics
Read error : 0
Jitter error (maybe fixed) : 0
Retry sector count : 0
Damaged sector count : 0

Track 06
Filename : /Users/iMac/Documents/Complete Mozart Edition/Volume 2/Disc 13of13/06 - 6 Minuets, K599 - VI. D Major.flac

Track gain : -2.95 dB
Peak : 0.684601
CRC32 hash (test run) : 52EBFD91
CRC32 hash : 52EBFD91
CRC32 hash (skip zero) : F1D484C3
AccurateRip signature : F22CFDDF
->Accurately ripped! (confidence 3)
Statistics
Read error : 0
Jitter error (maybe fixed) : 0
Retry sector count : 0
Damaged sector count : 0

Track 07
Filename : /Users/iMac/Documents/Complete Mozart Edition/Volume 2/Disc 13of13/07 - 6 German Dances, K600 - I. C Major.flac
Pre-gap length : 00:07:00

Track gain : -5.12 dB
Peak : 0.969971
CRC32 hash (test run) : 5DF7460E
CRC32 hash : 5DF7460E
CRC32 hash (skip zero) : 751F7902
AccurateRip signature : 8B5489E1
->Accurately ripped! (confidence 4)
Statistics
Read error : 0
Jitter error (maybe fixed) : 0
Retry sector count : 0
Damaged sector count : 0

Track 08
Filename : /Users/iMac/Documents/Complete Mozart Edition/Volume 2/Disc 13of13/08 - 6 German Dances, K600 - II. F Major.flac

Track gain : -3.63 dB
Peak : 0.830139
CRC32 hash (test run) : B4EC95C6
CRC32 hash : B4EC95C6
CRC32 hash (skip zero) : 746EFEA6
AccurateRip signature : D9E2AF12
->Accurately ripped! (confidence 4)
Statistics
Read error : 0
Jitter error (maybe fixed) : 0
Retry sector count : 0
Damaged sector count : 0

Track 09
Filename : /Users/iMac/Documents/Complete Mozart Edition/Volume 2/Disc 13of13/09 - 6 German Dances, K600 - III. B Flat Major.flac

Track gain : 0.03 dB
Peak : 0.678070
CRC32 hash (test run) : 60CBCDC9
CRC32 hash : 60CBCDC9
CRC32 hash (skip zero) : 280E4CFE
AccurateRip signature : DD199044
->Accurately ripped! (confidence 4)
Statistics
Read error : 0
Jitter error (maybe fixed) : 0
Retry sector count : 0
Damaged sector count : 0

Track 10
Filename : /Users/iMac/Documents/Complete Mozart Edition/Volume 2/Disc 13of13/10 - 6 German Dances, K600 - IV. E Flat Major.flac

Track gain : -2.86 dB
Peak : 0.772980
CRC32 hash (test run) : CD5E289F
CRC32 hash : CD5E289F
CRC32 hash (skip zero) : 631776E8
AccurateRip signature : 363DEA1C
->Accurately ripped! (confidence 4)
Statistics
Read error : 0
Jitter error (maybe fixed) : 0
Retry sector count : 0
Damaged sector count : 0

Track 11
Filename : /Users/iMac/Documents/Complete Mozart Edition/Volume 2/Disc 13of13/11 - 6 German Dances, K600 - V. G Major.flac

Track gain : -4.96 dB
Peak : 0.919464
CRC32 hash (test run) : DE378ACC
CRC32 hash : DE378ACC
CRC32 hash (skip zero) : EB651C24
AccurateRip signature : 8A77392D
->Accurately ripped! (confidence 4)
Statistics
Read error : 0
Jitter error (maybe fixed) : 0
Retry sector count : 0
Damaged sector count : 0

Track 12
Filename : /Users/iMac/Documents/Complete Mozart Edition/Volume 2/Disc 13of13/12 - 6 German Dances, K600 - VI. D Major.flac

Track gain : -3.86 dB
Peak : 0.846008
CRC32 hash (test run) : C7C38528
CRC32 hash : C7C38528
CRC32 hash (skip zero) : 1732B627
AccurateRip signature : AB17369E
->Accurately ripped! (confidence 4)
Statistics
Read error : 0
Jitter error (maybe fixed) : 0
Retry sector count : 0
Damaged sector count : 0

Track 13
Filename : /Users/iMac/Documents/Complete Mozart Edition/Volume 2/Disc 13of13/13 - 4 Minuets, K601 - I. A Major.flac
Pre-gap length : 00:07:00

Track gain : -3.28 dB
Peak : 0.745087
CRC32 hash (test run) : 10096E2B
CRC32 hash : 10096E2B
CRC32 hash (skip zero) : 8E5AFF80
AccurateRip signature : 536AE7F2
->Accurately ripped! (confidence 4)
Statistics
Read error : 0
Jitter error (maybe fixed) : 0
Retry sector count : 0
Damaged sector count : 0

Track 14
Filename : /Users/iMac/Documents/Complete Mozart Edition/Volume 2/Disc 13of13/14 - 4 Minuets, K601 - II. C Major.flac

Track gain : -4.16 dB
Peak : 0.837067
CRC32 hash (test run) : B77D8B53
CRC32 hash : B77D8B53
CRC32 hash (skip zero) : 8ADCB907
AccurateRip signature : 747F6DA4
->Accurately ripped! (confidence 4)
Statistics
Read error : 0
Jitter error (maybe fixed) : 0
Retry sector count : 0
Damaged sector count : 0

Track 15
Filename : /Users/iMac/Documents/Complete Mozart Edition/Volume 2/Disc 13of13/15 - 4 Minuets, K601 - III. G Major.flac
Pre-gap length : 00:01:00

Track gain : -3.76 dB
Peak : 0.772003
CRC32 hash (test run) : 72DF2D2D
CRC32 hash : 72DF2D2D
CRC32 hash (skip zero) : 9912622C
AccurateRip signature : 63825569
->Accurately ripped! (confidence 4)
Statistics
Read error : 0
Jitter error (maybe fixed) : 0
Retry sector count : 0
Damaged sector count : 0

Track 16
Filename : /Users/iMac/Documents/Complete Mozart Edition/Volume 2/Disc 13of13/16 - 4 Minuets, K601 - IV. D Major.flac

Track gain : -4.98 dB
Peak : 0.916351
CRC32 hash (test run) : 9C8D5B2B
CRC32 hash : 9C8D5B2B
CRC32 hash (skip zero) : 2012E175
AccurateRip signature : 74B23875
->Accurately ripped! (confidence 4)
Statistics
Read error : 0
Jitter error (maybe fixed) : 0
Retry sector count : 0
Damaged sector count : 0

Track 17
Filename : /Users/iMac/Documents/Complete Mozart Edition/Volume 2/Disc 13of13/17 - 4 German Dances, K602 - I. B Flat Major.flac
Pre-gap length : 00:06:00

Track gain : -4.53 dB
Peak : 0.794861
CRC32 hash (test run) : 6986AC55
CRC32 hash : 6986AC55
CRC32 hash (skip zero) : 860CEF25
AccurateRip signature : 27FE56E9
->Accurately ripped! (confidence 4)
Statistics
Read error : 0
Jitter error (maybe fixed) : 0
Retry sector count : 0
Damaged sector count : 0

Track 18
Filename : /Users/iMac/Documents/Complete Mozart Edition/Volume 2/Disc 13of13/18 - 4 German Dances, K602 - II. F Major.flac

Track gain : -4.20 dB
Peak : 0.832703
CRC32 hash (test run) : 53D2831E
CRC32 hash : 53D2831E
CRC32 hash (skip zero) : 79F1AFD5
AccurateRip signature : 26D27C3A
->Accurately ripped! (confidence 4)
Statistics
Read error : 0
Jitter error (maybe fixed) : 0
Retry sector count : 0
Damaged sector count : 0

Track 19
Filename : /Users/iMac/Documents/Complete Mozart Edition/Volume 2/Disc 13of13/19 - 4 German Dances, K602 - III. C Major.flac

Track gain : -3.94 dB
Peak : 0.852997
CRC32 hash (test run) : 02DC66C2
CRC32 hash : 02DC66C2
CRC32 hash (skip zero) : 3A679A30
AccurateRip signature : F530B657
->Accurately ripped! (confidence 4)
Statistics
Read error : 0
Jitter error (maybe fixed) : 0
Retry sector count : 0
Damaged sector count : 0

Track 20
Filename : /Users/iMac/Documents/Complete Mozart Edition/Volume 2/Disc 13of13/20 - 4 German Dances, K602 - IV. A Major.flac

Track gain : -4.71 dB
Peak : 0.961212
CRC32 hash (test run) : 45C8D8CF
CRC32 hash : 45C8D8CF
CRC32 hash (skip zero) : CA9F7AB7
AccurateRip signature : DC52D10C
->Accurately ripped! (confidence 4)
Statistics
Read error : 0
Jitter error (maybe fixed) : 0
Retry sector count : 0
Damaged sector count : 0

Track 21
Filename : /Users/iMac/Documents/Complete Mozart Edition/Volume 2/Disc 13of13/21 - 2 Contredanses, K603 - I. D Major.flac
Pre-gap length : 00:05:00

Track gain : -3.79 dB
Peak : 0.763947
CRC32 hash (test run) : DA6D0491
CRC32 hash : DA6D0491
CRC32 hash (skip zero) : E929FFE6
AccurateRip signature : 6ECED9EE
->Accurately ripped! (confidence 4)
Statistics
Read error : 0
Jitter error (maybe fixed) : 0
Retry sector count : 0
Damaged sector count : 0

Track 22
Filename : /Users/iMac/Documents/Complete Mozart Edition/Volume 2/Disc 13of13/22 - 2 Contredanses, K603 - II. B Flat Major.flac

Track gain : -4.06 dB
Peak : 0.731506
CRC32 hash (test run) : FF9F9DA4
CRC32 hash : FF9F9DA4
CRC32 hash (skip zero) : 2EAF8816
AccurateRip signature : 9F3F6FCF
->Accurately ripped! (confidence 4)
Statistics
Read error : 0
Jitter error (maybe fixed) : 0
Retry sector count : 0
Damaged sector count : 0

Track 23
Filename : /Users/iMac/Documents/Complete Mozart Edition/Volume 2/Disc 13of13/23 - 2 Minuets, K604 - I. B Flat Major.flac
Pre-gap length : 00:03:00

Track gain : -0.70 dB
Peak : 0.706207
CRC32 hash (test run) : 268A945C
CRC32 hash : 268A945C
CRC32 hash (skip zero) : 49AD943E
AccurateRip signature : 778F4D43
->Accurately ripped! (confidence 4)
Statistics
Read error : 0
Jitter error (maybe fixed) : 0
Retry sector count : 0
Damaged sector count : 0

Track 24
Filename : /Users/iMac/Documents/Complete Mozart Edition/Volume 2/Disc 13of13/24 - 2 Minuets, K604 - II. E Flat Major.flac

Track gain : -3.88 dB
Peak : 0.978516
CRC32 hash (test run) : E352CA22
CRC32 hash : E352CA22
CRC32 hash (skip zero) : 18DB89D7
AccurateRip signature : B0826256
->Accurately ripped! (confidence 4)
Statistics
Read error : 0
Jitter error (maybe fixed) : 0
Retry sector count : 0
Damaged sector count : 0

Track 25
Filename : /Users/iMac/Documents/Complete Mozart Edition/Volume 2/Disc 13of13/25 - 3 German Dances, K605 - I. D Major.flac
Pre-gap length : 00:04:00

Track gain : -3.75 dB
Peak : 0.846588
CRC32 hash (test run) : A9363BD4
CRC32 hash : A9363BD4
CRC32 hash (skip zero) : D9C59F18
AccurateRip signature : 7A34254B
->Accurately ripped! (confidence 4)
Statistics
Read error : 0
Jitter error (maybe fixed) : 0
Retry sector count : 0
Damaged sector count : 0

Track 26
Filename : /Users/iMac/Documents/Complete Mozart Edition/Volume 2/Disc 13of13/26 - 3 German Dances, K605 - II. G Major.flac

Track gain : -3.83 dB
Peak : 0.804688
CRC32 hash (test run) : 83079265
CRC32 hash : 83079265
CRC32 hash (skip zero) : 15261088
AccurateRip signature : 7AE0D735
->Accurately ripped! (confidence 4)
Statistics
Read error : 0
Jitter error (maybe fixed) : 0
Retry sector count : 0
Damaged sector count : 0

Track 27
Filename : /Users/iMac/Documents/Complete Mozart Edition/Volume 2/Disc 13of13/27 - 3 German Dances, K605 - III. C Major (Trio - 'Die Schlittenfahrt').flac

Track gain : -4.49 dB
Peak : 0.991669
CRC32 hash (test run) : A87400F7
CRC32 hash : A87400F7
CRC32 hash (skip zero) : D7D28A29
AccurateRip signature : 2A951636
->Accurately ripped! (confidence 4)
Statistics
Read error : 0
Jitter error (maybe fixed) : 0
Retry sector count : 0
Damaged sector count : 0

Track 28
Filename : /Users/iMac/Documents/Complete Mozart Edition/Volume 2/Disc 13of13/28 - 6 Landler in B Flat Major, K606.flac
Pre-gap length : 00:02:00

Track gain : 3.62 dB
Peak : 0.511780
CRC32 hash (test run) : 35E388FA
CRC32 hash : 35E388FA
CRC32 hash (skip zero) : 3941D7D0
AccurateRip signature : 349C60C7
->Accurately ripped! (confidence 4)
Statistics
Read error : 0
Jitter error (maybe fixed) : 0
Retry sector count : 0
Damaged sector count : 0

Track 29
Filename : /Users/iMac/Documents/Complete Mozart Edition/Volume 2/Disc 13of13/29 - Contredanse in E Flat Major, K607-605a 'Il trionfo delle donne'.flac
Pre-gap length : 00:07:00

Track gain : -4.18 dB
Peak : 0.950470
CRC32 hash (test run) : 0F21A360
CRC32 hash : 0F21A360
CRC32 hash (skip zero) : 5755ED15
AccurateRip signature : 774FD617
->Accurately ripped! (confidence 4)
Statistics
Read error : 0
Jitter error (maybe fixed) : 0
Retry sector count : 0
Damaged sector count : 0

Track 30
Filename : /Users/iMac/Documents/Complete Mozart Edition/Volume 2/Disc 13of13/30 - 5 Contredanses, K609 - I. C Major.flac
Pre-gap length : 00:03:00

Track gain : 0.34 dB
Peak : 0.587738
CRC32 hash (test run) : 09CC79F7
CRC32 hash : 09CC79F7
CRC32 hash (skip zero) : D7FC9AC3
AccurateRip signature : 4F94E8B0
->Accurately ripped! (confidence 4)
Statistics
Read error : 0
Jitter error (maybe fixed) : 0
Retry sector count : 0
Damaged sector count : 0

Track 31
Filename : /Users/iMac/Documents/Complete Mozart Edition/Volume 2/Disc 13of13/31 - 5 Contredanses, K609 - II. E Flat Major.flac

Track gain : -1.48 dB
Peak : 0.576843
CRC32 hash (test run) : 25DBCC1F
CRC32 hash : 25DBCC1F
CRC32 hash (skip zero) : E05EE128
AccurateRip signature : BD54155D
->Accurately ripped! (confidence 4)
Statistics
Read error : 0
Jitter error (maybe fixed) : 0
Retry sector count : 0
Damaged sector count : 0

Track 32
Filename : /Users/iMac/Documents/Complete Mozart Edition/Volume 2/Disc 13of13/32 - 5 Contredanses, K609 - III. D Major.flac

Track gain : -1.43 dB
Peak : 0.605743
CRC32 hash (test run) : BEA25E13
CRC32 hash : BEA25E13
CRC32 hash (skip zero) : 23CA66EA
AccurateRip signature : 9ED51A7F
->Accurately ripped! (confidence 4)
Statistics
Read error : 0
Jitter error (maybe fixed) : 0
Retry sector count : 0
Damaged sector count : 0

Track 33
Filename : /Users/iMac/Documents/Complete Mozart Edition/Volume 2/Disc 13of13/33 - 5 Contredanses, K609 - IV. C Major.flac

Track gain : -0.18 dB
Peak : 0.582825
CRC32 hash (test run) : DA486C6B
CRC32 hash : DA486C6B
CRC32 hash (skip zero) : 08349FDA
AccurateRip signature : 217CC071
->Accurately ripped! (confidence 4)
Statistics
Read error : 0
Jitter error (maybe fixed) : 0
Retry sector count : 0
Damaged sector count : 0

Track 34
Filename : /Users/iMac/Documents/Complete Mozart Edition/Volume 2/Disc 13of13/34 - 5 Contredanses, K609 - V. G Major.flac

Track gain : 1.43 dB
Peak : 0.564819
CRC32 hash (test run) : 73BEBC60
CRC32 hash : 73BEBC60
CRC32 hash (skip zero) : 0672D029
AccurateRip signature : 1F6A090D
->Accurately ripped! (confidence 4)
Statistics
Read error : 0
Jitter error (maybe fixed) : 0
Retry sector count : 0
Damaged sector count : 0

Track 35
Filename : /Users/iMac/Documents/Complete Mozart Edition/Volume 2/Disc 13of13/35 - Contredanse in G Major, K610 'Les filles malicieuses'.flac
Pre-gap length : 00:06:00

Track gain : -2.25 dB
Peak : 0.757385
CRC32 hash (test run) : B629CE08
CRC32 hash : B629CE08
CRC32 hash (skip zero) : F46A58E2
AccurateRip signature : 9A074D8F
->Accurately ripped! (confidence 3)
Statistics
Read error : 0
Jitter error (maybe fixed) : 0
Retry sector count : 0
Damaged sector count : 0

No errors occurred

End of status report
X Lossless Decoder version 20110821 (136.1)

XLD extraction logfile from 2011-09-26 13:31:31 +0300

Academy of St Martin-in-the-Fields Chamber Ensemble / Divertimenti for Strings & Wind [Volume 3]

Used drive : TSSTcorp CDDVDW SE-S084C (revision TS01)

Ripper mode : XLD Secure Ripper
Disable audio cache : OK for the drive with a cache less than 1375KiB
Make use of C2 pointers : NO
Read offset correction : 6
Max retry count : 100
Gap status : Analyzed, Appended (except HTOA)

TOC of the extracted CD
Track | Start | Length | Start sector | End sector
––––––––––––––––––––––––––––-
1 | 00:00:32 | 04:01:00 | 32 | 18106
2 | 04:01:32 | 03:49:00 | 18107 | 35281
3 | 07:50:32 | 01:50:00 | 35282 | 43531
4 | 09:40:32 | 03:26:00 | 43532 | 58981
5 | 13:06:32 | 07:53:00 | 58982 | 94456
6 | 20:59:32 | 03:26:00 | 94457 | 109906
7 | 24:25:32 | 03:27:00 | 109907 | 125431
8 | 27:52:32 | 04:53:00 | 125432 | 147406
9 | 32:45:32 | 03:52:00 | 147407 | 164806
10 | 36:37:32 | 03:43:00 | 164807 | 181531
11 | 40:20:32 | 04:28:00 | 181532 | 201631
12 | 44:48:32 | 05:25:50 | 201632 | 226056
13 | 50:14:07 | 02:05:25 | 226057 | 235456

AccurateRip Summary
Track 01 : OK (confidence 5)
Track 02 : OK (confidence 5)
Track 03 : OK (confidence 5)
Track 04 : OK (confidence 5)
Track 05 : OK (confidence 5)
Track 06 : OK (confidence 5)
Track 07 : OK (confidence 5)
Track 08 : OK (confidence 5)
Track 09 : OK (confidence 5)
Track 10 : OK (confidence 5)
Track 11 : OK (confidence 5)
Track 12 : OK (confidence 5)
Track 13 : OK (confidence 5)
->All tracks accurately ripped.

All Tracks
Album gain : -0.96 dB
Peak : 0.979248
Statistics
Read error : 0
Jitter error (maybe fixed) : 0
Retry sector count : 0
Damaged sector count : 0

Track 01
Filename : /Users/detemps/Desktop/Volume 3/Disc 1of11/01 - Divertimento in E Flat Major, K113 - I. Allegro.flac
Pre-gap length : 00:02:32

Track gain : -1.04 dB
Peak : 0.765076
CRC32 hash (test run) : D8145DD5
CRC32 hash : D8145DD5
CRC32 hash (skip zero) : D7601BB7
AccurateRip signature : 252D47BD
->Accurately ripped! (confidence 5)
Statistics
Read error : 0
Jitter error (maybe fixed) : 0
Retry sector count : 0
Damaged sector count : 0

Track 02
Filename : /Users/detemps/Desktop/Volume 3/Disc 1of11/02 - Divertimento in E Flat Major, K113 - II. Andante.flac
Pre-gap length : 00:01:00

Track gain : 0.60 dB
Peak : 0.562103
CRC32 hash (test run) : 4E85E944
CRC32 hash : 4E85E944
CRC32 hash (skip zero) : 8A4FB8DB
AccurateRip signature : 9891D0A0
->Accurately ripped! (confidence 5)
Statistics
Read error : 0
Jitter error (maybe fixed) : 0
Retry sector count : 0
Damaged sector count : 0

Track 03
Filename : /Users/detemps/Desktop/Volume 3/Disc 1of11/03 - Divertimento in E Flat Major, K113 - III. Menuetto - Trio.flac
Pre-gap length : 00:01:00

Track gain : -1.94 dB
Peak : 0.952728
CRC32 hash (test run) : EB63E84E
CRC32 hash : EB63E84E
CRC32 hash (skip zero) : AF46A899
AccurateRip signature : 9403FE4B
->Accurately ripped! (confidence 5)
Statistics
Read error : 0
Jitter error (maybe fixed) : 0
Retry sector count : 0
Damaged sector count : 0

Track 04
Filename : /Users/detemps/Desktop/Volume 3/Disc 1of11/04 - Divertimento in E Flat Major, K113 - IV. Allegro.flac

Track gain : -1.94 dB
Peak : 0.804962
CRC32 hash (test run) : 1A6BD4AD
CRC32 hash : 1A6BD4AD
CRC32 hash (skip zero) : 589582B9
AccurateRip signature : DA34AB01
->Accurately ripped! (confidence 5)
Statistics
Read error : 0
Jitter error (maybe fixed) : 0
Retry sector count : 0
Damaged sector count : 0

Track 05
Filename : /Users/detemps/Desktop/Volume 3/Disc 1of11/05 - Divertimento in B Flat Major, K137-125b - I. Andante.flac
Pre-gap length : 00:07:00

Track gain : 3.79 dB
Peak : 0.630981
CRC32 hash (test run) : 43F544E6
CRC32 hash : 43F544E6
CRC32 hash (skip zero) : 26F6E8E1
AccurateRip signature : EBA3BE7D
->Accurately ripped! (confidence 5)
Statistics
Read error : 0
Jitter error (maybe fixed) : 0
Retry sector count : 0
Damaged sector count : 0

Track 06
Filename : /Users/detemps/Desktop/Volume 3/Disc 1of11/06 - Divertimento in B Flat Major, K137-125b - II. Allegro di molto.flac

Track gain : 2.85 dB
Peak : 0.572052
CRC32 hash (test run) : 32EF759F
CRC32 hash : 32EF759F
CRC32 hash (skip zero) : 48708D5F
AccurateRip signature : F3042C55
->Accurately ripped! (confidence 5)
Statistics
Read error : 0
Jitter error (maybe fixed) : 0
Retry sector count : 0
Damaged sector count : 0

Track 07
Filename : /Users/detemps/Desktop/Volume 3/Disc 1of11/07 - Divertimento in B Flat Major, K137-125b - III. Allegro assai.flac

Track gain : 1.99 dB
Peak : 0.601074
CRC32 hash (test run) : 3E10B8F3
CRC32 hash : 3E10B8F3
CRC32 hash (skip zero) : F1ABAA0F
AccurateRip signature : FD203275
->Accurately ripped! (confidence 5)
Statistics
Read error : 0
Jitter error (maybe fixed) : 0
Retry sector count : 0
Damaged sector count : 0

Track 08
Filename : /Users/detemps/Desktop/Volume 3/Disc 1of11/08 - Divertimento in D Major, K251 - I. Molto Allegro.flac
Pre-gap length : 00:07:00

Track gain : -2.24 dB
Peak : 0.908844
CRC32 hash (test run) : DAEE3C7B
CRC32 hash : DAEE3C7B
CRC32 hash (skip zero) : 96EE0CBD
AccurateRip signature : C5234E0A
->Accurately ripped! (confidence 5)
Statistics
Read error : 0
Jitter error (maybe fixed) : 0
Retry sector count : 0
Damaged sector count : 0

Track 09
Filename : /Users/detemps/Desktop/Volume 3/Disc 1of11/09 - Divertimento in D Major, K251 - II. Menuetto - Trio.flac

Track gain : -2.23 dB
Peak : 0.788849
CRC32 hash (test run) : 03D7BB76
CRC32 hash : 03D7BB76
CRC32 hash (skip zero) : 3917B171
AccurateRip signature : 5241BCA0
->Accurately ripped! (confidence 5)
Statistics
Read error : 0
Jitter error (maybe fixed) : 0
Retry sector count : 0
Damaged sector count : 0

Track 10
Filename : /Users/detemps/Desktop/Volume 3/Disc 1of11/10 - Divertimento in D Major, K251 - III. Andantino - Adagio - Allegretto.flac
Pre-gap length : 00:01:00

Track gain : 1.33 dB
Peak : 0.602966
CRC32 hash (test run) : 65E6C74B
CRC32 hash : 65E6C74B
CRC32 hash (skip zero) : 8CB7BBA0
AccurateRip signature : 5AE46A3B
->Accurately ripped! (confidence 5)
Statistics
Read error : 0
Jitter error (maybe fixed) : 0
Retry sector count : 0
Damaged sector count : 0

Track 11
Filename : /Users/detemps/Desktop/Volume 3/Disc 1of11/11 - Divertimento in D Major, K251 - IV. Menuetto (Tema con variazioni).flac

Track gain : -0.09 dB
Peak : 0.955017
CRC32 hash (test run) : E73BDDEC
CRC32 hash : E73BDDEC
CRC32 hash (skip zero) : 307665B0
AccurateRip signature : D1C157A0
->Accurately ripped! (confidence 5)
Statistics
Read error : 0
Jitter error (maybe fixed) : 0
Retry sector count : 0
Damaged sector count : 0

Track 12
Filename : /Users/detemps/Desktop/Volume 3/Disc 1of11/12 - Divertimento in D Major, K251 - V. Rondeau (Allegro assai - Adagio - Allegro assai).flac

Track gain : -2.19 dB
Peak : 0.891235
CRC32 hash (test run) : 1A3F1FAE
CRC32 hash : 1A3F1FAE
CRC32 hash (skip zero) : 596451FD
AccurateRip signature : 3EA67AC9
->Accurately ripped! (confidence 5)
Statistics
Read error : 0
Jitter error (maybe fixed) : 0
Retry sector count : 0
Damaged sector count : 0

Track 13
Filename : /Users/detemps/Desktop/Volume 3/Disc 1of11/13 - Divertimento in D Major, K251 - VI. Marcia alla francese.flac

Track gain : -2.57 dB
Peak : 0.979248
CRC32 hash (test run) : F6476401
CRC32 hash : F6476401
CRC32 hash (skip zero) : E7E46D2F
AccurateRip signature : 8C405A86
->Accurately ripped! (confidence 5)
Statistics
Read error : 0
Jitter error (maybe fixed) : 0
Retry sector count : 0
Damaged sector count : 0

No errors occurred

End of status report
X Lossless Decoder version 20110821 (136.1)

XLD extraction logfile from 2011-09-26 13:09:38 +0300

Academy of St Martin-in-the-Fields Chamber Ensemble / Divertimenti for Strings & Wind [Volume 3]

Used drive : TSSTcorp CDDVDW SE-S084C (revision TS01)

Ripper mode : XLD Secure Ripper
Disable audio cache : OK for the drive with a cache less than 1375KiB
Make use of C2 pointers : NO
Read offset correction : 6
Max retry count : 100
Gap status : Analyzed, Appended (except HTOA)

TOC of the extracted CD
Track | Start | Length | Start sector | End sector
––––––––––––––––––––––––––––-
1 | 00:00:32 | 05:50:40 | 32 | 26321
2 | 05:50:72 | 05:55:58 | 26322 | 53004
3 | 11:46:55 | 02:03:05 | 53005 | 62234
4 | 13:49:60 | 04:02:40 | 62235 | 80424
5 | 17:52:25 | 04:14:45 | 80425 | 99519
6 | 22:06:70 | 04:39:37 | 99520 | 120481
7 | 26:46:32 | 02:43:23 | 120482 | 132729
8 | 29:29:55 | 04:48:65 | 132730 | 154394
9 | 34:18:45 | 06:12:42 | 154395 | 182336
10 | 40:31:12 | 06:12:05 | 182337 | 210241
11 | 46:43:17 | 04:08:15 | 210242 | 228856

AccurateRip Summary
Track 01 : OK (confidence 8)
Track 02 : OK (confidence 8)
Track 03 : OK (confidence 8)
Track 04 : OK (confidence 8)
Track 05 : OK (confidence 8)
Track 06 : OK (confidence 8)
Track 07 : OK (confidence 8)
Track 08 : OK (confidence 7)
Track 09 : OK (confidence 7)
Track 10 : OK (confidence 7)
Track 11 : OK (confidence 6)
->All tracks accurately ripped.

All Tracks
Album gain : -0.35 dB
Peak : 0.981598
Statistics
Read error : 0
Jitter error (maybe fixed) : 0
Retry sector count : 0
Damaged sector count : 0

Track 01
Filename : /Users/detemps/Desktop/Volume 3/Disc 2of11/01 - 'Eine kleine Nachtmusik', K525 - I. Allegro.flac
Pre-gap length : 00:02:32

Track gain : 1.86 dB
Peak : 0.830658
CRC32 hash (test run) : 4DB718E3
CRC32 hash : 4DB718E3
CRC32 hash (skip zero) : 1A14FF96
AccurateRip signature : 18A67AEE
->Accurately ripped! (confidence 8)
Statistics
Read error : 0
Jitter error (maybe fixed) : 0
Retry sector count : 0
Damaged sector count : 0

Track 02
Filename : /Users/detemps/Desktop/Volume 3/Disc 2of11/02 - 'Eine kleine Nachtmusik', K525 - II. Romance (Andante).flac
Pre-gap length : 00:03:60

Track gain : 0.44 dB
Peak : 0.938965
CRC32 hash (test run) : F1AF6E85
CRC32 hash : F1AF6E85
CRC32 hash (skip zero) : F78985B9
AccurateRip signature : 9A14F245
->Accurately ripped! (confidence 8)
Statistics
Read error : 0
Jitter error (maybe fixed) : 0
Retry sector count : 0
Damaged sector count : 0

Track 03
Filename : /Users/detemps/Desktop/Volume 3/Disc 2of11/03 - 'Eine kleine Nachtmusik', K525 - III. Menuetto (Allegretto).flac
Pre-gap length : 00:00:60

Track gain : -1.47 dB
Peak : 0.836914
CRC32 hash (test run) : A90FAA33
CRC32 hash : A90FAA33
CRC32 hash (skip zero) : 22DAAFFB
AccurateRip signature : C1B35970
->Accurately ripped! (confidence 8)
Statistics
Read error : 0
Jitter error (maybe fixed) : 0
Retry sector count : 0
Damaged sector count : 0

Track 04
Filename : /Users/detemps/Desktop/Volume 3/Disc 2of11/04 - 'Eine kleine Nachtmusik', K525 - IV. Rondo (Allegro).flac
Pre-gap length : 00:00:15

Track gain : -2.69 dB
Peak : 0.981598
CRC32 hash (test run) : 936142D3
CRC32 hash : 936142D3
CRC32 hash (skip zero) : B51CB805
AccurateRip signature : 23DC09D3
->Accurately ripped! (confidence 8)
Statistics
Read error : 0
Jitter error (maybe fixed) : 0
Retry sector count : 0
Damaged sector count : 0

Track 05
Filename : /Users/detemps/Desktop/Volume 3/Disc 2of11/05 - Divertimento in D Major, K136-125a - I. Allegro.flac
Pre-gap length : 00:08:50

Track gain : 1.93 dB
Peak : 0.550781
CRC32 hash (test run) : 4D440DFC
CRC32 hash : 4D440DFC
CRC32 hash (skip zero) : 80722BE4
AccurateRip signature : 6C2B0449
->Accurately ripped! (confidence 8)
Statistics
Read error : 0
Jitter error (maybe fixed) : 0
Retry sector count : 0
Damaged sector count : 0

Track 06
Filename : /Users/detemps/Desktop/Volume 3/Disc 2of11/06 - Divertimento in D Major, K136-125a - II. Andante.flac
Pre-gap length : 00:01:68

Track gain : 4.64 dB
Peak : 0.605286
CRC32 hash (test run) : 1FCE0A71
CRC32 hash : 1FCE0A71
CRC32 hash (skip zero) : 5B98ECA6
AccurateRip signature : 7F7216C3
->Accurately ripped! (confidence 8)
Statistics
Read error : 0
Jitter error (maybe fixed) : 0
Retry sector count : 0
Damaged sector count : 0

Track 07
Filename : /Users/detemps/Desktop/Volume 3/Disc 2of11/07 - Divertimento in D Major, K136-125a - III. Presto.flac
Pre-gap length : 00:02:00

Track gain : 0.68 dB
Peak : 0.655151
CRC32 hash (test run) : F7435E02
CRC32 hash : F7435E02
CRC32 hash (skip zero) : 41B13952
AccurateRip signature : 2B2D63D7
->Accurately ripped! (confidence 8)
Statistics
Read error : 0
Jitter error (maybe fixed) : 0
Retry sector count : 0
Damaged sector count : 0

Track 08
Filename : /Users/detemps/Desktop/Volume 3/Disc 2of11/08 - 'Ein musikalischer Spass', K522 - I. Allegro.flac
Pre-gap length : 00:08:13

Track gain : -2.62 dB
Peak : 0.954987
CRC32 hash (test run) : BA2E781D
CRC32 hash : BA2E781D
CRC32 hash (skip zero) : 50C7DCFC
AccurateRip signature : C9079EFC
->Accurately ripped! (confidence 7)
Statistics
Read error : 0
Jitter error (maybe fixed) : 0
Retry sector count : 0
Damaged sector count : 0

Track 09
Filename : /Users/detemps/Desktop/Volume 3/Disc 2of11/09 - 'Ein musikalischer Spass', K522 - II. Menuetto (Maestoso) - Trio.flac
Pre-gap length : 00:02:28

Track gain : -2.09 dB
Peak : 0.918671
CRC32 hash (test run) : 26608B59
CRC32 hash : 26608B59
CRC32 hash (skip zero) : 57247F66
AccurateRip signature : 94789205
->Accurately ripped! (confidence 7)
Statistics
Read error : 0
Jitter error (maybe fixed) : 0
Retry sector count : 0
Damaged sector count : 0

Track 10
Filename : /Users/detemps/Desktop/Volume 3/Disc 2of11/10 - 'Ein musikalischer Spass', K522 - III. Adagio cantabile.flac
Pre-gap length : 00:03:55

Track gain : 4.53 dB
Peak : 0.491058
CRC32 hash (test run) : 0D9B3852
CRC32 hash : 0D9B3852
CRC32 hash (skip zero) : 5838D32F
AccurateRip signature : 01C707E7
->Accurately ripped! (confidence 7)
Statistics
Read error : 0
Jitter error (maybe fixed) : 0
Retry sector count : 0
Damaged sector count : 0

Track 11
Filename : /Users/detemps/Desktop/Volume 3/Disc 2of11/11 - 'Ein musikalischer Spass', K522 - IV. Presto.flac
Pre-gap length : 00:01:35

Track gain : 0.24 dB
Peak : 0.885345
CRC32 hash (test run) : 2DDD81AE
CRC32 hash : 2DDD81AE
CRC32 hash (skip zero) : A8D0E82D
AccurateRip signature : 6DAF23FA
->Accurately ripped! (confidence 6)
Statistics
Read error : 0
Jitter error (maybe fixed) : 0
Retry sector count : 0
Damaged sector count : 0

No errors occurred

End of status report
X Lossless Decoder version 20110821 (136.1)

XLD extraction logfile from 2011-09-26 12:46:56 +0300

Academy of St Martin-in-the-Fields Chamber Ensemble / Divertimenti for Strings & Wind [Volume 3]

Used drive : TSSTcorp CDDVDW SE-S084C (revision TS01)

Ripper mode : XLD Secure Ripper
Disable audio cache : OK for the drive with a cache less than 1375KiB
Make use of C2 pointers : NO
Read offset correction : 6
Max retry count : 100
Gap status : Analyzed, Appended (except HTOA)

TOC of the extracted CD
Track | Start | Length | Start sector | End sector
––––––––––––––––––––––––––––-
1 | 00:00:32 | 08:28:25 | 32 | 38156
2 | 08:28:57 | 01:08:33 | 38157 | 43289
3 | 09:37:15 | 01:09:25 | 43290 | 48489
4 | 10:46:40 | 01:05:62 | 48490 | 53426
5 | 11:52:27 | 01:01:70 | 53427 | 58071
6 | 12:54:22 | 01:14:43 | 58072 | 63664
7 | 14:08:65 | 01:04:00 | 63665 | 68464
8 | 15:12:65 | 01:07:67 | 68465 | 73556
9 | 16:20:57 | 03:07:00 | 73557 | 87581
10 | 19:27:57 | 10:49:00 | 87582 | 136256
11 | 30:16:57 | 04:20:25 | 136257 | 155781
12 | 34:37:07 | 07:27:13 | 155782 | 189319
13 | 42:04:20 | 03:38:62 | 189320 | 205731
14 | 45:43:07 | 05:34:50 | 205732 | 230831
15 | 51:17:57 | 02:24:38 | 230832 | 241669

AccurateRip Summary
Track 01 : OK (confidence 5)
Track 02 : OK (confidence 5)
Track 03 : OK (confidence 5)
Track 04 : OK (confidence 5)
Track 05 : OK (confidence 5)
Track 06 : OK (confidence 5)
Track 07 : OK (confidence 5)
Track 08 : OK (confidence 5)
Track 09 : OK (confidence 5)
Track 10 : OK (confidence 5)
Track 11 : OK (confidence 5)
Track 12 : OK (confidence 5)
Track 13 : OK (confidence 5)
Track 14 : OK (confidence 5)
Track 15 : OK (confidence 5)
->All tracks accurately ripped.

All Tracks
Album gain : 1.44 dB
Peak : 0.825806
Statistics
Read error : 0
Jitter error (maybe fixed) : 0
Retry sector count : 0
Damaged sector count : 0

Track 01
Filename : /Users/detemps/Desktop/Volume 3/Disc 3of11/01 - Divertimento in B Flat Major, K287-271H - I. Allegro.flac
Pre-gap length : 00:02:32

Track gain : -0.26 dB
Peak : 0.825806
CRC32 hash (test run) : D2E2E9D7
CRC32 hash : D2E2E9D7
CRC32 hash (skip zero) : B77200BF
AccurateRip signature : AA7A16FC
->Accurately ripped! (confidence 5)
Statistics
Read error : 0
Jitter error (maybe fixed) : 0
Retry sector count : 0
Damaged sector count : 0

Track 02
Filename : /Users/detemps/Desktop/Volume 3/Disc 3of11/02 - Divertimento in B Flat Major, K287-271H - II. Thema mit Variationen - Andante grazioso.flac
Pre-gap length : 00:01:00

Track gain : 3.79 dB
Peak : 0.338165
CRC32 hash (test run) : 38B9F9FD
CRC32 hash : 38B9F9FD
CRC32 hash (skip zero) : 89F3B4BE
AccurateRip signature : 83AB4974
->Accurately ripped! (confidence 5)
Statistics
Read error : 0
Jitter error (maybe fixed) : 0
Retry sector count : 0
Damaged sector count : 0

Track 03
Filename : /Users/detemps/Desktop/Volume 3/Disc 3of11/03 - Divertimento in B Flat Major, K287-271H - II. Thema mit Variationen - Variation I.flac

Track gain : 7.43 dB
Peak : 0.277924
CRC32 hash (test run) : B25AD9D0
CRC32 hash : B25AD9D0
CRC32 hash (skip zero) : 2C6CAC26
AccurateRip signature : D9523838
->Accurately ripped! (confidence 5)
Statistics
Read error : 0
Jitter error (maybe fixed) : 0
Retry sector count : 0
Damaged sector count : 0

Track 04
Filename : /Users/detemps/Desktop/Volume 3/Disc 3of11/04 - Divertimento in B Flat Major, K287-271H - II. Thema mit Variationen - Variaton II.flac

Track gain : 5.18 dB
Peak : 0.389465
CRC32 hash (test run) : 566C26C4
CRC32 hash : 566C26C4
CRC32 hash (skip zero) : B220D900
AccurateRip signature : 634A55B5
->Accurately ripped! (confidence 5)
Statistics
Read error : 0
Jitter error (maybe fixed) : 0
Retry sector count : 0
Damaged sector count : 0

Track 05
Filename : /Users/detemps/Desktop/Volume 3/Disc 3of11/05 - Divertimento in B Flat Major, K287-271H - II. Thema mit Variationen - Variation III.flac

Track gain : 1.76 dB
Peak : 0.497864
CRC32 hash (test run) : 285AC5DC
CRC32 hash : 285AC5DC
CRC32 hash (skip zero) : 513239BE
AccurateRip signature : D1D3784F
->Accurately ripped! (confidence 5)
Statistics
Read error : 0
Jitter error (maybe fixed) : 0
Retry sector count : 0
Damaged sector count : 0

Track 06
Filename : /Users/detemps/Desktop/Volume 3/Disc 3of11/06 - Divertimento in B Flat Major, K287-271H - II. Thema mit Variationen - Variation IV.flac

Track gain : 2.05 dB
Peak : 0.596954
CRC32 hash (test run) : 7808624C
CRC32 hash : 7808624C
CRC32 hash (skip zero) : 4091E46A
AccurateRip signature : 731CD239
->Accurately ripped! (confidence 5)
Statistics
Read error : 0
Jitter error (maybe fixed) : 0
Retry sector count : 0
Damaged sector count : 0

Track 07
Filename : /Users/detemps/Desktop/Volume 3/Disc 3of11/07 - Divertimento in B Flat Major, K287-271H - II. Thema mit Variationen - Variation V.flac

Track gain : -1.41 dB
Peak : 0.758636
CRC32 hash (test run) : DF9BF362
CRC32 hash : DF9BF362
CRC32 hash (skip zero) : B98D8D67
AccurateRip signature : AB0E531D
->Accurately ripped! (confidence 5)
Statistics
Read error : 0
Jitter error (maybe fixed) : 0
Retry sector count : 0
Damaged sector count : 0

Track 08
Filename : /Users/detemps/Desktop/Volume 3/Disc 3of11/08 - Divertimento in B Flat Major, K287-271H - II. Thema mit Variationen - Variation VI.flac

Track gain : 3.65 dB
Peak : 0.463226
CRC32 hash (test run) : E76AC2EA
CRC32 hash : E76AC2EA
CRC32 hash (skip zero) : 848B533B
AccurateRip signature : 735A7745
->Accurately ripped! (confidence 5)
Statistics
Read error : 0
Jitter error (maybe fixed) : 0
Retry sector count : 0
Damaged sector count : 0

Track 09
Filename : /Users/detemps/Desktop/Volume 3/Disc 3of11/09 - Divertimento in B Flat Major, K287-271H - III. Menuetto.flac
Pre-gap length : 00:01:00

Track gain : 0.54 dB
Peak : 0.702240
CRC32 hash (test run) : 0E2B4EA6
CRC32 hash : 0E2B4EA6
CRC32 hash (skip zero) : C0025189
AccurateRip signature : 63284A54
->Accurately ripped! (confidence 5)
Statistics
Read error : 0
Jitter error (maybe fixed) : 0
Retry sector count : 0
Damaged sector count : 0

Track 10
Filename : /Users/detemps/Desktop/Volume 3/Disc 3of11/10 - Divertimento in B Flat Major, K287-271H - IV. Adagio.flac

Track gain : 8.08 dB
Peak : 0.327393
CRC32 hash (test run) : CBFB6B6D
CRC32 hash : CBFB6B6D
CRC32 hash (skip zero) : 4510C863
AccurateRip signature : D2D7265E
->Accurately ripped! (confidence 5)
Statistics
Read error : 0
Jitter error (maybe fixed) : 0
Retry sector count : 0
Damaged sector count : 0

Track 11
Filename : /Users/detemps/Desktop/Volume 3/Disc 3of11/11 - Divertimento in B Flat Major, K287-271H - V. Menuetto.flac
Pre-gap length : 00:03:00

Track gain : -1.10 dB
Peak : 0.656860
CRC32 hash (test run) : EBDE9FB1
CRC32 hash : EBDE9FB1
CRC32 hash (skip zero) : 1D04CD51
AccurateRip signature : 02B78AB7
->Accurately ripped! (confidence 5)
Statistics
Read error : 0
Jitter error (maybe fixed) : 0
Retry sector count : 0
Damaged sector count : 0

Track 12
Filename : /Users/detemps/Desktop/Volume 3/Disc 3of11/12 - Divertimento in B Flat Major, K287-271H - VI. Andante - Allegro molto.flac
Pre-gap length : 00:01:00

Track gain : 1.02 dB
Peak : 0.748627
CRC32 hash (test run) : A20A83C9
CRC32 hash : A20A83C9
CRC32 hash (skip zero) : 748028EF
AccurateRip signature : 1F717FC0
->Accurately ripped! (confidence 5)
Statistics
Read error : 0
Jitter error (maybe fixed) : 0
Retry sector count : 0
Damaged sector count : 0

Track 13
Filename : /Users/detemps/Desktop/Volume 3/Disc 3of11/13 - Divertimento in F Major, K138-125c - I. (Allegro).flac
Pre-gap length : 00:03:63

Track gain : 1.26 dB
Peak : 0.594727
CRC32 hash (test run) : CF869FCF
CRC32 hash : CF869FCF
CRC32 hash (skip zero) : 21C05B76
AccurateRip signature : 706DCCEA
->Accurately ripped! (confidence 5)
Statistics
Read error : 0
Jitter error (maybe fixed) : 0
Retry sector count : 0
Damaged sector count : 0

Track 14
Filename : /Users/detemps/Desktop/Volume 3/Disc 3of11/14 - Divertimento in F Major, K138-125c - II. Andante.flac
Pre-gap length : 00:02:37

Track gain : 2.96 dB
Peak : 0.466125
CRC32 hash (test run) : B728277E
CRC32 hash : B728277E
CRC32 hash (skip zero) : F853C61A
AccurateRip signature : ABD31E61
->Accurately ripped! (confidence 5)
Statistics
Read error : 0
Jitter error (maybe fixed) : 0
Retry sector count : 0
Damaged sector count : 0

Track 15
Filename : /Users/detemps/Desktop/Volume 3/Disc 3of11/15 - Divertimento in F Major, K138-125c - III. Presto.flac
Pre-gap length : 00:02:50

Track gain : 1.06 dB
Peak : 0.525024
CRC32 hash (test run) : EB1EF16C
CRC32 hash : EB1EF16C
CRC32 hash (skip zero) : 83883D50
AccurateRip signature : 61822793
->Accurately ripped! (confidence 5)
Statistics
Read error : 0
Jitter error (maybe fixed) : 0
Retry sector count : 0
Damaged sector count : 0

No errors occurred

End of status report
X Lossless Decoder version 20110821 (136.1)

XLD extraction logfile from 2011-09-26 12:22:52 +0300

Academy of St Martin-in-the-Fields Chamber Ensemble / Divertimenti for Strings & Wind [Volume 3]

Used drive : TSSTcorp CDDVDW SE-S084C (revision TS01)

Ripper mode : XLD Secure Ripper
Disable audio cache : OK for the drive with a cache less than 1375KiB
Make use of C2 pointers : NO
Read offset correction : 6
Max retry count : 100
Gap status : Analyzed, Appended (except HTOA)

TOC of the extracted CD
Track | Start | Length | Start sector | End sector
––––––––––––––––––––––––––––-
1 | 00:00:33 | 04:34:00 | 33 | 20582
2 | 04:34:33 | 07:45:00 | 20583 | 55457
3 | 12:19:33 | 03:37:00 | 55458 | 71732
4 | 15:56:33 | 03:59:00 | 71733 | 89657
5 | 19:55:33 | 07:09:00 | 89658 | 121832
6 | 27:04:33 | 03:24:00 | 121833 | 137132
7 | 30:28:33 | 05:43:00 | 137133 | 162857
8 | 36:11:33 | 04:47:00 | 162858 | 184382
9 | 40:58:33 | 04:37:00 | 184383 | 205157
10 | 45:35:33 | 02:41:00 | 205158 | 217232
11 | 48:16:33 | 04:03:00 | 217233 | 235457
12 | 52:19:33 | 02:53:00 | 235458 | 248432
13 | 55:12:33 | 03:40:00 | 248433 | 264932

List of alternate offset correction values
# | Absolute | Relative | Confidence
–––––––––––––––––––––
1 | 1290 | 1284 | 13
2 | 398 | 392 | 4
3 | 1642 | 1636 | 4

AccurateRip Summary
Track 01 : OK (confidence 5)
Track 02 : OK (confidence 5)
Track 03 : OK (confidence 5)
Track 04 : OK (confidence 5)
Track 05 : OK (confidence 5)
Track 06 : OK (confidence 5)
Track 07 : OK (confidence 5)
Track 08 : OK (confidence 5)
Track 09 : OK (confidence 5)
Track 10 : OK (confidence 5)
Track 11 : OK (confidence 5)
Track 12 : OK (confidence 5)
Track 13 : OK (confidence 5)
->All tracks accurately ripped.

All Tracks
Album gain : -0.24 dB
Peak : 0.936646
Statistics
Read error : 0
Jitter error (maybe fixed) : 0
Retry sector count : 0
Damaged sector count : 0

Track 01
Filename : /Users/detemps/Desktop/Volume 3/Disc 4of11/01 - March in F Major, K248.flac
Pre-gap length : 00:02:33

Track gain : -1.52 dB
Peak : 0.936646
CRC32 hash (test run) : FC1C6004
CRC32 hash : FC1C6004
CRC32 hash (skip zero) : E16B8815
AccurateRip signature : 4D6C944F
->Accurately ripped! (confidence 5)
Statistics
Read error : 0
Jitter error (maybe fixed) : 0
Retry sector count : 0
Damaged sector count : 0

Track 02
Filename : /Users/detemps/Desktop/Volume 3/Disc 4of11/02 - Divertimento in F Major, K247 - I. Allegro.flac
Pre-gap length : 00:04:00

Track gain : -0.98 dB
Peak : 0.863159
CRC32 hash (test run) : 7B2499AD
CRC32 hash : 7B2499AD
CRC32 hash (skip zero) : 3326A512
AccurateRip signature : 32AA55BC
->Accurately ripped! (confidence 5)
Statistics
Read error : 0
Jitter error (maybe fixed) : 0
Retry sector count : 0
Damaged sector count : 0

Track 03
Filename : /Users/detemps/Desktop/Volume 3/Disc 4of11/03 - Divertimento in F Major, K247 - II. Andante grazioso.flac
Pre-gap length : 00:04:00

Track gain : -0.44 dB
Peak : 0.728210
CRC32 hash (test run) : 6EC2D791
CRC32 hash : 6EC2D791
CRC32 hash (skip zero) : 23C6490F
AccurateRip signature : 510295FD
->Accurately ripped! (confidence 5)
Statistics
Read error : 0
Jitter error (maybe fixed) : 0
Retry sector count : 0
Damaged sector count : 0

Track 04
Filename : /Users/detemps/Desktop/Volume 3/Disc 4of11/04 - Divertimento in F Major, K247 - III. Menuetto.flac
Pre-gap length : 00:04:00

Track gain : -0.74 dB
Peak : 0.603821
CRC32 hash (test run) : 8B9304D6
CRC32 hash : 8B9304D6
CRC32 hash (skip zero) : BCCA2D72
AccurateRip signature : 404839CB
->Accurately ripped! (confidence 5)
Statistics
Read error : 0
Jitter error (maybe fixed) : 0
Retry sector count : 0
Damaged sector count : 0

Track 05
Filename : /Users/detemps/Desktop/Volume 3/Disc 4of11/05 - Divertimento in F Major, K247 - IV. Adagio.flac
Pre-gap length : 00:04:00

Track gain : 5.69 dB
Peak : 0.487885
CRC32 hash (test run) : 52B33854
CRC32 hash : 52B33854
CRC32 hash (skip zero) : 3FEBCB1C
AccurateRip signature : 87D94D6F
->Accurately ripped! (confidence 5)
Statistics
Read error : 0
Jitter error (maybe fixed) : 0
Retry sector count : 0
Damaged sector count : 0

Track 06
Filename : /Users/detemps/Desktop/Volume 3/Disc 4of11/06 - Divertimento in F Major, K247 - V. Menuetto.flac
Pre-gap length : 00:04:00

Track gain : -0.38 dB
Peak : 0.815918
CRC32 hash (test run) : 9868A099
CRC32 hash : 9868A099
CRC32 hash (skip zero) : F10448FD
AccurateRip signature : 846F7CEF
->Accurately ripped! (confidence 5)
Statistics
Read error : 0
Jitter error (maybe fixed) : 0
Retry sector count : 0
Damaged sector count : 0

Track 07
Filename : /Users/detemps/Desktop/Volume 3/Disc 4of11/07 - Divertimento in F Major, K247 - VI. Andante - Allegro assai.flac
Pre-gap length : 00:03:00

Track gain : -0.53 dB
Peak : 0.772247
CRC32 hash (test run) : 39C35DF1
CRC32 hash : 39C35DF1
CRC32 hash (skip zero) : 72877C41
AccurateRip signature : F619B36A
->Accurately ripped! (confidence 5)
Statistics
Read error : 0
Jitter error (maybe fixed) : 0
Retry sector count : 0
Damaged sector count : 0

Track 08
Filename : /Users/detemps/Desktop/Volume 3/Disc 4of11/08 - March in D Major, K290-167AB.flac
Pre-gap length : 00:14:00

Track gain : 0.36 dB
Peak : 0.870361
CRC32 hash (test run) : 40DDC241
CRC32 hash : 40DDC241
CRC32 hash (skip zero) : 992C53C7
AccurateRip signature : 51977CC7
->Accurately ripped! (confidence 5)
Statistics
Read error : 0
Jitter error (maybe fixed) : 0
Retry sector count : 0
Damaged sector count : 0

Track 09
Filename : /Users/detemps/Desktop/Volume 3/Disc 4of11/09 - Divertimento in D Major, K205-167A - I. Largo - Allegro.flac
Pre-gap length : 00:03:00

Track gain : -0.86 dB
Peak : 0.743500
CRC32 hash (test run) : 8C0DB393
CRC32 hash : 8C0DB393
CRC32 hash (skip zero) : CAF16225
AccurateRip signature : A2ED547C
->Accurately ripped! (confidence 5)
Statistics
Read error : 0
Jitter error (maybe fixed) : 0
Retry sector count : 0
Damaged sector count : 0

Track 10
Filename : /Users/detemps/Desktop/Volume 3/Disc 4of11/10 - Divertimento in D Major, K205-167A - II. Menuetto.flac
Pre-gap length : 00:02:00

Track gain : -1.28 dB
Peak : 0.673615
CRC32 hash (test run) : 32D291DC
CRC32 hash : 32D291DC
CRC32 hash (skip zero) : 8911D229
AccurateRip signature : 0F4A225D
->Accurately ripped! (confidence 5)
Statistics
Read error : 0
Jitter error (maybe fixed) : 0
Retry sector count : 0
Damaged sector count : 0

Track 11
Filename : /Users/detemps/Desktop/Volume 3/Disc 4of11/11 - Divertimento in D Major, K205-167A - III. Adagio.flac
Pre-gap length : 00:02:00

Track gain : 10.00 dB
Peak : 0.287231
CRC32 hash (test run) : EE6845DA
CRC32 hash : EE6845DA
CRC32 hash (skip zero) : B4386F18
AccurateRip signature : 555648F2
->Accurately ripped! (confidence 5)
Statistics
Read error : 0
Jitter error (maybe fixed) : 0
Retry sector count : 0
Damaged sector count : 0

Track 12
Filename : /Users/detemps/Desktop/Volume 3/Disc 4of11/12 - Divertimento in D Major, K205-167A - IV. Meneutto.flac
Pre-gap length : 00:03:00

Track gain : -0.73 dB
Peak : 0.713715
CRC32 hash (test run) : 9ED852B5
CRC32 hash : 9ED852B5
CRC32 hash (skip zero) : B7C8F283
AccurateRip signature : 53473E0D
->Accurately ripped! (confidence 5)
Statistics
Read error : 0
Jitter error (maybe fixed) : 0
Retry sector count : 0
Damaged sector count : 0

Track 13
Filename : /Users/detemps/Desktop/Volume 3/Disc 4of11/13 - Divertimento in D Major, K205-167A - V. Finale (Presto).flac
Pre-gap length : 00:02:00

Track gain : 0.14 dB
Peak : 0.752350
CRC32 hash (test run) : C5C545CD
CRC32 hash : C5C545CD
CRC32 hash (skip zero) : FA9A21D4
AccurateRip signature : 71768FCE
->Accurately ripped! (confidence 5)
Statistics
Read error : 0
Jitter error (maybe fixed) : 0
Retry sector count : 0
Damaged sector count : 0

No errors occurred

End of status report
X Lossless Decoder version 20110821 (136.1)

XLD extraction logfile from 2011-09-26 12:00:35 +0300

Academy of St martin-in-the-Fields Chamber Ensemble / Divertimenti for Strings & Wind [Volume 3]

Used drive : TSSTcorp CDDVDW SE-S084C (revision TS01)

Ripper mode : XLD Secure Ripper
Disable audio cache : OK for the drive with a cache less than 1375KiB
Make use of C2 pointers : NO
Read offset correction : 6
Max retry count : 100
Gap status : Analyzed, Appended (except HTOA)

TOC of the extracted CD
Track | Start | Length | Start sector | End sector
––––––––––––––––––––––––––––-
1 | 00:00:32 | 03:48:45 | 32 | 17176
2 | 03:49:02 | 09:55:63 | 17177 | 61864
3 | 13:44:65 | 09:03:37 | 61865 | 102626
4 | 22:48:27 | 04:34:58 | 102627 | 123234
5 | 27:23:10 | 11:03:27 | 123235 | 172986
6 | 38:26:37 | 07:11:10 | 172987 | 205321
7 | 45:37:47 | 09:38:30 | 205322 | 248701

AccurateRip Summary
Track 01 : OK (confidence 5)
Track 02 : OK (confidence 5)
Track 03 : OK (confidence 5)
Track 04 : OK (confidence 5)
Track 05 : OK (confidence 5)
Track 06 : OK (confidence 5)
Track 07 : OK (confidence 5)
->All tracks accurately ripped.

All Tracks
Album gain : 0.95 dB
Peak : 0.971130
Statistics
Read error : 0
Jitter error (maybe fixed) : 0
Retry sector count : 0
Damaged sector count : 0

Track 01
Filename : /Users/detemps/Desktop/Volume 3/Disc 5of11/01 - March in D Major, K445-320c.flac
Pre-gap length : 00:02:32

Track gain : -1.36 dB
Peak : 0.971130
CRC32 hash (test run) : 9B1876BE
CRC32 hash : 9B1876BE
CRC32 hash (skip zero) : 9373373B
AccurateRip signature : 838BADAE
->Accurately ripped! (confidence 5)
Statistics
Read error : 0
Jitter error (maybe fixed) : 0
Retry sector count : 0
Damaged sector count : 0

Track 02
Filename : /Users/detemps/Desktop/Volume 3/Disc 5of11/02 - Divertimento in D Major, K334-320b - I. Allegro.flac
Pre-gap length : 00:05:55

Track gain : 0.41 dB
Peak : 0.934631
CRC32 hash (test run) : B9B69317
CRC32 hash : B9B69317
CRC32 hash (skip zero) : A8C2646E
AccurateRip signature : 08FAE42D
->Accurately ripped! (confidence 5)
Statistics
Read error : 0
Jitter error (maybe fixed) : 0
Retry sector count : 0
Damaged sector count : 0

Track 03
Filename : /Users/detemps/Desktop/Volume 3/Disc 5of11/03 - Divertimento in D Major, K334-320b - II. Thema mit Variationen (Andante).flac
Pre-gap length : 00:05:63

Track gain : 0.59 dB
Peak : 0.733887
CRC32 hash (test run) : C1412AB4
CRC32 hash : C1412AB4
CRC32 hash (skip zero) : 2CCA560C
AccurateRip signature : 299B2EC5
->Accurately ripped! (confidence 5)
Statistics
Read error : 0
Jitter error (maybe fixed) : 0
Retry sector count : 0
Damaged sector count : 0

Track 04
Filename : /Users/detemps/Desktop/Volume 3/Disc 5of11/04 - Divertimento in D Major, K334-320b - III. Menuetto.flac
Pre-gap length : 00:02:70

Track gain : 0.17 dB
Peak : 0.953186
CRC32 hash (test run) : 0F92B14C
CRC32 hash : 0F92B14C
CRC32 hash (skip zero) : 4BB7F32C
AccurateRip signature : A45177C1
->Accurately ripped! (confidence 5)
Statistics
Read error : 0
Jitter error (maybe fixed) : 0
Retry sector count : 0
Damaged sector count : 0

Track 05
Filename : /Users/detemps/Desktop/Volume 3/Disc 5of11/05 - Divertimento in D Major, K334-320b - IV. Adagio.flac
Pre-gap length : 00:03:30

Track gain : 5.68 dB
Peak : 0.599609
CRC32 hash (test run) : DB8E8B1B
CRC32 hash : DB8E8B1B
CRC32 hash (skip zero) : 155AC8EA
AccurateRip signature : 3E3E477C
->Accurately ripped! (confidence 5)
Statistics
Read error : 0
Jitter error (maybe fixed) : 0
Retry sector count : 0
Damaged sector count : 0

Track 06
Filename : /Users/detemps/Desktop/Volume 3/Disc 5of11/06 - Divertimento in D Major, K334-320b - V. Menuetto.flac
Pre-gap length : 00:03:35

Track gain : 1.42 dB
Peak : 0.891205
CRC32 hash (test run) : 1E72FD75
CRC32 hash : 1E72FD75
CRC32 hash (skip zero) : C4230E9A
AccurateRip signature : D85981DC
->Accurately ripped! (confidence 5)
Statistics
Read error : 0
Jitter error (maybe fixed) : 0
Retry sector count : 0
Damaged sector count : 0

Track 07
Filename : /Users/detemps/Desktop/Volume 3/Disc 5of11/07 - Divertimento in D Major, K334-320b - VI. Rondo (Allegro).flac
Pre-gap length : 00:02:15

Track gain : 1.09 dB
Peak : 0.933197
CRC32 hash (test run) : 77314944
CRC32 hash : 77314944
CRC32 hash (skip zero) : 2470849C
AccurateRip signature : B269E3C0
->Accurately ripped! (confidence 5)
Statistics
Read error : 0
Jitter error (maybe fixed) : 0
Retry sector count : 0
Damaged sector count : 0

No errors occurred

End of status report
X Lossless Decoder version 20110821 (136.1)

XLD extraction logfile from 2011-09-26 11:38:12 +0300

Various Artists / Divertimenti & Serenades for Wind [Volume 3]

Used drive : TSSTcorp CDDVDW SE-S084C (revision TS01)

Ripper mode : XLD Secure Ripper
Disable audio cache : OK for the drive with a cache less than 1375KiB
Make use of C2 pointers : NO
Read offset correction : 6
Max retry count : 100
Gap status : Analyzed, Appended (except HTOA)

TOC of the extracted CD
Track | Start | Length | Start sector | End sector
––––––––––––––––––––––––––––-
1 | 00:00:32 | 01:51:18 | 32 | 8374
2 | 01:51:50 | 07:04:57 | 8375 | 40231
3 | 08:56:32 | 08:41:00 | 40232 | 79306
4 | 17:37:32 | 05:42:00 | 79307 | 104956
5 | 23:19:32 | 05:05:00 | 104957 | 127831
6 | 28:24:32 | 07:29:00 | 127832 | 161506
7 | 35:53:32 | 09:47:25 | 161507 | 205556
8 | 45:40:57 | 03:29:50 | 205557 | 221281
9 | 49:10:32 | 02:12:00 | 221282 | 231181
10 | 51:22:32 | 01:53:00 | 231182 | 239656
11 | 53:15:32 | 01:10:00 | 239657 | 244906
12 | 54:25:32 | 01:46:00 | 244907 | 252856
13 | 56:11:32 | 00:53:00 | 252857 | 256831
14 | 57:04:32 | 00:52:00 | 256832 | 260731

List of alternate offset correction values
# | Absolute | Relative | Confidence
–––––––––––––––––––––
1 | 670 | 664 | 3
2 | 1290 | 1284 | 2

AccurateRip Summary
Track 01 : OK (confidence 4)
Track 02 : OK (confidence 4)
Track 03 : OK (confidence 4)
Track 04 : OK (confidence 4)
Track 05 : OK (confidence 4)
Track 06 : OK (confidence 4)
Track 07 : OK (confidence 4)
Track 08 : OK (confidence 4)
Track 09 : OK (confidence 4)
Track 10 : OK (confidence 4)
Track 11 : OK (confidence 4)
Track 12 : OK (confidence 4)
Track 13 : OK (confidence 4)
Track 14 : OK (confidence 4)
->All tracks accurately ripped.

All Tracks
Album gain : 0.28 dB
Peak : 0.883728
Statistics
Read error : 0
Jitter error (maybe fixed) : 0
Retry sector count : 0
Damaged sector count : 0

Track 01
Filename : /Users/detemps/Desktop/Volume 3/Disc 6of11/01 - Serenade in B Flat major, K361-370a 'Gran Partita' - I. Largo-.flac
Pre-gap length : 00:02:32

Track gain : -2.12 dB
Peak : 0.701294
CRC32 hash (test run) : 9866FF7F
CRC32 hash : 9866FF7F
CRC32 hash (skip zero) : 31CA67F7
AccurateRip signature : CA662E72
->Accurately ripped! (confidence 4)
Statistics
Read error : 0
Jitter error (maybe fixed) : 0
Retry sector count : 0
Damaged sector count : 0

Track 02
Filename : /Users/detemps/Desktop/Volume 3/Disc 6of11/02 - Serenade in B Flat major, K361-370a 'Gran Partita' - I. Allegro molto.flac

Track gain : -0.92 dB
Peak : 0.823090
CRC32 hash (test run) : 78428BAD
CRC32 hash : 78428BAD
CRC32 hash (skip zero) : BB03AE28
AccurateRip signature : EE787D86
->Accurately ripped! (confidence 4)
Statistics
Read error : 0
Jitter error (maybe fixed) : 0
Retry sector count : 0
Damaged sector count : 0

Track 03
Filename : /Users/detemps/Desktop/Volume 3/Disc 6of11/03 - Serenade in B Flat major, K361-370a 'Gran Partita' - II. Menuetto - Trio I-II.flac

Track gain : -0.83 dB
Peak : 0.787872
CRC32 hash (test run) : 1A2D2CE7
CRC32 hash : 1A2D2CE7
CRC32 hash (skip zero) : D773682B
AccurateRip signature : A62BEC1A
->Accurately ripped! (confidence 4)
Statistics
Read error : 0
Jitter error (maybe fixed) : 0
Retry sector count : 0
Damaged sector count : 0

Track 04
Filename : /Users/detemps/Desktop/Volume 3/Disc 6of11/04 - Serenade in B Flat major, K361-370a 'Gran Partita' - III. Adagio.flac
Pre-gap length : 00:04:00

Track gain : 4.77 dB
Peak : 0.417847
CRC32 hash (test run) : 4AC89539
CRC32 hash : 4AC89539
CRC32 hash (skip zero) : B6B50B05
AccurateRip signature : C0A7239D
->Accurately ripped! (confidence 4)
Statistics
Read error : 0
Jitter error (maybe fixed) : 0
Retry sector count : 0
Damaged sector count : 0

Track 05
Filename : /Users/detemps/Desktop/Volume 3/Disc 6of11/05 - Serenade in B Flat major, K361-370a 'Gran Partita' - IV. Menuetto (Allegretto) - Trio I-II.flac
Pre-gap length : 00:03:00

Track gain : -0.04 dB
Peak : 0.864655
CRC32 hash (test run) : E3C07C88
CRC32 hash : E3C07C88
CRC32 hash (skip zero) : 3F0D2BAF
AccurateRip signature : BA64B82E
->Accurately ripped! (confidence 4)
Statistics
Read error : 0
Jitter error (maybe fixed) : 0
Retry sector count : 0
Damaged sector count : 0

Track 06
Filename : /Users/detemps/Desktop/Volume 3/Disc 6of11/06 - Serenade in B Flat major, K361-370a 'Gran Partita' - V. Romanze (Adagio - Allegretto - Adagio).flac
Pre-gap length : 00:04:00

Track gain : 1.17 dB
Peak : 0.743011
CRC32 hash (test run) : CB884B29
CRC32 hash : CB884B29
CRC32 hash (skip zero) : 562607C3
AccurateRip signature : 92F573B0
->Accurately ripped! (confidence 4)
Statistics
Read error : 0
Jitter error (maybe fixed) : 0
Retry sector count : 0
Damaged sector count : 0

Track 07
Filename : /Users/detemps/Desktop/Volume 3/Disc 6of11/07 - Serenade in B Flat major, K361-370a 'Gran Partita' - VI. Thema mit Variationen (Andante).flac
Pre-gap length : 00:02:00

Track gain : 2.11 dB
Peak : 0.772552
CRC32 hash (test run) : B75B2622
CRC32 hash : B75B2622
CRC32 hash (skip zero) : B0F8F0FA
AccurateRip signature : 586649AF
->Accurately ripped! (confidence 4)
Statistics
Read error : 0
Jitter error (maybe fixed) : 0
Retry sector count : 0
Damaged sector count : 0

Track 08
Filename : /Users/detemps/Desktop/Volume 3/Disc 6of11/08 - Serenade in B Flat major, K361-370a 'Gran Partita' - VII. Finale (Molto allegro).flac

Track gain : 0.64 dB
Peak : 0.653107
CRC32 hash (test run) : E0968F9B
CRC32 hash : E0968F9B
CRC32 hash (skip zero) : 26810AB1
AccurateRip signature : 6490A3DA
->Accurately ripped! (confidence 4)
Statistics
Read error : 0
Jitter error (maybe fixed) : 0
Retry sector count : 0
Damaged sector count : 0

Track 09
Filename : /Users/detemps/Desktop/Volume 3/Disc 6of11/09 - Divertimento in C Major, K188-240b - I. Andante.flac
Pre-gap length : 00:11:00

Track gain : 2.35 dB
Peak : 0.503265
CRC32 hash (test run) : 78B0AFCD
CRC32 hash : 78B0AFCD
CRC32 hash (skip zero) : C6874170
AccurateRip signature : 4A23FDB7
->Accurately ripped! (confidence 4)
Statistics
Read error : 0
Jitter error (maybe fixed) : 0
Retry sector count : 0
Damaged sector count : 0

Track 10
Filename : /Users/detemps/Desktop/Volume 3/Disc 6of11/10 - Divertimento in C Major, K188-240b - I. Allegro.flac

Track gain : 1.69 dB
Peak : 0.639404
CRC32 hash (test run) : 83763A8E
CRC32 hash : 83763A8E
CRC32 hash (skip zero) : 803C0430
AccurateRip signature : 7D17671B
->Accurately ripped! (confidence 4)
Statistics
Read error : 0
Jitter error (maybe fixed) : 0
Retry sector count : 0
Damaged sector count : 0

Track 11
Filename : /Users/detemps/Desktop/Volume 3/Disc 6of11/11 - Divertimento in C Major, K188-240b - II. Menuetto.flac
Pre-gap length : 00:01:00

Track gain : 0.55 dB
Peak : 0.782013
CRC32 hash (test run) : 78189E6B
CRC32 hash : 78189E6B
CRC32 hash (skip zero) : 8A2773A9
AccurateRip signature : 4EEAE0B3
->Accurately ripped! (confidence 4)
Statistics
Read error : 0
Jitter error (maybe fixed) : 0
Retry sector count : 0
Damaged sector count : 0

Track 12
Filename : /Users/detemps/Desktop/Volume 3/Disc 6of11/12 - Divertimento in C Major, K188-240b - III. Andante.flac

Track gain : -0.43 dB
Peak : 0.883728
CRC32 hash (test run) : BBFFDC5D
CRC32 hash : BBFFDC5D
CRC32 hash (skip zero) : ECC7AA8D
AccurateRip signature : 827A3267
->Accurately ripped! (confidence 4)
Statistics
Read error : 0
Jitter error (maybe fixed) : 0
Retry sector count : 0
Damaged sector count : 0

Track 13
Filename : /Users/detemps/Desktop/Volume 3/Disc 6of11/13 - Divertimento in C Major, K188-240b - IV. Menuetto.flac
Pre-gap length : 00:01:00

Track gain : -0.44 dB
Peak : 0.736328
CRC32 hash (test run) : 82D8D6C1
CRC32 hash : 82D8D6C1
CRC32 hash (skip zero) : F85AED9D
AccurateRip signature : C9B25582
->Accurately ripped! (confidence 4)
Statistics
Read error : 0
Jitter error (maybe fixed) : 0
Retry sector count : 0
Damaged sector count : 0

Track 14
Filename : /Users/detemps/Desktop/Volume 3/Disc 6of11/14 - Divertimento in C Major, K188-240b - V. Gavotte.flac
Pre-gap length : 00:01:00

Track gain : 2.09 dB
Peak : 0.548004
CRC32 hash (test run) : 6A02025F
CRC32 hash : 6A02025F
CRC32 hash (skip zero) : D690E38E
AccurateRip signature : 8329547D
->Accurately ripped! (confidence 4)
Statistics
Read error : 0
Jitter error (maybe fixed) : 0
Retry sector count : 0
Damaged sector count : 0

No errors occurred

End of status report
X Lossless Decoder version 20110821 (136.1)

XLD extraction logfile from 2011-09-26 11:12:50 +0300

Holliger Wind Ensemble / Serenades for Wind [Volume 3]

Used drive : TSSTcorp CDDVDW SE-S084C (revision TS01)

Ripper mode : XLD Secure Ripper
Disable audio cache : OK for the drive with a cache less than 1375KiB
Make use of C2 pointers : NO
Read offset correction : 6
Max retry count : 100
Gap status : Analyzed, Appended (except HTOA)

TOC of the extracted CD
Track | Start | Length | Start sector | End sector
––––––––––––––––––––––––––––-
1 | 00:00:00 | 08:25:50 | 0 | 37924
2 | 08:25:50 | 04:23:00 | 37925 | 57649
3 | 12:48:50 | 04:28:60 | 57650 | 77809
4 | 17:17:35 | 06:56:03 | 77810 | 109012
5 | 24:13:38 | 08:24:00 | 109013 | 146812
6 | 32:37:38 | 04:17:37 | 146813 | 166124
7 | 36:55:00 | 06:04:00 | 166125 | 193424
8 | 42:59:00 | 02:54:65 | 193425 | 206539
9 | 45:53:65 | 03:52:10 | 206540 | 223949

AccurateRip Summary
Track 01 : OK (confidence 4)
Track 02 : OK (confidence 4)
Track 03 : OK (confidence 4)
Track 04 : OK (confidence 4)
Track 05 : OK (confidence 4)
Track 06 : OK (confidence 4)
Track 07 : OK (confidence 4)
Track 08 : OK (confidence 4)
Track 09 : OK (confidence 4)
->All tracks accurately ripped.

All Tracks
Album gain : -0.74 dB
Peak : 0.770264
Statistics
Read error : 0
Jitter error (maybe fixed) : 0
Retry sector count : 0
Damaged sector count : 0

Track 01
Filename : /Users/detemps/Desktop/Volume 3/Disc 7of11/01 - Serenade in C Minor, K388-382a 'Nacht Musique' - I. Allegro.flac
Pre-gap length : 00:02:00

Track gain : -1.16 dB
Peak : 0.757568
CRC32 hash (test run) : 60B73726
CRC32 hash : 60B73726
CRC32 hash (skip zero) : 6EC0F20A
AccurateRip signature : 8DADBFD2
->Accurately ripped! (confidence 4)
Statistics
Read error : 0
Jitter error (maybe fixed) : 0
Retry sector count : 0
Damaged sector count : 0

Track 02
Filename : /Users/detemps/Desktop/Volume 3/Disc 7of11/02 - Serenade in C Minor, K388-382a 'Nacht Musique' - II. Andante.flac
Pre-gap length : 00:02:12

Track gain : 0.21 dB
Peak : 0.623474
CRC32 hash (test run) : 46888F28
CRC32 hash : 46888F28
CRC32 hash (skip zero) : 3C3F96E2
AccurateRip signature : 4A4401B7
->Accurately ripped! (confidence 4)
Statistics
Read error : 0
Jitter error (maybe fixed) : 0
Retry sector count : 0
Damaged sector count : 0

Track 03
Filename : /Users/detemps/Desktop/Volume 3/Disc 7of11/03 - Serenade in C Minor, K388-382a 'Nacht Musique' - III. Menuetto in canone.flac
Pre-gap length : 00:02:50

Track gain : -0.75 dB
Peak : 0.650238
CRC32 hash (test run) : 44193645
CRC32 hash : 44193645
CRC32 hash (skip zero) : 4A34DE9F
AccurateRip signature : 08EA486F
->Accurately ripped! (confidence 4)
Statistics
Read error : 0
Jitter error (maybe fixed) : 0
Retry sector count : 0
Damaged sector count : 0

Track 04
Filename : /Users/detemps/Desktop/Volume 3/Disc 7of11/04 - Serenade in C Minor, K388-382a 'Nacht Musique' - IV. Allegro.flac

Track gain : 0.02 dB
Peak : 0.729431
CRC32 hash (test run) : F48D0662
CRC32 hash : F48D0662
CRC32 hash (skip zero) : 1DD32F99
AccurateRip signature : A9CA3FDD
->Accurately ripped! (confidence 4)
Statistics
Read error : 0
Jitter error (maybe fixed) : 0
Retry sector count : 0
Damaged sector count : 0

Track 05
Filename : /Users/detemps/Desktop/Volume 3/Disc 7of11/05 - Serenade in E Flat Major, K375 - I. Allegro maestoso.flac
Pre-gap length : 00:08:38

Track gain : -0.68 dB
Peak : 0.770264
CRC32 hash (test run) : DAD5EE5D
CRC32 hash : DAD5EE5D
CRC32 hash (skip zero) : CFD18E08
AccurateRip signature : A18CCE40
->Accurately ripped! (confidence 4)
Statistics
Read error : 0
Jitter error (maybe fixed) : 0
Retry sector count : 0
Damaged sector count : 0

Track 06
Filename : /Users/detemps/Desktop/Volume 3/Disc 7of11/06 - Serenade in E Flat Major, K375 - II. Menuetto.flac
Pre-gap length : 00:01:13

Track gain : -1.86 dB
Peak : 0.717773
CRC32 hash (test run) : B2E1FE48
CRC32 hash : B2E1FE48
CRC32 hash (skip zero) : 03CAC852
AccurateRip signature : 51B269BA
->Accurately ripped! (confidence 4)
Statistics
Read error : 0
Jitter error (maybe fixed) : 0
Retry sector count : 0
Damaged sector count : 0

Track 07
Filename : /Users/detemps/Desktop/Volume 3/Disc 7of11/07 - Serenade in E Flat Major, K375 - III. Adagio.flac
Pre-gap length : 00:01:37

Track gain : -0.45 dB
Peak : 0.733551
CRC32 hash (test run) : C99F3C37
CRC32 hash : C99F3C37
CRC32 hash (skip zero) : DD6F08AB
AccurateRip signature : F294DD91
->Accurately ripped! (confidence 4)
Statistics
Read error : 0
Jitter error (maybe fixed) : 0
Retry sector count : 0
Damaged sector count : 0

Track 08
Filename : /Users/detemps/Desktop/Volume 3/Disc 7of11/08 - Serenade in E Flat Major, K375 - IV. Menuetto.flac
Pre-gap length : 00:01:00

Track gain : -1.00 dB
Peak : 0.686005
CRC32 hash (test run) : 5A01237F
CRC32 hash : 5A01237F
CRC32 hash (skip zero) : 6C184571
AccurateRip signature : DAC73102
->Accurately ripped! (confidence 4)
Statistics
Read error : 0
Jitter error (maybe fixed) : 0
Retry sector count : 0
Damaged sector count : 0

Track 09
Filename : /Users/detemps/Desktop/Volume 3/Disc 7of11/09 - Serenade in E Flat Major, K375 - V. Finale (Allegro).flac

Track gain : -0.46 dB
Peak : 0.742889
CRC32 hash (test run) : 4FD6BC81
CRC32 hash : 4FD6BC81
CRC32 hash (skip zero) : C585EEE2
AccurateRip signature : 4EBAAE75
->Accurately ripped! (confidence 4)
Statistics
Read error : 0
Jitter error (maybe fixed) : 0
Retry sector count : 0
Damaged sector count : 0

No errors occurred

End of status report
X Lossless Decoder version 20110821 (136.1)

XLD extraction logfile from 2011-09-26 10:48:51 +0300

Various Artists / Divertimenti for Wind [Volume 3]

Used drive : TSSTcorp CDDVDW SE-S084C (revision TS01)

Ripper mode : XLD Secure Ripper
Disable audio cache : OK for the drive with a cache less than 1375KiB
Make use of C2 pointers : NO
Read offset correction : 6
Max retry count : 100
Gap status : Analyzed, Appended (except HTOA)

TOC of the extracted CD
Track | Start | Length | Start sector | End sector
––––––––––––––––––––––––––––-
1 | 00:00:32 | 01:57:00 | 32 | 8806
2 | 01:57:32 | 02:24:00 | 8807 | 19606
3 | 04:21:32 | 02:23:00 | 19607 | 30331
4 | 06:44:32 | 02:29:00 | 30332 | 41506
5 | 09:13:32 | 02:22:00 | 41507 | 52156
6 | 11:35:32 | 03:04:00 | 52157 | 65956
7 | 14:39:32 | 04:36:00 | 65957 | 86656
8 | 19:15:32 | 02:48:00 | 86657 | 99256
9 | 22:03:32 | 01:05:00 | 99257 | 104131
10 | 23:08:32 | 02:14:00 | 104132 | 114181
11 | 25:22:32 | 06:07:00 | 114182 | 141706
12 | 31:29:32 | 01:35:00 | 141707 | 148831
13 | 33:04:32 | 09:38:00 | 148832 | 192181
14 | 42:42:32 | 06:13:00 | 192182 | 220156
15 | 48:55:32 | 03:59:00 | 220157 | 238081
16 | 52:54:32 | 03:10:00 | 238082 | 252331
17 | 56:04:32 | 03:00:00 | 252332 | 265831

AccurateRip Summary
Track 01 : OK (confidence 5)
Track 02 : OK (confidence 5)
Track 03 : OK (confidence 5)
Track 04 : OK (confidence 5)
Track 05 : OK (confidence 5)
Track 06 : OK (confidence 5)
Track 07 : OK (confidence 5)
Track 08 : OK (confidence 5)
Track 09 : OK (confidence 5)
Track 10 : OK (confidence 5)
Track 11 : OK (confidence 5)
Track 12 : OK (confidence 5)
Track 13 : OK (confidence 5)
Track 14 : OK (confidence 5)
Track 15 : OK (confidence 5)
Track 16 : OK (confidence 5)
Track 17 : OK (confidence 5)
->All tracks accurately ripped.

All Tracks
Album gain : 1.69 dB
Peak : 0.902771
Statistics
Read error : 0
Jitter error (maybe fixed) : 0
Retry sector count : 0
Damaged sector count : 0

Track 01
Filename : /Users/detemps/Desktop/Volume 3/Disc 8of11/01 - Divertimento in B Flat Major, K186-159b - I. Allegro assai.flac
Pre-gap length : 00:02:32

Track gain : -0.61 dB
Peak : 0.722412
CRC32 hash (test run) : FB8438EE
CRC32 hash : FB8438EE
CRC32 hash (skip zero) : F9DE68D5
AccurateRip signature : B94F6607
->Accurately ripped! (confidence 5)
Statistics
Read error : 0
Jitter error (maybe fixed) : 0
Retry sector count : 0
Damaged sector count : 0

Track 02
Filename : /Users/detemps/Desktop/Volume 3/Disc 8of11/02 - Divertimento in B Flat Major, K186-159b - II. Menuetto.flac
Pre-gap length : 00:01:00

Track gain : 1.20 dB
Peak : 0.556396
CRC32 hash (test run) : 36A6F379
CRC32 hash : 36A6F379
CRC32 hash (skip zero) : 57F9CF62
AccurateRip signature : 3B942E9C
->Accurately ripped! (confidence 5)
Statistics
Read error : 0
Jitter error (maybe fixed) : 0
Retry sector count : 0
Damaged sector count : 0

Track 03
Filename : /Users/detemps/Desktop/Volume 3/Disc 8of11/03 - Divertimento in B Flat Major, K186-159b - III. Andante.flac
Pre-gap length : 00:01:00

Track gain : -0.99 dB
Peak : 0.728088
CRC32 hash (test run) : 7ACFDFF3
CRC32 hash : 7ACFDFF3
CRC32 hash (skip zero) : 041EA690
AccurateRip signature : 65E475E3
->Accurately ripped! (confidence 5)
Statistics
Read error : 0
Jitter error (maybe fixed) : 0
Retry sector count : 0
Damaged sector count : 0

Track 04
Filename : /Users/detemps/Desktop/Volume 3/Disc 8of11/04 - Divertimento in B Flat Major, K186-159b - IV. Adagio.flac
Pre-gap length : 00:03:00

Track gain : 4.37 dB
Peak : 0.328888
CRC32 hash (test run) : 7BE9A264
CRC32 hash : 7BE9A264
CRC32 hash (skip zero) : EBEA07D8
AccurateRip signature : 9638FA5A
->Accurately ripped! (confidence 5)
Statistics
Read error : 0
Jitter error (maybe fixed) : 0
Retry sector count : 0
Damaged sector count : 0

Track 05
Filename : /Users/detemps/Desktop/Volume 3/Disc 8of11/05 - Divertimento in B Flat Major, K186-159b - V. Allegro.flac
Pre-gap length : 00:01:00

Track gain : -0.87 dB
Peak : 0.900208
CRC32 hash (test run) : 01F946E8
CRC32 hash : 01F946E8
CRC32 hash (skip zero) : 5E1738C3
AccurateRip signature : 3E15D1E6
->Accurately ripped! (confidence 5)
Statistics
Read error : 0
Jitter error (maybe fixed) : 0
Retry sector count : 0
Damaged sector count : 0

Track 06
Filename : /Users/detemps/Desktop/Volume 3/Disc 8of11/06 - Divertimento in E FlatMajor, K166-159d - I. Allegro.flac
Pre-gap length : 00:07:00

Track gain : -2.31 dB
Peak : 0.902771
CRC32 hash (test run) : 9F817B0D
CRC32 hash : 9F817B0D
CRC32 hash (skip zero) : 9645462E
AccurateRip signature : 015B6D13
->Accurately ripped! (confidence 5)
Statistics
Read error : 0
Jitter error (maybe fixed) : 0
Retry sector count : 0
Damaged sector count : 0

Track 07
Filename : /Users/detemps/Desktop/Volume 3/Disc 8of11/07 - Divertimento in E FlatMajor, K166-159d - II. Menuetto.flac
Pre-gap length : 00:01:00

Track gain : 2.10 dB
Peak : 0.610809
CRC32 hash (test run) : 9B5646EC
CRC32 hash : 9B5646EC
CRC32 hash (skip zero) : B3CC87DF
AccurateRip signature : 0B62520D
->Accurately ripped! (confidence 5)
Statistics
Read error : 0
Jitter error (maybe fixed) : 0
Retry sector count : 0
Damaged sector count : 0

Track 08
Filename : /Users/detemps/Desktop/Volume 3/Disc 8of11/08 - Divertimento in E FlatMajor, K166-159d - III. Andante grazioso.flac
Pre-gap length : 00:02:00

Track gain : 2.95 dB
Peak : 0.535278
CRC32 hash (test run) : CDEE1B1F
CRC32 hash : CDEE1B1F
CRC32 hash (skip zero) : E02B2094
AccurateRip signature : EF016F87
->Accurately ripped! (confidence 5)
Statistics
Read error : 0
Jitter error (maybe fixed) : 0
Retry sector count : 0
Damaged sector count : 0

Track 09
Filename : /Users/detemps/Desktop/Volume 3/Disc 8of11/09 - Divertimento in E FlatMajor, K166-159d - IV. Adagio.flac
Pre-gap length : 00:02:00

Track gain : -0.11 dB
Peak : 0.528625
CRC32 hash (test run) : 76195BB0
CRC32 hash : 76195BB0
CRC32 hash (skip zero) : 8F9B18A0
AccurateRip signature : C0E4298B
->Accurately ripped! (confidence 5)
Statistics
Read error : 0
Jitter error (maybe fixed) : 0
Retry sector count : 0
Damaged sector count : 0

Track 10
Filename : /Users/detemps/Desktop/Volume 3/Disc 8of11/10 - Divertimento in E FlatMajor, K166-159d - V. Allegro.flac

Track gain : -0.66 dB
Peak : 0.642334
CRC32 hash (test run) : E11A252A
CRC32 hash : E11A252A
CRC32 hash (skip zero) : 08FDF7DC
AccurateRip signature : A41C0784
->Accurately ripped! (confidence 5)
Statistics
Read error : 0
Jitter error (maybe fixed) : 0
Retry sector count : 0
Damaged sector count : 0

Track 11
Filename : /Users/detemps/Desktop/Volume 3/Disc 8of11/11 - Adagio in B Flat Major, K411-484a.flac
Pre-gap length : 00:07:00

Track gain : 3.76 dB
Peak : 0.435516
CRC32 hash (test run) : CAA35CAC
CRC32 hash : CAA35CAC
CRC32 hash (skip zero) : E520AD7D
AccurateRip signature : CB7A3067
->Accurately ripped! (confidence 5)
Statistics
Read error : 0
Jitter error (maybe fixed) : 0
Retry sector count : 0
Damaged sector count : 0

Track 12
Filename : /Users/detemps/Desktop/Volume 3/Disc 8of11/12 - Adagio in F Major, K410-484d.flac
Pre-gap length : 00:05:00

Track gain : 2.06 dB
Peak : 0.446320
CRC32 hash (test run) : 52055B04
CRC32 hash : 52055B04
CRC32 hash (skip zero) : 37806D2A
AccurateRip signature : 72E4E963
->Accurately ripped! (confidence 5)
Statistics
Read error : 0
Jitter error (maybe fixed) : 0
Retry sector count : 0
Damaged sector count : 0

Track 13
Filename : /Users/detemps/Desktop/Volume 3/Disc 8of11/13 - Adagio in C Major, K App. 94-580a.flac
Pre-gap length : 00:07:00

Track gain : 3.93 dB
Peak : 0.393188
CRC32 hash (test run) : F1A500D0
CRC32 hash : F1A500D0
CRC32 hash (skip zero) : 7A23D66C
AccurateRip signature : 3508DD5B
->Accurately ripped! (confidence 5)
Statistics
Read error : 0
Jitter error (maybe fixed) : 0
Retry sector count : 0
Damaged sector count : 0

Track 14
Filename : /Users/detemps/Desktop/Volume 3/Disc 8of11/14 - Divertimento in E Flat Major, K289-271g - I. Adagio - Allegro.flac
Pre-gap length : 00:05:00

Track gain : 3.17 dB
Peak : 0.429901
CRC32 hash (test run) : 97191F5C
CRC32 hash : 97191F5C
CRC32 hash (skip zero) : E6696E7B
AccurateRip signature : 166E8834
->Accurately ripped! (confidence 5)
Statistics
Read error : 0
Jitter error (maybe fixed) : 0
Retry sector count : 0
Damaged sector count : 0

Track 15
Filename : /Users/detemps/Desktop/Volume 3/Disc 8of11/15 - Divertimento in E Flat Major, K289-271g - II. Menuetto.flac
Pre-gap length : 00:01:00

Track gain : 3.87 dB
Peak : 0.409241
CRC32 hash (test run) : 9ED9B65B
CRC32 hash : 9ED9B65B
CRC32 hash (skip zero) : CAF61160
AccurateRip signature : 883C12FD
->Accurately ripped! (confidence 5)
Statistics
Read error : 0
Jitter error (maybe fixed) : 0
Retry sector count : 0
Damaged sector count : 0

Track 16
Filename : /Users/detemps/Desktop/Volume 3/Disc 8of11/16 - Divertimento in E Flat Major, K289-271g - III. Adagio.flac
Pre-gap length : 00:03:00

Track gain : 5.26 dB
Peak : 0.393433
CRC32 hash (test run) : D315881C
CRC32 hash : D315881C
CRC32 hash (skip zero) : 88EB9DC3
AccurateRip signature : 540FD3CC
->Accurately ripped! (confidence 5)
Statistics
Read error : 0
Jitter error (maybe fixed) : 0
Retry sector count : 0
Damaged sector count : 0

Track 17
Filename : /Users/detemps/Desktop/Volume 3/Disc 8of11/17 - Divertimento in E Flat Major, K289-271g - IV. Finale (Presto).flac
Pre-gap length : 00:01:00

Track gain : 3.94 dB
Peak : 0.451935
CRC32 hash (test run) : 1C2B7ED5
CRC32 hash : 1C2B7ED5
CRC32 hash (skip zero) : 04AA1710
AccurateRip signature : 38A04A68
->Accurately ripped! (confidence 5)
Statistics
Read error : 0
Jitter error (maybe fixed) : 0
Retry sector count : 0
Damaged sector count : 0

No errors occurred

End of status report
X Lossless Decoder version 20110821 (136.1)

XLD extraction logfile from 2011-09-26 10:20:28 +0300

Holliger Wind Ensemble / Divertimenti for Wind [Volume 3]

Used drive : TSSTcorp CDDVDW SE-S084C (revision TS01)

Ripper mode : XLD Secure Ripper
Disable audio cache : OK for the drive with a cache less than 1375KiB
Make use of C2 pointers : NO
Read offset correction : 6
Max retry count : 100
Gap status : Analyzed, Appended (except HTOA)

TOC of the extracted CD
Track | Start | Length | Start sector | End sector
––––––––––––––––––––––––––––-
1 | 00:00:33 | 04:25:00 | 33 | 19907
2 | 04:25:33 | 02:38:00 | 19908 | 31757
3 | 07:03:33 | 02:42:32 | 31758 | 43939
4 | 09:45:65 | 01:21:43 | 43940 | 50057
5 | 11:07:33 | 04:37:00 | 50058 | 70832
6 | 15:44:33 | 02:54:00 | 70833 | 83882
7 | 18:38:33 | 02:22:00 | 83883 | 94532
8 | 21:00:33 | 04:33:00 | 94533 | 115007
9 | 25:33:33 | 05:03:00 | 115008 | 137732
10 | 30:36:33 | 02:45:00 | 137733 | 150107
11 | 33:21:33 | 02:43:30 | 150108 | 162362
12 | 36:04:63 | 01:33:45 | 162363 | 169382
13 | 37:38:33 | 10:03:00 | 169383 | 214607
14 | 47:41:33 | 02:58:00 | 214608 | 227957
15 | 50:39:33 | 02:04:00 | 227958 | 237257
16 | 52:43:33 | 06:05:00 | 237258 | 264632
17 | 58:48:33 | 02:01:00 | 264633 | 273707
18 | 60:49:33 | 02:39:65 | 273708 | 285697
19 | 63:29:23 | 01:37:10 | 285698 | 292982

List of alternate offset correction values
# | Absolute | Relative | Confidence
–––––––––––––––––––––
1 | 670 | 664 | 16
2 | 758 | 752 | 4
3 | -778 | -784 | 2

AccurateRip Summary
Track 01 : OK (confidence 4)
Track 02 : OK (confidence 4)
Track 03 : OK (confidence 4)
Track 04 : OK (confidence 4)
Track 05 : OK (confidence 4)
Track 06 : OK (confidence 4)
Track 07 : OK (confidence 4)
Track 08 : OK (confidence 4)
Track 09 : OK (confidence 4)
Track 10 : OK (confidence 4)
Track 11 : OK (confidence 4)
Track 12 : OK (confidence 4)
Track 13 : OK (confidence 4)
Track 14 : OK (confidence 4)
Track 15 : OK (confidence 4)
Track 16 : OK (confidence 4)
Track 17 : OK (confidence 4)
Track 18 : OK (confidence 4)
Track 19 : OK (confidence 4)
->All tracks accurately ripped.

All Tracks
Album gain : 0.25 dB
Peak : 0.984283
Statistics
Read error : 0
Jitter error (maybe fixed) : 0
Retry sector count : 0
Damaged sector count : 0

Track 01
Filename : /Users/detemps/Desktop/Volume 3/Disc 9of11/01 - Divertimento in F Major, K213 - I. Allegro spiritoso.flac
Pre-gap length : 00:02:33

Track gain : -0.71 dB
Peak : 0.687012
CRC32 hash (test run) : 02A91A62
CRC32 hash : 02A91A62
CRC32 hash (skip zero) : 944A3A1A
AccurateRip signature : 3C72FD22
->Accurately ripped! (confidence 4)
Statistics
Read error : 0
Jitter error (maybe fixed) : 0
Retry sector count : 0
Damaged sector count : 0

Track 02
Filename : /Users/detemps/Desktop/Volume 3/Disc 9of11/02 - Divertimento in F Major, K213 - II. Andante.flac
Pre-gap length : 00:02:00

Track gain : 3.23 dB
Peak : 0.411499
CRC32 hash (test run) : 1124B55A
CRC32 hash : 1124B55A
CRC32 hash (skip zero) : E9DD24B8
AccurateRip signature : 4AF54630
->Accurately ripped! (confidence 4)
Statistics
Read error : 0
Jitter error (maybe fixed) : 0
Retry sector count : 0
Damaged sector count : 0

Track 03
Filename : /Users/detemps/Desktop/Volume 3/Disc 9of11/03 - Divertimento in F Major, K213 - III. Menuetto.flac
Pre-gap length : 00:01:00

Track gain : -2.20 dB
Peak : 0.889771
CRC32 hash (test run) : A30A3D07
CRC32 hash : A30A3D07
CRC32 hash (skip zero) : 0743F750
AccurateRip signature : BCAC2CF8
->Accurately ripped! (confidence 4)
Statistics
Read error : 0
Jitter error (maybe fixed) : 0
Retry sector count : 0
Damaged sector count : 0

Track 04
Filename : /Users/detemps/Desktop/Volume 3/Disc 9of11/04 - Divertimento in F Major, K213 - IV. Contredanse en Rondeau (Molto allegro).flac

Track gain : -3.88 dB
Peak : 0.984283
CRC32 hash (test run) : 48A769B8
CRC32 hash : 48A769B8
CRC32 hash (skip zero) : ED683126
AccurateRip signature : A7131F31
->Accurately ripped! (confidence 4)
Statistics
Read error : 0
Jitter error (maybe fixed) : 0
Retry sector count : 0
Damaged sector count : 0

Track 05
Filename : /Users/detemps/Desktop/Volume 3/Disc 9of11/05 - Divertimento in B Flat Major, K240 - I. Allegro.flac
Pre-gap length : 00:05:00

Track gain : 0.39 dB
Peak : 0.628815
CRC32 hash (test run) : B4F42906
CRC32 hash : B4F42906
CRC32 hash (skip zero) : 36036BED
AccurateRip signature : B901368B
->Accurately ripped! (confidence 4)
Statistics
Read error : 0
Jitter error (maybe fixed) : 0
Retry sector count : 0
Damaged sector count : 0

Track 06
Filename : /Users/detemps/Desktop/Volume 3/Disc 9of11/06 - Divertimento in B Flat Major, K240 - II. Andante grazioso.flac
Pre-gap length : 00:01:00

Track gain : 1.83 dB
Peak : 0.555878
CRC32 hash (test run) : 9BB615D9
CRC32 hash : 9BB615D9
CRC32 hash (skip zero) : 713CAB72
AccurateRip signature : 27DB61D4
->Accurately ripped! (confidence 4)
Statistics
Read error : 0
Jitter error (maybe fixed) : 0
Retry sector count : 0
Damaged sector count : 0

Track 07
Filename : /Users/detemps/Desktop/Volume 3/Disc 9of11/07 - Divertimento in B Flat Major, K240 - III. Menuetto.flac

Track gain : 1.54 dB
Peak : 0.607483
CRC32 hash (test run) : ACD4E620
CRC32 hash : ACD4E620
CRC32 hash (skip zero) : 633EFEBE
AccurateRip signature : EA08452E
->Accurately ripped! (confidence 4)
Statistics
Read error : 0
Jitter error (maybe fixed) : 0
Retry sector count : 0
Damaged sector count : 0

Track 08
Filename : /Users/detemps/Desktop/Volume 3/Disc 9of11/08 - Divertimento in B Flat Major, K240 - IV. Allegro.flac

Track gain : 0.09 dB
Peak : 0.668365
CRC32 hash (test run) : 94EA5FBC
CRC32 hash : 94EA5FBC
CRC32 hash (skip zero) : 5B32D639
AccurateRip signature : 16F7E62A
->Accurately ripped! (confidence 4)
Statistics
Read error : 0
Jitter error (maybe fixed) : 0
Retry sector count : 0
Damaged sector count : 0

Track 09
Filename : /Users/detemps/Desktop/Volume 3/Disc 9of11/09 - Divertimento in E Flat Major, K252-240a - I. Andante.flac
Pre-gap length : 00:05:00

Track gain : 2.08 dB
Peak : 0.640411
CRC32 hash (test run) : 7DF7C93E
CRC32 hash : 7DF7C93E
CRC32 hash (skip zero) : DA94F39B
AccurateRip signature : DB7F8342
->Accurately ripped! (confidence 4)
Statistics
Read error : 0
Jitter error (maybe fixed) : 0
Retry sector count : 0
Damaged sector count : 0

Track 10
Filename : /Users/detemps/Desktop/Volume 3/Disc 9of11/10 - Divertimento in E Flat Major, K252-240a - II. Menuetto.flac

Track gain : 0.37 dB
Peak : 0.624481
CRC32 hash (test run) : 59A736B7
CRC32 hash : 59A736B7
CRC32 hash (skip zero) : 897500F6
AccurateRip signature : D91C09B4
->Accurately ripped! (confidence 4)
Statistics
Read error : 0
Jitter error (maybe fixed) : 0
Retry sector count : 0
Damaged sector count : 0

Track 11
Filename : /Users/detemps/Desktop/Volume 3/Disc 9of11/11 - Divertimento in E Flat Major, K252-240a - III. Polonaise (Andante).flac
Pre-gap length : 00:02:00

Track gain : -1.26 dB
Peak : 0.663849
CRC32 hash (test run) : 17871834
CRC32 hash : 17871834
CRC32 hash (skip zero) : AEC72346
AccurateRip signature : C49343BC
->Accurately ripped! (confidence 4)
Statistics
Read error : 0
Jitter error (maybe fixed) : 0
Retry sector count : 0
Damaged sector count : 0

Track 12
Filename : /Users/detemps/Desktop/Volume 3/Disc 9of11/12 - Divertimento in E Flat Major, K252-240a - IV. Presto assai.flac

Track gain : 0.57 dB
Peak : 0.681519
CRC32 hash (test run) : 83B3FA06
CRC32 hash : 83B3FA06
CRC32 hash (skip zero) : 355E7449
AccurateRip signature : 3C27E97F
->Accurately ripped! (confidence 4)
Statistics
Read error : 0
Jitter error (maybe fixed) : 0
Retry sector count : 0
Damaged sector count : 0

Track 13
Filename : /Users/detemps/Desktop/Volume 3/Disc 9of11/13 - Divertimento in F Major, K253 - I. Tema con variazioni (Andante).flac
Pre-gap length : 00:05:00

Track gain : 0.76 dB
Peak : 0.781006
CRC32 hash (test run) : ADFE8266
CRC32 hash : ADFE8266
CRC32 hash (skip zero) : 2F146355
AccurateRip signature : 7DE91080
->Accurately ripped! (confidence 4)
Statistics
Read error : 0
Jitter error (maybe fixed) : 0
Retry sector count : 0
Damaged sector count : 0

Track 14
Filename : /Users/detemps/Desktop/Volume 3/Disc 9of11/14 - Divertimento in F Major, K253 - II. Menuetto.flac

Track gain : 0.51 dB
Peak : 0.581818
CRC32 hash (test run) : E9CB5F39
CRC32 hash : E9CB5F39
CRC32 hash (skip zero) : C84A5A3D
AccurateRip signature : 45971747
->Accurately ripped! (confidence 4)
Statistics
Read error : 0
Jitter error (maybe fixed) : 0
Retry sector count : 0
Damaged sector count : 0

Track 15
Filename : /Users/detemps/Desktop/Volume 3/Disc 9of11/15 - Divertimento in F Major, K253 - III. Allegro assai.flac
Pre-gap length : 00:01:00

Track gain : -0.96 dB
Peak : 0.677307
CRC32 hash (test run) : 86C18FE9
CRC32 hash : 86C18FE9
CRC32 hash (skip zero) : 232BC3F6
AccurateRip signature : 406F8A46
->Accurately ripped! (confidence 4)
Statistics
Read error : 0
Jitter error (maybe fixed) : 0
Retry sector count : 0
Damaged sector count : 0

Track 16
Filename : /Users/detemps/Desktop/Volume 3/Disc 9of11/16 - Divertimento in B Flat Major, K270 - I. Allegro molto.flac
Pre-gap length : 00:05:00

Track gain : 1.47 dB
Peak : 0.671448
CRC32 hash (test run) : CC82F388
CRC32 hash : CC82F388
CRC32 hash (skip zero) : 01BB6805
AccurateRip signature : 2223054D
->Accurately ripped! (confidence 4)
Statistics
Read error : 0
Jitter error (maybe fixed) : 0
Retry sector count : 0
Damaged sector count : 0

Track 17
Filename : /Users/detemps/Desktop/Volume 3/Disc 9of11/17 - Divertimento in B Flat Major, K270 - II. Andantino.flac
Pre-gap length : 00:01:00

Track gain : 1.33 dB
Peak : 0.554016
CRC32 hash (test run) : E6AEB505
CRC32 hash : E6AEB505
CRC32 hash (skip zero) : 8EB3009B
AccurateRip signature : 117DAC20
->Accurately ripped! (confidence 4)
Statistics
Read error : 0
Jitter error (maybe fixed) : 0
Retry sector count : 0
Damaged sector count : 0

Track 18
Filename : /Users/detemps/Desktop/Volume 3/Disc 9of11/18 - Divertimento in B Flat Major, K270 - III. Menuetto (Moderato).flac
Pre-gap length : 00:01:00

Track gain : -1.15 dB
Peak : 0.711426
CRC32 hash (test run) : AF2CD1CB
CRC32 hash : AF2CD1CB
CRC32 hash (skip zero) : D10B6FA5
AccurateRip signature : DB2E2FE1
->Accurately ripped! (confidence 4)
Statistics
Read error : 0
Jitter error (maybe fixed) : 0
Retry sector count : 0
Damaged sector count : 0

Track 19
Filename : /Users/detemps/Desktop/Volume 3/Disc 9of11/19 - Divertimento in B Flat Major, K270 - IV. Presto.flac

Track gain : -0.07 dB
Peak : 0.856873
CRC32 hash (test run) : 42B41C20
CRC32 hash : 42B41C20
CRC32 hash (skip zero) : EE94AD38
AccurateRip signature : ACA37E71
->Accurately ripped! (confidence 4)
Statistics
Read error : 0
Jitter error (maybe fixed) : 0
Retry sector count : 0
Damaged sector count : 0

No errors occurred

End of status report
X Lossless Decoder version 20110821 (136.1)

XLD extraction logfile from 2011-09-26 09:53:22 +0300

Netherlands Wind Ensemble, Edo de Waart / Divertimenti for Winds [Volume 3]

Used drive : TSSTcorp CDDVDW SE-S084C (revision TS01)

Ripper mode : XLD Secure Ripper
Disable audio cache : OK for the drive with a cache less than 1375KiB
Make use of C2 pointers : NO
Read offset correction : 6
Max retry count : 100
Gap status : Analyzed, Appended (except HTOA)

TOC of the extracted CD
Track | Start | Length | Start sector | End sector
––––––––––––––––––––––––––––-
1 | 00:00:32 | 03:37:00 | 32 | 16306
2 | 03:37:32 | 02:58:00 | 16307 | 29656
3 | 06:35:32 | 02:47:00 | 29657 | 42181
4 | 09:22:32 | 02:51:00 | 42182 | 55006
5 | 12:13:32 | 02:30:00 | 55007 | 66256
6 | 14:43:32 | 01:17:00 | 66257 | 72031
7 | 16:00:32 | 03:43:00 | 72032 | 88756
8 | 19:43:32 | 00:53:00 | 88757 | 92731
9 | 20:36:32 | 03:32:00 | 92732 | 108631
10 | 24:08:32 | 05:47:00 | 108632 | 134656
11 | 29:55:32 | 04:04:00 | 134657 | 152956
12 | 33:59:32 | 04:58:00 | 152957 | 175306
13 | 38:57:32 | 04:10:00 | 175307 | 194056
14 | 43:07:32 | 02:26:00 | 194057 | 205006
15 | 45:33:32 | 01:11:00 | 205007 | 210331
16 | 46:44:32 | 01:58:00 | 210332 | 219181
17 | 48:42:32 | 03:08:00 | 219182 | 233281
18 | 51:50:32 | 03:54:00 | 233282 | 250831
19 | 55:44:32 | 03:41:00 | 250832 | 267406
20 | 59:25:32 | 03:18:00 | 267407 | 282256
21 | 62:43:32 | 03:56:00 | 282257 | 299956

AccurateRip Summary
Track 01 : OK (confidence 4)
Track 02 : OK (confidence 4)
Track 03 : OK (confidence 4)
Track 04 : OK (confidence 4)
Track 05 : OK (confidence 4)
Track 06 : OK (confidence 4)
Track 07 : OK (confidence 4)
Track 08 : OK (confidence 4)
Track 09 : OK (confidence 4)
Track 10 : OK (confidence 4)
Track 11 : OK (confidence 4)
Track 12 : OK (confidence 4)
Track 13 : OK (confidence 4)
Track 14 : OK (confidence 4)
Track 15 : OK (confidence 4)
Track 16 : OK (confidence 4)
Track 17 : OK (confidence 4)
Track 18 : OK (confidence 4)
Track 19 : OK (confidence 4)
Track 20 : OK (confidence 4)
Track 21 : OK (confidence 4)
->All tracks accurately ripped.

All Tracks
Album gain : -2.36 dB
Peak : 0.977203
Statistics
Read error : 0
Jitter error (maybe fixed) : 0
Retry sector count : 0
Damaged sector count : 0

Track 01
Filename : /Users/detemps/Desktop/Volume 3/Disc 10of11/01 - Divertimento in B Flat Major, K App. 229-439b No. 1 - I. Allegro.flac
Pre-gap length : 00:02:32

Track gain : -1.36 dB
Peak : 0.726471
CRC32 hash (test run) : 0D742412
CRC32 hash : 0D742412
CRC32 hash (skip zero) : 44BC7B39
AccurateRip signature : ACBA7531
->Accurately ripped! (confidence 4)
Statistics
Read error : 0
Jitter error (maybe fixed) : 0
Retry sector count : 0
Damaged sector count : 0

Track 02
Filename : /Users/detemps/Desktop/Volume 3/Disc 10of11/02 - Divertimento in B Flat Major, K App. 229-439b No. 1 - II. Menuetto.flac
Pre-gap length : 00:03:00

Track gain : -2.68 dB
Peak : 0.742584
CRC32 hash (test run) : 611FE553
CRC32 hash : 611FE553
CRC32 hash (skip zero) : 2431D7FE
AccurateRip signature : EA443CC2
->Accurately ripped! (confidence 4)
Statistics
Read error : 0
Jitter error (maybe fixed) : 0
Retry sector count : 0
Damaged sector count : 0

Track 03
Filename : /Users/detemps/Desktop/Volume 3/Disc 10of11/03 - Divertimento in B Flat Major, K App. 229-439b No. 1 - III. Adagio.flac
Pre-gap length : 00:02:00

Track gain : -1.83 dB
Peak : 0.783020
CRC32 hash (test run) : F7577EE6
CRC32 hash : F7577EE6
CRC32 hash (skip zero) : 1FDDFA64
AccurateRip signature : 17B1D645
->Accurately ripped! (confidence 4)
Statistics
Read error : 0
Jitter error (maybe fixed) : 0
Retry sector count : 0
Damaged sector count : 0

Track 04
Filename : /Users/detemps/Desktop/Volume 3/Disc 10of11/04 - Divertimento in B Flat Major, K App. 229-439b No. 1 - IV. Menuetto.flac
Pre-gap length : 00:02:00

Track gain : -1.80 dB
Peak : 0.670044
CRC32 hash (test run) : 59E0DD2B
CRC32 hash : 59E0DD2B
CRC32 hash (skip zero) : 52800FD0
AccurateRip signature : 0910B931
->Accurately ripped! (confidence 4)
Statistics
Read error : 0
Jitter error (maybe fixed) : 0
Retry sector count : 0
Damaged sector count : 0

Track 05
Filename : /Users/detemps/Desktop/Volume 3/Disc 10of11/05 - Divertimento in B Flat Major, K App. 229-439b No. 1 - V. Rondo (Allegro).flac
Pre-gap length : 00:02:00

Track gain : -2.52 dB
Peak : 0.826172
CRC32 hash (test run) : D6CF0348
CRC32 hash : D6CF0348
CRC32 hash (skip zero) : CD904F47
AccurateRip signature : D5BED592
->Accurately ripped! (confidence 4)
Statistics
Read error : 0
Jitter error (maybe fixed) : 0
Retry sector count : 0
Damaged sector count : 0

Track 06
Filename : /Users/detemps/Desktop/Volume 3/Disc 10of11/06 - Three (twelve) Duos from K487-496a - No. 3 Polonaise.flac
Pre-gap length : 00:07:00

Track gain : -4.40 dB
Peak : 0.813385
CRC32 hash (test run) : B1F73622
CRC32 hash : B1F73622
CRC32 hash (skip zero) : ED904467
AccurateRip signature : 5E70C9BE
->Accurately ripped! (confidence 4)
Statistics
Read error : 0
Jitter error (maybe fixed) : 0
Retry sector count : 0
Damaged sector count : 0

Track 07
Filename : /Users/detemps/Desktop/Volume 3/Disc 10of11/07 - Three (twelve) Duos from K487-496a - No. 6 Menuetto.flac
Pre-gap length : 00:02:00

Track gain : -2.02 dB
Peak : 0.623627
CRC32 hash (test run) : 815BB145
CRC32 hash : 815BB145
CRC32 hash (skip zero) : 3143A399
AccurateRip signature : 4A263992
->Accurately ripped! (confidence 4)
Statistics
Read error : 0
Jitter error (maybe fixed) : 0
Retry sector count : 0
Damaged sector count : 0

Track 08
Filename : /Users/detemps/Desktop/Volume 3/Disc 10of11/08 - Three (twelve) Duos from K487-496a - No. 12 Allegro.flac
Pre-gap length : 00:03:00

Track gain : -1.84 dB
Peak : 0.736603
CRC32 hash (test run) : 0D8C9479
CRC32 hash : 0D8C9479
CRC32 hash (skip zero) : CC2E3209
AccurateRip signature : F092DC68
->Accurately ripped! (confidence 4)
Statistics
Read error : 0
Jitter error (maybe fixed) : 0
Retry sector count : 0
Damaged sector count : 0

Track 09
Filename : /Users/detemps/Desktop/Volume 3/Disc 10of11/09 - Divertimento in B Flat Major, K App. 229-439b No. 3 - I. Allegro.flac
Pre-gap length : 00:03:00

Track gain : -2.32 dB
Peak : 0.722565
CRC32 hash (test run) : 9F443218
CRC32 hash : 9F443218
CRC32 hash (skip zero) : 46D8B00C
AccurateRip signature : 22118984
->Accurately ripped! (confidence 4)
Statistics
Read error : 0
Jitter error (maybe fixed) : 0
Retry sector count : 0
Damaged sector count : 0

Track 10
Filename : /Users/detemps/Desktop/Volume 3/Disc 10of11/10 - Divertimento in B Flat Major, K App. 229-439b No. 3 - II. Menuetto.flac
Pre-gap length : 00:03:00

Track gain : -2.13 dB
Peak : 0.792755
CRC32 hash (test run) : 58C635C9
CRC32 hash : 58C635C9
CRC32 hash (skip zero) : 90B4C929
AccurateRip signature : 833791CD
->Accurately ripped! (confidence 4)
Statistics
Read error : 0
Jitter error (maybe fixed) : 0
Retry sector count : 0
Damaged sector count : 0

Track 11
Filename : /Users/detemps/Desktop/Volume 3/Disc 10of11/11 - Divertimento in B Flat Major, K App. 229-439b No. 3 - III. Adagio.flac
Pre-gap length : 00:02:00

Track gain : -0.35 dB
Peak : 0.557434
CRC32 hash (test run) : AE77A9E7
CRC32 hash : AE77A9E7
CRC32 hash (skip zero) : 4C7BBB56
AccurateRip signature : 5CCB49EC
->Accurately ripped! (confidence 4)
Statistics
Read error : 0
Jitter error (maybe fixed) : 0
Retry sector count : 0
Damaged sector count : 0

Track 12
Filename : /Users/detemps/Desktop/Volume 3/Disc 10of11/12 - Divertimento in B Flat Major, K App. 229-439b No. 3 - IV. Menuetto.flac
Pre-gap length : 00:02:00

Track gain : -1.13 dB
Peak : 0.765991
CRC32 hash (test run) : D73DB178
CRC32 hash : D73DB178
CRC32 hash (skip zero) : 3A7C188B
AccurateRip signature : FB6176B6
->Accurately ripped! (confidence 4)
Statistics
Read error : 0
Jitter error (maybe fixed) : 0
Retry sector count : 0
Damaged sector count : 0

Track 13
Filename : /Users/detemps/Desktop/Volume 3/Disc 10of11/13 - Divertimento in B Flat Major, K App. 229-439b No. 3 - V. Rondo (Allegro assai).flac
Pre-gap length : 00:02:00

Track gain : -1.82 dB
Peak : 0.770050
CRC32 hash (test run) : EA5CD8C9
CRC32 hash : EA5CD8C9
CRC32 hash (skip zero) : 0C8D1CF4
AccurateRip signature : 222BBAD1
->Accurately ripped! (confidence 4)
Statistics
Read error : 0
Jitter error (maybe fixed) : 0
Retry sector count : 0
Damaged sector count : 0

Track 14
Filename : /Users/detemps/Desktop/Volume 3/Disc 10of11/14 - Three (twelve) Duos from K487-496a - No. 2 Menuetto (Allegro).flac
Pre-gap length : 00:07:00

Track gain : -6.67 dB
Peak : 0.890961
CRC32 hash (test run) : 401125C2
CRC32 hash : 401125C2
CRC32 hash (skip zero) : DEEF4520
AccurateRip signature : 35A4376F
->Accurately ripped! (confidence 4)
Statistics
Read error : 0
Jitter error (maybe fixed) : 0
Retry sector count : 0
Damaged sector count : 0

Track 15
Filename : /Users/detemps/Desktop/Volume 3/Disc 10of11/15 - Three (twelve) Duos from K487-496a - No. 5 Larghetto.flac
Pre-gap length : 00:01:00

Track gain : -7.76 dB
Peak : 0.960388
CRC32 hash (test run) : 8CD598EF
CRC32 hash : 8CD598EF
CRC32 hash (skip zero) : 85D4934E
AccurateRip signature : BE41FC1D
->Accurately ripped! (confidence 4)
Statistics
Read error : 0
Jitter error (maybe fixed) : 0
Retry sector count : 0
Damaged sector count : 0

Track 16
Filename : /Users/detemps/Desktop/Volume 3/Disc 10of11/16 - Three (twelve) Duos from K487-496a - No. 11 Menuetto.flac
Pre-gap length : 00:02:00

Track gain : -3.27 dB
Peak : 0.632477
CRC32 hash (test run) : 52C3BAB7
CRC32 hash : 52C3BAB7
CRC32 hash (skip zero) : A7409D96
AccurateRip signature : FD8DFC7D
->Accurately ripped! (confidence 4)
Statistics
Read error : 0
Jitter error (maybe fixed) : 0
Retry sector count : 0
Damaged sector count : 0

Track 17
Filename : /Users/detemps/Desktop/Volume 3/Disc 10of11/17 - Divertimento in E Flat Major, K App. 226-C17.01 - I. Allegro moderato.flac
Pre-gap length : 00:03:00

Track gain : -1.63 dB
Peak : 0.864105
CRC32 hash (test run) : 186208B2
CRC32 hash : 186208B2
CRC32 hash (skip zero) : AEB0B771
AccurateRip signature : 26103735
->Accurately ripped! (confidence 4)
Statistics
Read error : 0
Jitter error (maybe fixed) : 0
Retry sector count : 0
Damaged sector count : 0

Track 18
Filename : /Users/detemps/Desktop/Volume 3/Disc 10of11/18 - Divertimento in E Flat Major, K App. 226-C17.01 - II. Menuetto.flac

Track gain : 0.68 dB
Peak : 0.738190
CRC32 hash (test run) : A6029A40
CRC32 hash : A6029A40
CRC32 hash (skip zero) : 244C9286
AccurateRip signature : 46EDE501
->Accurately ripped! (confidence 4)
Statistics
Read error : 0
Jitter error (maybe fixed) : 0
Retry sector count : 0
Damaged sector count : 0

Track 19
Filename : /Users/detemps/Desktop/Volume 3/Disc 10of11/19 - Divertimento in E Flat Major, K App. 226-C17.01 - II. Romance (Adagio ma un poco andante).flac

Track gain : -0.34 dB
Peak : 0.760345
CRC32 hash (test run) : AB80C83B
CRC32 hash : AB80C83B
CRC32 hash (skip zero) : F1CCDA18
AccurateRip signature : DA11EC70
->Accurately ripped! (confidence 4)
Statistics
Read error : 0
Jitter error (maybe fixed) : 0
Retry sector count : 0
Damaged sector count : 0

Track 20
Filename : /Users/detemps/Desktop/Volume 3/Disc 10of11/20 - Divertimento in E Flat Major, K App. 226-C17.01 - IV. Menuetto (Allegro).flac
Pre-gap length : 00:01:00

Track gain : 0.40 dB
Peak : 0.677826
CRC32 hash (test run) : 109DFDF7
CRC32 hash : 109DFDF7
CRC32 hash (skip zero) : E3D5B312
AccurateRip signature : 1A496EF0
->Accurately ripped! (confidence 4)
Statistics
Read error : 0
Jitter error (maybe fixed) : 0
Retry sector count : 0
Damaged sector count : 0

Track 21
Filename : /Users/detemps/Desktop/Volume 3/Disc 10of11/21 - Divertimento in E Flat Major, K App. 226-C17.01 - V. Rondo (Andante - Allegro).flac

Track gain : -3.17 dB
Peak : 0.977203
CRC32 hash (test run) : 084C7D6E
CRC32 hash : 084C7D6E
CRC32 hash (skip zero) : 7EBE6E21
AccurateRip signature : 2DEA01E7
->Accurately ripped! (confidence 4)
Statistics
Read error : 0
Jitter error (maybe fixed) : 0
Retry sector count : 0
Damaged sector count : 0

No errors occurred

End of status report
X Lossless Decoder version 20110821 (136.1)

XLD extraction logfile from 2011-09-26 09:21:20 +0300

Netherlands Wind Ensemble, Edo de Waart / Divertimenti for Wind [Volume 3]

Used drive : TSSTcorp CDDVDW SE-S084C (revision TS01)

Ripper mode : XLD Secure Ripper
Disable audio cache : OK for the drive with a cache less than 1375KiB
Make use of C2 pointers : NO
Read offset correction : 6
Max retry count : 100
Gap status : Analyzed, Appended (except HTOA)

TOC of the extracted CD
Track | Start | Length | Start sector | End sector
––––––––––––––––––––––––––––-
1 | 00:00:32 | 02:09:00 | 32 | 9706
2 | 02:09:32 | 04:01:00 | 9707 | 27781
3 | 06:10:32 | 04:25:00 | 27782 | 47656
4 | 10:35:32 | 04:09:00 | 47657 | 66331
5 | 14:44:32 | 04:07:00 | 66332 | 84856
6 | 18:51:32 | 02:12:00 | 84857 | 94756
7 | 21:03:32 | 01:14:00 | 94757 | 100306
8 | 22:17:32 | 02:12:00 | 100307 | 110206
9 | 24:29:32 | 03:20:00 | 110207 | 125206
10 | 27:49:32 | 02:15:00 | 125207 | 135331
11 | 30:04:32 | 03:16:00 | 135332 | 150031
12 | 33:20:32 | 02:21:00 | 150032 | 160606
13 | 35:41:32 | 02:27:00 | 160607 | 171631
14 | 38:08:32 | 01:01:00 | 171632 | 176206
15 | 39:09:32 | 01:23:00 | 176207 | 182431
16 | 40:32:32 | 01:26:00 | 182432 | 188881
17 | 41:58:32 | 02:55:00 | 188882 | 202006
18 | 44:53:32 | 03:01:00 | 202007 | 215581
19 | 47:54:32 | 02:03:00 | 215582 | 224806
20 | 49:57:32 | 01:26:00 | 224807 | 231256
21 | 51:23:32 | 02:22:00 | 231257 | 241906
22 | 53:45:32 | 02:04:00 | 241907 | 251206
23 | 55:49:32 | 02:12:00 | 251207 | 261106
24 | 58:01:32 | 02:38:00 | 261107 | 272956
25 | 60:39:32 | 02:43:00 | 272957 | 285181
26 | 63:22:32 | 02:23:00 | 285182 | 295906

List of alternate offset correction values
# | Absolute | Relative | Confidence
–––––––––––––––––––––
1 | -224 | -230 | 2

AccurateRip Summary
Track 01 : OK (confidence 6)
Track 02 : OK (confidence 6)
Track 03 : OK (confidence 6)
Track 04 : OK (confidence 6)
Track 05 : OK (confidence 6)
Track 06 : OK (confidence 6)
Track 07 : OK (confidence 6)
Track 08 : OK (confidence 6)
Track 09 : OK (confidence 6)
Track 10 : OK (confidence 6)
Track 11 : OK (confidence 6)
Track 12 : OK (confidence 6)
Track 13 : OK (confidence 6)
Track 14 : OK (confidence 6)
Track 15 : OK (confidence 6)
Track 16 : OK (confidence 6)
Track 17 : OK (confidence 6)
Track 18 : OK (confidence 6)
Track 19 : OK (confidence 6)
Track 20 : OK (confidence 6)
Track 21 : OK (confidence 6)
Track 22 : OK (confidence 6)
Track 23 : OK (confidence 6)
Track 24 : OK (confidence 6)
Track 25 : OK (confidence 6)
Track 26 : OK (confidence 6)
->All tracks accurately ripped.

All Tracks
Album gain : -3.65 dB
Peak : 0.996063
Statistics
Read error : 0
Jitter error (maybe fixed) : 0
Retry sector count : 0
Damaged sector count : 0

Track 01
Filename : /Users/detemps/Desktop/Volume 3/Disc 11of11/01 - Divertimento in B Flat Major, K App 229-439b No. 2 - I. Allegro.flac
Pre-gap length : 00:02:32

Track gain : -4.71 dB
Peak : 0.820099
CRC32 hash (test run) : 2E574CB0
CRC32 hash : 2E574CB0
CRC32 hash (skip zero) : AEFE2F5B
AccurateRip signature : 91A71499
->Accurately ripped! (confidence 6)
Statistics
Read error : 0
Jitter error (maybe fixed) : 0
Retry sector count : 0
Damaged sector count : 0

Track 02
Filename : /Users/detemps/Desktop/Volume 3/Disc 11of11/02 - Divertimento in B Flat Major, K App 229-439b No. 2 - II. Menuetto.flac
Pre-gap length : 00:02:00

Track gain : -3.62 dB
Peak : 0.777679
CRC32 hash (test run) : AB380EE7
CRC32 hash : AB380EE7
CRC32 hash (skip zero) : ECA59828
AccurateRip signature : 6CE05DEA
->Accurately ripped! (confidence 6)
Statistics
Read error : 0
Jitter error (maybe fixed) : 0
Retry sector count : 0
Damaged sector count : 0

Track 03
Filename : /Users/detemps/Desktop/Volume 3/Disc 11of11/03 - Divertimento in B Flat Major, K App 229-439b No. 2 - III. Larghetto.flac
Pre-gap length : 00:02:00

Track gain : -3.45 dB
Peak : 0.857056
CRC32 hash (test run) : DFA80237
CRC32 hash : DFA80237
CRC32 hash (skip zero) : CCE96662
AccurateRip signature : 4EB0A641
->Accurately ripped! (confidence 6)
Statistics
Read error : 0
Jitter error (maybe fixed) : 0
Retry sector count : 0
Damaged sector count : 0

Track 04
Filename : /Users/detemps/Desktop/Volume 3/Disc 11of11/04 - Divertimento in B Flat Major, K App 229-439b No. 2 - IV. Menuetto.flac
Pre-gap length : 00:02:00

Track gain : -3.87 dB
Peak : 0.839813
CRC32 hash (test run) : 79500C98
CRC32 hash : 79500C98
CRC32 hash (skip zero) : 9C13A45A
AccurateRip signature : 25DEEDCD
->Accurately ripped! (confidence 6)
Statistics
Read error : 0
Jitter error (maybe fixed) : 0
Retry sector count : 0
Damaged sector count : 0

Track 05
Filename : /Users/detemps/Desktop/Volume 3/Disc 11of11/05 - Divertimento in B Flat Major, K App 229-439b No. 2 - V. Rondo.flac
Pre-gap length : 00:01:00

Track gain : -3.35 dB
Peak : 0.761627
CRC32 hash (test run) : 99E4D429
CRC32 hash : 99E4D429
CRC32 hash (skip zero) : 4BCE7DE7
AccurateRip signature : 03C5F093
->Accurately ripped! (confidence 6)
Statistics
Read error : 0
Jitter error (maybe fixed) : 0
Retry sector count : 0
Damaged sector count : 0

Track 06
Filename : /Users/detemps/Desktop/Volume 3/Disc 11of11/06 - Three (twelve) Duos from K487-496a - I. No. 7 Adagio.flac
Pre-gap length : 00:10:00

Track gain : -6.12 dB
Peak : 0.981232
CRC32 hash (test run) : 53612779
CRC32 hash : 53612779
CRC32 hash (skip zero) : 38B7BD7D
AccurateRip signature : 9C3F5DBB
->Accurately ripped! (confidence 6)
Statistics
Read error : 0
Jitter error (maybe fixed) : 0
Retry sector count : 0
Damaged sector count : 0

Track 07
Filename : /Users/detemps/Desktop/Volume 3/Disc 11of11/07 - Three (twelve) Duos from K487-496a - II. No. 10 Andante.flac
Pre-gap length : 00:02:00

Track gain : -5.99 dB
Peak : 0.796082
CRC32 hash (test run) : 9F289DAC
CRC32 hash : 9F289DAC
CRC32 hash (skip zero) : 1579FE56
AccurateRip signature : 605FF2D8
->Accurately ripped! (confidence 6)
Statistics
Read error : 0
Jitter error (maybe fixed) : 0
Retry sector count : 0
Damaged sector count : 0

Track 08
Filename : /Users/detemps/Desktop/Volume 3/Disc 11of11/08 - Three (twelve) Duos from K487-496a - III. No. 9 Menuetto.flac
Pre-gap length : 00:02:00

Track gain : -5.17 dB
Peak : 0.705383
CRC32 hash (test run) : 38E3F593
CRC32 hash : 38E3F593
CRC32 hash (skip zero) : 776EE891
AccurateRip signature : EE9523B3
->Accurately ripped! (confidence 6)
Statistics
Read error : 0
Jitter error (maybe fixed) : 0
Retry sector count : 0
Damaged sector count : 0

Track 09
Filename : /Users/detemps/Desktop/Volume 3/Disc 11of11/09 - Divertimento in B Flat Major, K App 229-439b No. 4 - I. Allegro.flac
Pre-gap length : 00:03:00

Track gain : -3.55 dB
Peak : 0.921844
CRC32 hash (test run) : ECEF0D23
CRC32 hash : ECEF0D23
CRC32 hash (skip zero) : E73C4F85
AccurateRip signature : CA317F79
->Accurately ripped! (confidence 6)
Statistics
Read error : 0
Jitter error (maybe fixed) : 0
Retry sector count : 0
Damaged sector count : 0

Track 10
Filename : /Users/detemps/Desktop/Volume 3/Disc 11of11/10 - Divertimento in B Flat Major, K App 229-439b No. 4 - II. Larghetto.flac
Pre-gap length : 00:02:00

Track gain : -3.64 dB
Peak : 0.852203
CRC32 hash (test run) : 30996F7F
CRC32 hash : 30996F7F
CRC32 hash (skip zero) : 01242754
AccurateRip signature : 3D439ECF
->Accurately ripped! (confidence 6)
Statistics
Read error : 0
Jitter error (maybe fixed) : 0
Retry sector count : 0
Damaged sector count : 0

Track 11
Filename : /Users/detemps/Desktop/Volume 3/Disc 11of11/11 - Divertimento in B Flat Major, K App 229-439b No. 4 - III. Menuetto.flac
Pre-gap length : 00:02:00

Track gain : -5.27 dB
Peak : 0.867340
CRC32 hash (test run) : 3945E408
CRC32 hash : 3945E408
CRC32 hash (skip zero) : 95EB3333
AccurateRip signature : 3EB23737
->Accurately ripped! (confidence 6)
Statistics
Read error : 0
Jitter error (maybe fixed) : 0
Retry sector count : 0
Damaged sector count : 0

Track 12
Filename : /Users/detemps/Desktop/Volume 3/Disc 11of11/12 - Divertimento in B Flat Major, K App 229-439b No. 4 - IV. Adagio.flac
Pre-gap length : 00:02:00

Track gain : -2.98 dB
Peak : 0.794647
CRC32 hash (test run) : 4F798F96
CRC32 hash : 4F798F96
CRC32 hash (skip zero) : 512F0AE9
AccurateRip signature : 6D3CBB13
->Accurately ripped! (confidence 6)
Statistics
Read error : 0
Jitter error (maybe fixed) : 0
Retry sector count : 0
Damaged sector count : 0

Track 13
Filename : /Users/detemps/Desktop/Volume 3/Disc 11of11/13 - Divertimento in B Flat Major, K App 229-439b No. 4 - V. Rondo (Allegretto).flac
Pre-gap length : 00:02:00

Track gain : -5.04 dB
Peak : 0.996063
CRC32 hash (test run) : FDF73BAA
CRC32 hash : FDF73BAA
CRC32 hash (skip zero) : 01643D0A
AccurateRip signature : D33B2B84
->Accurately ripped! (confidence 6)
Statistics
Read error : 0
Jitter error (maybe fixed) : 0
Retry sector count : 0
Damaged sector count : 0

Track 14
Filename : /Users/detemps/Desktop/Volume 3/Disc 11of11/14 - Three (twelve) Duos from K487-496a - I. No. 1 Allegro.flac
Pre-gap length : 00:09:00

Track gain : -2.19 dB
Peak : 0.744049
CRC32 hash (test run) : 44A039E6
CRC32 hash : 44A039E6
CRC32 hash (skip zero) : 8FEC7291
AccurateRip signature : 6634CED3
->Accurately ripped! (confidence 6)
Statistics
Read error : 0
Jitter error (maybe fixed) : 0
Retry sector count : 0
Damaged sector count : 0

Track 15
Filename : /Users/detemps/Desktop/Volume 3/Disc 11of11/15 - Three (twelve) Duos from K487-496a - II. No. 3 Andante.flac
Pre-gap length : 00:03:00

Track gain : -3.87 dB
Peak : 0.814484
CRC32 hash (test run) : 20D4BE6C
CRC32 hash : 20D4BE6C
CRC32 hash (skip zero) : 28D60A51
AccurateRip signature : DD604635
->Accurately ripped! (confidence 6)
Statistics
Read error : 0
Jitter error (maybe fixed) : 0
Retry sector count : 0
Damaged sector count : 0

Track 16
Filename : /Users/detemps/Desktop/Volume 3/Disc 11of11/16 - Three (twelve) Duos from K487-496a - III. No. 8 Allegro.flac
Pre-gap length : 00:03:00

Track gain : -4.73 dB
Peak : 0.809937
CRC32 hash (test run) : C36B36D8
CRC32 hash : C36B36D8
CRC32 hash (skip zero) : 2268B942
AccurateRip signature : 3EC0F779
->Accurately ripped! (confidence 6)
Statistics
Read error : 0
Jitter error (maybe fixed) : 0
Retry sector count : 0
Damaged sector count : 0

Track 17
Filename : /Users/detemps/Desktop/Volume 3/Disc 11of11/17 - Divertimento in B Flat Major, K App. 229-439b No 5 - I. Adagio.flac
Pre-gap length : 00:03:00

Track gain : -2.79 dB
Peak : 0.728729
CRC32 hash (test run) : AEF9CFA9
CRC32 hash : AEF9CFA9
CRC32 hash (skip zero) : 01920580
AccurateRip signature : 6B9D6113
->Accurately ripped! (confidence 6)
Statistics
Read error : 0
Jitter error (maybe fixed) : 0
Retry sector count : 0
Damaged sector count : 0

Track 18
Filename : /Users/detemps/Desktop/Volume 3/Disc 11of11/18 - Divertimento in B Flat Major, K App. 229-439b No 5 - II. Menuetto.flac
Pre-gap length : 00:01:00

Track gain : -1.27 dB
Peak : 0.634125
CRC32 hash (test run) : 9FB7063E
CRC32 hash : 9FB7063E
CRC32 hash (skip zero) : 7D442D7B
AccurateRip signature : 7A4CB34C
->Accurately ripped! (confidence 6)
Statistics
Read error : 0
Jitter error (maybe fixed) : 0
Retry sector count : 0
Damaged sector count : 0

Track 19
Filename : /Users/detemps/Desktop/Volume 3/Disc 11of11/19 - Divertimento in B Flat Major, K App. 229-439b No 5 - III. Adagio.flac
Pre-gap length : 00:02:00

Track gain : -1.95 dB
Peak : 0.771484
CRC32 hash (test run) : 4BB85457
CRC32 hash : 4BB85457
CRC32 hash (skip zero) : B1B5819B
AccurateRip signature : 251CDAB4
->Accurately ripped! (confidence 6)
Statistics
Read error : 0
Jitter error (maybe fixed) : 0
Retry sector count : 0
Damaged sector count : 0

Track 20
Filename : /Users/detemps/Desktop/Volume 3/Disc 11of11/20 - Divertimento in B Flat Major, K App. 229-439b No 5 - IV. Polonaise.flac
Pre-gap length : 00:02:00

Track gain : -2.30 dB
Peak : 0.686432
CRC32 hash (test run) : C2A8B789
CRC32 hash : C2A8B789
CRC32 hash (skip zero) : AF3934C6
AccurateRip signature : BA3518B3
->Accurately ripped! (confidence 6)
Statistics
Read error : 0
Jitter error (maybe fixed) : 0
Retry sector count : 0
Damaged sector count : 0

Track 21
Filename : /Users/detemps/Desktop/Volume 3/Disc 11of11/21 - Divertimento in B Flat Major, K App. 229-439b No 5 - V. Romanze (Andante).flac
Pre-gap length : 00:01:00

Track gain : -3.77 dB
Peak : 0.907074
CRC32 hash (test run) : 5D6D6DBC
CRC32 hash : 5D6D6DBC
CRC32 hash (skip zero) : 650D180A
AccurateRip signature : A8F97370
->Accurately ripped! (confidence 6)
Statistics
Read error : 0
Jitter error (maybe fixed) : 0
Retry sector count : 0
Damaged sector count : 0

Track 22
Filename : /Users/detemps/Desktop/Volume 3/Disc 11of11/22 - Divertimento in B Flat Major, K App. 227-C17.02 - I. Allegro.flac
Pre-gap length : 00:07:00

Track gain : 0.32 dB
Peak : 0.766663
CRC32 hash (test run) : 788D2755
CRC32 hash : 788D2755
CRC32 hash (skip zero) : 003C065B
AccurateRip signature : 0163D8C4
->Accurately ripped! (confidence 6)
Statistics
Read error : 0
Jitter error (maybe fixed) : 0
Retry sector count : 0
Damaged sector count : 0

Track 23
Filename : /Users/detemps/Desktop/Volume 3/Disc 11of11/23 - Divertimento in B Flat Major, K App. 227-C17.02 - II. Menuetto.flac

Track gain : 1.41 dB
Peak : 0.542694
CRC32 hash (test run) : 005752FD
CRC32 hash : 005752FD
CRC32 hash (skip zero) : 79017F0B
AccurateRip signature : 2D15B033
->Accurately ripped! (confidence 6)
Statistics
Read error : 0
Jitter error (maybe fixed) : 0
Retry sector count : 0
Damaged sector count : 0

Track 24
Filename : /Users/detemps/Desktop/Volume 3/Disc 11of11/24 - Divertimento in B Flat Major, K App. 227-C17.02 - III. Adagio.flac
Pre-gap length : 00:01:00

Track gain : 6.11 dB
Peak : 0.375702
CRC32 hash (test run) : 836F53EB
CRC32 hash : 836F53EB
CRC32 hash (skip zero) : B8204036
AccurateRip signature : 3094C303
->Accurately ripped! (confidence 6)
Statistics
Read error : 0
Jitter error (maybe fixed) : 0
Retry sector count : 0
Damaged sector count : 0

Track 25
Filename : /Users/detemps/Desktop/Volume 3/Disc 11of11/25 - Divertimento in B Flat Major, K App. 227-C17.02 - IV. Menuetto.flac
Pre-gap length : 00:02:00

Track gain : -0.66 dB
Peak : 0.710388
CRC32 hash (test run) : C734C5D4
CRC32 hash : C734C5D4
CRC32 hash (skip zero) : 8B1BB7BF
AccurateRip signature : 6EBFAA85
->Accurately ripped! (confidence 6)
Statistics
Read error : 0
Jitter error (maybe fixed) : 0
Retry sector count : 0
Damaged sector count : 0

Track 26
Filename : /Users/detemps/Desktop/Volume 3/Disc 11of11/26 - Divertimento in B Flat Major, K App. 227-C17.02 - V. Finale (Allegro).flac

Track gain : 2.44 dB
Peak : 0.673157
CRC32 hash (test run) : 5C2EC185
CRC32 hash : 5C2EC185
CRC32 hash (skip zero) : 3980B9D4
AccurateRip signature : F426A8B3
->Accurately ripped! (confidence 6)
Statistics
Read error : 0
Jitter error (maybe fixed) : 0
Retry sector count : 0
Damaged sector count : 0

No errors occurred

End of status report
X Lossless Decoder version 20110821 (136.1)

XLD extraction logfile from 2011-09-24 01:31:21 +0300

Ingrid Haebler, Capella Academica Wien, Eduard Melkus / Piano Concertos [Volume 4]

Used drive : TSSTcorp CDDVDW SE-S084C (revision TS01)

Ripper mode : XLD Secure Ripper
Disable audio cache : OK for the drive with a cache less than 1375KiB
Make use of C2 pointers : NO
Read offset correction : 6
Max retry count : 100
Gap status : Analyzed, Appended (except HTOA)

TOC of the extracted CD
Track | Start | Length | Start sector | End sector
––––––––––––––––––––––––––––-
1 | 00:00:33 | 05:25:00 | 33 | 24407
2 | 05:25:33 | 05:54:00 | 24408 | 50957
3 | 11:19:33 | 04:57:00 | 50958 | 73232
4 | 16:16:33 | 05:28:00 | 73233 | 97832
5 | 21:44:33 | 05:21:00 | 97833 | 121907
6 | 27:05:33 | 03:55:00 | 121908 | 139532
7 | 31:00:33 | 05:30:00 | 139533 | 164282
8 | 36:30:33 | 04:51:00 | 164283 | 186107
9 | 41:21:33 | 02:39:00 | 186108 | 198032
10 | 44:00:33 | 05:25:00 | 198033 | 222407
11 | 49:25:33 | 04:16:00 | 222408 | 241607
12 | 53:41:33 | 03:50:00 | 241608 | 258857

List of alternate offset correction values
# | Absolute | Relative | Confidence
–––––––––––––––––––––
1 | 673 | 667 | 18
2 | 113 | 107 | 7
3 | 9 | 3 | 2

AccurateRip Summary
Track 01 : OK (AR2, confidence 2)
Track 02 : OK (AR2, confidence 2)
Track 03 : OK (AR2, confidence 2)
Track 04 : OK (AR2, confidence 2)
Track 05 : OK (AR2, confidence 2)
Track 06 : OK (AR2, confidence 2)
Track 07 : OK (AR2, confidence 2)
Track 08 : OK (AR2, confidence 2)
Track 09 : OK (AR2, confidence 2)
Track 10 : OK (AR2, confidence 2)
Track 11 : OK (AR2, confidence 2)
Track 12 : OK (AR2, confidence 2)
->All tracks accurately ripped.

All Tracks
Album gain : -0.02 dB
Peak : 0.961731
Statistics
Read error : 0
Jitter error (maybe fixed) : 0
Retry sector count : 0
Damaged sector count : 0

Track 01
Filename : /Users/iMac/Documents/Complete Mozart Edition/Volume 4/Disc 1of12/01 - Concerto No. 1 in F Major, K37 - I. Allegro.flac
Pre-gap length : 00:02:33

Track gain : -0.46 dB
Peak : 0.854828
CRC32 hash (test run) : 413ECB68
CRC32 hash : 413ECB68
CRC32 hash (skip zero) : B8B50B16
AccurateRip signature : 03E39127
->Accurately ripped! (AR2, confidence 2)
Statistics
Read error : 0
Jitter error (maybe fixed) : 0
Retry sector count : 0
Damaged sector count : 0

Track 02
Filename : /Users/iMac/Documents/Complete Mozart Edition/Volume 4/Disc 1of12/02 - Concerto No. 1 in F Major, K37 - II. Andante.flac
Pre-gap length : 00:02:00

Track gain : 4.17 dB
Peak : 0.421478
CRC32 hash (test run) : 878C0051
CRC32 hash : 878C0051
CRC32 hash (skip zero) : F52BFAFA
AccurateRip signature : D71C2A11
->Accurately ripped! (AR2, confidence 2)
Statistics
Read error : 0
Jitter error (maybe fixed) : 0
Retry sector count : 0
Damaged sector count : 0

Track 03
Filename : /Users/iMac/Documents/Complete Mozart Edition/Volume 4/Disc 1of12/03 - Concerto No. 1 in F Major, K37 - III. (Allegro).flac
Pre-gap length : 00:00:38

Track gain : -0.21 dB
Peak : 0.961731
CRC32 hash (test run) : 498A0AEC
CRC32 hash : 498A0AEC
CRC32 hash (skip zero) : CE063779
AccurateRip signature : 500D6006
->Accurately ripped! (AR2, confidence 2)
Statistics
Read error : 0
Jitter error (maybe fixed) : 0
Retry sector count : 0
Damaged sector count : 0

Track 04
Filename : /Users/iMac/Documents/Complete Mozart Edition/Volume 4/Disc 1of12/04 - Concerto No. 2 in B Flat Major, K39 - I. Allegro spiritoso.flac
Pre-gap length : 00:08:00

Track gain : -1.48 dB
Peak : 0.739502
CRC32 hash (test run) : 537500C3
CRC32 hash : 537500C3
CRC32 hash (skip zero) : 059921B4
AccurateRip signature : 4F2A3913
->Accurately ripped! (AR2, confidence 2)
Statistics
Read error : 0
Jitter error (maybe fixed) : 0
Retry sector count : 0
Damaged sector count : 0

Track 05
Filename : /Users/iMac/Documents/Complete Mozart Edition/Volume 4/Disc 1of12/05 - Concerto No. 2 in B Flat Major, K39 - II. Andante staccato.flac
Pre-gap length : 00:03:00

Track gain : 1.54 dB
Peak : 0.926117
CRC32 hash (test run) : 7392D87E
CRC32 hash : 7392D87E
CRC32 hash (skip zero) : A9CC2BC8
AccurateRip signature : 15465BBB
->Accurately ripped! (AR2, confidence 2)
Statistics
Read error : 0
Jitter error (maybe fixed) : 0
Retry sector count : 0
Damaged sector count : 0

Track 06
Filename : /Users/iMac/Documents/Complete Mozart Edition/Volume 4/Disc 1of12/06 - Concerto No. 2 in B Flat Major, K39 - III. Molto allegro.flac
Pre-gap length : 00:01:00

Track gain : -0.53 dB
Peak : 0.679718
CRC32 hash (test run) : E60FD2A3
CRC32 hash : E60FD2A3
CRC32 hash (skip zero) : 83F49D23
AccurateRip signature : D9D57AD8
->Accurately ripped! (AR2, confidence 2)
Statistics
Read error : 0
Jitter error (maybe fixed) : 0
Retry sector count : 0
Damaged sector count : 0

Track 07
Filename : /Users/iMac/Documents/Complete Mozart Edition/Volume 4/Disc 1of12/07 - Concerto No. 3 in D Major, K40 - I. Allegro maestoso.flac
Pre-gap length : 00:08:00

Track gain : -0.80 dB
Peak : 0.817719
CRC32 hash (test run) : BD94775C
CRC32 hash : BD94775C
CRC32 hash (skip zero) : 02786F63
AccurateRip signature : 1978D9DD
->Accurately ripped! (AR2, confidence 2)
Statistics
Read error : 0
Jitter error (maybe fixed) : 0
Retry sector count : 0
Damaged sector count : 0

Track 08
Filename : /Users/iMac/Documents/Complete Mozart Edition/Volume 4/Disc 1of12/08 - Concerto No. 3 in D Major, K40 - II. Andante.flac
Pre-gap length : 00:03:00

Track gain : 3.78 dB
Peak : 0.570801
CRC32 hash (test run) : 0CF78849
CRC32 hash : 0CF78849
CRC32 hash (skip zero) : 89413E53
AccurateRip signature : 7C3A0757
->Accurately ripped! (AR2, confidence 2)
Statistics
Read error : 0
Jitter error (maybe fixed) : 0
Retry sector count : 0
Damaged sector count : 0

Track 09
Filename : /Users/iMac/Documents/Complete Mozart Edition/Volume 4/Disc 1of12/09 - Concerto No. 3 in D Major, K40 - III. Presto.flac
Pre-gap length : 00:01:00

Track gain : -1.08 dB
Peak : 0.886627
CRC32 hash (test run) : 82462D0F
CRC32 hash : 82462D0F
CRC32 hash (skip zero) : 6F8C6449
AccurateRip signature : 04946176
->Accurately ripped! (AR2, confidence 2)
Statistics
Read error : 0
Jitter error (maybe fixed) : 0
Retry sector count : 0
Damaged sector count : 0

Track 10
Filename : /Users/iMac/Documents/Complete Mozart Edition/Volume 4/Disc 1of12/10 - Concerto No. 4 in G Major, K41 - I. Allegro.flac
Pre-gap length : 00:08:00

Track gain : 0.53 dB
Peak : 0.719727
CRC32 hash (test run) : BF834D4F
CRC32 hash : BF834D4F
CRC32 hash (skip zero) : D253E3DB
AccurateRip signature : 8018A5C9
->Accurately ripped! (AR2, confidence 2)
Statistics
Read error : 0
Jitter error (maybe fixed) : 0
Retry sector count : 0
Damaged sector count : 0

Track 11
Filename : /Users/iMac/Documents/Complete Mozart Edition/Volume 4/Disc 1of12/11 - Concerto No. 4 in G Major, K41 - II. Andante.flac
Pre-gap length : 00:02:00

Track gain : 1.94 dB
Peak : 0.552460
CRC32 hash (test run) : 9E1D1D30
CRC32 hash : 9E1D1D30
CRC32 hash (skip zero) : F03741BF
AccurateRip signature : C39E6098
->Accurately ripped! (AR2, confidence 2)
Statistics
Read error : 0
Jitter error (maybe fixed) : 0
Retry sector count : 0
Damaged sector count : 0

Track 12
Filename : /Users/iMac/Documents/Complete Mozart Edition/Volume 4/Disc 1of12/12 - Concerto No. 4 in G Major, K41 - III. Molto allegro.flac
Pre-gap length : 00:01:00

Track gain : -1.85 dB
Peak : 0.902832
CRC32 hash (test run) : 5F0184D7
CRC32 hash : 5F0184D7
CRC32 hash (skip zero) : 3B8BE219
AccurateRip signature : D18DA2D7
->Accurately ripped! (AR2, confidence 2)
Statistics
Read error : 0
Jitter error (maybe fixed) : 0
Retry sector count : 0
Damaged sector count : 0

No errors occurred

End of status report
X Lossless Decoder version 20110821 (136.1)

XLD extraction logfile from 2011-09-24 01:07:20 +0300

Various Artists / Harpsichord & Piano Concertos [Volume 4]

Used drive : TSSTcorp CDDVDW SE-S084C (revision TS01)

Ripper mode : XLD Secure Ripper
Disable audio cache : OK for the drive with a cache less than 1375KiB
Make use of C2 pointers : NO
Read offset correction : 6
Max retry count : 100
Gap status : Analyzed, Appended (except HTOA)

TOC of the extracted CD
Track | Start | Length | Start sector | End sector
––––––––––––––––––––––––––––-
1 | 00:00:33 | 05:24:37 | 33 | 24369
2 | 05:24:70 | 04:31:38 | 24370 | 44732
3 | 09:56:33 | 03:53:00 | 44733 | 62207
4 | 13:49:33 | 03:59:00 | 62208 | 80132
5 | 17:48:33 | 04:34:00 | 80133 | 100682
6 | 22:22:33 | 05:06:37 | 100683 | 123669
7 | 27:28:70 | 04:38:38 | 123670 | 144557
8 | 32:07:33 | 08:34:00 | 144558 | 183107
9 | 40:41:33 | 10:31:00 | 183108 | 230432
10 | 51:12:33 | 06:17:00 | 230433 | 258707

List of alternate offset correction values
# | Absolute | Relative | Confidence
–––––––––––––––––––––
1 | 1342 | 1336 | 22
2 | -269 | -275 | 8
3 | -320 | -326 | 2

AccurateRip Summary
Track 01 : OK (confidence 6)
Track 02 : OK (confidence 6)
Track 03 : OK (confidence 6)
Track 04 : OK (confidence 6)
Track 05 : OK (confidence 6)
Track 06 : OK (confidence 6)
Track 07 : OK (confidence 6)
Track 08 : OK (confidence 5)
Track 09 : OK (confidence 6)
Track 10 : OK (confidence 6)
->All tracks accurately ripped.

All Tracks
Album gain : 0.65 dB
Peak : 0.977203
Statistics
Read error : 0
Jitter error (maybe fixed) : 0
Retry sector count : 0
Damaged sector count : 0

Track 01
Filename : /Users/iMac/Documents/Complete Mozart Edition/Volume 4/Disc 2of12/01 - Harpsichord Concerto in D Major, K107 No. 1 - I. Allegro.flac
Pre-gap length : 00:02:33

Track gain : -0.33 dB
Peak : 0.900543
CRC32 hash (test run) : 465FD4EC
CRC32 hash : 465FD4EC
CRC32 hash (skip zero) : CF97EC8C
AccurateRip signature : 2F47EBF5
->Accurately ripped! (confidence 6)
Statistics
Read error : 0
Jitter error (maybe fixed) : 0
Retry sector count : 0
Damaged sector count : 0

Track 02
Filename : /Users/iMac/Documents/Complete Mozart Edition/Volume 4/Disc 2of12/02 - Harpsichord Concerto in D Major, K107 No. 1 - II. Andante.flac

Track gain : 2.12 dB
Peak : 0.596527
CRC32 hash (test run) : 34C6F924
CRC32 hash : 34C6F924
CRC32 hash (skip zero) : F2B8A0B1
AccurateRip signature : 83338C46
->Accurately ripped! (confidence 6)
Statistics
Read error : 0
Jitter error (maybe fixed) : 0
Retry sector count : 0
Damaged sector count : 0

Track 03
Filename : /Users/iMac/Documents/Complete Mozart Edition/Volume 4/Disc 2of12/03 - Harpsichord Concerto in D Major, K107 No. 1 - III. Tempo di minuetto.flac

Track gain : 0.62 dB
Peak : 0.694336
CRC32 hash (test run) : D53EC756
CRC32 hash : D53EC756
CRC32 hash (skip zero) : C686733A
AccurateRip signature : FA34D4C5
->Accurately ripped! (confidence 6)
Statistics
Read error : 0
Jitter error (maybe fixed) : 0
Retry sector count : 0
Damaged sector count : 0

Track 04
Filename : /Users/iMac/Documents/Complete Mozart Edition/Volume 4/Disc 2of12/04 - Harpsichord Concerto in G Major, K107 No. 2 - I. Allegro.flac
Pre-gap length : 00:05:00

Track gain : 0.93 dB
Peak : 0.754395
CRC32 hash (test run) : F2F32ABE
CRC32 hash : F2F32ABE
CRC32 hash (skip zero) : 854C5762
AccurateRip signature : F355D298
->Accurately ripped! (confidence 6)
Statistics
Read error : 0
Jitter error (maybe fixed) : 0
Retry sector count : 0
Damaged sector count : 0

Track 05
Filename : /Users/iMac/Documents/Complete Mozart Edition/Volume 4/Disc 2of12/05 - Harpsichord Concerto in G Major, K107 No. 2 - II. Allegretto.flac

Track gain : 0.41 dB
Peak : 0.744629
CRC32 hash (test run) : A016D006
CRC32 hash : A016D006
CRC32 hash (skip zero) : 4407782E
AccurateRip signature : 8ECFB8CA
->Accurately ripped! (confidence 6)
Statistics
Read error : 0
Jitter error (maybe fixed) : 0
Retry sector count : 0
Damaged sector count : 0

Track 06
Filename : /Users/iMac/Documents/Complete Mozart Edition/Volume 4/Disc 2of12/06 - Harpsichord Concerto in E Flat Major, K107 No. 3 - I. Allegro.flac
Pre-gap length : 00:06:00

Track gain : 0.05 dB
Peak : 0.977203
CRC32 hash (test run) : 4ED51C57
CRC32 hash : 4ED51C57
CRC32 hash (skip zero) : 5D41D9D1
AccurateRip signature : 0E77F269
->Accurately ripped! (confidence 6)
Statistics
Read error : 0
Jitter error (maybe fixed) : 0
Retry sector count : 0
Damaged sector count : 0

Track 07
Filename : /Users/iMac/Documents/Complete Mozart Edition/Volume 4/Disc 2of12/07 - Harpsichord Concerto in E Flat Major, K107 No. 3 - II. Allegretto (Rondeaux).flac

Track gain : 1.22 dB
Peak : 0.603790
CRC32 hash (test run) : 33D04F2F
CRC32 hash : 33D04F2F
CRC32 hash (skip zero) : 1D405F58
AccurateRip signature : DDE593E0
->Accurately ripped! (confidence 6)
Statistics
Read error : 0
Jitter error (maybe fixed) : 0
Retry sector count : 0
Damaged sector count : 0

Track 08
Filename : /Users/iMac/Documents/Complete Mozart Edition/Volume 4/Disc 2of12/08 - Concerto No. 7 in F Major, K242 'Lodron' - I. Allegro.flac
Pre-gap length : 00:09:00

Track gain : -0.39 dB
Peak : 0.917023
CRC32 hash (test run) : EBC3CDC8
CRC32 hash : EBC3CDC8
CRC32 hash (skip zero) : AB1A03D2
AccurateRip signature : F7C8BF04
->Accurately ripped! (confidence 5)
Statistics
Read error : 0
Jitter error (maybe fixed) : 0
Retry sector count : 0
Damaged sector count : 0

Track 09
Filename : /Users/iMac/Documents/Complete Mozart Edition/Volume 4/Disc 2of12/09 - Concerto No. 7 in F Major, K242 'Lodron' - II. Adagio.flac

Track gain : 2.81 dB
Peak : 0.641296
CRC32 hash (test run) : A1D9BDB1
CRC32 hash : A1D9BDB1
CRC32 hash (skip zero) : C20139BD
AccurateRip signature : F372C885
->Accurately ripped! (confidence 6)
Statistics
Read error : 0
Jitter error (maybe fixed) : 0
Retry sector count : 0
Damaged sector count : 0

Track 10
Filename : /Users/iMac/Documents/Complete Mozart Edition/Volume 4/Disc 2of12/10 - Concerto No. 7 in F Major, K242 'Lodron' - III. Rondeau. Tempo di menuetto.flac

Track gain : 0.44 dB
Peak : 0.804474
CRC32 hash (test run) : 49820C0D
CRC32 hash : 49820C0D
CRC32 hash (skip zero) : 64C93A15
AccurateRip signature : F0433B84
->Accurately ripped! (confidence 6)
Statistics
Read error : 0
Jitter error (maybe fixed) : 0
Retry sector count : 0
Damaged sector count : 0

No errors occurred

End of status report
X Lossless Decoder version 20110821 (136.1)

XLD extraction logfile from 2011-09-24 00:38:46 +0300

Various Artists / Piano Concertos [Volume 4]

Used drive : TSSTcorp CDDVDW SE-S084C (revision TS01)

Ripper mode : XLD Secure Ripper
Disable audio cache : OK for the drive with a cache less than 1375KiB
Make use of C2 pointers : NO
Read offset correction : 6
Max retry count : 100
Gap status : Analyzed, Appended (except HTOA)

TOC of the extracted CD
Track | Start | Length | Start sector | End sector
––––––––––––––––––––––––––––-
1 | 00:00:32 | 08:08:10 | 32 | 36641
2 | 08:08:42 | 08:43:73 | 36642 | 75939
3 | 16:52:40 | 05:17:05 | 75940 | 99719
4 | 22:09:45 | 07:01:30 | 99720 | 131324
5 | 29:11:00 | 06:34:17 | 131325 | 160891
6 | 35:45:17 | 07:14:15 | 160892 | 193456
7 | 42:59:32 | 09:55:28 | 193457 | 238109
8 | 52:54:60 | 08:06:05 | 238110 | 274564
9 | 61:00:65 | 06:55:17 | 274565 | 305706

List of alternate offset correction values
# | Absolute | Relative | Confidence
–––––––––––––––––––––
1 | -570 | -576 | 17
2 | 704 | 698 | 13
3 | -695 | -701 | 9
4 | 31 | 25 | 5
5 | 168 | 162 | 4

AccurateRip Summary
Track 01 : OK (confidence 5)
Track 02 : OK (confidence 5)
Track 03 : OK (confidence 5)
Track 04 : OK (confidence 5)
Track 05 : OK (confidence 5)
Track 06 : OK (confidence 5)
Track 07 : OK (confidence 5)
Track 08 : OK (confidence 5)
Track 09 : OK (confidence 4)
->All tracks accurately ripped.

All Tracks
Album gain : 2.25 dB
Peak : 0.928162
Statistics
Read error : 0
Jitter error (maybe fixed) : 0
Retry sector count : 0
Damaged sector count : 0

Track 01
Filename : /Users/iMac/Documents/Complete Mozart Edition/Volume 4/Disc 3of12/01 - Concerto No. 5 in D Major, K175 - I. Allegro.flac
Pre-gap length : 00:02:32

Track gain : 2.18 dB
Peak : 0.722992
CRC32 hash (test run) : 66A71004
CRC32 hash : 66A71004
CRC32 hash (skip zero) : 87B710C1
AccurateRip signature : 06B76879
->Accurately ripped! (confidence 5)
Statistics
Read error : 0
Jitter error (maybe fixed) : 0
Retry sector count : 0
Damaged sector count : 0

Track 02
Filename : /Users/iMac/Documents/Complete Mozart Edition/Volume 4/Disc 3of12/02 - Concerto No. 5 in D Major, K175 - II. Andante ma un poco adagio.flac
Pre-gap length : 00:04:72

Track gain : 5.09 dB
Peak : 0.496704
CRC32 hash (test run) : 6E899FF7
CRC32 hash : 6E899FF7
CRC32 hash (skip zero) : B8F4263D
AccurateRip signature : EE5AB4ED
->Accurately ripped! (confidence 5)
Statistics
Read error : 0
Jitter error (maybe fixed) : 0
Retry sector count : 0
Damaged sector count : 0

Track 03
Filename : /Users/iMac/Documents/Complete Mozart Edition/Volume 4/Disc 3of12/03 - Concerto No. 5 in D Major, K175 - III. Allegro.flac
Pre-gap length : 00:03:73

Track gain : 1.28 dB
Peak : 0.726044
CRC32 hash (test run) : B1DA3387
CRC32 hash : B1DA3387
CRC32 hash (skip zero) : E6C79C13
AccurateRip signature : CD29640A
->Accurately ripped! (confidence 5)
Statistics
Read error : 0
Jitter error (maybe fixed) : 0
Retry sector count : 0
Damaged sector count : 0

Track 04
Filename : /Users/iMac/Documents/Complete Mozart Edition/Volume 4/Disc 3of12/04 - Concerto No. 6 in B Flat Major, K238 - I. Allegro aperto.flac
Pre-gap length : 00:06:50

Track gain : 3.01 dB
Peak : 0.591125
CRC32 hash (test run) : 7762B9ED
CRC32 hash : 7762B9ED
CRC32 hash (skip zero) : 65F95C43
AccurateRip signature : 480D9E6D
->Accurately ripped! (confidence 5)
Statistics
Read error : 0
Jitter error (maybe fixed) : 0
Retry sector count : 0
Damaged sector count : 0

Track 05
Filename : /Users/iMac/Documents/Complete Mozart Edition/Volume 4/Disc 3of12/05 - Concerto No. 6 in B Flat Major, K238 - II. (Andante un poco adagio).flac
Pre-gap length : 00:05:00

Track gain : 5.59 dB
Peak : 0.419983
CRC32 hash (test run) : DF8DD7F9
CRC32 hash : DF8DD7F9
CRC32 hash (skip zero) : E7669505
AccurateRip signature : 02778E0F
->Accurately ripped! (confidence 5)
Statistics
Read error : 0
Jitter error (maybe fixed) : 0
Retry sector count : 0
Damaged sector count : 0

Track 06
Filename : /Users/iMac/Documents/Complete Mozart Edition/Volume 4/Disc 3of12/06 - Concerto No. 6 in B Flat Major, K238 - III. Rondeau. Allegro.flac
Pre-gap length : 00:00:22

Track gain : 2.02 dB
Peak : 0.665924
CRC32 hash (test run) : 2FF9F25C
CRC32 hash : 2FF9F25C
CRC32 hash (skip zero) : 98AA98EA
AccurateRip signature : 5FF95B29
->Accurately ripped! (confidence 5)
Statistics
Read error : 0
Jitter error (maybe fixed) : 0
Retry sector count : 0
Damaged sector count : 0

Track 07
Filename : /Users/iMac/Documents/Complete Mozart Edition/Volume 4/Disc 3of12/07 - Concerto No. 10 in E Flat Major, K365-316a - I. Allegro.flac
Pre-gap length : 00:06:65

Track gain : 0.88 dB
Peak : 0.928162
CRC32 hash (test run) : AA5B70D6
CRC32 hash : AA5B70D6
CRC32 hash (skip zero) : 71906BC7
AccurateRip signature : 6AA93EE1
->Accurately ripped! (confidence 5)
Statistics
Read error : 0
Jitter error (maybe fixed) : 0
Retry sector count : 0
Damaged sector count : 0

Track 08
Filename : /Users/iMac/Documents/Complete Mozart Edition/Volume 4/Disc 3of12/08 - Concerto No. 10 in E Flat Major, K365-316a - II. Andante.flac
Pre-gap length : 00:03:65

Track gain : 5.51 dB
Peak : 0.581665
CRC32 hash (test run) : 19515339
CRC32 hash : 19515339
CRC32 hash (skip zero) : E7B0D71C
AccurateRip signature : E7CD3AAA
->Accurately ripped! (confidence 5)
Statistics
Read error : 0
Jitter error (maybe fixed) : 0
Retry sector count : 0
Damaged sector count : 0

Track 09
Filename : /Users/iMac/Documents/Complete Mozart Edition/Volume 4/Disc 3of12/09 - Concerto No. 10 in E Flat Major, K365-316a - III. Rondeaux. Allegro.flac
Pre-gap length : 00:00:55

Track gain : 0.84 dB
Peak : 0.901123
CRC32 hash (test run) : 16A1D698
CRC32 hash : 16A1D698
CRC32 hash (skip zero) : 6F0FE0BF
AccurateRip signature : 88E13AD1
->Accurately ripped! (confidence 4)
Statistics
Read error : 0
Jitter error (maybe fixed) : 0
Retry sector count : 0
Damaged sector count : 0

No errors occurred

End of status report
X Lossless Decoder version 20110821 (136.1)

XLD extraction logfile from 2011-09-24 00:13:18 +0300

Various Artists / Piano Concertos [Volume 4]

Used drive : TSSTcorp CDDVDW SE-S084C (revision TS01)

Ripper mode : XLD Secure Ripper
Disable audio cache : OK for the drive with a cache less than 1375KiB
Make use of C2 pointers : NO
Read offset correction : 6
Max retry count : 100
Gap status : Analyzed, Appended (except HTOA)

TOC of the extracted CD
Track | Start | Length | Start sector | End sector
––––––––––––––––––––––––––––-
1 | 00:00:33 | 08:05:67 | 33 | 36474
2 | 08:06:25 | 09:07:18 | 36475 | 77517
3 | 17:13:43 | 05:53:10 | 77518 | 104002
4 | 23:06:53 | 07:34:12 | 104003 | 138064
5 | 30:40:65 | 08:05:50 | 138065 | 174489
6 | 38:46:40 | 07:49:43 | 174490 | 209707
7 | 46:36:08 | 09:09:42 | 209708 | 250924
8 | 55:45:50 | 07:58:53 | 250925 | 286827
9 | 63:44:28 | 05:39:42 | 286828 | 312294

List of alternate offset correction values
# | Absolute | Relative | Confidence
–––––––––––––––––––––
1 | 687 | 681 | 34
2 | 946 | 940 | 4
3 | 994 | 988 | 4

AccurateRip Summary
Track 01 : OK (AR2, confidence 2)
Track 02 : OK (AR2, confidence 2)
Track 03 : OK (AR2, confidence 2)
Track 04 : OK (AR2, confidence 2)
Track 05 : OK (AR2, confidence 2)
Track 06 : OK (AR2, confidence 2)
Track 07 : OK (AR2, confidence 2)
Track 08 : OK (AR2, confidence 2)
Track 09 : OK (AR2, confidence 2)
->All tracks accurately ripped.

All Tracks
Album gain : 3.07 dB
Peak : 0.695770
Statistics
Read error : 0
Jitter error (maybe fixed) : 0
Retry sector count : 0
Damaged sector count : 0

Track 01
Filename : /Users/iMac/Documents/Complete Mozart Edition/Volume 4/Disc 4of12/01 - Concerto No. 7 in F Major, K242 'Lodron' - I. Allegro.flac
Pre-gap length : 00:02:33

Track gain : 1.64 dB
Peak : 0.683502
CRC32 hash (test run) : E302B4FA
CRC32 hash : E302B4FA
CRC32 hash (skip zero) : 73ECEE61
AccurateRip signature : 4448078C
->Accurately ripped! (AR2, confidence 2)
Statistics
Read error : 0
Jitter error (maybe fixed) : 0
Retry sector count : 0
Damaged sector count : 0

Track 02
Filename : /Users/iMac/Documents/Complete Mozart Edition/Volume 4/Disc 4of12/02 - Concerto No. 7 in F Major, K242 'Lodron' - II. Adagio.flac
Pre-gap length : 00:04:67

Track gain : 3.73 dB
Peak : 0.646667
CRC32 hash (test run) : 736486DC
CRC32 hash : 736486DC
CRC32 hash (skip zero) : 23646DFF
AccurateRip signature : 15C8DF71
->Accurately ripped! (AR2, confidence 2)
Statistics
Read error : 0
Jitter error (maybe fixed) : 0
Retry sector count : 0
Damaged sector count : 0

Track 03
Filename : /Users/iMac/Documents/Complete Mozart Edition/Volume 4/Disc 4of12/03 - Concerto No. 7 in F Major, K242 'Lodron' - III. Rondeau. Tempo di menuetto.flac
Pre-gap length : 00:01:63

Track gain : 2.97 dB
Peak : 0.606812
CRC32 hash (test run) : B9100854
CRC32 hash : B9100854
CRC32 hash (skip zero) : 630E768A
AccurateRip signature : 1C13FD0C
->Accurately ripped! (AR2, confidence 2)
Statistics
Read error : 0
Jitter error (maybe fixed) : 0
Retry sector count : 0
Damaged sector count : 0

Track 04
Filename : /Users/iMac/Documents/Complete Mozart Edition/Volume 4/Disc 4of12/04 - Concerto No. 8 in C Major, K246 'Lutzow' - I. Allegro aperto.flac
Pre-gap length : 00:09:63

Track gain : 3.20 dB
Peak : 0.687225
CRC32 hash (test run) : 72C2B6CF
CRC32 hash : 72C2B6CF
CRC32 hash (skip zero) : C83E9874
AccurateRip signature : A617DCD5
->Accurately ripped! (AR2, confidence 2)
Statistics
Read error : 0
Jitter error (maybe fixed) : 0
Retry sector count : 0
Damaged sector count : 0

Track 05
Filename : /Users/iMac/Documents/Complete Mozart Edition/Volume 4/Disc 4of12/05 - Concerto No. 8 in C Major, K246 'Lutzow' - II. Andante.flac
Pre-gap length : 00:05:05

Track gain : 4.72 dB
Peak : 0.496674
CRC32 hash (test run) : A7C2BAFA
CRC32 hash : A7C2BAFA
CRC32 hash (skip zero) : 75EFD5E0
AccurateRip signature : C4D12A5E
->Accurately ripped! (AR2, confidence 2)
Statistics
Read error : 0
Jitter error (maybe fixed) : 0
Retry sector count : 0
Damaged sector count : 0

Track 06
Filename : /Users/iMac/Documents/Complete Mozart Edition/Volume 4/Disc 4of12/06 - Concerto No. 8 in C Major, K246 'Lutzow' - III. Rondeau. Tempo di menuetto.flac
Pre-gap length : 00:01:27

Track gain : 4.12 dB
Peak : 0.513000
CRC32 hash (test run) : 6C3221D9
CRC32 hash : 6C3221D9
CRC32 hash (skip zero) : 9D3A085A
AccurateRip signature : 7187CEAB
->Accurately ripped! (AR2, confidence 2)
Statistics
Read error : 0
Jitter error (maybe fixed) : 0
Retry sector count : 0
Damaged sector count : 0

Track 07
Filename : /Users/iMac/Documents/Complete Mozart Edition/Volume 4/Disc 4of12/07 - Concerto No. 11 in F Major, K413-387a - I. Allegro.flac
Pre-gap length : 00:09:70

Track gain : 2.57 dB
Peak : 0.695770
CRC32 hash (test run) : F4F63FE3
CRC32 hash : F4F63FE3
CRC32 hash (skip zero) : 17B622CF
AccurateRip signature : A2F8B1FF
->Accurately ripped! (AR2, confidence 2)
Statistics
Read error : 0
Jitter error (maybe fixed) : 0
Retry sector count : 0
Damaged sector count : 0

Track 08
Filename : /Users/iMac/Documents/Complete Mozart Edition/Volume 4/Disc 4of12/08 - Concerto No. 11 in F Major, K413-387a - II. Larghetto.flac
Pre-gap length : 00:04:52

Track gain : 4.33 dB
Peak : 0.659058
CRC32 hash (test run) : 49A3D71E
CRC32 hash : 49A3D71E
CRC32 hash (skip zero) : 9E7A7D5F
AccurateRip signature : 20DEFD00
->Accurately ripped! (AR2, confidence 2)
Statistics
Read error : 0
Jitter error (maybe fixed) : 0
Retry sector count : 0
Damaged sector count : 0

Track 09
Filename : /Users/iMac/Documents/Complete Mozart Edition/Volume 4/Disc 4of12/09 - Concerto No. 11 in F Major, K413-387a - III. Tempo di menuetto.flac
Pre-gap length : 00:03:53

Track gain : 2.31 dB
Peak : 0.523315
CRC32 hash (test run) : 04B33B77
CRC32 hash : 04B33B77
CRC32 hash (skip zero) : 7C5D6A24
AccurateRip signature : B1A465E8
->Accurately ripped! (AR2, confidence 2)
Statistics
Read error : 0
Jitter error (maybe fixed) : 0
Retry sector count : 0
Damaged sector count : 0

No errors occurred

End of status report
X Lossless Decoder version 20110821 (136.1)

XLD extraction logfile from 2011-09-23 23:47:48 +0300

Alfred Brendel, Academy of St Martin-in-the-Fields, Sir Neville Marriner / Piano Concertos [Volume 4]

Used drive : TSSTcorp CDDVDW SE-S084C (revision TS01)

Ripper mode : XLD Secure Ripper
Disable audio cache : OK for the drive with a cache less than 1375KiB
Make use of C2 pointers : NO
Read offset correction : 6
Max retry count : 100
Gap status : Analyzed, Appended (except HTOA)

TOC of the extracted CD
Track | Start | Length | Start sector | End sector
––––––––––––––––––––––––––––-
1 | 00:00:33 | 10:27:25 | 33 | 47082
2 | 10:27:58 | 12:19:50 | 47083 | 102557
3 | 22:47:33 | 10:20:37 | 102558 | 149094
4 | 33:07:70 | 10:35:23 | 149095 | 196742
5 | 43:43:18 | 08:49:05 | 196743 | 236422
6 | 52:32:23 | 06:33:47 | 236423 | 265944
7 | 59:05:70 | 08:32:23 | 265945 | 304367

List of alternate offset correction values
# | Absolute | Relative | Confidence
–––––––––––––––––––––
1 | 927 | 921 | 27
2 | 670 | 664 | 11
3 | -407 | -413 | 6
4 | 741 | 735 | 2

AccurateRip Summary
Track 01 : OK (confidence 7)
Track 02 : OK (confidence 7)
Track 03 : OK (confidence 7)
Track 04 : OK (confidence 7)
Track 05 : OK (confidence 7)
Track 06 : OK (confidence 7)
Track 07 : OK (confidence 6)
->All tracks accurately ripped.

All Tracks
Album gain : 2.37 dB
Peak : 0.774994
Statistics
Read error : 0
Jitter error (maybe fixed) : 0
Retry sector count : 0
Damaged sector count : 0

Track 01
Filename : /Users/iMac/Documents/Complete Mozart Edition/Volume 4/Disc 5of12/01 - Concerto No. 9 in E Flat Major, K271 'Jeunnehomme' - I. Allegro.flac
Pre-gap length : 00:02:33

Track gain : 1.67 dB
Peak : 0.774994
CRC32 hash (test run) : E01A385E
CRC32 hash : E01A385E
CRC32 hash (skip zero) : A6B434BE
AccurateRip signature : D3672977
->Accurately ripped! (confidence 7)
Statistics
Read error : 0
Jitter error (maybe fixed) : 0
Retry sector count : 0
Damaged sector count : 0

Track 02
Filename : /Users/iMac/Documents/Complete Mozart Edition/Volume 4/Disc 5of12/02 - Concerto No. 9 in E Flat Major, K271 'Jeunnehomme' - II. Andantino.flac
Pre-gap length : 00:06:20

Track gain : 3.28 dB
Peak : 0.757538
CRC32 hash (test run) : FF550D70
CRC32 hash : FF550D70
CRC32 hash (skip zero) : 1C5CC3C5
AccurateRip signature : F7E7A408
->Accurately ripped! (confidence 7)
Statistics
Read error : 0
Jitter error (maybe fixed) : 0
Retry sector count : 0
Damaged sector count : 0

Track 03
Filename : /Users/iMac/Documents/Complete Mozart Edition/Volume 4/Disc 5of12/03 - Concerto No. 9 in E Flat Major, K271 'Jeunnehomme' - III. Rondeau. Presto.flac
Pre-gap length : 00:04:65

Track gain : 1.50 dB
Peak : 0.718964
CRC32 hash (test run) : FE71E56E
CRC32 hash : FE71E56E
CRC32 hash (skip zero) : DF71D148
AccurateRip signature : C7D361A6
->Accurately ripped! (confidence 7)
Statistics
Read error : 0
Jitter error (maybe fixed) : 0
Retry sector count : 0
Damaged sector count : 0

Track 04
Filename : /Users/iMac/Documents/Complete Mozart Edition/Volume 4/Disc 5of12/04 - Concerto No. 12 in A Major, K414-385p - I. Allegro.flac
Pre-gap length : 00:10:72

Track gain : 3.45 dB
Peak : 0.636017
CRC32 hash (test run) : 7B7AD671
CRC32 hash : 7B7AD671
CRC32 hash (skip zero) : 71F86BFE
AccurateRip signature : 8727BD3E
->Accurately ripped! (confidence 7)
Statistics
Read error : 0
Jitter error (maybe fixed) : 0
Retry sector count : 0
Damaged sector count : 0

Track 05
Filename : /Users/iMac/Documents/Complete Mozart Edition/Volume 4/Disc 5of12/05 - Concerto No. 12 in A Major, K414-385p - II. Andante.flac
Pre-gap length : 00:04:48

Track gain : 4.55 dB
Peak : 0.495941
CRC32 hash (test run) : 2A0979C8
CRC32 hash : 2A0979C8
CRC32 hash (skip zero) : BE010BC7
AccurateRip signature : E86AA6CE
->Accurately ripped! (confidence 7)
Statistics
Read error : 0
Jitter error (maybe fixed) : 0
Retry sector count : 0
Damaged sector count : 0

Track 06
Filename : /Users/iMac/Documents/Complete Mozart Edition/Volume 4/Disc 5of12/06 - Concerto No. 12 in A Major, K414-385p - III. Allegretto.flac
Pre-gap length : 00:02:65

Track gain : 2.83 dB
Peak : 0.774750
CRC32 hash (test run) : 09F31219
CRC32 hash : 09F31219
CRC32 hash (skip zero) : AD612638
AccurateRip signature : 25782B93
->Accurately ripped! (confidence 7)
Statistics
Read error : 0
Jitter error (maybe fixed) : 0
Retry sector count : 0
Damaged sector count : 0

Track 07
Filename : /Users/iMac/Documents/Complete Mozart Edition/Volume 4/Disc 5of12/07 - Rondo in A Major, K386.flac
Pre-gap length : 00:09:22

Track gain : 1.24 dB
Peak : 0.744293
CRC32 hash (test run) : A15D7394
CRC32 hash : A15D7394
CRC32 hash (skip zero) : E8CBE1BD
AccurateRip signature : 51EBE352
->Accurately ripped! (confidence 6)
Statistics
Read error : 0
Jitter error (maybe fixed) : 0
Retry sector count : 0
Damaged sector count : 0

No errors occurred

End of status report
X Lossless Decoder version 20110821 (136.1)

XLD extraction logfile from 2011-09-23 23:24:15 +0300

Alfred Brendel, Academy of St Martin-in-the-Fields, Sir Neville Marriner / Piano Concertos [Volume 4]

Used drive : TSSTcorp CDDVDW SE-S084C (revision TS01)

Ripper mode : XLD Secure Ripper
Disable audio cache : OK for the drive with a cache less than 1375KiB
Make use of C2 pointers : NO
Read offset correction : 6
Max retry count : 100
Gap status : Analyzed, Appended (except HTOA)

TOC of the extracted CD
Track | Start | Length | Start sector | End sector
––––––––––––––––––––––––––––-
1 | 00:00:32 | 10:29:43 | 32 | 47249
2 | 10:30:00 | 08:43:62 | 47250 | 86536
3 | 19:13:62 | 09:11:45 | 86537 | 127906
4 | 28:25:32 | 11:32:40 | 127907 | 179846
5 | 39:57:72 | 10:30:05 | 179847 | 227101
6 | 50:28:02 | 07:43:43 | 227102 | 261869
7 | 58:11:45 | 05:45:65 | 261870 | 287809
8 | 63:57:35 | 02:17:67 | 287810 | 298151
9 | 66:15:27 | 01:54:55 | 298152 | 306756

AccurateRip Summary
Track 01 : OK (confidence 5)
Track 02 : OK (confidence 5)
Track 03 : OK (confidence 5)
Track 04 : OK (confidence 5)
Track 05 : OK (confidence 5)
Track 06 : OK (confidence 5)
Track 07 : OK (confidence 5)
Track 08 : OK (confidence 5)
Track 09 : OK (confidence 4)
->All tracks accurately ripped.

All Tracks
Album gain : 1.69 dB
Peak : 0.942200
Statistics
Read error : 0
Jitter error (maybe fixed) : 0
Retry sector count : 0
Damaged sector count : 0

Track 01
Filename : /Users/iMac/Documents/Complete Mozart Edition/Volume 4/Disc 6of12/01 - Concerto No. 13 in C Major, K415-387b - I. Allegro.flac
Pre-gap length : 00:02:32

Track gain : -0.91 dB
Peak : 0.850555
CRC32 hash (test run) : D62B8FBB
CRC32 hash : D62B8FBB
CRC32 hash (skip zero) : 66BCC975
AccurateRip signature : 36C913A6
->Accurately ripped! (confidence 5)
Statistics
Read error : 0
Jitter error (maybe fixed) : 0
Retry sector count : 0
Damaged sector count : 0

Track 02
Filename : /Users/iMac/Documents/Complete Mozart Edition/Volume 4/Disc 6of12/02 - Concerto No. 13 in C Major, K415-387b - II. Andante.flac
Pre-gap length : 00:06:20

Track gain : 3.84 dB
Peak : 0.621796
CRC32 hash (test run) : C72DED42
CRC32 hash : C72DED42
CRC32 hash (skip zero) : 18881E0C
AccurateRip signature : 36A4B48B
->Accurately ripped! (confidence 5)
Statistics
Read error : 0
Jitter error (maybe fixed) : 0
Retry sector count : 0
Damaged sector count : 0

Track 03
Filename : /Users/iMac/Documents/Complete Mozart Edition/Volume 4/Disc 6of12/03 - Concerto No. 13 in C Major, K415-387b - III. Allegro.flac
Pre-gap length : 00:04:45

Track gain : 2.06 dB
Peak : 0.675140
CRC32 hash (test run) : CC84A062
CRC32 hash : CC84A062
CRC32 hash (skip zero) : 8EACBD45
AccurateRip signature : 185B9E25
->Accurately ripped! (confidence 5)
Statistics
Read error : 0
Jitter error (maybe fixed) : 0
Retry sector count : 0
Damaged sector count : 0

Track 04
Filename : /Users/iMac/Documents/Complete Mozart Edition/Volume 4/Disc 6of12/04 - Concerto No. 17 in G Major, K453 - I. Allegro.flac
Pre-gap length : 00:10:15

Track gain : 3.02 dB
Peak : 0.596497
CRC32 hash (test run) : E6651962
CRC32 hash : E6651962
CRC32 hash (skip zero) : 0FBF6DFD
AccurateRip signature : 0354F153
->Accurately ripped! (confidence 5)
Statistics
Read error : 0
Jitter error (maybe fixed) : 0
Retry sector count : 0
Damaged sector count : 0

Track 05
Filename : /Users/iMac/Documents/Complete Mozart Edition/Volume 4/Disc 6of12/05 - Concerto No. 17 in G Major, K453 - II. Andante.flac
Pre-gap length : 00:04:57

Track gain : 6.27 dB
Peak : 0.514771
CRC32 hash (test run) : C9889027
CRC32 hash : C9889027
CRC32 hash (skip zero) : 993DFF2B
AccurateRip signature : 16D89012
->Accurately ripped! (confidence 5)
Statistics
Read error : 0
Jitter error (maybe fixed) : 0
Retry sector count : 0
Damaged sector count : 0

Track 06
Filename : /Users/iMac/Documents/Complete Mozart Edition/Volume 4/Disc 6of12/06 - Concerto No. 17 in G Major, K453 - III. Allegretto.flac
Pre-gap length : 00:04:67

Track gain : 3.16 dB
Peak : 0.750153
CRC32 hash (test run) : 12A303B4
CRC32 hash : 12A303B4
CRC32 hash (skip zero) : A96734FE
AccurateRip signature : EDED3191
->Accurately ripped! (confidence 5)
Statistics
Read error : 0
Jitter error (maybe fixed) : 0
Retry sector count : 0
Damaged sector count : 0

Track 07
Filename : /Users/iMac/Documents/Complete Mozart Edition/Volume 4/Disc 6of12/07 - Rondo in D Major, K382 - I. Allegretto grazioso.flac
Pre-gap length : 00:10:33

Track gain : 1.33 dB
Peak : 0.828247
CRC32 hash (test run) : 9D79D8D5
CRC32 hash : 9D79D8D5
CRC32 hash (skip zero) : 00630438
AccurateRip signature : DEE11A0E
->Accurately ripped! (confidence 5)
Statistics
Read error : 0
Jitter error (maybe fixed) : 0
Retry sector count : 0
Damaged sector count : 0

Track 08
Filename : /Users/iMac/Documents/Complete Mozart Edition/Volume 4/Disc 6of12/08 - Rondo in D Major, K382 - II. Adagio.flac
Pre-gap length : 00:00:50

Track gain : 2.98 dB
Peak : 0.470245
CRC32 hash (test run) : 183B707A
CRC32 hash : 183B707A
CRC32 hash (skip zero) : D4474CDA
AccurateRip signature : 0991B117
->Accurately ripped! (confidence 5)
Statistics
Read error : 0
Jitter error (maybe fixed) : 0
Retry sector count : 0
Damaged sector count : 0

Track 09
Filename : /Users/iMac/Documents/Complete Mozart Edition/Volume 4/Disc 6of12/09 - Rondo in D Major, K382 - III. Allegro.flac
Pre-gap length : 00:00:60

Track gain : -2.04 dB
Peak : 0.942200
CRC32 hash (test run) : 85468CCB
CRC32 hash : 85468CCB
CRC32 hash (skip zero) : B966C966
AccurateRip signature : D3BB6BD6
->Accurately ripped! (confidence 4)
Statistics
Read error : 0
Jitter error (maybe fixed) : 0
Retry sector count : 0
Damaged sector count : 0

No errors occurred

End of status report
X Lossless Decoder version 20110821 (136.1)

XLD extraction logfile from 2011-09-23 22:59:16 +0300

Alfred Brendel, Academy of St Martin-in-the-Fields, Sir Neville Marriner / Piano Concertos [Volume 4]

Used drive : TSSTcorp CDDVDW SE-S084C (revision TS01)

Ripper mode : XLD Secure Ripper
Disable audio cache : OK for the drive with a cache less than 1375KiB
Make use of C2 pointers : NO
Read offset correction : 6
Max retry count : 100
Gap status : Analyzed, Appended (except HTOA)

TOC of the extracted CD
Track | Start | Length | Start sector | End sector
––––––––––––––––––––––––––––-
1 | 00:00:00 | 08:42:20 | 0 | 39169
2 | 08:42:20 | 07:24:00 | 39170 | 72469
3 | 16:06:20 | 06:24:05 | 72470 | 101274
4 | 22:30:25 | 11:09:63 | 101275 | 151512
5 | 33:40:13 | 06:20:20 | 151513 | 180032
6 | 40:00:33 | 08:02:05 | 180033 | 216187
7 | 48:02:38 | 10:17:17 | 216188 | 262479
8 | 58:19:55 | 06:26:70 | 262480 | 291499
9 | 64:46:50 | 06:12:24 | 291500 | 319423

AccurateRip Summary
Track 01 : OK (confidence 6)
Track 02 : OK (confidence 6)
Track 03 : OK (confidence 6)
Track 04 : OK (confidence 6)
Track 05 : OK (confidence 6)
Track 06 : OK (confidence 6)
Track 07 : OK (confidence 6)
Track 08 : OK (confidence 6)
Track 09 : OK (confidence 6)
->All tracks accurately ripped.

All Tracks
Album gain : 2.49 dB
Peak : 0.936768
Statistics
Read error : 0
Jitter error (maybe fixed) : 0
Retry sector count : 0
Damaged sector count : 0

Track 01
Filename : /Users/iMac/Documents/Complete Mozart Edition/Volume 4/Disc 7of12/01 - Concerto No. 14 in E Flat Major, K449 - I. Allegro vivace.flac
Pre-gap length : 00:02:00

Track gain : 2.11 dB
Peak : 0.828583
CRC32 hash (test run) : BBBAF2C1
CRC32 hash : BBBAF2C1
CRC32 hash (skip zero) : E714E72F
AccurateRip signature : 1293606C
->Accurately ripped! (confidence 6)
Statistics
Read error : 0
Jitter error (maybe fixed) : 0
Retry sector count : 0
Damaged sector count : 0

Track 02
Filename : /Users/iMac/Documents/Complete Mozart Edition/Volume 4/Disc 7of12/02 - Concerto No. 14 in E Flat Major, K449 - II. Andantino.flac
Pre-gap length : 00:06:27

Track gain : 5.82 dB
Peak : 0.452087
CRC32 hash (test run) : 9290247B
CRC32 hash : 9290247B
CRC32 hash (skip zero) : C5593A9F
AccurateRip signature : 26A7DA41
->Accurately ripped! (confidence 6)
Statistics
Read error : 0
Jitter error (maybe fixed) : 0
Retry sector count : 0
Damaged sector count : 0

Track 03
Filename : /Users/iMac/Documents/Complete Mozart Edition/Volume 4/Disc 7of12/03 - Concerto No. 14 in E Flat Major, K449 - III. Allegro ma non troppo.flac
Pre-gap length : 00:04:47

Track gain : 2.99 dB
Peak : 0.640594
CRC32 hash (test run) : B8319FD5
CRC32 hash : B8319FD5
CRC32 hash (skip zero) : 8ACAEEE1
AccurateRip signature : AD898BA5
->Accurately ripped! (confidence 6)
Statistics
Read error : 0
Jitter error (maybe fixed) : 0
Retry sector count : 0
Damaged sector count : 0

Track 04
Filename : /Users/iMac/Documents/Complete Mozart Edition/Volume 4/Disc 7of12/04 - Concerto No. 15 in B Flat Major, K450 - I. Allegro.flac
Pre-gap length : 00:04:38

Track gain : 2.37 dB
Peak : 0.655609
CRC32 hash (test run) : 58BD7D84
CRC32 hash : 58BD7D84
CRC32 hash (skip zero) : 24F2CD0E
AccurateRip signature : 9F05BA4F
->Accurately ripped! (confidence 6)
Statistics
Read error : 0
Jitter error (maybe fixed) : 0
Retry sector count : 0
Damaged sector count : 0

Track 05
Filename : /Users/iMac/Documents/Complete Mozart Edition/Volume 4/Disc 7of12/05 - Concerto No. 15 in B Flat Major, K450 - II. (Andante).flac
Pre-gap length : 00:08:23

Track gain : 4.68 dB
Peak : 0.488159
CRC32 hash (test run) : 7496D5CB
CRC32 hash : 7496D5CB
CRC32 hash (skip zero) : 9C3B7C32
AccurateRip signature : 90E2BAE3
->Accurately ripped! (confidence 6)
Statistics
Read error : 0
Jitter error (maybe fixed) : 0
Retry sector count : 0
Damaged sector count : 0

Track 06
Filename : /Users/iMac/Documents/Complete Mozart Edition/Volume 4/Disc 7of12/06 - Concerto No. 15 in B Flat Major, K450 - III. Allegro.flac
Pre-gap length : 00:04:10

Track gain : 2.27 dB
Peak : 0.736633
CRC32 hash (test run) : 780A95BF
CRC32 hash : 780A95BF
CRC32 hash (skip zero) : CC6512F5
AccurateRip signature : EE326472
->Accurately ripped! (confidence 6)
Statistics
Read error : 0
Jitter error (maybe fixed) : 0
Retry sector count : 0
Damaged sector count : 0

Track 07
Filename : /Users/iMac/Documents/Complete Mozart Edition/Volume 4/Disc 7of12/07 - Concerto No. 16 in D Major, K451 - I. Allegro assai.flac
Pre-gap length : 00:06:03

Track gain : 1.42 dB
Peak : 0.925385
CRC32 hash (test run) : 8DB16597
CRC32 hash : 8DB16597
CRC32 hash (skip zero) : 0450166B
AccurateRip signature : FF950DFB
->Accurately ripped! (confidence 6)
Statistics
Read error : 0
Jitter error (maybe fixed) : 0
Retry sector count : 0
Damaged sector count : 0

Track 08
Filename : /Users/iMac/Documents/Complete Mozart Edition/Volume 4/Disc 7of12/08 - Concerto No. 16 in D Major, K451 - II. Andante.flac
Pre-gap length : 00:07:22

Track gain : 5.61 dB
Peak : 0.348969
CRC32 hash (test run) : 04A35DC5
CRC32 hash : 04A35DC5
CRC32 hash (skip zero) : C9B0AB6A
AccurateRip signature : EAFB1760
->Accurately ripped! (confidence 6)
Statistics
Read error : 0
Jitter error (maybe fixed) : 0
Retry sector count : 0
Damaged sector count : 0

Track 09
Filename : /Users/iMac/Documents/Complete Mozart Edition/Volume 4/Disc 7of12/09 - Concerto No. 16 in D Major, K451 - III. Allegro di molto.flac
Pre-gap length : 00:03:55

Track gain : 1.43 dB
Peak : 0.936768
CRC32 hash (test run) : D11B389D
CRC32 hash : D11B389D
CRC32 hash (skip zero) : 80263954
AccurateRip signature : B9E01DB2
->Accurately ripped! (confidence 6)
Statistics
Read error : 0
Jitter error (maybe fixed) : 0
Retry sector count : 0
Damaged sector count : 0

No errors occurred

End of status report
X Lossless Decoder version 20110821 (136.1)

XLD extraction logfile from 2011-09-23 22:34:41 +0300

Alfred Brendel, Academy of St-Martin-in-the-Fields, Sir Neville Marriner / Piano Concertos [Volume 4]

Used drive : TSSTcorp CDDVDW SE-S084C (revision TS01)

Ripper mode : XLD Secure Ripper
Disable audio cache : OK for the drive with a cache less than 1375KiB
Make use of C2 pointers : NO
Read offset correction : 6
Max retry count : 100
Gap status : Analyzed, Appended (except HTOA)

TOC of the extracted CD
Track | Start | Length | Start sector | End sector
––––––––––––––––––––––––––––-
1 | 00:00:33 | 12:05:17 | 33 | 54424
2 | 12:05:50 | 09:38:60 | 54425 | 97834
3 | 21:44:35 | 07:12:23 | 97835 | 130257
4 | 28:56:58 | 12:18:32 | 130258 | 185639
5 | 41:15:15 | 08:20:65 | 185640 | 223204
6 | 49:36:05 | 07:17:70 | 223205 | 256049

List of alternate offset correction values
# | Absolute | Relative | Confidence
–––––––––––––––––––––
1 | 1354 | 1348 | 26
2 | 1279 | 1273 | 8
3 | 1322 | 1316 | 7
4 | 586 | 580 | 3

AccurateRip Summary
Track 01 : OK (AR2, confidence 2)
Track 02 : OK (AR2, confidence 2)
Track 03 : OK (AR2, confidence 2)
Track 04 : OK (AR2, confidence 2)
Track 05 : OK (AR2, confidence 2)
Track 06 : OK (AR2, confidence 2)
->All tracks accurately ripped.

All Tracks
Album gain : 0.89 dB
Peak : 0.846252
Statistics
Read error : 0
Jitter error (maybe fixed) : 0
Retry sector count : 0
Damaged sector count : 0

Track 01
Filename : /Users/iMac/Documents/Complete Mozart Edition/Volume 4/Disc 8of12/01 - Concerto No. 18 in B Flat Major, K456 - I. Allegro vivace.flac
Pre-gap length : 00:02:33

Track gain : 0.28 dB
Peak : 0.846252
CRC32 hash (test run) : 2FD1D698
CRC32 hash : 2FD1D698
CRC32 hash (skip zero) : 14050777
AccurateRip signature : 95DA537C
->Accurately ripped! (AR2, confidence 2)
Statistics
Read error : 0
Jitter error (maybe fixed) : 0
Retry sector count : 0
Damaged sector count : 0

Track 02
Filename : /Users/iMac/Documents/Complete Mozart Edition/Volume 4/Disc 8of12/02 - Concerto No. 18 in B Flat Major, K456 - II. Andante un poco sostenuto.flac
Pre-gap length : 00:04:05

Track gain : 0.77 dB
Peak : 0.595245
CRC32 hash (test run) : 744879D9
CRC32 hash : 744879D9
CRC32 hash (skip zero) : F44D3F3F
AccurateRip signature : 14280435
->Accurately ripped! (AR2, confidence 2)
Statistics
Read error : 0
Jitter error (maybe fixed) : 0
Retry sector count : 0
Damaged sector count : 0

Track 03
Filename : /Users/iMac/Documents/Complete Mozart Edition/Volume 4/Disc 8of12/03 - Concerto No. 18 in B Flat Major, K456 - III. Allegro vivace.flac
Pre-gap length : 00:03:30

Track gain : -0.08 dB
Peak : 0.736816
CRC32 hash (test run) : 062607DB
CRC32 hash : 062607DB
CRC32 hash (skip zero) : C67F1A20
AccurateRip signature : 57F40E6B
->Accurately ripped! (AR2, confidence 2)
Statistics
Read error : 0
Jitter error (maybe fixed) : 0
Retry sector count : 0
Damaged sector count : 0

Track 04
Filename : /Users/iMac/Documents/Complete Mozart Edition/Volume 4/Disc 8of12/04 - Concerto No. 19 in F Major, K459 - I. Allegro vivace.flac
Pre-gap length : 00:11:05

Track gain : 1.97 dB
Peak : 0.576111
CRC32 hash (test run) : 0683DBF3
CRC32 hash : 0683DBF3
CRC32 hash (skip zero) : 9E4C5FE5
AccurateRip signature : 249250A6
->Accurately ripped! (AR2, confidence 2)
Statistics
Read error : 0
Jitter error (maybe fixed) : 0
Retry sector count : 0
Damaged sector count : 0

Track 05
Filename : /Users/iMac/Documents/Complete Mozart Edition/Volume 4/Disc 8of12/05 - Concerto No. 19 in F Major, K459 - II. Allegretto.flac
Pre-gap length : 00:05:35

Track gain : 5.31 dB
Peak : 0.483002
CRC32 hash (test run) : 5A9D12DA
CRC32 hash : 5A9D12DA
CRC32 hash (skip zero) : B1AEDCAD
AccurateRip signature : 16F307F4
->Accurately ripped! (AR2