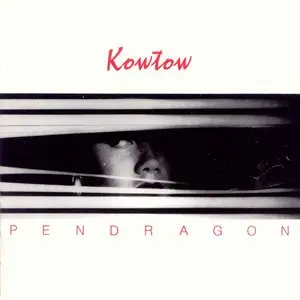 Pendragon - KowTow (1988)
Neo-Progressive Rock | 1CD | mp3 129 kbps| tracks :9 | Year: 1988 | 119 Mb
Studio Album, released in 1988
After being dropped by EMI Records Pendragon decided to go for an own record label, called Toff records. After a few years this was the first (studio) CD with Clive Nolan and Fudge Smith. This album indicates a slight difference with the earlier albums. Nick Barrett tries to write some shorter, more single orientated songs, but he doesn't forget the long epics !

KowTow opens with Saved By You, a very simple track, and very poppy ! The Mask, Time For A Change and I Walk The Rope are a little "best of both worlds": very good compositions but a little shorter (4-5 minutes) than the songs on previous albums. An indication that Pendragon goes a little more song-orientated.
2.AM starts with a saxophone and is a very sad, melancholic ballad. Next tracks Total Recall and The Haunting are long, progressive songs which make me think of the "old" classical Pendragon songs. Especially The Haunting is a FANTASTIC song (by far the best on this album); Pendragon at it's best ! Solid Heart is a very nice sing-along song while KowTow is a statement about war in which Nick Barrett proves he can write good lyrics.

A great (re)start for Pendragon at this stage of their career. Especially the nice keyboard sound of Clive Nolan and the aggressive and subtile drum sound of Fudge Smith makes it a very good album. But you have to like the song orientated direction Pendragon shows on this album.
Style : Neo-Progressive Rock
Country: United Kingdom
Songs / Tracks Listing:
1. Saved By You (3:58) (Omitted from original LP)
2. The Mask (4:01)
3. Time For A Change (3:56)
4. I Walk The Rope (4:47)
5. 2 AM (4:14)
6. Total Recall (7:00)
7. The Haunting (10:40)
8. Solid Heart (4:20)
9. Kowtow (8:56)
Total Time: 51:52
Line-up / Musicians
- Nick Barrett / vocals, guitars
- Peter Gee / bass
- Fudge Smith / drums
- Clive Nolan / keyboards
GUEST:
- Julian Siegal / saxophone
mirrors are welcome :-)