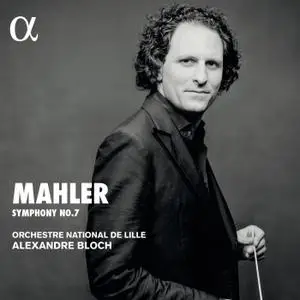 Orchestre National de Lille & Alexandre Bloch - Mahler: Symphony No. 7 (2020)
WEB FLAC (tracks) - 319 Mb | MP3 CBR 320 kbps - 176 Mb | Digital booklet | 01:14:14
Classical | Label: Alpha Classics, Outhere Music
Alexandre Bloch, who has been Music Director of the Orchestre National de Lille since 2016, has chosen to devote a whole season of concerts to Mahler's symphonies. The Seventh (1904-05) is the most rarely recorded of the cycle unjustly, because this work later nicknamed Song of the Night testifies as clearly as its companions to the metaphysical grandiloquence that haunted Mahler during its gestation. From the gloomy Adagio of the first movement to the thundering Rondo that concludes the work, Alexandre Bloch and his orchestra lead us from the anguish of twilight to the ecstasies of dawn.
Tracklist:1.
Symphony No. 7 in E Minor: I. Langsam
(21:01)
2.
Symphony No. 7 in E Minor: II. Nachtmusik
(14:58)
3.
Symphony No. 7 in E Minor: III. Scherzo
(09:47)
4.
Symphony No. 7 in E Minor: IV. Nachtmusik
(11:36)
5.
Symphony No. 7 in E Minor: V. Rondo - Finale
(16:50)
–––––––––––-

DON'T MODIFY THIS FILE

–––––––––––-

PERFORMER: auCDtect Task Manager, ver. 1.6.0 RC1 build 1.6.0.1
Copyright © 2008-2010 y-soft. All rights reserved

ANALYZER: auCDtect: CD records authenticity detector, version 0.8.2
Copyright © 2004 Oleg Berngardt. All rights reserved.
Copyright © 2004 Alexander Djourik. All rights reserved.


FILE: 05 Symphony No. 7 in E Minor V. Rondo - Finale.flac
Size: 83981958 Hash: ED3276A645331AD1B8BE5034FB0E63A5 Accuracy: -m8
Conclusion: CDDA 100%
Signature: 9FD1568C1B6020E132F9221F41611D7BAC17673B
FILE: 04 Symphony No. 7 in E Minor IV. Nachtmusik.flac
Size: 42643345 Hash: 8431025F7BA8ADA826DB9737BF09602A Accuracy: -m8
Conclusion: CDDA 100%
Signature: FB1A1221421D3221382C1428DAEF606FB95CAA19
FILE: 03 Symphony No. 7 in E Minor III. Scherzo.flac
Size: 41079020 Hash: 069C4BAC42D0011B778BD687805E2642 Accuracy: -m8
Conclusion: CDDA 100%
Signature: 541E14D435DE47F37692ABD356B4F7A101CE00AC
FILE: 02 Symphony No. 7 in E Minor II. Nachtmusik.flac
Size: 56638168 Hash: F6E0B9F4579838DC724DCF82846EF22E Accuracy: -m8
Conclusion: CDDA 100%
Signature: A30CB62061688D2D8CFFC2839C9582077BFE0061
FILE: 01 Symphony No. 7 in E Minor I. Langsam.flac
Size: 104847431 Hash: AD8B6927331903ED3336AE0E5436F8A9 Accuracy: -m8
Conclusion: CDDA 100%
Signature: 880253BA21F4E1B098CCCAEA7B9B673C3A33E937