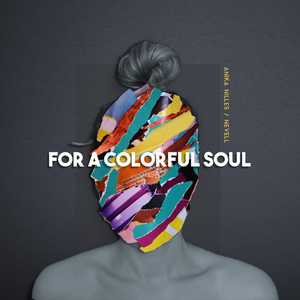 Anika Nilles - For a Colorful Soul (feat. Nevell) (2020)
WEB FLAC (tracks) ~ 267.50 Mb | MP3 CBR 320kbps ~ 96.57 Mb | 00:40:56 | Cover
Jazz | Country: Germany | Label: Sakurai Records
The sound of Nevell is a melting pot of numerous influences ranging from Jazz, Funk, Rock, Pop, and anything in-between, held together with a strong focus on the drum beats and synth tones. "For a colorful soul" really serves to portrait the immense talent of each member in Nevell, and also makes room for a guest appearance by the acclaimed Percussionist Nate Werth. But, more importantly, the album is rounded off with really catchy themes and some beautifully melodic soloing, making these songs likely to resonate with any listener, regardless of their musical background.
Track List:
01. Neon [00:04:19]
02. Pure [00:04:20]
03. Dark Chocolate [00:06:06]
04. Bulgarian Nights [00:04:38]
05. The Age [00:04:14]
06. Golden Sparks [00:05:02]
07. Circles [00:04:19]
08. Nakagawa [00:04:01]
09. Smooth7 (Bonus Track) [00:03:55]
–––––––––––-
DON'T MODIFY THIS FILE
–––––––––––-
PERFORMER: auCDtect Task Manager, ver. 1.6.0 RC1 build 1.6.0.1
Copyright © 2008-2010 y-soft. All rights reserved
http://y-soft.org
ANALYZER: auCDtect: CD records authenticity detector, version 0.8.2
Copyright © 2004 Oleg Berngardt. All rights reserved.
Copyright © 2004 Alexander Djourik. All rights reserved.
FILE: Anika Nilles, Nevell-For a Colorful Soul-track-09.flac
Size: 25945613 Hash: D2E1DA8DA3482C9AA45312299ACB9539 Accuracy: -m8
Conclusion: CDDA 100%
Signature: 938FB6A12729F1BF8149891E0601B64F0DDFC61A
FILE: Anika Nilles, Nevell-For a Colorful Soul-track-08.flac
Size: 29539810 Hash: AA5935EE1BDC53330FEDCBA07CC2E372 Accuracy: -m8
Conclusion: CDDA 100%
Signature: 92EFFEE3FABEC82F7E2DA80124FBC151781EC2B3
FILE: Anika Nilles, Nevell-For a Colorful Soul-track-07.flac
Size: 28660028 Hash: 8E9B562C50E12A9C92A239CEA932AB12 Accuracy: -m8
Conclusion: CDDA 100%
Signature: 31A0EDB0D0B715E87644C42CBE8F5BBA5D378A68
FILE: Anika Nilles, Nevell-For a Colorful Soul-track-06.flac
Size: 32556397 Hash: 65DE5EB0AE63FE50AADBB4335E8CBCEF Accuracy: -m8
Conclusion: CDDA 99%
Signature: FB0BBD48259C6117829850A06A48CF2C0AF40CC5
FILE: Anika Nilles, Nevell-For a Colorful Soul-track-05.flac
Size: 29373696 Hash: F9504473A03DC5A849BEE3BD01E2A468 Accuracy: -m8
Conclusion: CDDA 100%
Signature: D567614EA91A635C9EA1352839E8DA41396A2F40
FILE: Anika Nilles, Nevell-For a Colorful Soul-track-04.flac
Size: 32408193 Hash: 0F7434B4161839DF96411962D44E3E38 Accuracy: -m8
Conclusion: CDDA 100%
Signature: A66F92406FB7EFCE70C7DD800397B19A06A095CD
FILE: Anika Nilles, Nevell-For a Colorful Soul-track-03.flac
Size: 41999749 Hash: 7BB04CD8318C9CFA3BEB2C29D2DB8F19 Accuracy: -m8
Conclusion: CDDA 100%
Signature: A3D0F9846916D945F61ABBAE7D62250255CC907A
FILE: Anika Nilles, Nevell-For a Colorful Soul-track-02.flac
Size: 29556503 Hash: D03E7E45E284DC1B7C4953215AF39C1E Accuracy: -m8
Conclusion: CDDA 100%
Signature: 0F8B77EC1C9EF41D6B85911FBF67002F7E847E6D
FILE: Anika Nilles, Nevell-For a Colorful Soul-track-01.flac
Size: 30098377 Hash: 251864CFB30622481F8A32D75957B388 Accuracy: -m8
Conclusion: CDDA 100%
Signature: B60D1FE4634B61EA0B093F807F0CA672FE5CB75A