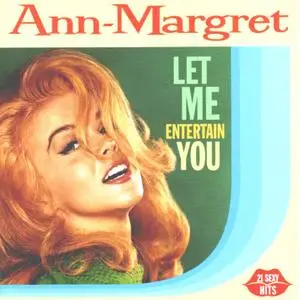 Ann-Margret - Let Me Entertain You (1996)
MP3 | CBR 320 Kbps | 129MB | 57:00 | Easy, Vocal | Covers
Born in Sweden but adopted by America, she is the consummate entertainer. One of the world's most glamorous and versatile superstars, she has twice been nominated for an Academy Award, won five Golden Globe Awards, and received five Emmy nominations. She draws sell-out crowds in Las Vegas, Atlantic City and Radio City Music Hall and is a three-time winner of the "Female Star of the Year" award given by the United Motion Picture Association.
Tracklisting :
Bye Bye Birdie (From the Columbia Pictures production 'Bye Bye Birdie')
Let Me Entertain You (From the Warner Bros movie 'Gypsy')
Lovin' Spree
There'll Be Some Changes Made
Something To Think About (From the 20th Century Fox movie 'The Pleasure Seekers')
Thirteen Men
Romance In The Dark
The Good Life (From the Paramount movie 'The Swinger')
Please Don't Talk About Me When I'm Gone
What Am I Supposed To Do
That's What I Like
Slowly
Heartbreak Hotel
The Lady Loves Me (Duet with Elvis Presley from the MGM movie soundtrack 'Viva Las Vegas')
C'est Si Bon
I Wanna Be Loved (From the Paramount movie 'The Swinger')
I Just Don't Understand
More Than You Know
Personality (Duet with Al Hirt)
It Do Me So Good
As Long As He Needs Me (From the Broadway production 'Oliver')
Download link to textfile with full info :
:)