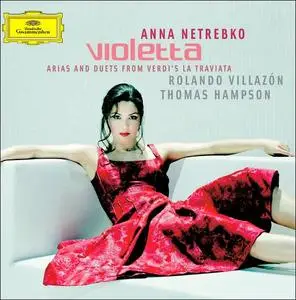 Anna NETREBKO - Violetta : Arias & Duets from Verdi's la Traviata (2005)
Un p'tit UP en cadeau de fin d'année 2006 (mp3@320) + All Covers & Inlays
Audio CD
(2005)
Label DEUTSCHE GRAMMOPHON
La TRAVIATA, Opera
Composed by Giuseppe VERDI
Performed by VIENNA PHILHARMONIC Orchestra, Paul Gay, Thomas Hampson, Rupert Huber, Konzertvereinigung Wiener Staatsopernchor, Luigi Roni, Helene Schneiderman, Anna Netrebko, Rolando Villazón, Salvatore Cordella, Herman Wallén and Diane Pilcher
Conducted by Carlo RIZZI
01. La Traviata (Original Version)
02. Libiamo Ne'lieti Calici Brind
03. Che Cio? (Act 1)
04. Un Di Felice, Eterea (Act 1)
05. E Strano! - Ah, Fors' Lui
06. Follie! Delirio Vano Questo!
07. Lunge Da Lei - De' Miei Boll
08. Annina, Donde Vieni? - Oh Mi
09. Pura Siccome Un Angelo (Act 2)
10. Non Sapete Quale Affetto (Act)
11. Un Di, Quando Le Veneri (Act)
12. Ah! Dite Alla Giovine (Act 2)
13. Imponete Non Amarlo Ditegli
14. Dammi Tu Forza, O Cielo! (Act)
15. Che Fai? Nulla (Act 2)
16. Di Provenza Il Mar, Il Suol
17. Di Madride Noi Siam Mattadori
18. Invitato A Qui Seguirmi (Act)
19. Ogni Suo Aver Tal Femmina (Act)
20. Di Sprezzo Degno Se Stesso Ren
21. Alfredo, Alfredo, Di Questo Co
22. Tenesta La Promessa - Attend
23. Signora…Che T'accade?
24. Parigi, O Cara, Noi Lasceremo
25. Ah, Violetta! Voi? Signor?
26. Prendi, Quest' L'immagine
190 Mb
http://www.ftp2share.com/file/...i's la Traviata (2005) MU.html
ou/or
http://www.ftp2share.com/file/...i's la Traviata (2005) MF.html
DELETED
Or NEW LINK
http://www.ftp2share.com/file/...a Traviata (2005) FileHO!.html
No Pass
Some opera lovers may have hesitated to add another complete La Traviata to their collections when Anna Netrebko and Rolando Villazón released their highly praised Salzburg Festival performance in 2005. But this album of highlights from the same production should prove harder to resist. Not that Traviata has any filler that needs to be cut, but here the charismatic young stars can be heard in their finest, most expressive moments. Nearly two-thirds of the opera is squeezed onto a single disc, with most of the famous scenes and arias in place and Act III nearly complete. Since Netrebko and Villazón are the selling points, a few of the usual highlights are omitted – such as the baritone aria "Di Provenza il mar" and the orchestral preludes – but still, the opera's narrative comes across as clearly as the glory of the singing. And best of all, a bonus DVD featuring excerpts from Act I reveals the smoldering intensity these singers brought to their acting as well as their singing. (Also included is an entertainingly campy MTV-style feature of Netrebko singing Mozart.) It's rare for a highlights disc to recommend itself over a complete opera recording, but this release is not only an excellent introduction to La Traviata for newcomers; it's also an ideal supplement for seasoned listeners eager to hear these young stars taking on roles they're sure to be identified with for many years to come.
Scott Paulin