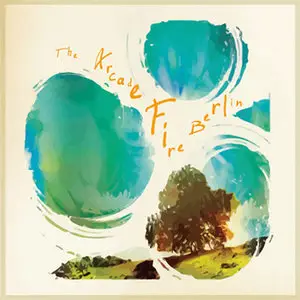 Arcade Fire - Berlin (2005-05-20) (FM)
2005 | FLAC | no LOG no CUE no idea how ripped | HQ Artwork | 508 MB
MD5 [X] FFP [] CUE [] LOG [] INFO TEXT [X] ARTWORK [X]
Original Info File:
THE ARCADE FIRE
Live in Berlin
20/5/05
FM broadcast

01. Neighborhood #2 (Laika)
02. No Cars Go
03. Haiti
04. My Heart Is An Apple
05. Sleeping In A Submarine (SSN 680)
06. Crown Of Love
07. Neighborhood #1 (Tunnels)
08. Une Annee Sans Lumiere
09. Neighborhood #3 (Power Out)
10. Rebellion (Lies)
11. Wake Up
12. In The Backseat

Lineage: CDR>Mac>xACT>FLAC>Tomato>Dime

Originally grabbed from Dime a year or so ago I believe, sending it back up. No knowledge of the original seeder or taper I'm afraid - but thankyou, whoever you are.
Band Info:
Arcade Fire is an indie rock band based in Montreal, Quebec, Canada and fronted by the husband and wife duo of Win Butler and Régine Chassagne. The band was formed while Win Butler attended Phillips Exeter Academy in Exeter, New Hampshire, United States. The lineup changed and solidified in 2003 and 2004, during the recording of their first full-length album, Funeral.
The band is known for their live performances and their use of a large number of musical instruments; in addition to the guitar, drums, and bass guitar, the band's members also play instruments such as the piano, violin, viola, accordion, glockenspiel, upright bass, trumpet, and french horn. When asked about the name of the band, lead vocalist Butler stated that it refers to a fire that supposedly occurred in Exeter Arcade.[1]
Arcade Fire has won numerous awards, including both the Meteors 2008 Best International Album award and the Juno Awards 2008 Alternative Album of the Year award for Neon Bible. It has also been nominated for the Best Alternative Music Album Grammy in 2005 for Funeral and in 2008 for Neon Bible.
Format:
Flac (Compression Level 8)
Links:
[rapidshare.com/200 MB Splits]
via secured.in
http://secured.in/download-316346-f6c1e98a.html
via stealth.to
incl. .dlc, .ccf, .rsdf
http://stealth.to/?id=bu4vgyeabvwonoy0szcqqtz5cyphmugmf8
Password:
ceart-bootlegs
Visit my Blog:
not allowed on avax, please guess from password
MIRRORS ARE WELCOME BUT NOT ON RAPIDSHARE! Thanks.

I added a new encrypter for those who cannot handle secured.in. If you have still problems after using the second one, it is the below described java problem

IF YOU HAVE PROBLEMS GETTING THE LINKS FROM SECURED.IN - CHECK IF A POP-UP IS BLOCKED!!!
Also you have to enable javascript - check if you have the "no-script" add-on for firefox enabled!If you have still problems AFTER disabling Java-Script contact me via PM. I´ll try to help as good as i can.

BUT there will be no MIRRORS and i will not leave secured.in. All comments with these matters are useless. Sorry.––> I SUGGEST TO ALL WHO HAVE PROBLEMS USING SECURED.IN or want to download automated with the rsdf (AND ALL OTHERS TOO…) <––
––> TO USE THE FREE DOWNLOAD MANAGER "JDOWNLOADER" <––
––> (DOWNLOAD HERE: http://jdownloader.org/news?lng=en) <––
––> THIS ONE CAN ALSO HANDLE THE RSDF FILE AND DECRYPTS LINK ENCRYPTER PAGES AUTOMATICALLY! <––
––> BELIEVE IN ME, IT WILL MAKE RAPIDSHARE MUCH EASIER! <––