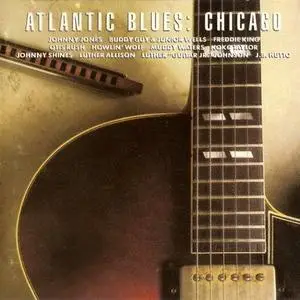 Atlantic Blues: Chicago (1982)
MP3 CBR 320 Kpbs | 74:21 min | Front Cover Only | 162 Mb | RAR 3%
Blues | Label: Atlantic
"Chess is arguably the first label for blues, but behemoth Atlantic has enough of the stuff – albeit a bit past its prime – to still warrant a multi-disc box. This separately sold part of that package takes in some of the giants from the Illinois epicenter of urban blues. Two of the best, Howlin' Wolf and Muddy Waters, as well as latter-day Windy City queen Koko Taylor, are featured on cuts taped live at the 1972 Ann Arbor Blues Festival. Back in the studio, the mighty tandem of Buddy Guy and Junior Wells mixes it up with Dr. John and Eric Clapton, while Southern blues scion Duane Allman contributes fine slide work to a couple of top-notch Otis Rush performances. Freddie King's three numbers, featuring honking sax star King Curtis and the arrangements of soul great Donny Hathaway, take the prize, though. Not a good primer, maybe, but a solid blues roundup all the same."
(AllMusic)
01 - Johnny Jones - Chicago Blues
02 - Buddy Guy & Junior Wells - Poor Man's Plea
03 - Buddy Guy & Junior Wells - My Baby She Left Me
04 - Buddy Guy & Junior Wells - T-Bone Shuffle
05 - Freddie King - I Wonder Why
06 - Freddie King - Play It Cool
07 - Freddie King - Wake Up This Morning
08 - Otis Rush - Gambler's Blues
09 - Otis Rush - Feel So Bad
10 - Otis Rush - Reap What You Sow
11 - Howlin' Wolf - Highway 49
12 - Muddy Waters - Honey Bee
13 - Koko Taylor - Wang Dang Doodle
14 - Johnny Shines - Dust My Broom
15 - Luther Allison - Please Send Me Someone To Love
16 - Luther 'Guitar Jr.' Johnson - Walkin' The Dog
17 - J. B. Hutto - I Feel So Good