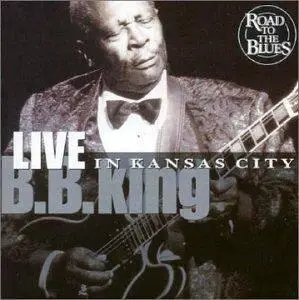 Artist:
B.B. King
Title:
Live In Kansas City
Label:
Blues Factory
Genre:
Blues
Recorded:
1972
Released:
2000
Format:
MP3
Bitrate:
VBR, avg 204 kBit/s
Size: 74.9 MB (incl. 5% Recovery record)
Universally hailed as the reigning king of the blues, the legendary B.B. King is without a doubt the single most important electric guitarist of the last half century. A contemporary blues guitar solo without at least a couple of recognizable King-inspired bent notes is all but unimaginable, and he remains a supremely confident singer capable of wringing every nuance from any lyric (and he's tried his hand at many an unlikely song, anybody recall his version of "Love Me Tender?").
Yet B.B. King remains an intrinsically humble superstar, an utterly accessible icon who welcomes visitors into his dressing room with self-effacing graciousness. Between 1951 and 1985, King notched an amazing 74 entries on Billboard's R&B charts, and he was one of the few full-fledged blues artists to score a major pop hit when his 1970 smash "The Thrill Is Gone" crossed over to mainstream success (engendering memorable appearances on The Ed Sullivan Show and American Bandstand).
The seeds of King's enduring talent were sown deep in the blues-rich Mississippi Delta. That's where Riley B. King was sired, in Itta Bena, to be exact. By no means was his childhood easy. Young King was shuttled between his mother's home and his grandmother's residence. The youth put in long days working as a sharecropper and devoutly sang the Lord's praises at church before moving to Indianola – another town located in the very heart of the Delta – in 1943
Tracklist:
01 - Introduction
02 - The Thrill Is Gone
03 - Sweet Little Angel
04 - Nobody Loves Me But My Mother
05 - Guess Who
06 - King's Shuffle
07 - Outside Help
08 - I've Got A Mind To Give Up Living
09 - Ain't Nobody Home
Download