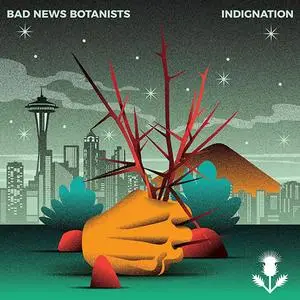 Bad News Botanists - Indignation (2020)
WEB FLAC (tracks) ~ 255.25 Mb | 46:22 | Cover
Jazz Funk, Nu Jazz | Country: USA | Label: Bad News Botanists
The Botanists are critically acclaimed musicians that form one super spontaneous 6 - piece sensation. Brainchild and saxophonist, Frank Vitolo, brings a melting pot of styles of modern pop music, 90's grunge, hip-hop and funk, bypasses the borders of genres and pushing the boundaries of harmony. Their debut album, Venomous Nightshade, is available on every major music streaming platform. Recorded at the historic (and haunted) mansion, Robert Lang Studio and Eletrokitty Studio.
Though Bad News Botanists is cataloged as Jazz, this album sows the seeds of millennial music right into their sound. Fans have compared their music to the late years of Miles Davis (Bitches Brew, In a Silent Way) and Weather Report. After the release, they received praise from all corners of the Seattle community, including two nominations from Earshot Jazz Magazine for NW Recording of the Year and Alternative Jazz Group of the Year. They are now ready to release their sophomore album "Indignation" Oct. 9th that captures the general sentiments of today. Inspired from events of social injustice, destruction of our environment, and silencing of our voice, that conjures a blanket of unified consciousness. We want our music to transport listeners to their own memories of mass solidation and recall the collective feeling.
Track List:
1. Indignation. 8:06
2. Get It Together. 3:10
3. Duck a la Funk. 2:31
4. Mango Sticky Rice. 5:05
5. Morphine (a tribute to Mark Sandman). 3:49
6. Rip City. 5:49
7. Air Quality Index 181, Pt.1. 5:02
8. Air Quality Index 181, Pt. 2. 3:09
9. Kenny Garrett - Happy People. 7:23
10. An Optional Ending. 2:13
- Frank Vitolo | tenor saxophone
- Colin Pulkrabek | trombone
- Andy Short | guitar
- Rob Homan | keyboards, piano, synthaziers
- Marina Christopher | electric and upright bass
- Chris "Crispy" Patin | drums
- Aura Payne | vocals
Engineers by GG Reynolds of Electrokitty and Seth McDonald of Ruby Room
Mixed by GG Reynolds of Electrokitty
Mastered by Resonant Masters
–––––––––––-
DON'T MODIFY THIS FILE
–––––––––––-
PERFORMER: auCDtect Task Manager, ver. 1.6.0 RC1 build 1.6.0.1
Copyright © 2008-2010 y-soft. All rights reserved
http://y-soft.org
ANALYZER: auCDtect: CD records authenticity detector, version 0.8.2
Copyright © 2004 Oleg Berngardt. All rights reserved.
Copyright © 2004 Alexander Djourik. All rights reserved.
FILE: 01. Indignation.flac
Size: 46754031 Hash: 86BECC5359F6373A9312079531F32B90 Accuracy: -m0
Conclusion: CDDA 100%
Signature: 8571B349D74AEC6603AAE95D2E2A09C84E059E18
FILE: 02. Get It Together.flac
Size: 20505424 Hash: 6F98527C26770C0D61BD4969D3ACD414 Accuracy: -m0
Conclusion: CDDA 100%
Signature: 7D10F1A2D925C8652C67E234E5B10BF7FBBFA241
FILE: 03. Duck a la Funk.flac
Size: 15350057 Hash: 3AAE645D77DA6FB51079BD48494A0DD1 Accuracy: -m0
Conclusion: CDDA 100%
Signature: F550EB4041E0828FE7C8B745FAC3E6200C8DF4D3
FILE: 04. Mango Sticky Rice (feat. Aura Payne).flac
Size: 27382227 Hash: 2998D639A16B668182CE61B97C6B1A51 Accuracy: -m0
Conclusion: CDDA 99%
Signature: 33ABF804347355BC34F83F912C47669771E4CB5B
FILE: 05. Morphine (A Tribute to Mark Sandman).flac
Size: 24404676 Hash: 5280BB956F20EE9185D1BCDBA346A1C9 Accuracy: -m0
Conclusion: CDDA 100%
Signature: 7120C9C1E99C94BFE18ABB45085ADA5A2A0CF74C
FILE: 06. Rip City.flac
Size: 30570034 Hash: 9305A3BEDBB57F17ED5B1FDC9674AFD1 Accuracy: -m0
Conclusion: CDDA 100%
Signature: 37A775D74AD869CA89ABA4B4E17D805F03552DF3
FILE: 07. Air Quality Index 181 Pt. 1.flac
Size: 28137109 Hash: CB6060122EBB8FD3C8E72E71AF8E3573 Accuracy: -m0
Conclusion: CDDA 99%
Signature: B14F8549F91A2158C37B88A30AAE7BD89BF77429
FILE: 08. Air Quality Index 181 Pt. 2.flac
Size: 18008419 Hash: B510BC1C76D3E54B707CCE069E3EBD01 Accuracy: -m0
Conclusion: CDDA 100%
Signature: 6EE50807C0DB695689B7F77BA821877853DAB7B3
FILE: 09. Happy People.flac
Size: 43489634 Hash: 903D3447C0F15C6E2D49EBD61D766B33 Accuracy: -m0
Conclusion: CDDA 99%
Signature: 35024CA07B48E63EAEFA406E4B11916C0337304D
FILE: 10. An Optional Ending.flac
Size: 11804774 Hash: 0543C424542F43AADF9A1CBC45F69F3C Accuracy: -m0
Conclusion: CDDA 100%
Signature: B1CC852766C193372C24594C6D3BB855981EB0BA
All thanks go to the vp_sunset