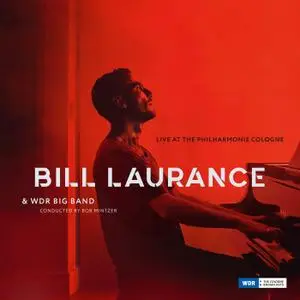 Bill Laurance & WDR Big Band - Live at the Philharmonie Cologne (2019)
WEB FLAC (tracks) ~ 397.07 Mb | MP3 CBR 320kbps ~ 154.85 Mb | 01:07:31 | Cover
Crossover Jazz, Fusion | Country: UK, Germany | Label: Jazzline
Recorded in front of an enthusiastic audience at the Philharmonie concert hall in Cologne, Germany, Bill Laurance's new live album is powered by the renowned 18-piece WDR Big Band. Under the direction of principal conductor Bob Mintzer (renowned tenor saxophonist, longtime member of the Yellowjackets, and leader of his own Grammy-winning Bob Mintzer Big Band), this adventurous outing finds Laurance re-imagining previously recorded works on a much grander scale.
"I always imagined these compositions to be played by an orchestra, and it's a rare opportunity to have your music realized with a large ensemble of this caliber," said Laurance. In some ways, the album is an extension of Snarky Puppy's orchestral collaboration with the Netherlands' Metropole Orkest, which resulted in the 2015 Grammy award-winning Sylva (Best Contemporary Instrumental Album). Cinematic in nature with surprises around every corner, the album encapsulates the depth of Laurance's compositions and remarkable qualities of the band bringing them to life.
Track List:
01 - The Good Things (Live) (00:07:09)
02 - Denmark Hill (Live) (00:07:02)
03 - Ready Wednesday (Live) (00:10:02)
04 - Swagtimes (Live) (00:05:58)
05 - Money in the Desert (Live) (00:06:45)
06 - Golden Hour (Live) (00:07:55)
07 - The Rush (Live) (00:07:19)
08 - Swift (Live) (00:05:32)
09 - Red Sand (Live) (00:09:45)
–––––––––––-
DON'T MODIFY THIS FILE
–––––––––––-
PERFORMER: auCDtect Task Manager, ver. 1.5.1RC3 build 1.5.1.4
Copyright © 2008-2010 y-soft. All rights reserved
http://y-soft.org
ANALYZER: auCDtect: CD records authenticity detector, version 0.8.2
Copyright © 2004 Oleg Berngardt. All rights reserved.
Copyright © 2004 Alexander Djourik. All rights reserved.
FILE: 09 - Red Sand (Live).flac
Size: 55031737 Hash: DE945847E8D6F7BE06FCDCB6470C75F1 Accuracy: -m8
Conclusion: CDDA 100%
Signature: 3AE2F40C9C147E8D4FD5A8B8EE06822E58FD4742
FILE: 08 - Swift (Live).flac
Size: 33243852 Hash: 701898E19D0D09F183607EA7C6FC1FC8 Accuracy: -m8
Conclusion: CDDA 99%
Signature: 19E9A7EDFEAC9E992B7AB395C22BEF441BCCB03D
FILE: 07 - The Rush (Live).flac
Size: 50384348 Hash: B3E08B24F4F3A76E9103A96600527BFD Accuracy: -m8
Conclusion: CDDA 100%
Signature: 4C52F2CD88CC1E6971784064ED5595F346A18B42
FILE: 06 - Golden Hour (Live).flac
Size: 46712294 Hash: 92B4CC6065C2156219500C15605CA7D7 Accuracy: -m8
Conclusion: CDDA 100%
Signature: C8F71771178458BBD7831553ACEF91B16B5A5988
FILE: 05 - Money in the Desert (Live).flac
Size: 45005401 Hash: 1FB10700E209E74AE92B970DAC82D7FB Accuracy: -m8
Conclusion: CDDA 100%
Signature: A8A06183F9F143BF46578DC321E1C3EE40047683
FILE: 04 - Swagtimes (Live).flac
Size: 39454710 Hash: 64A49F78364593EEB92B4C073AFE5C34 Accuracy: -m8
Conclusion: CDDA 99%
Signature: FA2724A33F9AFEE0D41B9BEAF000BAF300B37638
FILE: 03 - Ready Wednesday (Live).flac
Size: 59066470 Hash: 7C34A07A6F5D0AC7ED8B0F63DB705B73 Accuracy: -m8
Conclusion: CDDA 100%
Signature: 169288E0F6F7EA5A8A25A6A3628DF04B0EAC0985
FILE: 02 - Denmark Hill (Live).flac
Size: 43591239 Hash: 714C28EA24E014056FB5923FF2894E5F Accuracy: -m8
Conclusion: CDDA 100%
Signature: D07D9169823C44DE777E44E400B9553589B94851
FILE: 01 - The Good Things (Live).flac
Size: 43492797 Hash: 8679C37E6C989DD17F4FAACC82A5855D Accuracy: -m8
Conclusion: CDDA 100%
Signature: 7F6F1DDF2A608027346F2D0AB759EABC56499A1C