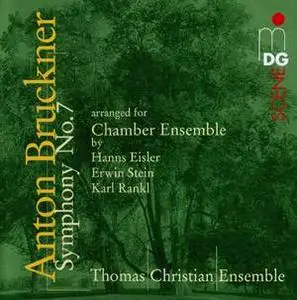 Anton BRUCKNER (1824-1896) - Symphony # 7 arranged for chamber ensemble
For clarinet, horn, 2 violins, viola, violoncello, double bass, piano for 4 hands and harmonium
Arrangement by Erwin Stein, Hanns Eisler and Karl Rankl (1921)
Thomas Christian Ensemble
Recorded at Haydn-Saal Schlosz Esterhazy, Eisenstadt, May 2004
APE (EAC) & CUE | 3% Recovery | Covers & booklet | 219 MB| DDD | Rapidshare | TT 59:55
Anton BRUCKNER (1824-1896) - Symphony # 7 arranged for chamber ensemble
When Arnold Schönberg (together with Alban Berg and Anton Webern) founded his Verein für musikalische Privatauffürungen in November 1918, his intention was to present music - and not just contemporary music - which he regarded as undervalued, or deserving of particular promotion and attention. It was, as Berg put it in a prospectus, "not a society for composers, but exclusively for the public": in fact the press was expressly excluded, and applause (as well as expressions of displeasure) forbidden. After 118 concerts, the society was disbanded in September 1921 - one month before this version of Bruckner's Seventh was completed, an accident of history which meant that its first performance (by the Thomas Christian Ensemble) had to wait until 19 March 2000.
On this recording the Thomas Christian Ensemble produce a wonderful clear and refined sound, with even the piano fitting seamlessly into the whole.
Symphony # 7 E major
1. Allegro moderato (18:36)
2. Adagio. Sehr feierlich und sehr langsam (19:36)
3. Scherzo. Sehr schnell (9:11)
4. Finale. Bewegt, doch nicht schnell (12:13)
DOWNLOAD
:
http://rapidshare.com/files/18615080/AnBrSy7.part1.rar
http://rapidshare.com/files/18617723/AnBrSy7.part2.rar
http://rapidshare.com/files/18619624/AnBrSy7.part3.rar
No password needed.
How to:
1. Decompress the media file with Monkey's Audio [
http://www.monkeysaudio.com/
]
2. Add Burrrn Cue file in Burrrn [
http://www.burrrn.net/?page_id=6
]
3. Burrrn
–-Enjoy!–-