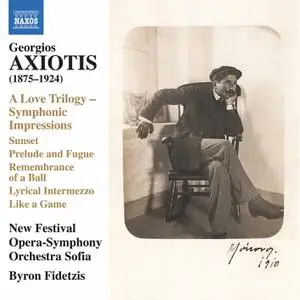 New Festival Opera-Symphony Orchestra Sofia & Byron Fidetzis - Axiotis: Orchestral Works (2022)
WEB FLAC (tracks) - 333 Mb | MP3 CBR 320 kbps - 184 Mb | Digital booklet | 01:17:37
Classical | Label: Naxos Records
Georgios Axiotis was a leading and historically significant Greek composer who was opposed to the 'Germanisation' of music education in Greece. His training in Naples led him to conceive of national music of a mediterranean quality related to the naturalism of Italian verismo. The works on this album are his most important and lasting contributions to Greek orchestral music. Axiotis possessed an exceptional instinct for balance and timbre and was a splendid orchestrator. The lyricism in these pieces exudes Greek late Romanticism, while his nature depictions are strongly atmospheric.
Tracklist:
1.
Sunset (Ed. B. Fidetzis)
(08:58)
2.
Prelude and Fugue (Ed. B. Fidetzis)
(11:38)
3.
A Love Trilogy: I. On the Mountain
(11:15)
4.
A Love Trilogy: II. On the Plain
(12:19)
5.
A Love Trilogy: III. At the Ball
(11:34)
6.
Remembrance From a Ball (Ed. B. Fidetzis)
(09:08)
7.
Lyrical Intermezzo (Ed. B. Fidetzis)
(05:40)
8.
Like a Game (Ed. B. Fidetzis)
(07:03)
–––––––––––-

DON'T MODIFY THIS FILE

–––––––––––-

PERFORMER: auCDtect Task Manager, ver. 1.6.0 RC1 build 1.6.0.1
Copyright © 2008-2010 y-soft. All rights reserved

ANALYZER: auCDtect: CD records authenticity detector, version 0.8.2
Copyright © 2004 Oleg Berngardt. All rights reserved.
Copyright © 2004 Alexander Djourik. All rights reserved.


FILE: 08 - New Festival Opera-Symphony Orchestra Sofia & Byron Fidetzis - Axiotis- Like a Game (Ed. B. Fidetzis).flac
Size: 32254017 Hash: AD37545A13338944522DE1CA89293677 Accuracy: -m8
Conclusion: CDDA 100%
Signature: 8B2E88BD6B54AD5A89A0475E388A636F409E1429
FILE: 07 - New Festival Opera-Symphony Orchestra Sofia & Byron Fidetzis - Axiotis- Lyrical Intermezzo (Ed. B. Fidetzis).flac
Size: 21039631 Hash: 84873348637B6316179A5DEBC20287A9 Accuracy: -m8
Conclusion: CDDA 94%
Signature: 9090AF5D49E46BFF2626C48A4B32D37C25B5B612
FILE: 06 - New Festival Opera-Symphony Orchestra Sofia & Byron Fidetzis - Axiotis- Remembrance From a Ball (Ed. B. Fidetzis).flac
Size: 39693721 Hash: DE7C23F4048AC81C60420D2ED2B25840 Accuracy: -m8
Conclusion: CDDA 100%
Signature: 60372C8E0106605565A68D7F5D7FA0B69310E8EF
FILE: 05 - New Festival Opera-Symphony Orchestra Sofia & Byron Fidetzis - Axiotis- A Love Trilogy- III. At the Ball.flac
Size: 52726582 Hash: C36151C8A7953125DAE5637374ADF8A7 Accuracy: -m8
Conclusion: CDDA 100%
Signature: 86A73F7B5F37BE111FBFFBA6A2ECD68DED08C8D3
FILE: 04 - New Festival Opera-Symphony Orchestra Sofia & Byron Fidetzis - Axiotis- A Love Trilogy- II. On the Plain.flac
Size: 49829953 Hash: 39B75DE39F07EECFEFBB29316F79AEE2 Accuracy: -m8
Conclusion: CDDA 100%
Signature: 204769030011E7A7EEEDB5338A231CF4242A65E0
FILE: 03 - New Festival Opera-Symphony Orchestra Sofia & Byron Fidetzis - Axiotis- A Love Trilogy- I. On the Mountain.flac
Size: 51256907 Hash: 9858856B64993B1F51E2759DA593B69F Accuracy: -m8
Conclusion: CDDA 100%
Signature: 4AD56E3CA0AE4F8903CD78CC42B3518FA590B4EF
FILE: 02 - New Festival Opera-Symphony Orchestra Sofia & Byron Fidetzis - Axiotis- Prelude and Fugue (Ed. B. Fidetzis).flac
Size: 55889802 Hash: 9527DD39C40AE5447A57E23C2AE62CAF Accuracy: -m8
Conclusion: CDDA 100%
Signature: 3A9A2B45EA16C034DF5E8F9DB79AC8E473C7DDAB
FILE: 01 - New Festival Opera-Symphony Orchestra Sofia & Byron Fidetzis - Axiotis- Sunset (Ed. B. Fidetzis).flac
Size: 39829208 Hash: A74532BD5DBDDDCFED4B7D00F24C5335 Accuracy: -m8
Conclusion: CDDA 100%
Signature: 27FDE8B5F0D2D2A259A62A6FF5BA6EBD0B0A0496