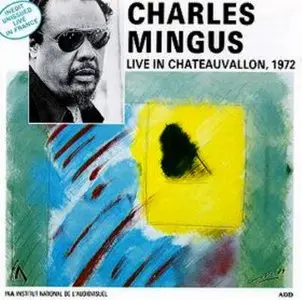 Charles Mingus - Live in Chateauvallon - 1972
Jazz | Label: Wotre Music | France's Concert FCD 134 (unauthorized CD) | mp3, VBR ~ 224 kb/s, cover | PT: 68:23* | 1989 | 91 MB
Date and location: August 22, 1972, Chateauvallon, France
Liner notes: Jacques Chesnel
All compositions by Charles Mingus unless otherwise noted
Personnel:
* Charles McPherson - alto sax
* John Foster - piano, vocal
* Charles Mingus - bass
* Roy Brooks - drums, musical saw
Notes:
The track listing on the CD liner notes is almost completely wrong and it is fixed here, except for Eddie 'Cleanhead' Vinson tune (?) 'Blues For Some Bones', which appears also as 'John's Blues' on "Stormy & Funky Blues". Liner notes also list 'Stormy Weather' (even that is mistitled 'Stormy Monday') and 'I'll Remembered April' (sic) to have been played as part of Ellington medley, but neither of them are recognizable.
* The playing time noted in the back cover doesn't correspond with the actual performance.
Tracklist:
1. Duke Ellington Medley (26:46)
1. Blues in G (bass solo) (3:45)
2. In A Sentimental Mood (Duke Ellington)
3. Sophisticated Lady (Ellington)
4. ?? (Ellington)
5. Mood Indigo (Ellington, Barney Bigard)
6. Take The "A" Train (Billy Strayhorn)
2. Fables Of Faubus (19:10)
3. Diane [Body And Soul] (6:56)
4. Blues Medley [Blues for Some Bones] (15:32)
1. John's Blues (10:21)
2. Blues for Roy's Saw (2:02)
3. Noddin' Ya Head Blues (2:51)