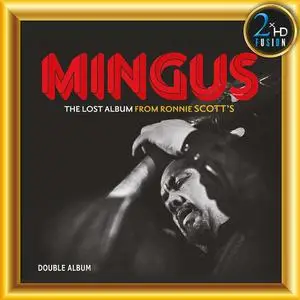 Charles Mingus - The Lost Album From Ronnie Scott's (2022)
WEB FLAC (tracks) - 676 Mb | MP3 CBR 320 kbps - 357 Mb | Digital booklet | 02:23:50
Avant-Garde Jazz, Post-Bop | Label: Resonance Records
The Lost Album From Ronnie Scott's is an unreleased live recording of jazz icon Charles Mingus from Ronnie Scott's jazz club in London captured in August 1972. It features alto saxophonist Charles McPherson, tenor saxophonist Bobby Jones, trumpeter Jon Faddis, pianist John Foster, and drummer Roy Brooks.

The live set, comprising nearly two-and-a-half hours of music, was professionally recorded on eight-track tapes via a mobile recording truck on Aug. 14-15, 1972. However, the performance went unreleased, for Mingus – along with every other top jazz musician on the Columbia roster except for Miles Davis – was dropped by the label in the spring of 1973. The present release is completely authorized by Jazz Workshop, Inc., which controls Mingus' music.

Resonance co-president Zev Feldman, who co-produced the Scott's material for release with David Weiss, says, "This is a lost chapter in Mingus's history, originally intended to be an official album release by Mingus that never materialized. Now, we're thrilled to be able to bring this recording to light for the whole world to hear in all its musical and sonic glory. It's especially exciting to be celebrating Mingus with this release in his centennial year."

A statement in the Resonance collection from Jazz Workshop, Inc. says, "In Sue Mingus's memoir, Tonight at Noon, she recalls receiving the extraordinary tapes [the band] had recorded; the reels remained in the Mingus vault, untouched until now. It is our honor, forty-nine years later, to present, with Resonance Records, this historic performance."

Charles Mingus Live at Ronnie Scott'sIn his knowledgeable overview of Mingus's activities of the early '70s and his stand at Scott's club, British jazz critic and historian Brian Priestley, who penned an authoritative 1983 biography of the musician, writes, "The magnificent music contained herein comes from a special period in the life of Charles Mingus, one in which he re-emerged from the depths of depression and inactivity, to be ultimately greeted with far wider acclaim than he had ever previously experienced."

By the time Mingus' band took the stage at saxophonist Scott's celebrated London club, the great jazz man was experiencing a career renaissance: he had received a Guggenheim Foundation fellowship and seen his music adapted for choreographer Alvin Ailey's The Mingus Dances in 1971, while 1972 saw the release of his potent autobiography Beneath the Underdog and his widely acclaimed big band album Let My Children Hear Music.

Though his group still featured the formidable saxophonists Bobby Jones (tenor) and Charles McPherson (alto), the sextet was in a state of flux, but the new members delivered on stage. Pianist Jaki Byard was succeeded by the relatively unknown John Foster, who showed off both his keyboard and vocal chops at Scott's. Longtime drummer Danny Richmond, who had joined the pop band Mark-Almond, was replaced by the ingenious, powerful Detroit musician Roy Brooks, who demonstrated his invention the "breath-a-tone," which allowed him to control the pitch of his kit while playing, and, on a couple of numbers, his abilities on the musical saw. The trumpet chair was filled by the phenomenal 19-year old Jon Faddis, a protégé and acolyte of Dizzy Gillespie.
Tracklist:
01. Orange Was the Color of Her Dress, Then Silk Blues
02. Noddin' Ya Head Blues
03. Mind-reader's Concention in Milano
04. Fables of Faubus
05. Pops (Aka When the Saints Go Marching In)
06. The Man Who Never Sleeps
07. Air Mail Special
–––––––––––-

DON'T MODIFY THIS FILE

–––––––––––-

PERFORMER: auCDtect Task Manager, ver. 1.6.0 RC1 build 1.6.0.1
Copyright © 2008-2010 y-soft. All rights reserved

ANALYZER: auCDtect: CD records authenticity detector, version 0.8.2
Copyright © 2004 Oleg Berngardt. All rights reserved.
Copyright © 2004 Alexander Djourik. All rights reserved.


FILE: 07 - Air Mail Special.flac
Size: 10740053 Hash: EABCA3E27B9BB9D6B5249DD9E8354845 Accuracy: -m8
Conclusion: CDDA 100%
Signature: 5E54AB09CF1A3CB6C4604AFDE43ABE8C69358C05
FILE: 06 - The Man Who Never Sleeps.flac
Size: 92383950 Hash: 8742D55122E1D1F10FA426BA5C2BF838 Accuracy: -m8
Conclusion: CDDA 100%
Signature: D9CDF3DE4CEC3B4DCBF1C8429D68E587B2E366D3
FILE: 05 - Pops (Aka When the Saints Go Marching In).flac
Size: 37942067 Hash: 94A57464E9BBD3390CD5E1A7F298060D Accuracy: -m8
Conclusion: CDDA 100%
Signature: CBE666902D74853AB3C1A698B4305447CED10935
FILE: 04 - Fables of Faubus.flac
Size: 150339005 Hash: 4C619B9BC7A9BF58ED04E3A5305D47AA Accuracy: -m8
Conclusion: CDDA 100%
Signature: F3BE33A4ABA32040D31E316E6700BBBE918D572D
FILE: 03 - Mind-reader s Concention in Milano.flac
Size: 153157100 Hash: 6FD9426FF0667C48917E117FB5DB67FB Accuracy: -m8
Conclusion: CDDA 100%
Signature: 92B0F761D10A785CA82328765C363AAD0B8B779B
FILE: 02 - Noddin Ya Head Blues.flac
Size: 88740259 Hash: E1AADBE991C67F401FD450DC512EAE91 Accuracy: -m8
Conclusion: CDDA 100%
Signature: 32DE08E0A8A8DB18FB7E88887FE341BF2B66941B
FILE: 01 - Orange Was the Color of Her Dress, Then Silk Blues.flac
Size: 146636990 Hash: 6965A8BED84EB254A379936C79787FAB Accuracy: -m8
Conclusion: CDDA 100%
Signature: 4D0D2BF0A79EFCBDF5645B2A1FCF53A064D62012