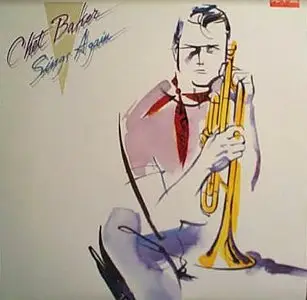 Chet Baker - Sings Again (1985)
Label: Timelesse | MP3 cbr 192 kbps | Time: 44:51 | 61.6 Mb
Genre: Jazz, Vocal Jazz, Cool Jazz, West Coast Jazz
Chet's vocal work of the eighties is certainly an acquired taste. If it's not your bag, then avoid this CD. If you like his later vocal work, then this hard-to-find recording is a pleasant surprise. Although Chet whispers through many of the songs, he doesn't mumble, and his tone is usually clear and he's on-key. It also doesn't hurt to have excellent sidemen, with Michel Graillier doing some nice things on My Funny Valentine. Some real gems on this CD include a rare vocal version of his standard Alone Together and a heart-felt rendition of Someone To Watch Over Me. This isn't a ground-breaking recording for Chet, but it has a nice, intimate feeling to it.
Chet Baker - Trumpet, vocals
Michel Graillier - Piano
Ricardo Del Fra - Bass
John Engels - Drums
Timeless CDSJP-238
Recorded October 2 & 8, 1985, Studio 44, Monster, Holland
1. All Of You - 4:39
2. Body And Soul - 6:28
3. Look For The Silver Lining - 3:52
4. I Can't Get Started - 6:52
5. My Funny Valentine - 7:11
6. Alone Together - 6:14
7. Someone to Watch Over Me - 5:20
8. How Deep Is The Ocean - 3:50
LinkRS
Enjoy !!