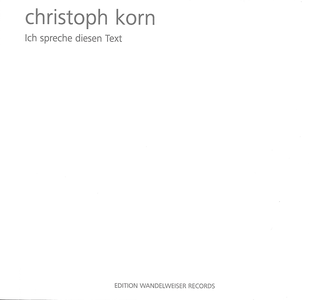 Christoph Korn - Ich Spreche Diesen Text (2016) {Edition Wandelweiser EWR1606}
XLD rip (secure mode) | FLAC (tracks)+CUE+LOG -> 20 Mb | MP3 @320 -> 17 Mb
Full Artwork @ 300 dpi (png) -> 5 Mb | 5% repair rar
© 2016 Edition Wandelweiser Records | EWR 1606
Classical / Modern Classical / Post Modern / Avant-Garde
Two conceptual compositions from Christoph Korn: the first, "Ich Spreche Diesen" (I appeal to this) where spoken word is placed in a loop and then slowly erased by custom software using aleatory procedures; then "Stille" (Silent), a Cage inspired work.

The file sizes are not a mistake, as ridiculous as they may seem. Track 1 has many stretches of silence and track 2 is basically pure digital silence the whole way through. FLAC is not constant bit rate encoding so these files sizes are possible with very quiet / silent tracks that are still quite long.
On a symposium about experimental radio art last weekend, I found the conceptual work of german artist Christoph Korn quite interesting in the context of this blog. Since three years he deals with automated audio erasing processes. He presented one piece that will be broadcasted later this year on german radiostation HR3 and is actually a reverse version of Alvin Lucier's "I'm sitting in a room". Instead of replaying the audio into the room again, Korn wrote a patch for MAX/MSP which automatically erases fragments of audio with every repetition from a spoken text quite similar to Lucier's classic piece. After about 15 min. there is no audio anymore, the piece ends in silence. A similar concept, only over a much longer time period, was persued in his piece "waldstueck" that is based on a 24-hour field recording of a forest section close to Dachau, a former nazi concentration camp. The audio recording has been transferred to a web server and will be successively deleted, randomly and automatically, over a period of three years. The deletion process began on February 5, 2008 and within three years there will be nothing to be heard. A protocol of disappearance, one might say, over the impossibility either to say, or not to say anything about or around Dachau.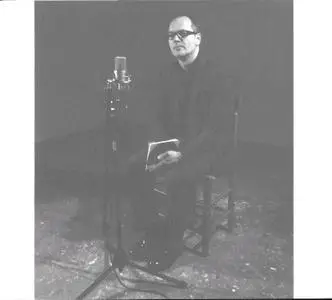 Personnel:
Christoph Korn
- composer, performer
Recorded in Dusseldorf, Germany on March 12th, 2016.Track Listing:
1. Ich Spreche Diesen Text (I Speak This Text) (15:00)
2. Stille (Silence) (15:00)
X Lossless Decoder version 20170729 (150.3)

XLD extraction logfile from 2018-08-24 21:56:26 -0500

Christoph Korn / Ich Spreche Diesen Text

Used drive : HL-DT-ST DVDRAM GP08LU11 (revision KV01)
Media type : Pressed CD

Ripper mode : XLD Secure Ripper
Disable audio cache : OK for the drive with a cache less than 1375KiB
Make use of C2 pointers : NO
Read offset correction : 667
Max retry count : 20
Gap status : Analyzed, Appended (except HTOA)

TOC of the extracted CD
Track | Start | Length | Start sector | End sector
––––––––––––––––––––––––––––-
1 | 00:00:00 | 15:00:10 | 0 | 67509
2 | 15:00:10 | 15:00:10 | 67510 | 135019

AccurateRip Summary
Disc not found in AccurateRip DB.

All Tracks
Album gain : 8.52 dB
Peak : 0.999939
Statistics
Read error : 0
Jitter error (maybe fixed) : 0
Retry sector count : 0
Damaged sector count : 0

Track 01
Filename : /CD Rips/Christoph Korn - Ich Spreche Diesen Text (2016) [FLAC]/01. Ich Spreche Diesen Text (I Speak This Text).flac
Pre-gap length : 00:02:00

Track gain : 5.82 dB
Peak : 0.999939
CRC32 hash (test run) : BA648033
CRC32 hash : BA648033
CRC32 hash (skip zero) : 96C75192
AccurateRip v1 signature : 0CEA719F
AccurateRip v2 signature : 5200AE4F
->Track not present in AccurateRip database.
Statistics
Read error : 0
Jitter error (maybe fixed) : 0
Retry sector count : 0
Damaged sector count : 0

Track 02
Filename : /CD Rips/Christoph Korn - Ich Spreche Diesen Text (2016) [FLAC]/02. Stille (Silence).flac

Track gain : 64.81 dB
Peak : 0.000000
CRC32 hash (test run) : D5592BFF
CRC32 hash : D5592BFF
CRC32 hash (skip zero) : 00000000
AccurateRip v1 signature : 00000000
AccurateRip v2 signature : 00000000
->Track not present in AccurateRip database.
Statistics
Read error : 0
Jitter error (maybe fixed) : 0
Retry sector count : 0
Damaged sector count : 0

No errors occurred

End of status report

––-BEGIN XLD SIGNATURE––-
DeUYt8wPRwBhZENuIL4v6nICM5ToLzGeN87bIFPW7w1bXV6lPG2jQ8ongNt_Y0D2L0hsrqwms1AbaE7gQhuRjrqCkD8YDekuniFZKMq
––-END XLD SIGNATURE––-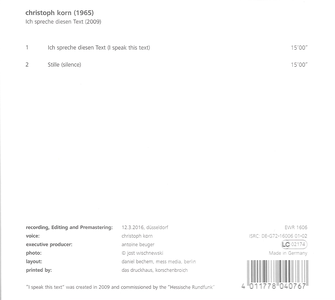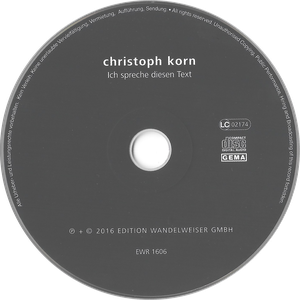 ===