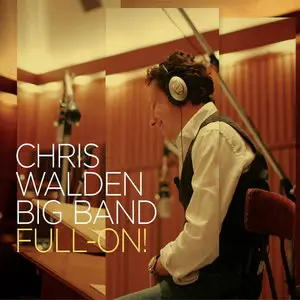 Chris Walden Big Band - Full-On! (2014)
MP3 320 kbps CBR | 54:20 min | 127 MB
Genre: Jazz, Big Band | Label: Origin Records
To say that Chris Walden's instrumental compositions and arrangements are the best part of his new big-band album, Full-On!, is not to dismiss the rest as less than adequate. Walden's charts for the ensemble, on the other hand, do provide much of the excitement in a session that is otherwise dominated by vocals (seven in all), several of which are more overwrought than enlightening.
Take, for example, "I Can Cook Too" and "Sir Duke," both sung by Melanie Taylor (who must have drawn the short straw). As written by Betty Comden and Adolph Green for the musical On the Town, "Cook" has a sexy lyric in which taxi driver Hildy "sells" her many charms to on-leave sailor Chip. The tempo here, however, is so brisk that instead of sounding sensual, Taylor seems to be hurrying to catch a train, leaving the lyric's import in her wake. As for Stevie Wonder's "Sir Duke," it's hard to become enamored of a song whose lyric consists in part of repeating the phrase "you can feel it all over" sixteen times in a row. "Lost in the Memory" (sung by Courtney Fortune), "If I Only Knew" (Dorian Holley) and "Ride Like the Wind" (Siedah Garrett ) are fast-paced swingers whose lyrics make amends in spirit for what they may lack in clarity.
Guest Tierney Sutton, at her seductive best, fares better on the heart-breaking ballad "Only the Lonely." On the upside, Sutton sings it quite well; on the downside, she's no Frank Sinatra, and Ol' Blue Eyes is to "Only the Lonely" as Judy Garland is to "Over the Rainbow." The other vocal, Hank Williams' "Hey Good Looking," buoyantly sung by Carol Welsman, is arguably the pick of the litter, even though the tempo (again) is more suited to big-band jazz than to Williams' easygoing country-boy nature. As for the instrumentals, they are uniformly admirable, starting with Walden's Basie-style "Bailout" (persuasive solos courtesy of pianist Alan Steinberger and trombonist Bob McChesney).
Walden also wrote "Gatsby," "Bada Bamba" and "Arturo," the last for guest trumpeter Arturo Sandoval who solos brightly (on flugelhorn) with tenor saxophonist Brandon Fields. The ensemble is also showcased on the flag-waving "Out of Town," written by Russell Ferrante of the Yellowjackets. Tenor Rob Lockart solos (with Fields and drummer Ray Brinker) on that one, as he does on "Lost in the Memory" and "Hey Good Looking." Trombonist Alex Iles and bassist Kenny Wild hit the mark on "Gatsby," bass trombonist Bill Reichenbach and flutist Jeff Driskill on "Bada Bamba." In sum, high marks for Walden's all-star ensemble and his charts for them, coupled with a more modest appraisal of the vocals, which are well-meaning but as a rule more intemperate than is necessary. By JACK BOWERS
Tracklist:
01. Bailout
02. I Can Cook Too
03. Lost in the Memory
04. Gatsby
05. Sir Duke
06. Bada Bamba
07. If I Only Knew
08. Only the Lonely
09. Arturo
10. Hey Good Looking
11. Out of Town
12. Ride Like the Wind
Chris Walden: leader, composer, arranger; Wayne Bergeron: trumpet; Kye Palmer: trumpet; Ron King: trumpet; Kevin Richardson: trumpet; Jeff Driskill, Bob Sheppard, Rob Lockart, Brandon Fields, Tom Peterson, Kim Richmond (7, 10): saxophones; Bob McChesney: trombone; Alex Iles: trombone; Paul Young: trombone; Andy Martin: trombone (7, 10); Rich Bullock: bass trombone; Mitch Holder: guitar; Andrew Synowiec: guitar (5); Alan Steinberger: piano; Kenny Wild: bass; Ray Brinker: drums; M.B. Gordy: percussion; Courtney Fortune, Siedah Garrett, Dorian Holley, Melanie Taylor, Carol Weisman: vocals. Special Guests – Arturo Sandoval: flugelhorn (9); Tierney Sutton: vocal (8).