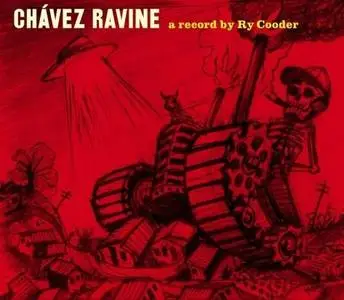 Ry Cooder - Chavez Ravine
MP3 | Bit Rate: 320>240 | Genre: latino/pop/rock | Covers | 2 files | 96 Mb uncompress
Ryland "Ry" Peter Cooder (born on March 15, 1947) is an American guitarist, singer and composer, best known for his slide guitar work and his interest in various genres of American roots music.
Chávez Ravine is a concept and historical album by Ry Cooder which tells the story of
Chávez Ravine, a Mexican-American community
demolished in the 1950s in order to lure the Brooklyn Dodgers to Los Angeles.
Chávez Ravine is the current site of Dodger Stadium in Los Angeles, California. During the time when the Los Angeles Angels used it from 1962 through 1964, the stadium was called "Chávez Ravine" during Angels games. The site was also the stage of a housing controversy, the "Battle of Chavez Ravine", about plans for redevelopment of that site.
In the 1940s, Chavez Ravine was a poor, though cohesive, Mexican-American community. Many families lived there because of housing discrimination in other parts of Los Angeles. With the population of Los Angeles expanding and Chavez Ravine viewed as a prime, underutilized location, the city, on the urging of city Housing Authority director Frank Wilkinson, voted to use federal funds to erect an apartment complex to address the severe post-World War II housing shortage. Prominent architects Richard J. Neutra and Robert Alexander developed a plan for "Elysian Park Heights." The city had already relocated many of the residents of Chavez Ravine when the entire project came to a halt. Fear of communism was sweeping the United States and loud voices in Los Angeles cried that the housing project smacked of socialism. In fact, the City Council would end up having Wilkinson fired and reported to the House Un-American Activities Committee when he refused to answer questions about possible involvement of the Communist Party.
In the end, the project died. During the failed housing project attempt, the city began to label the area as "blighted" and thus viewed Chavez Ravine as ripe for redevelopment. Some years later, the city made the controversial decision to use the land to tempt the Brooklyn Dodgers to move to Los Angeles. With Chavez Ravine slated to become the site of the new Dodger Stadium, the remaining members of the Chavez Ravine community were forced to relocate. While some left the neighborhood after being told by the government to leave, others fought to the end, including with gunfire. Eventually with bulldozers and armed men, the poor shanties and dirt-road streets were razed.
Chávez Ravine received a Grammy Nomination for "Best Contemporary Folk Album" in 2006
Track listing

"Poor Man's Shangri-La"
"Onda Callejera"
"Don't Call Me Red"
"Corrido de Boxeo"
"Muy Fifí"
"Los Chucos Suaves"
"Chinito Chinito"
"3 Cool Cats"
"El U.F.O. Cayó"
"It's Just Work For Me"
"In My Town"
"Ejercito Militar"
"Barrio Viejo"
"3rd Base, Dodger Stadium"
"Soy Luz y Sombra"
You are welcome to download From OxyShare:
Part1
Part2