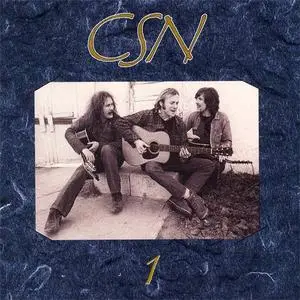 Crosby, Stills & Nash - 4 CD Box Set (1991) | 485.4 MB
MP3 | 256 kbit/s
Info:
http://www.livedaily.com/artists/discography/album/R%20%20%20%2058600.html
This 77-track, four-CD set remains one of the best boxes devoted to a single music act that one can buy, covering the output of Crosby, Stills, Nash & Young across 22 years, from 1968 until 1990. The first thing that becomes apparent, beyond the excellent sound (which was a revelation at the time, when only extant editions of the group's work were the early, substandard CD editions), is the sheer worth of the material. Crosby, Stills & Nash's reputation, based on their first four albums, can be taken as a given for anyone who would think of buying this set, and it does cover virtually every base that one could involving the trio, with an occasional Crosby, Stills, Nash & Young cut included for completeness' sake. Disc one by itself should be worth the price of the set to serious fans, eight of its 18 tracks being previously unissued songs (including a version of the Beatles' "Blackbird") and unissued early demos, alternate takes, or variant mixes on songs from the Crosby, Stills & Nash or Déjà Vu albums, along with one Crosby & Nash outtake. Disc two is similarly filled with previously unheard songs and versions of songs, although here the rarities are more focused on material by Stephen Stills (including a Crosby, Stills & Young version of "Black Queen"), Graham Nash solo, and the Crosby & Nash duo. Disc three is devoted more to Manassas and Crosby & Nash, but does work in Crosby, Stills, Nash & Young's "Taken at All" and "See the Changes" from various attempts at doing albums. Disc four takes listeners up to 1990, with Stills, Nash, and Crosby solo material (including unissued live and studio cuts) of the '80s interspersed with released Crosby, Stills & Nash tracks and previously unissued Crosby, Stills, Nash & Young tracks. The accompanying booklet includes a sessionography and reminiscence about each track, and as most of this set is presented in chronological order, one not only gets a dazzling four-hour-plus song-by-song listening experience, but also what amounts to a montage/history of the group and their members across more than two decades. ~ Bruce Eder, All Music Guide - Bruce Eder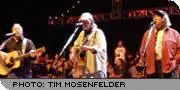 Crosby, Stills & Nash (And Young)

The musical partnership of David Crosby (born August 14, 1941), Stephen Stills (born January 3, 1945), and Graham Nash (born February 2, 1942), with and without Neil Young (born November 12, 1945), was not only one of the most successful touring and recording acts of the late '60s, '70s, and early '80s – with the colorful, contrasting nature of the members' characters and their connection to the political and cultural upheavals of the time – it was the only American-based band to approach the overall societal impact of the Beatles. The group was a second marriage for all the participants when it came together in 1968: Crosby had been a member of the Byrds, Nash was in the Hollies, and Stills had been part of Buffalo Springfield. The resulting trio, however, sounded like none of its predecessors and was characterized by a unique vocal blend and a musical approach that ranged from acoustic folk to melodic pop to hard rock. CSN's debut album, released in 1969, was perfectly in tune with the times, and the group was an instant hit. By the time of their first tour (which included the Woodstock festival), they had added Young, also a veteran of Buffalo Springfield, who maintained a solo career. The first CSNY album, Déjà Vu, was a chart-topping hit in 1970, but the group split acrimoniously after a summer tour. Four Way Street, a live double album issued after the breakup, was another number one hit. (When it was finally released on CD in 1992, it was lengthened with more live material.) In 1974, CSNY reformed for a summer stadium tour without releasing a new record. Nevertheless, the compilation So Far became their third straight number one. Crosby, Stills & Nash re-formed without Young in 1977 for the album CSN, another giant hit. They followed with Daylight Again in 1982, but by then Crosby was in the throes of drug addiction and increasing legal problems. He was in jail in 1985-1986, but cleaned up and returned to action, with the result that CSNY reunited for only their second studio album, American Dream, in 1988. CSN followed with Live It Up in 1990, and though that album was a commercial disappointment, the trio remained a popular live act; it embarked on a 25th anniversary tour in the summer of 1994 and released a new album, After the Storm. The trio again reunited with Young for 1999's Looking Forward, followed in 2000 by their CSNY2K tour. ~ William Ruhlmann, All Music Guide…
Tracklists:
101 - Suite_ Judy Blue Eyes
102 - Helplessly Hoping
103 - You Don't Have To Cry
104 - Wooden Ships
105 - Guinnevere
106 - Marrakesh Express
107 - Long Time Gone
108 - Blackbird
109 - Lady Of The Island
110 - Song With No Words
111 - Almost Cut My Hair
112 - Teach Your Children Well
113 - Horses Through A Rainstorm
114 - Deja Vu
115 - Helpless
116 - 4 + 20
117 - Laughing
118 - Carry On
201 - Woodstock
202 - Ohio
203 - Love The One You're With
204 - Our House
205 - Old Times Good Times
206 - The Lee Shore
207 - Music Is Love
208 - I'd Swear There Was Somebody Here
209 - Man In The Mirror
210 - Black Queen
211 - Military Madness
212 - Urge For Going
213 - I Used To Be A King
214 - Simple Man
215 - Southbound Train
216 - Change Partners
217 - My Love Is A Gentle Thing
218 - Word Game
219 - Johnny's Garden
220 - So Begins The Task
221 - Turn Back The Pages
301 - See The Changes
302 - It Doesn't Matter
303 - Immigration Man
304 - Chicago We Can Change The World
305 - Homeward Through The Haze
306 - Where Will I Be_
307 - Page 43
308 - Carry Me
309 - Cowboy Of Dreams
310 - Bittersweet
311 - To The Last Whale…
312 - Prison Song
313 - Another Sleep Song
314 - Taken At All
315 - In My Dreams
316 - Just A Song Before I Go
317 - Shadow Captain
318 - Dark Star
319 - Cathedral
401 - Wasted On The Way
402 - Barrel Of Pain (Half Life)
403 - Southern Cross
404 - Daylight Again_ Daylight Again_Find The Cost Of Freedom
405 - Thoroughfare Gap
406 - Wild Tales
407 - Dear Mr. Fantasy
408 - Cold Rain
409 - Got It Made
410 - Tracks In The Dust
411 - As I Come Of Age
412 - 50_50
413 - Drive My Car
414 - Delta
415 - Soldiers Of Pain
416 - Yours And Mine
417 - Haven't We Lost Enough
418 - After The Dolphin
419 - Find The Cost Of Freedom
Download (4*100 MB + 1*85.1 MB):
http://rapidsafe.net/rc-QjZzMjZ2QTM/csbbox.ace
http://rapidsafe.net/rc-YWZ1cjZ2QTM/csbbox.c00
http://rapidsafe.net/rc-QGN3kjZ2QTM/csbbox.c01
http://rapidsafe.net/rc-ADOlNmZ2QTM/csbbox.c02
http://rapidsafe.net/rc-gjYmRmZ2QTM/csbbox.c03
Archives include recovery record.