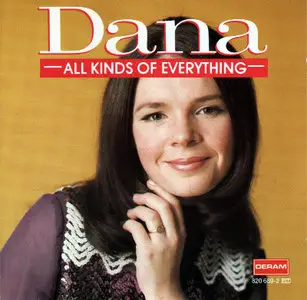 Dana - All Kinds Of Everything (1990)
dB poweramp rip | Flac individual tracks | No log + no cue | MP3 CBR 320 Kbps | 296 MB Flac or 112 MB MP3 | 50:06mins
Scans | Genre : Easy, Pop, Vocal | Label : Deram | RS + HF
Early recordings from Dana following the success of her 1970 win for Ireland in the Eurovision Song Contest with the title track. All tracks from the period 1970 to 1975.
Tracklisting :
01 Crossword Puzzle
02 Silent Movies
03 Say I Love You
04 Trying To Say Goodbye
05 I'll String Along With You
06 All Kinds Of Everything
07 Day By Day
08 Who Put The Lights Out
09 New Days…New Ways
10 Do I Still Figure In Your Life
11 Love Is A Friend Of Mine
12 Skyline Pigeon
13 Can That Girl Be Me?
14 My Heart Will Go On Loving You
15 When You're Really In Love
16 Everyone's Gone To The Moon
Flac links :
http://rapidshare.com/files/404926816/Danaallkindsfla.part1.rar.html
http://rapidshare.com/files/404921973/Danaallkindsfla.part2.rar.html
http://rapidshare.com/files/404918407/Danaallkindsfla.part3.rar.html
Mirror Flac links :
http://hotfile.com/dl/57460819/b00b6ed/Danaallkindsfla.part1.rar.html
http://hotfile.com/dl/57486604/5f52891/Danaallkindsfla.part2.rar.html
http://hotfile.com/dl/57492338/0182341/Danaallkindsfla.part3.rar.html
MP3 link :
http://rapidshare.com/files/404823880/Danaallkindsmp.rar.html
Mirror MP3 link :
http://hotfile.com/dl/56649666/3a7ae1d/Danaallkindsmp.rar.html
No other mirrors please