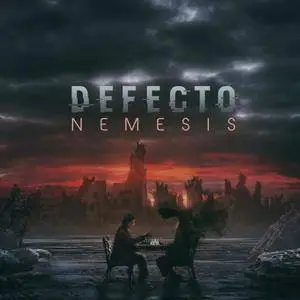 Defecto - Nemesis (Limited Edition) (2017)
EAC Rip | FLAC (image+.cue, log) ~ 454.28 Mb + 48.51 Mb (Scans) | 1:03:30
Progressive Metal | Country: Denmark | Label: Prime Collective
Defecto was formed in 2011 in suburban Copenhagen when singer, guitarist and frontman Nicklas Sonne was approached by the legendary producer Flemming Rasmussen (Metallica, Blind Guardian) after hearing Sonne's music. Fueled by a desire to help Sonne record and release his material, they contacted childhood friend and lead guitarist, Frederik Møller, as well as bass-player Thomas Bartholin and drummer Lars Jensen in order to create a band that could match Sonne's unique potential.
Already from the beginning, DEFECTO's particular brand of melodic and virtuoso metal has been creating a buzz in the Danish metal scene. Released in 2012, their debut EP "Defecto" brought them into the attention of the Danish media, and they were named "Best Metal Band 2012" by Underground Music Awards.
The recent release of DEFECTO's debut album "Excluded" in march 2016 was met with much attention and appraisal throughout the European metal scene, creating a dedicated following for the band and leading to a considerable breakthrough especially in the Danish metal scene. Apart from playing an almost sold out Danish tour in support of Excluded, DEFECTO played at prestigious festival COPENHELL in 2016 and opened for mighty Metallica in February 2017.
As the new album is being finished, the band looks to the future. DEFECTO have their sights set on Europe and the rest of the world, and is looking to start a partnership with a competent record label.
For DEFECTO's upcoming sophomore album, the musical mission is to create songs that have an instant impact on the listener, with a focus on simply writing great songs that break down musical barriers instead of trying to fit into a certain sound.
The result is unlike anything else found in the Danish metal scene. Think a mix between the classic Metallica and modern sound and melodies of Trivium Avenged Sevenfold, thrown in with the instrumental intricacies and symphonic elements of Symphony X. Add the vocal prowess of Russel Allan, James Hetfield and Mikael Åkerfeldt into one singer, and what you've got is an epic combo of melodic and catchy, grandiose and technical, yet crushingly heavy metal that is DEFECTO.
As with their first album, the upcoming album is once again produced and engineered by Nicklas Sonne in his own studio in Copenhagen.
Thomas Bartholin - Bass, Vocals (backing)
Henrik Been - Drums, Keyboards
Frederik Duus Møller - Guitars, Vocals (backing)
Nicklas Sonne - Guitars, Vocals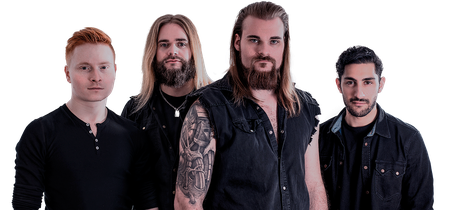 Track List:
1. Final Night of Silence 01:52
2. Nemesis 03:27
3. Endlessly Falling 05:01
4. Savage 03:25
5. The Nameless Apparition 05:24
6. The Sacrificed 03:44
7. Ode to the Damned 07:16
8. Gravity 03:59
9. Ablaze 05:56
10. Before the Veil 04:12
11. We're All the Enemy 04:02
12. Ascend to Heaven 07:35
13. All I Ever Wanted [bonus track]
14. Revelations [bonus track]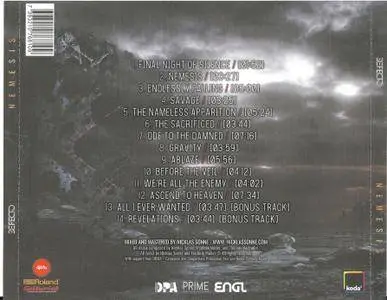 Exact Audio Copy V1.3 from 2. September 2016

Отчёт EAC об извлечении, выполненном 9. декабря 2017, 0:05

Defecto / Nemesis

Дисковод: HL-DT-STDVDRAM GU40N Adapter: 0 ID: 1

Режим чтения : Достоверность
Использование точного потока : Да
Отключение кэша аудио : Да
Использование указателей C2 : Нет

Коррекция смещения при чтении : 103
Способность читать области Lead-in и Lead-out : Нет
Заполнение пропущенных сэмплов тишиной : Да
Удаление блоков с тишиной в начале и конце : Нет
При вычислениях CRC использовались нулевые сэмплы : Да
Интерфейс : Установленный внешний ASPI-интерфейс

Выходной формат : Пользовательский кодировщик
Выбранный битрейт : 320 kBit/s
Качество : Высокий
Добавление ID3-тега : Да
Утилита сжатия : C:\Users\workutagin\Desktop\EZCDAudioConverter6051BALTAGY\64Bit\EZ CD Audio Converter.exe
Дополнительные параметры : -V -8 -T "Date=%year%" -T "Genre=%genre%" %source%

TOC извлечённого CD

Трек | Старт | Длительность | Начальный сектор | Конечный сектор
––––––––––––––––––––––––––––––––––-
1 | 0:00.00 | 1:52.09 | 0 | 8408
2 | 1:52.09 | 3:27.54 | 8409 | 23987
3 | 5:19.63 | 5:01.00 | 23988 | 46562
4 | 10:20.63 | 3:25.04 | 46563 | 61941
5 | 13:45.67 | 5:24.62 | 61942 | 86303
6 | 19:10.54 | 3:44.17 | 86304 | 103120
7 | 22:54.71 | 7:16.24 | 103121 | 135844
8 | 30:11.20 | 3:59.36 | 135845 | 153805
9 | 34:10.56 | 5:56.27 | 153806 | 180532
10 | 40:07.08 | 4:12.59 | 180533 | 199491
11 | 44:19.67 | 4:02.22 | 199492 | 217663
12 | 48:22.14 | 7:35.07 | 217664 | 251795
13 | 55:57.21 | 3:47.69 | 251796 | 268889
14 | 59:45.15 | 3:44.04 | 268890 | 285693

Характеристики диапазона извлечения и сообщения об ошибках

Выбранный диапазон

Имя файла C:\Users\workutagin\Desktop\Defecto - Nemesis 2017\Defecto - Nemesis.wav

Пиковый уровень 100.0 %
Скорость извлечения 2.1 X
Качество диапазона 100.0 %
CRC теста C81DF193
CRC копии C81DF193
Копирование… OK

Ошибок не произошло

AccurateRip: сводка

Трек 1 отсутствует в базе данных
Трек 2 отсутствует в базе данных
Трек 3 отсутствует в базе данных
Трек 4 отсутствует в базе данных
Трек 5 отсутствует в базе данных
Трек 6 отсутствует в базе данных
Трек 7 отсутствует в базе данных
Трек 8 отсутствует в базе данных
Трек 9 отсутствует в базе данных
Трек 10 отсутствует в базе данных
Трек 11 отсутствует в базе данных
Трек 12 отсутствует в базе данных
Трек 13 отсутствует в базе данных
Трек 14 отсутствует в базе данных

Ни одного трека нет в базе AccurateRip

Конец отчёта

–– CUETools DB Plugin V2.1.6

[CTDB TOCID: fafCkmhwA223mQzGFz0thQ63Sdo-] disk not present in database
Submit result: fafCkmhwA223mQzGFz0thQ63Sdo- has been uploaded
All thanks go to the kikel