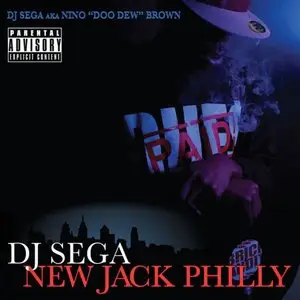 DJ Sega - New Jack Philly (2009)
CLUB | MP3 | 1CD | 180 Kbps VBR | 103.2 MB
Release Date: 2009-12-31
Group MTD released a club music album "New Jack Philly" from DJ Sega. 28 tracks of pounding club music primed to test the limits of your system, all produced & remixed by Sega himself as he flips everything from the Mighty Morphin Power Rangers to Jodeci to Tetris to Pete Rock & cl Smooth to…. Bill Nye The Science guy!
Track List:
01. Seg's Theme
02. Boss Theme
03. MK Theme
04. Tetris Theme
05. MIss U
06. Reel Luv
07. My Luv Is The Ish
08. Believe In Luv
09. Shorty Get Down
10. No Cruelty
11. New Jack Dream
12. Tic Toc
13. Philly Clear Throat
14. Everybody Handz UP
15. Hell Fuk Yeah
16. Philassippi Slide
17. Uptown Juice
18. U Bad Sista Break
19. Seg's Break
20. Off The Break
21. MJ Break
22. I'm Black
23. Cops Theme
24. Seg's Power
25. Mighty Morphin Theme
26. MK II
27. Bill Nye's Theme
28. Reminisce