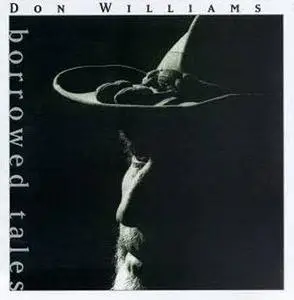 Don Williams - Borrowed Tales
MP3 CBR 320 kb/s | Country | 85 MB
Tracklist:
01 - Fever
02 - Pretend
03 - Crying In The Rain
04 - You've Got A Friend
05 - Reason To Believe
06 - My Rifle, My Pony And Me
07 - If You Could Read My Mind
08 - The Long Black Veil
09 - Games People Play
10 - I'll Be There (If You Ever Want Me)
11 - Lay Down Sally
12 - Peace Train
13 - The Letter
Biography:
With his laid-back, straightforward vocals and large, imposing build, Don Williams came to be known as "the Gentle Giant." That nickname was bestowed on him in the early '70s, when he began a string of countrypolitan hits that ran into the early '90s. Williams was never known as an innovator, but his ballads were immensely popular; in the course of his career, he had a total of 17 number one hits.
Williams began playing guitar when he was child, learning the instrument from his mother. As a teenager, he played in a variety of country, rockabilly, folk, and rock & roll bands. After completing high school, he formed his first band with a friend called Lofton Kline. Williams and Kline recruited another singer, Susan Taylor, and formed the Pozo-Seco Singers, a folk-pop group, in 1964. The following year, the band signed a contract with Columbia Records. In 1966, the Pozo-Seco Singers had a pop hit with "Time," which climbed into the Top 50. For the next two years, they had a series of minor hits, highlighted by two Top 40 hits in late 1966, "I Can Make It With You" and "Look What You've Done." The group stayed until 1971.
After the Pozo-Seco Singers disbanded, Williams decided to pursue a career as a songwriter in Nashville, since he wasn't convinced that he was suited for a solo career. He signed with Jack Clement's Jack Music, Inc., initially just as a songwriter. By the end of 1972, he had signed with JMI as a solo artist, releasing "Don't You Believe" as his debut. The song went nowhere, but "The Shelter of Your Eyes" climbed to number 14 at the beginning of 1973. For the next year, Williams scored a string of minor hits before he had his 1974 breakthrough, "We Should Be Together," which reached number five. The single led to a contract with ABC/Dot.
"I Wouldn't Want to Live If You Didn't Love Me," his first single for ABC/Dot, reached number one in the summer 1974. The single launched a string of Top Ten hits that ran more or less uninterrupted until 1991; between 1974 and 1991, only four of his 46 charting singles didn't make the Top Ten. Instead of reaching the top of the charts with his original material, most of his big hits were covers of other songwriters, including John Prine, Bob McDill, Dave Loggins, and Wayland Holyfield.
During the '70s, Don Williams became the most successful country artist in the world. His country-pop not only crossed over into the American pop mainstream, it also gained him a large following in England and Europe. In addition to his Top Ten hits, Williams won several country music awards, highlighted by the Country Music Association naming him Male Vocalist of the Year in 1978, the same year his number one single "Tulsa Time" was named Single of the Year. In the late '70s, he began acting, appearing primarily in the films of his friend Burt Reynolds, including W.W. and the Dixie Dancekings and Smokey and the Bandit II.
In the early '80s, Williams slowed down the pace of his career slightly, as he was suffering from back problems. Nevertheless, the hits continued to come and many of his singles reached number one. In 1986, he left MCA Records – who had acquired the ABC label while he was recording for it – signing with Capitol. The change in labels didn't affect his career at all, as he continued to hit the Top Ten with regularity. In 1987, he underwent back surgery, which cured his problems.
Williams signed with RCA Records in 1989. Initially, he continued to have hits, but his streak came to an end in early 1992, following his last Top Ten single, "Lord Have Mercy on a Country Boy." Although he continued to perform in the mid-'90s, he had effectively retired to his Nashville farm, returning to recording in 1998 with I Turn the Page.
Down:
http://rapidshare.de/files/26394657/DW_BTales.part1.rar
http://rapidshare.de/files/26398027/DW_BTales.part2.rar
http://rapidshare.de/files/26400864/DW_BTales.part3.rar
Pass:
soncao