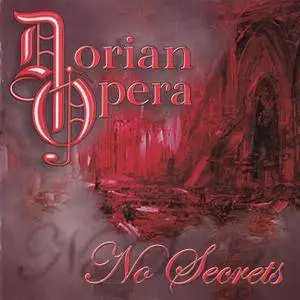 Dorian Opera - No Secrets (2008)
EAC Rip | FLAC (image+.cue, log) ~ 406.66 Mb | 59:40 | Cover
Progressive Metal | Country: Germany | Label: MALS - 275
An amazing debut CD - explosive mix of progressive metal, prog and classic rock and classical music, recorded by four virtuoso musicians.
Dorian Opera was formed in May, 2007. All professional musicians, Oliver Weislogel ( guitar ), Joe Eisenburger ( bass, vocals ) , Andrew Roussak ( keyboards, backing vocals ) and Harry Reischmann ( drums ) had already had an experience of playing played together in various bands in Baden- Wuerttemberg, South Germany .
The band name DORIAN OPERA was chosen to stress a link between classical and rock music ( Dorian is a scale mostly often used in rock compositions ). The main influences of the band are , among others, Dream Theater, Symphony X, Yes, Rush, ELP, Marillion, as well as European classical , barocque , renaissance and medieval music.
The debut CD No Secrets was released on the progressive rock label from Russia MALS Records in June 2008.
Press release DORIAN OPERA - No Secrets, June 2008
Dear Friends:
We proudly present our debut CD to you, No Secrets by Dorian Opera. The CD was recorded from August 2007 through March 2008 at Dorian Opera Studios in Kehl-Kork, Germany and was published in June 2008 by MALS Records; a progressive rock label from Russia.
The unique style of Dorian Opera is built from progressive rock and progressive metal traditions as well as the strong influence of European classical music. Take the powerful lead vocals and groovy bass playing of Joe Eisenburger; add in the virtuoso guitar solos of Oliver Weislogel; keyboard soundscapes and Wakeman style synth passages of Andrew Roussak; mix it all up with fantastic stick and double-bass drum work of Harry Reischmann (to say nothing of Queen-like choirs!) and you will get the sound of DORIAN OPERA!
The 11 pieces of the CD are not bound together with any concept, except music. The only actual statement of this work is the sound. Thematically, we wanted to speak of the things which seem important to us: politics and politicians; killer computer games and suicide rampages; frustration, hope, loneliness and eternal love.
You will find 8 original songs and 2 instrumentals on this CD. The last track is actually a bonus track. This is our rendition of one of the most ingenious musical pieces ever –
L'Estate Presto from Le Quattro Staggioni of Antonio Lucio Vivaldi.
Sincerely, many Dorian regards -
Joe, Oliver, Andrew and Harry
Reviews of this album:
14/07/2008 - ArtRock on Magle International Music Forum, Denmark:
…No secrets by Dorian Opera is a strong debut album that should appeal to lovers of progressive rock as well as classical rock alike. Far superior to most new CD's I have heard this year. For this review I have listened at least
ten times to it the past week and most of the tracks still sound fresh. On a scale from one to six stars, this is a five star album to my taste.
30/09/2008 - Gerald Wandio, Dutch Progressive Rock Page, Holland - Canada:
Dorian Opera doesn't disappoint. If you have a taste for classically-influenced progressive metal, you'll like this album. They really are crackerjack players, all four of them. Oliver Weislogel 's fluid, melodic guitar solos are a highlight of the album, but there's lots to admire in Joe Eisenburger's powerful bass playing, Andrew Roussak 's tasteful keyboard work , and Harry Reischmann's energetic but musical drumming.
11/08/2008 - Peter Pardo on Sea Of Tranquility , USA:
…Dorian Opera put forth an energetic style centered around wild guitar and keyboard solos, plenty of melody, and tight arrangements….The band can obviously play the hell out of their instruments, and they are quite adept at writing powerful progressive rock songs. Dorian Opera have themselves a very solid and enjoyable prog rock/metal debut here, and I think we are in store for some truly great things from this outfit in the years to come.
20/08/2008 - Bea on Metal Heart , France:
This first Dorian Opera's album shows us all the capacities and the creative potential of the group on the musical level with much worked compositions that I have particularly liked the musical quality. A group to follow in the future
24/01/2009 - Tommy Hash on YTSEJAM, USA:
This quartet possesses strength to give their songs room to breathe musically without going overboard – each musician shines on his own laying down leads, hammering down all the low end and rhythmic elements… No Secrets is one of the few progressive rock records that can still convey the real spirit of rock and roll – the improvisations are kept to a melodic level of impulsiveness while the hard driving atmosphere keeps it all real.
23/07/2008 - Volkmar Mantei on RAGAZZI ( in German ):
…Die Songs sind raffiniert und eingängig komponiert, haben Groove und Härte, intelligente Gesangslinien und interessante Chorgesänge in den Refrains. Symphonische Keyboardsounds und Synthesizerklänge machen die recht komplexe Struktur für Symphonic Rock Fans attraktiv. Andrew Roussak ist ein Meister an den Tasten, ein fingerfertiger und phantasievoller, der dynamische und epische Partien geschickt und ausdrucksstark zu spielen weiß. Sein Part ist der melodische Mittelpunkt aller Songs, während Gitarrist Weislogel für vitale, harte Soli sorgt. Die Ryhthmuscrew Eisenburger und Reischmann spielt druckvoll und differenziert, legt einen starken, kernigen Beat vor und gibt unzählige Breaks und Rhythmuswechsel in die aufwendigen Kompositionen….
Track List:
1. Overture (6:40)
2. Sacrifice (5:22)
3. Tell Me Your Lies (6:48)
4. Dead or Alive (4:30)
5. No Secrets (4:11)
6. Little Lies (5:58)
7. Fly With Me (4:57)
8. One of These Days (6:18)
9. Truly Yours (5:31)
10. She (6:11)
11. Presto (3:14)
- Andrew Roussak / keyboards
- Oliver Weislogel / guitars
- Joe Eisenburger / bass, vocals
- Harry Reischmann / drums
Exact Audio Copy V1.0 beta 4 from 7. December 2014

Отчёт EAC об извлечении, выполненном 4. февраля 2018, 16:21

Dorian Opera / No Secrets

Дисковод: HL-DT-STDVDRAM GU71N Adapter: 1 ID: 0

Режим чтения : Достоверность
Использование точного потока : Да
Отключение кэша аудио : Да
Использование указателей C2 : Нет

Коррекция смещения при чтении : 6
Способность читать области Lead-in и Lead-out : Нет
Заполнение пропущенных сэмплов тишиной : Да
Удаление блоков с тишиной в начале и конце : Нет
При вычислениях CRC использовались нулевые сэмплы : Да
Интерфейс : Встроенный Win32-интерфейс для Win NT/2000

Выходной формат : Пользовательский кодировщик
Выбранный битрейт : 768 kBit/s
Качество : Высокий
Добавление ID3-тега : Нет
Утилита сжатия : C:\Program Files (x86)\Exact Audio Copy\FLAC\FLAC.EXE
Дополнительные параметры : -V -8 -T "Date=%year%" -T "Genre=%genre%" %source%

TOC извлечённого CD

Трек | Старт | Длительность | Начальный сектор | Конечный сектор
––––––––––––––––––––––––––––––––––-
1 | 0:00.00 | 6:44.70 | 0 | 30369
2 | 6:44.70 | 5:24.00 | 30370 | 54669
3 | 12:08.70 | 6:54.00 | 54670 | 85719
4 | 19:02.70 | 6:21.03 | 85720 | 114297
5 | 25:23.73 | 4:14.71 | 114298 | 133418
6 | 29:38.69 | 6:16.19 | 133419 | 161637
7 | 35:55.13 | 5:02.41 | 161638 | 184328
8 | 40:57.54 | 4:32.15 | 184329 | 204743
9 | 45:29.69 | 5:28.68 | 204744 | 229411
10 | 50:58.62 | 6:20.54 | 229412 | 257965
11 | 57:19.41 | 3:15.59 | 257966 | 272649

Характеристики диапазона извлечения и сообщения об ошибках

Выбранный диапазон

Имя файла D:\Users\User\Documents\Dorian Opera - No Secrets.wav

Пиковый уровень 96.6 %
Скорость извлечения 5.1 X
Качество диапазона 100.0 %
CRC теста 0206C846
CRC копии 0206C846
Копирование… OK

Ошибок не произошло

AccurateRip: сводка

Трек 1 точность не определена (достоверность 2) [D9D2B449], AccurateRip вернул [15DA597D] (AR v2)
Трек 2 точность не определена (достоверность 2) [FE5AF53D], AccurateRip вернул [EA6A5E04] (AR v2)
Трек 3 точность не определена (достоверность 2) [7E21D9C1], AccurateRip вернул [DC3A320B] (AR v2)
Трек 4 точность не определена (достоверность 2) [AB06D4AD], AccurateRip вернул [E4809AB3] (AR v2)
Трек 5 точность не определена (достоверность 2) [273E1CA4], AccurateRip вернул [61AF657B] (AR v2)
Трек 6 точность не определена (достоверность 2) [D61519F1], AccurateRip вернул [A4E74B6D] (AR v2)
Трек 7 точность не определена (достоверность 2) [BC6FAAB9], AccurateRip вернул [E9377DB9] (AR v2)
Трек 8 точность не определена (достоверность 2) [3AB7C547], AccurateRip вернул [51763AF8] (AR v2)
Трек 9 точность не определена (достоверность 2) [52C7E297], AccurateRip вернул [50CE9487] (AR v2)
Трек 10 точность не определена (достоверность 2) [D0956BFA], AccurateRip вернул [6FEC4D19] (AR v2)
Трек 11 точность не определена (достоверность 2) [B9FCCAFB], AccurateRip вернул [343DCDAC] (AR v2)

Ни один трек не прошёл проверки на точность
В вашей базе может быть иной вариант штамповки диска

Конец отчёта

==== Контрольная сумма отчёта 19F691CF5452A3A61DA2919F329FE41EAE1AC75E03B6C64502CDE7739446AACF ====
All thanks go to the ringo13