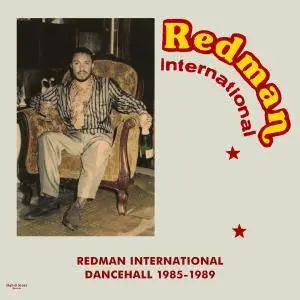 VA - Redman International Dancehall 1985-1989 (2017)
Reggae, Dub | 1:04:43 | WEB FLAC (tracks) | 366 MB
Label: Dub Store Records
Killer, massive collection of Redman's '80s + '90s digidub productions, sourced from rare 7"s. This one's a lot! Check for Tony Tuff's 'Careless People', Admiral Tibet on the ruddy ride of 'New Tactics', and particularly the handful of dub versions!
"Two years after the release of Sleng Teng, a young vigorous producer, who was originally a sound system operator, was maturing his tactics to rule over Jammy's position. His name was Hugh 'Redman' James. Soon the producer was in the limelight during the late 80's to the early 90's for releasing a number of hits from his own Redman International label.
The sound system operator turned producer employed Steely & Clevie for his rhythm section like other major producers including King Jammy, King Tubby and Winston Riley. But the rhythms he created were literally new when compared to the works of other 80's labels. Many would still say that Redman's style is very similar to King Jammys. But at the same time, he identified his music by dripping the essence of Jamaican roots music, which inevitably distinguished his sound and originality.
Themes that Redman accompanied were very obvious in titles, which he produced. Titles such as 'Weh Dem Fah' and 'Danger' by Carl Meeks, 'Dangerous' by Conroy Smith, 'New Tactics' by Admiral Tibett, 'Careless People' by Tony Tuff and 'Concrete Jungle' and 'Runnings' by Dave Bailey are considerably some of his best productions that featured those clear themes and conscious messages from those artists.
A major breakthrough came to Redman when he versioned a Studio One classic 'Run Run' by Delroy Wilson to create a massive hit 'Koloko' by Clement Irie. On the same rhythm, Johnny P, Daddy Lilly, Rappa Robert & Tippa Lee have also recorded other striving songs. In addition, he produced many talented artists like Red Dragon, Frankie Paul, Courtney Melody and released other quality productions.
Throughout the Redman's catalogue, all of the songs and rhythms were basically created to target patrons at various dancehall venues as he was originally a sound system man. Also dub versions to his rhythms were very remarkable productions. For these reasons, his music is still highly demanded and respected from the day that Redman founded his label over twenty years ago."
Tracklist:
01. Da Da Waps - Old Chain
02. Carl Meeks - Danger
03. Carl Meeks - Red Eye Lover
04. Dave Bailey - Runnings
05. Tony Tuff - Careless People
06. Wayne Palmer - Yu Nu Remember
07. Admiral Tibet - New Tactics
08. Horace Martin - Geow Now
09. Carl Meeks - Without Your Love
10. Dave Bailey - Concrete Jungle
11. Little John - Rub a Dub One
12. Little John - Ba Bat a Ba Bat
13. Puddy Roots - When I Release
14. Redman - When I Release (Dub Version)
15. Redman - Danger (Dub Version)
16. Redman - Runnings (Dub Version)
17. Redman - Old Chain (Dub Version)
18. Redman - New Tactics (Dub Version)
fooCDtect - foobar2000 + auCDtect, baralgin.

auCDtect: CD records authenticity detector, version 0.8.2
Copyright © 2004 Oleg Berngardt. All rights reserved.
Copyright © 2004 Alexander Djourik. All rights reserved.

mode: 0

===========================================
Track: 03. Carl Meeks - Red Eye Lover

Processing file: [03. Carl Meeks - Red Eye Lover.aucdtect]
Detected average hi-boundary frequency: 2.029653e+004 Hz
Detected average lo-boundary frequency: 1.323642e+004 Hz
Detected average hi-cut frequency: 2.170567e+004 Hz
Detected average lo-cut frequency: 1.128824e+004 Hz
Maximum probablis boundary frequency: 2.189100e+004 Hz
Coefficient of nonlinearity of a phase: 3.566190e-001
First order smothness: 5.057708e-001
Second order smothness: 5.280297e-001

––––––––––––––––––––––––––––––
This track looks like CDDA with probability 100%

===========================================
Track: 04. Dave Bailey - Runnings

Processing file: [04. Dave Bailey - Runnings.aucdtect]
Detected average hi-boundary frequency: 2.031717e+004 Hz
Detected average lo-boundary frequency: 1.373411e+004 Hz
Detected average hi-cut frequency: 2.138429e+004 Hz
Detected average lo-cut frequency: 6.511045e+003 Hz
Maximum probablis boundary frequency: 2.189100e+004 Hz
Coefficient of nonlinearity of a phase: 3.069881e-001
First order smothness: 4.220254e-001
Second order smothness: 4.709280e-001

––––––––––––––––––––––––––––––
This track looks like CDDA with probability 100%

===========================================
Track: 01. Da Da Waps - Old Chain

Processing file: [01. Da Da Waps - Old Chain.aucdtect]
Detected average hi-boundary frequency: 2.028285e+004 Hz
Detected average lo-boundary frequency: 1.255718e+004 Hz
Detected average hi-cut frequency: 2.164460e+004 Hz
Detected average lo-cut frequency: 9.017653e+003 Hz
Maximum probablis boundary frequency: 2.189100e+004 Hz
Coefficient of nonlinearity of a phase: 2.036475e-001
First order smothness: 4.218385e-001
Second order smothness: 5.669622e-001

––––––––––––––––––––––––––––––
This track looks like CDDA with probability 99%

===========================================
Track: 02. Carl Meeks - Danger

Processing file: [02. Carl Meeks - Danger.aucdtect]
Detected average hi-boundary frequency: 2.028108e+004 Hz
Detected average lo-boundary frequency: 1.310987e+004 Hz
Detected average hi-cut frequency: 2.131890e+004 Hz
Detected average lo-cut frequency: 6.945464e+003 Hz
Maximum probablis boundary frequency: 2.189100e+004 Hz
Coefficient of nonlinearity of a phase: 2.461504e-001
First order smothness: 4.105221e-001
Second order smothness: 4.738940e-001

––––––––––––––––––––––––––––––
This track looks like CDDA with probability 100%

===========================================
Track: 05. Tony Tuff - Careless People

Processing file: [05. Tony Tuff - Careless People.aucdtect]
Detected average hi-boundary frequency: 2.017965e+004 Hz
Detected average lo-boundary frequency: 1.238098e+004 Hz
Detected average hi-cut frequency: 2.156630e+004 Hz
Detected average lo-cut frequency: 5.332049e+003 Hz
Maximum probablis boundary frequency: 2.189100e+004 Hz
Coefficient of nonlinearity of a phase: 4.773929e-001
First order smothness: 4.192478e-001
Second order smothness: 4.336283e-001

––––––––––––––––––––––––––––––
This track looks like CDDA with probability 100%

===========================================
Track: 06. Wayne Palmer - Yu Nu Remember

Processing file: [06. Wayne Palmer - Yu Nu Remember.aucdtect]
Detected average hi-boundary frequency: 2.033775e+004 Hz
Detected average lo-boundary frequency: 1.357738e+004 Hz
Detected average hi-cut frequency: 2.156413e+004 Hz
Detected average lo-cut frequency: 9.493783e+003 Hz
Maximum probablis boundary frequency: 2.189100e+004 Hz
Coefficient of nonlinearity of a phase: 1.769544e-001
First order smothness: 4.910908e-001
Second order smothness: 5.328118e-001

––––––––––––––––––––––––––––––
This track looks like CDDA with probability 100%

===========================================
Track: 07. Admiral Tibet - New Tactics

Processing file: [07. Admiral Tibet - New Tactics.aucdtect]
Detected average hi-boundary frequency: 2.020230e+004 Hz
Detected average lo-boundary frequency: 1.272519e+004 Hz
Detected average hi-cut frequency: 2.154122e+004 Hz
Detected average lo-cut frequency: 7.951435e+003 Hz
Maximum probablis boundary frequency: 2.189100e+004 Hz
Coefficient of nonlinearity of a phase: 4.238700e-001
First order smothness: 3.894437e-001
Second order smothness: 5.373276e-001

––––––––––––––––––––––––––––––
This track looks like CDDA with probability 100%

===========================================
Track: 08. Horace Martin - Geow Now

Processing file: [08. Horace Martin - Geow Now.aucdtect]
Detected average hi-boundary frequency: 2.022845e+004 Hz
Detected average lo-boundary frequency: 1.313714e+004 Hz
Detected average hi-cut frequency: 2.154706e+004 Hz
Detected average lo-cut frequency: 1.294644e+004 Hz
Maximum probablis boundary frequency: 2.189100e+004 Hz
Coefficient of nonlinearity of a phase: 3.705858e-001
First order smothness: 4.025105e-001
Second order smothness: 6.108787e-001

––––––––––––––––––––––––––––––
This track looks like CDDA with probability 100%

===========================================
Track: 09. Carl Meeks - Without Your Love

Processing file: [09. Carl Meeks - Without Your Love.aucdtect]
Detected average hi-boundary frequency: 2.026371e+004 Hz
Detected average lo-boundary frequency: 1.315792e+004 Hz
Detected average hi-cut frequency: 2.130592e+004 Hz
Detected average lo-cut frequency: 7.016420e+003 Hz
Maximum probablis boundary frequency: 2.189100e+004 Hz
Coefficient of nonlinearity of a phase: 4.492122e-001
First order smothness: 4.179288e-001
Second order smothness: 6.041752e-001

––––––––––––––––––––––––––––––
This track looks like CDDA with probability 100%

===========================================
Track: 10. Dave Bailey - Concrete Jungle

Processing file: [10. Dave Bailey - Concrete Jungle.aucdtect]
Detected average hi-boundary frequency: 2.025244e+004 Hz
Detected average lo-boundary frequency: 1.296349e+004 Hz
Detected average hi-cut frequency: 2.136080e+004 Hz
Detected average lo-cut frequency: 5.477220e+003 Hz
Maximum probablis boundary frequency: 2.189100e+004 Hz
Coefficient of nonlinearity of a phase: 4.580314e-001
First order smothness: 3.905668e-001
Second order smothness: 4.919321e-001

––––––––––––––––––––––––––––––
This track looks like CDDA with probability 100%

===========================================
Track: 11. Little John - Rub a Dub One

Processing file: [11. Little John - Rub a Dub One.aucdtect]
Detected average hi-boundary frequency: 2.027539e+004 Hz
Detected average lo-boundary frequency: 1.358899e+004 Hz
Detected average hi-cut frequency: 2.145118e+004 Hz
Detected average lo-cut frequency: 6.759240e+003 Hz
Maximum probablis boundary frequency: 2.189100e+004 Hz
Coefficient of nonlinearity of a phase: 1.698748e-001
First order smothness: 4.408557e-001
Second order smothness: 5.629195e-001

––––––––––––––––––––––––––––––
This track looks like CDDA with probability 99%

===========================================
Track: 12. Little John - Ba Bat a Ba Bat

Processing file: [12. Little John - Ba Bat a Ba Bat.aucdtect]
Detected average hi-boundary frequency: 2.038992e+004 Hz
Detected average lo-boundary frequency: 1.500386e+004 Hz
Detected average hi-cut frequency: 2.169271e+004 Hz
Detected average lo-cut frequency: 8.815694e+003 Hz
Maximum probablis boundary frequency: 2.189100e+004 Hz
Coefficient of nonlinearity of a phase: 2.412186e-001
First order smothness: 3.856871e-001
Second order smothness: 5.820139e-001

––––––––––––––––––––––––––––––
This track looks like CDDA with probability 100%

===========================================
Track: 13. Puddy Roots - When I Release

Processing file: [13. Puddy Roots - When I Release.aucdtect]
Detected average hi-boundary frequency: 2.042110e+004 Hz
Detected average lo-boundary frequency: 1.320516e+004 Hz
Detected average hi-cut frequency: 2.105759e+004 Hz
Detected average lo-cut frequency: 1.188599e+004 Hz
Maximum probablis boundary frequency: 2.189100e+004 Hz
Coefficient of nonlinearity of a phase: 4.120629e-002
First order smothness: 4.242152e-001
Second order smothness: 5.901345e-001

––––––––––––––––––––––––––––––
This track looks like CDDA with probability 100%

===========================================
Track: 14. Redman - When I Release (Dub Version)

Processing file: [14. Redman - When I Release (Dub Version).aucdtect]
Detected average hi-boundary frequency: 2.039952e+004 Hz
Detected average lo-boundary frequency: 1.322151e+004 Hz
Detected average hi-cut frequency: 2.097255e+004 Hz
Detected average lo-cut frequency: 1.233855e+004 Hz
Maximum probablis boundary frequency: 2.189100e+004 Hz
Coefficient of nonlinearity of a phase: 9.164251e-002
First order smothness: 4.403450e-001
Second order smothness: 5.390513e-001


––––––––––––––––––––––––––––––
This track looks like CDDA with probability 100%

===========================================
Track: 15. Redman - Danger (Dub Version)

Processing file: [15. Redman - Danger (Dub Version).aucdtect]
Detected average hi-boundary frequency: 2.024608e+004 Hz
Detected average lo-boundary frequency: 1.246343e+004 Hz
Detected average hi-cut frequency: 2.149151e+004 Hz
Detected average lo-cut frequency: 8.852816e+003 Hz
Maximum probablis boundary frequency: 2.189100e+004 Hz
Coefficient of nonlinearity of a phase: 1.718510e-001
First order smothness: 4.734198e-001
Second order smothness: 3.670992e-001

––––––––––––––––––––––––––––––
This track looks like CDDA with probability 100%

===========================================
Track: 16. Redman - Runnings (Dub Version)

Processing file: [16. Redman - Runnings (Dub Version).aucdtect]
Detected average hi-boundary frequency: 2.022500e+004 Hz
Detected average lo-boundary frequency: 1.286595e+004 Hz
Detected average hi-cut frequency: 2.142138e+004 Hz
Detected average lo-cut frequency: 8.457819e+003 Hz
Maximum probablis boundary frequency: 2.189100e+004 Hz
Coefficient of nonlinearity of a phase: 3.911440e-001
First order smothness: 4.342993e-001
Second order smothness: 3.691941e-001

––––––––––––––––––––––––––––––
This track looks like CDDA with probability 100%

===========================================
Track: 17. Redman - Old Chain (Dub Version)

Processing file: [17. Redman - Old Chain (Dub Version).aucdtect]
Detected average hi-boundary frequency: 2.032052e+004 Hz
Detected average lo-boundary frequency: 1.247837e+004 Hz
Detected average hi-cut frequency: 2.171087e+004 Hz
Detected average lo-cut frequency: 9.813126e+003 Hz
Maximum probablis boundary frequency: 2.189100e+004 Hz
Coefficient of nonlinearity of a phase: 3.916852e-001
First order smothness: 4.601088e-001
Second order smothness: 5.775159e-001

––––––––––––––––––––––––––––––
This track looks like CDDA with probability 100%

===========================================
Track: 18. Redman - New Tactics (Dub Version)

Processing file: [18. Redman - New Tactics (Dub Version).aucdtect]
Detected average hi-boundary frequency: 2.020580e+004 Hz
Detected average lo-boundary frequency: 1.199677e+004 Hz
Detected average hi-cut frequency: 2.155601e+004 Hz
Detected average lo-cut frequency: 9.535363e+003 Hz
Maximum probablis boundary frequency: 2.189100e+004 Hz
Coefficient of nonlinearity of a phase: 4.447113e-001
First order smothness: 5.004198e-001
Second order smothness: 5.079765e-001

––––––––––––––––––––––––––––––
This track looks like CDDA with probability 100%

===========================================