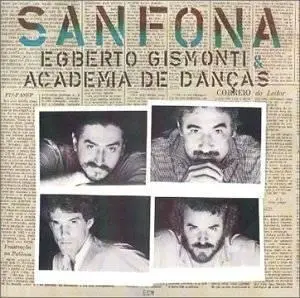 Egberto Gismonti & Academia de Dancas - Sanfona (1981)
Latin Jazz
MP3 | 256 kbps | 2CD | 10 tracks | 96:01 | 94.63 + 85.11 MB
This is a fantastic recording of Egberto's music. Ranging from abstract "free" jazz to hothouse Brazilian samba inspired rhythms to meditative guitar ruminations this CD is astounding for the level of playing and interplay from all the musicians, the quality of the compositions and freshness of concept. The quartet side in particular stands out. The four musicians play with white-hot intensity on Gismonti's challenging pieces with nary a cliche in sight. It's hard to know what aspect of EG to be most impressed with: his astounding guitar playing, his virtuostic and fresh approach to the piano or his unique and powerful compositions. This is one of my all time favorite Jazz (if you can call it that!) recordings and I urge you to get it.
Highest Recommendation!
- kamus, Amazon.com
Disc 1
1. Maracatu (8:24)
2. 10 Anos (7:33)
3. Frevo (8:11)
4. Loro (5:34)
5. Em Família/Sanfona/Dança Dos Pés/Eterna (21:10)
DownloadDisc 2
1. De Repente (16:07)
2. Vale Do Eco (7:46)
3. Cavaquinho (7:59)
4. 12 de Fevereiro (8:09)
5. Carta de Amor (5:06)
Download
Password: www.AvaxHome.ru