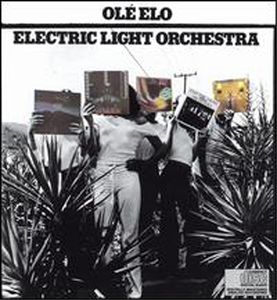 1. 10538 OVERTURE 5:25
2. KUIAMA 11:10
3. ROLL OVER BEETHOVEN (Chuck Berry) 4:31
4. SHOWDOWN 4:111
5. MA-MA-MA BELLE 3:35
6. CAN'T GET IT OUT OF MY HEAD 4:26
7. BOY BLUE 4:12
8. EVIL WOMAN 4:15
9. STRANGE MAGIC 4:05
Released on June 1976, collected from previously released material
A mid-career compilation (now out of print) that collects ELO's early hits up to Face The Music. Although popular enough at the time, many of these songs have long since fallen from regular radio rotation. If you're not familiar with the band's early days, Ole Elo has a few treats in store, "Boy Blue" and "Can't Get It Out Of My Head" from Eldorado among them. Great track selection, it includes all of the singles up to that point plus a 11:10 minute "Kuiama" that lops two minutes off the original, that and the single version of "Roll Over Beethoven" 4:00 minutes may attract collectors or fans. Otherwise, this is of interest mainly to listeners looking to dip their toes in the band's pre-disco days. In truth, the singles at this time weren't always a fair representation of the albums they were drawn from. The selections from their first and third albums, for example, give little indication of the Beatles cum strings sound that marks both efforts. Conversely, the best parts of ELO II and Face The Music are here, trimming the fat from two fairly fatty records. In 1979, ELO's Greatest Hits was released, which is the better bet for neophytes to nosh on.
- Some material modified. Song 2: duration, song 4: duration. The ones on the tracklist are the ones on this particular file.
Password:
www.AvaxHome.ru
http://rapidshare.de/files/19368233/OLE_ELO.rar.html
E.L.O. Fans enjoy!!!!