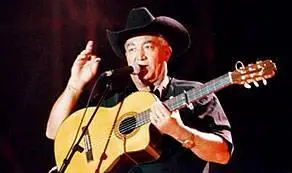 ELIADES OCHOA was born in June 11, 1946 at Songo La Maya, Santiago de Cuba Province and since 1958, he is living at Santiago de Cuba City, where he has pursued his artistic career. Since early years, he learned how to play the guitar and tres, achieving also vocal qualities, exhibiting them through the interpretation of Cuban traditional music as Sones, Guarachas, Guajiras and Boleros.

His professional career started at the 60s, with Oriental Quintet and later on he entered Típico Septet. In 1978, joined Patria Quartet as director and singer. In 1986, he shared a recording with the luminary Cuban singer Francisco Repilado, well known as Compay Segundo, 'El Chan Chan' and in 1989 they made different presentations in Washington, Guadalupe and Dominican Republic. In 1997, he took part of Buena Vista Social Club record, winner of a Grammy Award.

He has toured around 40 countries and recorded disks, approaching titles of great significance for Cuban music such as 'Son de Oriente', 'Chanchaneando' with Compay Segundo; 'La venganza de Perico', together with Divango, famous saxophonist from Camerún; the continental record 'El Guateque de Don Tomás' with North American Bob Dylan and the most famous theme 'Píntate los labios María' which with the video clip created by Frank Padrón, received different Lucas Prizes and other international recognitions highlighting various Gold Disks.
01. el guateque de don tomas
02. Si En Un Final
03. chan chan
04. estoy como nunca
05. saludos compay
06. siboney
07. toda una vida
08. gonzalo no quiere que bailes
09. son a la casa de la trova
10. yiri yiri bon
11. el chicharron es pellejo
12. si sabes bailar mi son
13. sublime ilusion
14. heminguay delira
15. con dolor en el alma
Download
~110MB
http://rapidshare.de/files/36532258/E.Ochoa.Un.guajiro.sin.fronteras._2004_.rar
Enjoy!