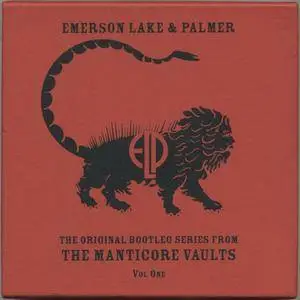 Emerson, Lake & Palmer - The Original Bootleg Series from The Manticore Vaults, Vol. 1 Set 1 (2001) {2CD Castle Music rec 1971}
EAC rip (secure mode) | FLAC (tracks)+CUE+LOG -> 480 Mb | MP3 @320 -> 196 Mb
Full Artwork @ 600 dpi (jpg) -> 58 Mb | 5% repair rar
© 1971, 2001 Castle Music / Sanctuary Record | CMDDD311 (CMXBX309)
Rock / Art Rock / Progressive Rock
Set 1: "Stomping Encore" - Gaelic Park N.Y. Sep. 1st 1971 - The Stratasphere vs. The Spectre." This set and its companion, the eight-CD volume two, display all the strengths that made Emerson, Lake & Palmer one of the world's most popular bands during the '70s, and the weakness that comes with a trio's attempt to play complicated music. Keith Emerson was a virtuoso keyboard player, Greg Lake supplied a pleasant voice and flair for writing melodic songs, and Carl Palmer played drums as though he would perish if he stopped. But the group lacked the depth of fellow progressive rock bands, such as Yes and King Crimson. Those groups supplied multiple lead instrumentalists – Yes with their guitar/keyboard tandem and Crimson with their venerable guitarist, Robert Fripp, and a series of cohorts who played saxophone, violin, or second guitar.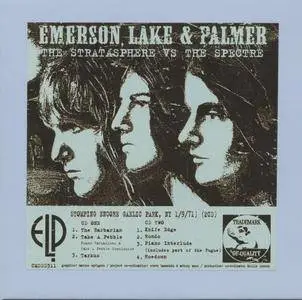 These and other bands (e.g., Genesis) also relied on more than one songwriter. In ELP, Emerson was the lone lead player of consequence, while Lake was the only distinctive songwriter (for a handful of albums, anyway); Emerson was better at adapting pieces written by his classical heroes, especially Aaron Copland, than writing original material. When the band was on a roll, however, few of any genre could match them. The title of this package tells the story; these concert tapes were obtained from bootleg sources, most of them well-known to ELP aficionados. Inevitably, bootlegs display less than perfect sound. This collection is no exception. On the plus side, all are listenable. These shows, recorded between September 1971 and August 1972, contain much repetition. The lengthy "Take a Pebble" appears in all four concerts, as does "Tarkus" in its entirety. You'll have your fill of Mussorgsky's "Pictures at an Exhibition" and Copland's "Hoedown." ELP diehards won't mind because the improvisation breaks by Emerson make each version distinct. Casual fans and the prog-curious will find this to be a bit much and would do better to search for the two-CD King Biscuit Flower Hour: Greatest Hits Live set or one of the band's early studio efforts. Three of the programs in volume one either support or introduce material from the Trilogy album. Surprisingly, the title cut was not on the play list. "Trilogy" was one of ELP's best moments, particularly the hard-hitting coda. "From the Beginning," a minor hit single, is also notable for its absence. Some observations about each show: The first gig, subtitled "The Stratasphere (sic) vs. The Spectre," was held at Gaelic Park in the Bronx, NY. Running 83 minutes over two discs, it spotlights the group's debut album and previews Tarkus, which was about to hit record stores. The sound fidelity is okay, but might alienate listeners who were not veterans of the heyday of bootlegged music. Emerson is terrific, playing with intensity and a minimum of pointless noodling. One highlight is his mauling of the Moog synthesizer as he squeezes out as many strange new sounds as possible. Dr. Robert Moog, who invented this granddaddy of all synthesizers, was in the audience as an invited guest. Crowd favorites "The Barbarian" and "Knife Edge" make their only appearance in this concert. "Take a Pebble" features wonderful subtle interplay between the three musicians before Emerson's lengthy solo. Emerson is Emerson: A magnificent pianist who occasionally goes off the beaten path and performs with brilliance or self-indulgence, depending on your predisposition. If it's the latter, be forewarned: Emerson's flights are not especially disciplined. Ten- to 15-minute excursions were routine and usually included jazz, boogie, or ragtime in addition to the usual classical-tinged bombast or plain old avant-garde white noise. If you listen closely to this and solos from following concerts, you'll hear an emerging melody line for what would become "Tiger in a Spotlight," a song that was released in 1977 on Works, Vol. 2 and became a staple of the band's later shows. Lake's performance is particularly noteworthy. He performs and sings his new songs with the same conviction he displayed two years before in King Crimson. The second show, subtitled "The Iridescent Concubine," took place at Louisville Town Hall on April 21, 1972, running 99 minutes over two discs.





Sound quality approximates that of the Gaelic Park gig, but also includes sporadic conversations by audience members, presumably the tapers. Highlights are "Hoedown," which opens the show, and "Abaddon's Bolero." Lake plays a nice, melodic, unhurried guitar solo during "Take a Pebble" that's reminiscent of Pink Floyd's David Gilmour. The latter section of this gig, primarily the encore, is neither cohesive nor interesting. "Rondo," an Emerson leftover from his tenure with the Nice, consists basically of synthesizer squawks and a long, long drum solo by Palmer. The third concert, subtitled "Celestial Doggie: The Lobster Quadrille," was at Long Beach Arena in California on July 28, 1972. It runs 98 minutes over two discs. The sound quality is superior to the previous two concert tapes, though it still falls short of what would be acceptable for mainstream release. ELP dive right into "Tarkus" without an introduction, Palmer driving the band ahead with his tireless drumming. Emerson makes the Moog sound like a weapon in keeping with the silly premise of "Tarkus." Lake adds a brief excerpt of "Epitaph," a stunner from King Crimson's debut album; this ultimately became a regular part of the song. His song "Lucky Man" is a highlight, featuring contributions from Emerson and Palmer. In future tours, "Lucky Man" became a solo piece, featuring Lake on acoustic guitar. This version of "Pictures at an Exhibition" makes one wonder if Mussorgsky would have integrated feedback into his music had he survived to the electric music age. "Hoedown" is played with intensity and economy. "Rondo" (pinched from the Dave Brubeck Quartet's jazz smash "Blue Rondo à la Turk") lives up to its grand-finale status. This version is far superior to the bloated version from the Louisville concert. The fourth show, subtitled "Iconoclastic Madness," took place at The Saratoga Performing Arts Center in Saratoga Springs, NY, on August 13, 1972. This show lasted 76 minutes and fits on a single disc. The sound quality is spotty. Highlights include any part of "Tarkus" when Emerson plays organ and the trio clicks as a true band. "The Sheriff" was one of Trilogy's weaker songs, but ELP play it with enthusiasm, sticking close to the studio version. By this time, ELP was an international success. Soon, their concerts became visual spectacles as much as musical events. The presentations began to seem self-absorbed. This undoubtedly influenced the critical repercussions ELP suddenly began to receive ("How do you spell pretentious? E-L-P"). But the band could flat-out play, and their body of work held up better than many critical darlings. The Original Bootleg Series From Manticore Vaults, Vol. 1 is a boxed set. The four inner sleeves retain their original bootleg appearance. A small poster replicates the billboard advertisement for ELP's first-ever gig, backed by liner notes that include an amusing anecdote about Dr. Moog's appearance at the Gaelic Park show. Die-hard ELP fans will find this collection indispensable and will no doubt latch onto volume two as well.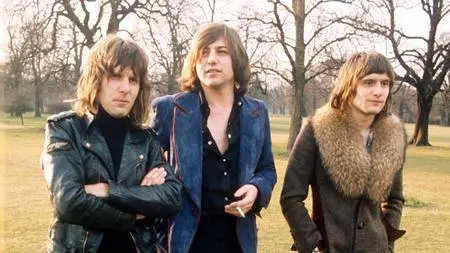 Emerson Lake & Palmer - The Original Bootleg Series from The Manticore Vaults Volume 1 (2001)
7 CD - 4 sets - Manticore Records CMXBX309
Set 1: "Stomping Encore" - Gazlic Park N.Y. Sep. 1st 1971
Set 2: Louisville Town Hall K.T. - Apr 21st 1972
Set 3: Long Beach Arena, CA - July 28th 1972
Set 4: Performing Arts Center, Saratoga Springs N.Y. - Aug 13th 1972
tracklist:
CD1
01 - The Barbarian
02 - Take a Pebble
03 - Tarkus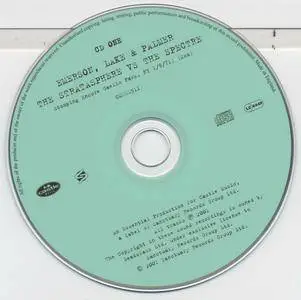 CD2
01 - Knife Edge
02 - Rondo
03 - Piano Interlude
04 - Hoedown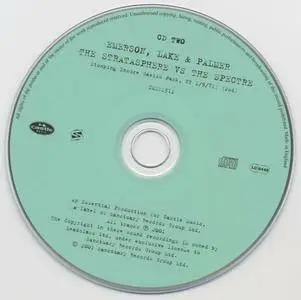 EAC extraction logfile from 22. April 2009, 16:50 for CD
Emerson Lake and Palmer / The Manticore Vaults Vol One, The Stratasphere VS The spectre CD 1

Used drive : MATSHITADVD-RAM UJ-842S Adapter: 1 ID: 0
Read mode : Secure with NO C2, accurate stream, disable cache
Read offset correction : 102
Overread into Lead-In and Lead-Out : No

Used output format : C:\Program Files\FLAC\flac.exe (User Defined Encoder)
128 kBit/s
Additional command line options : -8 -V -T "ARTIST=%a" -T "TITLE=%t" -T "ALBUM=%g" -T "DATE=%y" -T "TRACKNUMBER=%n" -T "GENRE=%m" -T "COMMENT=EAC FLAC -8" %s

Other options :
Fill up missing offset samples with silence : Yes
Delete leading and trailing silent blocks : No
Native Win32 interface for Win NT & 2000


Track 1
Filename C:\Documents and Settings\Administrator\Desktop\ELP - vol1 disc1-2\disc 1\01 - The Barbarian.wav

Pre-gap length 0:00:02.00

Peak level 97.7 %
Track quality 99.9 %
Test CRC 11B7C85D
Copy CRC 11B7C85D
Copy OK

Track 2
Filename C:\Documents and Settings\Administrator\Desktop\ELP - vol1 disc1-2\disc 1\02 - Take a Pebble.wav

Peak level 97.7 %
Track quality 100.0 %
Test CRC 4A9A8332
Copy CRC 4A9A8332
Copy OK

Track 3
Filename C:\Documents and Settings\Administrator\Desktop\ELP - vol1 disc1-2\disc 1\03 - Tarkus.wav

Peak level 97.7 %
Track quality 100.0 %
Test CRC 42E99DE0
Copy CRC 42E99DE0
Copy OK

No errors occured


End of status report

EAC extraction logfile from 22. April 2009, 17:30 for CD
Emerson Lake & Palmer / The Manticore Vaults Vol One, The Stratasphere VS The spectre CD 2

Used drive : MATSHITADVD-RAM UJ-842S Adapter: 1 ID: 0
Read mode : Secure with NO C2, accurate stream, disable cache
Read offset correction : 102
Overread into Lead-In and Lead-Out : No

Used output format : C:\Program Files\FLAC\flac.exe (User Defined Encoder)
128 kBit/s
Additional command line options : -8 -V -T "ARTIST=%a" -T "TITLE=%t" -T "ALBUM=%g" -T "DATE=%y" -T "TRACKNUMBER=%n" -T "GENRE=%m" -T "COMMENT=EAC FLAC -8" %s

Other options :
Fill up missing offset samples with silence : Yes
Delete leading and trailing silent blocks : No
Native Win32 interface for Win NT & 2000


Track 1
Filename C:\Documents and Settings\Administrator\Desktop\ELP - vol1 disc1-2\disc 2\01 - Knife Edge.wav

Pre-gap length 0:00:02.00

Peak level 89.3 %
Track quality 100.0 %
Test CRC 3B763CE0
Copy CRC 3B763CE0
Copy OK

Track 2
Filename C:\Documents and Settings\Administrator\Desktop\ELP - vol1 disc1-2\disc 2\02 - Rondo.wav

Peak level 96.2 %
Track quality 100.0 %
Test CRC DCEF8F08
Copy CRC DCEF8F08
Copy OK

Track 3
Filename C:\Documents and Settings\Administrator\Desktop\ELP - vol1 disc1-2\disc 2\03 - Piano Interlude.wav

Peak level 95.8 %
Track quality 100.0 %
Test CRC AEC309FD
Copy CRC AEC309FD
Copy OK

Track 4
Filename C:\Documents and Settings\Administrator\Desktop\ELP - vol1 disc1-2\disc 2\04 - Hoedown.wav

Peak level 96.2 %
Track quality 99.9 %
Test CRC B890327E
Copy CRC B890327E
Copy OK

No errors occured


End of status report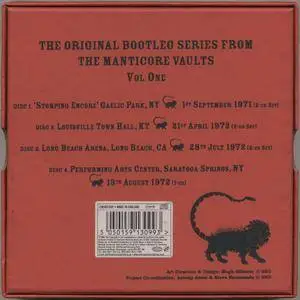 NEXT -> The Original Bootleg Series from the Manticore Vaults Vol. 1-Vol. 4 (Complete)…
===