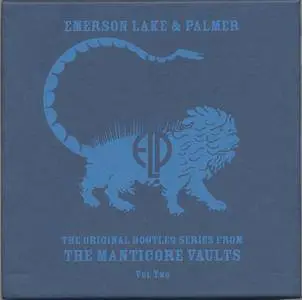 Emerson, Lake & Palmer - The Original Bootleg Series from The Manticore Vaults Vol. 2 Set 1 (2001) {2CD Castle Music rec 1972}
EAC rip (secure mode) | FLAC (tracks)+CUE+LOG -> 549 Mb | MP3 @320 -> 237 Mb
Full Artwork @ 600 dpi (jpg) -> 31 Mb | 5% repair rar
© 1972, 2001 Castle Music / Sanctuary Record | CMDDD310 (CMXBX330)
Rock / Art Rock / Progressive Rock
Set 1: "A Right Cordial Shocker"- Hammersmith Odeon in London on November 26, 1972. Another batch of cleaned-up bootlegs chronicles some of Emerson, Lake & Palmer's finest shows. This eight-CD box set includes four complete concerts, each taking up two discs. In all, the two-volume Original Bootleg Series is comprised of eight shows covering 15 discs. Listeners should expect a lo-fi experience. The set is priced accordingly, about 45 dollars per volume. To be fair, the sound quality is for the most part decent to good. The first show in this collection was recorded at Hammersmith Odean in London on November 26, 1972. Subtitled "A Right Cordial Shocker," it runs 100 minutes. ELP had returned triumphantly to their home turf after touring the world behind Trilogy.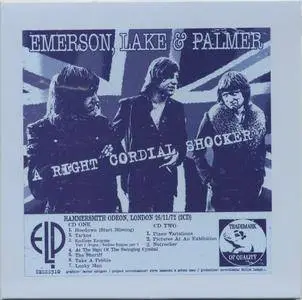 The group still relied on old favorites: "Take a Pebble," "Pictures at an Exhibition," and "Tarkus" (the latter work was performed at all eight concerts available in the two volumes). ELP hit the stage running and never flagged. Keith Emerson's solo piano workout at the beginning of disc two is exceptional, as is the segue into jazz interplay with Carl Palmer and Greg Lake. "Pictures" is amazingly intense. One major plus: the night's quieter moments are easily heard on this tape, due primarily to the attentive London audience. Similar moments at the American venues are occasionally marred by howls and impatient noises (and in a couple of concerts, a conversation between two fellows taping the show). The second show in this chronological set moves forward to March 26, 1974, at Henry Lewit Arena in Wichita, KS. Subtitled "Waiting for the Corduroy Purpose," this show took place following the release of Brain Salad Surgery, considered by some fans to be ELP's best album, all of which is present here. By now, the show had become almost as important as the music; ELP had the wildest, most technologically advanced stage spectacle anywhere. The shows were longer, as the band now had five-albums worth of material. This one runs just short of two hours. "Tarkus" is a highlight; it exceeds half an hour, as Emerson takes a lengthy, restrained synthesizer solo that puts melody ahead of raw noise. One major complaint comes to mind during a piano solo by Emerson and some of Lake's softer, acoustic numbers: Why do audience members insist on talking during performances, particularly the quieter moments? As mentioned above, the European audience listened intently during these passages, allowing the performers some semblance of subtlety. The American shows feature in-song yapping plus the inevitable person trying to help but making matters worse by repeatedly yelling "Shut up!" at the top of his lungs. On a positive note, this tour introduced the "Karn Evil 9" showstopper.





ELP no doubt viewed it as an important work and they don't hold anything back. The performance is fresh and invigorating. The trio obviously enjoyed performing this piece. The third show, subtitled "My Darling Nemesis/The Illuminati," was held at Rich Stadium in Buffalo, NY, on July 26, 1974. It features almost an identical song lineup as the Wichita concert, but clocks in at two hours and seven minutes. The fidelity is quite good. For this reason, "Tarkus" in its entirety shines more than other versions. The ballad "Still…You Turn Me On" is another highlight. The entire show is first-rate except for the "Pictures at an Exhibition" finale, which is filled with non-musical synthesizer twaddle. Maybe it sounded far out in the massive stadium setting with wild visuals. The Original Bootleg Series From Manticore Vaults, Vol. 2 concludes with a gig from the New Haven Civic Center. The show, subtitled "Strangely Beneficient," was held November 30, 1977, during the Works tour. Works, Vol. 2 had actually been released the day before, according to Emerson. Running time is 88 minutes. The set list was largely revamped from earlier tours. For a band known as an original, ELP incorporated a large amount of covers into the act. This show includes three oldies of differing musical archetypes and Scott Joplin's early-20th century ragtime, "Maple Leaf Rag"; Aaron Copland's classical piece of the '30s, "Fanfare for the Common Man"; and pop writer Henry Mancini's "Peter Gunn Theme," which dated back to 1957. Whether the inclusion of these compositions reflects the band's eclectic taste or that ELP's well of creativity was drying up is unclear. Of the band's new original songs, Lake continued to perform ballads with pleasing hooks and more sophisticated lyrics thanks to the rekindling of a professional relationship with former King Crimson lyricist Peter Sinfield. Lake's bass work is a highlight of "Take a Pebble," which sounds good in every version of this collection. Even Sinfield's words can't save "Pirates," a ponderous work that ranks among the most boring, long progressive rock songs ever. The band seemed to matter less in this tour; as was the case with Works, the concerts began to feature more solo activity. ELP shows seemed to become one-fourth Keith Emerson piano recitals, one-fourth Carl Palmer drum solos, one-fourth songs by troubadour Greg Lake, and one-fourth group effort. It wasn't long before the band split up; periodic reformations have included tours, right up until 1999, when the band toured as the lower half of a bill with Deep Purple. But the Works tour was ELP's final go-round, with the trio at or near the top of the rock heap. Future albums failed to match the creativity of the band's early-'70s output. Latter-day concerts sold well, but became more nostalgia-fests than attempts to try new ideas. The packaging reflects the sources of this music. Each double-CD concert is packaged in a bootleg sleeve. The box set also includes a poster of the band backed with sleeve notes and details about the songs. It's ironic that bootleggers, long the bane of professional musicians, are of some use to them today. There is a great demand for performances by bands such as Emerson, Lake & Palmer when they were in their prime. The musicians and their record companies did not compile a large backlog of quality material outside of official live releases. These old bootlegs are now helping to supply material from old tours and fill in gaps from portions of the band's career for which no live document was officially released. It's hard to say if more efforts will be made on behalf of ELP, but these concerts, despite occasional substandard sound, are valuable to the group's most loyal fans. These tapes provide ELP fans with a historic perspective in much the same manner as the Dick's Picks series does for Grateful Dead fans or the King Crimson Record Club does for followers of Greg Lake's former band. King Crimson's Robert Fripp, perhaps the most vociferous opponent of bootleggers in the past, is now appealing to them to come forth with old tapes to be technologically cleaned up for release. The only way Crimson's legendary 1974 Central Park show could be salvaged for release was by using two bootleg sources. Fripp advises musicians on tour to record every show they play.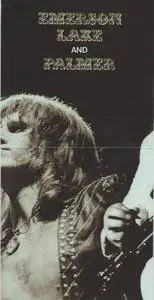 Emerson Lake & Palmer - The Original Bootleg Series from The Manticore Vaults Volume 2 (2001)
8 CD - 4 sets - Manticore Records CMXBX310
Set 1: "A Right Cordial Shocker"- Hammersmith Odeon in London on November 26, 1972
Set 2: "Waiting for the Corduroy Purpose" - Henry Lewit Arena in Wichita, KS March 26, 1974
Set 3: "My Darling Nemesis/The Illuminati" - Rich Stadium in Buffalo, NY, on July 26, 1974
Set 4: "Strangely Beneficient," - New Haven Civic Center November 30, 1977
tracklist:
CD1
01 - Hoedown
02 - Tarkus
03 - Endless Enigma
04 - At The Sign of Swinging Cymbal
05 - The Sheriff
06 - Take A Pebble
07 - Lucky Man
CD2
01 - Piano Variations
02 - Pictures At An Exhibition
03 - Nutrocker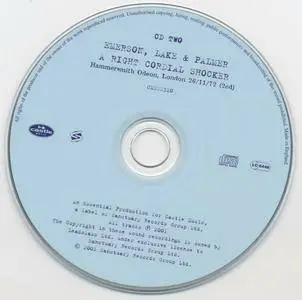 EAC extraction logfile from 12. May 2009, 13:47 for CD
Emerson, Lake & Palmer / The Manticore Vaults Vol. Two-A Right Cordial Shocker (Disc 1)

Used drive : MATSHITADVD-RAM UJ-842S Adapter: 1 ID: 0
Read mode : Secure with NO C2, accurate stream, disable cache
Read offset correction : 102
Overread into Lead-In and Lead-Out : No

Used output format : C:\Program Files\FLAC\flac.exe (User Defined Encoder)
128 kBit/s
Additional command line options : -8 -V -T "ARTIST=%a" -T "TITLE=%t" -T "ALBUM=%g" -T "DATE=%y" -T "TRACKNUMBER=%n" -T "GENRE=%m" -T "COMMENT=EAC FLAC -8" %s

Other options :
Fill up missing offset samples with silence : Yes
Delete leading and trailing silent blocks : No
Native Win32 interface for Win NT & 2000


Track 1
Filename C:\Documents and Settings\Administrator\Desktop\Emerson Lake & Palmer - The Original Bootleg Series from The Manticore Vaults Vol. 2 (2001) [FLAC] Set 1\Disc 1\01 - Hoedown.wav

Pre-gap length 0:00:02.00

Peak level 97.7 %
Track quality 100.0 %
Test CRC 7B46335A
Copy CRC 7B46335A
Copy OK

Track 2
Filename C:\Documents and Settings\Administrator\Desktop\Emerson Lake & Palmer - The Original Bootleg Series from The Manticore Vaults Vol. 2 (2001) [FLAC] Set 1\Disc 1\02 - Tarkus.wav

Peak level 97.7 %
Track quality 100.0 %
Test CRC AA8BF062
Copy CRC AA8BF062
Copy OK

Track 3
Filename C:\Documents and Settings\Administrator\Desktop\Emerson Lake & Palmer - The Original Bootleg Series from The Manticore Vaults Vol. 2 (2001) [FLAC] Set 1\Disc 1\03 - Endless Enigma.wav

Peak level 97.7 %
Track quality 100.0 %
Test CRC 7A4EA7BC
Copy CRC 7A4EA7BC
Copy OK

Track 4
Filename C:\Documents and Settings\Administrator\Desktop\Emerson Lake & Palmer - The Original Bootleg Series from The Manticore Vaults Vol. 2 (2001) [FLAC] Set 1\Disc 1\04 - At The Sign of Swinging Cymbal.wav

Peak level 82.0 %
Track quality 100.0 %
Test CRC 9387643F
Copy CRC 9387643F
Copy OK

Track 5
Filename C:\Documents and Settings\Administrator\Desktop\Emerson Lake & Palmer - The Original Bootleg Series from The Manticore Vaults Vol. 2 (2001) [FLAC] Set 1\Disc 1\05 - The Sheriff.wav

Peak level 97.7 %
Track quality 100.0 %
Test CRC 2A2D1B1B
Copy CRC 2A2D1B1B
Copy OK

Track 6
Filename C:\Documents and Settings\Administrator\Desktop\Emerson Lake & Palmer - The Original Bootleg Series from The Manticore Vaults Vol. 2 (2001) [FLAC] Set 1\Disc 1\06 - Take A Pebble.wav

Peak level 97.7 %
Track quality 100.0 %
Test CRC 2936A896
Copy CRC 2936A896
Copy OK

Track 7
Filename C:\Documents and Settings\Administrator\Desktop\Emerson Lake & Palmer - The Original Bootleg Series from The Manticore Vaults Vol. 2 (2001) [FLAC] Set 1\Disc 1\07 - Lucky Man.wav

Peak level 97.7 %
Track quality 100.0 %
Test CRC D6DD44F8
Copy CRC D6DD44F8
Copy OK

No errors occured


End of status report

EAC extraction logfile from 12. May 2009, 16:06 for CD
Emerson, Lake & Palmer / The Manticore Vaults Vol. Two-A Right Cordial Shocker (Disc 2)

Used drive : MATSHITADVD-RAM UJ-842S Adapter: 1 ID: 0
Read mode : Secure with NO C2, accurate stream, disable cache
Read offset correction : 102
Overread into Lead-In and Lead-Out : No

Used output format : C:\Program Files\FLAC\flac.exe (User Defined Encoder)
128 kBit/s
Additional command line options : -8 -V -T "ARTIST=%a" -T "TITLE=%t" -T "ALBUM=%g" -T "DATE=%y" -T "TRACKNUMBER=%n" -T "GENRE=%m" -T "COMMENT=EAC FLAC -8" %s

Other options :
Fill up missing offset samples with silence : Yes
Delete leading and trailing silent blocks : No
Native Win32 interface for Win NT & 2000


Track 1
Filename C:\Documents and Settings\Administrator\Desktop\Emerson Lake & Palmer - The Original Bootleg Series from The Manticore Vaults Vol. 2 (2001) [FLAC] Set 1\Disc 2\01 - Piano Variations.wav

Pre-gap length 0:00:02.00

Peak level 89.8 %
Track quality 100.0 %
Test CRC 58E68C60
Copy CRC 58E68C60
Copy OK

Track 2
Filename C:\Documents and Settings\Administrator\Desktop\Emerson Lake & Palmer - The Original Bootleg Series from The Manticore Vaults Vol. 2 (2001) [FLAC] Set 1\Disc 2\02 - Pictures At An Exhibition.wav

Peak level 92.2 %
Track quality 100.0 %
Test CRC DE83FE8E
Copy CRC DE83FE8E
Copy OK

Track 3
Filename C:\Documents and Settings\Administrator\Desktop\Emerson Lake & Palmer - The Original Bootleg Series from The Manticore Vaults Vol. 2 (2001) [FLAC] Set 1\Disc 2\03 - Nutrocker.wav

Peak level 97.7 %
Track quality 100.0 %
Test CRC 98EF0E20
Copy CRC 98EF0E20
Copy OK

No errors occured


End of status report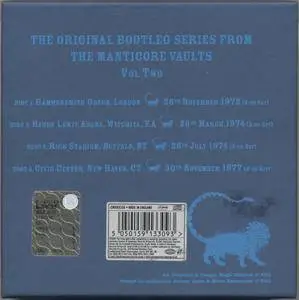 see more ELP - Original Bootleg…NEXT -> The Original Bootleg Series from the Manticore Vaults Vol. 1-Vol. 4 (Complete)…
===