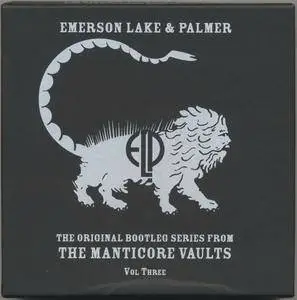 Emerson, Lake & Palmer - The Original Bootleg Series from The Manticore Vaults Vol. 3 Set 1 (2002) {Castle Music rec 1974-1977}
EAC rip (secure mode) | FLAC (tracks)+CUE+LOG -> 388 Mb | MP3 @320 -> 143 Mb
Full Artwork @ 600 dpi (jpg) -> 25 Mb | 5% repair rar
© 1974-77, 2002 Castle Music / Sanctuary Record | CMYBX524 / 1
Rock / Art Rock / Progressive Rock
Set 1: Anaheim Convention Centre, CA. USA 10th February 1974 - Wheeling Colosseum 1977. No less than five discs serve up four phenomenal ELP concerts in the final installment of a series that remains one of the most audaciously brilliant in any band's catalog. We begin with excerpts from shows recorded at the Anaheim Stadium in 1974 as the band toured Brain Salad Surgery and Wheeling Colosseum in 1977 on the Works tour – a longer look at both would have been preferable, of course, but we're dealing with original bootleg releases here, the source of every recording in this series, so what you see is what you get.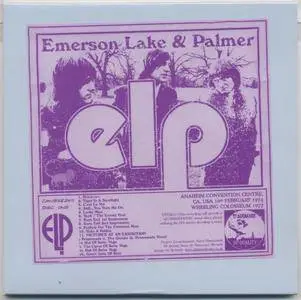 Besides, all misgivings are put to one side as the second and third discs transport us to the Royal Albert Hall in 1992 for a show that might be a little late in the day for longtime aficionados, but is nevertheless as dramatic as ELP ought to be. Much of this same repertoire is then repeated across discs four and five, recorded a mere five months later in Los Angeles, although as always with ELP, there are sufficient surprises to ensure that your attention never wanders: a career-best "Pirates," for example, and a mighty "Fanfare for the Common Man."





Earlier in the set, the Anaheim version of "Karn Evil 9" suffers only from the excision of the Third Impression (since re-incorporated on 2010's A Time and a Place box set), while the 1977 rendition of "Tarkus" is likewise an invigorating listen. Casual fans, of course, will have realized long ago that the Manticore Vaults sets are probably not for them. Converts, however, should seek them out whatever the cost.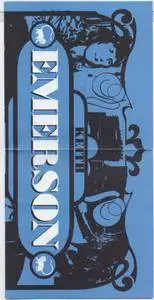 Emerson Lake & Palmer - The Original Bootleg Series from The Manticore Vaults Volume 3 (2002)
5 CD - 3 sets - Manticore Records CMYBX524
Set 1: Anaheim Convention Centre, CA. USA 10th February 1974 - Wheeling Colosseum 1977 (1-CD Set)[/size]
Set 2: Royal Albert Hall, London, England October 2nd 1992 (2-CD Set)
Set 3: Wiltern Theatre, LA, USA March 1993 (2-CD Set)Tracklist:
01 - Hoedown
02 - Tiger In A Spotlight
03 - C est La Vie
04 - Still You Turn Me On
05 - Lucky Man
06 - Tank The Enemy God
07 - Karn Evil 1st Impression
08 - Karn Evil 2nd Impression
09 - Fanfare For The Common Man
10 - Take A Pebble
11 - Pictures At An Exhibition
EAC extraction logfile from 30. May 2009, 23:46 for CD
Emerson Lake & Palmer / The Manticore Vaults Vol Three CD 1

Used drive : JLMS XJ-HD166S Adapter: 1 ID: 0
Read mode : Secure with NO C2, accurate stream, disable cache
Read offset correction : 12
Overread into Lead-In and Lead-Out : No

Used output format : C:\Programmi\FLAC\flac.exe (User Defined Encoder)
128 kBit/s
Additional command line options : -5 -V -T "ARTIST=%a" -T "TITLE=%t" -T "ALBUM=%g" -T "DATE=%y" -T "TRACKNUMBER=%n" -T "GENRE=%m" -T "COMMENT=EAC Flac 1.2.0 - 5" %s

Other options :
Fill up missing offset samples with silence : Yes
Delete leading and trailing silent blocks : No
Installed external ASPI interface


Track 1
Filename C:\Torrent\Emerson Lake & Palmer - The Original Bootleg Series from The Manticore Vaults Vol. 3 (2002) [FLAC] Box set (Set 1)\01 - Hoedown.wav

Pre-gap length 0:00:02.00

Peak level 97.9 %
Track quality 100.0 %
Test CRC 4AB4F757
Copy CRC 4AB4F757
Copy OK

Track 2
Filename C:\Torrent\Emerson Lake & Palmer - The Original Bootleg Series from The Manticore Vaults Vol. 3 (2002) [FLAC] Box set (Set 1)\02 - Tiger In A Spotlight.wav

Peak level 97.9 %
Track quality 100.0 %
Test CRC 8A14456E
Copy CRC 8A14456E
Copy OK

Track 3
Filename C:\Torrent\Emerson Lake & Palmer - The Original Bootleg Series from The Manticore Vaults Vol. 3 (2002) [FLAC] Box set (Set 1)\03 - C est La Vie.wav

Pre-gap length 0:00:00.01

Peak level 97.9 %
Track quality 100.0 %
Test CRC 202AAAB4
Copy CRC 202AAAB4
Copy OK

Track 4
Filename C:\Torrent\Emerson Lake & Palmer - The Original Bootleg Series from The Manticore Vaults Vol. 3 (2002) [FLAC] Box set (Set 1)\04 - Still You Turn Me On.wav

Peak level 97.9 %
Track quality 100.0 %
Test CRC 31649077
Copy CRC 31649077
Copy OK

Track 5
Filename C:\Torrent\Emerson Lake & Palmer - The Original Bootleg Series from The Manticore Vaults Vol. 3 (2002) [FLAC] Box set (Set 1)\05 - Lucky Man.wav

Peak level 97.9 %
Track quality 100.0 %
Test CRC DDAAD50F
Copy CRC DDAAD50F
Copy OK

Track 6
Filename C:\Torrent\Emerson Lake & Palmer - The Original Bootleg Series from The Manticore Vaults Vol. 3 (2002) [FLAC] Box set (Set 1)\06 - Tank The Enemy God.wav

Peak level 97.9 %
Track quality 100.0 %
Test CRC 3F9A8226
Copy CRC 3F9A8226
Copy OK

Track 7
Filename C:\Torrent\Emerson Lake & Palmer - The Original Bootleg Series from The Manticore Vaults Vol. 3 (2002) [FLAC] Box set (Set 1)\07 - Karn Evil 1st Impression.wav

Peak level 97.9 %
Track quality 100.0 %
Test CRC C34570DD
Copy CRC C34570DD
Copy OK

Track 8
Filename C:\Torrent\Emerson Lake & Palmer - The Original Bootleg Series from The Manticore Vaults Vol. 3 (2002) [FLAC] Box set (Set 1)\08 - Karn Evil 2nd Impression.wav

Peak level 97.9 %
Track quality 100.0 %
Test CRC 0A31DA3D
Copy CRC 0A31DA3D
Copy OK

Track 9
Filename C:\Torrent\Emerson Lake & Palmer - The Original Bootleg Series from The Manticore Vaults Vol. 3 (2002) [FLAC] Box set (Set 1)\09 - Fanfare For The Common Man.wav

Peak level 97.9 %
Track quality 100.0 %
Test CRC BCC4CF2D
Copy CRC BCC4CF2D
Copy OK

Track 10
Filename C:\Torrent\Emerson Lake & Palmer - The Original Bootleg Series from The Manticore Vaults Vol. 3 (2002) [FLAC] Box set (Set 1)\10 - Take A Pebble.wav

Peak level 97.9 %
Track quality 100.0 %
Test CRC F006B0D6
Copy CRC F006B0D6
Copy OK

Track 11
Filename C:\Torrent\Emerson Lake & Palmer - The Original Bootleg Series from The Manticore Vaults Vol. 3 (2002) [FLAC] Box set (Set 1)\11 - Pictures At An Exhibition.wav

Peak level 97.9 %
Track quality 100.0 %
Test CRC 2986B89E
Copy CRC 2986B89E
Copy OK

No errors occured


End of status report

––––––––––––––––––––––––––––––

EAC extraction logfile from 30. May 2009, 23:46 for CD
Emerson Lake & Palmer / The Manticore Vaults Vol Three CD 1

Used drive : JLMS XJ-HD166S Adapter: 1 ID: 0
Read mode : Secure with NO C2, accurate stream, disable cache
Read offset correction : 12
Overread into Lead-In and Lead-Out : No

Used output format : C:\Programmi\FLAC\flac.exe (User Defined Encoder)
128 kBit/s
Additional command line options : -5 -V -T "ARTIST=%a" -T "TITLE=%t" -T "ALBUM=%g" -T "DATE=%y" -T "TRACKNUMBER=%n" -T "GENRE=%m" -T "COMMENT=EAC Flac 1.2.0 - 5" %s

Other options :
Fill up missing offset samples with silence : Yes
Delete leading and trailing silent blocks : No
Installed external ASPI interface


Track 1
Filename C:\Torrent\Emerson Lake & Palmer - The Original Bootleg Series from The Manticore Vaults Vol. 3 (2002) [FLAC] Box set (Set 1)\01 - Hoedown.wav

Pre-gap length 0:00:02.00

Peak level 97.9 %
Track quality 100.0 %
Test CRC 4AB4F757
Copy CRC 4AB4F757
Copy OK

Track 2
Filename C:\Torrent\Emerson Lake & Palmer - The Original Bootleg Series from The Manticore Vaults Vol. 3 (2002) [FLAC] Box set (Set 1)\02 - Tiger In A Spotlight.wav

Peak level 97.9 %
Track quality 100.0 %
Test CRC 8A14456E
Copy CRC 8A14456E
Copy OK

Track 3
Filename C:\Torrent\Emerson Lake & Palmer - The Original Bootleg Series from The Manticore Vaults Vol. 3 (2002) [FLAC] Box set (Set 1)\03 - C est La Vie.wav

Pre-gap length 0:00:00.01

Peak level 97.9 %
Track quality 100.0 %
Test CRC 202AAAB4
Copy CRC 202AAAB4
Copy OK

Track 4
Filename C:\Torrent\Emerson Lake & Palmer - The Original Bootleg Series from The Manticore Vaults Vol. 3 (2002) [FLAC] Box set (Set 1)\04 - Still You Turn Me On.wav

Peak level 97.9 %
Track quality 100.0 %
Test CRC 31649077
Copy CRC 31649077
Copy OK

Track 5
Filename C:\Torrent\Emerson Lake & Palmer - The Original Bootleg Series from The Manticore Vaults Vol. 3 (2002) [FLAC] Box set (Set 1)\05 - Lucky Man.wav

Peak level 97.9 %
Track quality 100.0 %
Test CRC DDAAD50F
Copy CRC DDAAD50F
Copy OK

Track 6
Filename C:\Torrent\Emerson Lake & Palmer - The Original Bootleg Series from The Manticore Vaults Vol. 3 (2002) [FLAC] Box set (Set 1)\06 - Tank The Enemy God.wav

Peak level 97.9 %
Track quality 100.0 %
Test CRC 3F9A8226
Copy CRC 3F9A8226
Copy OK

Track 7
Filename C:\Torrent\Emerson Lake & Palmer - The Original Bootleg Series from The Manticore Vaults Vol. 3 (2002) [FLAC] Box set (Set 1)\07 - Karn Evil 1st Impression.wav

Peak level 97.9 %
Track quality 100.0 %
Test CRC C34570DD
Copy CRC C34570DD
Copy OK

Track 8
Filename C:\Torrent\Emerson Lake & Palmer - The Original Bootleg Series from The Manticore Vaults Vol. 3 (2002) [FLAC] Box set (Set 1)\08 - Karn Evil 2nd Impression.wav

Peak level 97.9 %
Track quality 100.0 %
Test CRC 0A31DA3D
Copy CRC 0A31DA3D
Copy OK

Track 9
Filename C:\Torrent\Emerson Lake & Palmer - The Original Bootleg Series from The Manticore Vaults Vol. 3 (2002) [FLAC] Box set (Set 1)\09 - Fanfare For The Common Man.wav

Peak level 97.9 %
Track quality 100.0 %
Test CRC BCC4CF2D
Copy CRC BCC4CF2D
Copy OK

Track 10
Filename C:\Torrent\Emerson Lake & Palmer - The Original Bootleg Series from The Manticore Vaults Vol. 3 (2002) [FLAC] Box set (Set 1)\10 - Take A Pebble.wav

Peak level 97.9 %
Track quality 100.0 %
Test CRC F006B0D6
Copy CRC F006B0D6
Copy OK

Track 11
Filename C:\Torrent\Emerson Lake & Palmer - The Original Bootleg Series from The Manticore Vaults Vol. 3 (2002) [FLAC] Box set (Set 1)\11 - Pictures At An Exhibition.wav

Peak level 97.9 %
Track quality 100.0 %
Test CRC 2986B89E
Copy CRC 2986B89E
Copy OK

No errors occured


End of status report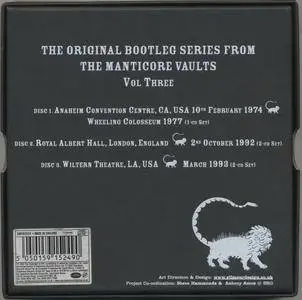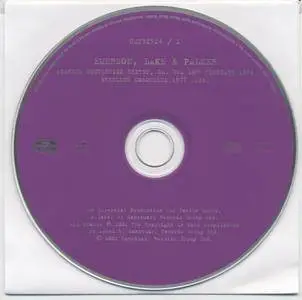 see more ELP - Original Bootleg…NEXT -> The Original Bootleg Series from the Manticore Vaults Vol. 1-Vol. 4 (Complete)…
===